food and beverage
Soylent wants you to know it's not the same dystopian tech bro food liquid that it used to be. With a new strategy and an updated formula, the Downtown L.A.-based nutrition tech company is no longer billing itself as the only thing you'll ever need to eat again… although CEO Demir Vangelov says a 100% Soylent diet is still possible, just not recommended.
"We've shifted from being a meal replacement company to a complete nutrition company," says Vangelov.
Unlike the company's original CEO Rob Rhinehart, Vangelov brings food industry experience to the business. Before joining Soylent as chief operating officer and chief financial officer in 2018, he was the CFO and COO at Califia Farms, a plant-based milk company also based in California.
As Soylent has matured—and especially since he became CEO in 2020—the 20-person company has sought to distance itself from its Silicon Valley roots. Soylent's goal is not to "disrupt" nutrition, but to supplement it.
This pivot has also come with financial gains. The eight-year old company turned a profit for the first time in years in 2020, thanks to a new formulation, new flavors and a continued focus of premixed, bottled products available in retail locations rather than the traditional mail-order powder the company launched with. The premixed protein drinks are sold at Walmarts and in drug stores like Walgreens, Rite-Aid and, most recently, CVS.
That level of distribution, Vangelov says, has made Soylent into the largest provider of plant-based protein beverages in grocery stores in the U.S.
To long-time Soylent followers, this move to prepackaged, flavored drinks may seem to be a stark departure from the original business model. The company began as mail-ordered powdered formulation that Rhinehart, a Silicon Valley computer engineer dreamt up in response to his busy lifestyle and the high cost of eating well.
The new iteration comes in eight flavors, including, café chai, banana and "original." (Full disclosure: I ate plenty of "original" flavored Soylent back in 2016 and 2017. It was paste-y, rich, and sort of nutty. It tasted like what it was: Something that was filling, probably not bad for me, and designed by people who seemed to hate food and eating.)
As easy as it is to make fun of Soylent, it's got a lot of things going for it. It's vegan. It's gluten free. It contains 100% of all the nutrients, vitamins, and minerals a human being needs. It's a liquid, which is convenient for people who can't chew or don't like to chew. It requires essentially no culinary skills to prepare. It's even cheap—as low as $1.50 per meal in its original powdered formulation.
Jane Burrell, a dietician and professor at Syracuse University, says there are other considerations to make when weighing a cuisine. "It does have a lot of nutrients in it, but it's not a very satisfying and fulfilling way to eat," she said.
"We think about eating as really nourishing your body in terms of the nutrients you need, but it also makes you feel good and gives you a connection with people. It's the context of eating and thinking about your culture and all those things that make you a person. That means eating food that has textures and flavors and smells and brings back memories and feelings."
Of course, not every meal needs to be a culinary experience either. There are plenty of use cases where Burrell says Soylent makes sense. People are actually busy and healthy food often takes time to prepare. If having a Soylent drink keeps you out of the drive-thru line, great, says Burrell.
There's also something to be said for how the drink can help consumers gain or lose weight thanks to how precisely it's formulated. There's no guessing about calories or portions. If you eat a scoop, you know exactly what you're getting.
The company has had success in hospitals, where doctors have used Soylent with patients who are having trouble eating for one reason or another.
"We did a scientific study at UCLA with the throat and neck cancer department. They were extremely happy with the performance," says Vangelov. "The takeaway was that this was the best performing nutrition that they'd seen."
With a freshly-inked deal with CVS and existing distribution channels at Walgreens, Rite-Aid, Target and Wal-mart, the business is transitioning from the first food tech company into the largest provider of plant-based protein beverages in grocery stores in the U.S.
Is it soulless? Maybe, but who cares? It's healthier than the average American diet and better for the planet. It's not going to become the only food anybody eats, and it doesn't want to. Soylent is finally becoming what it has always been: bland.
Appetize, a Playa Vista mobile ordering service that delivers food at Dodger games and other large venues , just got gobbled up for $415 million by payment and software service SpotOn.
The acquisition was part of the San Francisco-based SpotOn's $300 million Series E funding round led by Andreessen Horowitz that values the company at $3.15 billion.
Adding Appetize will help SpotOn, which is focused on providing software and management tools to small and medium-size restaurants and retailers, further expand its reach.
Appetize is already being serviced in 65% of sports and entertainment venues like L.A.'s Dodger Stadium and Honda Center in Anaheim, home to the Anaheim Ducks. Their platform includes point of sale devices, self-service kiosks, handheld devices, online ordering, that offer tap or scan payment options, including Apple Pay, Google Pay which allows fans to order from the comfort of their seat.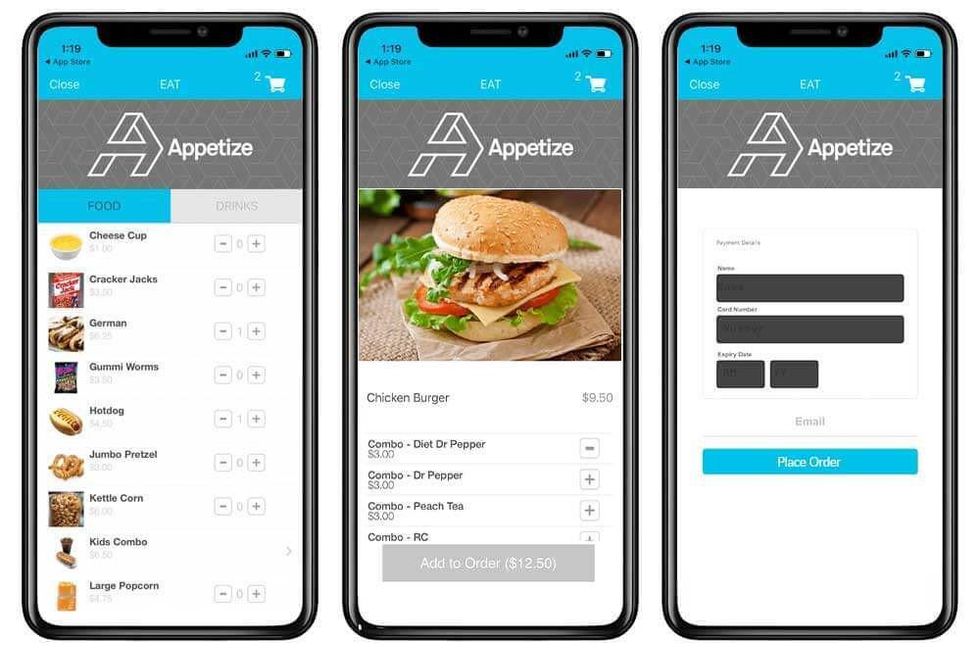 Max Roper, CEO of Appetize will continue running the business, but will take on the role of president of SpotOn Enterprise. "We are super excited about being able to service the end to end market from the coffee shop all the way up to the super bowl stadium level," Roper stated.
The combined companies will have over 1,600 employees, 350 from Appetize and 1,300 from SpotOn and is expected to grow with this acquisition.
Appetize will retain their offices in Los Angeles and employees will continue their roles under the SpotOn Enterprise.
All transactions at each venue are still handled by SpotOn Enterprise, which includes point of sale, kiosk, mobile ordering, and inventory.
"For us, the goal is to provide the best product to the clients we service today and to future clients we will have in the future. The unique thing is being able to service top to bottom and the middle market, no one is able to service that 10-100 store chain," Roper stated.
From Your Site Articles
Related Articles Around the Web
In a new LinkedIn post, Sweetgreen co-founder and CEO Jonathan Neman walked back his earlier comments on the coronavirus a week after he proclaimed that "no vaccine nor mask will save us" from the pandemic.
"My intention was not to be discriminatory or to discount the importance of getting vaccinated and wearing masks to combat COVID-19," he said in the new post. "Wearing masks and getting vaccinated works to protect against COVID-19. Full stop."
Earlier, Neman claimed that "our best bet is to learn how to best live with [the virus] and focus on overall health vs preventing infection." His comments came as the Culver City salad chain gears up for an initial public offering.
The startup best known for selling $14 salads confirmed in June it confidentially filed for an IPO. Earlier this year the company was valued at $1.8 billion.
Neman wrote in the original post, "What if we made the food that is making us sick illegal? What if we taxed processed food and refined sugar to pay for the impact of the pandemic?"
The first post, which went up on Sept. 1, immediately attracted attention, with Motherboard first reporting on it and other media piling on.
In the latest post, Neman said in a near-apology that he intended to "start a conversation around the systemic healthcare issues in the country." The executive added, "Words matter and the words I chose were insensitive and oversimplified a very complex issue that is impacted by larger socioeconomic factors."
Neman reportedly stuck a different tone In an internal meeting with staff. The executive said he stands "behind the intent" of his earlier comments, and that the lesson he learned was to consult with his PR team, Motherboard reports. "We have a great team that could have helped craft that message in a way to not be so divisive and to be more effective," he said.
From Your Site Articles
Related Articles Around the Web