After a couple of years where pandemic lockdowns made lightning-fast, app-based delivery essential, the industry is facing a shakeout—and apps that promise delivery under 30 minutes are facing an existential crisis.
The so-called "dark store" model – which forgoes the traditional corner store for a sprawling warehouse that delivers through mobile apps – exploded during the pandemic. But many of those companies are now struggling to become profitable, largely because of rising overhead costs.
The Industry and the Challenges

At stake is a multi-billion industry aiming to deliver everything from groceries to convenience items and hot food, through bikes, cars, drones and even robots. Operating from a number of competing platforms, those companies saw sales more than double during the pandemic. Few experts see the industry disappearing entirely, but the sector is widely expected to shrink. The coming months and years will determine which model wins out.
Celia Van Wickel, senior director of digital commerce for analytics and brand consulting firm Kantar Group, told dot.LA she expects the bubble to burst—and soon, as venture firms become more discerning about their investments.
"Valuations are declining [and] money is not being forthcoming to rapid delivery companies," Van Wickel said. Even as the economic climate becomes more challenging, some companies do have the chance to rise above the fray and gain market share – and satisfy investors – while others could be destined to go bust.
"[Investors] really want to see a profitable model, kind of akin to what we've seen in the dot-com era, where the bubble burst on ecommerce," Van Wickel said. A lot of money was thrown into these new companies, they weren't really profitable and then all of a sudden a lot of them collapsed."
Some venture capital firms were "just investing to invest," Van Wickel added, to see how the delivery market fared. She predicts they'll soon become more judicious about who they fund. Burning cash without turning a profit isn't going to be acceptable in the long term, she added.
Along with slackening consumer demand and less VC investment in the space, nearly every fast delivery company that relies on fulfillment centers, even Amazon, is going to face steep real estate, upkeep and staffing costs. Rapid delivery firms will need to spend big on real estate to operate fulfillment centers across cities that enable them to get to consumers fast.
Local startups Serve Robotics, URB-E, Kwibot and Duffl are trying to rise above the fray by delivering fast, to specific areas, with scooters or drones, but there's no guarantee of success.
Image courtesy of Duffl.
Philadelphia-based GoPuff, one of the largest new rapid delivery services to enter in Los Angeles alongside DoorDash, Instacart and Uber (which also offer convenience delivery in addition to food) depends on having quick access to warehouses throughout the region. It bought liquor store chain BevMo in a bid to gain access to lucrative (and hard- to- get) liquor licenses and warehouses. It aims to save money by installing micro-fulfillment centers "within almost every" BevMo store that can service deliveries, its CEO told the L.A.Times. Still, it laid off 10% of its workforce in July after cutting about 3% in March, and shut 76 warehouses. GoPuff originally had plans to go public in mid-2022 at a $15 million valuation, but shelved them.
But GoPuff is not alone. Instacart cut its valuation forecast by 38% in March citing "poor market conditions," and international rapid delivery startups like Gorillas, Getir and Zapp have also cut staff recently.

The layoffs suggest that rapid growth may no longer be enough.
"The GoPuff CEO basically said, 'hey, we were getting a lot of investments by just showing top line incremental growth,' they were growing customers and growing markets and that was okay enough for investors in 2021," Van Wickel told dot.LA. "But now they're being pressured to really look at how their company is profitable [and] they're being asked to do this very quickly, or their investment will not be forthcoming."
GoPuff pointed dot.LA to a recent shareholder letter that said it is "already driving 76% [year-over-year] sales growth for the core business."
"GoPuff is the only company in this space that has proven it can be profitable at a city and regional level," co-founders Yakir Gola and Rafael Ilishayev wrote. "We are now targeting full company profitability in 2024 while maintaining a strong cash balance throughout."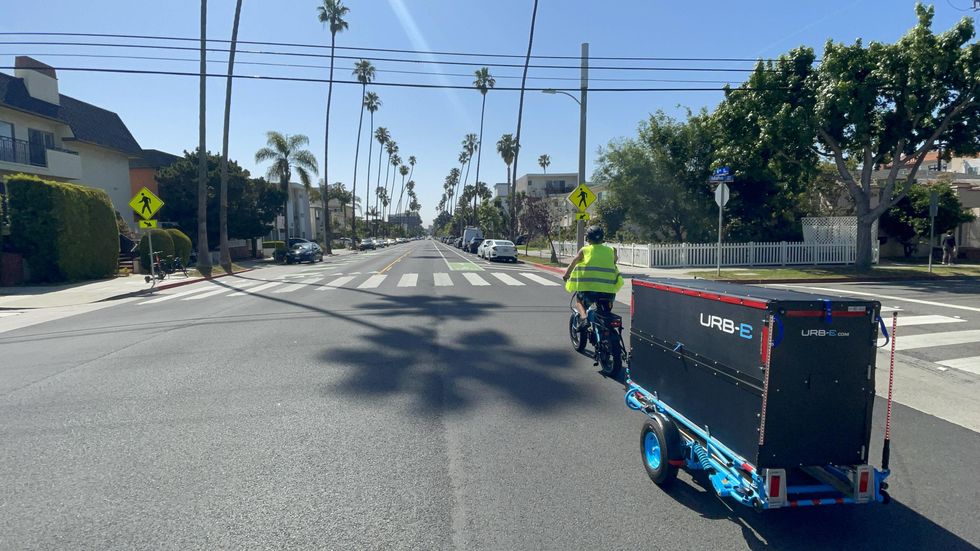 An URB-E rider hauls deliveries in Santa Monica. Image courtesy of URB-E
The Opportunity
Despite the headwinds, the rapid delivery industry "feels like it's here to stay," said Alex Vasilkin, co-founder and CEO of Cartwheel, a Hollywood-based startup that makes delivery management software and recently raised a $3 million seed round in April.
"There's all these dark kitchens opening, there are all these different startups popping up with drone delivery, and scooters delivery and hyperlocal, 15-minute delivery so I feel like there's more options for customers and so far, we've seen it getting bigger and bigger," Vasilkin said. Cartwheel works mainly with restaurants, but is looking to find "very big partners in mostly the alcohol space," its co-founder Magdim Metshin told dot.LA.
The need for rapid delivery isn't likely to disappear so long as people decide they need items fast and can't make the trip themselves. The question is now "which companies can iron out their paths to profitability before they're forced to go bankrupt?," Van Wickel said.
"I think there's a balance between what the consumer wants and what behavior's going to change," she added. "To me, it's all about on-demand. So we're changing the model to an on-demand model… it's changing the trip occasions out there from stocking up to more grab-and-go convenience models."
Startups that seem poised to weather the storm are the ones that can control every aspect of the business – including supply, warehousing, distribution and, crucially, their apps. Usually, they're seeking buyouts from larger companies that have existing infrastructure in place for this exact reason.
"I don't think we have quite a winner yet; I think there's [companies] that are more set up to win," Van Wickel said, adding that it's mostly "the companies that do have some cash on hand today to continue to iterate their business models."