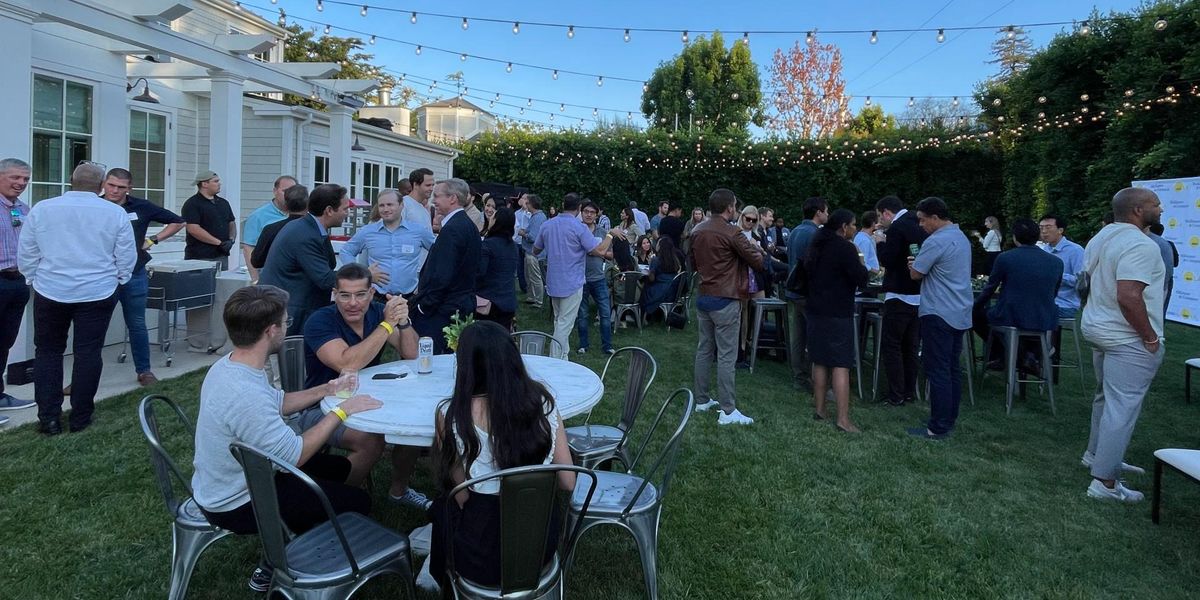 Photo by Joanne Saunders
This is the web version of dot.LA's daily newsletter. Sign up to get the latest news on Southern California's tech, startup and venture capital scene.
Los Angeles has always been a city rife with contradictions: the Beverly Hills billionaires sharing infrastructure with severely underfunded neighborhoods; digital media's technological progress hampered by the age-old Hollywood instinct to do things "the way they've always been done."

---
Nowhere were these cultural and industry contradictions on clearer display than at L.A. Tech Week's "Film, Visual, Metaverse, NFT Creators Showcase & Mixer" event Tuesday at the Santa Monica Playhouse, "A theatre with two histories…stage and Hollywood!" The event was hosted by Frinny Lee, founder of A.V. Mapping, a "one-stop A.I. platform for video-music mapping and licensing."
Set in a small, black box space, the three hour panel looked like a community theater production of a tech conference; in a fun display of theatrical irony, the event started late thanks to technical difficulties. Nobody cared. People wore handwritten name tags as they chat about OpenAI and Dall-E 2 and discuss how the arrival of GPT-4 will impact the industry.

The L.A. tech scene may not have a fully developed identity yet, but it does have a fan base. Austin, a Sequoia venture capitalist visiting from San Francisco, says he's rooting for the scene to win. He thinks the city has everything it takes to elevate it to the heights of a San Francisco or a Seattle – except for the rooms full of devoted engineers grinding twenty hours a day. Los Angeles, he thinks, may not be the right choice for brand new startups, but it's a great option for mid- to well-established companies.
Crescent Fund — Your Next Investment is Still in School
The next panel of the day had something to say about Austin's theory that L.A. lacks the necessary engineering skills. Crescent Fund, which bills itself as Southern California's first student-run VC, believes the state is full of untapped talent. California boasts seven of the top 30 STEM schools, and there are over 30,000 engineering students spread across the state. But compared to the Bay Area and the East Coast, SoCal is lagging in access to early-stage capital, which is why Crescent plans to raise $1 million to invest in the state's young entrepreneurial talent.
The young, entrepreneurial talent in question sat in the middle of Lanea, a stylish Santa Monica cocktail bar. Nostalgia beckoned in the form of Pac-Man, Street Fighter II, Champion Street Fighter 2 and Space Invaders, but attention was firmly centered on founders like Zarina Bahadur. The CEO and founder of 1 2 3 Baby Box, a monthly subscription service that curates a variety of products tailored towards a baby's development that's currently in its seed round. She's also one of the many young founders I spoke to who credit COVID-19 with helping to accelerate their company's success. The virus, she said, enabled her to stay home and work on her project. It also helped boost sales because "my target market, who are all first-time moms, were all online during lockdown."
The Crescent investor panel featured investors and partners from companies like 755Sunny, Starburst Ventures, Type One Ventures and Upfront Ventures, but the sheer number of attendees made it difficult to hear their stories about favorite recent investments and overlooked areas of venture capital. No matter. At least we'll always have Pac-Man.
Women's Health Happy Hour by Amboy Street Ventures
For two hours on Monday, founders in the women's health space gathered to create connections and make four varieties of margaritas magically disappear. Within 30 minutes of the event's scheduled start time, the private back area of Venice's Chulita restaurant—a haven of modern Mexican food and Mezcal—filled with women clustered in conversational ovals, all there to expand their professional circles.
Crowded under a thatched roof, and surrounded by prickly cacti, conversation flowed smoothly. Connie Jao, founder of NuMarra—a holistic menopause platform designed to help women adjust to symptoms, connect with doctors and community, and transition into a new chapter of life—chatted with Martha Gamboa, the founder of Friendii, a platform intended to help women over 50 connect with likeminded people.
The vibe in the room is upbeat, but in a post Roe v. Wade world, there is an undercurrent of anxiety. "Obviously we're livid" said Hannah Hutton, one of the co-founders of Personalfav.co, a company that makes clean sexual products "so you can get dirty." While Hannah's company is not directly affected by the ruling, figuring out how to support women through these new challenges is top of mind. "How can we make the dollar move forward," she asked, "in a beneficial, allyship kind of way?" — Ilana Gordon