adtech
Charity fundraising platform Omaze, which offers celebrity meet-and-greets and other fundraising experiences, landed its most high profile client this year: billionaire Richard Branson. Now it's hoping to take off.

Omaze announced on Thursday it raised $85 million in a Series C funding round led by Louis Bacon's Moore Strategic Venture along with high-profile investors, including singer Bono, actress Kerry Washington, football star Tom Brady and Reddit co-founder Alexis Ohanian.
The company promises nonprofits that it can raise far more money than traditional galas or other fundraising events with their star-studded online campaigns — which have included celebrities such as Michelle Obama and Oprah — and prizes like a custom tiny home or a Lamborghini blessed and signed by Pope Francis.
Omaze organizes the campaigns and handles the marketing, content and outreach. The Culver City-based company works with the Charities Aid Foundation America and says it has raised about $150 million for over 400 charities. Omaze estimates on its website that its cut averages about 12% to 20% percent of all donations, regardless of the campaign.
"By offering everyone the opportunity to win a $5M house or go to space, we can fund the causes creating opportunities for the underserved," said CEO and co-founder Matt Pohlson in announcing the raise. "This funding empowers us to expand our prizing and donor base internationally."
Earlier this year, Branson launched a sweepstake on its platform to win a seat on the Virgin Galactic VSS Unity, the same spacecraft that carried him into space in July. The winner has yet to be announced.
Launched in 2012, the company began offering travel and one-of-a-kind cars in 2019 and has boasted 100% percent growth since. It competes against companies like GoFundMe, which also offers fundraisers but mostly appeals to individuals trying to raise funds for friends and family. Another fundraising platform, Arizona-based RallyUp, works with charities to build out their events online.
Other investors include FirstMark Capital — which led a $30 million round in August 2020 — along with Wndrco, Telstra Ventures, Causeway Media Partners, Mockingbird Ventures, BDMI and Pegasus Ventures.
From Your Site Articles
Related Articles Around the Web
While working as a marketing executive at Snapchat, James Borow saw small businesses had a harder time competing with larger companies when it came to advertising.
He and a group of Snap employees had the idea to start Trust, a company aiming to make the advertising process friendlier for smaller ecommerce companies and direct-to-consumer brands.
"We kept hearing from small businesses [saying] 'it's really hard to compete against the big guys, unless you have an inside track or unless you have a lot of capital," said Borow, the CEO and co-founder of Trust. "That's really where we had the idea of: what if we could flip it on its head and have all these businesses help one another so they can actually go ahead and compete?"
The Santa Monica-based startup raised $9 million in a round of seed funding, the company announced Wednesday. The round was led by Lerer Hippeau, Lightspeed Venture Partners, Upfront Ventures and Upper90.
Trust gives companies a card through Stripe that increases its limits on advertising spending by up to 20 times. The platform aggregates metrics for advertising costs to major advertising hotspots — including Snapchat, Facebook and Reddit — and shares them with customers.
This comes amid a rise of sales in the ecommerce industry over the COVID-19 pandemic. Ecommerce sales have increased by around 40% in the last year, while major advertising companies have reported large growths of advertising revenue, according to Borow.
Trust also announced it is bringing its platform out of beta testing and it has forged a partnership with the ecommerce platform Verishop, which will give all Verishop brands access to Trust's platform.
Borow added that Trust is planning to hire "aggressively" in the L.A. area.
"How we're trying to think of it is — how can we get all these smaller businesses to work together, so they can all actually grow and compete against the bigger guys who have a built in advantage?" he said.
From Your Site Articles
Related Articles Around the Web
Ryff, whose digitized product placement service provides brands a tailored spot in films and television, is shifting its attention to the creator economy.
The stepping stone to L.A.-based company's newest effort to tap into the growing sphere — a service called Spheera — is being helped along by a $11.7 million Series A raise led by Audent Global Asset Management, announced this week.

Ryff CEO Roy Taylor described it in a statement as "the world's first platform for the creator economy aimed specifically for every type of entertainment."
What that exactly means is still a bit unclear; Ryff spokesperson Genine Fallon declined to disclose more information about what Spheera will be. She did, however, emphasize the importance of helping creators get paid.
"We love Creators - everyone loves Story telling - we believe it is time that they get paid what they are worth," Fallon said by email.
Established in 2018, Ryff uses a combination of artificial intelligence and computer visioning to assess opportunities for product placement in a television show, movie or other type of content and then insert images of products onto them. For example, an empty space on a counter or a table in a film could easily be occupied by a soda can or a cereal box.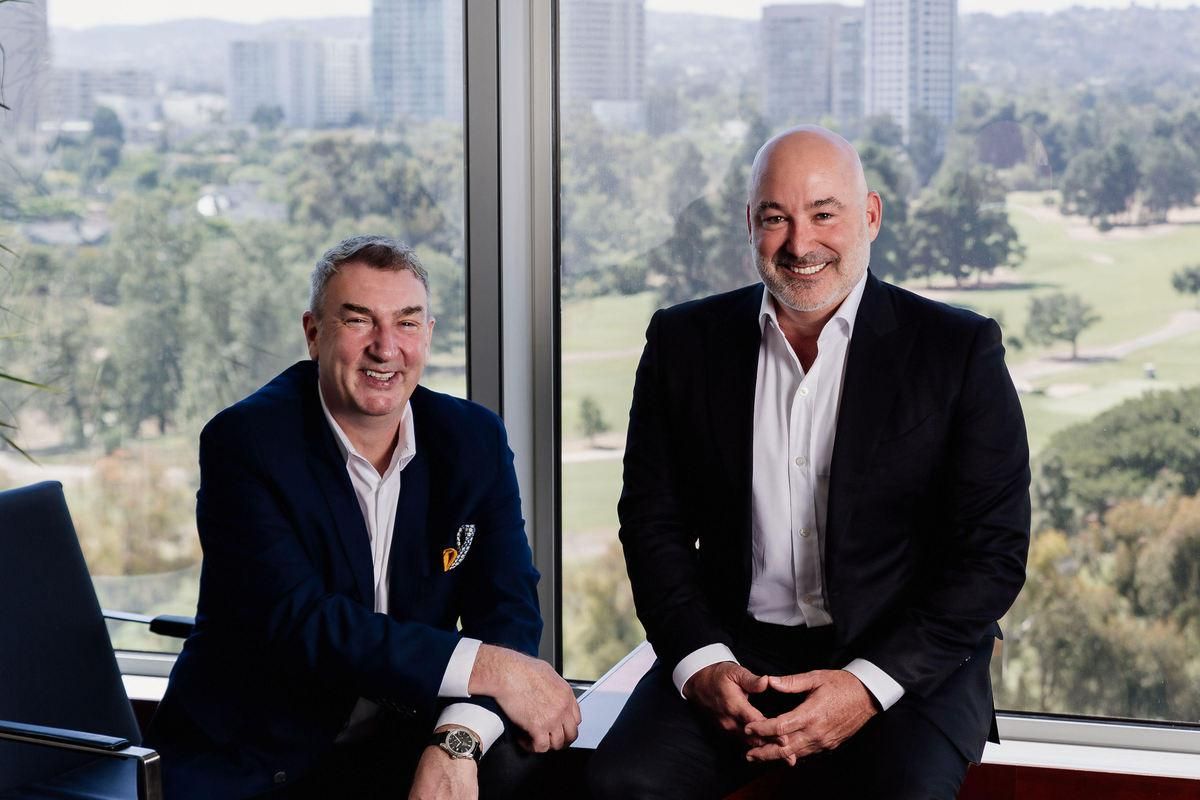 From left: Ryff CEO & Founder Roy Taylor and Managing Partner and Audent Global Asset Management Chief Investment Officer Paul Feinstein.Photo by Jason C. Williams
Fallon said this has proven successful for brands, who, he said, see at least a 300% improvement over traditional advertising.

As viral content on the internet draws a bigger audience, it's easy to see the opportunities the creator economy offers Ryff. According to influencer marketing company NeoReach, 77% of the roughly 50 million creators in the world today make the majority of their income from brand deals, which could mean big returns for the creators as well.
"The entire process is executed semi-autonomously so the creators can just focus on what they do best, creating viral content, while getting paid for their art," said MaC Ventures Managing Partner Marlon Nichols, who participated in the raise. "And, brands now have another avenue to reach prospective consumers world wide in a way that doesn't interrupt their experience with their preferred social platform."
Neoreach also found that, as of June 2021, $800 million in venture capital investments have gone to creator economy startups since October 2020. Several of these, including L.A.-based
Willa
, are devoted specifically to paying creators.
From Your Site Articles
Related Articles Around the Web