Delivery Apps
The latest news about delivery apps and delivery startups in Southern California from dot.LA
Three former Los Angeles restaurant owners are behind a new delivery platform for businesses looking to supplement or replace sales from DoorDash and Postmates.
The L.A.-based startup called Cartwheel closed a $1 million seed round led by TenOneTen Ventures.
The company provides a SaaS platform for restaurants to carry out deliveries. Restaurant owners have complained that third party delivery services like DoorDash can take cuts of up to 30%, though they remain dependent on the apps to stay in business.
The idea behind Cartwheel is to help them save money and retain connection to their customers.
So far its 400 some customers include national chains like Portillo's and PF Chang's. But Alex Vasilkin — the company's co-founder and CEO — is eying L.A.'s biggest grocery startups and fast casual restaurants.
"L.A. is a birthplace of great food-tech startups, including ChowNow, Sweetgreen, and Thrive Market, that are at the forefront of innovation in the space," Vasilkin said by email. "We hope to partner with more players in the ecosystem like them."
The chief executive previously owned ROFL Cafe on Melrose, which he said reached #1 restaurant on GrubHub in 2013. He pivoted to delivery software a year later after realizing "there was no existing software that would meet all of our needs."
The back-end software is designed for restaurant managers and employees. To manage ordering and paying, Cartwheel partners with the publicly traded ordering app Olo.
Act One Ventures, Portillo's Hot Dogs and other restaurateur angel investors also contributed to the company's first funding round.
From Your Site Articles
Related Articles Around the Web
San Fernando Valley residents can now get medications delivered to their door hours after getting a prescription.

California-based pharmacy startup NowRx announced it opened a new fulfillment center in Van Nuys to offer those in the area free, same-day delivery on prescriptions. The service uses robots and AI to fill prescriptions and commercial fulfillment space instead of retail space.
It follows a pandemic-fueled trend of home deliveries. Instacart, after struggling to turn a profit in 2019, did so for the first time during the pandemic. Amazon Pharmacy pushed into the drug-delivery space in November, two years after acquiring PillPack, and pharmacy delivery startup Medly Pharmacy raised $120 million during the pandemic, according to Pitchbook.
But the need for efficiencies in pharmacy came long before the pandemic — robotic pill-packers, home delivery, and e-prescribing have helped pharmacies keep costs down and provide faster service to more people. Most pharmacies often provide prescriptions at razor-thin margins (which is why independent pharmacies struggle and Walgreens counts on purchases of grocery items to offset the cost).
There are some benefits to this on the patient side as well. Most people live within five miles of a pharmacy, but the lack of access to public transportation or time to stand in line means some people delay getting their prescriptions, or forgo it altogether.
"A lot of people in our communities, they end up not getting their prescription in a timely manner," said NowRx CEO Cary Breese. "And that can lead to avoidable hospitalizations and other things."
The tech-enabled company can fill bottles within 30 seconds, and drivers can deliver prescriptions in a matter of two to three hours in some cities, including Los Angeles, Calabasas and Studio City.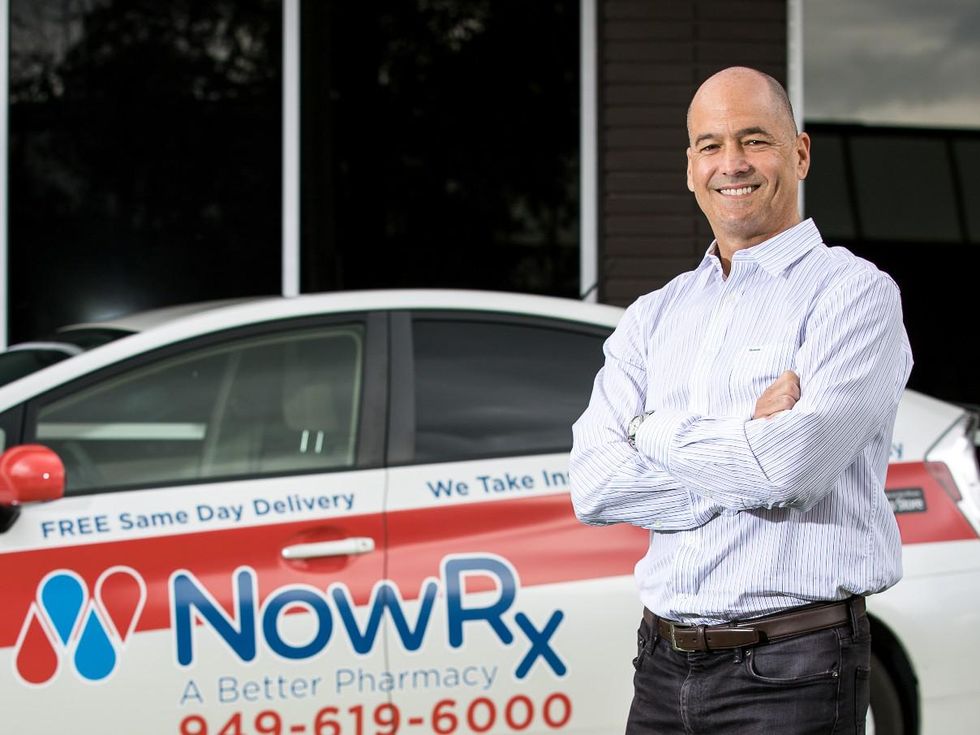 NowRx CEO Cary Breese
But the process has some wondering if pharmacists' expertise is getting left behind — and, with it, patient safety — as they're now able to get medications with little or no interaction with medical experts.

"If pharmacy is just delivering a product, then boy, Amazon should take over," joked Steve Chen, associate dean of clinical affairs at the USC school of pharmacy.
But while some may think pharmacies are glorified fulfillment centers, the process of becoming a pharmacist is a long, arduous road that requires an undergraduate degree, and then four more years of graduate study to complete a doctorate in pharmacy.
It's not for nothing. Around 8,000 people die from medication errors every year, and caring for patients who deal with medication-related complications cost the health care system $40 billion annually, according to a February 2021 study in the academic research journal StatPearls. Many of those issues stem from bad handwriting, or unclear communication around how to take those drugs.
"Medication errors may be due to human errors, but it often results from a flawed system with inadequate backup to detect mistakes," researchers wrote.
Breese argues pharmacists at NowRx have more time to consult with patients since they aren't bogged down with the volume of fulfillment work.
"We feel like that, in the old traditional pharmacy model, that they actually are limited in how much time they can spend with patients."
NowRx allows people to contact their pharmacists through an app if they need consultation on drug doses or when to take their medication, and the company will soon be allowing in-app video calls. It's part of their larger venture into telehealth.
As startups like NowRx add digital marketplaces to their slew of services, Chen says innovation in the pharmacy industry should prioritize medication management services, such as identifying drug dosing issues or potential drug addictions.
"At the end of the day you can skip on drugs, you can try to limit the amount or the cost of drugs for the patients you're caring for," Chen said. "But if they're not getting the right medications for their disease states, and they're at risk for heart attacks, strokes, all these negative outcomes from uncontrolled chronic disease, that cost the health system a heck of a lot more money than the medications."
From Your Site Articles
Related Articles Around the Web
Ecommerce sales ballooned during the pandemic and are expected to get even bigger — hitting the $1 trillion mark by 2022.
That's according to a study released by Adobe Analytics that found the lockdown economy has helped boost online shopping by an extra $183 billion since March 2020. That is a 20% growth, roughly the size of last year's holiday shopping season when buyers spent $188.2 billion online.
The report predicts it will only continue. Shoppers spent $813 billion online last year, up 42% from 2019. This year's spending is estimated to be somewhere between $850 billion and $930 billion. That means that by 2022 ecommerce spending might break the trillion dollar threshold for the first time.
"The pandemic has fast-forwarded ecommerce, driving levels of online sales we had not expected to see for a couple years. And consumers are not going back," said Adobe Digital Insights director Taylor Schreiner in an email. "People who successfully purchased loungewear in the last year for instance, are less concerned about the lack of a dressing room moving forward."
One of the biggest growth sectors have been online grocery shopping, with the rise of Instacart and grocery delivery services. Over the first three weeks of February 2021, it grew 230% in comparison to January 6 to January 26 the previous year, before the pandemic struck. Sporting goods also saw a 75% growth in that same period.

The way people shop is also changing — curbside and in store pickups of online orders grew 67% when comparing February 2021 to the previous year. Adobe surveyed 1,000 consumers, finding 30% actually preferred these pick up options to delivery.
"For many retailers, this service is no longer [just] 'nice to have.' Consumers value the convenience and speed, and it'll evolve how physical storefronts are developed moving forward," said Schreiner.
Buyers are also more likely to use a delayed payment option — selecting the option for "Buy Now, Pay Later" to place orders that are 18% larger — than standard payment options. This payment method grew 215% for the first two months of this year, in comparison to last year, which Adobe analysts attribute to "consumers [dealing] with financial uncertainty."
As customers were delaying paying, they were also shopping more. People spent more time scrolling throughout the day as bots reminded them of what was left in their cart.
Adobe's analysts note that "online shopping became a ubiquitous daily activity during the pandemic."
Sales and holiday shopping became less important. Memorial Day, Labor Day and President's Day all brought in less revenue than other days that same week. Even the traditional online holiday shopping spike — which usually lasts from Thanksgiving to Cyber Monday — dipped 9% from last season's haul, a change of $600 million.
The Digital Economy Index uses real time data from Adobe Analytics, which analyzes over a trillion site visits and online transactions across 100 million product SKUs.
"On a state level, California grew 35.4% year over year in the first two months of 2021," said Schreiner. "This is impressive growth for a market that was already adopting ecommerce at high rates prior to the pandemic."
According to HGInsights' index, more California companies use Adobe Analytics to track consumer behavior than other states.