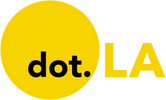 Get in the KNOW  
  on LA Startups & Tech  
X
Rapid Delivery Apps in Los Angeles Are Facing a Reckoning
Samson Amore
Samson Amore is a reporter for dot.LA. He holds a degree in journalism from Emerson College. Send tips or pitches to samsonamore@dot.la and find him on Twitter @Samsonamore.
04:24 PM | July 27, 2022
After a couple of years where pandemic lockdowns made lightning-fast, app-based delivery essential, the industry is facing a shakeout—and apps that promise delivery under 30 minutes are facing an existential crisis.
---
The so-called "dark store" model – which forgoes the traditional corner store for a sprawling warehouse that delivers through mobile apps – exploded during the pandemic. But many of those companies are now struggling to become profitable, largely because of rising overhead costs.
The Industry and the Challenges

At stake is a multi-billion industry aiming to deliver everything from groceries to convenience items and hot food, through bikes, cars, drones and even robots. Operating from a number of competing platforms, those companies saw sales more than double during the pandemic. Few experts see the industry disappearing entirely, but the sector is widely expected to shrink. The coming months and years will determine which model wins out.
Celia Van Wickel, senior director of digital commerce for analytics and brand consulting firm Kantar Group, told dot.LA she expects the bubble to burst—and soon, as venture firms become more discerning about their investments.
"Valuations are declining [and] money is not being forthcoming to rapid delivery companies," Van Wickel said. Even as the economic climate becomes more challenging, some companies do have the chance to rise above the fray and gain market share – and satisfy investors – while others could be destined to go bust.
"[Investors] really want to see a profitable model, kind of akin to what we've seen in the dot-com era, where the bubble burst on ecommerce," Van Wickel said. A lot of money was thrown into these new companies, they weren't really profitable and then all of a sudden a lot of them collapsed."
Some venture capital firms were "just investing to invest," Van Wickel added, to see how the delivery market fared. She predicts they'll soon become more judicious about who they fund. Burning cash without turning a profit isn't going to be acceptable in the long term, she added.
Along with slackening consumer demand and less VC investment in the space, nearly every fast delivery company that relies on fulfillment centers, even Amazon, is going to face steep real estate, upkeep and staffing costs. Rapid delivery firms will need to spend big on real estate to operate fulfillment centers across cities that enable them to get to consumers fast.
Local startups Serve Robotics, URB-E, Kwibot and Duffl are trying to rise above the fray by delivering fast, to specific areas, with scooters or drones, but there's no guarantee of success.
Image courtesy of Duffl.
Philadelphia-based GoPuff, one of the largest new rapid delivery services to enter in Los Angeles alongside DoorDash, Instacart and Uber (which also offer convenience delivery in addition to food) depends on having quick access to warehouses throughout the region. It bought liquor store chain BevMo in a bid to gain access to lucrative (and hard- to- get) liquor licenses and warehouses. It aims to save money by installing micro-fulfillment centers "within almost every" BevMo store that can service deliveries, its CEO told the L.A.Times. Still, it laid off 10% of its workforce in July after cutting about 3% in March, and shut 76 warehouses. GoPuff originally had plans to go public in mid-2022 at a $15 million valuation, but shelved them.
But GoPuff is not alone. Instacart cut its valuation forecast by 38% in March citing "poor market conditions," and international rapid delivery startups like Gorillas, Getir and Zapp have also cut staff recently.

The layoffs suggest that rapid growth may no longer be enough.
"The GoPuff CEO basically said, 'hey, we were getting a lot of investments by just showing top line incremental growth,' they were growing customers and growing markets and that was okay enough for investors in 2021," Van Wickel told dot.LA. "But now they're being pressured to really look at how their company is profitable [and] they're being asked to do this very quickly, or their investment will not be forthcoming."
GoPuff pointed dot.LA to a recent shareholder letter that said it is "already driving 76% [year-over-year] sales growth for the core business."
"GoPuff is the only company in this space that has proven it can be profitable at a city and regional level," co-founders Yakir Gola and Rafael Ilishayev wrote. "We are now targeting full company profitability in 2024 while maintaining a strong cash balance throughout."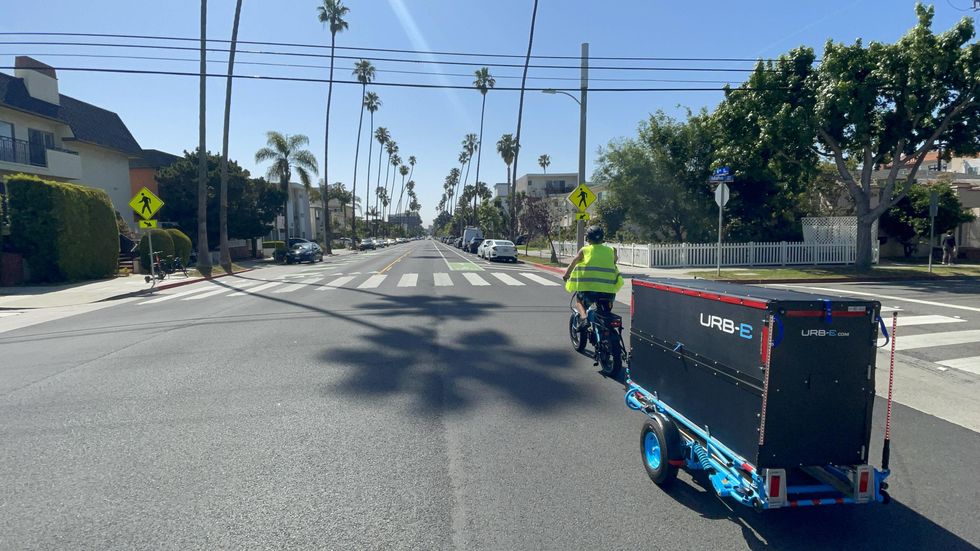 An URB-E rider hauls deliveries in Santa Monica. Image courtesy of URB-E
The Opportunity
Despite the headwinds, the rapid delivery industry "feels like it's here to stay," said Alex Vasilkin, co-founder and CEO of Cartwheel, a Hollywood-based startup that makes delivery management software and recently raised a $3 million seed round in April.
"There's all these dark kitchens opening, there are all these different startups popping up with drone delivery, and scooters delivery and hyperlocal, 15-minute delivery so I feel like there's more options for customers and so far, we've seen it getting bigger and bigger," Vasilkin said. Cartwheel works mainly with restaurants, but is looking to find "very big partners in mostly the alcohol space," its co-founder Magdim Metshin told dot.LA.
The need for rapid delivery isn't likely to disappear so long as people decide they need items fast and can't make the trip themselves. The question is now "which companies can iron out their paths to profitability before they're forced to go bankrupt?," Van Wickel said.
"I think there's a balance between what the consumer wants and what behavior's going to change," she added. "To me, it's all about on-demand. So we're changing the model to an on-demand model… it's changing the trip occasions out there from stocking up to more grab-and-go convenience models."
Startups that seem poised to weather the storm are the ones that can control every aspect of the business – including supply, warehousing, distribution and, crucially, their apps. Usually, they're seeking buyouts from larger companies that have existing infrastructure in place for this exact reason.
"I don't think we have quite a winner yet; I think there's [companies] that are more set up to win," Van Wickel said, adding that it's mostly "the companies that do have some cash on hand today to continue to iterate their business models."
Samson Amore
Samson Amore is a reporter for dot.LA. He holds a degree in journalism from Emerson College. Send tips or pitches to samsonamore@dot.la and find him on Twitter @Samsonamore.
https://twitter.com/samsonamore
samsonamore@dot.la
08:54 AM | April 13, 2023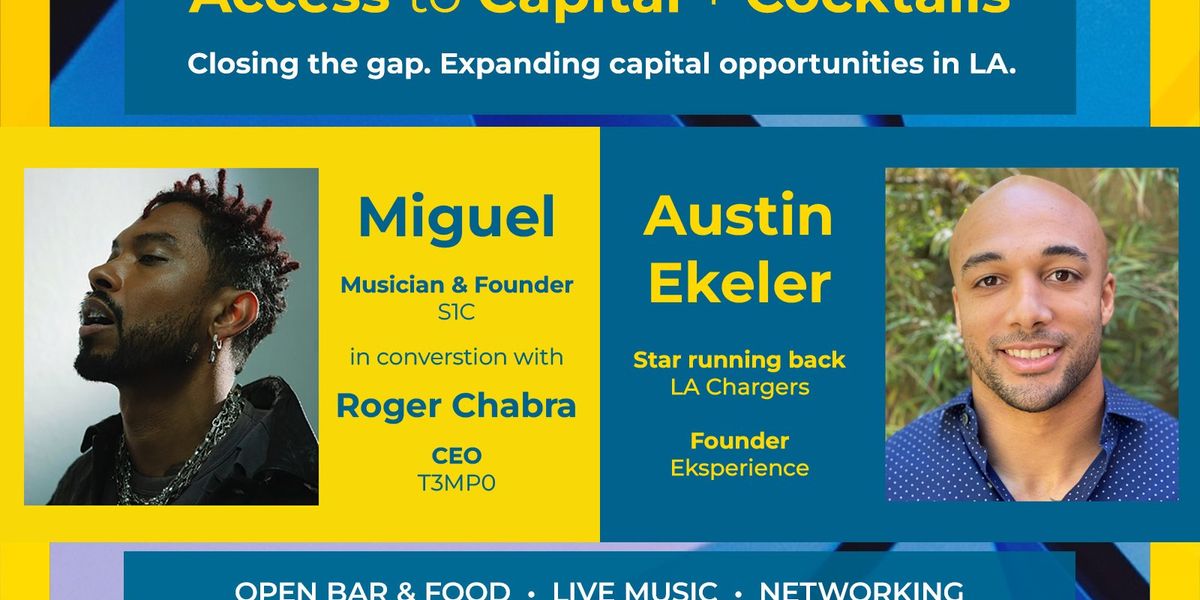 Closing the gap. Expanding capital opportunities in LA.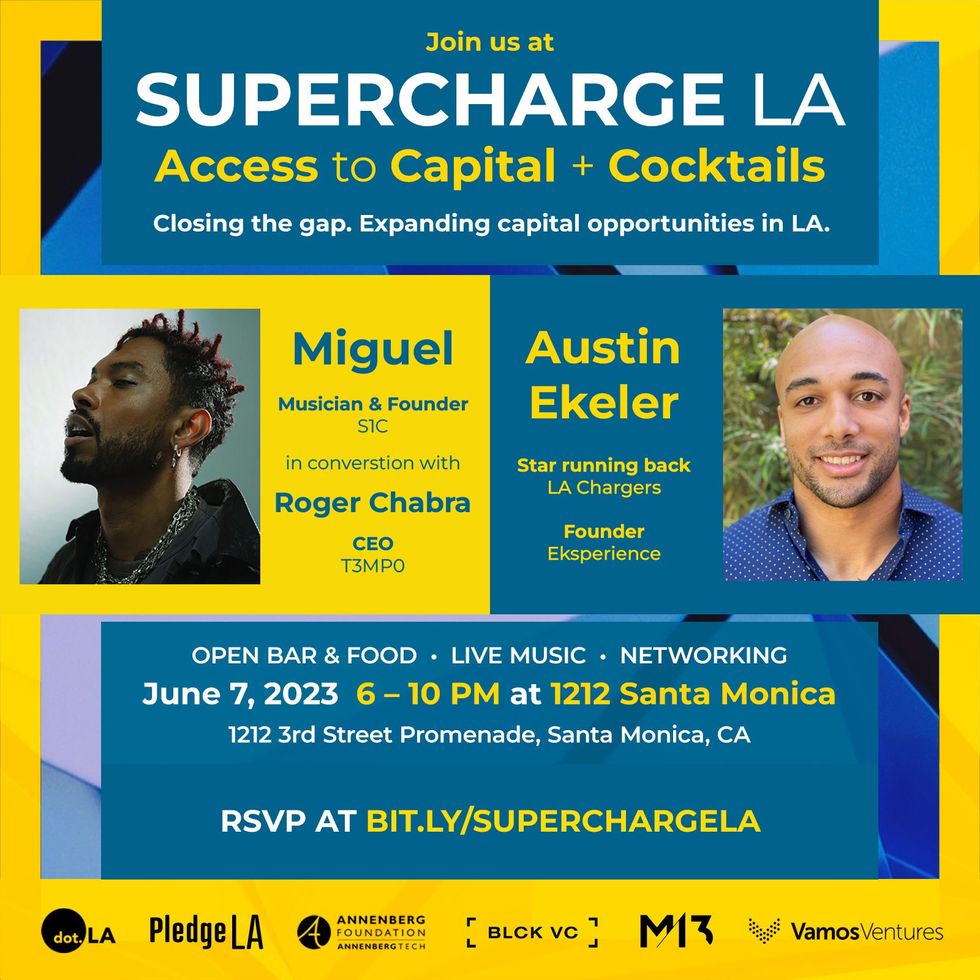 We're thrilled to announce that musician and founder of S1C Miguel will be joining us to discuss web3 with Roger Chabra, CEO of T3MP0! Additionally joining will be LA Chargers running back Austin Ekeler, and more leaders from LA venture capital who will focus on expanding capital opportunities for all founders in LA. Headlining SUPERCHARGE LA's entertainment, renowned Artist, DJ, Producer, and Photographer D-Nice will DJ a set as a tribute to the evening's festivities!

This event is a part of #TechWeek - a week of events hosted by VCs and startups to bring together the tech ecosystem

For all other event inquiries, reach out to events@dot.LA

If you would like to Sponsor our event, reach out to partnerships@dot.LA
Hosted by:
dot.LA, PledgeLA, and The Annenberg Foundation
Event Sponsors:
Bank of America, Amazon Web Services, Justworks, Riot Games, Perkins Coie, Alto, 1212 Santa Monica
Community Partners:
BLCK VC, M13, VamosVentures, Grid110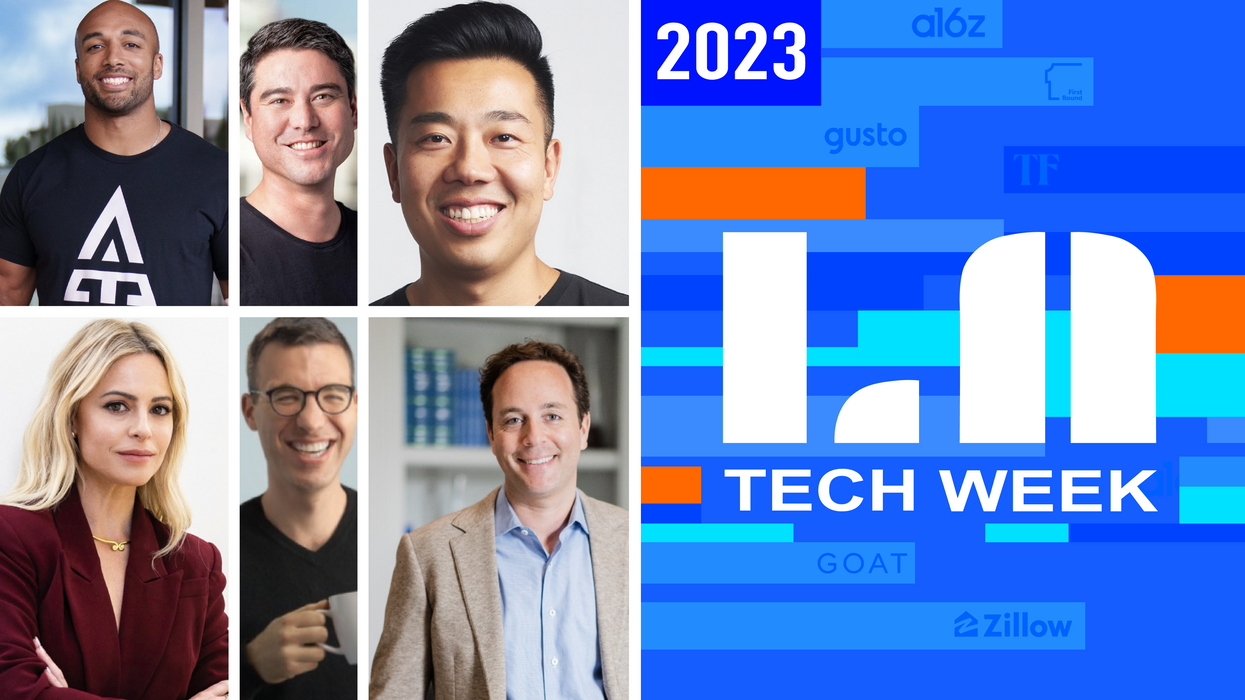 Evan Xie
This is the web version of dot.LA's daily newsletter. Sign up to get the latest news on Southern California's tech, startup and venture capital scene.
MONDAY
LA Hardtech: Local Talent Meets CEOs: Want to see robots in action? This hardtech event will showcase product demos and feature conversations about all things aircrafts, satellites, electric vehicles, robots and medical devices. June 5 from 5 p.m. to 8 p.m. in El Segundo.
Technology and Storytelling for Social Good: LA2050 and Goldhirsh Foundation president Tara Roth will moderate a panel featuring Alexis Cabrera of 9 Dots, Laura Gonzalez of Los Angeles Cleantech Incubator (LACI), Sabra Williams of Creative Acts, and Paul Lanctot of The Debt Collective. Tickets are sold out, but stay tuned for dot.LA's coverage of how technology can advance social good.
TUESDAY
Building a Startup Using Generative AI: As AI takes over the tech space, more startups are eyeing the burgeoning tool. Google's west coast Head of VC and Startup Partnerships Alexandra Dumas will moderate a panel focused on how startups can best utilize AI. June 6 from 9 a.m. to 11:30 a.m. in Venice.
AI &Music: The Black Eyed Peas' will.i.am will join Google AI's K Allado-McDowell, Never Before Heard Sounds' Parag Mital and SOMMS.ai's Matthew Adell to discuss how AI is changing music composition and production. June 6 from 6 p.m. to 10 p.m. in Hollywood.
BLCK VC + Diversity VC: Navigating the Capital Landscape Panel: Two VCs focused on helping people of color grow their investing careers, BLCK VC and Diversity VC, will host a panel discussion on how diverse fund managers and founders can secure funding. June 6 from 9 a.m. to 11 a.m. in West L.A.
Female Founders: Female Founders: Planning. Pivoting. Profiting: Female entrepreneurs—including Mia Pokriefka of Huxly, Anjali Kundra of Partender, Sunny Wu of LE ORA and Montré Moore of AMP Beauty LA—will discuss how women can set their businesses up for success. June 6 from 2 p.m. to 4 p.m. in Fairfax.
LA #TechWeek VC Kickoff Party: dot.LA executive chairman Spencer Rascoff's venture fund 75 & Sunny is partnering with VC firm Crosscut to launch L.A. Tech week with music, drinks and networking. June 6 from 6:30 p.m. to 9:30 p.m. in Pacific Palisades.
WEDNESDAY
SUPERCHARGE LA: Access to Capital & Cocktails: Join dot.LA for a night of networking and live music with a set by renowned artist, DJ, producer, and photographer D-Nice. In addition, LA Chargers running back Austin Ekeler will be joined by Grammy award winning artist Miguel and other leaders from LA venture capital to discuss how founders can increase their funding. June 7 from 6 p.m. to 10 p.m. in Santa Monica.
Hollywood Dream: Star in 3D Movie with Your Avatar, Rendered from Script with PentoPix: Storytellers from PentoPix, an AI video generator, will share their thoughts on how the new technology can change the film production process. Attendees can insert their own 3D avatar into a story created for the event. June 7 from 9 a.m. to 7 p.m. in Santa Monica.
THURSDAY
Aerospace Meets Climate Tech: Learn more about how climate tech is transforming the aerospace industry at this panel featuring the industry's founders and investors. Get a look at how Arc Boats made an electric sport boat, tour the company's production floor and hear from its team of former rocket scientists. June 8 from 5 p.m. to 8 p.m. in Los Angeles.
Marketing in the Age of AI: What Startups & Creatives Need to Know About the Changing Creative Industry: Learn how brand strategists are utilizing AI to upend the creative process while still reaching audiences. Software platforms Melodize.ai and Davant Systems and advertising platform Trade Secret will dive into AI-generated short-form videos and images. June 8 from 2 p.m. to 4 p.m. in Playa Vista.
Content Capital: Where Investors Meet Creators: Techstars Managing Director Melissa Pegus will discuss how the next generation of the creator economy can find inspiration—and funding. June 8 from 6 p.m. to 8 p.m. in Santa Monica.
FRIDAY
Sports in LA: Investing, Founding and Growing: Sports PR agency Athlete Strategies will host an event featuring founders, VCs and athletes sharing industry investment opportunities and trends. June 9 from 11 a.m. to 4 p.m. in Santa Monica.
Moonshot Thinking & Radical Solutions: Google and "X"—an innovation lab within Alphabet dedicated to building technology that will improve people's lives—will discuss setting goals, fostering breakthroughs and redefining humanity. June 9 from 9 a.m. to 11:30 a.m. in Playa Vista.
The Closeout Event by Mantis VC and M13: Wrap up L.A. Tech Week with a night of networking. Join founders, VCs and investors at an event put on by The Chainsmokers' Mantis VC and M13. June 9 from 7 p.m. to 10 p.m. in Santa Monica.
Kristin Snyder
Kristin Snyder is dot.LA's 2022/23 Editorial Fellow. She previously interned with Tiger Oak Media and led the arts section for UCLA's Daily Bruin.
https://twitter.com/ksnyder_db