Mining Asteroids, Space Contracts and How NASA Hopes to Create an Economy in Space
Tami Abdollah
Tami Abdollah was dot.LA's senior technology reporter. She was previously a national security and cybersecurity reporter for The Associated Press in Washington, D.C. She's been a reporter for the AP in Los Angeles, the Los Angeles Times and for L.A.'s NPR affiliate KPCC. Abdollah spent nearly a year in Iraq as a U.S. government contractor. A native Angeleno, she's traveled the world on $5 a day, taught trad climbing safety classes and is an avid mountaineer. Follow her on Twitter.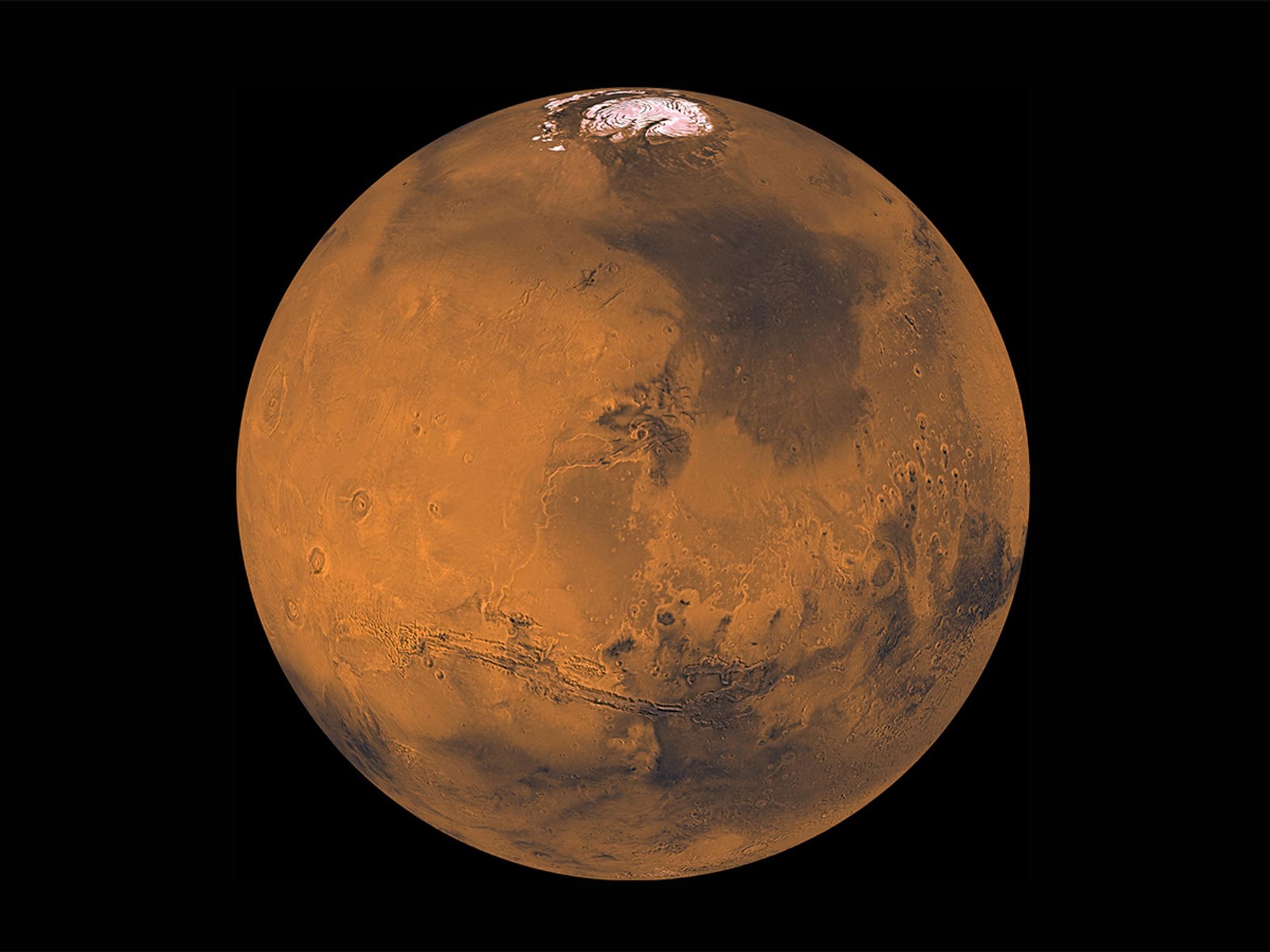 News | NASA Seeks Industry Ideas for an Advanced Mars Satellite
In the not so distant future, U.S. aerospace companies may build commercial space stations, apply for mining contracts in space and create a new economy on the moon — and eventually Mars, according to NASA's deputy administrator, who spoke to dot.LA earlier this month.
Jim Morhard, who was nominated by President Donald Trump in October 2018, doesn't have a space technology background but he does have an MBA, and it showed. In a wide-ranging interview after his first visit to NASA's Jet Propulsion Laboratory in La Cañada Flintridge, Morhard talked about the administration's efforts to build up and support the space industry so that the government can step back and reap the benefits of private innovation. That effort includes setting up a legal framework for how countries should conduct themselves in space. Last week NASA and its international partners signed the accords. China and Russia were not signatories.
---
Morhard said the agency envisions private enterprise will help build out what he described as a flourishing economy on the moon and Mars. He said he hopes that given the aging 20-year-old International Space Station, U.S. companies will step in and build new commercial space stations. Morhard also noted that companies like Google and SpaceX have recognized the financial opportunity in mining Psyche, an asteroid with an exposed core, that could ultimately create the Earth's first trillionaire.
Southern California has historically been a major site of aviation and aerospace innovation due to its good weather that enables year-round testing and its talent pool from local universities. The region is home not only to SpaceX, which joined NASA in launching astronauts into space this May, but companies like Relativity Space, Northrup Grumman, Slingshot Aerospace, and Rocket Lab, among others.
Morhard likened JPL's summer launch of its Mars Perseverance rover to the 23 precursor missions that took place before the Apollo mission landed the first humans on the moon. He pushed for more STEM education and also declared that he believes in global warming.
This interview was edited for clarity and length.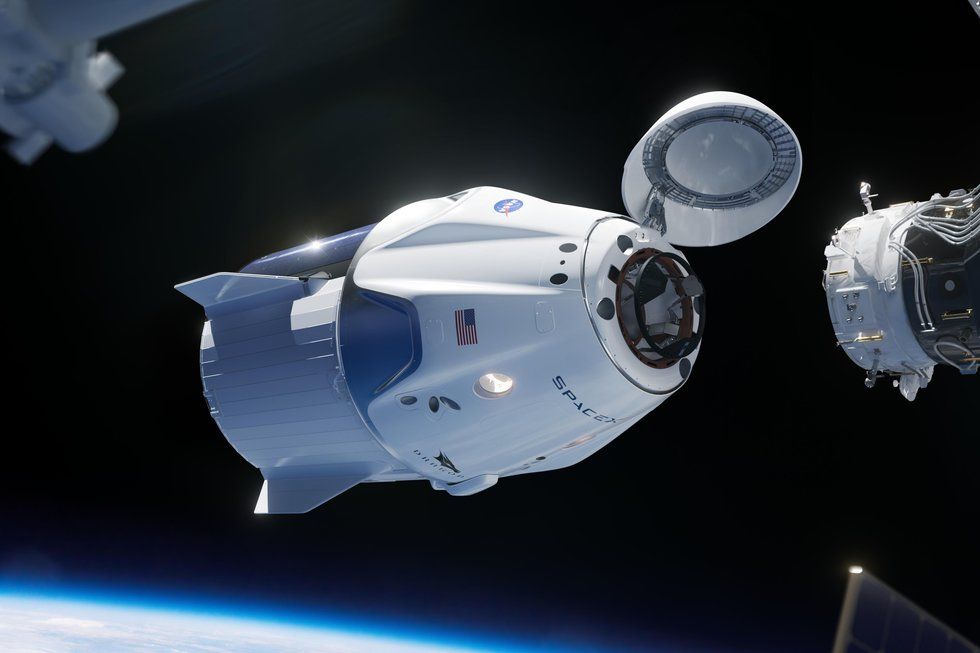 SpaceX Crew DragonWikimedia Commons
There have been many partnerships between NASA's JPL and companies in Southern California. Can you talk about NASA's work with regional businesses like SpaceX?
I'm not getting into the granularity of partnerships. But I'll tell you, when you mentioned SpaceX, here's a company that started from nothing, and here we are, we're going to send up four astronauts to the Space Station scheduled for October 31. And it really started with a public-private partnership. And we did it in a way where SpaceX was competing with Boeing. SpaceX did things correctly. Were there difficult times at times? Absolutely. But working with Elon Musk and all those people has just been a tremendous experience. They took the two astronauts that just came back — Bob [Behnken} and Doug [Hurley], and they embedded them in their plant so that a line worker got to know them. Those are the types of [companies] we're looking for in Southern California, as well as around the country and in the world.
What role do you see NASA playing in terms of business partnerships and the commercialization of space exploration? Should it lead the way or should private companies?
J: It depends on the company. There were times where SpaceX needed a lot of help, they did not have the technical chops to in the beginning to do what they were doing. And we certainly provided that, along with a lot of money. As they grew, they learned and they hired and built their own team — a lot of them NASA people.
Look, we want to be one of many customers to many providers. But we're going to do that in a way where these guys get up to speed. It's performance based. So far, SpaceX is performing and we want them to run with it. We're certifying this capsule and rocket; This will be the first certified transportation system that we've had in nine years since the [Space Shuttle]. That's all because of this partnership. There are others that haven't gone so well. I'm not going to get into names. Have we given up on other companies? No. It's a big tent, and we want to bring partners together. But we need to help them get where they need to go. As they get competent, we will back off. Will we back off completely? Absolutely not. We've got to guide and lead. And we certainly are going to be always pushing the technology . But if we can end up where we are buying the services, [even better]. Think of Apollo: We designed, developed, built and operated the spacecraft and the rocket. We are now in a situation where we're buying those services.
It sounds like NASA can be a partner in development, but at the end of the day the agency hopes to outsource technical savvy to companies rather than do it all in-house yourselves.
J: Yeah. There's another part of it. The Low Earth Orbiting, or LEO, economy is about a $400 billion economy. We're hoping that we are able — through these processes, where we build an economy on the moon, and then on Mars — hopefully down the road, where these companies want to go out there and make money. And so that economy, whether it's that company that provides the Human Landing System, or does mining on the moon for water rights, [they're] providing services to NASA. So we're taking that economy much farther past lower low Earth orbit. We're trying to expand the economy of space. We're trying to create a sustainable space program, despite what's going on with our own economy. And this is how we're trying to do it.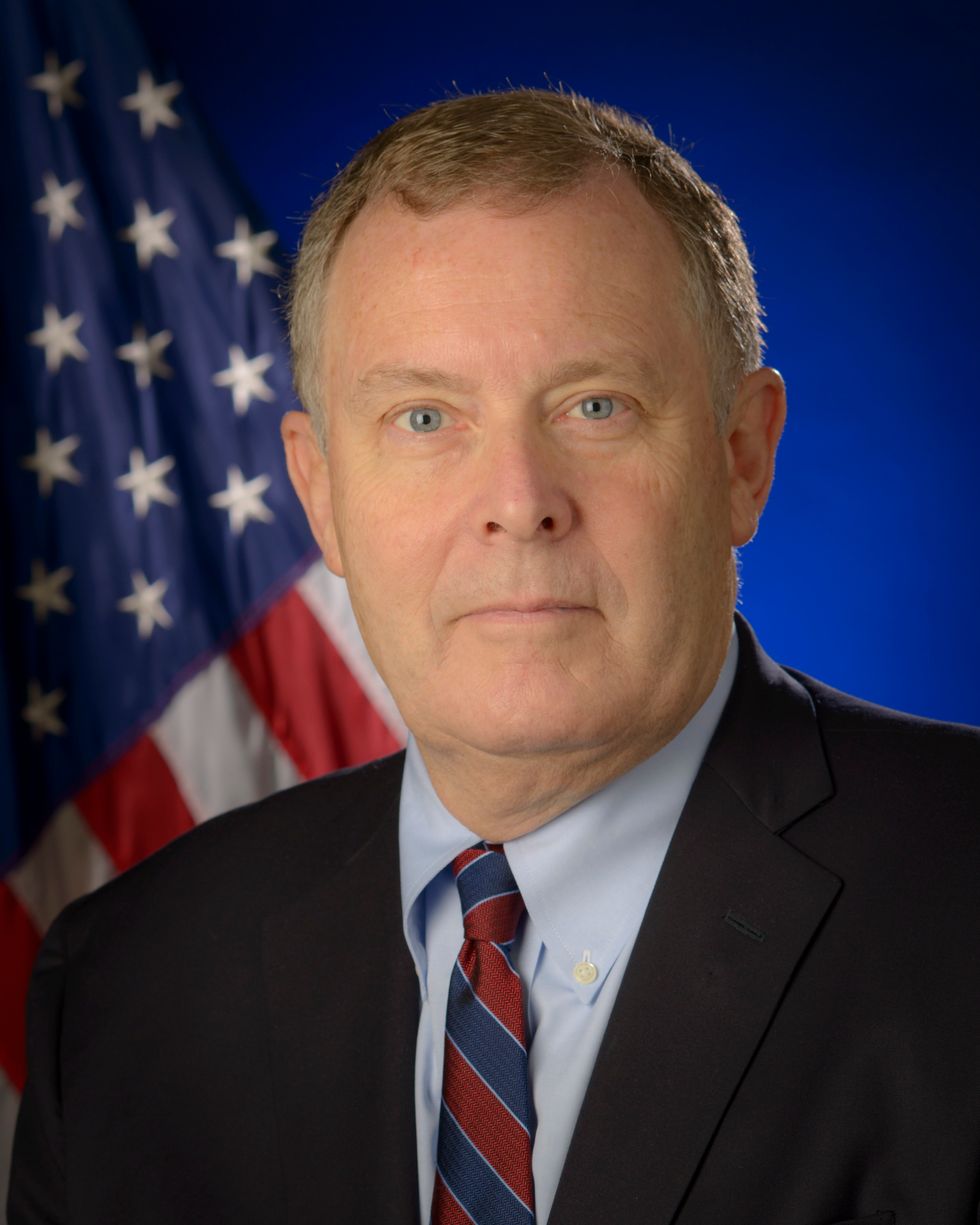 NASA Deputy Administrator Jim Morhard's official portrait
Does the U.S. hope to jointly develop the space economy in a global manner or is the goal to independently lead that effort?
J: We set up the Artemis Accords to set standards for folks on how they should comport themselves in space, help others that are in trouble, sharing timely data, being honest, having integrity in space, something called due regard, which is basically, "hey, I'm out here doing this, have regard to what I'm doing, and I'll have due regard to what you're doing." So it's those types of standards of behavior that we're trying to set up. And we've got folks that are going to come on board with us and I think you'll see that soon. There are others that don't want to behave under our norms or our values. We want to make space a place that does promote free market enterprise, and that's not having one country control all of space.
There has been some coverage about the first criminal allegation in space. So are you planning to build out details for those norms when you start building that economy on the moon and eventually Mars?
J: Over time, they will get built out. You may have seen we've set up a construct where we're going to buy some dirt on the moon, so that we literally have created a legal transaction with consideration on the moon, where there's going to be work done, delivery of this regolith or rock, and at a later time, we'll pick them up. That sets a standard of a legal instrument. A contract has been made that is going to transpire on the moon.Is it that momentous in the dirt? No. But is it momentous in that we're setting up a legal framework? Absolutely.
Who are you buying the dirt from?
J: We have not gotten that far yet. We have gone out for requests for proposals. And we've opened it up even to folks outside the United States. So we're starting the process right now.
What can people expect in terms of future space exploration efforts?
J: All the different things that transpired because of Apollo are going to happen again. Just off the top of my head: digital imaging, heart monitors, renewable energy, fire protection. We're working on an all-electric aircraft, we're working on a low-boom flight demonstrator, which basically won't have the sonic boom. When it goes supersonic, there will just be a thump. And if that happens, we're going to provide the technology so that we can have our manufacturers hopefully start flying supersonic across the United States. We've got an upper solar probe on its way to the sun right now to study the heliophysics of the sun, which is very important to understand solar radiation, our weather, the weather that will be on Mars [and] on the moon.
The story goes that if Buzz Aldrin and (Neil) Armstrong had stayed a couple more days, they might have been killed because of a solar storm that occurred right after they left. We need predictability to have safe space travel. There's new information about phosphine coming out of Venus [a potential sign of life]. And we're looking at a mission [in 2022] called Psyche, (which) is an asteroid that has an exposed core. It may be able to show us what our Earth looks like at its core. Now, folks like Google, they're interested in mining Psyche. SpaceX is also interested. If they were able to figure out the economics of bringing back precious metals, you could have your first trillionaire on Earth, and they know it.
If you look at our budgets, even since the last administration, we didn't cut Earth Sciences in any way. We're still going at the same clip that they were going at, because it is important. I do believe in global warming, and that man has had an impact on it.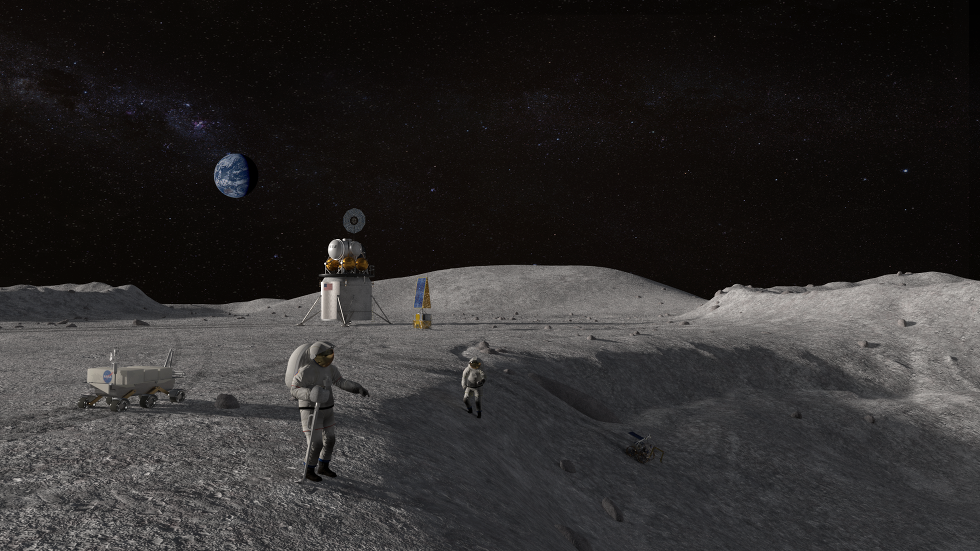 Artemis program astronauts lunar crater Wikimedia Commons
There was a recent study that looked at solar radiation levels for astronauts on the moon. If NASA is planning to build a first moon base by 2030, would it be underground, and when?
J: We're still figuring that out. But think about it this way: We land by 2024. And then it's real. And then it's really looking and saying, "OK, we have got to have a sustainable base at the South Pole of the moon." We use the term a lot. With Apollo it was "flags and footprints." This time, we're going back to stay. And when I say that, it's a lot of robotics. I mean, whether it's mining, whether it's scientific experiments, whether it's robotic rovers, these things will be there but we'll have the ability to have humans come and go to service these robots. So it may not be that we have someone there all the time. But we certainly are going to have accessibility through a human landing system and an outpost that's going to be orbiting around the moon called Gateway. It's going to be very small and nothing like the Space Station. But it will be a transfer point to get down to the lunar surface.
It's not going to be like we're going to have folks living there year round, I think it's more of there's going to be a lot of robotic activity using artificial intelligence, 3-D printing, along with robotics. So, are we going to be underground? I don't know, but if we find lava tubes for instance that give us access and protection from radiation, a reasonable person would say we're probably going to pursue that and see if it works.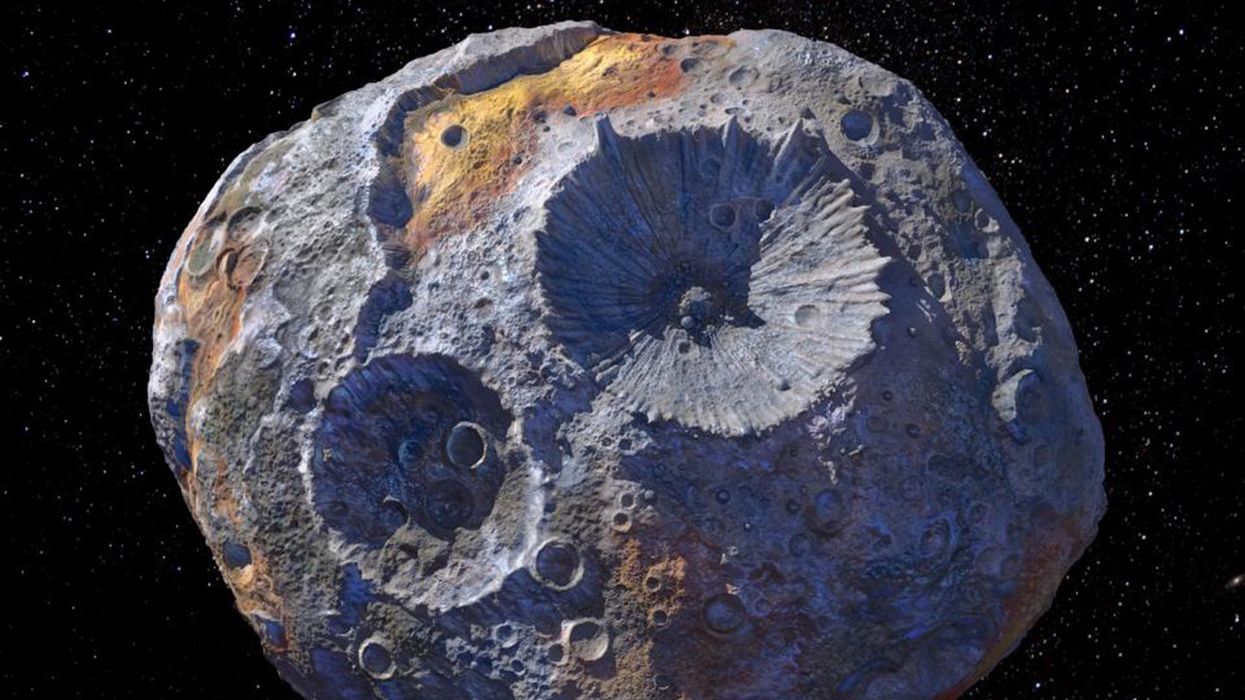 Google and SpaceX are both interested in mining an astroid called Psyche.Wikimedia Commons
Do you expect any specific medical breakthroughs from space exploration?
J: Yes, and I say that because of the microgravity at the Space Station, we've been able to create human tissue a lot easier than on Earth. And the reason being is that on Earth because of gravity, structures just collapse and you don't have that issue in microgravity. Right now, Chris Cassidy is our only astronaut up there. When we send up these four astronauts, we're going to have a full complement at the space station and our ability to do research is going to increase by 300% by the end of this month. There's so much more to be done. The Space Station is going to get old. We're going to celebrate its 20th year next month. Our hope is that there's so much demand for this research that the commercial space industry is going to start providing their own space station. If we can get commercial space stations up there, then we've got commercial transportation and commercial space stations, and a continuum of this research and development.
Is NASA worried about brain drain and extra costs when former NASA employees end up contracting on government projects?
J: It's always a concern. Do we have enough engineers and scientists and mathematicians and folks that have the technological capabilities that we need? We don't. We're trying to promote an expansion of STEM education. Part of why we're doing what we're doing is to inspire the next generation [to be] part of it.
_
Do you have a story that needs to be told? My DMs are open on Twitter @latams. You can also email me at tami(at)dot.la, or ask for my Signal.
Tami Abdollah
Tami Abdollah was dot.LA's senior technology reporter. She was previously a national security and cybersecurity reporter for The Associated Press in Washington, D.C. She's been a reporter for the AP in Los Angeles, the Los Angeles Times and for L.A.'s NPR affiliate KPCC. Abdollah spent nearly a year in Iraq as a U.S. government contractor. A native Angeleno, she's traveled the world on $5 a day, taught trad climbing safety classes and is an avid mountaineer. Follow her on Twitter.
tami@dot.la