city of hope
Cancer drugs have come a long way in treating late-stage patients, and one company is betting its technology can make them even more effective.

ImaginAb, the Inglewood-based cancer immunotherapy company, announced last week that it raised $12.8 million to continue to develop its technology to harness the body's immune system to tackle cancer.
It's one of many companies staking its claim in the growing world of immuno-oncology, which harnesses the body's own immune system to find and treat cancers in late-stage cancer patients.
"Our product visualizes all the T cells in the human body from head to toe," said ImaginAb CEO Ian Wilson. "So just using a standard hospital scanner, you can very quickly determine whether the treatment is working."
ImaginAb was founded 13 years ago by Anna Wu, the company's chief scientific officer and a professor at City of Hope. Its 22 employees are mostly lab scientists and clinical researchers, and the company has raised north of $60 million, according to Wilson.
Inevitably, most people will develop cancer cells at some point in their lives, but the immune system is often able to identify them and kill them. Late-stage cancers have to be treated with chemotherapy or washes of radiation, both of which come with a slew of extreme side effects. The goal of most immuno-oncology technologies like ImaginAb's is comparatively less invasive: to simply help the immune system detect hard-to-find tumors and treat them. Because immuno-oncology therapies don't work for everyone, patients in the later stages will "want to make rapid clinical decisions about what's the right treatment for them so you can extend their life," said Wilson.
ImaginAb uses medical imaging to provide doctors a way to look inside the body and see how effective checkpoint inhibitors are for the patient. Its flagship technology, a minibody agent known as CD8 ImmunoPET, binds to inflammatory cells found in tumors and acts as a signal of sorts for doctors to locate the tumor. Doctors give patients checkpoint inhibitor drugs that "unmask" the tumor to the immune system, allowing it to find it and kill the tumor. The doctor will then use medical imaging again to make sure it works.
This agent allows pharma companies to see the before-and-afters of a drug's effects on a tumor.
"If we can help drug companies have a more rapid and efficient clinical trial process [and] get their drugs registered a lot earlier, that would be fantastic," Wilson said.
ImaginAb's agent is one of many tools in the world of immuno-oncology. And while there is still no curative treatment for late-stage cancer, USC School of Pharmacy Professor Dr. Eunjoo Pacifici said it's a step in the right direction.
"Because of these new therapies providing patients new options, when the patients survive longer, it just means also that they live long enough for something else to come up that could help them if their cancer reemerges," she said.
The minibody is still in phase 2 of clinical trials, which will more or less indicate if the treatment actually works, but pharma companies can still use the technology in small applications. ImaginAb has partnerships with Merck, Pfizer and AstraZeneca. The agent is available in 20 sites in the U.S., including City of Hope and St. John's Cancer Institute in Santa Monica.
But there are larger implications for technology like this — CD8 cells play a role in rheumatoid arthritis, multiple sclerosis, most autoimmune diseases and even COVID-19.
"If you can image inflammatory cells you'd be able to give more bespoke personalized medicine," Wilson said. "You can say to patients, 'Actually, this is a better treatment for you.' It works beyond oncology."
From Your Site Articles
Related Articles Around the Web
Last month, Lupe Duarte read an announcement from her colleagues that City of Hope was recruiting for a COVID-19 vaccine trial. The mother of three, who also cares for her infirm parents, volunteered immediately.
This afternoon the 48-year old project manager became the first patient to get a dose of the vaccine developed by a team of researchers at City of Hope.
She's part of the biotech institution's phase 1 trial, which tests a drug's safety typically over one to two years. The process is likely to last just three months as regulators speed up approval to deal with the pandemic. The next stage, expected to span about eight months, would test on more volunteers and further assess safety and efficacy.
City of Hope is one of only a handful of Southern California organizations that are working on a vaccine. Their shot will require two doses and must be stored about 60 degrees below celsius, but the team is looking into whether it can be freeze dried and stored at room temperature.
"I think a lot of people still fear the clinical trial aspect," said Duarte, who is expecting a few check-in calls this weekend and plans to visit the clinic for regular blood samples. "There is no doubt in my mind that this is safe for me."
Duarte is no stranger to the trial process. She's worked in clinical research since 1996, beginning with prostate and lung cancer studies. Over this next year, as Duarte is monitored and observed for side effects to the vaccine, she'll experience clinical trials as a patient instead.
"If I'm healthy and I'm eligible and I get to participate, why shouldn't I?" she said. "I get to help others, like our cancer patients have done over the years."
She wants more people of color and Latinos, who have been especially hard hit in the pandemic, to participate in clinical trials.
Across the country, an estimated 237 biotech companies and research labs have joined the race to develop their own vaccinations as pharmaceutical giants prepare for the first wave of mass distributions. Just 38 of those, including the vaccine from City of Hope, have started clinical testing.
Very few companies will pull it off. Over 90% of clinical trials fail, said Esther Krofah, executive director of the Milken Institute's FasterCures. Her team has tracked vaccine makers since March, when just a couple dozen companies had entered phase 1 trials.
"We need to make sure we have incentives for second and third generation vaccines, to get as many of them over the finish line," she said. "The goal would be to have a handful or more that can meet the global demand."
Krofah said factors like temperature storage matter most when it comes time to distribute. But some vaccines in development do have a leg up, she said, including those requiring just a single dose.
"Those are very hopeful in that you might be able to scale without the burden of somebody coming back twice," she said.
Don J. Diamond, a City of Hope professor and vaccine researcher, said his team received the Federal Drug Association's go-ahead to start human trials for the vaccine a few weeks ago. Their vaccine utilizes a synthetic platform technology called an MVA to trigger the immune system by stimulating antibodies and T cells.
Duarte and her five siblings rotate as caretakers for their mother, who is bed-bound and immunocompromised. Her father was recently diagnosed with prostate cancer. The vaccination gives her some sense of relief that she won't put her parents at risk.
"Cancer doesn't stop," she said by Zoom, hours before she would drive from her home in Glendora to the clinic in Duarte. "We still have to continue taking care of our parents."
In 28 days, Duarte will be back for her second dose.
From Your Site Articles
Related Articles Around the Web
Los Angeles biotech companies are in a race to create vaccines as the U.S. embarks on the largest public health initiative in generations.
On Friday, the FDA issued emergency authorization to Pfizer's COVID vaccine, paving the way for a massive mobilization effort across the country. Moderna has also submitted a vaccine, slated for review December 17.
But that won't bring an end to the need for vaccines.
"Let's face it, there are close to 7 billion people on this Earth, and most of them will need a vaccine," said City of Hope vaccine researcher Don J.Diamond. "No one company will want to devote the resources to vaccinating the world."
There are an estimated 237 vaccines under development globally, according to the Milken Institute's vaccine and treatment tracker. Most are still in early development; only 38 of them are in clinical trials. A majority of these vaccines will not make it to market.

Two vaccines are in phase one trials in Southern California. If those trials show the vaccine is safe, the companies will go on to test for effectiveness in phase two and three trials, which Milken estimates could take eight months.
California's first round of COVID-19 vaccine distributions could begin as early as next week, with 84,000 doses for healthcare workers on the frontlines with another shipment to follow later this month.

But experts are concerned that even with the FDA's approval and shipments on the way, the U.S. will not be able to meet its goal to get Americans vaccinated by summer.
Here's a look at the L.A. companies in the race toward that goal by developing new vaccines.
ImmunityBio

The El Segundo-based biotech company ImmunityBio is the furthest along. It started phase one trials of its vaccine at Hoag Hospital in Newport Beach in October with 35 patients.
No adverse reactions have been reported in the 20 individuals that have received low doses of the vaccines, so far.
The vaccine, called hAd5, uses engineered adenovirus that targets "spike" and "nucleocapsid" COVID proteins to generate antibodies that the company hopes will provide long-term immunity.
The CEO of ImmunityBio, Patrick Soon-Shiong, a biotech leader and billionaire who owns the umbrella company NantQwest and the Los Angeles Times, told the news organization two months ago that the biggest challenge to using adenovirus is that it is a common cold virus. Many already have developed antibodies that could hurt its effectiveness.
His late-stage immunotherapy company had been working with adenovirus in its development of drugs for cancer and infectious diseases
The two-dose vaccine in development wouldn't require frigid temperatures that Pfizer's vaccine needs.
The company sees promise. Last month, it found that T cells gathered from previously infected patients showed indications that an immune response could be triggered by the vaccine.
"As the virus continues to spread at an alarming rate, it is important that we develop COVID-19 vaccines that not only provide the population with protection from new infection through antibodies that block viral entry into cells, but also establish a robust T cell immune response to clear the virus from infected cells," said Soon-Shiong said in a statement announcing the findings.
City of Hope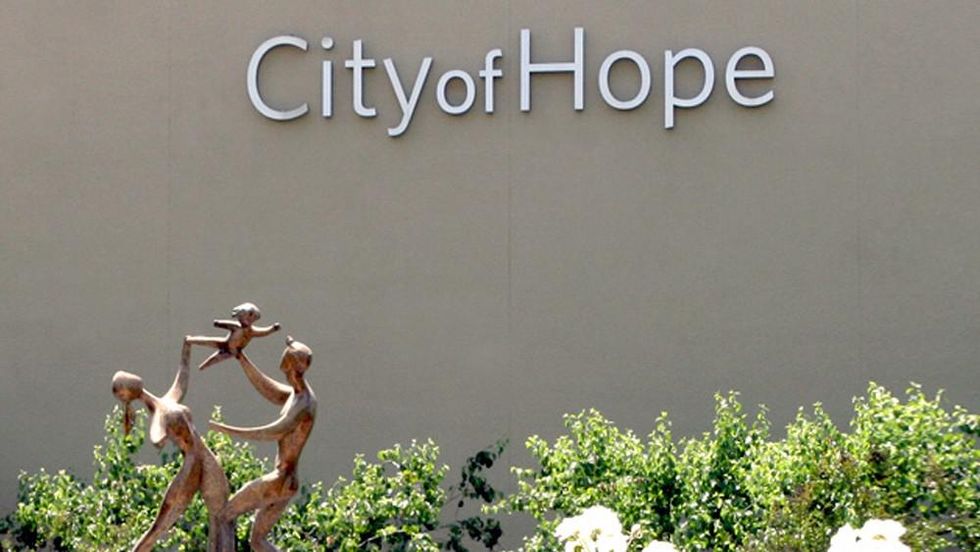 A team at City of Hope's clinical research center for cancer, diabetes and diseases announced last month it entered a phase one clinical trials. The vaccine aims to stimulate antibodies and T cells that can block the virus from entering susceptible cell types such as those in the lungs.
The first volunteer, a City of Hope employee, is scheduled to receive the first dose of the vaccine on Friday.
Researchers at the Duarte-based biomedical treatment and research facility developed a synthetic platform technology that hosts the SARS-CoV-2 spike and nucleocapsid proteins known as an MVA.
The MVA then replicates DNA within other cells that ultimately leads to the production of Sars-CoV-2 proteins that triggers an immune response.
According to City of Hope, synthetic MVA is a safely modified version of the poxvirus that's been approved by the Food and Drug Administration for the prevention of smallpox and monkeypox. It's also included in the federal government's Strategic National Stockpile for lifesaving use during a public health emergency.
Like many other vaccines, City of Hope's would require two doses. It would need to be stored at 60 degrees celsius, not as cold as Pfizer's, but researchers are investigating whether it can be freeze dried and stored at room temperature. The trial is estimated to finish by the end of March 2021.
Capricor Therapeutics
The Beverly Hills-based clinical stage biotech company is in the early stages of developing an exosome-RNA vaccine with Johns Hopkins University that uses tiny particles secreted by cells as a natural drug delivery vehicle in the body.
"As a cell-free substance, exosomes can be stored, handled, reconstituted and administered in a similar fashion to common biopharmaceutical products, such as antibodies and other recombinant protein drugs," the company said in a statement.
The 15-year-old company is known for developing exosome-based therapeutics to treat conditions including Duchenne muscular dystrophy.
Capricor said it has also begun phase two of a clinical trial of a therapeutic for patients at high-risk that are infected with the virus. The study is enrolling high-risk patients to examine the long-term cardiac consequences of the virus.
**This story has been updated.