first look socal innovation showcase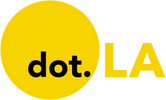 Get in the KNOW
on LA Startups & Tech
X
first look socal innovation showcase
This is the web version of dot.LA's daily newsletter. Sign up to get the latest news on Southern California's tech, startup and venture capital scene.
The tides are turning for nascent biotech ventures—for the worse.

On Tuesday, the Alliance for SoCal Innovation hosted its annual showcase of startups at the Skirball Cultural Center. The event featured a promising crop of life sciences ventures, most of which are so early-stage that they've yet to raise their first round of commercial funding.
But many of these wide-eyed startups—often headed by academic researchers who have little experience in commercialization—unfortunately don't have the benefit of robust capital market conditions like those that greeted cohorts past. COVID-19 launched a massive campaign among venture investors hungry to bet on biotechnologies with the potential to change the world; venture capital activity in the biotech and pharma sectors reached a record $28.5 billion in 2020, according to PitchBook Data, which was up more than 60% from $17.8 billion in 2019.
The reality is different now. The public markets are struggling, and the impact of that stock market slowdown has begun to trickle into the private sector, as well. That doesn't bode well for pre-seed biotech startups like those at the Alliance's showcase, who now must navigate a tepid market without necessarily having clinical data—biotech's main proof of concept.
"The challenge is [biotech startups are] very capital-intensive, and we're moving into a [bearish] market with higher interest rates," Ryan Witt, hub director at UCLA Biodesign, told me at Tuesday's event. "You see this in the public markets—stocks are trading at cash value or close to cash value, some less than cash value. And because of that, you're seeing it's harder for the therapies companies to exit."
Witt said investors are now increasingly focusing on startups that have some clinical data to back them up, or first-time entrepreneurs who are surrounded by advisors with experience in the commercial realm. They're also more interested in knowing what the exit strategies for those startups look like, he noted.
The rest may have to contend with the fact that their next round of funding is going to be lower than they expected, as David Crean, managing general partner at life sciences VC firm Equitos, told me. "They're competing against other companies that are higher quality [and] closer to the clinic," Crean said. "It's very, very difficult for a lot of these companies."
"Now, the nice thing is, as a venture investor, we can get bargains," he added. "Right now, there's some really great bargains out there." — Keerthi Vedantam
Justin Han
Some 15-odd years ago, the Alliance for SoCal Innovation put on a workshop for academics looking to wade into the world of commercialized technology.
Fast forward to 2022 and the Alliance is gearing up for the latest edition of its annual First Look SoCal Innovation Showcase, taking place Tuesday at the Skirball Cultural Center. This year's lineup of 24 early-stage life sciences and tech startups—tapped from the Alliance's network of universities and incubators—will have the chance to pitch their ventures and meet with potential investors, mentors and industry executives as they look for what, in most cases, will be their first round of commercial funding.
The life cycle of biotech and medtech companies often starts at the academic level, where universities like Caltech, USC and UCLA pump research dollars into PhD projects and incubate them for a few years until there's proof of concept. Others are incubated at research institutions like the Lundquist Institute or City of Hope. From there, those projects that choose to become startups are spun out into standalone ventures and begin their hunt for venture capital money.
"This is often a perilous journey from lab to market," Steve Gilison, the Alliance for SoCal Innovation's chief operating officer, told dot.LA. "So we don't just think of this as an investment pitch, but as an opportunity to really make the right connections."
It also gives the rest of us a peek into what kind of cutting-edge technology is most interesting to early-stage SoCal investors. Here's what we can glean from this year's cadre of startups at the First Look showcase.
Stem Cell Therapy Could Replace Current Invasive Treatments
Stem cell therapy continues to be one of the most prominent trends in disease treatment. Some of the largest biotech companies working on stem cell therapies are based in Los Angeles; the Food and Drug Administration recently approved Santa Monica-based Kite Pharma's CAR-T cell treatment for some forms of cancer, which could reduce or even eliminate the need for extensive radiation or other treatments loaded with dangerous side effects.
A handful of biotech startups at the First Look showcase are utilizing stem cells to tackle diseases in a similar manner. Chimera Therapeutics, a startup out of City of Hope, uses "mixed chimerism"—where stem cells from a donor and the patient are mixed together in the patient's tissue—to treat autoimmune disorders like multiple sclerosis. The goal is to use donor stem cells to help boost a weakened immune system and potentially halt the progression of a disorder.
Simurx, another showcase participant that's a product of Children's Hospital Los Angeles, is following local biotechs like Kite and Appia Bio in deploying CAR-T cell therapy—in Simurx's case, to address solid tumors.
Despite how promising these cell therapies have been, the technology is still rather new, largely cost-prohibitive and comes with long wait times for patients. UC Irvine's Cellecho aims to make the process of creating these therapies faster through precision engineering. Most existing tools on the market require great care to precisely engineer cells, which make them hard to scale and can lead to longer wait times to receive treatment. Cellecho's tool—called the Acoustic-Electric Shear Orbiting Poration—is able to deliver genetic coding molecules into several cells at once. It can be automated and the disposable cartridges can be mass-produced, which should drive down costs.
Cultured Meat May Do Away with Unsustainable Meat Farming
Lab-grown meat promises to bring humane, environmentally-friendly disruption to a global meat market that is projected to be a $2.7 trillion industry by 2040, according to CB Insights. Some of the largest meat manufacturers in the U.S., such as Tyson Foods, have already invested in cultured meat that only requires a few animal cells to cultivate a protein. If embraced, these technologies could eventually do away with the need for factory farming, which accounts for 70% of the U.S.'s ammonia emissions.
Bluefin Foods, a UCLA spin-out, is entering the foray with lab-grown seafood cultivated from animal cells. The company says its technology, if borne out, could replace commercial fishing, which contributes to fish depopulation and ocean habitat degradation.
At this stage, lab-grown meat is still more expensive than its factory-farmed counterpart. But if startups like Bluefin are able to gain traction and scale, that may not be the case in the future.
The Biosensor Sector Could Pave the Way for Preventative Health Care
As the American health care industry struggles to provide a preventative model—one that would help patients avoid illnesses and ailments while lowering health care spending overall—a few nascent ventures are attempting to leverage technology to make out-of-reach tests and treatments easier to access.
UCLA's ViBo Health is in the backyard of one of Apple's preferred biosensor manufacturers: Pasadena-based Rockley Photonics, which makes sensors that track blood pressure, hydration and a slew of other biomarkers. Wearables like the Apple Watch and Google's Fitbit are among the largest customers for biosensors that were once reserved for the doctor's office.
ViBo's trajectory, however, is slightly different. Rather than affixing its biosensors to the body, its scanners—which track cholesterol, glucose and cardiac biomarkers—will be in pharmacies, clinics, gyms and offices. Lowering the barrier to entry and allowing patients to more quickly and easily check their own biomarkers may unburden the diagnostics space, as routine tests can be cost- and time-prohibitive for labs that often have more pressing tests to run.
Zoetic Motion, a startup in the physical therapy space, is taking a different approach. Physical therapy attendance among patients after a stroke or injury is notoriously low, yet critical to ensuring a full recovery and preventing a recurrence. Through an interactive and gamified platform, Zoetic allows physical therapists to prescribe exercise routines that promise to improve patients' engagement and help them build habits that keep them out of the hospital. One L.A.-based startup and First Look alum, Moving Analytics, raised $6 million in seed funding last year with a similar philosophy toward improving patient engagement at rehabilitation centers.
Besides Moving Analytics, several other startups that previously participated in the First Look showcase have also gone on to raise funds from investors. One notable success story is San Diego-based RNA therapeutics firm DTx Pharma, which has raised more than $100 million since it first appeared at the showcase in 2019.
This year's crop of ambitious young companies will hope Tuesday's event can be a platform that helps them replicate that kind of success.
From Your Site Articles
Related Articles Around the Web
Eliminating battery waste, developing new hair growth therapy, fixing carbon dioxide. These are among some of the ambitious problems that companies are trying to solve at the First Look SoCal Innovation Showcase beginning Tuesday.
Hosted by nonprofit Alliance for SoCal Innovation, the online event connects early-stage tech and life science companies with investors and serial entrepreneurs.
Founders of the 30 companies selected to participate come from universities and academic institutions across the region. Tech developed by these researchers and scientists is just emerging from labs, said Steven Gilison from the Alliance. This means most take longer to fundraise than typical startups and this opportunity often represents the start of their funding journey.
It's the third year the Alliance will host the showcase, which has been running for over 10 years. The event starts Tuesday with a daylong focus on life science founders and ends with the next day centered on tech. Each day begins with a keynote presentation and ends with a VC investor panel — a feature that last year brought in funding for several startups.
Here's a snapshot of the founders gearing up to pitch:
BioZen Batteries Aims to Solve Our Energy Storage Issues
Left to right: BioZen Batteries' co-founders Zach Rengert, Nate Kirchhofer and Eric Brigham.
Nate Kirchhofer, co-founder and CEO of BioZen Batteries, wants to make batteries that will outlive him.
Santa Barbara-based BioZen creates organic electrolytes, the active material inside a specific type of battery called a "redox flow battery." It's a different type of technology that differs from the lithium batteries often used in mobile applications like cars and phones. Only 5% of those get recycled.
BioZen's batteries are well suited for green, large-scale energy storage, Kirchhofer said. For example, batteries that help solar panels connect to the grid or provide backup during disasters when the power goes out.
Kirchhofer, an electrochemist, founded the company in June of 2019 with Zach Rengert, a materials chemist, and Eric Brigham, the company's CFO. Kirchhofer and Rengert met while getting their doctorate at UC Santa Barbara.
There hasn't yet been a push for sustainable batteries because it isn't economically incentivized, Kirchhofer told dot.LA. He said that his batteries are cheaper than competitors.
Kirchhofer's product fits into a growing renewable energy market and a social movement in which individuals want to do their part. He's worked for four startups but says this one is poised to make the biggest impact.
"If it's not our generation that solves climate change, there's not another chance. There's not another Earth." he said. "If we can make these batteries happen, we can truly integrate renewable energy and stop the petroleum-dominated energy paradigm we're part of."
Amplifica's founder Dr. Maksim Plikus
Amplifica Treats Baldness with Mole Molecules
Back in 2013, Amplifica's founder Dr. Maksim Plikus began studying hairy moles. Though some find the growths unsightly, his work showed promise for baldness treatment.
He, along with colleagues at UC Irvine, discovered that molecules from moles that grow excessive hair can induce follicle growth when administered anywhere on the skin.
"As long as you can tease it out and replicate it in the form of purified molecules, you can achieve essentially what we think would be a novel, revolutionary solution to baldness," Plikus told dot.LA.
Plikus said his company is the first to solve hair loss by replicating cells from hairy moles to stimulate hair growth. At the moment, hair follicle research has emerged as a leading experimental model for studying stem cells.
By 2025, hair-loss products are projected to surpass $12 billion, Plikus said. But only two drugs are FDA approved and require daily treatment in the form of pills, which he said come with long-term side effects.
Amplifica says it's poised to put a more effective and convenient solution on the market. Pinkus' proposed product is a topical solution requiring less frequent application, like getting Botox injections a few times per year.
FixingCO2 Aims to Recycle Fuel from the Air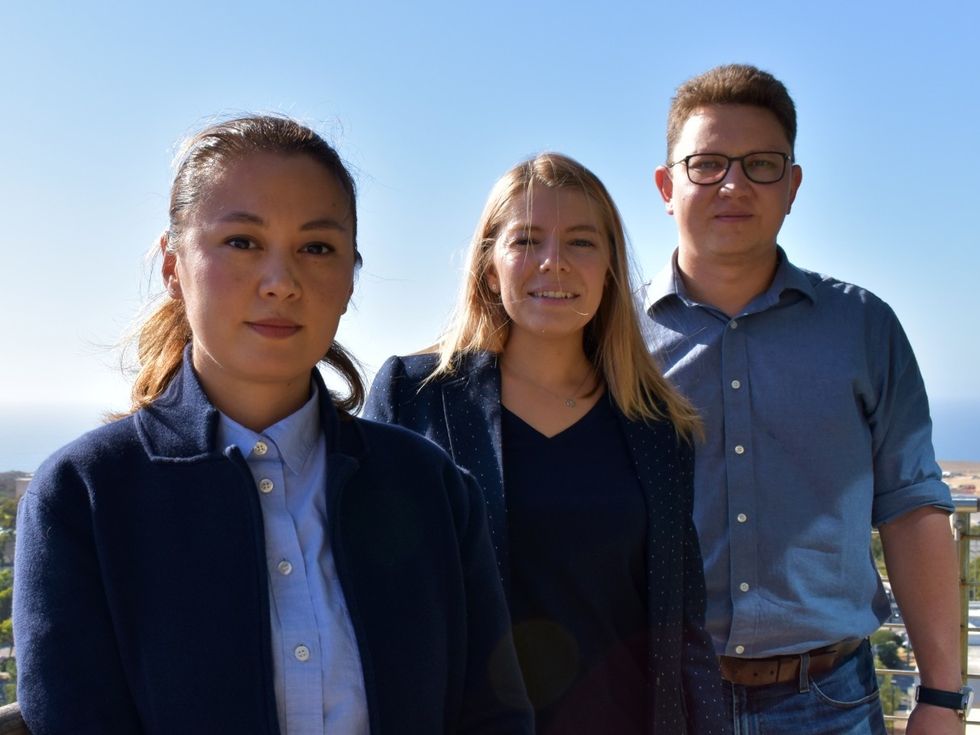 FixingCO2's team. CEO Eldar Akhmetgaliyev is at right.
FixingCO2 got its start on Mars. Like the name says, the company aims to fix the global carbon problem that's fueling climate change.
In 2018, co-founder Alma Zhanaidarova's professor and research group at UC San Diego received a grant from NASA to build out a reactor that makes renewable fuels and chemicals from carbon dioxide, often a byproduct of industrial waste. The technology was being developed in anticipation of a one-day human mission to Mars, where 95% of the atmosphere is carbon dioxide.
Now, the San Diego-based startup is commercializing their product for earthlings.
"It's a different application but the same core technology," co-founder Eldar Akhmetgaliyev told dot.LA. "Instead of making fuels from oil or any other fossil sources, we can make them essentially from air."
The team is developing the hardware to capture industrial emissions blamed for much of the Earth's warming. The product has significant application for the aviation industry, where planes are built to burn jet fuel that produces carbon emissions.
"These kinds of technologies provide them a pathway to decarbonization," he said. "They can use fuels made from CO2 so they're not contributing to climate change."
As fires burn through California and the Pacific Northwest, Akhmetgaliyev said there's urgency for innovators in the carbon tech market. "We're pretty much turning our planet into Mars," he said.
He said that by 2050, about 14% of overall carbon reduction will come from carbon capture and utilization (CCUS) technology like his.
"The market hasn't met its opportunity and with the effects of climate change being seen everyday, there's going to be more drive towards these low carbon technologies."