Keerthi Vedantam
Keerthi Vedantam
Keerthi Vedantam is a bioscience reporter at dot.LA. She cut her teeth covering everything from cloud computing to 5G in San Francisco and Seattle. Before she covered tech, Keerthi reported on tribal lands and congressional policy in Washington, D.C. Connect with her on Twitter, Clubhouse (@keerthivedantam) or Signal at 408-470-0776.
Los Angeles County health officials expect to have child vaccines for hundreds of thousands of the region's 5 to 11 year olds ready in the first few days of November.

On Tuesday a Food and Drug Administration advisory committee recommended the Pfizer-BioNTech COVID vaccine be approved for children via emergency-use authorization, paving the way for regulators to expand access to the vaccine.
The FDA and the Center for Disease Control and Prevention will consider it in the coming days, but they are widely expected to approve the vaccine, opening the door for elementary age children to receive the vaccination.
But, unlike previous efforts to inoculate adults from COVID at pop-up clinics like the massive Dodger Stadium one, the county expects the bulk of vaccinations to be handed out at local pharmacies, doctor's offices, community clinics and schools.
The Biden administration rolled out a plan earlier this month recommending health officials offer vaccines in locations without the long lines experienced in previous vaccination campaigns to avoid scaring young children. It also encourages settings where parents can speak with a provider about their concerns.
The county has already provided 800 schools with on-site vaccination clinics, and plans on sending out mobile clinics in areas like San Fernando Valley and South L.A. where health care facilities and pharmacies are sparse.
"Many parents have requested that we offer vaccines to children and teens at schools because these are familiar and trusted places," said L.A. County Public Health director Barbara Ferrer. "School vaccination clinics have already been an important part of our community vaccination strategy."
Ferrer said the county has pre-ordered 96,000 of the Pfizer vaccines for children expected to arrive by early November. There are about 900,000 eligible children. About 6% of the COVID-19 cases in L.A. are children 5 to 11, according to county health data through Oct. 25.
California mandated vaccinations for children from kindergarten to twelfth grade in early October. Those mandates are contingent on regulators approving the vaccine.
But, the California Department of Public Health has already said it will establish guidelines pending guidance from vaccine partners like the American Academy of Pediatrics.
Children, while historically not a high risk for catching the coronavirus, are still a key demographic for the county to vaccinate. That's because children spend the bulk of their day at school where they can come in contact with other unvaccinated kids, making them susceptible to catching and spreading the coronavirus.
But some parents have been reluctant to vaccinate their older children who became eligible in September. A Kaiser Family Foundation survey found roughly one-third of parents across the country will want to get their young child vaccinated immediately, while one-third said they will "wait and see" and the last third said they will only vaccinate their child if required.
"When it comes to little kids there is a little bit more of the wait-and-see mentality," said public health expert from USC Rita Burke.
More than two million Angelenos will be able to get a booster shot in the coming week after the Center for Disease Control approved Moderna and Johnson & Johnson booster shots on Thursday. It comes a day after the U.S. Food and Drug Administration announced it is safe to mix and match vaccines, a game changer for the public health sector.
"If you're not fussy, you can go anywhere as long as you're eligible," said Barbara Ferrer, director of Los Angeles County's Department of Public Health.
The department is also gearing up to inoculate the county's 900,000 children ages 5 to 11 who are expected to soon be eligible for a version of the Pfizer vaccine.
L.A. County officials said they anticipate having around 96,000 doses for young children by early November and more coming throughout the month. Those doses will be distributed at county-run vaccination sites along with pediatrician offices.
Those shots are one-third the size of the dose for those 12 to 17 years of age. The Biden administration said it expects the vaccine for children will receive FDA emergency-use authorization within a few weeks.
"We do not anticipate scarcity, and we expect that there will be ample vaccines to meet demand," Ferrer said.
Under guidelines provided by the FDA and CDC, adults who received a Johnson & Johnson vaccine are allowed to get any of the three available boosters two months after their first inoculation. Those who received two shots of the Moderna vaccine must meet certain criteria in order to get a booster shot.

In California, only residents over the age of 65 or those who work in high-risk settings are eligible to receive the booster shots, along with severely immunocompromised people. Any eligible resident must have waited at least six months since their last inoculation to get a booster.
Mixing and matching will help alleviate rationing out scarce Pfizer vaccines, which should help health officials inoculate more people faster with the new vaccines. Vaccine providers that need to travel to nursing homes or rural parts of California can bring one kind of vaccine for the entire population, instead of having to transport multiple refrigerators holding different vaccines at varying temperatures.
The decision also gives residents in L.A. County more flexibility in getting inoculated with the third dose.
So far, 79% of residents 12 and older in L.A. County have had at least one dose of the vaccine, and the county expects to reach 80% vaccination rate for eligible folks by the end of 2021.
But vulnerable populations are lagging behind. Only 55% of Black Angelenos and 63.5% of Latinos in the county have received at least one vaccine dose, despite being among the highest-risk groups for catching the coronavirus. In general, the number of people coming in to get vaccinated is tapering off, despite the growing number of vaccine sites across the county.
"Our hope is easy access, accurate information and targeted vaccination mandates are going to help get more people coming in as quickly as possible to get themselves vaccinated," Ferrer said.
Growing up in a South Asian household that had rules around food and eating, Abhilash Patel developed an eating disorder.

Patel never fit the typical profile for someone who has one — most people of color and men don't. But after years of working on a slew of behavioral health companies that dealt with addiction, including Rehabs.com and Recovery.org, Patel said he was ready to tackle eating disorders.
In 2020, Patel met with Dr. Wendy Oliver-Pyatt, an eating disorder specialist of 25 years, and the pair launched Within Health this week. The app pairs patients with dietitians, therapists and psychiatrists to treat a variety of eating disorders such as binge eating disorder, night eating syndrome and orthorexia.
Within Health is using AI and machine learning to track patient patterns like when they have difficulty completing the treatment or when they are late to a therapy session in order to better predict where patients might have difficulty and intervene early. It's a common model for data harnessing lots of health and wellness apps like Headspace.
"We're able to deliver treatment with more efficacy than it would have been otherwise. It allows us to track outcomes better," Patel said. "It allows [us] to deliver treatment for an extremely good life, that we believe is actually leading to better outcomes."
He said unlike group therapy and other treatments often alienate people who don't fit the public's perception of an eating disorder patient: men (a 2007 study found a quarter of anorexia and bulimia patients were men), people who are overweight (some studies indicate binge eating disorder and obesity are comorbidities) and LGBTQ+ people.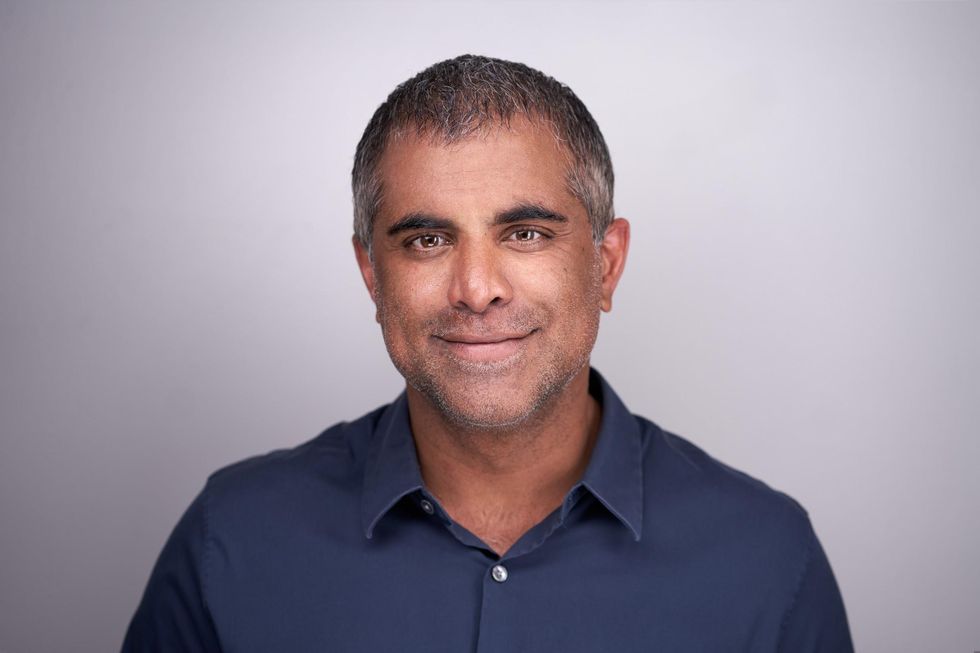 Abhilash Patel, co-founder of Within Health.
"That's a lot of people who generally don't talk about it or seek treatment because largely treatment is dominated by people who are female, because that's what we think about," Patel said.
Though Within Health is self-funded, it's launching at a time when venture capital activity in this space is at its prime. Mental and behavioral health apps raised $549 million in 2020, and nearly that same amount just six months into 2021, according to Pitchbook.
Noom, which uses psychotherapy principles around stress and anxiety to help people lose weight, raised $540 in a Series F round in May. Talkspace, a therapy company, went public earlier this year.
Eating disorders are difficult to treat because patients often relapse and face stressful situations. It requires long-term care and a team of professionals to help patients through. It also demands monitoring both food intake and one's mental health.
Those who do seek treatment find themselves seeking treatment from multiple doctors, therapists and others scheduling meetings and sitting on waitlists for eating disorder specialists.
"It's always people going to treatment. And that's why most people don't ever get treatment because they, for one reason or another, can't or won't go. Instead we make treatment go to people who are suffering."
From Your Site Articles
Related Articles Around the Web