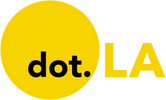 Get in the KNOW  
  on LA Startups & Tech  
X
Keerthi Vedantam
Keerthi Vedantam
Keerthi Vedantam is a bioscience reporter at dot.LA. She cut her teeth covering everything from cloud computing to 5G in San Francisco and Seattle. Before she covered tech, Keerthi reported on tribal lands and congressional policy in Washington, D.C. Connect with her on Twitter, Clubhouse (@keerthivedantam) or Signal at 408-470-0776.
Photo courtesy of the Port of Los Angeles.
San Pedro-based Braid Theory is one of the growing number of accelerators in the country looking to grow the so-called blue economy, which spans a range of ocean-related industries and is estimated at $2.5 trillion a year.

The accelerator is accepting online applications until July 18, with its second-ever program kicking off in August.
This year's focus will be different from the typical accelerator: Startups in this group will test their products directly with companies active in the ocean economy for four months, collecting data on what works, what doesn't and further developing proof of concept. Braid Theory will help these startups come up with their business plan and pitches, and connect them to investors and potential partners in the field. In return, it takes an equity warrant that can be converted after three years.
The startups joining Braid Theory typically span industries like port logistics, aquaculture and energy, all of them aiming to test their technologies and untapped opportunities of the burgeoning industry. The accelerator's goal is to bring those companies from pre-revenue into commercialization.
And all of them are looking to solve challenges within the blue economy ecosystem, many of which have also been exacerbated by the COVID-19 pandemic. With 31% of all goods floating across the ocean to and from the U.S. pass through the Port of L.A. and the Port of Long Beach, COVID-19 strangled supply chains and increased the volume of goods handled at L.A. 's premiere dock by nearly 16% between 2020 and 2021. This created numerous logistical challenges for the dwindling workforce at the nation's busiest ports while increasing emissions.
"The thing that we're trying to think about are ways in which we can leverage biological systems and software to make more immediate changes in markets that have a low barrier to entry," Braid Theory co-founder Jim Cooper said of accelerator's approach to addressing a wide range of climate and logistical issues.
Cooper founded Braid Theory with his colleague Ann Carpenter after the pair left PortTechLA, a maritime and logistics incubator that shuttered in 2016. The two wanted to create an accelerator for port and ocean startups that went beyond logistics and took into account other promising sectors of the ocean economy, including sustainable fish and plant cultivation as well as tools to make the shipping sector more efficient.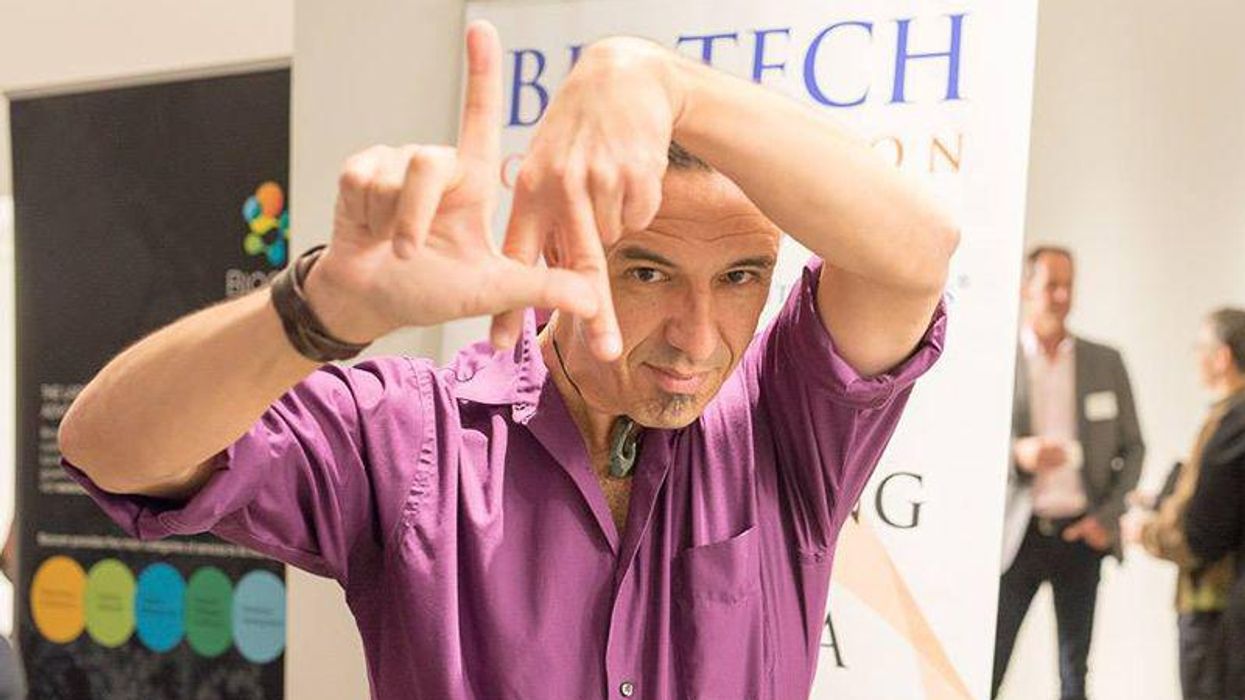 Jim Cooper co-founded Braid Theory with his former colleague from PortTechLA, Ann Carpenter.Image courtesy of Braid Theory
Accelerators like Braid Theory are attempting to fill a void in the blue economy ecosystem. Despite being home to several universities with robust maritime research centers and a giant port infrastructure that could be better optimized, few startups survive in Los Angeles due to a lack of early stage funding, according to a 2020 report from the Los Angeles Economic Development Corporation. The accelerator provides funds and lab space and investor connections to nascent startups tackling a wide range of ocean-related problems.
The same report found that ocean startups, particularly early-stage ones, have a difficult time getting funding to accommodate the need for expensive lab equipment like centrifuges, chillers and pipettes. Startups in the blue economy space are primarily funded through federal and state dollars, NGOs and philanthropies, and competitions. But while angel funding has historically been slow to trickle into blue economy startups, some are starting to take note of the size of the market. In the first cohort, eight out of 12 startups received federal funding and investor funding with the help of Braid Theory.
The accelerator's first graduating class included Florida-based Tampa DeepSea Xplorers, which makes seafaring autonomous vehicles that can scrape the bottom of the ocean and collect data faster for researchers to use as they study climate change impact or source for different medicines. Irvine-based ReCreate Energy is another graduate, which sources algae to create a more sustainable bio-crude oil that can be used at gas and oil refineries. While FlashQ, a Canada-based AI platform, is trying to reduce truck congestion and the emissions caused by them at the port by creating a scheduling platform that optimizes waiting and shipment times.
"The key is the opportunity, the opportunity was there," Mimi Carter, a biotech investor with the Pasadena Angels, said of the business opportunities in the ocean market. "We saw a market that was unaddressed and is still an emerging market."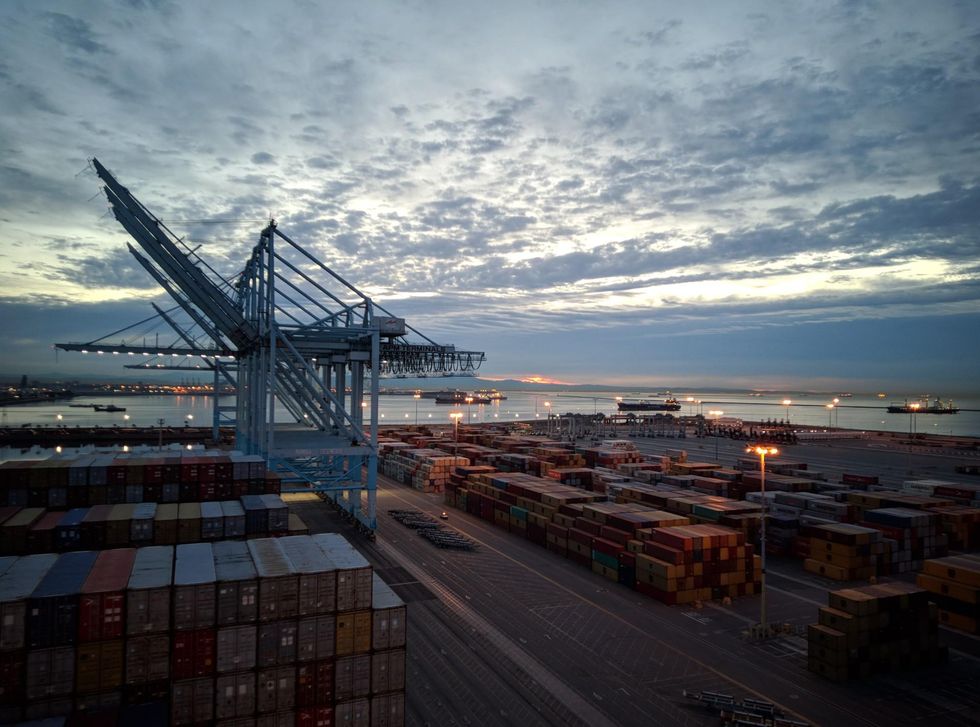 A cluster of cranes at the Port of Long Beach.Photo by DJANA 575/ Shutterstock
To Carter's credit, L.A. County boasts 75 miles of coastline that the LAEDC expects by 2023 will produce more than $80 billion in regional output, make roughly $50 billion in gross county product, and create over 200,000 direct and indirect jobs, according to a 2020 report. And, according to the Los Angeles Economic Development Corporation, economic and job growth in this sector relies heavily on the creation and implementation of new technologies, making angel investors necessary players in bolstering the ocean economy.
"Not only do we want to be investing in a sustainable product, but someone we count as a first mover," Carter said of her investment approach. Already, groups like the Pasadena Angels and Techstars L.A. have made investments in the space. Reece Pacheco, a blue economy angel investor, is quietly working on a new venture fund around the blue tech space that hasn't been announced yet.
"What we're starting to see is there are entrepreneurs who are either coming up through these research firms, or there are entrepreneurs who have cut their teeth elsewhere but care about the ocean," Pacheco said.
There's also Braid Theory's neighbor (and landlord), AltaSea, the nonprofit research hub that has facilitated a number of partnerships with companies across the world.
"We do want to become the leading destination for the blue economy in terms of technology, finance, the education pathways it takes for students to get into these jobs in the future, and then the actual workforce development for the jobs of the future," said Terry Tamminen, the new CEO of AltaSea.
Braid Theory's makeshift shipping container-turned-lab is next door to a slew of other startups and projects in the blue economy space. USC researchers are incubating bubbling cauldrons of kelp that could create biofuels and alternative food sources. While Oceanographer Robert Ballard, who found the Titanic wreckage in 1985, set up a sea exploration program a few doors down.
"The ocean is more than a destination for tourists and a place for Jacques Cousteau and David Attenborough to go diving," Tamminen said. "It's actually something right at our doorstep that we need to protect for our own survival, but it's also an economic opportunity."
Image by Carolyn Figel
The pandemic exacerbated a problem that has been long bubbling in the U.S.: childcare.
According to a survey of people in science, technology, engineering and mathematics (STEM) careers conducted by the city's WiSTEM Los Angeles program and shared exclusively with dot.LA, the pandemic exposed a slew of challenges across STEM fields. The survey—which consisted of 181 respondents from L.A.County and was conducted between March 2021 and 2022— involved respondents across medical fields, technical professions and science industries who shared the pandemic's effects on their professional or education careers.
The survey found 60% of the respondents, primarily women, were balancing increased caretaking roles with work or school responsibilities. And while caretaking responsibilities grew, 49% of respondents said their workload also increased during the pandemic.
"The pandemic threw a wrench into lots of folks' experiences both professionally and academically," said Kathryne Cooper, a health tech investor who sits on the advisory board of WiSTEM. "So we need to acknowledge that."
In the L.A. area, an increasing number of childcare startups are aiming to address this massive challenge that is a growing national crisis. The U.S. has long dealt with a crippling childcare infrastructure plagued by low wages and a labor shortage in preschools and daycares, but the COVID-19 crisis made it worse. During the pandemic, women left the workforce due to the lack of childcare and caretaking resources. By 2021, women made up the lowest percentage of the workforce since 1988, according to the National Women's Law Center. Despite the pandemic forcing everyone indoors, caretaking duties fell disproportionately on women.
"I almost actually left my job because everything that I looked at was either waitlisted or the costs were so astronomical that it probably made sense for me to stay at home rather than pay someone to actually look after my child," said Jessica Chang, the CEO of childcare startup WeeCare.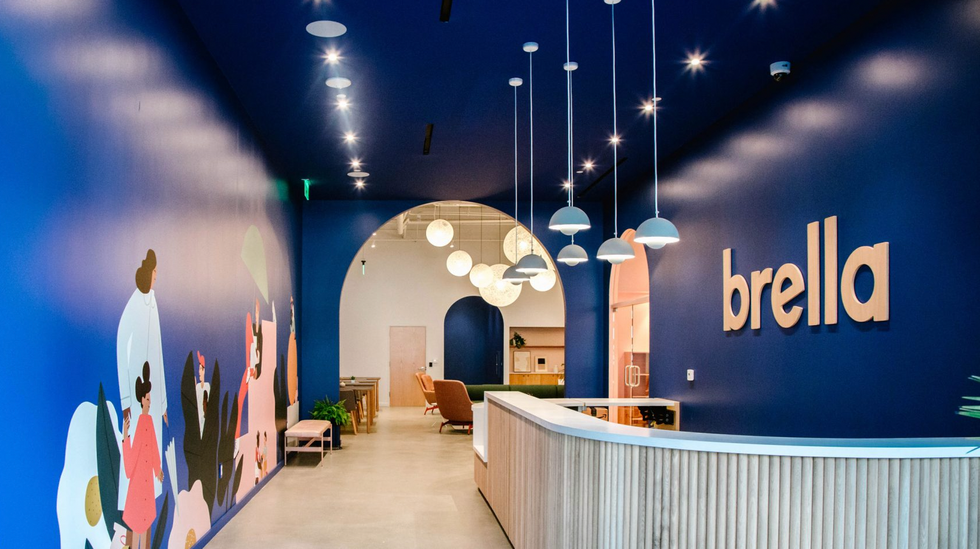 Brella's Playa Vista-based childcare center lobby.Photo courtesy of Brella
The Marina del Rey-based WeeCare, one of the startups that helps people open their own childcare facilities, announced it raised $12 million in April (to go along with an additional $5 million in bridge funding raised during the pandemic). The company helps people build daycare centers and works with employers to provide access to WeeCare centers and construct childcare benefits programs.
Some of these startups strive to boost the number of daycare centers by helping operators with financial costs, licensing fees and scheduling. Wonderschool, a San Francisco-based childcare startup, raised $25 million in January and assisted with hundreds of childcare facilities in L.A.-based Playground, which raised $3 million in seed funding last year per PitchBook. Playground acts as an in-house platform for childcare providers to communicate with staff and parents, track attendance, report student behavior and provide automatic invoicing services.
L.A.-based Brella, which launched in 2019, raised $5 million in seed funding in January to create a tech-enabled daycare scheduling platform that could meet the demand of flexible childcare as parents navigate a hybrid work environment, and recently opened a new location in Hollywood. The startup aims to address the labor shortage among childcare workers by paying its workers roughly $25 an hour and offering mental health benefits and career development opportunities for its educators.
"It's this huge disconnect in our society because these are really important people who are doing arguably one of the most important educational jobs," said Melanie Wolff, co-founder of childcare startup Brella. "They often don't get benefits. They don't have a lot of job security."
Venture capital funding has poured into the relatively new childcare sector. A slew of parent-tech companies aimed at finding flexible childcare and monitoring children saw $1.4 billion worth of venture investments in 2021, according to PitchBook, largely to meet the demands of parents in a pandemic era who have more flexible work commutes and require more tech-enabled solutions.
"I think a lot of it has to do with what employers expect for workers," said Darby Saxbe, an associate professor of psychology and family relationships expert at USC. "There's still a lot more stigma for men to build their work around caregiving responsibilities–there's a lot of evidence that men are often discouraged from taking paternity leave, even if it's available."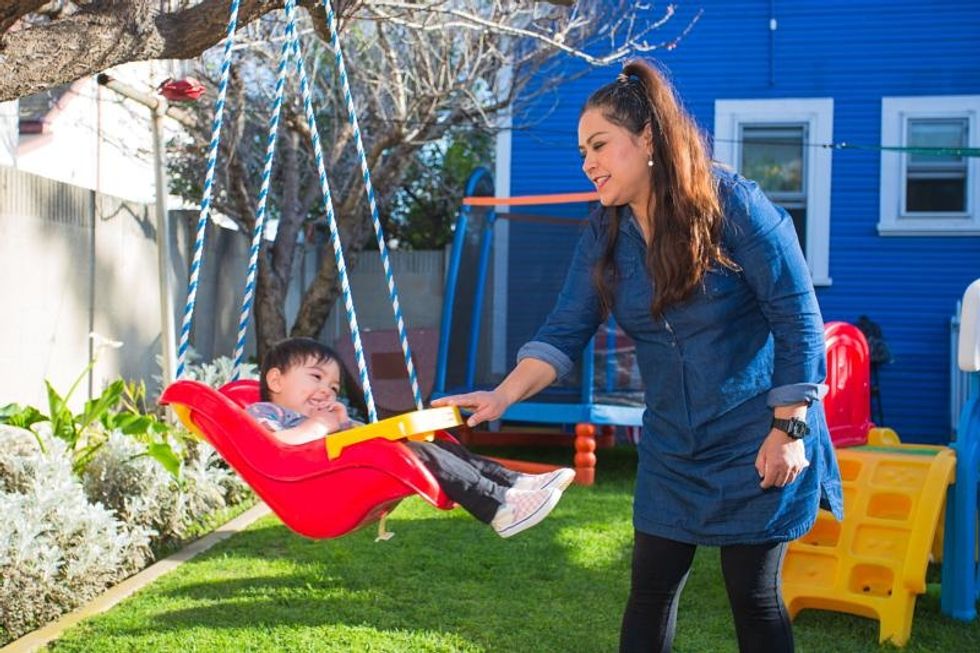 WeeCare is one of several startups updating the childcare space with technology and flexibility. Photo courtesy of WeeCare
Childcare benefits are also becoming a more attractive incentive as workers grapple with unorthodox work schedules in a hybrid setting.
"Employers, because of COVID, were having a hard time retaining and recruiting employees," said Chang. "And they were actually incentivized to actually find a solution to help the employees."
WeeCare primarily partners with employers of essential workers, like schools, hospitals and grocery stores, and the benefits programs account for the majority of WeeCare's revenue.
Childcare works are part of a massive labor shortage in caretaker roles that also include nurses, and health aids for the eldery. These workers, which allow women to maintain careers in STEM and other high-paying industries, are vital, according to Saxbe.
"Women can advance in the workplace," Saxbe said. "But if there's no support at home and there is no one who is helping take care of kids and elderly people, women can't just advance in a vacuum."
The United States Supreme Court called a Mississippi law banning abortion after 15 weeks constitutional on Friday, overturning the country's founding abortion rights decision Roe v. Wade. The Supreme Court also upheld that there cannot be any restriction on how far into a pregnancy abortion can be banned.
When Politico first broke the news months before SCOTUS's final ruling, a slew of bills entered Congress to protect data privacy and prevent the sale of data, which can be triangulated to see if a person has had an abortion or if they are seeking an abortion and have historically been used by antiabortion individuals who would collect this information during their free time.
Democratic lawmakers led by Congresswoman Anna Eshoo called on Google to stop collecting location data. The chair of the Federal Trade Commission has long voiced plans for the agency to prevent data collection. A week after the news, California Assembly passed A.B. 2091, a law that would prevent insurance companies and medical providers from sharing information in abortion-related cases (the state Senate is scheduled to deliberate on it in five days).
These scattered bills attempt to do what health privacy laws do not. The Health Insurance Portability and Accountability Act, or HIPAA, was established in 1996 when the Internet was still young and most people carried flip phones. The act declared health institutions were not allowed to share or disclose patients' health information. Google, Apple and a slew of fertility and health apps are not covered under HIPAA, and fertility app data can be subpoenaed by law enforcement.
California's Confidentiality of Medical Information Act (or CMIA), goes further than HIPAA by encompassing apps that store medical information under the broader umbrella of health institutions that include insurance companies and medical providers. And several how-tos on protecting data privacy during Roe v. Wade have been published in the hours of the announcement.
But reproductive rights organizations say data privacy alone cannot fix the problem. According to reproductive health policy think tank Guttmacher Institute, the closest state with abortion access to 1.3 million out-of-state women of reproductive age is California. One report from the UCLA Center on Reproductive Health, Law and Policy estimates as many as 9,400 people will travel to Los Angeles County every year to get abortions, and that number will grow as more states criminalize abortions.