mars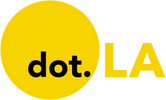 Get in the KNOW
on LA Startups & Tech
X
mars
Most of the marketing around Earth Day is centered around our beautiful, yet delicate, planet. But a Los Angeles purpose-driven creative agency launched a cheeky campaign that focuses on the unappealing alternative – Mars.
The agency paid for a digital billboard to go live on Earth Day across from SpaceX headquarters in Hawthorne, CA, with the caption: "Mars Sucks." (A representative for Mars declined to comment.)

"We wanted to make a statement that would catch the world's attention, with the sole purpose of encouraging people to see the importance of prioritizing Earth," wrote Paco Conde and Beto Fernandez, founders of the agency Activista, in a joint email to dot.LA. "With SpaceX and Elon Musk representing Mars, the digital billboard outside SpaceX's HQ gave us a unique opportunity to make our statement that Mars can wait, but Earth can't – all in good humour, with a wink and a smile."
SpaceX is aiming to ferry tourists to Mars as soon as 2024.While seen as the most likely other planet in our solar system to host intelligent life, the Red Planet leaves a lot to be desired – with no breathable air, temperatures averaging a chilly -8 F and going as low as -220F, and punishing dust storms lasting months on end.
Conde and Fernandez say they are baffled as to why billionaires such as Musk and Amazon founder Jeff Bezos are so intent on going to Mars.
"We see some of the smartest and richest people on this planet dreaming of Mars," they wrote. "A hellhole that sucks. Really? Imagine if we had these same brilliant minds putting their genius into the climate crisis we're facing right now."
While the billboard will only be on display for 24 hours – until 6am PST Friday – a website and social media campaign will live on with the anti-Mars message. Visitors to the website are encouraged to donate to environmental groups.
Elon Musk has not responded to the billboard but plenty of others worldwide, including Russia's state news agency, have taken note on social media.
@SputnikInt's account has been withheld in Belgium, Austria, Bulgaria, Sweden, Croatia, Spain, Slovenia, Cyprus, Slovakia, Czech Republic, Romania, Portugal, Poland, Denmark, Netherlands, Estonia, Malta, Luxembourg, Finland, France, Lithuania, Germany, Greece, Latvia, Hungary, Italy, Ireland, United Kingdom in response to a legal demand. Learn more.

— (@) 1619119860
Earth Day shade in front of Space X headquarters. https://t.co/I7NMFeBrtw https://t.co/Fzf2zNqNh4

— Bill Weir (@Bill Weir) 1619102696
Une agence trolle Elon Musk avec sa campagne "Mars sucks" #journeemondialedelaterre https://t.co/AdEde0MfiR

— la Réclame (@la Réclame) 1619118540
🌍🌎🌏 Happy Earth Day 🌍🌎🌏

— Elon Musk (@Elon Musk) 1619125064
From Your Site Articles
Related Articles Around the Web
NASA's Ingenuity helicopter survived its first night on Mars despite temperatures that can reach minus 90 degrees, a sign the craft is well-insulated, clearing a major hurdle for the mission.
NASA's Pasadena-based Jet Propulsion Laboratory is operating the solar-powered helicopter remotely and expects the chopper to liftoff after April 11. The flight will allow us to see another planet from the air for the first time and will be livestreamed on NASA TV, its website at NASA.gov/live, and on its YouTube channel.
"If we are successful, it will prove that aerial flight on Mars is within our grasp," JPL's director of planetary science Bobby Braun told dot.LA. "We're going to start with a very simple flight -- go up, move around a little and come back, and then we'll expand our flights, and go higher and faster."
NASA didn't set a hard date for the launch, partly because it needs to make sure the weather on Mars which can be unpredictable – and the machinery – are right for takeoff.
Ingenuity is basically a tiny helicopter custom-designed for flight on Mars, and its primary mission is to hover over the Red Planet's surface and take videos and photos to send back to Earth. It had been attached to the Rover Perseverance until it was released on Monday.
Over the next day, Ingenuity will collect information about how well it's able to stay warm and maintain power to ensure it can withstand the harsh Mars nights through the entire flight experiment period.
On April 7, the craft's restraints that held the rotor blades together will be released before a battery of more tests are performed. Then, it's take off.
The entire project cost NASA roughly $80 million. JPL announced Saturday that Ingenuity had completed a successful drop from the belly of the Perseverance rover and survived its first night on Mars -- no small feat, since the helicopter is solar-powered.
Braun said that this step could be a small one on the road to sending humans up to Mars to explore.
"There's certainly a very compelling rationale to explore Mars robotically as a means of gaining knowledge and insight, and as a precursor for human exploration," Braun noted.
The Ingenuity mission is a huge collaborative effort. NASA contracted several California companies to help design and develop Ingenuity, including San Diego-based Qualcomm, which created the computer chips used in the rover and helicopter that allow NASA to maneuver it from millions of miles away. Simi Valley-based AeroVironment which was brought on to design the helicopter's custom-made rotor blades specifically designed to take off in the thin Martian atmosphere.
NASA will livestream the launch on NASA TV, its website at NASA.gov/live, and on its YouTube channel. On-demand recordings of the event will also be available on YouTube once the live stream is concluded. A NASA spokesperson said that other recordings from additional feeds will be uploaded to the Mars 2020 Perseverance mission website as they become available.

In order to get the NASA TV channels, viewers will need a Digital Video Broadcast-compliant Integrated Receiver Decoder, since the TV signals are transmitted from a satellite via digital C-Band signals. It might be easier to just check YouTube.
For those looking for raw footage, a clean feed of mission activities will also be available on the NASA TV media channel and YouTube.com/JPLRaw.
To keep tabs on the Ingenuity and Perseverance missions on social media, follow them on Twitter, Facebook or Instagram, where the NASA and JPL teams will be posting updates on the mission progress.
From Your Site Articles
Related Articles Around the Web
Scientists at NASA's Pasadena-based Jet Propulsion Laboratory are working overtime on a second Mars mission less than a month after Perseverance landed, this time with the goal of launching a helicopter off the Red Planet's surface for the first time.

The plan is to use NASA's Ingenuity craft, a tiny helicopter custom-designed for flight on Mars, to hover the surface and take photos and videos. It's basically an incredibly expensive drone flight, with the operators millions of miles away and a short window that could make it a tricky maneuver.
The entire endeavor costs about $80 million, a high price tag for a potentially historic first mission.
NASA plans to launch its Mars chopper around April 8, and its test flight duration is limited to roughly a month. The helicopter was carried to Mars packed tightly onto the bottom of the Perseverance rover, which is about the size of a small car.
The expensive experiment is a risky gamble, especially because NASA's crafts are solar-powered.
Farah Alibay, an engineer at JPL working on the Perseverance rover mission and Ingenuity missions, said that time is a critical factor in the mission. The Ingenuity helicopter can't sustain itself after more than a day of darkness, so the team has roughly one Mars day to get it off the ground before its battery dies.
"The helicopter needs photons, it needs sun on its solar panels to charge its batteries and it can only survive one Martian night without that," Alibay said. "That's going to be a very stressful period but what I look forward to the most is after we do that drive is we'll get the first shot of Ingenuity on the surface of Mars, on her own, and I cannot wait to get that first picture."
This test flight with the Ingenuity helicopter would mark the first time a flying craft has landed and taken off on the Red Planet, although NASA has sent four different wheeled robots or rovers to the planet since it first landed the Sojourner in 1997.

"It will have 31 Earth days to attempt to be the first helicopter to fly on another planet," NASA Planetary Science Division Director Lori Glaze said during a briefing Tuesday. "Sojourner redefined what we thought was possible on the surface of Mars, and completely transformed our approach to how we explore there."
If the mission is successful, it could mean that NASA would look to work with private contractors to develop more craft like the Ingenuity. A JPL spokesperson didn't immediately return dot.LA's request for comment regarding which local companies it might look to work with on future Mars helicopter projects.
Elon Musk has been vocal about his desire to live on and colonize Mars, so perhaps SpaceX might look to advance the technology. NASA implied during the briefing we may one day see privatized short-distance air travel in space, as well as Earth.
"As far as identifying a specific opportunity in the near future, what we like to do within NASA is provide competitive opportunities for our community and so we do offer those on a periodic basis and would hope that the community would see this as a great opportunity to start thinking about aerial platforms as a potential way to really expand our Mars exploration," Glaze said.
The helicopter will also carry a small piece of aerospace history with it as it zooms around Mars – a piece of fabric from the Wright Brothers' first successful test airplane, which took off from Kitty Hawk, N.C. in 1903.
"We are very proud to honor that experimental aircraft from long ago by carrying a small piece of fabric," said J. Bob Balaram, ingenuity chief engineer at JPL. This, he said, is another "Wright brothers moment" in history.
From Your Site Articles
Related Articles Around the Web