How the Mars Helicopter's Success Could Spur a New Spacecraft Race
Samson Amore
Samson Amore is a reporter for dot.LA. He holds a degree in journalism from Emerson College. Send tips or pitches to samsonamore@dot.la and find him on Twitter @Samsonamore.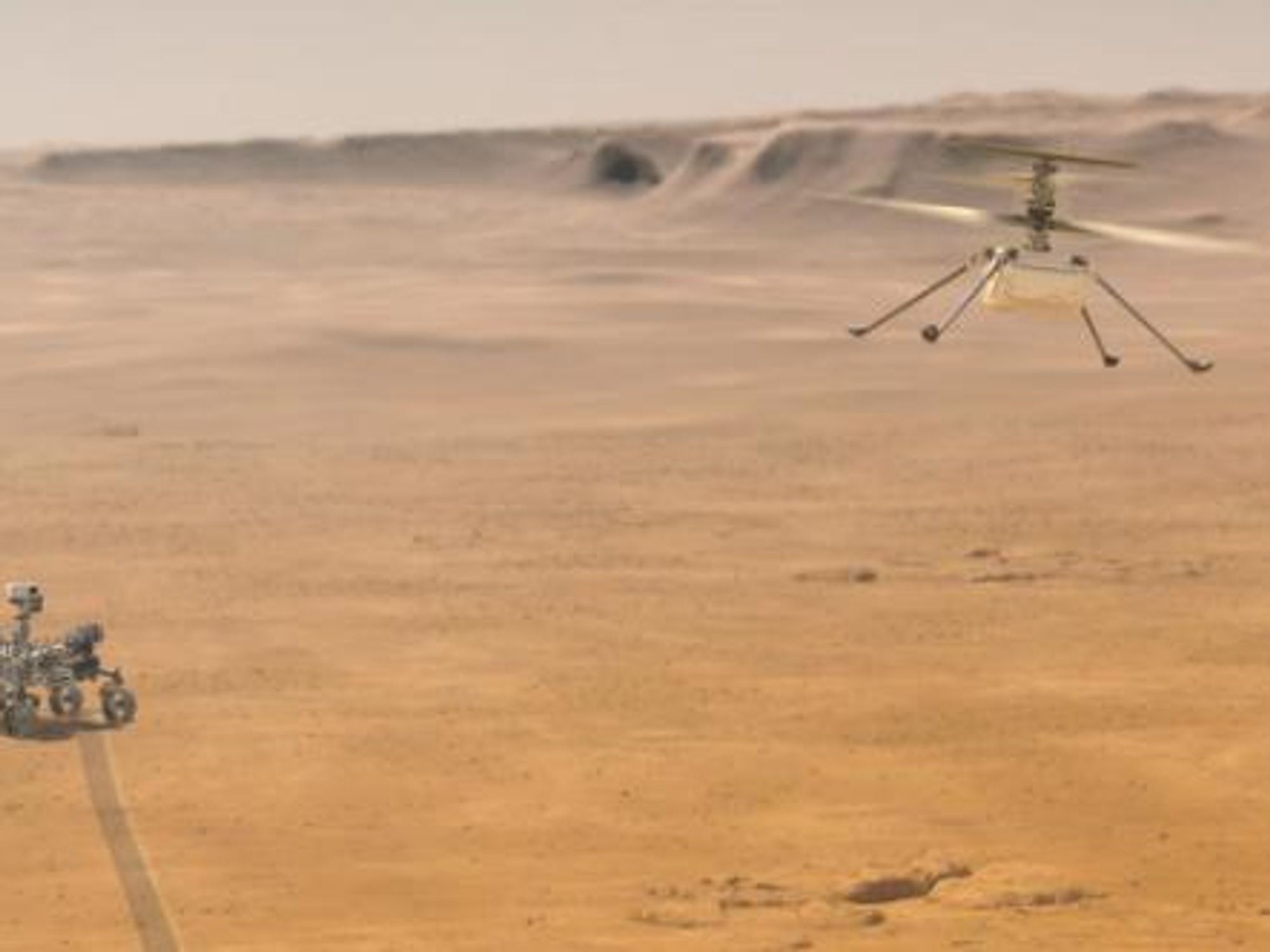 Scientists at NASA's Pasadena-based Jet Propulsion Laboratory are working overtime on a second Mars mission less than a month after Perseverance landed, this time with the goal of launching a helicopter off the Red Planet's surface for the first time.

The plan is to use NASA's Ingenuity craft, a tiny helicopter custom-designed for flight on Mars, to hover the surface and take photos and videos. It's basically an incredibly expensive drone flight, with the operators millions of miles away and a short window that could make it a tricky maneuver.
---
The entire endeavor costs about $80 million, a high price tag for a potentially historic first mission.
NASA plans to launch its Mars chopper around April 8, and its test flight duration is limited to roughly a month. The helicopter was carried to Mars packed tightly onto the bottom of the Perseverance rover, which is about the size of a small car.
The expensive experiment is a risky gamble, especially because NASA's crafts are solar-powered.
Farah Alibay, an engineer at JPL working on the Perseverance rover mission and Ingenuity missions, said that time is a critical factor in the mission. The Ingenuity helicopter can't sustain itself after more than a day of darkness, so the team has roughly one Mars day to get it off the ground before its battery dies.
"The helicopter needs photons, it needs sun on its solar panels to charge its batteries and it can only survive one Martian night without that," Alibay said. "That's going to be a very stressful period but what I look forward to the most is after we do that drive is we'll get the first shot of Ingenuity on the surface of Mars, on her own, and I cannot wait to get that first picture."
This test flight with the Ingenuity helicopter would mark the first time a flying craft has landed and taken off on the Red Planet, although NASA has sent four different wheeled robots or rovers to the planet since it first landed the Sojourner in 1997.

"It will have 31 Earth days to attempt to be the first helicopter to fly on another planet," NASA Planetary Science Division Director Lori Glaze said during a briefing Tuesday. "Sojourner redefined what we thought was possible on the surface of Mars, and completely transformed our approach to how we explore there."
If the mission is successful, it could mean that NASA would look to work with private contractors to develop more craft like the Ingenuity. A JPL spokesperson didn't immediately return dot.LA's request for comment regarding which local companies it might look to work with on future Mars helicopter projects.
Elon Musk has been vocal about his desire to live on and colonize Mars, so perhaps SpaceX might look to advance the technology. NASA implied during the briefing we may one day see privatized short-distance air travel in space, as well as Earth.
"As far as identifying a specific opportunity in the near future, what we like to do within NASA is provide competitive opportunities for our community and so we do offer those on a periodic basis and would hope that the community would see this as a great opportunity to start thinking about aerial platforms as a potential way to really expand our Mars exploration," Glaze said.
The helicopter will also carry a small piece of aerospace history with it as it zooms around Mars – a piece of fabric from the Wright Brothers' first successful test airplane, which took off from Kitty Hawk, N.C. in 1903.
"We are very proud to honor that experimental aircraft from long ago by carrying a small piece of fabric," said J. Bob Balaram, ingenuity chief engineer at JPL. This, he said, is another "Wright brothers moment" in history.
Samson Amore
Samson Amore is a reporter for dot.LA. He holds a degree in journalism from Emerson College. Send tips or pitches to samsonamore@dot.la and find him on Twitter @Samsonamore.
https://twitter.com/samsonamore
samsonamore@dot.la