nasa
nasa
NASA's Pasadena-based Jet Propulsion Laboratory will continue to launch an array of missions next year as it works towards its goals of expanding humanity's knowledge of both our solar system and the forces that formed and continue to shape our planet.
The NASA lab is run by Caltech and works on a number of projects each year that range from exploring the farthest reaches of our solar system to missions that seek to gain a better understanding of our planet's ever-changing environment and atmosphere.
The Ingenuity helicopter and the Perseverance rover will continue to roam Mars until they die – which could be decades (the Curiosity rover launched in 2011 and is still active today).
Ingenuity is exploring the boundaries of flight on the red planet, and recently completed the first 30-minute remote flight on another planet. The Perseverance rover will continue to record data and collect samples of Mars rock. It'll seal those samples away in about a dozen airtight tubes, which NASA hopes to soon bring back to Earth for study.
Bobby Braun, director for planetary science at the JPL, told dot.LA he expects to learn much more about Mars and whether or not it could ever be habitable in coming years. He also noted the JPL is working with European space agencies to develop flight systems that will allow the samples to come back to Earth for testing.
"It all relates to this quest to bring a very specific piece of Mars back to the Earth for study," he said.
Now that Ingenuity is proven to be capable of longer flights, as long as it has a reliable solar power supply to recharge it can continue guiding rover missions.
"Ingenuity and Perseverance are buddies on Mars," Braun said. "Ingenuity is flying ahead of perseverance and it's scouting out the area that Perseverance is thinking of going to and giving us information about where we should go and what rocks we should sample before perseverance even gets to that location."
Braun said the majority of NASA's JPL missions in the upcoming year will be carried into space by SpaceX crafts, usually the Falcon Heavy rocket. The government hasn't run a space shuttle mission since 2011, and has found it much cheaper to rely on private contractors like SpaceX for crafts.
Another mission, called Psyche, is helmed by Arizona State University and JPL and involves a plan to study a metal asteroid of the same name.
The metallic asteroid, which orbits the sun between Jupiter and Mars, and it could lead to valuable insights about our Earth's core. It's basically impossible to measure the core of our own planet, but JPL scientists think this rock could be part of a nickel-iron core of an early planet from around the time of the Big Bang. Exploring it and taking measurements could help us learn more about how our own planet was formed.
The Psyche craft is expected to lift off in a SpaceX rocket from Florida's Kennedy Space Center by August 2022 and reach the asteroid by 2026, Braun said.
Asteroids can tell us a lot about our planet's formation. Another NASA JPL mission, the Near Earth Asteroid (NEA) Scout, will test the use of a solar sail. The goal is to use a solar sail to send a small cube satellite on a solar wind to reach and observe an asteroid close to our planet.
Braun said that while NASA isn't tracking any asteroids dangerously close to Earth now, he noted, "we do know that long ago in the geologic past the Earth was bombarded by asteroids," so NASA wants to be learn more.
NEA Scout is designed by the JPL in partnership with the Huntsville, Alabama-based Marshall Spaceflight Center.
Braun said NASA's JPL also wants to study dust by launching a mission called EMIT which will send an imaging spectroscope to the International Space Station to measure the minerals in the Earth's driest and dustiest regions. Another NASA satellite already observed Saharan dust in Africa from space, and Braun said that dust—in particular, dust particles that arise from fires and are scattered in the air—is a key factor in understanding climate change. "Those airborne particles also contribute to the modeling of our climate and our understanding of the Earth as a system," he said.
NASA is also invested in getting a clearer understanding of the state of the Blue Planet's water. A Surface Water and Ocean Topography (SWOT) mission will launch a satellite from Vandenberg Space Force Base next November in partnership with space agencies in France, Canada and Britain.
According to Braun, the ocean is one of the Earth's most massive indicators of how carbon dioxide is being stored and released on Earth. "Better understanding the processes that govern our oceans is actually critical to having better models for climate change," he said.
From Your Site Articles
Related Articles Around the Web
The past year has seen a rapid increase in space exploration, both by professional astronauts and those with enough money to afford a jaunt to the stars.

2021 may be remembered as the year wealthy travelers went to space in droves. The Who's Who list includes Amazon exec Jeff Bezos, Virgin Galactic founder Richard Branson and millionaires Michael Strahan and William Schatner. But that likely won't be the end of space tourism.
Viewing the "pale blue dot" of our planet (as Carl Sagan once described it) is a life-changing experience few typically get to have, and it can often change a person's perspective of their home forever.
"I know a large number of astronauts and every one of them has told me that their view of our world changed the moment they looked back at the Earth," said Bobby Braun, director of planetary science for NASA's Pasadena-based Jet Propulsion Laboratory. "All of them have been impacted by this, and they come back with kind of a different view of our Earth and the fact that we're all in this together. I think that's a very positive force."
As people continue to venture further into space, it will continue to shift the way the aerospace industry approaches working, playing, and maybe, eventually living among the cosmos.
Here're a few trends to keep an eye on as the space industry accelerates next year.
Space Tourism's Acceleration
Propelled by suborbital flights from Blue Origin, SpaceX and Virgin Galactic this year, interest in visiting space has skyrocketed.
The billionaires at the helm of these companies, including Jeff Bezos and Richard Branson, may have led the way this past year, but the trend won't end there. It's unlikely the average person will be able to travel to space anytime soon;– 's the price tag for a Virgin Galactic flight into orbit was $50 million in August 2021.
In 2022, it won't be just private firms looking to capitalize on space tourism. Some nations are already looking to offer trips. Russia, for instance, is asking $60 million per person for a ride to space on its Soyuz rockets.
While interest in space tourism grows, demand for adventures beyond the typical 10-minute sub-orbital trips will accelerate. Expect questions about the future of our species' experience among the stars to come to the fore, including the big question: Could we eventually live there?
There's long been talk of making space hotels, crafts that can house travelers in more glamorous conditions than the research-oriented International Space Station. Fontana-based Orbital Assembly is looking to finish a hotel in space by 2027.
Chief Operating Officer Tim Alatorre told dot.LA earlier this year that while we don't have the ability to build large commercial structures in space yet, "there's no engineering reason for that. It's just a matter of will, and getting all the business and the commerce components in place to make it happen."
Orbital Debris Will Become a Factor

What goes up must come down, eventually.
As private companies such as Musk's satellite internet firm Starlink launch more satellites into space alongside a growing number of government launches, the final frontier will become even more crowded.
About 3,000 inactive satellites are still in space, the World Economic Forum reported in May.
Experts say there's a chance that satellites (or the debris of one-time satellites) could create a greater hazard to essential systems such as GPS. It's also a potential problem for the ISS crew, which could see missions jeopardized if the station were struck by a piece of debris.
As larger pieces of debris inevitably return to Earth, expect to see more instances of the panic that followed in May when huge pieces of a Chinese rocket landed off the Maldivian coast.
Braun said the JPL is keeping an eye on this, especially after the crew had to go into "shelter mode," hiding in crew capsules for safety in November as a piece of a Russian anti-satellite weapon test went flying by.
"It's becoming more and more of a problem, because there have been both accidents and deliberate acts where people have proven that they could blow up something in low Earth orbit," Braun said. When they do, he said, they create a dangerous "swarm of debris" that can just hurtle around the vacuum of space forever if left unchecked.
More Competition for ISS Missions
Missions to the International Space Station have been a cornerstone of NASA's agenda, but it's been nearly 11 years since the final publicly funded Space Shuttle mission. Governments and private firms are now in a constant competition to out-bid each other for valuable ISS launch contracts.
SpaceX has been the main beneficiary of new contracts, ever since it swooped in to offer a much cheaper ticket to the ISS than the $90 million per-seat Russian rockets. That isn't to say SpaceX can't itself be outbid. Companies including Long Beach-based Relativity Space are 3D-printing rockets and quickly becoming a new favorite of the Space Force.
SpaceX doesn't just carry crew members to the ISS; it will continue to deliver valuable resupply missions for the astronauts living there, and launched its final resupply mission of the year Dec. 21.
Expect More Mergers
A number of space companies went public in 2021, driven in part by a wave of special purpose acquisition mergers (SPACs) that allowed them to raise gobs of funding in a short amount of time. In 2022, that trend could accelerate for space companies, though there are headwinds that could put a damper on the practice.
Merging with a blank-check company to go public was a favorite tactic of tech firms, as it provides a faster route to IPO listing. SPAC deals also allow companies to list on exchanges with sometimes less financial scrutiny. Firms that aren't yet profitable can still raise large sums by listing via SPAC. Take Astra, a rocket startup that hadn't conducted a single successful launch by the time of its roughly $500 million SPAC IPO in February.
Rocket Lab went public in August via a SPAC that valued the 15-year-old company at $4.1 billion. The IPO raised at least $777 million for the company, much-needed capital to fuel the development of its newer, bigger rocket: the Neutron – as well as keep launching satellites on its existing reusable Electron rocket, which has launched 107 small satellites since 2017.
Virgin Orbit is planning an IPO through its SPAC in 2022, and it is expected to raise up to $483 million.
Other California-based companies that went public this year included Planet, which raised $500 million in December, and Momentus, which paid $7 million to the SEC to settle a case alleging it misled investors about its technology and national security concerns regarding the background of its founder. The SEC also hit Stable Road Acquisition Corp., the VC-backed blank check firm that merged with Momentus to take it public, with a $1 million fine.
SPAC Research data showed that by March 2021 U.S.-based SPACs raised $87.9 billion, exceeding the total raised in 2020. That number is expected to grow, though SEC Chairman Gary Gensler recently told NPR he plans to crack down on SPACs in the new year as part of a larger plan to regulate markets and "meme stocks." If it becomes difficult for space startups to raise cash, they're likely to need to rely on the venture capital market a bit more heavily.
Overall, 2021 was a banner year for the space industry, and it's expected to grow even more in the coming year. As the industry expands and more private firms compete for valuable launch contracts, it'll look to overcome long standing challenges that could slow down its rapid growth.
NASA and SpaceX are sending a spacecraft hurtling towards an asteroid as part of a test tonight to see if that's a viable way to dispel asteroids dangerously close to our planet.
The mission is called the Double Asteroid Redirection Test (DART for short), and it's paid for by NASA, which wants to test out new ways to avoid potentially deadly asteroids careening down to Earth by smashing them up in outer space before they even get close to the planet's atmosphere.
A SpaceX Falcon 9 craft carrying the DART craft (which is unmanned, for obvious reasons) will launch late Tuesday from the Vandenberg Space Force Base and make an orbit around the sun before it runs into an asteroid named Dimorphos.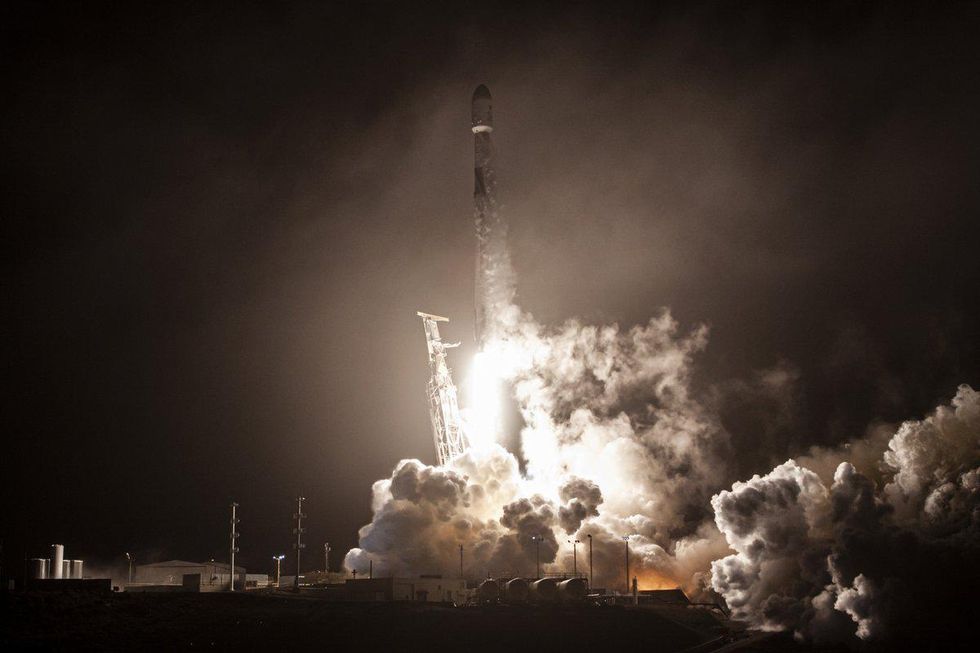 The impact won't happen until this fall, when the asteroid is the closest to the Earth (but still about 6.8 million miles away). SpaceX confirmed overnight on Tuesday the craft was deployed and on track for a collision in several months.
The asteroid isn't in immediate danger of crashing into the planet –NASA said it makes a full orbit around the sun once every two years – but its regularity makes it an easy target to test this theory on.
"This asteroid system is a perfect testing ground to see if intentionally crashing a spacecraft into an asteroid is an effective way to change its course, should an Earth-threatening asteroid be discovered in the future," NASA said in a statement Tuesday.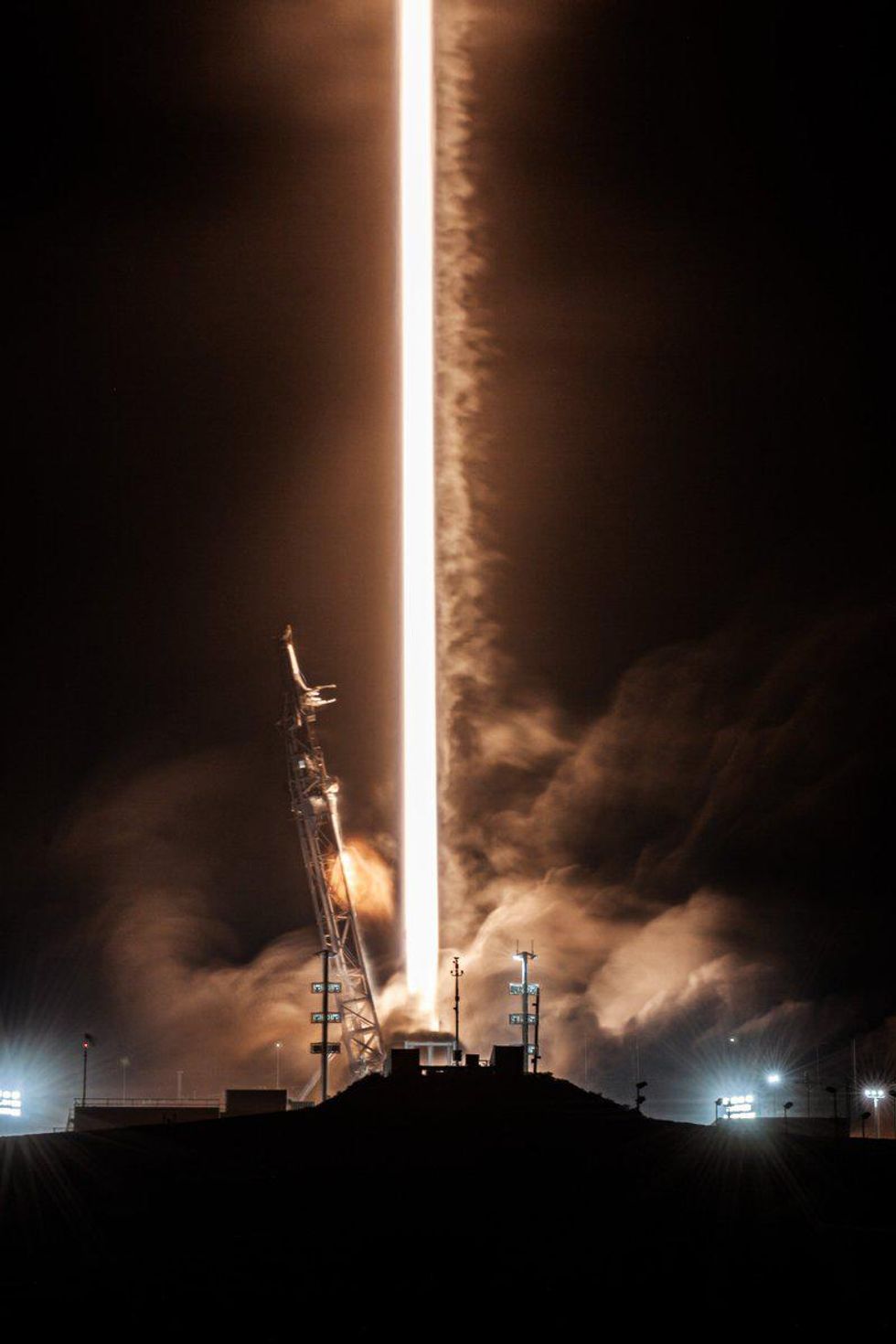 NASA administrator Bill Nelson told the New York Times that even though the mission sounds like it's ripped from the pages of science fiction, it could actually work.
The mission, Nelson told the Times, is the first test of its kind and "something of a replay of Bruce Willis's movie, 'Armageddon,' although that was totally fictional."
The space agency added that "no known asteroid larger than 140 meters in size has a significant chance to hit Earth for 100 years," but it also said that it's only aware of about 40% of those asteroids out there as of last month — so it might be a good idea to test this capability now, in case a larger one does come close.
The craft is set to lift off from the base located on the California coast (between Santa Barbara and San Luis Obispo) at 10:20 p.m. PST on Tuesday, Nov. 23.
Southern California residents may be able to witness a plume of white smoke in the sky around midnight Pacific Time tonight as the craft takes off.
To watch the live feed of the launch, check NASA's YouTube channel, which will start broadcasting at 9:30 p.m. PST this evening. SpaceX's launch page on its website also links to the upcoming NASA live stream, and it'll also likely post updates on its Twitter page as the launch progresses and the Dragon rocket lands.

Editor's Note: This story has been updated to reflect when the impact is expected.
From Your Site Articles
Related Articles Around the Web