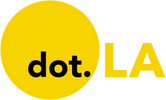 Get in the KNOW  
  on LA Startups & Tech  
X
Image courtesy of Geekwire.com
LA Tech Week: 3 Student Projects Emerge from NASA's Space Accelerator Program
Andria Moore
Andria is the Social and Engagement Editor for dot.LA. She previously covered internet trends and pop culture for BuzzFeed, and has written for Insider, The Washington Post and the Motion Picture Association. She obtained her bachelor's in journalism from Auburn University and an M.S. in digital audience strategy from Arizona State University. In her free time, Andria can be found roaming LA's incredible food scene or lounging at the beach.
02:39 PM | August 18, 2022
Almost every company in existence today has some sort of diversity and inclusion initiative. NASA, however, took theirs one step further — providing $50,000 in funding to three underrepresented groups in academia.
---
NASA's Minority Serving Institutions (MSI) partnered with Starburst Aerospace and NASA's Jet Propulsion Lab (JPL) to work with students as part of their beta space accelerator program. The course was designed to serve as a platform for innovators to build businesses to support technology and economic development.

In the program, students from the University of Massachusetts Boston, California State University and Fayetteville State University, along with faculty mentors, spent 10 weeks developing venture-backable businesses that have applications in multiple markets.
On Wednesday, the projects were presented as business proposals as part of L.A. Tech Week.
"L.A. has long been the aerospace capital of the world, and as we enter a new space economy, it continues to be, and we want to continue to build the industry here," said Elizabeth Reynolds, managing director at Starburst Aerospace.
The first proposal, Mission Proteus, presented by Nhut Ho, a professor and director of NASA-Sponsored Autonomy Research Center for STEAHM (ARCS) at California State University, was designed to eliminate inefficiencies in existing autonomous software development methodology.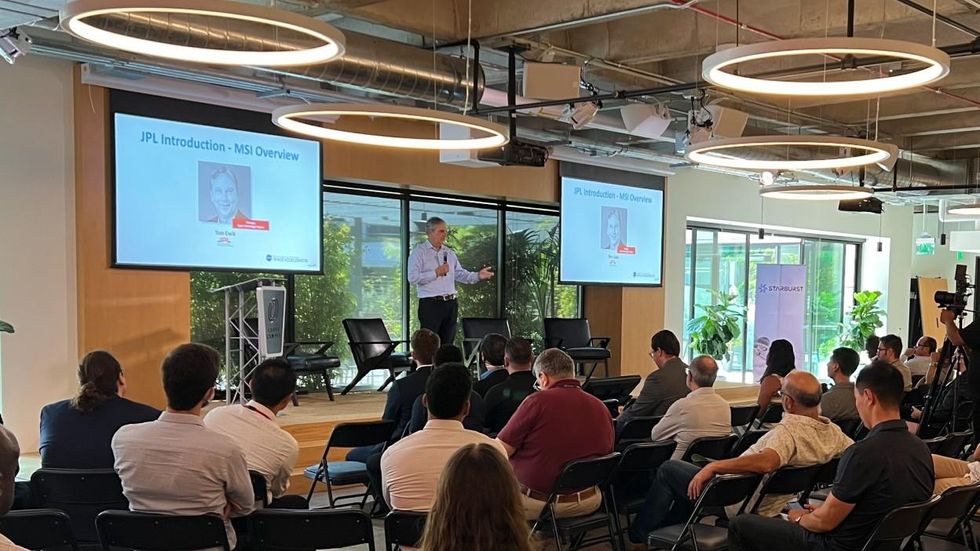 Photo by Andria Moore
Developers designing for autonomous software face many of the same obstacles as traditional developers, but they also face unique challenges. Proteus wants to provide a platform that unifies development tasks and workflows and allows for rapid testing. Building on NASA's hard-won knowledge in autonomous development, the goal of Mission Proteus is to enable these systems to grow much more rapidly in other industries. Ho explained that his team wanted to eliminate the "pain" surrounding technical limitations of existing software.
The second proposal, ITX Drones, was presented by Thomas Materdey, senior lecturer of engineering in the College of Science and Mathematics at the University of Massachusetts Boston. The ITX team felt that, while revolutionary, drones today are missing a "real-life component." The goal of ITX Drones was to create technology that would allow drones to more specifically respond to niche customer needs in ways that existing drones cannot—deliver medicines, provide surveillance or communicate with other drones. "Imagine being able to personally deliver a gift to your sister in Europe without having to wait a week," Materdey said to the room of onlookers.
To make that a reality, their proposal aims to create drones that are capable of sending and receiving long-range data, have longer battery life and the ability to fly at any time of day. Their design incorporates fixed-wing rotors, precision landing capabilities, and lidar navigation, which would allow the drones to operate with extreme precision in novel environments.
SpireNeural, the final business proposal, would act as a software development company focused on enabling near-real-time data processing for autonomous systems with existing integrated devices. In other words, software that will speed up decision-making for our increasingly connected world.
Grace Vincent, an electrical and computer engineering Ph.D. candidate at North Carolina State University, explained that her team created SpireNueral in response to the California wildfires and the inefficiency of the tech used to detect them.
"How can we reduce overall response time?" she asked the room. "Edge computing."
Edge computing is computational analyses that are done near the source of the data. SpireNeural was designed as an edge computing software solution that hopes to eliminate issues with wasteful computations, slow response times and power restrictions, instead making informed decisions at the edge.
For example, edge computing software could evaluate and make decisions about how to combat a forest fire at the site of the sensor rather than relaying that information to a central hub, waiting for it to be processed alongside other data and then relaying it to first responders.
The presentations were followed by a brief panel discussion on "Supporting Diversity in industry through investment," where industry leaders from various venture capitalist firms discussed how the tech industry can work to be more inclusive.
Andria Moore
Andria is the Social and Engagement Editor for dot.LA. She previously covered internet trends and pop culture for BuzzFeed, and has written for Insider, The Washington Post and the Motion Picture Association. She obtained her bachelor's in journalism from Auburn University and an M.S. in digital audience strategy from Arizona State University. In her free time, Andria can be found roaming LA's incredible food scene or lounging at the beach.
Samson Amore
According to a Forbes report last April, both the viewership and dollars behind women's sports at a collegiate and professional level are growing.
In 2022, the first 32 games of the NCAA tournament had record attendance levels, breaking records set back in 2004, and largely driven by the new and rapidly growing women's NCAA tournament. WNBA openers this year saw a 21% spike in attendance, with some teams including the LA Sparks reporting triple-digit ticket sales growth, about 121% over 2022's total. In 2023, the average size of an LA Sparks crowd swelled to 10,396 people, up from 4,701 people.
Women make up half the population, but "also 50% of the folks that are walking into the stadium at Dodger Stadium, or your NFL fans are just about 50% women," noted Erin Storck, a panelist and senior analyst at Los Angeles-based Elysian Park Ventures.
Storck added that in heterosexual households, women generally manage most of the family's money, giving them huge purchasing power, a potential advantage for female-run leagues. "There's an untapped revenue opportunity," she noted.
In the soccer world, Los Angeles-based women's soccer team Angel City FC has put in the work to become a household name, not just in LA County but across the nation. At an LA Tech Week panel hosted by Athlete Strategies about investing in sports, Angel City head of strategy and chief of staff Kari Fleischauer said that years before launching the women's National Women's Soccer League team, Angel City FC was pounding the pavement letting people know about the excitement ladies soccer can bring. She noted community is key, and that fostering a sense of engagement and safety at the team's home venue, BMO stadium (formerly Banc of California Stadium), is one reason fans keep coming back.
Adding free metro rides to BMO stadium and private rooms for nursing fans to breastfeed or fans on the spectrum to avoid sensory overload, were just some of the ways ACFC tried to include its community in the concept of its stadium, Fleischauer said. She noted, though, that roughly 46% of Angel City fans are "straight white dudes hanging out with their bros."
"Particularly [on] the woman's side, I'd like to think we do a better job of making sure that there's spaces for everyone," Fleischauer told the audience. "One thing we realize is accessibility is a huge thing."
Samson Amore
Samson Amore is a reporter for dot.LA. He holds a degree in journalism from Emerson College. Send tips or pitches to samsonamore@dot.la and find him on Twitter @Samsonamore.
https://twitter.com/samsonamore
samsonamore@dot.la
03:49 PM | October 14, 2022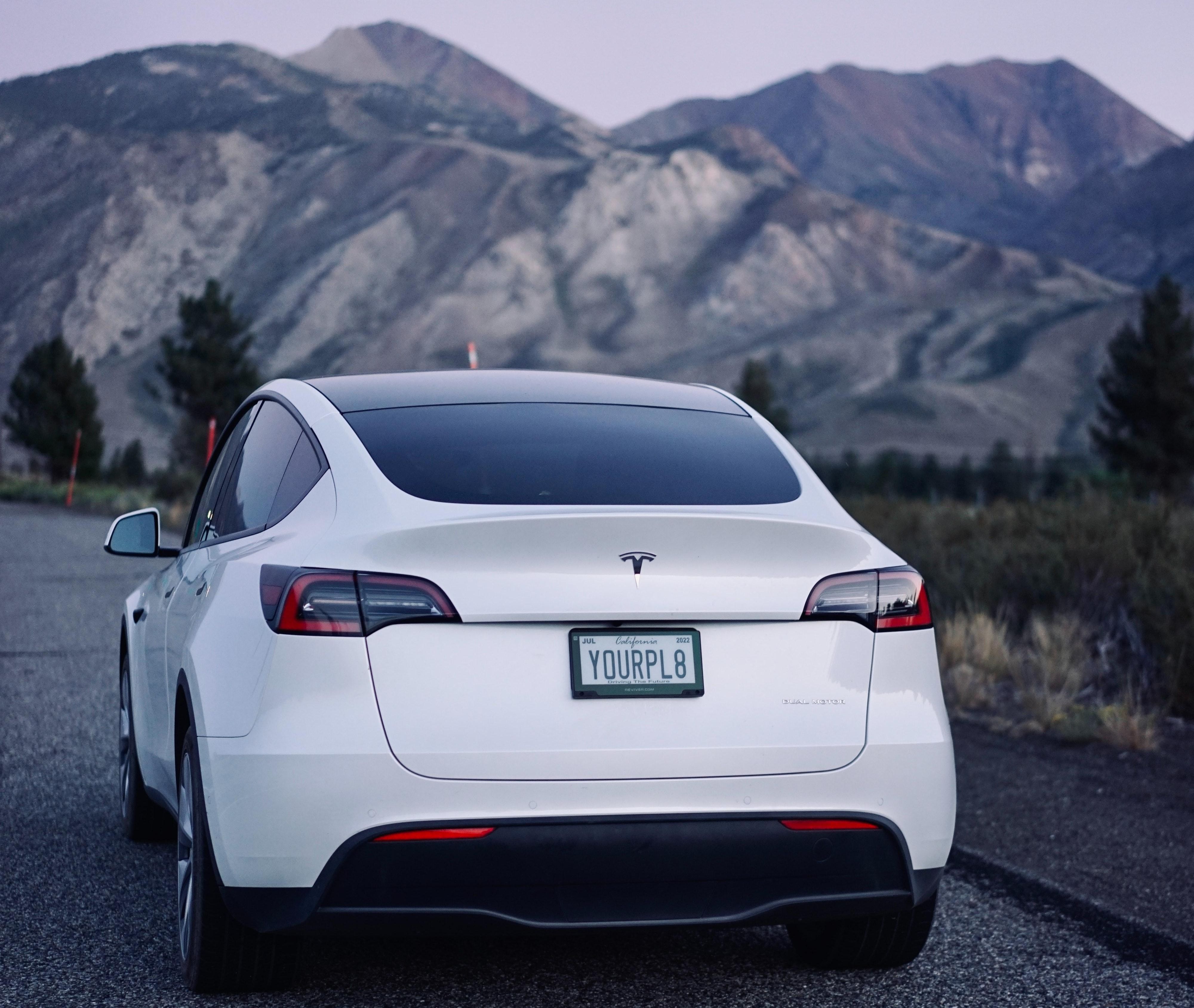 Thanks to a new bill passed on October 5, California drivers now have the choice to chuck their traditional metal license plates and replace them with digital ones.
The plates are referred to as "Rplate" and were developed by Sacramento-based Reviver. A news release on Reviver's website that accompanied the bill's passage states that there are "two device options enabling vehicle owners to connect their vehicle with a suite of services including in-app registration renewal, visual personalization, vehicle location services and security features such as easily reporting a vehicle as stolen."
Reviver Auto Current and Future CapabilitiesFrom Youtube
There are wired (connected to and powered by a vehicle's electrical system) and battery-powered options, and drivers can choose to pay for their plates monthly or annually. Four-year agreements for battery-powered plates begin at $19.95 a month or $215.40 yearly. Commercial vehicles will pay $275.40 each year for wired plates. A two-year agreement for wired plates costs $24.95 per month. Drivers can choose to install their plates, but on its website, Reviver offers professional installation for $150.

A pilot digital plate program was launched in 2018, and according to the Los Angeles Times, there were 175,000 participants. The new bill ensures all 27 million California drivers can elect to get a digital plate of their own.
California is the third state after Arizona and Michigan to offer digital plates to all drivers, while Texas currently only provides the digital option for commercial vehicles. In July 2022, Deseret News reported that Colorado might also offer the option. They have several advantages over the classic metal plates as well—as the L.A. Times notes, digital plates will streamline registration renewals and reduce time spent at the DMV. They also have light and dark modes, according to Reviver's website. Thanks to an accompanying app, they act as additional vehicle security, alerting drivers to unexpected vehicle movements and providing a method to report stolen vehicles.
As part of the new digital plate program, Reviver touts its products' connectivity, stating that in addition to Bluetooth capabilities, digital plates have "national 5G network connectivity and stability." But don't worry—the same plates purportedly protect owner privacy with cloud support and encrypted software updates.

5 Reasons to avoid the digital license plate | Ride TechFrom Youtube
After the Rplate pilot program was announced four years ago, some raised questions about just how good an idea digital plates might be. Reviver and others who support switching to digital emphasize personalization, efficient DMV operations and connectivity. However, a 2018 post published by Sophos's Naked Security blog pointed out that "the plates could be as susceptible to hacking as other wireless and IoT technologies," noting that everyday "objects – things like kettles, TVs, and baby monitors – are getting connected to the internet with elementary security flaws still in place."
To that end, a May 2018 syndicated New York Times news service article about digital plates quoted the Electronic Frontier Foundation (EFF), which warned that such a device could be a "'honeypot of data,' recording the drivers' trips to the grocery store, or to a protest, or to an abortion clinic."
For now, Rplates are another option in addition to old-fashioned metal, and many are likely to opt out due to cost alone. If you decide to go the digital route, however, it helps if you know what you could be getting yourself into.
Steve Huff
Steve Huff is an Editor and Reporter at dot.LA. Steve was previously managing editor for The Metaverse Post and before that deputy digital editor for Maxim magazine. He has written for Inside Hook, Observer and New York Mag. Steve is the author of two official tie-ins books for AMC's hit "Breaking Bad" prequel, "Better Call Saul." He's also a classically-trained tenor and has performed with opera companies and orchestras all over the Eastern U.S. He lives in the greater Boston metro area with his wife, educator Dr. Dana Huff.
steve@dot.la