alliance for socal innovation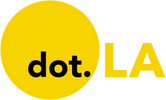 Get in the KNOW
on LA Startups & Tech
X
alliance for socal innovation
Since founding StarNews Mobile, a video platform for content creators in Africa, Guy Kamgaing has landed deals with telecommunications giants to distribute content to subscribers across the Ivory Coast, Cameroon, Congo, South Africa and Nigeria.
The CEO has already raised $2.4 million from seed investors. But as the Santa Monica-based company expands its footprint, Kamgaing is ready for more.
"We're kind of a weird animal," he said. "We're here in Santa Monica, but yet we're tackling an opportunity on the other side of the world. A lot of people have a hard time wrapping their head around what we're doing."
As he goes after a Series A, Kamgaing is testing out a new path to securing capital — a nascent program called the SoCal Venture Pipeline, which is hoping to make an imprint on Southern California startups.
Together, the Alliance for SoCal Innovation and Silicon Valley Bank (SVB) are tapping brands like StarNews Mobile and Shine Bathroom Technologies to join their network of founders and investors. The Pipeline identifies companies seeking Series A funding and connects them with the right VCs. They expect to add two to three companies each month and hit about 20 after their first year.
The goal, SVB's Head of VC Relationships Rob Freelen said, is to "uncover companies that might be in smaller, lesser known parts of the Southern California region."
That means scouting out founders across L.A., Santa Barbara, Ventura, Orange and Riverside counties.
"Entrepreneurship is everywhere, but funding is not," said Andy Wilson, the Alliance's executive director, in a statement.
For early-stage startups, the road from seed round to Series A can be a long one. That's because there's less at stake during seed rounds and investors tend to be more selective during Series A funding in part because more money is usually at stake. Between 2017 and 2020, venture firms made about a third fewer Series A deals in Southern California than seed funding deals, according to a review of Pitchbook data.
The Pipeline hopes that 20% to 30% of the startups will find funding three to nine months after the companies are selected for the program. SVB's direct investment fund might be one of them — but that's not guaranteed.
The program is looking for companies that have the right metrics.
"Series A investment requires that you have traction in terms of revenue and customers," said Eric Eide, the program's lead. "You need to show that you've got a business and you have it out in the market and it's working."
Of the over 40 startups that the Pipeline reviewed, only two made the cut.
The program, bankrolled by the Silicon Valley Bank and the law firms Wilson Sonsini Goodrich & Rosati and KPPB LLP, is free for participating companies. There's also no guarantee for the selected companies that they will get funded. Firms will do their own due diligence before making funding decisions.
The concept was modeled after Connect, a similar program in San Diego that has generated $650 million in Series A funding for startups since 2015.
Given the size of the Southern California region, Eide expects challenges when it comes to finding the right fit for companies from around the region. But he's hoping the program makes it easier for both investors looking for the right businesses and founders looking for funding, and is hopeful the model could scale outside of Southern California.
"I don't know of anything that's been tried [at] this scope," he said. "So, there is going to be a period of building."
The pipeline has so far begun accepting applications from companies in Pasadena, Ventura and Santa Barbara, and is planning to expand into Riverside and Orange County by the fall.
For Kamgaing, the program hasn't been useful just yet. But he's still hoping to make the most out of it, so he can focus on his work.
"It's extremely valuable if you don't know anybody – if you are a second or third-time entrepreneur and you've raised money in the past, you don't need them," he said. "For somebody who is very operational, very into the daily grind and doesn't have a whole lot of time and energy to dedicate to fundraising, it's perfect."
The featured startups span industries from therapeutics to software to green tech. One wants to change the way you experience audio. Another uses CRISPR technology to find a cure for a rare genetic disease. A third wants to repurpose waste to generate a food preservative.
These three startups, along with 24 others, will have the opportunity to present to a panel of investors as part of today's First Look SoCal Innovation Showcase.
The event, which will be held virtually, begins Wednesday and lasts two days, bringing together some of the top research institutes in SoCal, including Caltech, USC and UCs Santa Barbara, Riverside and San Diego, among others. Each team will have three minutes to present their startup followed by a six minute question and answer session with investors. There are no prizes and no competition involved.
The first day is dedicated to life science-related startups, while the second is reserved for technology startups.
Both days begin with a welcome speech and a keynote speaker. The first day will feature Andy Slavitt, the former senior advisor to the White House COVID-19 response task force during the first four months of the Biden administration; the second will feature George Whitesides, a former CEO and current chair of Virgin Galactic.
The event will also host workshops for startups and will conclude with a panel of experts. The event is free and attendees can attend by registering for tickets on the Alliance for SoCal Innovation website.
Here's a quick run through of three of the startups scheduled to present: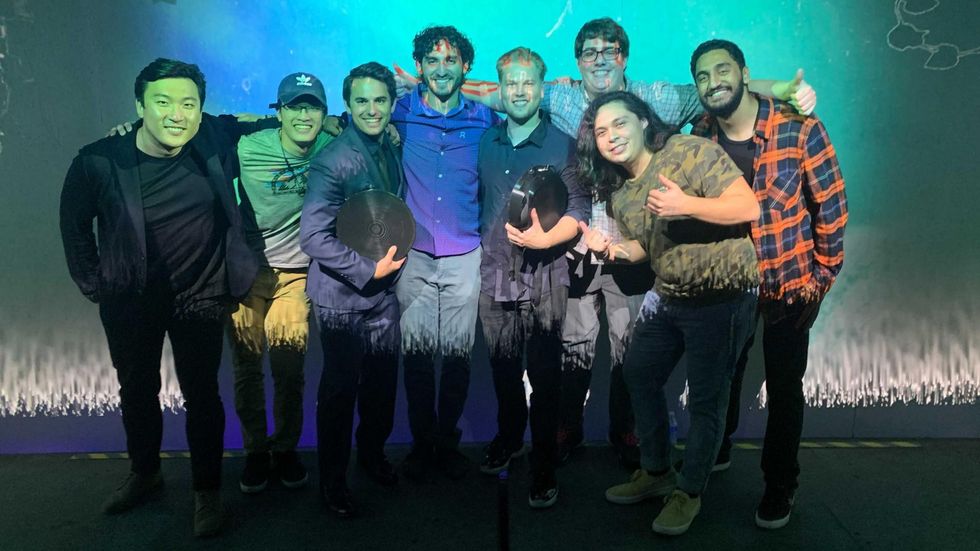 EDGE teammembers from left: Vincent Zhang, Winson Bi, Constantine Pappas, Ethan Castro, Valtteri Salomaki, Julian Bell, Santiago (not part of the team) and Brandon Babu.
Technology to Let You Feel Music — Literally
Valtteri Salomaki wants to update how people experience sound.
"The last big significant pull was surround sound," he said. "Since then, audio hasn't changed, it's just fragmentally gotten better."
Salomaki, the co-founder of L.A.-based startup EDGE Sound Research, is developing what he and his cohorts call "experiential audio," an experience that lets users feel audio physically.
The company has one product, which is still in testing: ResonX, a circular device that straps onto the back of a gaming or office chair. The device resonates, allowing the user to feel vibrations in the chair. Users can use this technology for video games, music or movies.
EDGE is aiming to raise around $1.6 million to finish the product and launch new ones.
Experiential audio is difficult to explain; "until you've experienced it, it's very hard to rationalize," Salomaki said.
"The first reaction that we kind of are coining is they have a 'holy shit' moment where they've never experienced feeling sound before," he said.
He described the experience as like being in the front row of an EDM concert and feeling the boom of subwoofers. He said ResonX can create that sensation without bothering your neighbors or destroying your ears: the device has a "quiet" option.
The company plans to tailor its products to the gaming market, which Salomaki said is driven by immersion and experience — and is less price sensitive. The company is also allowing gamers to sign up to test ResonX in-person for free.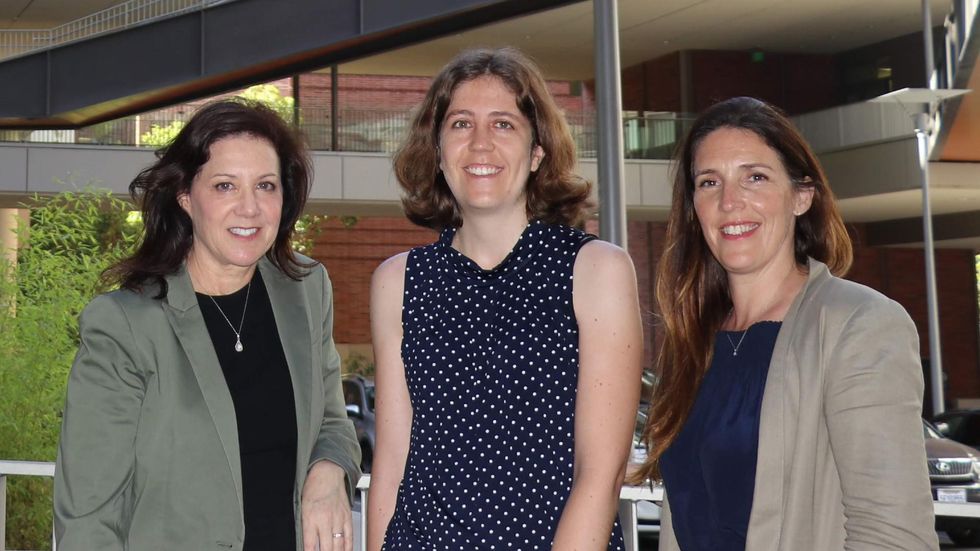 From left: Melissa Spencer, a Neurology professor at UCLA and cofounder of the company; Courtney Young, CEO; and April Pyle, a UCLA Microbiology, Immunology & Molecular Genetics professor and co-founder.
Treating Rare Diseases With Genetic Editing
As an undergraduate at John Hopkins University, Courtney Young volunteered at labs and spent summers interning for companies that did work related to Duchenne muscular dystrophy, a genetic disease that affects around 1 out of every 3,500 of males and causes the atrophying of upper arm and leg muscles. Patients often require wheelchairs by their early teens and develop life-threatening conditions by early adulthood.
For Young, her Duchenne research is personal: when she was in high school, her cousin was diagnosed with the disease.
Duchenne is most often diagnosed in patients between the ages of 3 to 6, according to the National Organization of Rare Diseases. There is no existing long-term cure for the disease. And, according to Young, the few approved treatments either have modest effects, require weekly doses or have severe side effects.
As a PhD candidate at UCLA, she began developing a gene editing therapy for Duchenne, eventually discovering that CRISPR, gene editing technology, could be used to treat some patients.
"Gene editing is kind of like a permanent version of that for more patients," Young said.
She and two UCLA professors went on to found MyoGene Bio, a Los Angeles-based startup hoping to use that technique to find an effective, long term treatment for Duchenne.
MyoGene Bio is using the technology to serve as a long-term treatment. The technique, called MyoDys45-55, uses CRISPR technology to remove genetic mutations that cause the disease.
The company has proved that its treatment is effective in human stem cells that have been injected into mice, and is looking to move on to larger animal and long-term mice testing, Young, now the company's CEO, said.
The treatment is still in pre-clinical development, and clinical trials themselves could take between four to eight years, Young said.
MyoGene Bio also isn't the only company trying to treat Duchenne using gene editing technology. A number of academic labs and a handful of companies are working on similar techniques, Young said. However, MyoGene Bio's technique can target a larger number of Duchene patients — around 50% — while other treatments have so far been able to target only around 13% of patients, she added.
Young said her personal connection has pushed her to seek a more holistic solution to Duchenne, rather than just treating side effects.
"Seeing him at holidays and how his disease is progressing always kind of reminds me of why we're trying to develop therapies for muscle diseases that have no other cure," she said.

Turning Biodiesel Waste Into Food Preservatives
In the words of its head of research and development Joshua Hirner, Catapower turns "people's trash into other people's treasure."
The company started in 2017 after USC chemistry professor Travis Williams and Zhiyao Lu, then a chemistry PhD candidate at the school, discovered a technique to turn Glycerol, a waste product made during biodiesel fuel production, into Lactate salts.
Lactate salts are used by the meatpacking industry and other food industries as a food preservative.
Catapower's process uses a proprietary chemical catalyst that is more efficient at turning Glycerol into Lactate salts than other techniques, Hirner said.
Increasing the supply of Lactate salts could also help replace food preservatives that can be toxic, Hirner said, including bleach and ammonia.
"We see a lot of value for it for everyone involved here, from a planetary perspective, from a climate perspective, from a health perspective," he added.
Catapower is still in its proof-of-concept stage and is planning to figure out ways to ramp up production of Lactate salts, Hirner said. Ultimately, the company hopes to buy Glycerol waste from biodiesel producers that produce large quantities of glycerol and sell the lactate salts to larger Lactate salt distributors.
"We're really excited about the fact that we can take these byproducts, and through our efficient process, turn them into something that the market finds valuable," said Hirner.
Catapower has since received funding from the U.S. Environmental Protection Agency, Hirner said.
Eliminating battery waste, developing new hair growth therapy, fixing carbon dioxide. These are among some of the ambitious problems that companies are trying to solve at the First Look SoCal Innovation Showcase beginning Tuesday.
Hosted by nonprofit Alliance for SoCal Innovation, the online event connects early-stage tech and life science companies with investors and serial entrepreneurs.
Founders of the 30 companies selected to participate come from universities and academic institutions across the region. Tech developed by these researchers and scientists is just emerging from labs, said Steven Gilison from the Alliance. This means most take longer to fundraise than typical startups and this opportunity often represents the start of their funding journey.
It's the third year the Alliance will host the showcase, which has been running for over 10 years. The event starts Tuesday with a daylong focus on life science founders and ends with the next day centered on tech. Each day begins with a keynote presentation and ends with a VC investor panel — a feature that last year brought in funding for several startups.
Here's a snapshot of the founders gearing up to pitch:
BioZen Batteries Aims to Solve Our Energy Storage Issues
Left to right: BioZen Batteries' co-founders Zach Rengert, Nate Kirchhofer and Eric Brigham.
Nate Kirchhofer, co-founder and CEO of BioZen Batteries, wants to make batteries that will outlive him.
Santa Barbara-based BioZen creates organic electrolytes, the active material inside a specific type of battery called a "redox flow battery." It's a different type of technology that differs from the lithium batteries often used in mobile applications like cars and phones. Only 5% of those get recycled.
BioZen's batteries are well suited for green, large-scale energy storage, Kirchhofer said. For example, batteries that help solar panels connect to the grid or provide backup during disasters when the power goes out.
Kirchhofer, an electrochemist, founded the company in June of 2019 with Zach Rengert, a materials chemist, and Eric Brigham, the company's CFO. Kirchhofer and Rengert met while getting their doctorate at UC Santa Barbara.
There hasn't yet been a push for sustainable batteries because it isn't economically incentivized, Kirchhofer told dot.LA. He said that his batteries are cheaper than competitors.
Kirchhofer's product fits into a growing renewable energy market and a social movement in which individuals want to do their part. He's worked for four startups but says this one is poised to make the biggest impact.
"If it's not our generation that solves climate change, there's not another chance. There's not another Earth." he said. "If we can make these batteries happen, we can truly integrate renewable energy and stop the petroleum-dominated energy paradigm we're part of."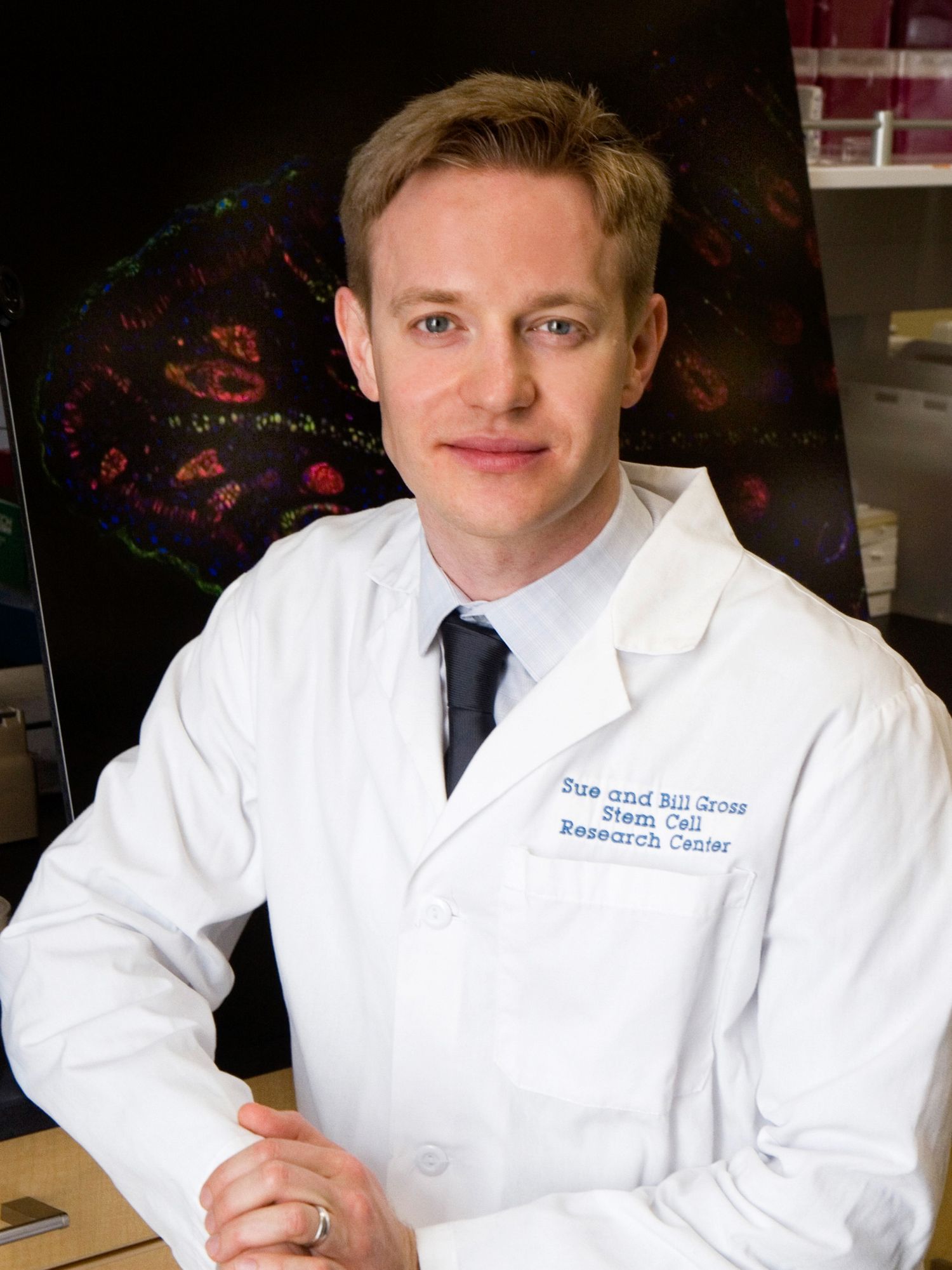 Amplifica's founder Dr. Maksim Plikus
Amplifica Treats Baldness with Mole Molecules
Back in 2013, Amplifica's founder Dr. Maksim Plikus began studying hairy moles. Though some find the growths unsightly, his work showed promise for baldness treatment.
He, along with colleagues at UC Irvine, discovered that molecules from moles that grow excessive hair can induce follicle growth when administered anywhere on the skin.
"As long as you can tease it out and replicate it in the form of purified molecules, you can achieve essentially what we think would be a novel, revolutionary solution to baldness," Plikus told dot.LA.
Plikus said his company is the first to solve hair loss by replicating cells from hairy moles to stimulate hair growth. At the moment, hair follicle research has emerged as a leading experimental model for studying stem cells.
By 2025, hair-loss products are projected to surpass $12 billion, Plikus said. But only two drugs are FDA approved and require daily treatment in the form of pills, which he said come with long-term side effects.
Amplifica says it's poised to put a more effective and convenient solution on the market. Pinkus' proposed product is a topical solution requiring less frequent application, like getting Botox injections a few times per year.
FixingCO2 Aims to Recycle Fuel from the Air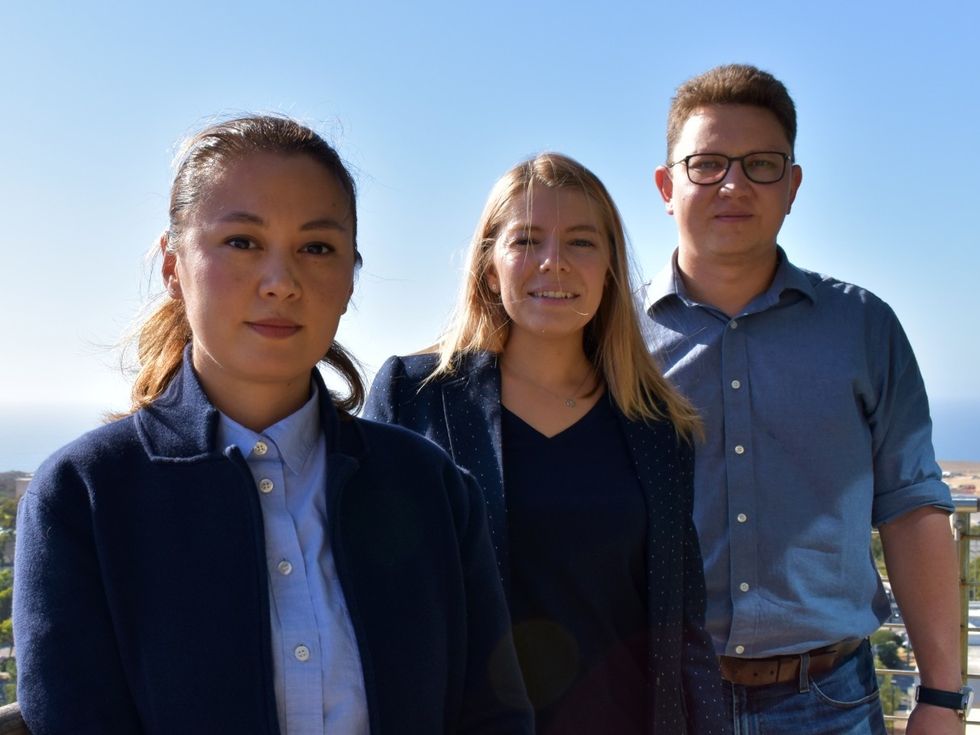 FixingCO2's team. CEO Eldar Akhmetgaliyev is at right.
FixingCO2 got its start on Mars. Like the name says, the company aims to fix the global carbon problem that's fueling climate change.
In 2018, co-founder Alma Zhanaidarova's professor and research group at UC San Diego received a grant from NASA to build out a reactor that makes renewable fuels and chemicals from carbon dioxide, often a byproduct of industrial waste. The technology was being developed in anticipation of a one-day human mission to Mars, where 95% of the atmosphere is carbon dioxide.
Now, the San Diego-based startup is commercializing their product for earthlings.
"It's a different application but the same core technology," co-founder Eldar Akhmetgaliyev told dot.LA. "Instead of making fuels from oil or any other fossil sources, we can make them essentially from air."
The team is developing the hardware to capture industrial emissions blamed for much of the Earth's warming. The product has significant application for the aviation industry, where planes are built to burn jet fuel that produces carbon emissions.
"These kinds of technologies provide them a pathway to decarbonization," he said. "They can use fuels made from CO2 so they're not contributing to climate change."
As fires burn through California and the Pacific Northwest, Akhmetgaliyev said there's urgency for innovators in the carbon tech market. "We're pretty much turning our planet into Mars," he said.
He said that by 2050, about 14% of overall carbon reduction will come from carbon capture and utilization (CCUS) technology like his.
"The market hasn't met its opportunity and with the effects of climate change being seen everyday, there's going to be more drive towards these low carbon technologies."