Scrolling through Twitter could soon help you learn another language. That's the idea behind Toucan, a tech startup whose browser extension translates words on your screen from English to one of seven languages — soon to be 11.
On Tuesday, the Santa Monica-based company closed a $4.5 million seed round to launch the software in Mandarin, Hindi, Arabic and Hebrew.
"As you're on Facebook, Twitter, Google, Reddit, we serve you up with micro moments of learning," said co-founder and CEO Taylor Nieman. She and Brandon Dietz, Toucan's co-founder and chief product officer, were early employees at Headspace before it closed over $30 million in its Series A in 2015.
"Back in the day we changed our Facebook feeds to Spanish or our iPhone settings to Portuguese," Nieman said. "But with that full 100% immersion, your brain thinks 'What the heck is happening?' and you revert back to English. It's too much."
Instead of operating through a separate app for daily lessons and quizzes — like Duolingo's model — Toucan meets consumers wherever they're working online. It's an approach to education technology that co-founders Nieman, Dietz and Shuan Merritt, a former software developer at car-shopping app Fair, thought of after years working in consumer technology.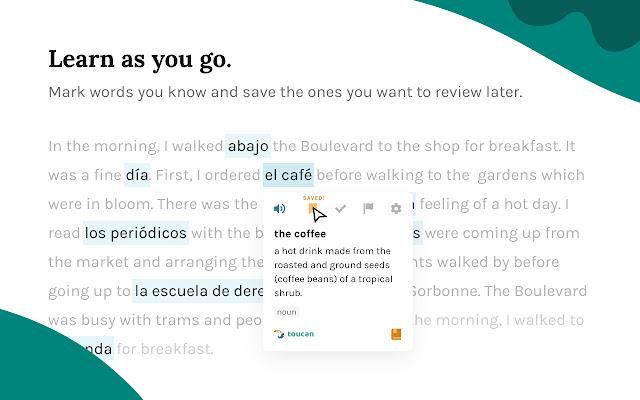 An ad for Toucan shows how users can toggle between languages.
"These highly motivated people that are opening an app for 15 minutes every day are the 1% of learners," the chief executive said of traditional language app users. "It is the 99% of users that have tuned out of those apps that we're really excited to cater to."

The global edtech market is estimated to hit $404 billion by 2025, according to data from Pitchbook. In 2020, companies like Coursera and Masterclass closed deals at $130 and $100 million respectively.

Toucan users can hover their cursor over each translated word for a recorded pronunciation and its definition. The basic service for Google Chrome and Safari is free, but Toucan also sells a premium version that translates more words per page and lets users save words to review later.
To make extra revenue, the startup also launched a feature for users and companies to "own" words for $1 each month, which links to their URL each time the word shows up for a Toucan user. "Coffee," for example is owned by the daily newsletter Morning Brew and Headspace owns "meditation."
The 12-person team plans to hire and expand its language offerings by the end of next month. Also slated to arrive in early May is a Spanish-to-English translation option, which will propel the company into international markets. Eventually, Nieman said the company will start "dabbling in mobile" to explore how Toucan's tech can layer on top of social and messaging apps.
LightShed Ventures led the round, along with new investors Next Play Ventures, Concrete Rose Capital, GingerBread Capital, Form Capital, Goodwater Capital, Hampton VC, Spacecadet Ventures, GTMfund, Baron Davis Enterprises and Human Ventures. Existing investors GSV Ventures, Amplifyher Ventures and Vitalize also contributed.