slingshot aerospace
slingshot aerospace
Slingshot Aerospace clinched a $1.2 million contract with the U.S. Space Force to create a visualization tool intended to identify enemy missiles and improve data collection in space.
Working with Culver City-based Zoic Labs, the four-year-old company will build an infrared surveillance system that it hopes will eventually be used by Air Force operators to track and handle missile warnings and battlespace awareness reports.
Zoic Labs is the sister company of Zoic Studios, which created the visual effects for "Avengers: Age of Ultron." It will draw upon that inspiration to convert satellite sensor data to video.
Melanie Stricklan, co-founder and CEO of Slingshot Aerospace, said the missile warning mission is key to maintaining top defense and intelligence domains in the United States.
"Our innovative solution will help improve the operator experience and optimize mission efficiencies, while positioning Slingshot Aerospace to be a potential leader in next generation OPIR situational awareness," Stricklan said in a release announcing the deal.
Last week, the U.S. Space Force announced it would establish a tech and acquisition arm at Los Angeles Air Force Base's Space and Missile Systems Center in El Segundo. The move was widely hailed by Southern California's aerospace community as further evidence that the region had become an important hub.
From Your Site Articles
Related Articles Around the Web
In a major win for Southern California's aerospace industry, the U.S. Space Force will establish its acquisitions and technology division in the Los Angeles area this summer.
The move, observers said, cements the region – home to SpaceX and Virgin Orbit – as a major force while raising the profile for a myriad of local startups, as the government looks to private industry to bolster the next generation of space travel.
"Southern California — and South Bay in particular — is experiencing its biggest tech renaissance since the Cold War, with record-setting venture investments generating hundreds of new businesses, with over 25 aerospace unicorns operating today," said Van Espahbodi, the co-founder and managing partner of Starburst Aerospace, an accelerator that partners with Raytheon and other big players in the industry. "It's no surprise the formal standing up of Space Systems Command acknowledges the strength and leadership of our region."
The Los Angeles Air Force Base's Space and Missile Systems Center in El Segundo will become the headquarters of the planned division called the Space Systems Command. The center will be responsible for identifying, prototyping and fielding innovative, space-based solutions to support and meet the demands of the National Defense Strategy, according to the Space Force.
"The heart of technology innovation within the space industry takes place right here in El Segundo, so it comes as no surprise that Space Systems Command has selected our community as its headquarters," said Melanie Stricklan, co-founder and CEO of El Segundo-based Slingshot Aerospace, in a statement.
Slingshot Aerospace has worked closely with the Space and Missiles System Center over the last several years to create technologies that promote space sustainability in order to protect our way of life, she said. Other local companies like SpaceX — which has several contracts with the agency — also have standing relationships.
Los Angeles' aerospace history stretches back to the 1920s, with its peak around World War II. Today, more than 25 aerospace companies — including Rocket Lab, Slingshot Aerospace, Relativity and Virgin Orbit — have established headquarters in the Los Angeles region.

The Space Systems Command is one of three major commands under the U.S. Space Force. It will generate additional missions for the base, including oversight for launch operations out of Vandenberg Air Force Base and Cape Canaveral. It will oversee efforts to develop, acquire, launch and sustain military space systems.
U.S. Rep. Ted Lieu (D-Calif.), who co-chairs the California Aerospace Caucus, said the Pentagon's decision reaffirms Southern California's role as an aerospace hub.
"Southern California was already leading the way on aerospace and space innovation, and establishing the Space Systems Command at L.A. AFB will position our region for further growth," LIeu said.
Lieu said he, along with California Republican Congressman Ken Calvert, had requested the Pentagon to consider Los Angeles for the Space Systems Command's home.
Gov. Gavin Newsom said his administration also pushed for the new command center.
"This is a critical investment in California's vital aerospace and defense industries, and it represents a slew of new good-paying jobs as we continue to rebuild our economy better than before," Newsom said in a statement.
In 2003, Vandenberg Air Force Base's Space and Missile Systems Center narrowly escaped closure during a round of military base realignment and closures. The base was spared after a group of politicians and business leaders lobbied to save it.
Judy Kruger, senior director of strategic initiatives at the Los Angeles Economic Development Corporation, said it's too early to tell what the move will mean as far as jobs or procurement opportunities for the region.
"But right now whenever we can position ourselves as leaders in the area of aerospace, it presents us well. It focuses on our core ecosystem here in Los Angeles, our history of space and aerospace," she said. And it's about good paying jobs of the future, she said.
Before the base's Space and Missile Systems Center will be re-designated, Biden will nominate a U.S. Space Force three-star general officer of the SSC, who must be confirmed by the Senate.
In 2019, the Trump administration created the Space Force, the newest branch of the armed services since 1947. It is one of the most visible Trump-era actions that is supported by President Joe Biden.
Twenty years ago today Lt. Gen. Susan Helms arrived at the International Space Station where she would go on to carry out a historic mission.
During a five-month stint at the station, she emerged to take a spacewalk with fellow astronaut Jim Voss that spanned nearly nine hours, breaking world records for both the longest spacewalk ever and the longest completed by a woman.
Since then, she's been on another mission to inspire a new generation of aerospace pioneers and help them build their own legacy.
Melanie Stricklan co-founder and CEO of El Segundo-based Slingshot Aerospace, credits Helms with helping launch the startup that counts NASA among its clients. To date, the company has raised over $17 million from investors including L.A.-based Stage Venture Partners and Noname Ventures. And Helms' guidance and insight has been key to that.
"She is a pioneer. She made way for lots of other women to go to service academies and after that to pursue engineering degrees like she did," Stricklan told dot.LA. "She was the first military woman in space; the first woman to inhabit the ISS."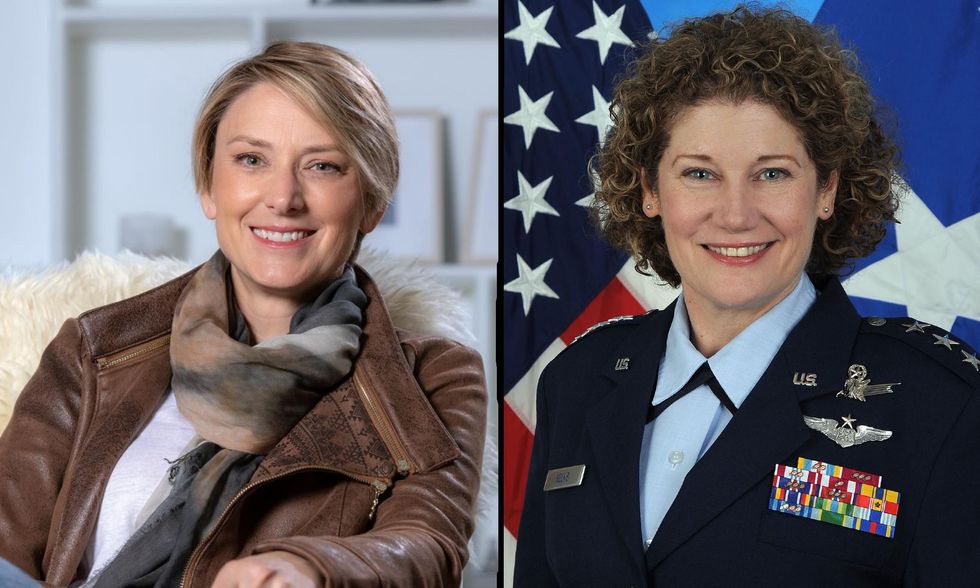 Slingshot Aerospace CEO Melanie Stricklan (L) and Lt. Gen. Susan Helms (R).
Stricklan, who was an Air Force military officer for over two decades before she took her degree in aeronautical space engineering to found Slingshot Aerospace in 2017, met Helms when she was Stricklan's superior in the service.

Helms' mentorship has helped Stricklan and Slingshot secure contracts from NASA, the U.S. Space Force and Air Force, as well as private contractors like Boeing, Northrop Grumman and BAE Systems.
But Helms also boosted Stricklan's confidence as she helped develop Slingshot Aerospace.
The company sells two products. Slingshot Laboratory is a mixed-reality space simulation training tool that can be used by NASA astronauts and K-12 students. Although it's still in beta mode, it's being used to train university students and the Space Force Guardians.
Then there's Slingshot Orbital, an air traffic control-like system for space travel. The system gives the government a more accurate idea of exactly what's going on up there, without having to actually send more crafts into space. Helms talks about Slingshot as if she's making a pitch for her own company. Slingshot Orbital, she said, is key to protecting the U.S. from foreign threats in space as access to the stars becomes more democratized.
"Space has now become so accessible, you have to start thinking of it as a place where conflict could take place," Helms said. "Therefore, you have to focus on it with resources and defensive strategies."
Both point out that every launch produces debris, and even an accidental collision with another country's tech could have disastrous consequences.
"Space is one of the most critical environments to make accurate decisions in, especially with all of the hundreds of new satellites increasingly filling orbits," Stricklan said. "(There's) millions of pieces of debris... It's not a hair-on-fire moment, space is big."
Both have been working in the industry to help the next generation of women in space
"We're no longer hitchhiking on Russian rockets, which I love," Stricklan said. "I love the fact that women are leading the charge," Stricklan said.
Most major aerospace firms now have a woman in their C-suite — Leanne Caret is the CEO of Boeing Defense, Space and Security; and Marilyn Hewson ran Lockheed Martin for seven years until June 2020.
"Elon gets a lot of credit for what SpaceX is doing but [its CEO] Gwynne Shotwell is terrific. When we got our ticket back as a U.S. entity to go into space on the first privatized ride, she helped Elon get there," Stricklan said.
In 2019, 75% of all the major science divisions in NASA were run by women, the organization said. This includes Sandra Cauffman, a Costa Rican-born engineer who was the first woman to be appointed to the NASA Inventions and Contributions Board in 1994.
Helms now serves as the vice president of Texas-based Astra Femina, a nonprofit dedicated to encouraging young women to pursue careers in space. Astra Femina was founded by Sandra Magnus, a former Department of Defense chief engineer and one of the few astronauts to fly on the final Space Shuttle mission in 2011.
"Some of them have to just see it to be it," Stricklan said about young women interested in the field.
Helms won't be satisfied until there's finally a woman who sets foot on the moon.
"The astronaut office was 25% female when I showed up," Helms said. "What I'm looking for are the days when it's 50/50. There's people that say, why go back to the moon if we've already been there, and my answer is well, only 50% of you have been there. When you talk about human exploration, you're talking about humans in general."
The anniversary has her feeling nostalgic.
"I'm feeling kind of sad that the spacecraft I flew on that day isn't around anymore," Helms said. " I usually don't think about the anniversary that much, but since it's the 20 year anniversary and it sets us on International Women's Day in particular, it seems especially poignant."