santa monica
The maker of World of Warcraft and Diablo, Activision Blizzard fostered a pervasive "frat boy" culture where women employees were subjected to constant sexual harassment, lower pay and retaliation, according to a lawsuit filed this week by the California Department of Fair Employment and Housing.
The agency sued the game company on Tuesday after conducting a two-year investigation into the Santa Monica-based company's workplace culture that found male workers and bosses tormented women and executives didn't seriously deal with complaints.
In the office, women were subjected to "cube crawls" where male employees drink "copious" amounts of alcohol and crawl to various cubicles in the office and "often engage in inappropriate behavior toward female employees," including groping them, the lawsuit filed in Los Angeles Superior Court stated.
The complaint said male employees "proudly" came into work hungover and played video games at the office, delegating their work to female employees. The behavior also included engaging in banter about their sexual encounters, talking openly about female bodies and joking about rape.
"Female employees almost universally confirmed that working for (Activision) was akin to working in a frat house, which invariably involved male employees drinking and subjecting female employees to sexual harassment with no repercussion," the complaint stated.
Women employees have to fend off unwanted sexual comments and advances by both their male colleagues and supervisors. The lawsuit cited one example where a woman employee, who was subjected to harassment, took her own life during a business trip with a male supervisor.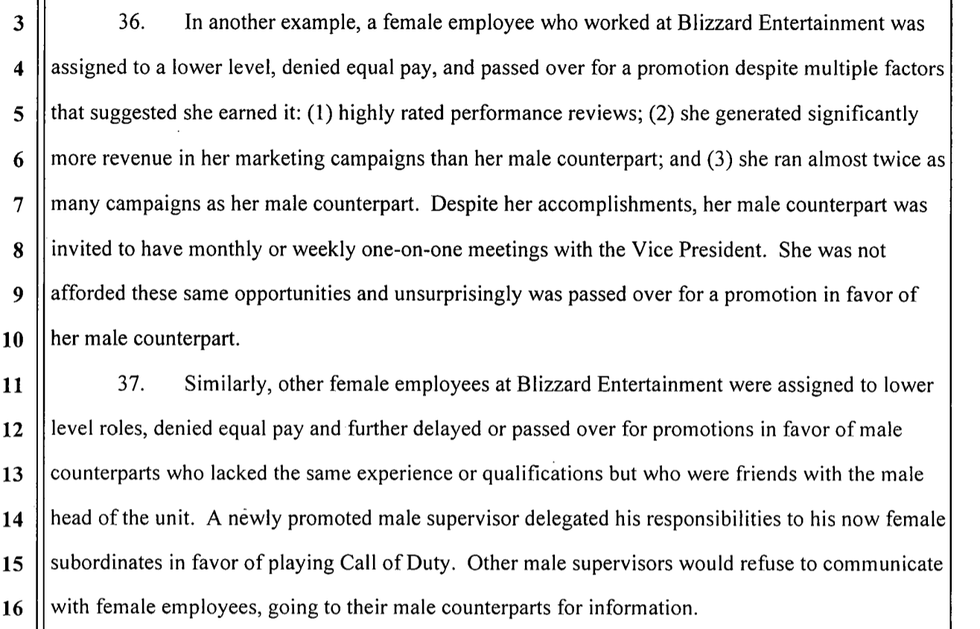 The top leadership of the 9,500-employee company is exclusively white males, the lawsuit states, and very few women ever reach top roles and those who do, earn less than their male counterparts.

Women make up 20% of the company's workforce.
Despite complaints made to the company's human resources department and executives, remedial measures weren't even taken, according to the complaint. The women who complained were retaliated against, including being passed over for work on projects, transferred to other units and selected for layoffs.
The state agency is seeking an injunction forcing compliance with workplace protections as well as unpaid wages, pay adjustments, back pay and lost wages and benefits for female employees.
In a statement, the company accused the agency of using distorted and false descriptions of Blizzard's past.
"We value diversity and strive to foster a workplace that offers inclusivity for everyone. There is no place in our company or industry, or any industry, for sexual misconduct or harassment of any kind," a spokesperson for Activision Blizzard said. "We take every allegation seriously and investigate all claims. In cases related to misconduct, action was taken to address the issue."
The problem of sexual harassment and workplace discrimination at tech companies is not new. The Communication Workers of America is behind an effort launched last year to unionize video game and tech companies for working conditions as well as ethics and culture.
Read the full complaint here:
From Your Site Articles
Related Articles Around the Web
On this week's episode of the L.A. Venture podcast, meet Raina Kumra. She recently joined The Fund L.A. as a partner, where she works alongside last week's guest, Anna Barber.
Kumra is also a serial entrepreneur, and has over 15 years of branding and scaling expertise. She is the co-founder of Mavin, a "mobile startup focused on affordable internet access" in India.
She's also the CEO of Santa Monica-based Juggernaut, a company focused on "digital design and disruption" that has worked with both The Walt Disney Company and the federal government.
Kumra has a history of working in civic tech. She worked with the Obama administration, and was the senior new media advisor in the State Department's Office of eDiplomacy. She also worked with the Biden-Harris transition team, advising on leadership within the U.S. Agency for Global Media.
Despite her various ventures, she remains focused on building up ethical tech, sustainability and prioritizing the L.A. startup community.
On the rest of this episode, Raina shares some projects she's currently working on, thoughts on the future of ethical tech, and some questions she likes to ask entrepreneurs.
Raina Kumra is the CEO of Juggernaut, a partner at The Fund L.A., serves as an advisor for the moonshot factory, and is on the board of Nix Hydra Games. Her work has also been published in several journals and is part of MoMA's permanent collection.
"I think it's the 'terms of service' that is one of the most depressing norms in the tech industry of everyone just copy-pasting some sort of generic terms of service instead of sitting down and really thinking about it as an opportunity for your brand, an opportunity for your product to make a deeper connection and be more honest and transparent." — Raina Kumra
dot.LA Engagement Intern Colleen Tufts contributed to this post.
Want to hear more from L.A. Venture? Listen on Apple Podcasts, Stitcher, Spotify or wherever you get your podcasts.
From Your Site Articles
Related Articles Around the Web
There aren't many venture capitalists that can say they have spent time talking leadership with a U.S. president, but Kelly Perdew can.
Perdew — who runs seed-stage firm Moonshots Capital with partner and fellow military veteran Craig Cummings — won the second season of "The Apprentice" in 2005 and went on to work with Donald Trump, who wrote the foreword to his book on leadership principles, "Take Command."
Perdew doesn't discuss much about his days with Trump, though the principles that he espoused then still guide his investments today.
"We really focus on finding extraordinary leaders," Perdew said.
Moonshots just closed its second fund; totaling at $36 million, it's aimed at early-stage tech companies and cutting larger checks. Investments average from $1.5 million to $2 million, 50% larger than Fund I.
Often, the two West Point graduates look for founding teams with military veterans or founders that have been through "the ringer." Those without perseverance and passion need not apply.
"It's so critical that this isn't an intellectual exercise for an MBA graduate that said 'oh, I looked at the marketplace and this looks like a great opportunity'," he quipped. "It has to be driven on something that's an internal drive that you're passionate about."
It turns out that it's often "nontraditional founders" that fit that mold. Perdew pointed out that 36% of the companies in his last fund were led by a Black or LatinX founder, 21% by a woman founder, and 36% by a military veteran founder.
And, he said, of the 14 companies in the first fund launched in 2017, all but one are still around. The firm has even notched an exit when ReliaQuest acquired Threatcare — run by Navy veteran Marcus Carey — for an undisclosed amount in 2019.
While the two don't focus on a singular sectors, the firm tends to invest in fintech, consumer internet, artificial intelligence and augmented reality.
Nearly half of all its investments are in California, with about a third in Southern California. That's where Perdew has been writing checks for nearly two decades — first as an angel investor, then as a leader of syndicates or pools of angel investors, who put money in Slack and Robinhood, among other companies. He was an early-stage angel investor in LinkedIn and Pandora.
Perdew said it's no coincidence that many of the startups the firm now invests in are near Marina Del Rey — where he operates — or close to Austin, Texas, where his partner does. He calls it the "gravitational force."
"We joke a little bit that you know, you're actually marrying founders, when you put money into them in the early stages because it takes, you know, 10-plus years to get to what is typically an exit," he said.
Already the company has invested in ID.me and Pacaso, co-founded by dot.LA co-founder Spencer Rascoff along with emerging growth companies Cart.com, NXCR and Transmute.
Editor's note: dot.LA co-founder Spencer Rascoff is also a limited partner in Moonshots Capital.