santa monica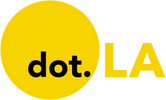 Get in the KNOW
on LA Startups & Tech
X
santa monica
Image courtesy of URB-E
Whether it's Amazon's enormous investment in electric vans or Starship Technologies' autonomous food transport rovers, there's no shortage of tech companies looking to electrify last-mile deliveries and cut carbon emissions.

URB-E, a Los Angeles-based startup, may have the simplest solution of all: electric bicycles. With its fleet of souped-up, battery-powered custom e-bikes equipped with collapsible box trailers, the company is ferrying meals, groceries, ecommerce orders and other packages to doorsteps in L.A. and New York City.
Now, the mobility and logistics company is returning to its roots in California to partner with the Los Angeles Cleantech Incubator (LACI) and the city of Santa Monica on a pilot program that establishes zero-emission delivery zones. Santa Monica has established itself as the cradle of micromobility in recent years, and the city's initiative—described as the first of its kind in the U.S.—aims to live up to that reputation by carving out priority curb space for electric delivery vehicles in certain high-traffic corridors. In addition to luring new operators, the program should also lower air pollution, greenhouse gas emissions and noise pollution in some of the busiest parts of Santa Monica.
The pilot will feature 10 URB-E e-bikes that will service zero-emission delivery zones along Santa Monica Boulevard and Colorado Boulevard, with plans to expand the pilot to 20 URB-E vehicles in the near future. The startup will share the curb space with electric vehicles from the likes of Coco, Fluid Truck, Maxwell Vehicles and Nissan, as well as vendors like Ikea and Shopify. The pilot will run until the end of the year.
"I think we've already seen an enormous amount of excitement in this space," LACI president and CEO Matt Petersen told dot.LA. "We know that URB-E is going to just crush it as they hit the streets."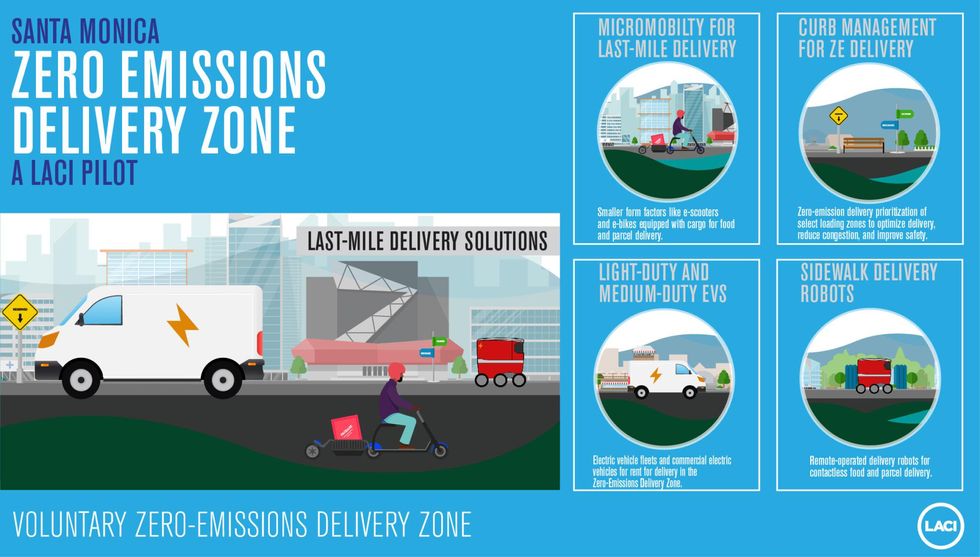 Courtesy of LACI
URB-E is no stranger to LACI: Founded in 2015 by former Ford and Fisker engineer Sven Etzelsberger and business development veteran Peter Lee, the startup joined the incubator in 2018—a stint that helped propel its business forward. Back in those days, URB-E was focused on developing e-scooters; initially, the company wanted to use its scooter technology and to deliver packages around the Burbank area, but quickly discovered that, to be cost-efficient, it needed to carry more weight than the scooters could handle.
"[The scooters] could pull around 300 or 400 pounds, which is not actually that much," recalled URB-E CEO Charles Jolley, an Apple and Facebook veteran who now leads the startup. "In order to get that good balance of efficiency, you needed to carry around 800 pounds." So URB-E went back to the drawing board and revamped its designs—moving on to e-bikes that can haul up to 800 pounds and a completely new container system.
In addition to its hometown, the company has also cut its teeth in New York City, where delivery riders pedal across neighborhoods in Manhattan and Brooklyn. Jolley said the length of a delivery run depends on the shape of the neighborhood, but it usually takes five-to-nine miles of riding to unload a full container of goods. The startup was boosted by a $5 million Series A funding round led by UBS Group early last year.
Another week, another new neighborhood for URB-E! Where is it?pic.twitter.com/VmLa2O1bNe

— URB-E (@URB-E) 1650992421
While bikes and containers are core to URB-E's platform, the company is also collecting logistics data every step along the way. With a custom software app that riders use to navigate and deliver packages, URB-E is actively mapping the infrastructure needs of neighborhood-scale electric delivery. As the startup has grown, it's gained insights into where to position charging stations and staging areas and how to efficiently execute deliveries.
That will help it support whatever electric contraptions may show up down the road as the delivery vehicles of the future, according to Jolley. "The vehicles can evolve over time, and we actually now have all of this infrastructure to support [them]," he said.
From Your Site Articles
Related Articles Around the Web
Pour one out for Winc.

The wine subscription company behind Summer Water and Wonderful Wine Co started trading on the New York Stock Exchange on Thursday and received a tepid welcome from investors. The stock debuted at $13 per share and climbed to a high of $14.20 before closing at $12.27, down by about 5%.
Winc tailors wine recommendations to shoppers' palates. It essentially operates a wine-brand factory, popping out as many as 10 new brands per year informed by data gathered on customers and their ordering habits.
Winc originally sought to sell five million shares in October, priced between $14 and $16, to raise about $80 million. But the Santa Monica-based company quietly postponed its debut. It ultimately sold 1.7 million shares this week, raising $22.1 million.
Winc's direct sales surged during the pandemic, as lockdowns drove oenophiles to hunt for bottles on the internet. But Winc has cautioned that another global crisis, climate change, poses a threat to its bottom line.
Extreme weather fueled by climate change "could negatively impact the quality and quantity of grapes available to us and our producers for wine production," the company said in a regulatory filing.
Now trading under the symbol WBEV, Winc said in a statement that it's "excited for the next phase of our journey, which involves pushing industry boundaries, continuing to make great wine, and ensuring you always have great glass in hand." The company did not respond to a request for further comment on its downsized IPO.
This story was updated after trading closed on Thursday and was corrected to reflect that Summer Water is a Winc brand, while Yes Way Rosé is not.
From Your Site Articles
Related Articles Around the Web
PayPal-backed fintech startup Tala has raised $145 million in a Series E round to expand its financial services in countries in emerging markets and to develop a mass-market crypto product.
The raise was led by lending platform Upstart with participation from the Stellar Development Foundation, bringing the total raised by the Santa Monica-based company to more than $350 million.
The Android mobile app allows people who are traditionally underbanked to borrow and save their money.
"We'll use this investment to provide those services and accelerate the rollout of our new financial account experience, which provides fresh new tools to grow, save, and manage your money," the company said in a blog post on its website. "We'll also work to develop one of the first mass-market crypto products for emerging markets to help make crypto solutions more affordable and equitable for those who need them most."
The company said its six million users have borrowed more than $2.7 billion across Kenya, the Philippines, Mexico and India. Loans range from $10 to $500 with rates as low as 4%, the company said. People who don't have a formal credit history can apply.
In January, Tala announced it partnered with Visa to help its customers convert, store and use crypto currencies. It started with USDC, Circle's stablecoin, a cryptocurrency that is pegged to the U.S. dollar. Users will have access to the cryptocurrency in their digital wallet. The agreement with Visa also gave Tala users access to Visa cards linked to the digital wallet, allowing them to spend their USDC anywhere Visa is accepted.
Kindred Ventures and the J. Safra Group also participated in the round, along with returning investors IVP, Revolution Growth, PayPal Ventures and Lowercase Capital.
From Your Site Articles
Related Articles Around the Web