The Red Chickz/Andria Moore
L.A.-based restaurant The Red Chickz first began to post videos on TikTok in 2019—four months before a generation of young people experiencing isolation seized on the new platform. In one of their first videos, an employee slams a large piece of fried chicken into a container of sauce. The product spills over the edges wasting half the product. But there would be no disgruntled customer complaining about being stiffed—this portion was set aside just for filming purposes.
The viral video quickly spiraled into 17,000 followers. Today, the restaurant has over 1 million, and customers come in just because of the food they've seen on the video-sharing platform.
"[Instagram] feels like a professional business thing, whereas TikTok is like the little kid having fun," says The Red Chickz co-founder Nima Christensen.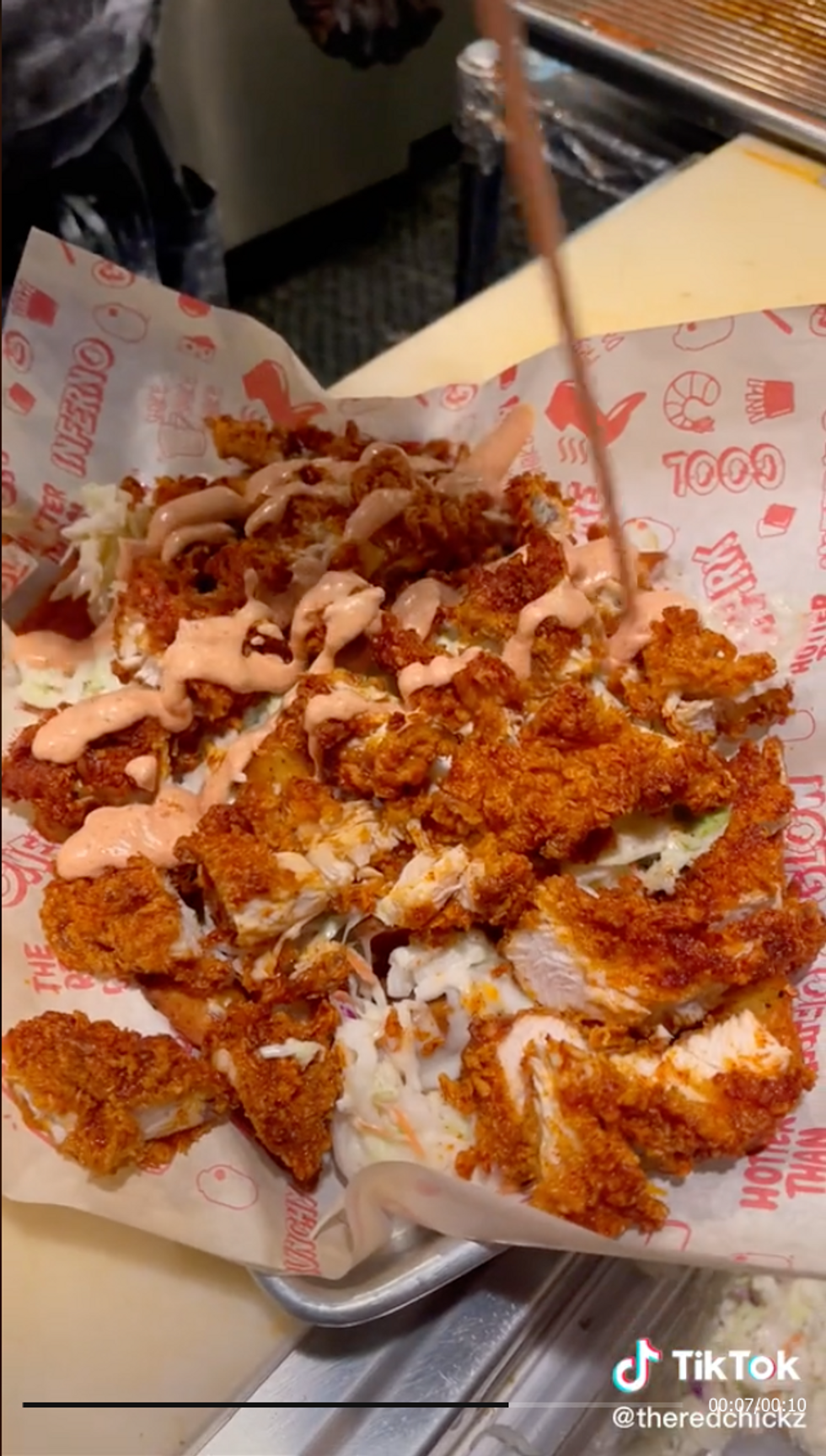 The Red Chickz chicken salad @theredchickz
Though the restaurant participates on other social media platforms, Christensen credits the restaurant's success to its TikTok content. The co-founder has since hired an in-house social media team to produce more videos of crunchy fried chicken being sliced open with a knife—content that kicked off the restaurant's viral TikTok presence. Even videos as simple as a sandwich being constructed with a Quavo song in the background have gotten over a million views, with people taking to the comments to state how hungry the video made them.
And despite TikTok's reputation as an app for Gen Z, it's hardly just teens using the platform as a search engine for food recommendations. Of TikTok's millennial users, 53% said they visited a restaurant after seeing it on the video app.
Sure, many of those users turn to the vast number of accounts dedicated to showing off the best brunch spots or rooftop bars. But increasingly, restaurants are taking matters into their own hands and providing the same tantalizing shots of food or ingredient prep without needing to tap influencers to create the content.
"You'll see people fighting [in the comments] about 'why do you put coleslaw on a sandwich' and they sit there all day and keep fighting about it," he says. "We're really focused on getting content that will start a conversation underneath that post." In other words, Christensen says, on TikTok even negative comments are a boon for business.
Stephanie Diaz, an employee who oversees social media content for the hot dog restaurant Dirt Dog says creating content often requires chefs to change how they prepare the food.
"For certain styles, we either do something silly or we change the steps of how things are made just to make it more appealing," she says.
For example, to create a more intriguing video, Diaz will instruct chefs to remove the bacon surrounding a hot dog and re-wrap it for the camera. Or, pour beer into a sauce that was actually prepared off-site. Diaz then couples the video with music from Coolio or Snoop Dogg—artists the restaurant already plays in the restaurant who also trend on TikTok.'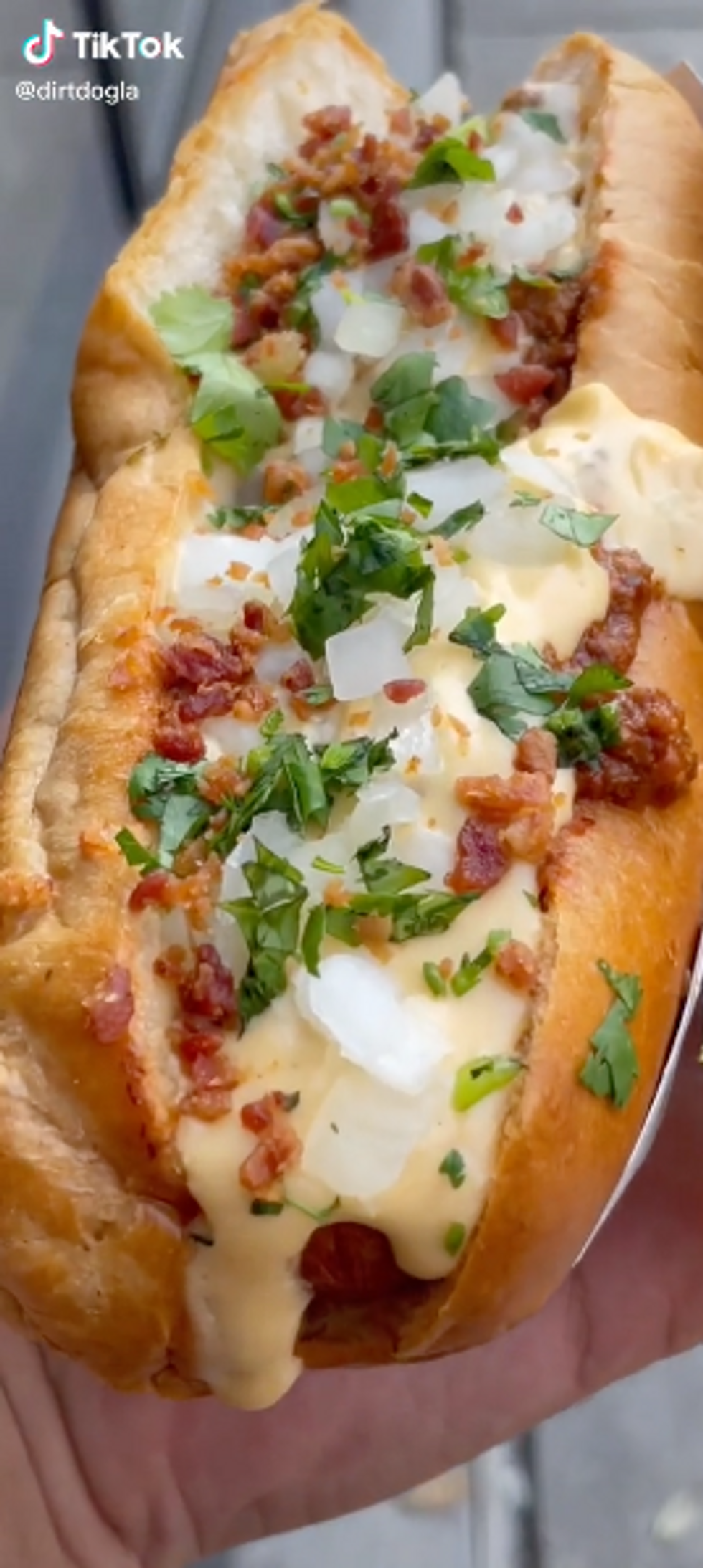 hot dog from Dirt Dog
Image from @dirtdogla
But not every restaurant's TikTok success is so food-focused. Morgan Walsh, who owns Cupid's Hot Dogs, often posts footage from inside the restaurant from her personal account. She says her early viral videos showed employees delivering a tray of hot dogs wearing roller skates.
"I'm often more inspired by the other things going on than just chili dogs—which are great—but I can only take so many videos of me pouring chili," Walsh says.
Those videos catapulted her follower numbers from 50,000 to 331,400 over the last two years.
Every time a video goes viral, Walsh says her hot dog stand gets a rush of customers. In one particular case, a customer who saw one of her TikToks came all the way from Minnesota.
Walsh's success on the platform has led her to view TikTok as crucial for any small business. Her videos, she says, have garnered more customers than when her restaurant was featured on The Kelly Clarkson show.
But TikTok fame can be fleeting, and restaurant owners who get complacent with their online presence may not be able to maintain that level of excitement. Just as TikTok has surpassed other platforms, Christensen knows that something new could replace it any day. Which is why his social media team is constantly trying to find new ways to present their food, encourage comments and keep up with the algorithm—all while trying to highlight the food's crispy crunch.
At the end of the day, he says, "there's only so many things you can do with fried chicken."