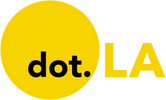 Get in the KNOW  
  on LA Startups & Tech  
X
Image by Candice Navi
Here Are LA's Top VCs, According to Their Peers
Ben Bergman
Ben Bergman is the newsroom's senior finance reporter. Previously he was a senior business reporter and host at KPCC, a senior producer at Gimlet Media, a producer at NPR's Morning Edition, and produced two investigative documentaries for KCET. He has been a frequent on-air contributor to business coverage on NPR and Marketplace and has written for The New York Times and Columbia Journalism Review. Ben was a 2017-2018 Knight-Bagehot Fellow in Economic and Business Journalism at Columbia Business School. In his free time, he enjoys skiing, playing poker, and cheering on The Seattle Seahawks.
08:00 AM | January 11, 2021
Though Silicon Valley is still very much the capital of venture capital, Los Angeles is home to plenty of VCs who have made their mark – investing in successful startups early and reaping colossal returns for their limited partners.
Who stands out? We thought there may be no better judge than their peers, so we asked 28 of L.A.'s top VCs who impresses them the most.
---
The list includes many familiar names. Dana Settle, founding partner of Greycroft, and Mark Mullen, founding partner of Bonfire Ventures, garnered the most votes.
Settle manages West Coast operations for Greycroft, a New York firm with $1.8 billion in assets under management. She is one of only nine of the top 100 VCs nationally who are women, according to CB Insights.
Mullen is a founding partner of Bonfire Ventures, which closed a $100 million second fund in September to continue funding seed stage business-to-business (B2B) software startups. Mullen has also been an angel investor and is an LP in other funds focusing on other sectors, including MaC VC and BAM Ventures.
Below is the list of the top ranked investors by how many votes each received from their peers. When there was a tie, they appear in alphabetical order according to their last name: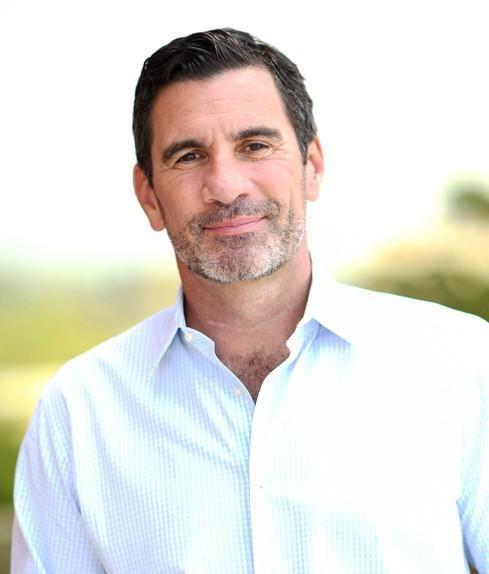 Mark Mullen, Bonfire Ventures
Mark Mullen is a founding partner of Bonfire Ventures. He is also founder and the largest investor in Mull Capital and Double M Partners, LP I and II. A common theme in these funds is a focus on business-to-business media and communications infrastructures.
In the past, Mullen has served as the chief operating officer at the city of Los Angeles' Economic Office and a senior advisor to former Mayor Villaraigosa, overseeing several of the city's assets including Los Angeles International Airport and the Los Angeles Convention Center. Prior to that, he was a partner at Daniels & Associates, a senior banker when the firm sold to RBC Capital Markets in 2007.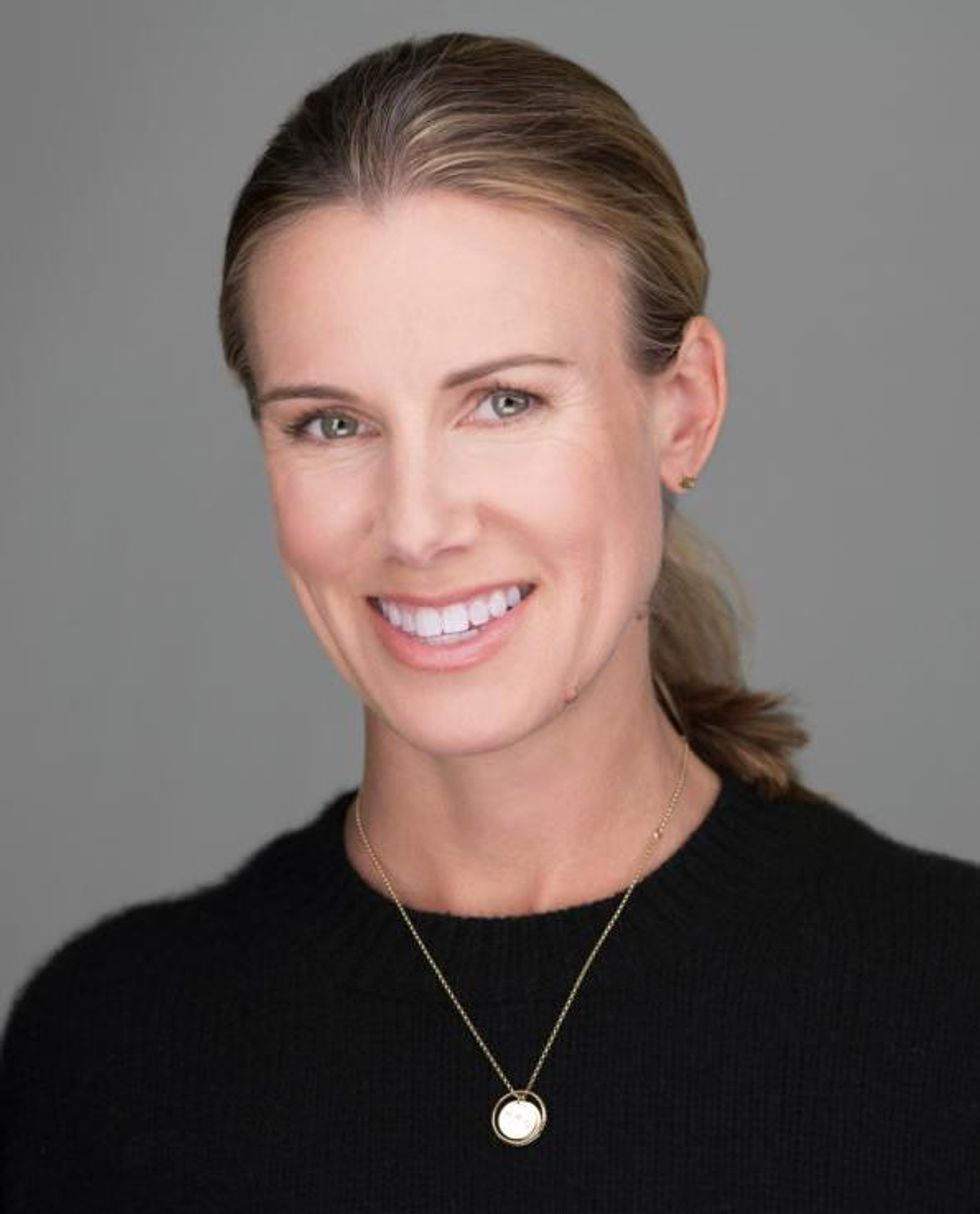 Dana Settle, Greycroft
Dana Settle is a founding partner of Greycroft, heading the West Coast office in Los Angeles. She currently manages the firm's stakes in Anine Bing, AppAnnie, Bird, Clique, Comparably, Goop, Happiest Baby, Seed, Thrive Market, Versed and WideOrbit, and is known for backing female-founded companies.
"The real change takes place when female founders build bigger, independent companies, like Stitchfix, TheRealReal," she said this time last year in an interview with Business Insider. "They're creating more wealth across their cap tables and the cap tables tend to be more diverse, so that gives more people opportunity to become an angel investor." Prior to founding Greycroft, she was a venture capitalist and startup advisor in the Bay Area.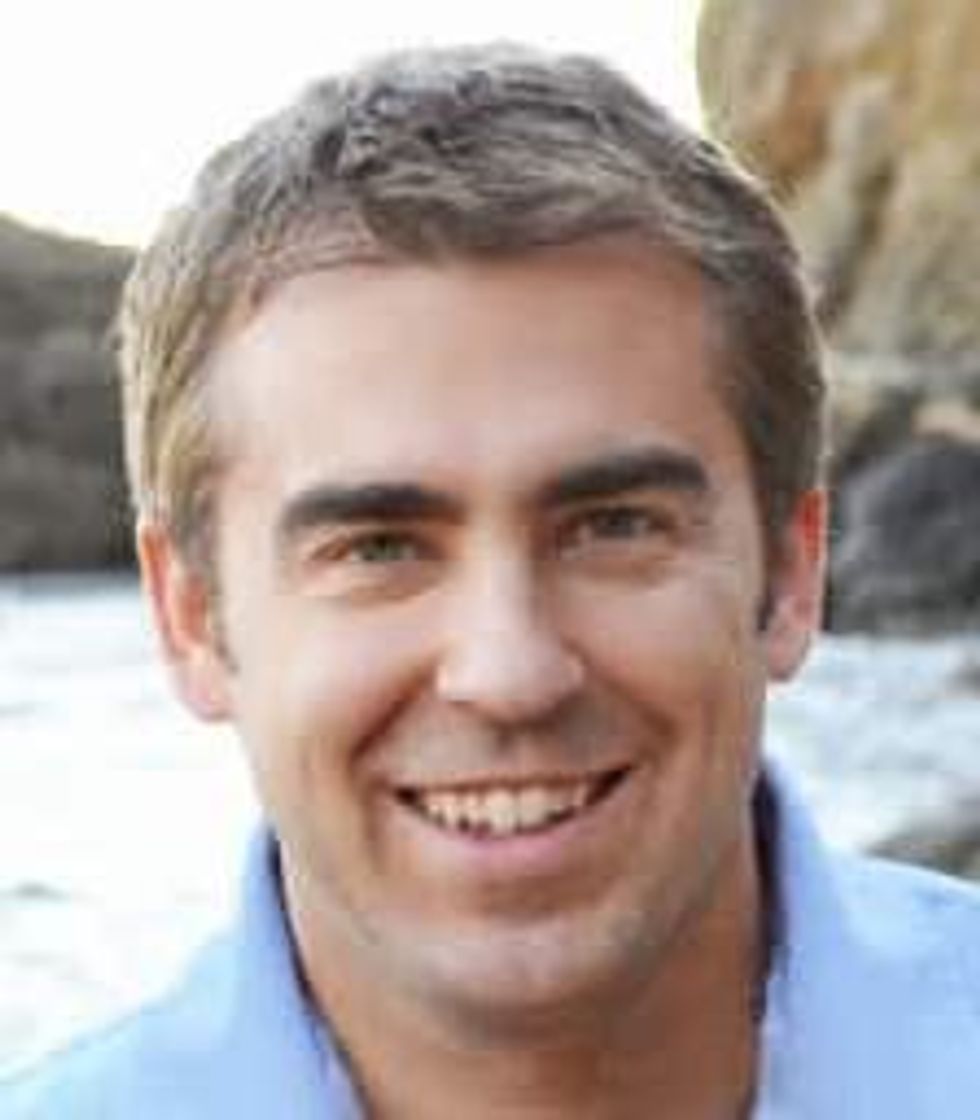 Erik Rannala, Mucker Capital
Erik Rannala is a founding partner at Mucker Capital, which he created with William Hsu in 2011. Before founding Mucker, Rannala was vice president of global product strategy and development at TripAdvisor and a group manager at eBay, overseeing its premium features business.
"As an investor, I root for startups. It pains me to see great teams and ideas collapse under the pressure that sometimes follows fundraising. If you've raised money and you're not sure what comes next, that's fine – I don't always know either," Rannala wrote in a blog post for Mucker.
Mucker has a portfolio of 61 companies, including Los Angeles-based Honey and Santa Monica-based HMBradley.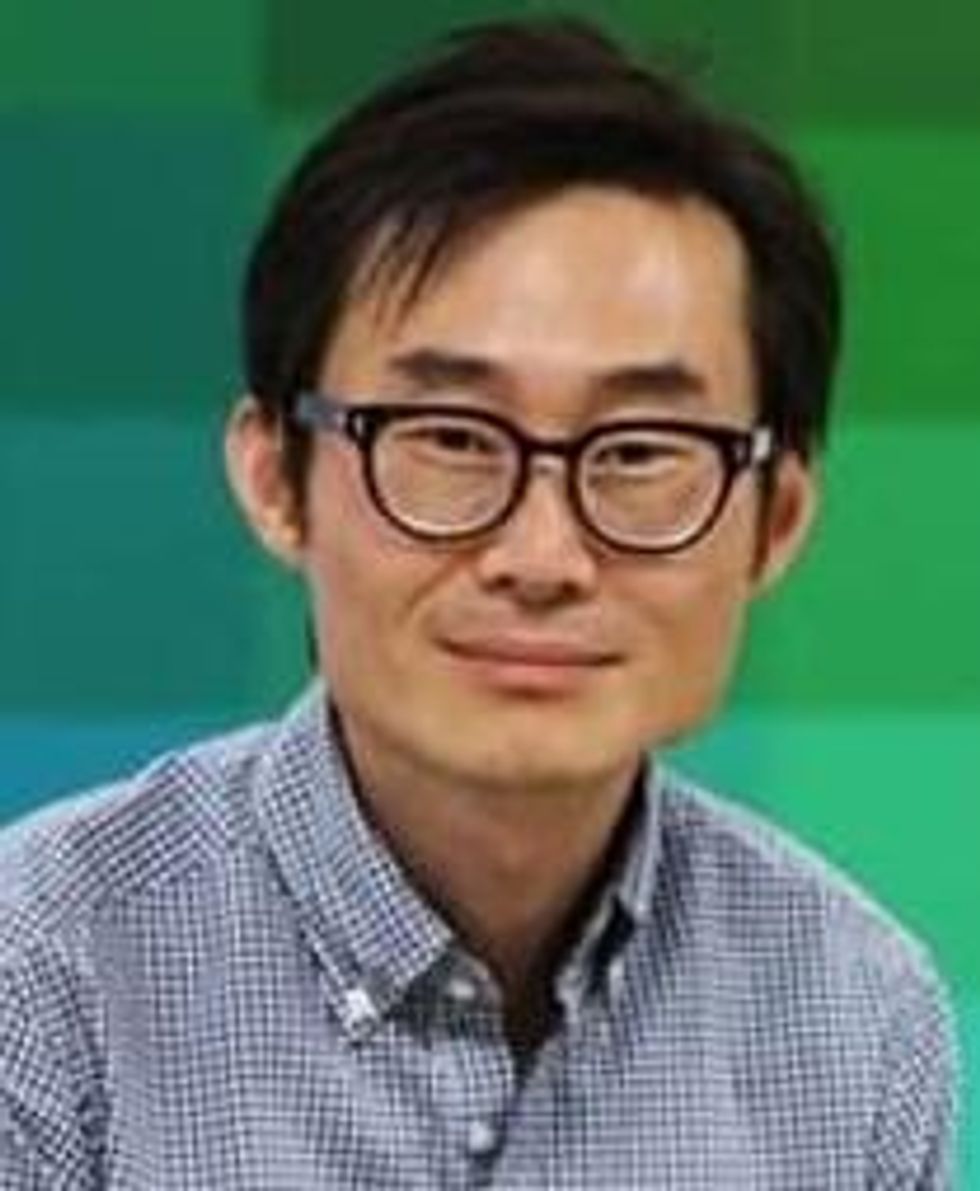 William Hsu, Mucker Capital
William Hsu is a founding partner at the Santa Monica-based fund Mucker Capital. He started his career as a founder, creating BuildPoint, a provider of workflow management solutions for the commercial construction industry not long after graduating from Stanford.
In an interview with Fast Company, he shared what he learned in the years following, as he led product teams at eBay, Green Dot and Spot Runner, eventually becoming the SVP and Chief Product Officer of At&T Interactive: "Building a company is about hiring correctly, adhering to a timeline, and rigorously valuing opportunity. It's turning something from inspiration and creative movement into process and rigor."
These are the values he looks for in founders in addition to creativity. "I like to see the possibility of each and every idea, and being imaginative makes me a passionate investor."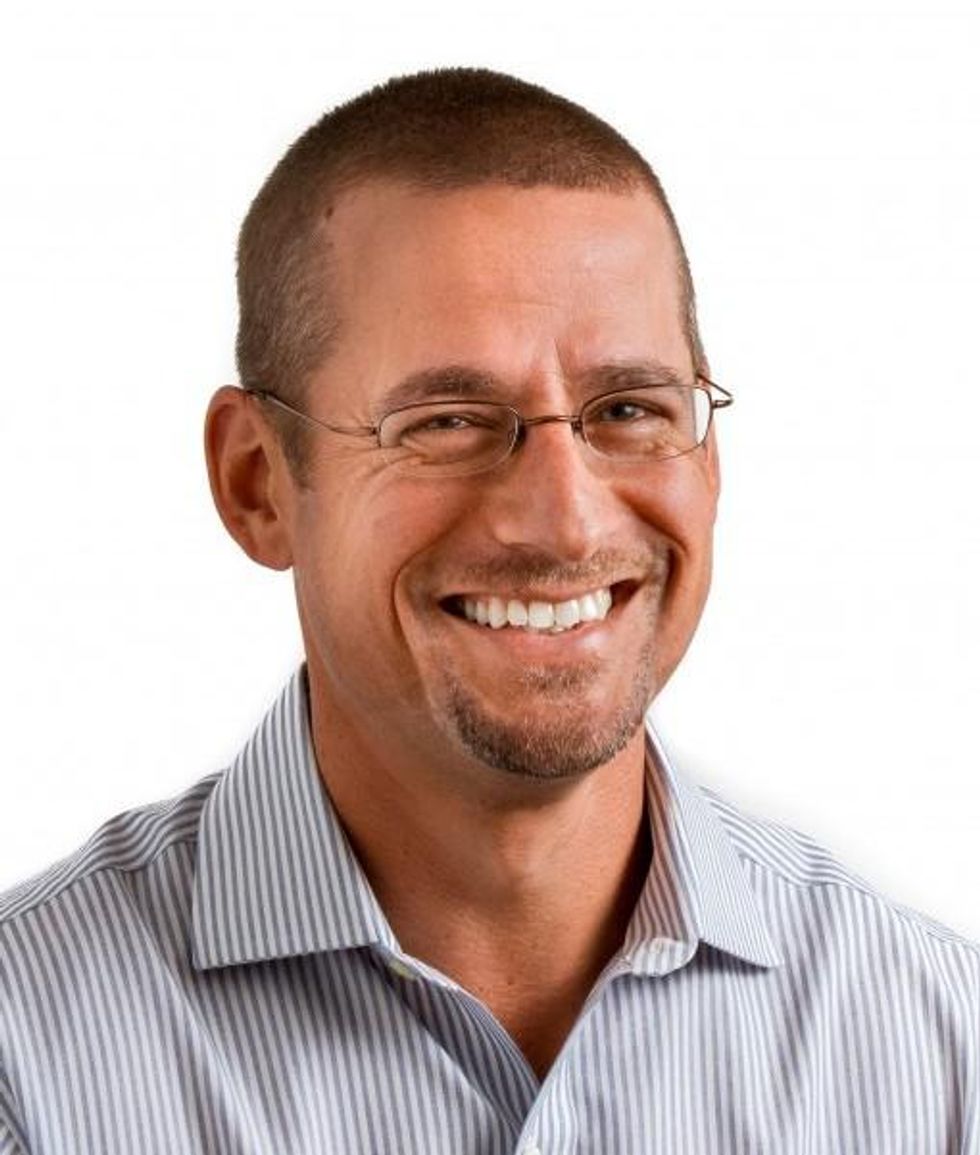 Jim Andelman, Bonfire Ventures
Jim Andelman is a founding partner of Bonfire Ventures, a fund that focuses on seed rounds for business software founders. Andelman has been in venture capital for 20 years, previously founding Rincon Venture Partners and leading software investing at Broadview Capital Partners.

He's no stranger to enterprise software — he also was a member of the Technology Investment Banking Group at Alex. Brown & Sons and worked at Symmetrix, a consulting firm focusing on technology application for businesses.
In a podcast with LA Venture's Minnie Ingersoll earlier this year, he spoke on the hesitations people have about choosing to start a company.
"It's two very different things: Should I coach someone to be a VC or should I coach someone to enter the startup ecosystem? On the latter question, my answer is 'hell yeah!'"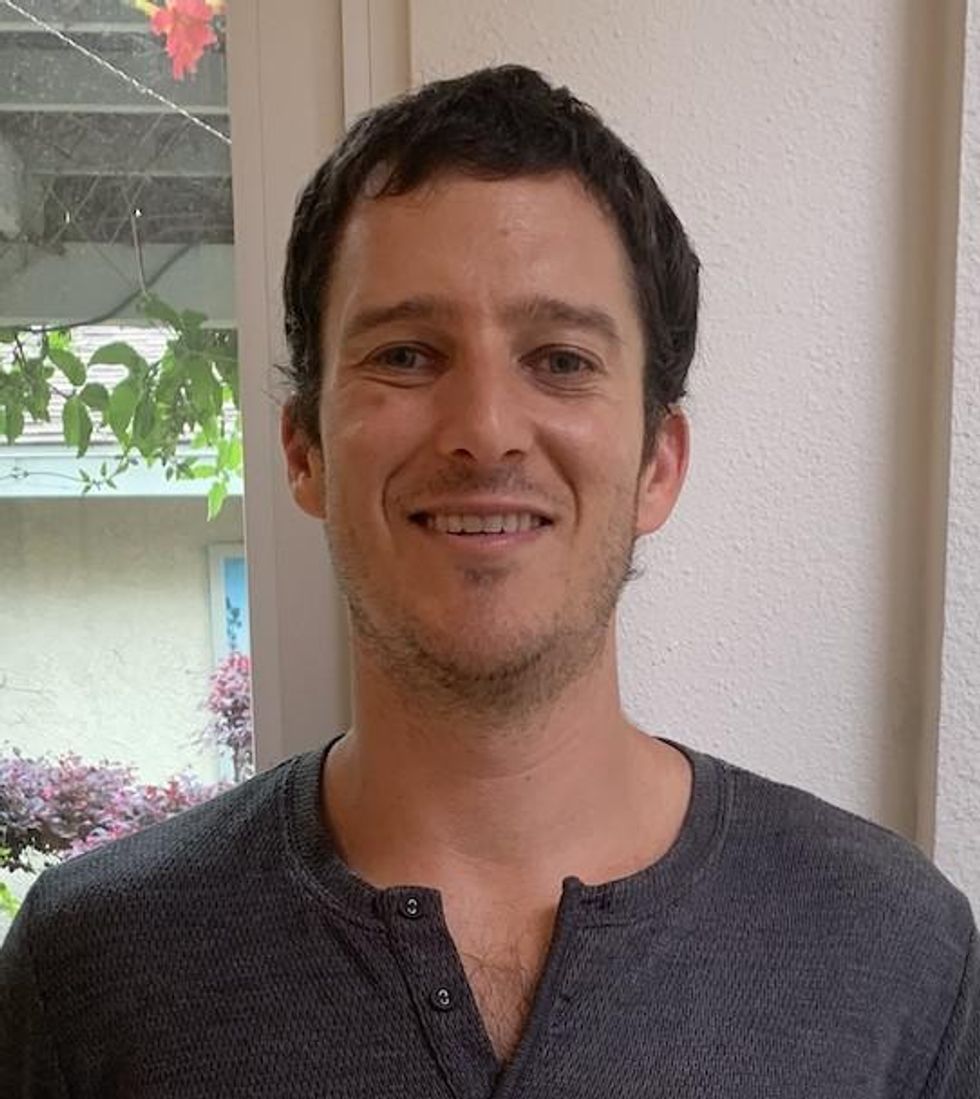 Josh Diamond, Walkabout Ventures
Josh Diamond founded Walkabout Ventures, a seed fund that primarily focuses on financial service startups. The firm raised a $10 million fund in 2019 and is preparing for its second fund. Among its 19 portfolio companies is HMBradley, which Diamond helped seed and recently raised $18 in a Series A round.
"The whole reason I started this is that I saw there was a gap in the funding for early stage, financial service startups," he said. As consumers demand more digital access and transparency, he said the market for financial services is transforming — and Los Angeles is quickly becoming a hub for fintech companies. Before founding Walkabout, he was a principal for Clocktower Technology Ventures, another Los Angeles-based fund with a similar focus.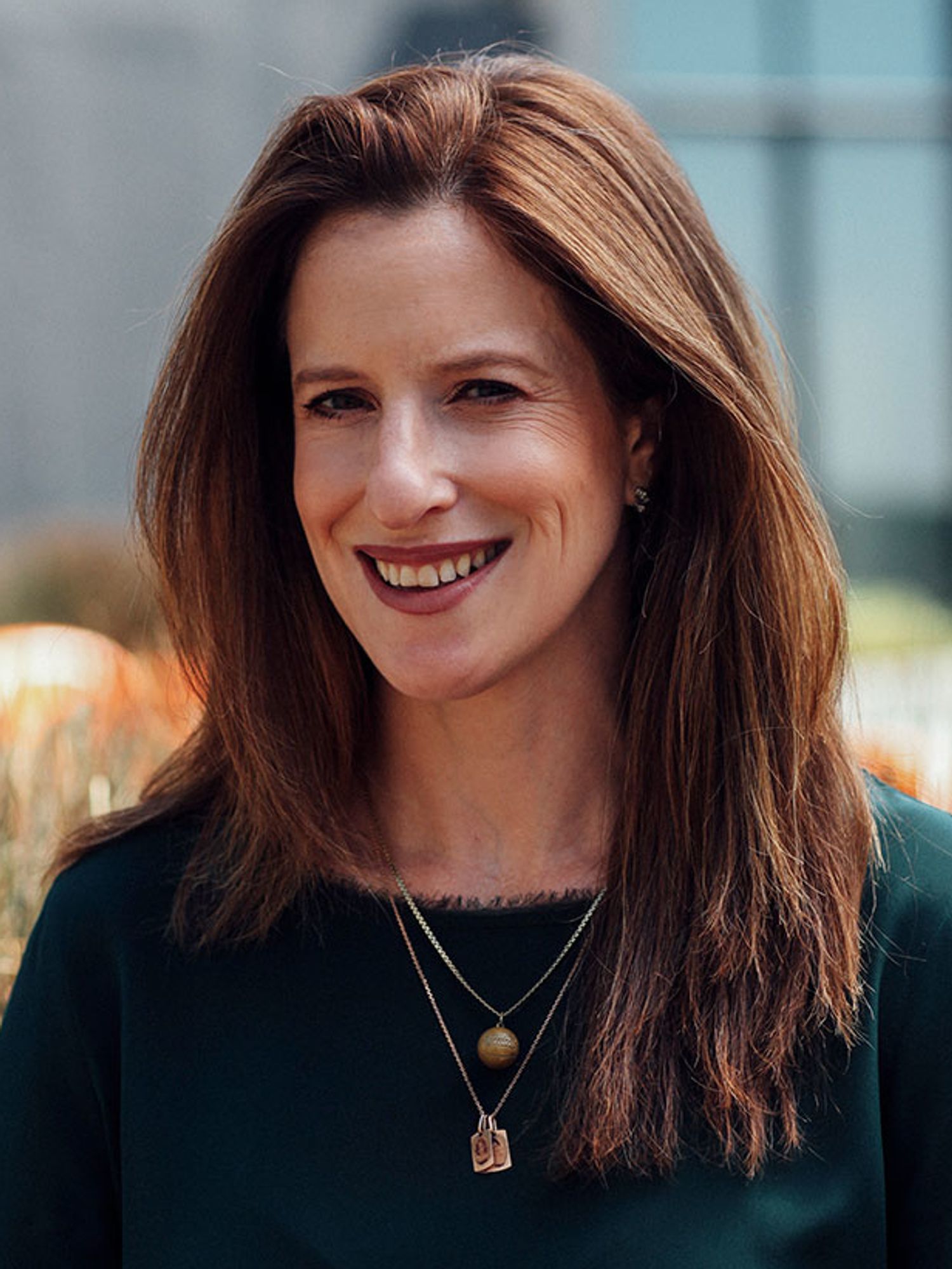 Kara Nortman, Upfront Ventures
Kara Nortman was recently promoted to managing partner at Upfront Ventures, making her one of the few women – along with Settle – to ascend to the highest ranks of a major VC firm.
Though Upfront had attempted to recruit her before she joined in 2014, she had declined in order to start her own company, Moonfrye, a children's ecommerce company that rebranded to P.S. XO and merged with Seedling. Upfront invested in the combination, and shortly after, Nortman joined the Upfront team.
Before founding Moonfrye, she was the SVP and General Manager of Urbanspoon and Citysearch at IAC after co-heading IAC's M&A group.
In an interview with dot.LA earlier this year, she spoke on how a focus for her as a VC is to continue to open doors for founders and funders of diverse backgrounds.

"Once you're a woman or a person of color in a VC firm, it is making sure other talented people like you get hired, but also hiring people who are not totally like you. You have to make room for different kinds of people. And how do you empower those people?"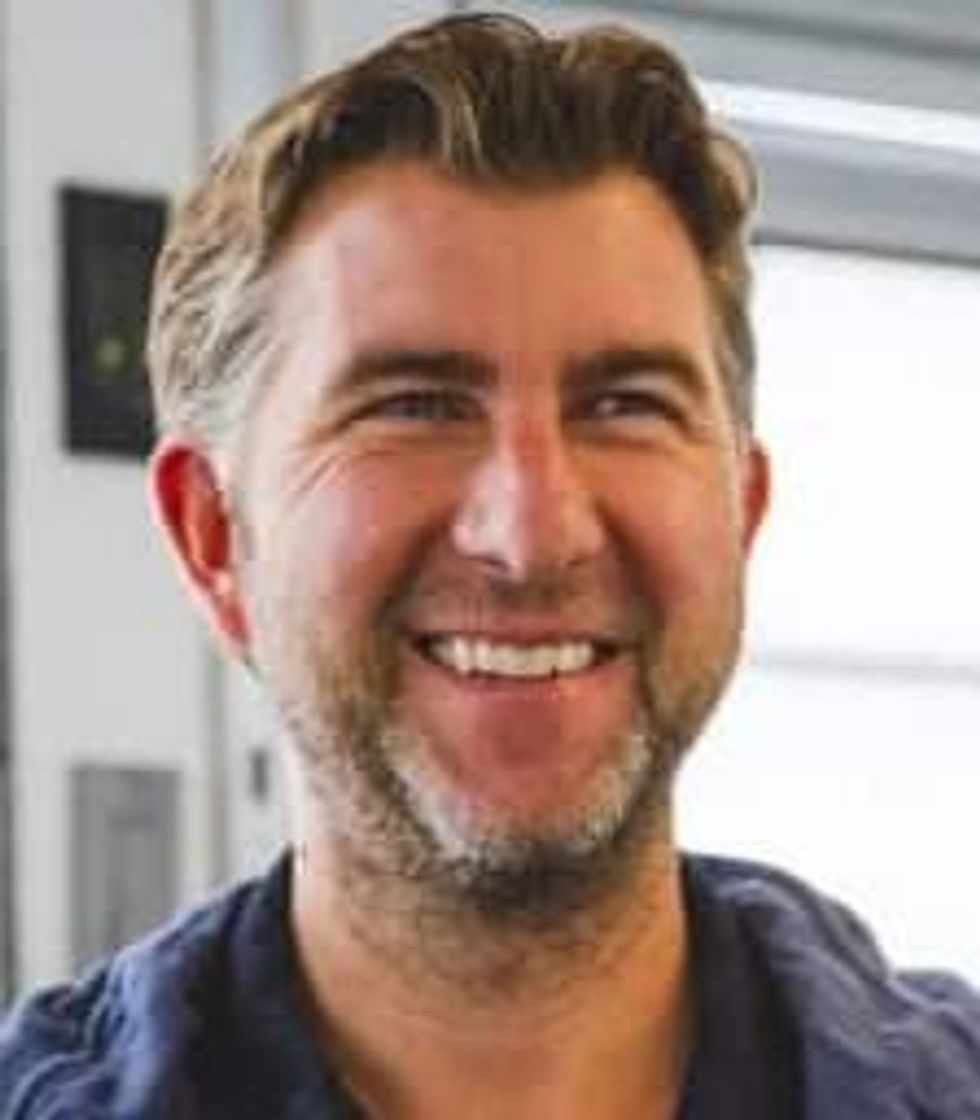 Brett Brewer, Crosscut Ventures
Brett Brewer is a co-founder and managing director of Crosscut Ventures. He has a long history in entrepreneurship, starting a "pencil selling business in 4th grade." In 1998, he co-founded Intermix Media. Under their umbrella were online businesses like Myspace.com and Skilljam.com. After selling Intermix in 2005, he became president of Adknowledge.com.
Brewer founded Santa Monica-based Crosscut in 2008 alongside Rick Smith and Brian Garrett. His advice to founders on Crosscut's website reflects his experience: "Founders have to be prepared to pivot, restart, expect the unexpected, and make tough choices quickly... all in the same week! It's not for the faint of heart, but after doing this for 20 years, you can spot the fire (and desire) from a mile away (or not)."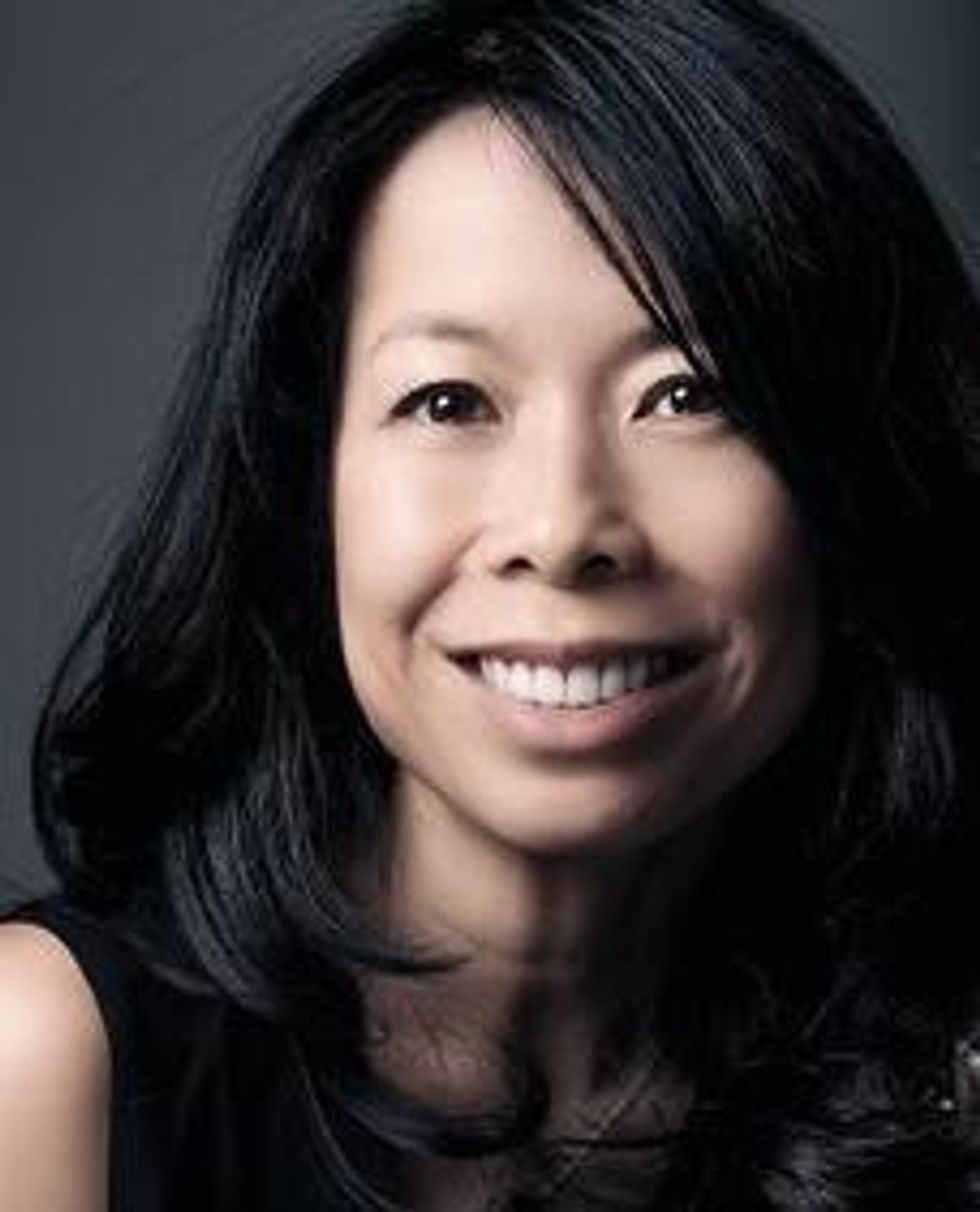 Eva Ho, Fika Ventures
Eva Ho is a founding partner of Fika Ventures, a boutique seed fund, which focuses on data and artificial intelligence-enabled technologies. Prior to founding Fika, she was a founding partner at San Francisco-based Susa Ventures, another seed-stage fund with a similar focus. She is also a serial entrepreneur, most recently co-founding an L.A. location data provider, Factual. She also co-founded Navigating Cancer, a health startup, and is a founding member of All Raise, a nonprofit that supports and provides resources to female founders and funders.
In an interview with John Livesay shortly before founding Fika, Ho spoke to how her experience at Factual helped focus what she looks for in founders. "I always look for the why. A lot of people have the skills and the confidence and the experience, but they can't convince me that they're truly passionate about this. That's the hard part — you can't fake passion."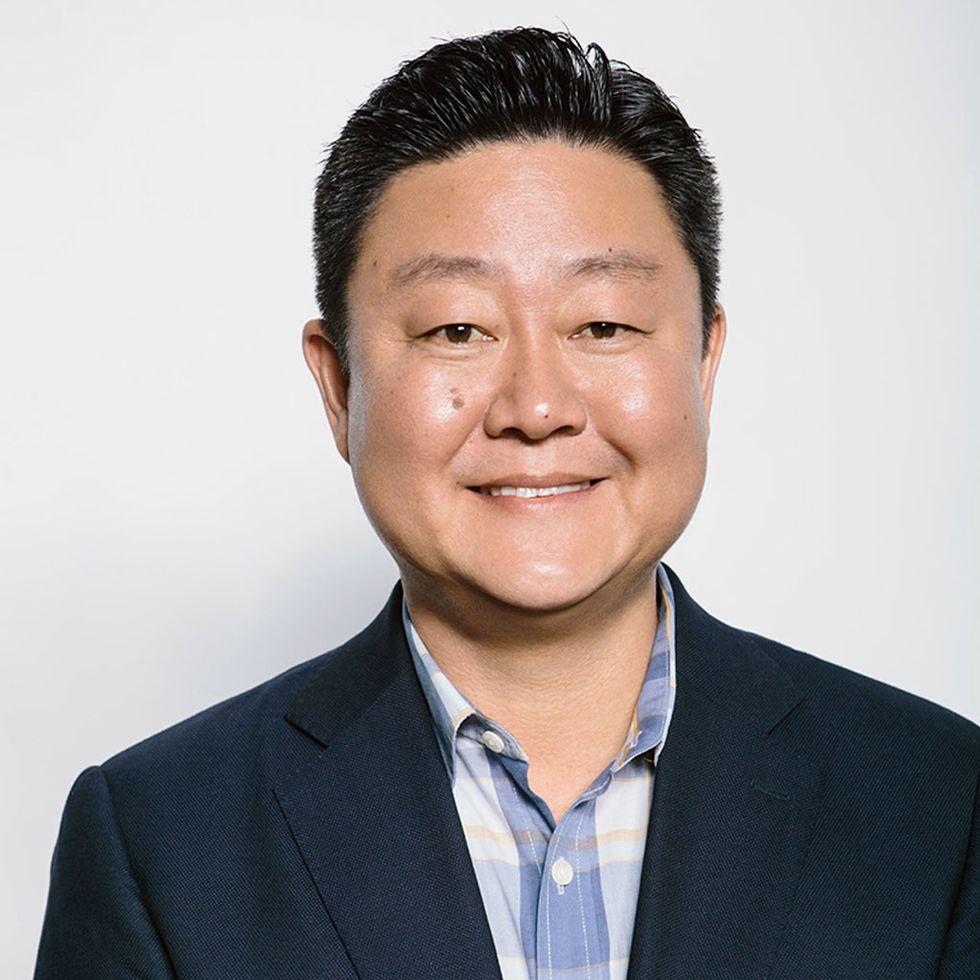 Brian Lee, BAM Ventures
Brian Lee is a co-founder and managing director of BAM Ventures, an early-stage consumer-focused fund. In an interview with dot.LA earlier this year, Lee shared that he ended up being the first investor in Honey, which was bought by PayPal for $4 billion, through investing in founders and understanding their "vibe."
"There's certain criteria that we look for in founders, a proprietary kind of checklist that we go through to determine whether or not these are the founders that we want to back…. [Honey's founders] knew exactly what they were building, and how they were going to get there."
His eye for the right vibe in a founder is one gleaned from experience. Lee is a serial entrepreneur, founding LegalZoom.com, ShoeDazzle.com and The Honest Company.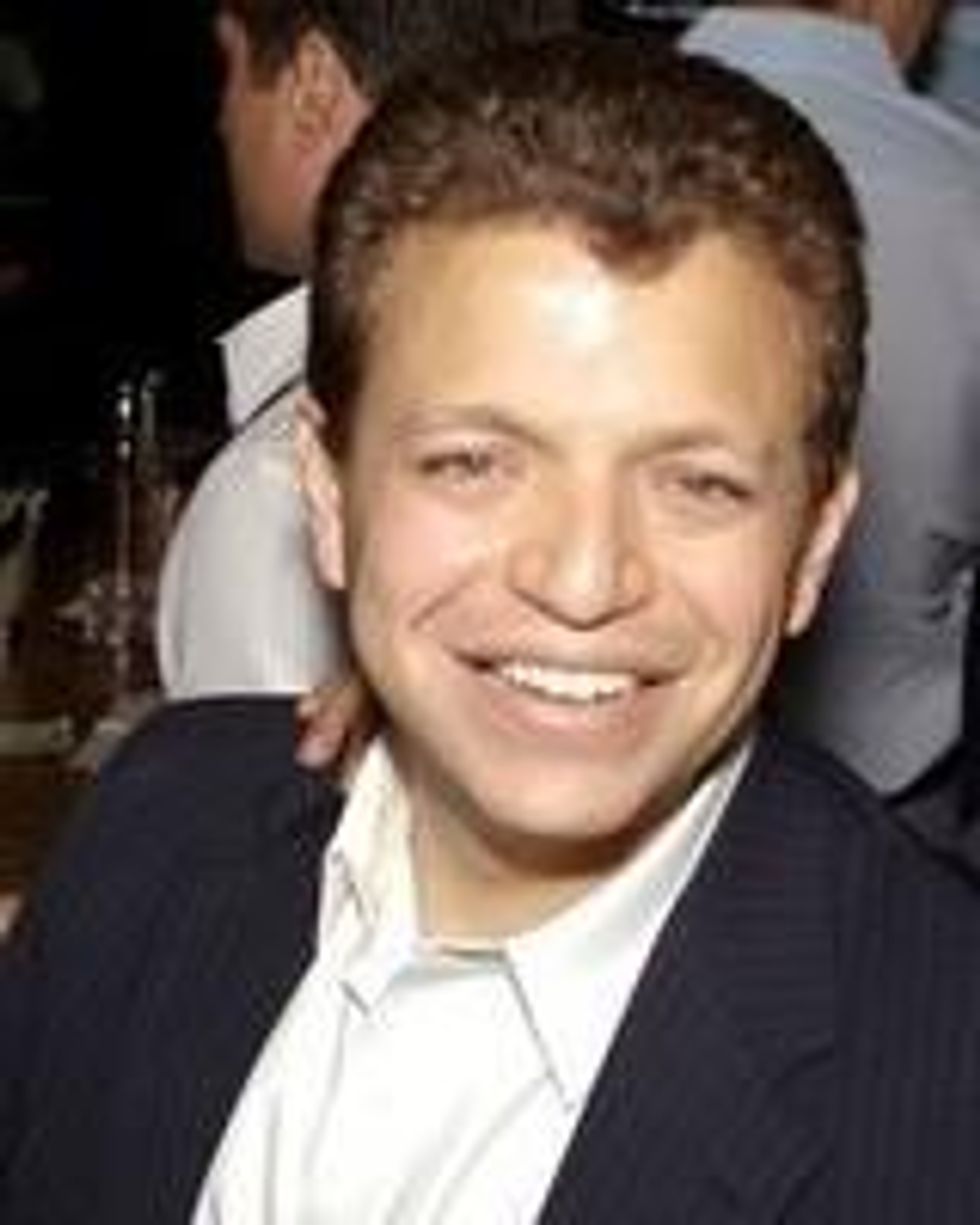 Alex Rubalcava, Stage Venture Partners
Alex Rubalcava is a founding partner of Stage Venture Partners, a seed venture capital firm that invests in emerging software technology for B2B markets. Prior to joining, he was an analyst at Santa Monica-based Anthem Venture Partners, an investor in early stage technology companies. It was his first job after graduating from Harvard, and during his time at Anthem the fund was part of Series A in companies like MySpace, TrueCar and Android.
He has served as a board member in several Los Angeles nonprofits and organizations like KIPP LA Schools and South Central Scholars.
"Warren Buffett says that he's a better businessman because he's an investor, and he's a better investor because he's a businessman. I feel the same way about VC and value investing. Being good at value investing can make you good at venture capital, and vice versa," Rubalcava said in an interview with Shai Dardashti of MOI Global.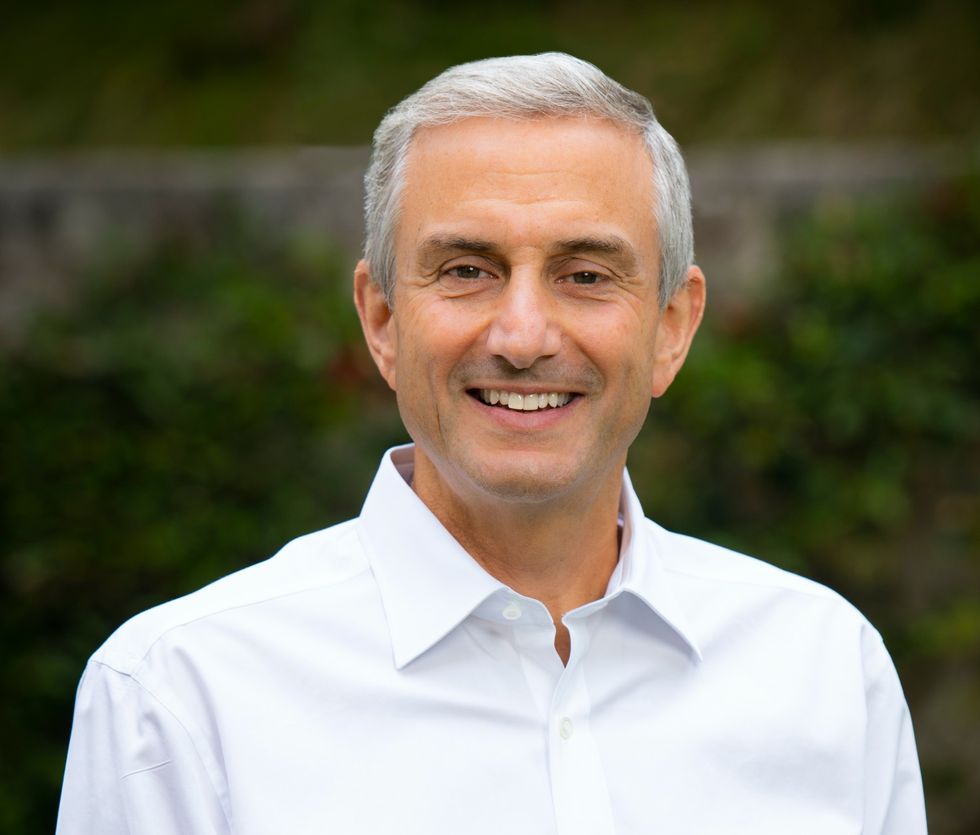 Mark Suster, Upfront Ventures
Mark Suster, managing partner at Upfront Ventures, is arguably L.A.'s most visible VC, frequently posting on Twitter and on his blog, not only about investing but also more personal topics like weight loss. In more normal years, he presides over LA's biggest gathering of tech titans, the Upfront Summit. Before Upfront, he was the founder and chief executive officer of two software companies, BuildOnline and Koral, which was acquired by Salesforce. Upfront backed both of his companies, and eventually he joined their team in 2007.
In a piece for his blog, "Both Sides of the Table," Suster wrote about the importance of passion — not just for entrepreneurs and their businesses, but for the VCs that fund them as well.

"On reflection of the role that I want to play as a VC it is clearly in the camp of passion. I really want to start my journeys only with people with whom I want to work closely with for the next 5–7 years or more. I only want to work on projects in which I believe can produce truly amazing change in an industry or in the world."
Lead art by Candice Navi.
Ben Bergman
Ben Bergman is the newsroom's senior finance reporter. Previously he was a senior business reporter and host at KPCC, a senior producer at Gimlet Media, a producer at NPR's Morning Edition, and produced two investigative documentaries for KCET. He has been a frequent on-air contributor to business coverage on NPR and Marketplace and has written for The New York Times and Columbia Journalism Review. Ben was a 2017-2018 Knight-Bagehot Fellow in Economic and Business Journalism at Columbia Business School. In his free time, he enjoys skiing, playing poker, and cheering on The Seattle Seahawks.
https://twitter.com/thebenbergman
ben@dot.la
02:00 AM | February 13, 2023
Photo: Astroforge
One of the most-used elements in industrial work on Earth is disappearing.
Popular for industrial use because of its resistance to corrosion and heat, platinum sells for over $1,000 an ounce and is in everything from wedding bands to medical devices to a number of auto parts.
And retrieving what little of the element does remain, will only exacerbate the ongoing climate crisis – resource extraction was the source of half the world's carbon emissions and 80% of its biodiversity loss in 2019 and that number has likely only risen.
The problem's been known for awhile; back in 2016 the Massachusetts Institute of Technology predicted demand would outpace supply of platinum and palladium. At that time, the college estimated we'd run out of platinum by 2050, a mere 27 years from now.
There's also the issue that what platinum remains is in the hands of powers adversarial to the U.S.
Russia accounts for up to 30% of the world's palladium supply, and up to 10% of its platinum, and its war in Ukraine has pushed export prices higher. MIT also estimated that China, another stockpiler of industrial metals, could stop selling its platinum stores to the greater globe as soon as 2034.
So what is there to do?
The answer could lie thousands of miles from our planet, in deep space, according to Astroforge CEO and former Virgin Orbit veteran Matt Gialich. Gialich is certain that in the near future, it'll be commonplace for companies to operate refineries in space that can sort and send back elements crucial for construction on earth.
"We know that these concentrations are super high in space," Gialich said. He said Astroforge is starting with platinum metals, but it does have "a future roadmap that's much, much bigger than that," but wouldn't share more about what other materials the company hopes to mine in space. It's reminiscent of the old California Gold Rush – the minute you tell someone there's platinum in them there asteroids, others with means will want to rush in first.
Astroforge is developing technology to mine and refine minerals in deep space. The company will face a vital test in its mission to mine asteroids for minerals this April, when it tests its in-space refinery technology for the first time.
In particular, Astroforge is looking at retrieving palladium and platinum from asteroids. The shrinking store of these metals makes it easier to understand why going to space to mine more might not be such a far-fetched plan.
Gialich pointed out the emissions problem and noted, "part of that is platinum group mining… not all, but a big part of it. When it comes to mining metals, there's just no way to solve that; you can do things to reduce it, but we're running out of ore on the earth as we continuously mine."
He noted that a while ago, it wasn't feasible to undertake these sorts of missions, but said that mission price continues to drop as more companies enter the private space race and offer rideshare missions for lower and lower costs.
"As we continue to run out of ore and as access to space becomes cheaper, we think we're actually past the inflection point of when this makes more economic sense to do," Gialich said.
But, it'll take a lot of cash and crafty partnerships – NASA spent $800 million to retrieve only 60 grams during a similar project. Two other space mining firms, Planetary Resources and Deep Space Industries, were bought out before reaching their goals. This is why Astroforge raised $13 million in May, but it'll likely need much more than that for future missions and anticipates future fundraises. Gialich wouldn't disclose if Astroforge has any customers signed up for future missions or to buy space ore yet.
This upcoming mission in April will see Astroforge's small in-orbit refinery hitch a ride to space on SpaceX's Falcon 9 rocket, in partnership with British small satellite launcher OrbAstro. The plan is to test the refinery capabilities in space first by supplying the refinery with an "asteroid-like material" (so, a rock, but not an asteroid) that the tech will then vaporize and sort into its elemental components while in orbit. It's a vital test of if the refinery can function in space, and if all succeeds, a critical part towards Gialich's overall mission – becoming the first company to successfully mine asteroids.
"We have gone to asteroids before," Gialich said. "We've landed on them, we've taken samples from them, we've done every step of the way, scientifically, multiple times. We just haven't added that refining piece in, but that is actually very simple. You can prove that out on Earth, there's not a big difference [in space]."
And Gialich really, really wants to be first. After all, whoever is,will have their pick of lucrative contracts as other private and public players rush in to gather up their share of the valuable asteroid minerals. NASA is leading a mission to explore an asteroid that some have joked could be worth $10 quintillion.
"We're going to be the first commercial company to explore that frontier," he promised. "There's enough space out there for a ton of companies to exist and be successful. We're still going to do it first."
That, of course, remains to be seen. The SpaceX launch doesn't yet have a window open. But when it does, it'll be a crucial test of Astroforge's system. And, it could eventually lead to an overhaul of our centuries-old mining system that might very well one day help the planet. At least, that's Gialich's overall goal.
"We're going to save the planet, and to save the planet we need to have big, audacious ideas that really solve a critical problem we have on Earth, and we have a resource problem on Earth," Gialich said. "Now that we're a globalized world, there's nowhere else to grow. There's not an option here, this has to be done."
Samson Amore
Samson Amore is a reporter for dot.LA. He holds a degree in journalism from Emerson College and previously covered technology and entertainment for TheWrap and reported on the SoCal startup scene for the Los Angeles Business Journal. Send tips or pitches to samsonamore@dot.la and find him on Twitter @Samsonamore.
https://twitter.com/samsonamore
samsonamore@dot.la
05:00 AM | February 15, 2023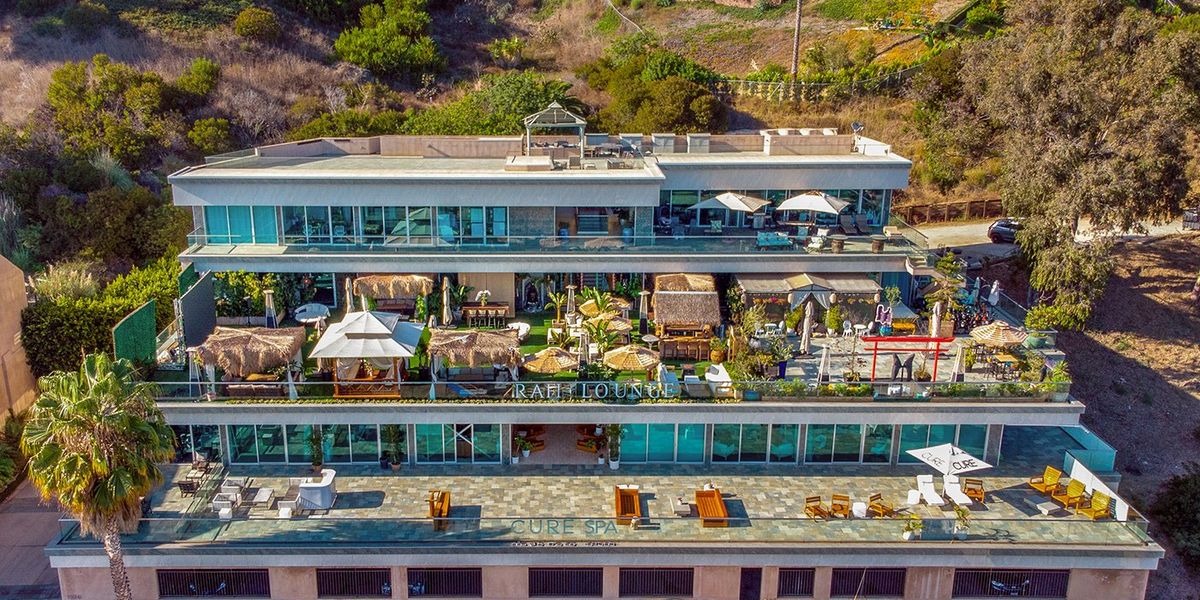 Photo: Rafi Lounge
Set in the foothills of Eastern Malibu across the street from Robert de Niro's Nobu, the Rafi Lounge, a NFT-powered wellness center and coworking space, somehow looks like both a beachfront country club and a swank monastery. On a clear day, you can see Catalina Island across the ocean. The sign above the entrance says, "Welcome, please allow us to reintroduce you to yourself."
Pushing through the braided rope entryway and passing a tranquil stone Buddha head waterfall, I arrived just after a yoga class former playboy model-turned "Dancing With the Stars" host Brooke Burke finished. The central open space that usually houses yoga mats or stationary bikes has been cleared off, and the giant projection screen behind the small stage is playing a tranquil plant video – an hour earlier, a larger-than-life Burke was on it helping clients "booty burn."
The building – which used to belong to a venture capital firm – has been totally transformed to look like nature's reclaimed it, dotted with lemon trees and cloaked in ornamental faux grass carpeting. Buddha statues are in every corner, some larger than five feet. On the way to one yoga room, there's a small shop selling pricey essential oils, Rafi Lounge merch, and CBD gummies. On the wall of the shop hang three breathtakingly detailed portraits of indigenous peoples made by the founder with charcoal. There's some construction ongoing, as they're converting former corner offices into hot yoga saunas and a spa.
On the day of my visit, the place is bustling with staff who are lugging boxes of Himalayan salt panels to install in the hot yoga room. Israeli-born Kung-Fu master and former monk Rafi Anteby, the founder of the eponymously named space, tells me that after our chat he plans to paint them all black to match the walls. No detail is too small to notice, something evident in his Mandala work.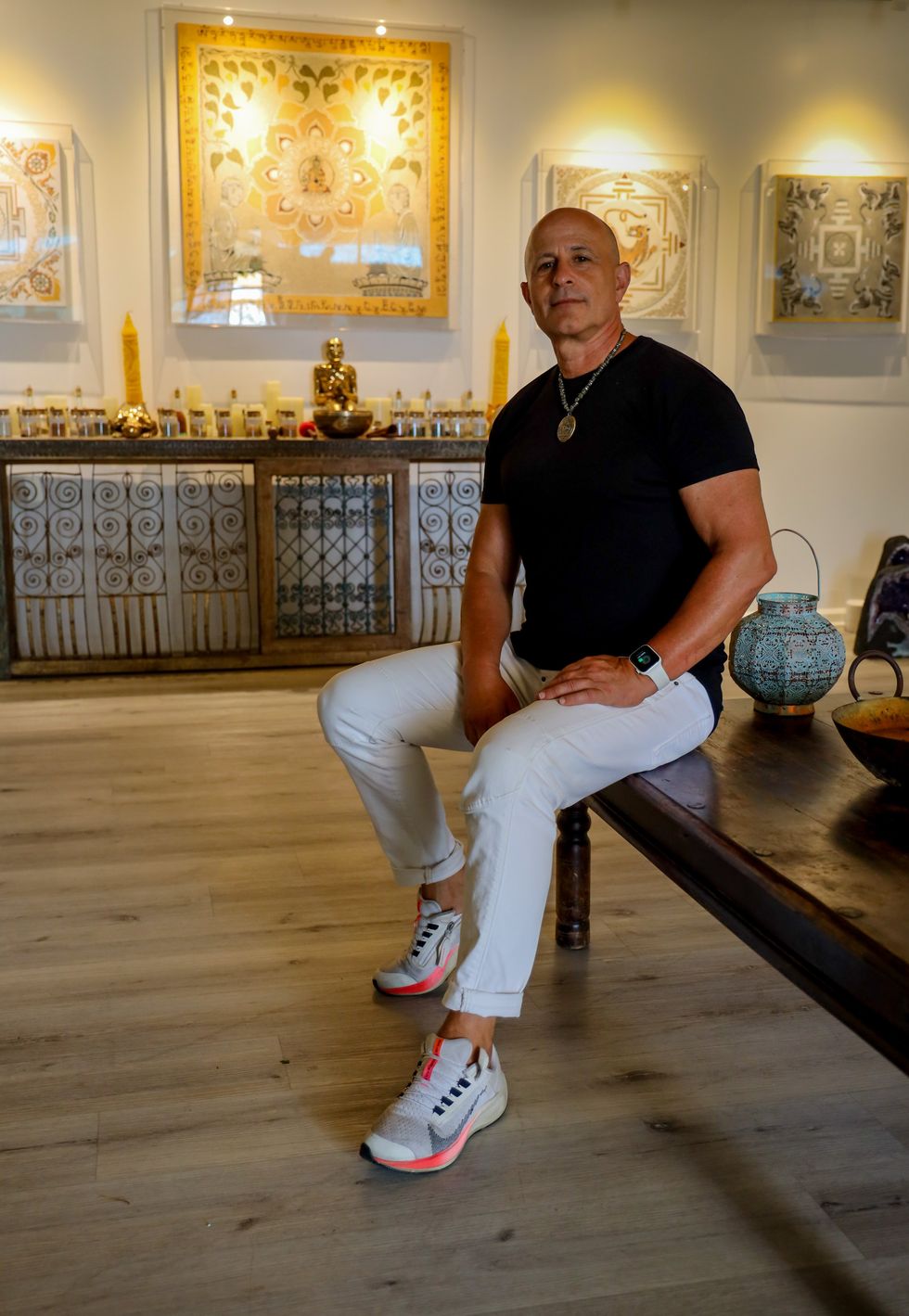 Rafi Lounge founder, Rafi Anteby, pictured here with his Mandala and sand collections. Photo: Rafi Lounge
The Rafi Lounge opened last year on November 10—the day before crypto exchange FTX went bankrupt. "Everyone said Rafi, go into a shutdown, don't do it," Anteby said. "I said I can't, because I pre-sold to members and I promised them [the launch is] what will happen."
Still, Anteby felt he couldn't renege on his promise to open the lounge to those who did buy in, so he forged ahead. So, what do NFTs have to do with a wellness center?
Each, according to Anteby, corresponds to a level of access. The least expensive, Unity, is the lowest tier and gives holders access to virtual classes. The second tier, Mindful, encompasses physical and virtual access to the Lounge. And the highest tier selling for $5,500, Awakened, are the ones Rafi is selling individually that act as an all-access pass to the Lounge and its benefits and events (including, Anteby said, "spiritual yacht parties"). Both Mindful and Awakened NFTs are lifetime memberships to Rafi Lounge, and include free access to annual retreats it hosts.
But facing the changing seasons of the crypto market and unwilling to sacrifice his brand by letting the Rafi Lounge tokens be resold to oblivion on public markets, Anteby took the drastic step to control his NFT inventory – buying up the remainder a mere day after the minting.
Anteby admitted he "lost a quarter of a million dollars" between creating and buying the NFTs back. But he said it was worth it: "I'm going to take each because I want to control who's coming to my lounge. I want to know that they will be my advocates as well."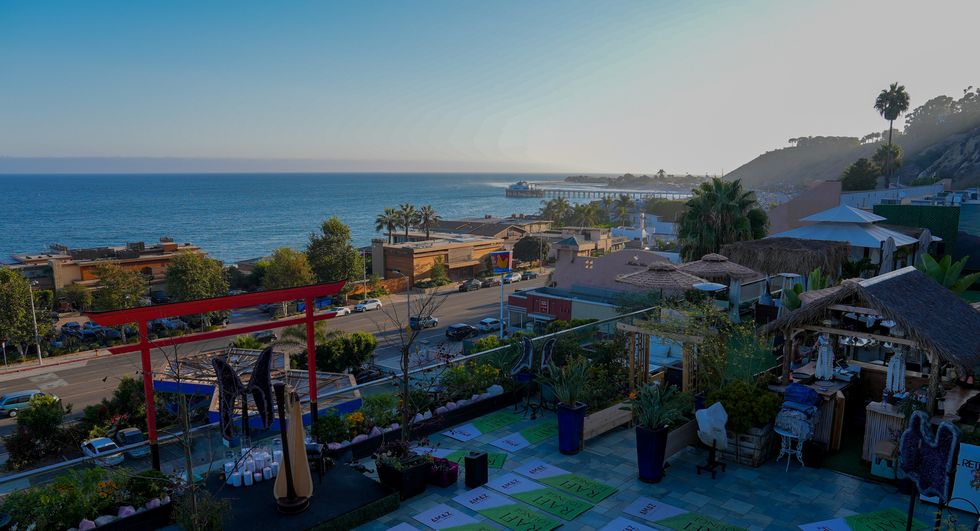 A view of the Rafi Lounge in the afternoon, before a yoga class. Photo: Rafi Lounge
Currently, there are 100 members, 55 of which are lifetime NFT holders. The 6,000 square-foot rooftop lounge is also open to the public. Which is to say, anyone can buy a 10-day pass for $250, pay the $40 fee for individual classes or come to public events. One of those people is Amie Yaniak who was diagnosed with stage four cancer last May that has since metastasized into her bones.
"I've never been anywhere like this. This was the first class I've done since the cancer, and it was just so cleansing," Yaniak says. While she's not a member, Yaniak told me she was interested in returning for more classes.

In addition to people like Yaniak, Anteby is also curating a more select crowd of well-to-do celebrities that can act as brand ambassadors for the lounge. He said he wants it to be a sort of more laid-back SoHo house, where top minds converge on the Pacific Ocean to make deals and network. Some of the names dropped during my tour of the property included Jamie Foxx (who Anteby calls a good friend), Chris Noth, Gladys Knight, and Equinox co-founder Lavinia Errico, whom I actually briefly met, since she's a member of the Lounge's advisory board.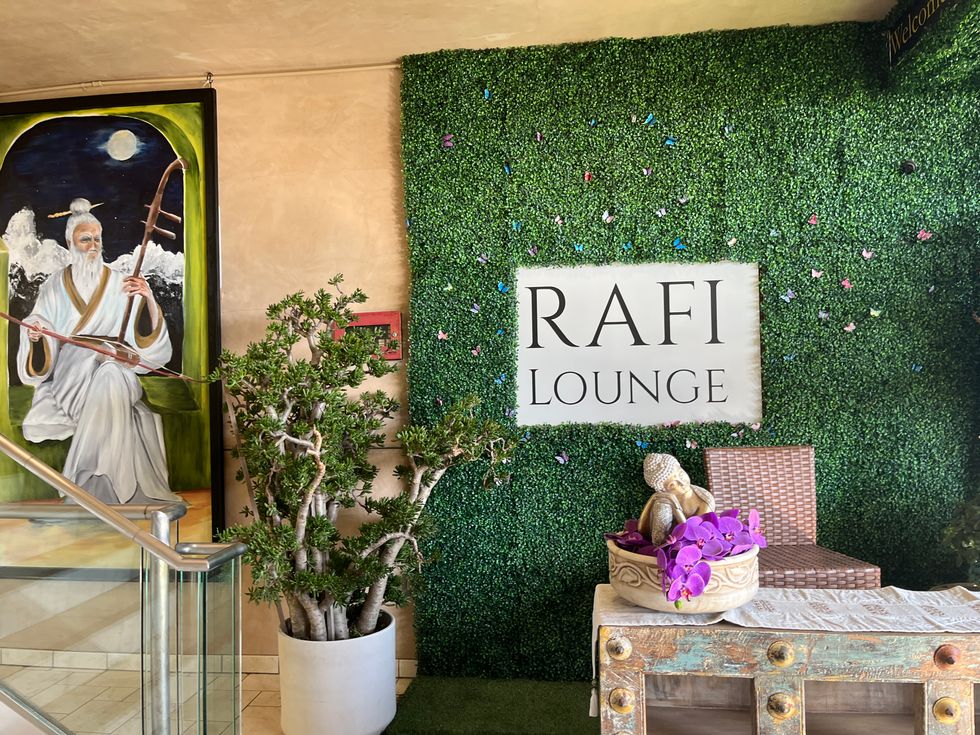 The lounge's entryway and check-in. Photo: Samson Amore
As Tame Impala wafts from the lounge's speakers, Anteby tells me stories of getting Taoist monks drunk at karaoke bars and studying medical qigong and tai chi in China. Anteby hung the intricate mandalas on the walls of a yoga room and he says they take around two years to complete as he carefully places individual grains of sand and uses tree sap to preserve their form. The mandalas are meant to be a contemplation of man's relationship with nature, which is partly why Anteby designed the NFT versions of them to resemble a sort of elemental fusion that combines water, fire and earth.
Owning an NFT also corresponds to owning a fraction of the Malibu Mandala Rafi made that hangs in the lounge.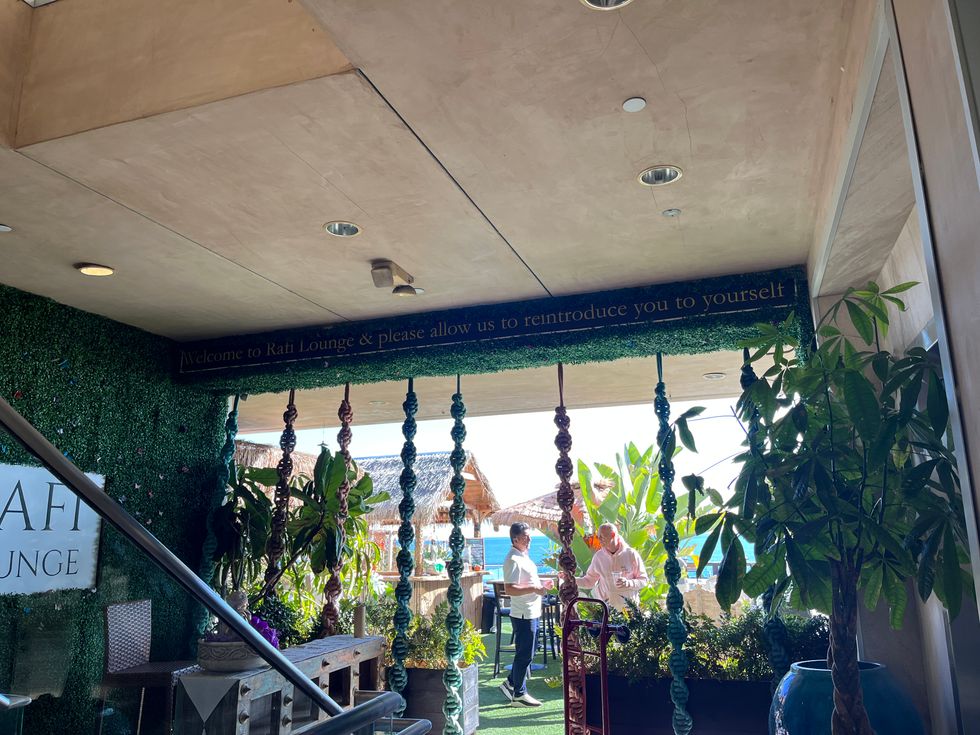 Anteby, right, speaks with a partner at his lounge in Malibu.Photo: Samson Amore
While Anteby admits the launch hasn't netted him any profits yet and said he's out around $1 million launching the place, he's determined to turn the Rafi Lounge into a franchise and has plans to open future locations in other cities big into tech and wellness like Miami, Scottsdale, Ariz., Newport Beach, and Austin.
Besides the obvious cases like Yaniak's, Anteby said he thinks the larger tech community needs a breather. "They all have digital burnout," he said. "It's more than just me helping you to breathe. You need to take care of yourself, and here people do that all the time."
Samson Amore
Samson Amore is a reporter for dot.LA. He holds a degree in journalism from Emerson College and previously covered technology and entertainment for TheWrap and reported on the SoCal startup scene for the Los Angeles Business Journal. Send tips or pitches to samsonamore@dot.la and find him on Twitter @Samsonamore.
https://twitter.com/samsonamore
samsonamore@dot.la