5 Highlights From a Record-Smashing 2021 for SoCal Startups and VCs
Harri Weber
Harri is dot.LA's senior finance reporter. She previously worked for Gizmodo, Fast Company, VentureBeat and Flipboard. Find her on Twitter and send tips on L.A. startups and venture capital to harrison@dot.la.
Apparently unshaken by the ongoing pandemic, the venture capital world plowed unprecedented amounts of money into startups in 2021, shattering plenty of records in the process.

Southern California was no exception, with last year proving a major growth period for startups and venture investors alike throughout the region, according to data provided to dot.LA by PitchBook. In 2021, SoCal ventures raised nearly $14 billion across more than 800 deals, while VC exits also soared. (PitchBook's definition of Southern California covers the following counties: Imperial, Kern, Los Angeles, Orange, Riverside, San Bernardino, San Diego, San Luis Obispo, Santa Barbara and Ventura. Curiously, it excludes select municipalities including Long Beach, Santa Ana, Irvine, Glendale and Pasadena, which are not factored in these statistics.)
---
Here are some key takeaways from what was a historic year for Southern California's ever-growing startup environment—including one metric in which the region actually lagged behind the rest of the nation.
A Historic Spike in Deals
Southern California startups closed a record 831 venture deals in 2021. That was up nearly 39% from the previous year, and represented the single-biggest jump in the region's deal count since at least 2016 (the earliest year for which PitchBook provided regional funding data).
The growth rate mirrored a national pattern: Last year, the U.S. saw about 40% more venture capital deals than in 2020, according to a joint report from PitchBook and the National Venture Capital Association.
SoCal's 2021 deal spike was a strong rebound after a down year in 2020, when the region's total deal count slipped 5.2% (to 599, from 632 in 2019).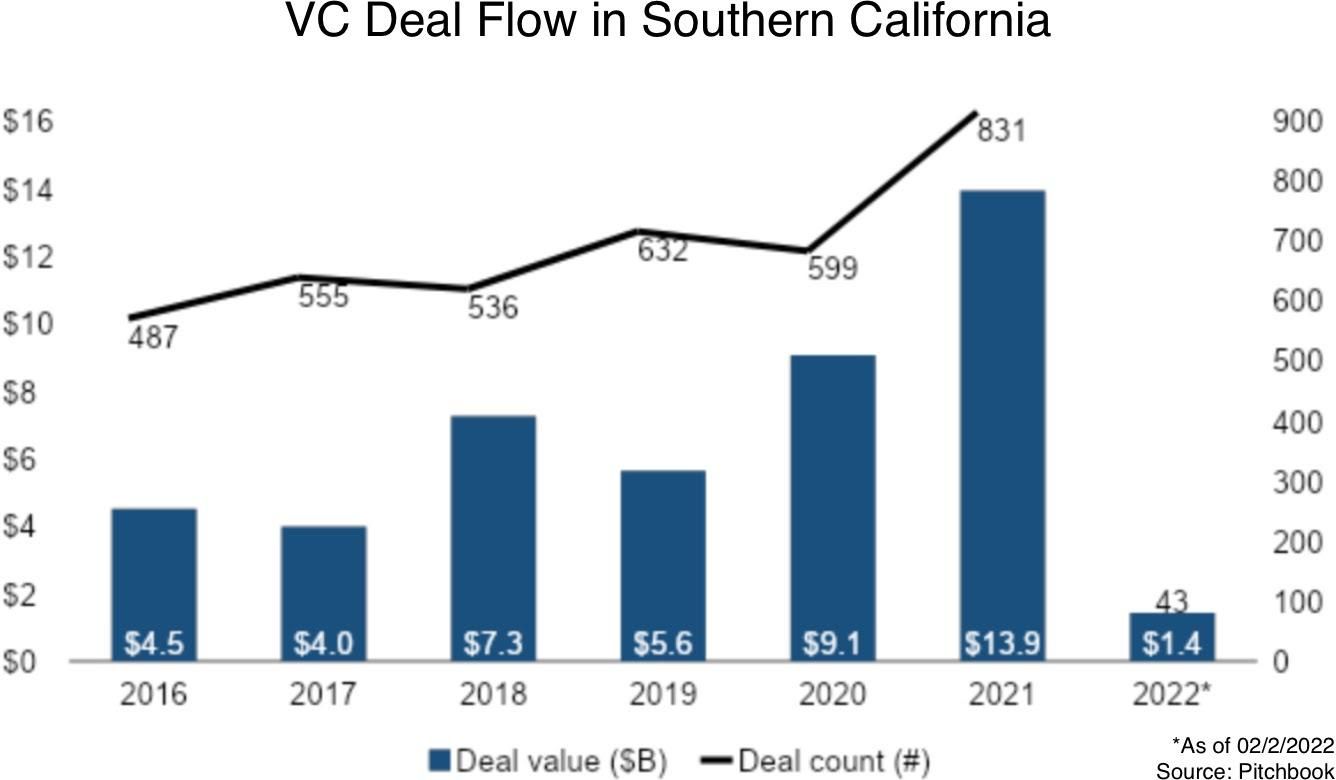 Data from Pitchbook
Total Deal Value Rockets 53%
Venture capitalists poured a record $13.9 billion into Southern California businesses in 2021, representing a 52.7% increase from $9.1 billion in 2020.
While the region's total deal value hit an all-time high, the growth rate of venture capital dollars flowing to companies actually slowed down from the previous year, when SoCal's total deal value climbed by 62.5% between 2019 and 2020.
Southern California's rate of venture funding growth also lagged behind the national trend. VC-backed companies in the U.S. raised an eye-watering $329.6 billion in 2021, up nearly 98% from the prior year.
In that light, what was a spectacular year for SoCal's venture scene was relatively unremarkable by national standards. The trend speaks to the sheer volume of cash that VCs across the U.S. are deploying lately.
Exit Values Nearly Doubled
A record amount of capital flowed back to investors in 2021 thanks to a flurry of acquisitions, SPAC mergers and IPOs.
PitchBook recorded 76 venture-backed company exits in Southern California last year, up 85% from 41 in 2020. More impressively, the value of those exits more than doubled between 2020 and 2021—climbing to $25.4 billion, from $11.2 billion the previous year.
It's early days, but so far 2022 is on track to eclipse last year's exit total; PitchBook has already tracked $3.7 billion worth of SoCal exits between January 1 and February 2 of this year.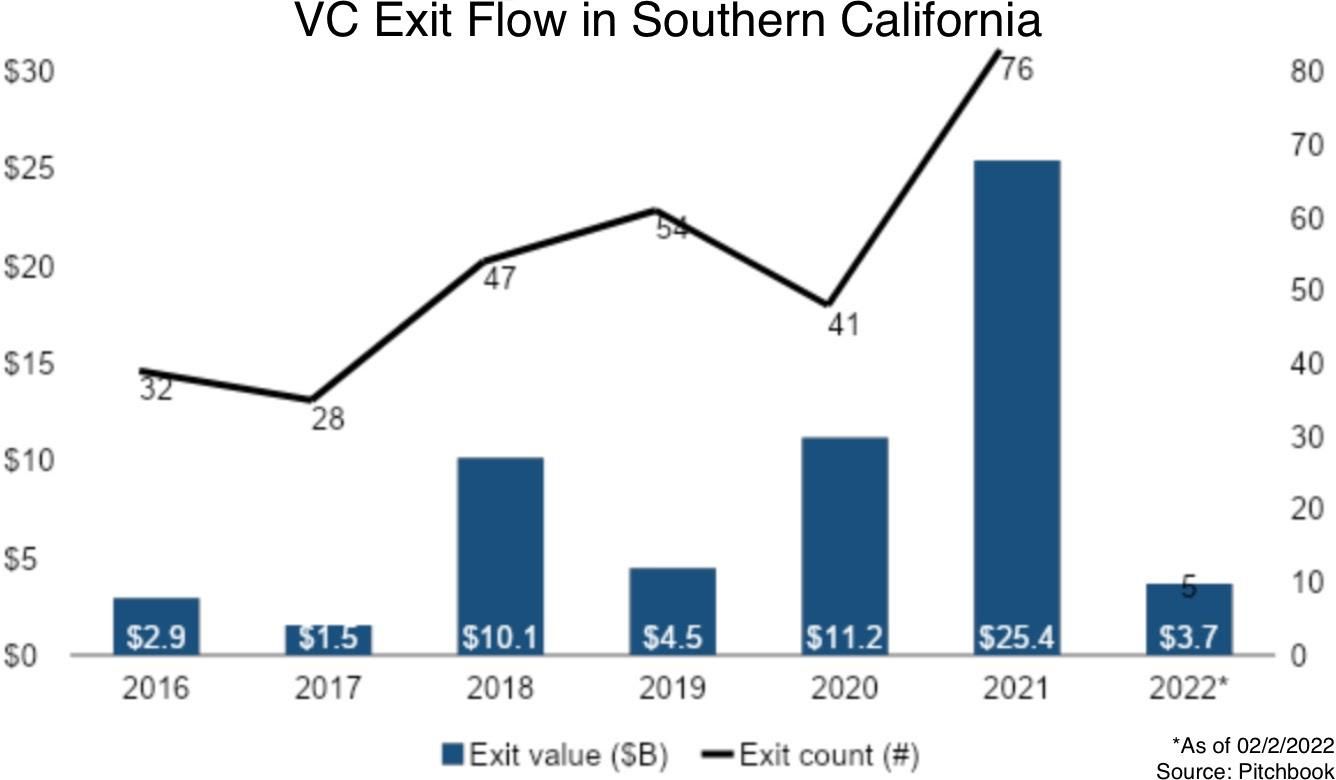 Data from Pitchbook
VCs Tripled Their Dollars Raised

While Southern California startups lured investors from around the world, venture capital firms based here had a bumper 2021, as well: SoCal-based VCs raised an unprecedented $1.5 billion across 27 separate funds last year, per Pitchbook data.

While the 27 funds were on par for the region, the $1.5 billion figure tripled the amount raised in the previous year—indicating that SoCal venture capitalists raised atypically large funds to funnel into startups both within and beyond the region.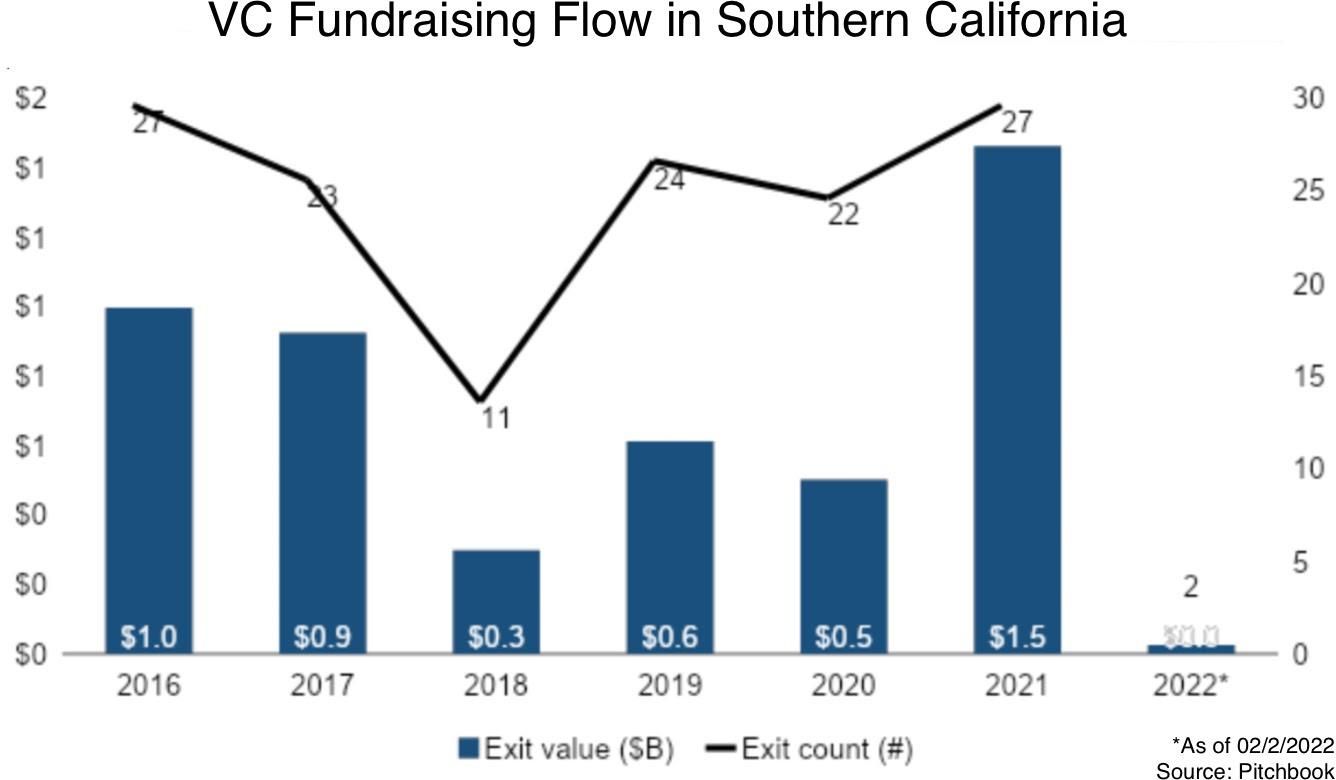 Data from Pitchbook
Rising Tides—But Fewer Stratospheric Deals
While Southern California startups secured more capital than ever from investors last year, individual deals from previous years still overshadowed the region's largest raises of 2021.

Among the top 10 deals involving VC-backed SoCal companies since 2016, only two from 2021 made it onto the leaderboard: a $420 million raise announced by L.A.-based accelerator Black Unicorn Factory, and a $400 million round by San Diego-based project management software developer ClickUp. Otherwise, deals in recent years involving the likes of Faraday Future, Quibi and CloudKitchens still lead the pack.
Update, Feb. 14: This article has been updated to specify the areas in Southern California that PitchBook includes in its statistics.
Harri Weber
Harri is dot.LA's senior finance reporter. She previously worked for Gizmodo, Fast Company, VentureBeat and Flipboard. Find her on Twitter and send tips on L.A. startups and venture capital to harrison@dot.la.