autos
How would you drive if your car insurance rate adjuster was in your passenger's seat? That question is the premise behind Just Auto Insurance, a Brentwood-based startup that offers data driven, pre-paid and pay-per-mile car insurance.
Just isn't the first auto insurance company to adjust rates based on driving (anyone with a television is probably sick to death of listening to Progressive hawk their "safe driver discount"), but they are the first to combine the idea with a pay-per-mile formula.
It's an interesting idea, and one that appears to be catching on: The company announced late last month a new raise of $8 million co-led by Crosscut Ventures, ManchesterStory and Western Technology Investments. (That's on top of the $15 million they've raised to date.)
The new funds will help them expand into new areas and develop features aimed at improving driver safety and reducing the likelihood of accidents.
"If you don't drive that much, if flexibility matters to you, or if you are a safe driver, we will save you an enormous amount of money," said Just founder and CEO Robert Smithson.
Beyond Race - and Gender-Based Proxies

Smithson says the company, which is testing its app only in the state of Arizona for now, has more than 5,000 drivers signed up for insurance. Some on their minimum liability plan are paying $10 or less every month for car insurance — as little as 3 cents per mile.
For full coverage, Smithson says, the cheapest rates are around $20 per month. For comparison, the average cost of minimum liability coverage for men in Phoenix, Arizona comes out to $55 per month. For women it's $59 per month.
That men and women pay different rates for car insurance is exactly the kind of esoteric actuarial voodoo that Just is trying to offset. Car insurance underwriting has historically relied on things like zip code, income, education, race and gender as proxies for risk.
But according to Smithson, this is an outdated and unnecessarily convoluted — not to mention prejudiced — way of thinking, thanks to the smartphones in our pockets, which are capable of monitoring our driving.
"The reality is we now know how people actually drive," he said. "There's no reason to use proxies for risk anymore, we can use actual risk. We can assess, do you like to do 65 in a 35 zone? Do you like to drive home from bars at 3am all over the road? Do you stop at stop signs?"
Unfortunately, not everyone is a good driver, and some people just aren't cut out for Just's model.
"The very worst driver who we've ever seen managed to see her price rise to 71 cents per mile," said Smithson. "How on Earth do you get 71 cents per mile? The answer is by driving back from bars 3 nights a week and not paying attention to speed limits or stop signs. She was only with us for about 28 days before she decided another insurance company would be cheaper. And it is! She should not be with us. She should be with someone that doesn't check her driving."
In addition to how well you drive, the Just app monitors how much you drive, where you drive and what time you're driving to calculate your insurance cost. Rates are adjusted at the end of every month — a practice that differentiates Just from many of its competitors, such as Root and Metromile.
This continuous rate adjustment, Smithson says, is what gives Just a leg up on other companies that only change the payment structure once per year. Not only do safe drivers see immediate benefits, people who aren't a good fit for Just's model (because they're unsafe or they drive a lot) quickly leave the service.
"If you're a bad driver, it's cheaper to do it with someone else," said Smithson. This translates to a more efficient underwriting model: Techcrunch reported last week that Just's direct loss ratio was 65.8% year to date while Root's was 82% for 2020.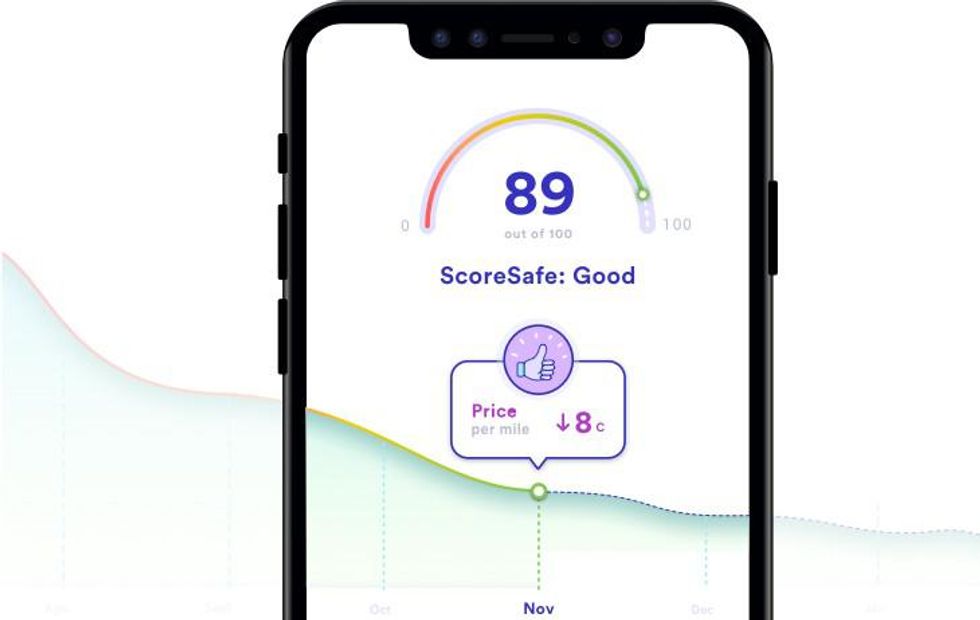 A screenshot of Just Auto's "ScoreSafe" dashboard
Investing in Driving Data
With all this data pouring in on driver behavior, Just is planning to use much of the new funding to expand its data science department.
"We see accidents happen," said Smithson. "We want to look at our data and rewind. Why did that happen? Are any other people in our customer base doing whatever caused that accident? And if so, can we tell them not to?"
The idea is ultimately to create a system that recommends new behaviors to drivers to improve their driving and save them money. One push notification could prompt users to leave 10 minutes later for work to reduce the amount of traffic during their commute. Another could let drivers know a certain intersection is particularly dangerous and suggest an alternative route.
The app might propose calling an Uber rather than risk a late-night drive home from the bars. Smithson says they're not planning to create a navigation app to guide users along the safest and cheapest route, but they're not completely ruling it out either.
As hyperbolic as that may sound, there's good reason to believe their strategy of incentivizing safe driving with discounted insurance might actually make roads safer, too.
"Considerable research indicates that motorists respond to financial incentives," said Todd Litman, founder and executive director of the Victoria Transport Policy Institute, a transportation-focused think tank. "Using standard price elasticity values, we predict that distance-based vehicle insurance is likely to reduce affected motorists' annual mileage by about 5-15%."
Additionally, Litman says, because these pricing schemes especially incentivize the highest risk drivers to drive less, a reduction of 5-15% should equate to even more than 5-15% fewer crashes. Just's own data paints a similar picture: The company reports that their customers have accidents that cause injuries at a rate of 2.2 per 100 policy years, which is 15% lower than the industry average.
As the company expands outside of Arizona, it will have to overcome the patchwork regulatory landscape that determines insurance laws in each state. In California, for instance, Prop 103 limits the factors you can use to set auto insurance rates, making apps like Just illegal — a real stroke of irony for a company headquartered in L.A.
Smithson says there are maybe five other states that have similar laws that will prevent Just from ever being welcomed by regulators.
"It comes from the best intentions. It's not like the California regulators are trying to be a pain. It's just that it's got so complicated that our product would be illegal in California," he said. "I want to bang on every regulator in the United States and say 'We can use insurance to save lives'."
The COVID-19 pandemic has laid bare many defects in our society, but chief among them may be the fragility of our supply chains. From toilet paper to bicycles to lumber, the virus has shown that even relatively minor disruptions to the chain can cause long-term shortages of important goods.

In Los Angeles, a San Francisco-based autonomous trucking company is carrying out a new pilot program with computer hardware giant HP Inc. In the next couple of years, the startup wants to reduce emissions and transit times in HP's supply chains. And if it's successful, expand the model to other companies.
Founded in 2016, Embark has been focused on creating fully autonomous trucks to ferry goods around the United States. As part of the partnership with HP, the company has detailed plans for a pilot program that would use a mixture of electric vehicles and fully autonomous trucks to ferry HP's hardware around Los Angeles and beyond.
The shipping strategy uses a fleet of human-driven electric trucks, specifically the BYD 8TT, to make first and last mile trips: Goods move from an HP facility to a transfer point on a human-piloted electric vehicle. Then they're moved onto a non-electric autonomous truck for the middle leg of the journey. Finally, they're moved back onto another electric truck for delivery.
The program's initiation comes just a few months after Embark announced a plan to go public via a $5.2 billion SPAC deal. They join competitors TuSimple and Plus in the publicly traded autonomous trucking world. The landscape is heating up and investors are taking notice, but the markets appear to harbor some uncertainty in terms of whether fully autonomous driving is possible, and if so, on what timescales.
TuSimple's stock price has ping-ponged between approximately $70 and $30 over the past 3 months reflecting the incredible opportunity and challenge that autonomous driving represents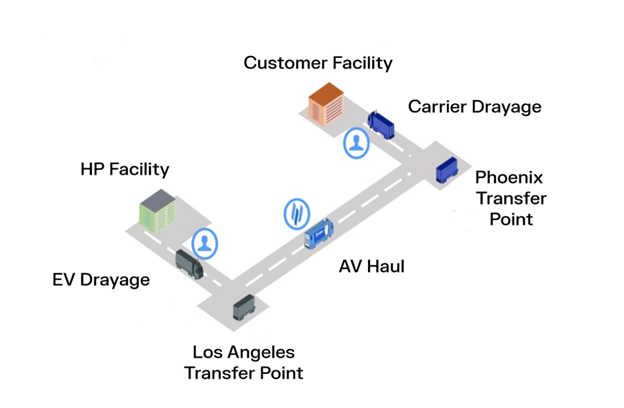 Electric on the ends, autonomous in the middle.
"All of these partnerships that advance transportation options and transportation possibilities are certainly welcome. All of this is motherhood and apple pie," said Ram Pendyala, a transportation systems expert at Arizona State University. "The question is what is real and what is truly going to make a tangible and noticeable difference."

The electric vehicle component of the pilot, Penyala said, is a no-brainer. Switching to electric trucks for short-range trips is an easy and effective way to significantly reduce emissions. Amazon is reportedly on the way to amassing a fleet of 100,000 electric delivery vans with the same intention. Sam Abidi, head of business development at Embark, said their preliminary research suggests that "the use of autonomous and electric trucks can remove up to 50,000 tons of CO2 from HP's supply chain over 10 years."
Embark is hoping to have fully autonomous trucks on the road in a pilot program as early as 2023, with commercial operations in the following year.
Pendyala said that's a very optimistic timeline, but not uncommon for the burgeoning industry. His skepticism is well-supported by the history of autonomous vehicles: It seems like self-driving cars have been "about three years away" for 15 years now. Google's self-driving experiment began back in 2009 (and has now morphed into Waymo, an Alphabet subsidiary) but has yet to produce a commercially available autonomous vehicle.
Tesla's Elon Musk famously claimed that the car manufacturer's autopilot software was "basically a solved problem" back in 2016, and, even as recently as January, suggested a fully autonomous vehicle would be possible by year's end—a statement that has already been walked back.
By comparison, Embark was only just founded in 2016, but what may give the 200-person company an advantage is their singular focus on shipping. If their autonomous trucks only have to navigate highways and loading docks because human-driven EVs are doing the first and last mile work, the range of scenarios they might encounter is drastically reduced.
This model is, of course, dependent on regulators and drivers accepting the idea of driving on highways alongside an 80,000 pound vehicle with no human on board.
"I'm fairly certain we'll see some quantum leaps in the development of this technology very soon. These partnerships are going to be what advances that," Pendyala said. "For now, the human driver and the human delivery people are just inevitable. Don't hold your breath for full autonomy. That is still far out on the horizon."
Related Articles Around the Web
Irvine-based electric vehicle startup Rivian announced Friday it filed to go public through an initial public offering.
The company provided limited details, saying it has submitted a draft S-1 to the Securities and Exchange Commission, but the "size and price range for the proposed offering have yet to be determined."
Bloomberg reported the automaker is seeking a roughly $80 billion valuation, citing sources familiar with the matter.
Rivian is seen as one of the more promising EV startups as it is backed by Amazon and Ford and has raised $10.5 billion from investors. It has reportedly received thousands of orders for its R1T pickup truck and R1S SUV.
Competition in the EV market is heating up, with a potential to challenge Tesla's spot as the leading EV maker in the U.S.
In addition to startups like Rivian and Canoo, legacy automakers like General Motors, Ford and Volkswagen plan to churn out dozens of electric vehicles within the next few years. GM has said it wants to end the production of gasoline-powered vehicles by 2035, transitioning its entire lineup to electric models.
The market for electric pickup trucks may be especially fierce.
Ford unveiled its electric version of the F-150 pickup, the most popular vehicle in the U.S., to great fanfare that included a visit from President Joe Biden, who took one for a spin at Ford's Detroit-area test course. GM's electric GMC Hummer pickup truck is set to be released by the end of the year. And Torrance-based Canoo released images of its electric pickup, planned to go into production in 2023.
After supply chain disruptions and parts shortages brought about by the COVID-19 pandemic caused delays, Rivian said shipments of its electric pickup are expected to begin next month.
The design of Tesla's Cybertruck, introduced two years ago, has received mixed reviews, but yielded $80 million in preorders. Tesla plans to begin production in 2022.
The push for EVs is also coming from government mandates.
Biden announced this month that he aims to have half of all new cars sold in the U.S. to be zero-emission by 2030. California Gov. Gavin Newsom signed an executive order that all new vehicles sold in California be electric by 2035. Massachusetts Gov. Charlie Baker issued a directive similar to California's.
Rivian's trucks and SUVs are being manufactured at its factory, a former Mitsubishi plant, in Illinois.
Reuters reported last month that Rivian plans to build a second manufacturing facility, though a location has not yet been determined.
In addition to the trucks and SUVs, Rivian is also building delivery vans for Amazon, expecting to produce 100,000 vehicles by 2030, with the first 10,000 hitting the road by the end of 2022.