autos
Culver City-based Adway is offering Uber and Lyft drivers hundreds of dollars every month to project ads on the sides of their cars.

So far, the company has signed up about two dozen drivers in Los Angeles, where competitor Firefly faced fierce pushback a few years ago from city officials who sought to ban digital ads on moving vehicles.
Adway promises drivers $50-$350 a month in what they call "passive" income. All the drivers have to do is install a small device that sits just underneath their vehicle's side view mirrors.
CEO and co-founder Sasha Krylov said his wife deserves much of the credit for the idea. A feature on a car she saw called a "puddle light," which projects a logo or image on the ground when one of the doors is opened, caught her attention. She felt the image was trying to communicate something.
"I told her it was just a gimmicky logo," Krylov said. "But I thought to myself, 'what if she was right?'"
It was this epiphany that eventually led Krylov to this moment. Last week, the nearly three-year-old company clinched a $6 million seed round led by Upfront Ventures.
Among its advertisers are Webex by Cisco and poke restaurant Sweetfin. Adway gives these companies an estimate of how many impressions their ads made by determining how many Bluetooth devices came within a certain radius of the vehicle. Krylov said this one-way communication system does not collect personal data from the devices.
Krylov decided to project on the side of the car because, according to him, it was his only option. In his research, he learned that it was illegal in California to project an image on the ground, as the puddle lights do, when the vehicle is moving. The same went for the front and the back of the automobile.
"The only thing that was left, really, was the side of the car," said Krylov. "Coincidentally enough, the side of the car presents the largest possible real estate on the body of the car, which any advertiser would want to capitalize on."
Another early concern was the mere fact that projections do not show up well in daylight, meaning that Adway drivers can only make impressions on customers between dusk and dawn. At first, Krylov worried that this could be a limitation for the company, but he has seen only promising results.

"To our surprise, [it] actually makes a lot of sense if you think about this," Krylov explained. "A lot of traffic is actually concentrated in the evening, between 4 and 7pm, and if we're not talking about summertime, it goes dark around 4, 4:30. And people are more prone to making purchasing decisions after work hours rather than before."
Despite this, looking into hardware options in the future that can allow these projections to be seen during the day is also on the docket for Adway.
"This is what we're building this technology towards," said Krylov. "We just need to start somewhere, and somewhere is now, because there's still a tremendous amount of the market to be seized, and there's an opportunity for us to build a community of intellectual property around this today."
Adway's method of advertising has the potential to stir up controversy. A couple of years ago, L.A. city councilman Bob Blumenfield wrote an op-ed for the "Los Angeles Daily News" condemning San Francisco-based Firefly for their similar advertising method of digital billboards on the roofs of rideshare vehicles.
Related Articles Around the Web
Los Angeles-based EVgo is one of a handful of firms that General Motors has partnered with to patch together a nationwide electric vehicle charging network called Ultium Charge 360.
The announcement comes as a wave of new EV models are ready to hit the market and governments are pushing plug-in technology.
Detroit-based GM said on Wednesday its network will encompass almost 60,000 EV chargers nationwide, many run by private companies that can be located and paid for through its apps.
"The financial support GM is providing to EVgo has accelerated our station deployment plans in 40 metropolitan areas across the U.S.," EVgo CEO Cathy Zoi said in a statement. "By year-end, EVgo expects to have approximately 500 stalls from the GM/ EVgo collaboration live, and we are just getting started."
GM and EVgo partnered last year to add 2,700 fast-charging stations across the United States by 2025. That has so far produced just four stations, none in Southern California.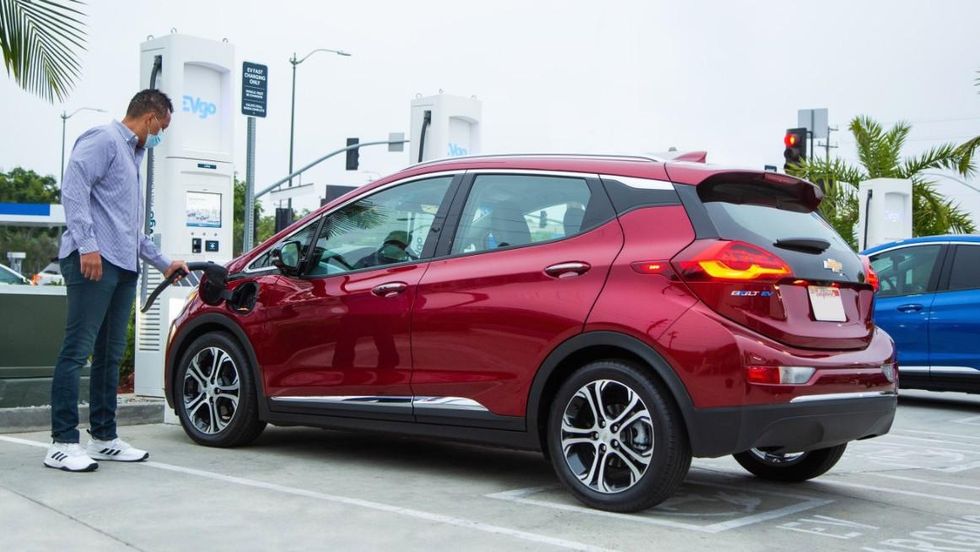 EVgo joins Blink Charging, ChargePoint, El Segundo-based EV Connect, FLO, Greenlots and SemaConnect in the Ultium Charge 360 program. While Tesla has its Supercharger network and the Volkswagen Group of America runs Electrify America — in part, as a result of its emissions cheating settlement — GM and Ford are relying on collaborations with third-party charging companies to build out their national network for electric cars.

"As we launch 30 EVs globally by the end of 2025, this collaboration is expected to help create consumer confidence and excitement about the EV future," said Travis Hester, GM's chief EV officer, in today's announcements. "These new stations are the first of many to come, as we work together with EVgo to offer EV owners more options for charging."
The Ultium Charge 360 program also includes assistance for customers interested in home charging systems. It will cover the installation of a Level 2 home charger with the purchase or lease of a 2022 Chevrolet Bolt EV or Bolt EUV through a deal with Irvine-based Qmerit.
GM announced earlier this year its intent to drop gasoline-powered vehicles and become a carbon-neutral company by 2040. Its luxury Cadillac division will go completely electric by 2030, starting with the Lyriq SUV that goes on sale next year.
GM is also planning to release their GMC Hummer EV pickup truck and SUV, along with a Chevrolet Silverado electric truck. GM will also supply the basis for two electric SUVs to Torrance-based American Honda Motor Co. starting in 2024.
Xos Inc., a North Hollywood-based electric vehicle company, announced on Monday it plans to go public through a merger with NextGen Acquisition Corp.
The companies expect to start trading as "XOS" on the Nasdaq by the second quarter of 2021 following a transaction that values the combined entity at $2 billion.
Xos was founded in 2016 by two former fleet operators looking to build an alternative to the fossil fuel-saturated industry. In 2019, the company started offering its EV fleet service at a fixed monthly fee for customers including UPS and Wiggins. It's focused on medium and heavy-duty commercial fleets that travel on predictable routes and don't exceed 200 miles each day.
It now has a backlog of over 6,000 trucks, according to the company.
"Climate change is one of the world's greatest challenges, and commercial trucks are the largest emitters per capita of greenhouse gases in the transportation industry," said George Mattson, co-founder and co-chairman of NextGen in an announcement. "Simultaneously, last-mile e-commerce delivery is growing, accelerated by changes in consumer purchasing behaviors post-COVID."
Gregory Summe, co-founder and co-chairman of the SPAC added that "Xos is best-positioned to capture the rapidly growing demand for commercial electric vehicles with a compelling customer offering."
The transaction includes a $200 million common stock PIPE led by Janus Henderson investors and truck dealers led by Thompson Truck Centers. The deal is expected to bring in $575 million to both companies after closing.
From Your Site Articles
Related Articles Around the Web