transportation
Bird Rides Inc. made official Wednesday what dot.LA first reported Sunday night: The Santa Monica unicorn that started the e-scooter craze in 2017 will go public via SPAC at a $2.3 billion valuation.

The company also provided more details about its finances as well as potential risks to its business model, one of which is a spate of serious injuries and even deaths involving the company's e-scooters – which frequently have to navigate busy streets and sidewalks.
For the first time, Bird revealed it has been involved in more than a hundred lawsuits involving "brain injuries, internal injuries, and death," many of which are still pending.
Bird added that it has seen "significant" increase in litigation costs the past two years. It said if that continues the company may have trouble getting insurance.
Some law firms have already set up pages dedicated to e-scooter injuries, helping injured users navigate Bird's user agreement.
The $2.3 billion valuation Bird is going public at is well below the $2.85 billion it fetched in the beginning of 2020, something founder and CEO Travis VanderZanden shrugged off in a rare interview with CNBC on Wednesday.
He said he views going public as merely a financing event and he is focused on returns many years from now.
"We didn't want to be greedy on valuation," VanderZanden said. "We wanted to figure out what price made sense for getting long term investors into the stock."
VanderZanden also dismissed concerns about an unraveling SPAC market while acknowledging "the SPAC market has had its ups and downs."
Speaking about last year, he said "It felt like things were a little frothy where you had some science projects." But he said this year is different.
"I think we've really entered SPAC 3.0 where you're going to see companies with real business models and real revenue starting to SPAC," VanderZanden said. "We're excited to be part of this new wave of SPAC 3.0."
VanderZanden said he first started talking to Switchback II, the SPAC taking Bird public, at the beginning of this year. He found their visions and missions aligned, despite the fact that Switchback focuses on clean energy.
VanderZanden was criticized for selling tens of millions worth of shares in the company in 2018, but he said Wednesday he felt confident enough to buy more shares last year and that no Bird employees are getting cashed out in the SPAC.
The CEO put his 10,000 foot Bel Air mansion on the market
in April for $25 million, just six months after purchasing it for $21.7 million from The Daily Show's Trevor Noah.
The street lamps lining Santa Monica's busy, shop-lined downtown streets will soon display tiny video cameras operated by a local software startup.
The cameras will watch delivery vehicles that stop in a new city-piloted drop-off zone — an experiment designed to cut down traffic and encourage companies to deploy zero emission trucks and ecargo bikes.
But it will also be a test for Automotus, a venture-backed software company that uses the technology to automate parking violations and wants to ink more deals with municipalities across the United States.
"We're a test case," said Ariana Vita, an environmental analyst for the city of Santa Monica. "The goal really is to create a scalable model for the L.A. region."
Automotus will install 20 cameras on street lamps across downtown Santa Monica and Main Street to watch how electric delivery vehicles from Ikea to the yerba mate company Guayaki use the zone to do business.
Its technology aims to tap into a confluence of trends: the rise in delivery vehicles to satisfy growing ecommerce demands, the push for lower carbon emissions and municipalities' need for cash.
The city won't use its data to issue tickets. But planners say they might turn to the company's tech for enforcement down the line and the partnership has already raised security concerns.
Monitoring Curbside Space as Ecommerce Booms
Founded in 2017, Automotus is known for monitoring curbs to provide cities with data they can use to update parking laws and rake in revenue from parking violations. Research conducted by the company found that 50% of violations — think double-parking or blocking driveways — go unenforced. And commercial vehicles are responsible for most of them.
"For nearly 100 years, we have charged drivers of personal cars for parking at the curb," co-founder Prajwal Kotamraju wrote in a December Forbes editorial. "It's time to start charging delivery companies for stopping there too."
At the same time, Automotus claims that automating parking tickets will save commercial companies money. They'll stop raking in millions of dollars in fines, which are all non tax-deductible.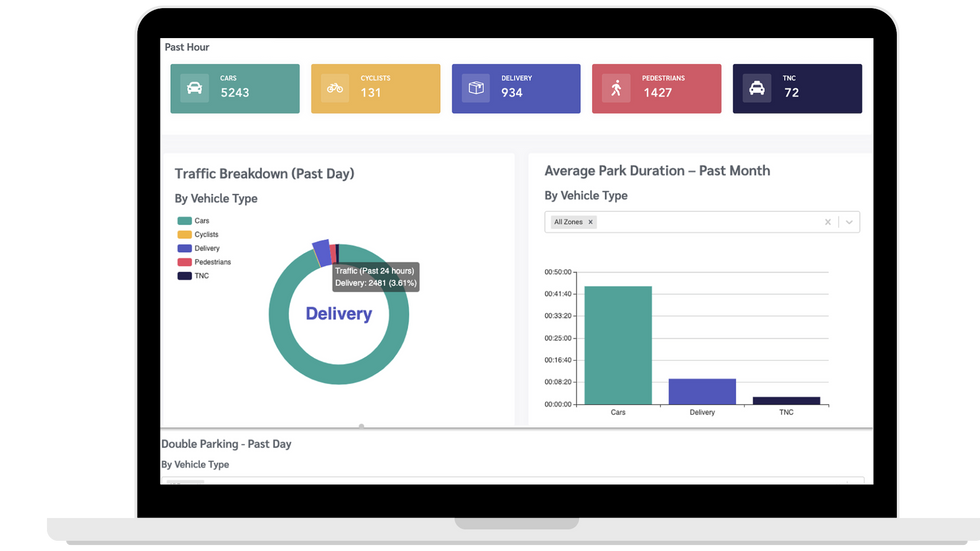 Automotus is one of a few venture-backed startups analyzing curbside video footage. Companies like curbFlow offer a navigation platform for drivers looking for empty curb space. New York City-based Coord helps cities set up tech-powered "Smart Zones" where commercial drivers can use an app to find spots to safely load their vehicles.

But what sets Automotus apart is that it pitches itself as a way to help cities generate money from parking violations. Violations that it could profit from through a "revenue share model," although the company would not disclose how that works.
The startup has already secured a $1.2 million seed round backed by Quake Capital, Techstars Ventures, former NBA All-Star Baron Davis and NuPark co-founder Kevin Uhlenhaker to enter new cities and partner with commercial fleets.
Part of the attraction is the rise in delivery and curbside pickup as the number of Americans ordering groceries and prescriptions has soared. The World Economic Forum projects delivery vehicles in the top 100 cities will grow by 36% by 2030.
CEO and co-founder Jordan Justus thinks his product will make urban cities "more livable and pleasant," by cutting down traffic, lowering pollution and plumping up city budgets with money from traffic violations.
The company says each installed camera can bump up revenue by more than $20,000. In a recent pilot at Loyola Marymount University, traffic created by drivers searching for spots dropped over 20% once the campus updated its parking policies. And money brought in from enforcement soared 500%.
Keeping a Watch on Privacy Concerns
This week, Santa Monica moved forward on plans to install the startup's video cameras across a one-mile-radius downtown to monitor parking spots reserved for delivery companies. The city will use the data to see if this type of zone cordoned off for light-duty electric trucks, ecargo bikes and robots shows promise.
"Looking at curbs and how we make it easy for people to pick up and drop off could make a big difference," said Lilly Shoup, interim executive director of the transportation accelerator Urban Movement Labs. The Lab, backed by Los Angeles Mayor Eric Garcetti's Office and advisor to Santa Monica's project, will collaborate with Automotus on upcoming pilot projects in L.A.
Vito, the city analyst for electric transportation, said participating delivery companies will have access to the reserved parking spots through December 2021—and if all goes well—maybe longer.
But there are concerns about privacy and security.
Santa Monica City Councilmember Phil Brock has suggested that a third party routinely check that Automotus doesn't hold onto material gathered during the project, to "satisfy residents who feel uncomfortable with the increasing amount of data that we all provide."
"I know there are many people who are worried about the increasing intrusion of data," said the Hollywood talent agent this week before approving the company's contract.
Even Jingqin Gao, a proponent of using machine learning to monitor curbs, says officials should be careful that data isn't misused or misinterpreted.
Privacy concerns "really depend on the source of the data and the quality of the images or videos," said Gao, a researcher at NYU's C2SMART Center. She analyzes video footage collected by some 700 video cameras across New York City, installed by the city's department of transportation.
What she means is that low-resolution footage is good enough to monitor traffic or parking patterns. And, it doesn't pick up facial features or license plate numbers, making it a potential solution for those worried about surveillance.
An Automotus spokesperson would not disclose details about the video cameras, but Justus says his company won't collect personally identifiable information for this project because neither payment automation nor parking enforcement are part of its aim. The contract was approved, but remains contingent upon a successful cyber security assessment from the L.A. Information Services Department.
In other cities, Automotus does collect license plate numbers "similar to a toll road with cameras," said Justus. After officials issue parking tickets, the data is wiped.
After the Santa Monica pilot wraps in December, city officials will decide whether to introduce a larger-scale delivery zone. At that point, Vito said, the city may consider using Automotus' tech for enforcement.
From Your Site Articles
Related Articles Around the Web
Forty-five minutes in traffic won't get you very far in Los Angeles. But Virgin Hyperloop estimates it will be able to get you from Los Angeles to San Francisco in that time.
The Richard Branson-owned company unveiled its hyperloop concept video Wednesday, just two months after the company's first tested its design with passengers. Traveling several hundred miles per hour in a pressurized tube is no longer a vision of the far-distant future — Virgin Hyperloop engineers want to make it a reality in less than 10 years.
These renderings put it yet another step ahead of The Boring Company, led by Elon Musk, who published his "alpha paper" plans for hyperloop travel in 2013.

Virgin Hyperloop plans to achieve safety certification by 2025 and begin commercial operations in 2030.
"Daily high-speed transport is currently not feasible for most people, but we want to change that notion," said Virgin Hyperloop chief executive Jay Walder in a statement. "Imagine being able to commute between cities that are currently hours apart in minutes – and the endless possibilities that open up."
Virgin Hyperloop Passenger Experience
The almost three-minute video opens with a rendering of the station, a bustling transit center filled with natural light and complemented with indoor and outdoor greenery, a nod at the more efficient and eco-friendly transportation form hyperloop could be. A Mid-Ohio Regional Planning Commission (MORPC) study last year found that a hyperloop connection between Columbus, Chicago and Pittsburgh could reduce carbon dioxide emission by 2.4 million tons. It suggested making fares closer to the cost of driving than to a pricier plane ticket.

Walder said an affordable ticket would be key to making the concept a success. Virgin Hyperloop estimates its system would be able to transport thousands of passengers per hour by convoying them, as pods are able to ride directly behind each other in the hyperloop, magnetically suspended from touching each other and controlled by the company's machine intelligence software.
The Los Angeles-based company worked with several partners to design disparate aspects of the transportation experience. The video's white-walled portal to enter the pod were designed by Bjarke Ingels Group (BIG) and the pods themselves were designed by Teague.
SeeThree worked on the video and animations and Man Made Music provided the score and sonic identity — the additional sound assets in the film that audiences will associate with the hyperloop.
From Your Site Articles
Related Articles Around the Web