transportation
transportation
Parallel Systems has big dreams for the future of railway freight operations, and it seems that the venture capital world has taken notice.

The Los Angeles-based transportation startup announced a $49.55 million Series A funding round as it emerged from stealth mode on Wednesday. The round was led by Anthos Capital, with additional investments from the likes of Congruent Ventures, Riot Ventures and Embark Ventures.
Comprised of former SpaceX, Google and Tesla engineers, Parallel Systems is aiming to develop autonomous and electric freight train cars that would make the American shipping industry greener and more efficient.
"We've been pretty quiet about what we've been doing," Parallel Systems CEO Matt Soule, formerly the principal avionics engineer at SpaceX, told dot.LA. "Our website has been pretty barren." Soule co-founded the company two years ago with fellow former SpaceX engineers John Howard and Ben Stabler. Including $3.6 million in seed funding, the startup has now raised more than $53 million to date.
Parallel Systems' technology relies on replacing traditional diesel-powered locomotives with battery-powered freight cars. In its model, each train car is self-powered, and can break apart from or join together with other cars as needed. In theory, this ability to autonomously break apart and reassemble as needed would reduce the need for switching stations, where trains are reorganized and rerouted manually.
It could also drastically reduce the significant physical footprint of trains, converting them from two-mile-long behemoths into "platoons" of 20-to-50 cars that wouldn't require massive terminals for loading and unloading. Smaller trains would be able to travel closer to their final destinations before being unloaded—reducing trucking emissions, which account for roughly 7% of all greenhouse gas emissions in the U.S., in the process.
"The opportunity we've been after is kind of decarbonizing freight from a new angle," Soule said.
All of these ideas would be beneficial toward alleviating America's clogged supply chains and reaching its ambitious carbon emission goals—if they were able to be integrated into America's existing rail infrastructure. On that front, some experts are skeptical.
"My first instinct was that this looks like SpaceX engineers getting bored and working on something that they know nothing about," Chris Caplice, executive director of the Massachusetts Institute of Technology's Center for Transportation & Logistics, told dot.LA. "They didn't think about the larger system—whether it's regulatory, the network itself, the rail operations or the labor involved. I think they just found a technological solution to a problem they wanted to solve."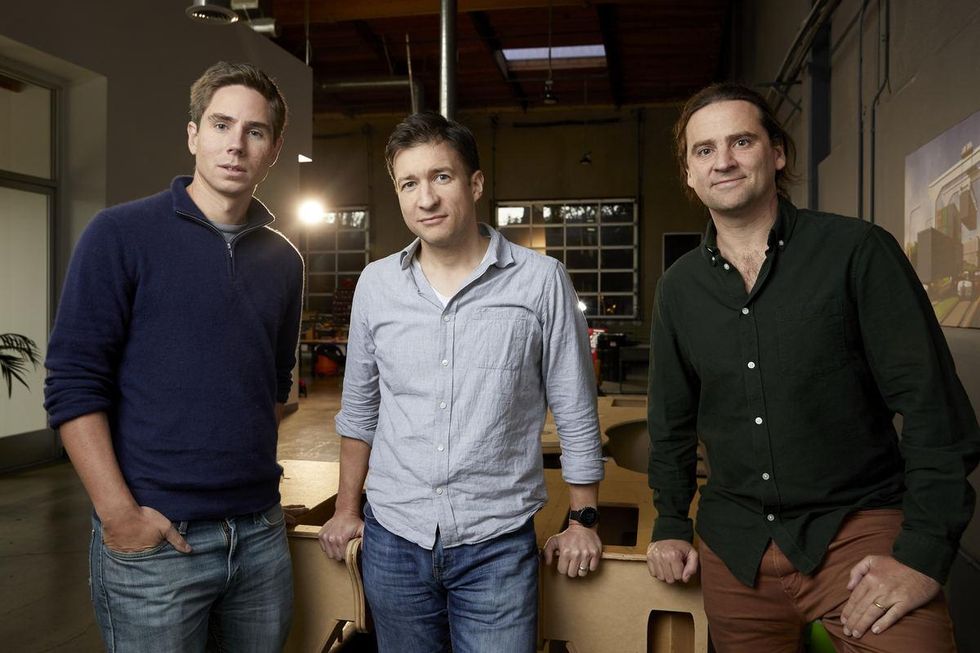 From left: Parallel Systems co-founders Ben Stabler, Matt Soule and John Howard.Courtesy of Parallel Systems
Caplice worries that Parallel Systems' technology fails to consider the realities of America's existing rail network. Today, rail lines are divided into signal blocks, which can range from less than a mile to 15 miles long; these blocks are in fixed geographic positions, and only one train at a time is permitted into any signal block. For the new autonomous, single-car system to work, "you would have to put in thousands more control points in different places to get the network chopped down small enough to do this," according to Dale Lewis, the former director of strategic analysis for CSX Transportation.
Even then, it likely still wouldn't look like what Parallel Systems is imagining, with cars continuously breaking in and out of platoons. To realize what the company is pitching, Lewis says you'd need a complete revamp of the entire rail system.
"If [Parallel Systems] can bring in a couple people who have deep experience in operations planning…and sit with them for a day to go through how this would fit in the system, they'd probably come to some different conclusions about what they've got," he said.
While the startup doesn't employ any full-time railway operations specialists, Soule says Parallel Systems has brought in "veterans from the industry" who have helped them "understand the business." He says safety is a top priority for the company; indeed, their vehicles would feature AI that would allow them to come to a stop quicker than traditional trains. No one is going to argue against safer trains—though most modern trains already come equipped with a system known as Positive Train Control, which autonomously prevents train-to-train collisions and other human errors.
Still, the 24-person firm is planning to hire heavily on the software side as it tries to figure out how to integrate its ambitious designs into the existing infrastructure. On the hardware side, Parallel Systems is working toward the second iteration of its prototype battery-electric rail vehicle, and testing it on a closed track in California.
"We're going as fast as we can in terms of building the tech," Soule said.
Parallel Systems Explainer Video Video via www.youtube.com
From Your Site Articles
Related Articles Around the Web
Electron Transport, a Los Angeles startup founded by alumni of electric automaker Faraday Future and military technology firm Anduril, is raising a $28 million funding round, per regulatory filings.

Dubbed a "stealth electrification startup" by its founders, Electron Transport has closed on $24.7 million and aims to raise nearly $3.5 million more, according to an SEC filing. The firm is developing an electric truck chassis, dot.LA has learned.
A number of companies are working to electrify trucks, including Irvine-based Rivian and Detroit heavyweight Ford. It is unclear whether Electron Transport is focused on pickup trucks, like the aforementioned brands, or commercial-use vehicles.
The one-year-old startup's founders include Phillip Weicker, who co-founded Canoo—the electric vehicle maker that recently left Los Angeles for Bentonville, Ark. He and his co-founders, John Henry Harris and William Eberts, all previously worked for L.A.-based Faraday Future.
When reached by dot.LA, Harris—who is also an alumnus of electric truck maker
Xos
—declined to comment on the funding round.
UP Partners' Ben Marcus has been fascinated by flight since he was young. After stints as a founder of aerospace startups, he's now working on funding some of the most ambitious companies in the space.
Marcus joined this episode of LA Venture to talk about his fascination with flying, founding UP Partners and the future of transportation.
Marcus and his longtime best friend Cyrus Sigari met at the Santa Monica airport as kids. The two shared a love for everything involving planes. They ended up going to college together, became pilots – and eventually started their first company together, jetAVIVA, the world's largest broker of business jets.

As a young pilot, Marcus said he would fly over the traffic on the freeway asking himself, "Why is it that I'm one of the lucky ones that gets to be up here in the sky and everybody else is stuck in traffic? How do I get all these people up here in the sky with me?"

Marcus went on to found Airmap, a company that became a leading provider of an unmanned aircraft traffic management software. Now at UP Partners, a a $230M Fund I investing in entrepreneurs who are making transportation better, Marcus still has his hands in the aviation world – in particular, in laying the groundwork for a new infrastructure for a new breed of aerial vehicles.
He's also deeply interested in how to move goods in more efficient and safer ways. Zipline, one of their portfolio companies, is focused on delivering humanitarian aid, including blood and medicine, to the places that need it most.
"For a long time, we've been hearing about Amazon, maybe someday delivering your toilet paper or your toothbrush by drone. But today, Zipline is delivering thousands of packages a day using drones in Africa," said Marcus.
UP Partners is looking to support companies that are innovating in automation and electrification, Marcus said. Autonomy and automation in flight advanced beyond other sectors some time ago. Passenger and commercial 747s have been capable of auto landing for decades. The difficulty, Marcus said, has been in convincing FAA regulators to embrace innovation.
"So how do you take this really fantastic technology and make it acceptable to the public and fit within a regulatory construct?," said Marcus. He envisions a slow roll out of the type of technology that can change the industry, most likely in cargo planes testing automation in rural environments where there are fewer people in harm's way. Eventually, as it proves itself, he said, automation will find broader acceptance in passenger vehicles.
Electrification is another game-changing technology Marcus sees on the horizon. Because electric batteries don't last as long as a typical fuel, Marcus thinks the technology will first roll out to aircrafts flying below 3,000 feet, on shorter-distance flights. Still, he thinks there could be far more of those flights, for instance, turning a 45-minute drive from Santa Monica to Pasadena into a 5 minute ride.
"These aircrafts will be quiet. They won't emit any carbon when they fly. They will be fast, smooth, comfortable — and I think we'll develop a very compelling service," said Marcus.
dot.LA Engagement Intern Joshua Letona contributed to this post.
Hear the full episode by clicking on the playhead above, and listen to LA Venture on Apple Podcasts, Stitcher, Spotify or wherever you get your podcasts.
From Your Site Articles
Related Articles Around the Web