transportation
How would you drive if your car insurance rate adjuster was in your passenger's seat? That question is the premise behind Just Auto Insurance, a Brentwood-based startup that offers data driven, pre-paid and pay-per-mile car insurance.
Just isn't the first auto insurance company to adjust rates based on driving (anyone with a television is probably sick to death of listening to Progressive hawk their "safe driver discount"), but they are the first to combine the idea with a pay-per-mile formula.
It's an interesting idea, and one that appears to be catching on: The company announced late last month a new raise of $8 million co-led by Crosscut Ventures, ManchesterStory and Western Technology Investments. (That's on top of the $15 million they've raised to date.)
The new funds will help them expand into new areas and develop features aimed at improving driver safety and reducing the likelihood of accidents.
"If you don't drive that much, if flexibility matters to you, or if you are a safe driver, we will save you an enormous amount of money," said Just founder and CEO Robert Smithson.
Beyond Race - and Gender-Based Proxies

Smithson says the company, which is testing its app only in the state of Arizona for now, has more than 5,000 drivers signed up for insurance. Some on their minimum liability plan are paying $10 or less every month for car insurance — as little as 3 cents per mile.
For full coverage, Smithson says, the cheapest rates are around $20 per month. For comparison, the average cost of minimum liability coverage for men in Phoenix, Arizona comes out to $55 per month. For women it's $59 per month.
That men and women pay different rates for car insurance is exactly the kind of esoteric actuarial voodoo that Just is trying to offset. Car insurance underwriting has historically relied on things like zip code, income, education, race and gender as proxies for risk.
But according to Smithson, this is an outdated and unnecessarily convoluted — not to mention prejudiced — way of thinking, thanks to the smartphones in our pockets, which are capable of monitoring our driving.
"The reality is we now know how people actually drive," he said. "There's no reason to use proxies for risk anymore, we can use actual risk. We can assess, do you like to do 65 in a 35 zone? Do you like to drive home from bars at 3am all over the road? Do you stop at stop signs?"
Unfortunately, not everyone is a good driver, and some people just aren't cut out for Just's model.
"The very worst driver who we've ever seen managed to see her price rise to 71 cents per mile," said Smithson. "How on Earth do you get 71 cents per mile? The answer is by driving back from bars 3 nights a week and not paying attention to speed limits or stop signs. She was only with us for about 28 days before she decided another insurance company would be cheaper. And it is! She should not be with us. She should be with someone that doesn't check her driving."
In addition to how well you drive, the Just app monitors how much you drive, where you drive and what time you're driving to calculate your insurance cost. Rates are adjusted at the end of every month — a practice that differentiates Just from many of its competitors, such as Root and Metromile.
This continuous rate adjustment, Smithson says, is what gives Just a leg up on other companies that only change the payment structure once per year. Not only do safe drivers see immediate benefits, people who aren't a good fit for Just's model (because they're unsafe or they drive a lot) quickly leave the service.
"If you're a bad driver, it's cheaper to do it with someone else," said Smithson. This translates to a more efficient underwriting model: Techcrunch reported last week that Just's direct loss ratio was 65.8% year to date while Root's was 82% for 2020.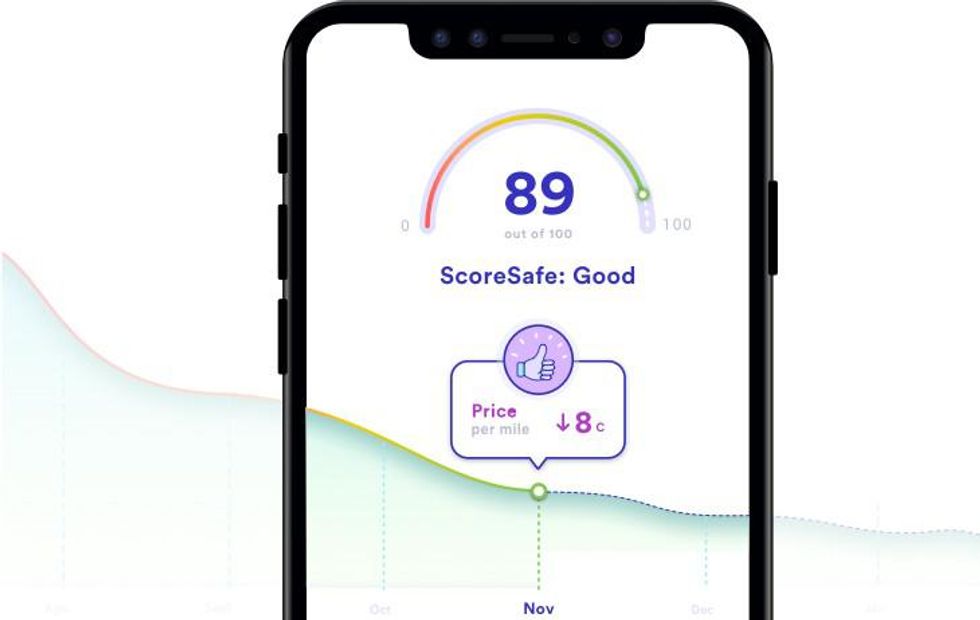 A screenshot of Just Auto's "ScoreSafe" dashboard
Investing in Driving Data
With all this data pouring in on driver behavior, Just is planning to use much of the new funding to expand its data science department.
"We see accidents happen," said Smithson. "We want to look at our data and rewind. Why did that happen? Are any other people in our customer base doing whatever caused that accident? And if so, can we tell them not to?"
The idea is ultimately to create a system that recommends new behaviors to drivers to improve their driving and save them money. One push notification could prompt users to leave 10 minutes later for work to reduce the amount of traffic during their commute. Another could let drivers know a certain intersection is particularly dangerous and suggest an alternative route.
The app might propose calling an Uber rather than risk a late-night drive home from the bars. Smithson says they're not planning to create a navigation app to guide users along the safest and cheapest route, but they're not completely ruling it out either.
As hyperbolic as that may sound, there's good reason to believe their strategy of incentivizing safe driving with discounted insurance might actually make roads safer, too.
"Considerable research indicates that motorists respond to financial incentives," said Todd Litman, founder and executive director of the Victoria Transport Policy Institute, a transportation-focused think tank. "Using standard price elasticity values, we predict that distance-based vehicle insurance is likely to reduce affected motorists' annual mileage by about 5-15%."
Additionally, Litman says, because these pricing schemes especially incentivize the highest risk drivers to drive less, a reduction of 5-15% should equate to even more than 5-15% fewer crashes. Just's own data paints a similar picture: The company reports that their customers have accidents that cause injuries at a rate of 2.2 per 100 policy years, which is 15% lower than the industry average.
As the company expands outside of Arizona, it will have to overcome the patchwork regulatory landscape that determines insurance laws in each state. In California, for instance, Prop 103 limits the factors you can use to set auto insurance rates, making apps like Just illegal — a real stroke of irony for a company headquartered in L.A.
Smithson says there are maybe five other states that have similar laws that will prevent Just from ever being welcomed by regulators.
"It comes from the best intentions. It's not like the California regulators are trying to be a pain. It's just that it's got so complicated that our product would be illegal in California," he said. "I want to bang on every regulator in the United States and say 'We can use insurance to save lives'."
As the White House continues its push for electric vehicles, the demand for semiconductors – a key component in electric vehicles – is about to surge. That spike will mean big business for German semiconductor producer Infineon Technologies, which has its 300-person U.S. headquarters in El Segundo.

Microchips and semiconductors have established vital roles in everyday devices. While laptops, phones and other mobile devices might be the first things to come to mind, transportation—in particular cars—takes a sizable portion of the demand.
Infineon is a significant semiconductor supplier to the automotive and transportation industry, in particular to the Volkswagen Group, which is beginning to deliver on its promises of many electric vehicle launches throughout the decade. Infineon has more than 50 of its semiconductors in the VW ID.4, a compact electric SUV that went on sale in the U.S. earlier this year. It also supplies semiconductors to Electrify America, an EV charging company owned by VW Group of America.
VW's push has come in a year when a global microchip shortage caused by production curtailing in last year's onset of the Covid-19 pandemic. Automakers, in particular, have scrambled to continue building new cars. Dealership lots across the country are running out of inventory and used car prices remain high. At the same time, President Biden has called for a massive increase in electric, hybrid and fuel cell vehicles production. He aims to have half of all vehicles sold by 2030 be non-gas powered.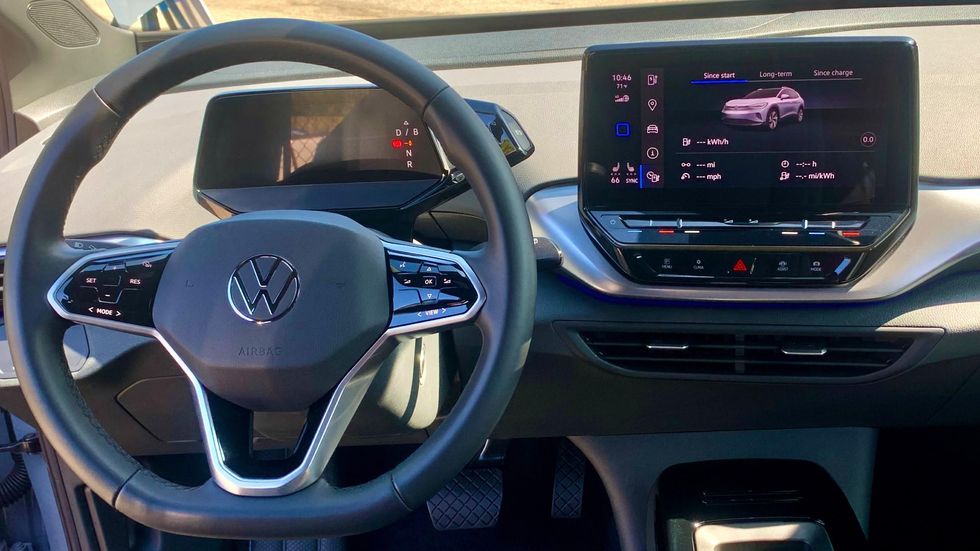 "It's an industry problem," said Shawn Slusser, Infineon senior vice president for marketing and distribution in El Segundo. "The industry overall is in a situation where production and demand are not matched."
A typical car has about $450 worth of power semiconductors to operate features that go from the radio and navigation system to the automatic headlights and windshield wipers, said Slusser. However, that number roughly doubles for EVs when factoring the microchips needed for Infineon's power module to power the car.
The company also supplies semiconductors to Electrify America, an EV charging company owned by VW Group of America. Infineon has more than 50 of its semiconductors in the VW ID.4, a compact electric SUV that went on sale in the U.S. earlier this year.
Auto industry analysis firm IHS Markit predicted in the Wall Street Journal last week that microchip and semiconductor production will allow auto production to get closer to normal by the end of 2022, although some of the problems are likely to stretch into 2023.
And it's a problem that's been brewing long before stay-at-home orders.
"There's a misconception that chips have only been going into EVs recently, but it's been happening since the '80s," IHS Markit analyst Phil Amsrud told dot.LA. "But what it used to be was that there was automotive and everything else. Now there's much more commonality."
Slusser said Infineon has seen demand for semiconductors steadily rising over the last several years. In 2018, the company decided to add capacity with a facility in Austria. But doing so takes between two to three years and billions of dollars — even in a well-functioning climate. And at the time, there were fewer government pushes and mandates to get consumers to buy EVs.
"The timing of how much capacity we need is also dependent on EV adoption," Slusser said. "Is [demand] going to look like a steady incline or a sharp curve?"
Amsrud said EV production may be helped because the semiconductors going into EV power modules don't go into consumer electronics.
"In this case, it may end up being a benefit," he said. "Those are fairly specialized and won't be competing with consumer products or as many markets for the silicon carbide components."
Correction: An earlier version of this post mischaracterized the number of semiconductors in a typical car and the cost of upgrading a semiconductor facility.
Related Articles Around the Web
After two years away from the spotlight, the Los Angeles Auto Show is plotting a comeback — and a reinvention with the changing climate.
In the aftermath of pandemic restrictions that started 18 months ago, the upcoming Auto Show — one of Los Angeles' largest events and a major draw for international visitors —will focus not only more on electric vehicles, but on an education on rapidly changing automotive technology.
"This is the decade for the electric car," said Lisa Kaz, owner and CEO of the LA Auto Show. "We're seeing all these new brands enter the market. It's the perfect storm because California leads the market in electrification."
Automakers have in the past used the L.A. show to reveal new car concepts to the public, or to gauge reaction before they're even produced. But the 2021 L.A. Auto Show, scheduled for November 19-28, has more than just the usual automotive hype on its shoulders.
After New York Auto Show organizers canceled their event last month (a result of rising Covid cases), the L.A. Auto Show is now in line to become the first major U.S. auto show since the start of the pandemic. (The Chicago Auto Show held a scaled-down event over five days in July, but only about half the space typically allotted was used and fewer automakers participated.)
The show organizers and auto companies are rethinking the traditional stands and polished array of new vehicles. This year, there will be a 45,000 square-foot indoor track to drive EVs, which will join an expanded slate of outdoor offerings, including driving courses — led by Ford, Jeep and VW, among others — and street-level test drives of certain vehicles.
There's other departures from past shows. Many automakers are moving away from the big splashy media events of past years where they talked up their latest models. And they also are using more outside space to introduce consumers to the latest bells and whistles including smartphone and media integration systems, advanced driving assistance systems and other emerging technologies.
The L.A. Auto Show may well look overseas for inspiration amid pandemic-era restrictions and corporate belt-tightening. Despite that, the International Motor Show of Germany held earlier this month in Munich seemingly went off without a hitch, attracting international media and prominent manufacturers like Volkswagen, BMW, Mercedes-Benz and Renault. The widely spaced and masked-up event may serve as a template for such large-scale gatherings as vaccination mandates increase amid the discovery of new variants of the virus.
Still, automakers are keeping their plans for the L.A. show closely guarded for now. Some are still picking up the pieces from planned press conferences in New York, unwilling to commit to anything more than smaller, regional events.
Among the companies expected at the L.A. Auto Show is Manhattan Beach-based Fisker Inc., which plans to showcase its $38,000 Ocean electric SUV — a crucial product for the startup automaker as it tries to capture the mainstream EV market. In a conference call in August, company founder and CEO Henrik Fisker said there were contingency plans if the show were to be canceled again — including a smaller event at another time in November. But a November debut was critical to the car and company's success.
But, given the uncertainty around event planning, not every company is waiting for the biggest stage to unveil their newest vehicles.
Though Irvine-based Karma Automotive initially signed up to participate in the 2020, then 2021, L.A. Auto Show, it chose to unveil its latest product separate from a major auto show and through a virtual presentation for the media.
"We'd fully planned on attending in 2020 and then the pandemic hit," said Jeff Holland, public relations director for Karma. "That changed our planning. You have to stay on it week by week with these shows."
Holland said he saw signs traditional automotive shows are starting to fall back into place, but as the cost and logistics of shipping cars and setting up elaborate stages is weighing on some companies — especially during a global pandemic.
"It's not just the cost to exhibit, but the lighting and materials," Holland said. "And if we have a press conference, there's hosting and scriptwriting and other logistics."
What's Changed
As for consumers, though, Kaz said the L.A. Auto Show still serves as an important introduction to people shopping for a new car with the most up-to-date equipment. She said the show skews towards younger attendees and represents a way car shoppers can learn about advances in vehicles like electrification and advanced driver assistance systems.
"It seems like for most people when they feel like they experience a vehicle it changes perceptions," Kaz said. "We see technology changing so fast and it's been two years since the show has demonstrated it."
Kaz sees the L.A. Auto Show as an event that can lift up the city, even in times of transition. With only about three cancelations in its century-long history, the auto show celebrates this year 50 years at the Los Angeles Convention Center, when the center first opened in 1971.

But if the show doesn't go on, Kaz said she's learned to adapt to the times. More virtual events during the pandemic means a consistent rethink about how large auto shows can thrive when companies are more carefully spending money and the public is doing more shopping from home.
"We're in such unprecedented times now I think we're having to learn to adapt more," she said. "We're fortunate we're in November and not in August."