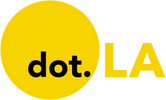 Get in the KNOW
on LA Startups & Tech
X
Joshua Letona
Joshua Letona
Joshua Letona is dot.LA's Engagement Fellow. A Southern California journalist with a passion for art and entertainment, he built his experience at his college news publication and EdSource while being an amateur filmmaker. He enjoys movies and comics, especially if "Star Wars" is in the title. If Joshua could be anywhere, it would be in an old movie theater seat in Hollywood.
Photo provided by UTA
If you need more proof that NFTs have officially invaded Hollywood, look no further than United Talent Agency's client roster.
The Beverly Hills-based talent agency recently signed Deadfellaz, an NFT collection of 10,000 zombie portraits. UTA counts Larva Labs, the creators behind the CryptoPunks NFT project, as a client, too. Even Coinbase, the publicly traded cryptocurrency exchange, is now part of UTA's portfolio.
The agency's foray into the crypto world shouldn't come as a big surprise. Digital artists are selling NFTs, or non-fungible tokens, for sky-high prices. NFT exchanges like NBA Top Shot have attracted large fan bases willing to shell out money for digital collectibles. And entertainment companies in the music, film and gaming industries have been quick to venture into NFTs—even if there's still plenty of skepticism about the digital assets.
"At first, my instinct was that this would be disruptive of things like art," Lesley Silverman, UTA's head of Web3 and a former fine art agent, told dot.LA. "We as an agency quickly realized that there would be similar innovation around the way we think about the broader media landscape, and that NFTs, and Web3 more broadly, would impact all of them."
Silverman was the first full-time digital assets agent at UTA, which claims to be the first major talent agency to launch a dedicated Web3 practice. Other Hollywood talent agencies have since entered the fray—including rival WME, which recently signed a pair of Bored Ape NFTs. Read more >>
At the Milken Institute Global Conference in Beverly Hills this week, media executives deliberated over the future of online streaming, the disruptive technology that has changed the way content is distributed and consumed. But some of those changes, it turns out, may not be so transformative; from the reemergence of commercials to bundled subscriptions, the future of TV may end up looking a lot like its past.

"I think we are going to see a great re-bundle," said Marc Graboff, Discovery's president of global business and legal affairs. "Eventually, there will be a limited number—three, four or whatever it is— of platforms that people will go to get their content."
Graboff was referring to how deep-pocketed tech titans like Amazon or Apple may ultimately roll up rival streaming services into single consumer offerings on their own platforms. He noted that it would be a lot like the days when TV was dominated by just three networks: ABC, NBC and CBS.
The panel discussion came in the wake of Netflix's stunning first-quarter earnings report, when the streaming giant disclosed that it lost subscribers for the first time in more than a decade and expects to lose another 2 million in the current quarter. Netflix is now in the midst of a reckoning, laying off staffers and re-considering its long-standing opposition to advertising. That's because its competitors—including those on stage Wednesday—have shown that consumers are willing to watch commercials if it means paying less per month.
This week, we saw the investment arm of the Los Angeles Dodgers' ownership group bet on sports and entertainment startup Vaunt—which partners with athletes and artists to stream content, sell merchandise and offer NFTs. It also produces "alternative sports competitions" and content such as a FIBA three-on-three basketball tournament and a beer-less pong league pitting celebrities against one another.

For many years, the sports industry has relied on attracting fans to buy tickets and watch games on TV. That's where fans have traditionally been, and where the bulk of revenue is made. Much depends on media rights and where the games get aired.
But, as Ludis Capital co-founder Matilda Sung said earlier this week, that's changing quickly. Younger fans are much less likely to watch a full game -- in person or on TV; There's simply too much competing for their attention, she said. One strategy the industry has adopted is gamifying the sports experience for viewers by offering NFTs and allowing them to bet.
"Whether it be metaverses or cryptocurrencies or fan tokens, or NFTs, you've now introduced this other format or vehicle to call upon which to further engage the fan on a much more intimate basis," Sung added.