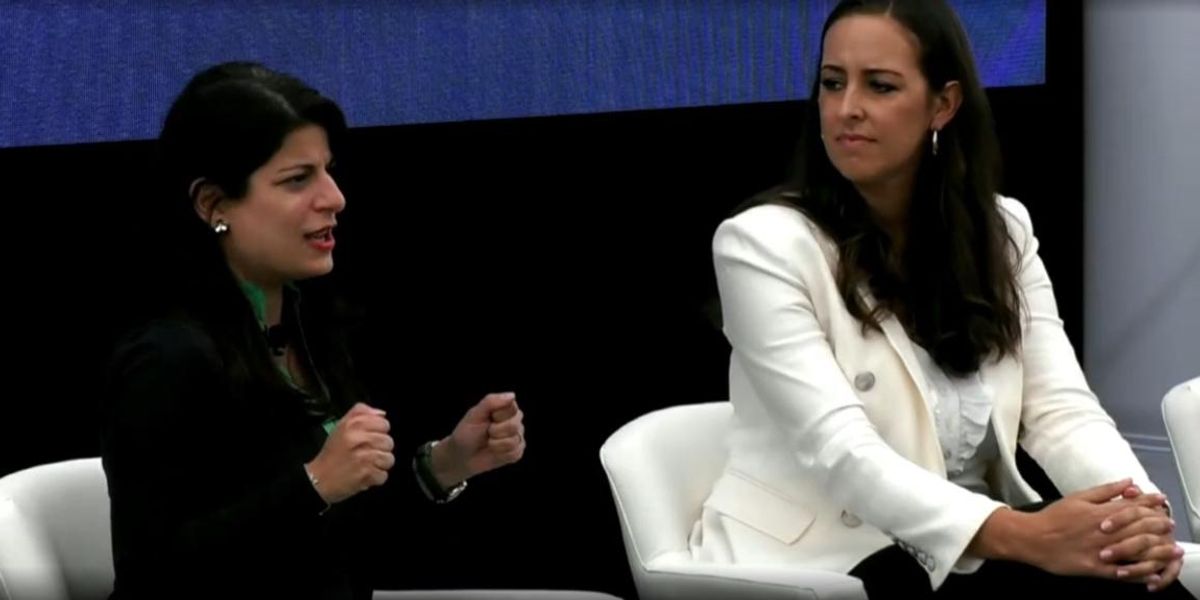 Courtesy of the Montgomery Summit
This is the web version of dot.LA's daily newsletter. Sign up to get the latest news on Southern California's tech, startup and venture capital scene.
While some venture capitalists are pulling back on startup investments as they brace for a market correction, other investors are actually doubling down—believing that now is the best time to discover a new founder who's seriously committed to their idea.
At March Capital's Montgomery Summit conference in Santa Monica on Wednesday, Jesse Draper, founding partner of Los Angeles-based VC firm Halogen Ventures, said she's among those who remain optimistic about the future.
---
"It feels very doom and gloom—but these are long-term investments, long-term trends and early-stage investors," Draper said. "You're betting on a future that's 10 years out, and I think that's pretty well-protected. Yes, maybe valuations might correct a little bit, but I don't think that's a bad thing."
All signs indicate that investors are more cautious now than in recent years, when soaring tech stocks and frothy private markets—even amid the pandemic—catapulted startup valuations to new heights. Crunchbase recently reported that global venture funding amounted to $47 billion in April, the lowest monthly total in the past year; that figure was down 10% from this March and down 12% from April 2021. Late-stage funding, in particular, was down 19% from the previous year.
Another VC on the panel, Balderton Capital partner Rana Yared, noted that the private markets are also coming down from a pandemic that showed investors "a lot of broken systems" and opportunities for disruption. Draper agreed, adding that macroeconomic instability can actually be good for VCs and founders alike; if a CEO knows they aren't guaranteed capital down the line, for instance, they could be motivated to work harder to make sure their business has a shot.
"Having that dose of realism in their back pocket will probably differentiate the founders who are able to navigate the bumps that are coming up," Draper said. "I think it makes VCs better stewards, but also I think it's a good thing for many founders. It's forcing everyone to be scrappier and preventing potential down rounds or situations in the future that are not serving anyone."
Amid choppy conditions, Draper advised founders to find experienced VCs who have been in the business for a while—otherwise, those who've only founded and funded businesses during the recent up-cycle may only know friendly markets, which could give them a warped sense of success. Draper herself is no stranger to the VC game; the daughter of renowned venture capitalist Tim Draper, Jesse Draper has been an investor for around a decade and launched Halogen seven years ago. The firm—which raised a $21 million fund early last year—prioritizes backing female-led, early-stage consumer tech companies, with its recent L.A.-based investments including childcare startup Brella and women's virtual sexual health clinic Pique.
Draper warned other VCs in the audience to continue taking the time to truly vet companies, repeatedly stressing the importance of "due diligence" to avoid backing, say, the next Theranos—a company whose spectacular collapse notably left her father, among other investors, holding the bag.
"There are going to be a whole slew of founders who have only ever seen a bull market and have only ever seen great times," Draper cautioned. "I'm not saying that the sky is falling by any means, but I think having investors who can help in that process will be a real boon to those companies." — Samson Amore