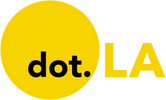 Get in the KNOW  
  on LA Startups & Tech  
X
Photo by Mallika Singh
5 Takeaways From This Year's Augmented World Expo
04:33 PM | June 06, 2022
As the "metaverse" slowly transitions from a buzzword to reality, the Augmented World Expo—a gathering of augmented reality CEOs, engineers, creators, consumers and investors—showcased what the future of the industry might look like.

Since its first event in 2010, AWE has grown to over 250 augmented and virtual reality companies from around the globe. The 2022 conference, which ran from June 1-3 at the Santa Clara Convention Center in the Bay Area, was the biggest yet—and flush with new experimental formats and new technology.
---
One example of the conference's new approach: a three-act augmented reality play performed at the conference called "MetaTr@versal: A Day in the Life." Written by extended-reality (XR) technologist Sophia Moshasha, the play used VR screen mirroring to tell the story of an entrepreneur pitching new interoperability standards to investors.
"It was super ambitious, because we were using technologies from ARWall," said AWE Head of Operations Andrea Lowery. "I can't even characterize all the different audio visual inputs and time and energy and creativity and tech that went into this thing."
This year's AWE featured keynotes, breakout rooms and a tech playground that included interactive and immersive experiences. Here are the five standouts from the conference and the advancing technology.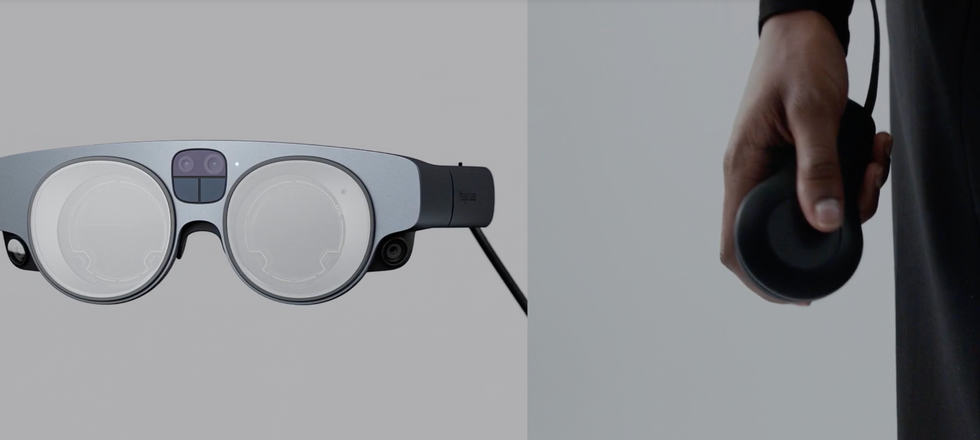 Magic Leap's New Headset
Lines began snaking around the corner of the Magic Leap booth before the exposition floor even officially opened, as crowds gathered to try the Florida-based company's new Magic Leap 2 augmented reality headset.
Participants were paired up and assigned to one of three demos. I was able to try the "wildfire" demo, where the glasses scanned a printed code on a circular tabletop and displayed a topographical map. The demonstrator toggled overlays off and on, showing the spread of weather and fire across the landscape. The company hopes their technology will be used in the future to train first responders, as well as workers in manufacturing, health and defense, among other industries.
The new headset aims to tackle some of the problems with the release of its first incarnation—including a narrow field of view and limited range of applications—by expanding the horizontal field of vision from 50 to 70 degrees and reaching out to more potential partners.
The most impressive part of the Magic Leap 2 was optical dimming, which shuts out nearly all light outside the augmented reality elements on the tabletop, drawing users' focus to the data and cutting down on glare in outdoor environments.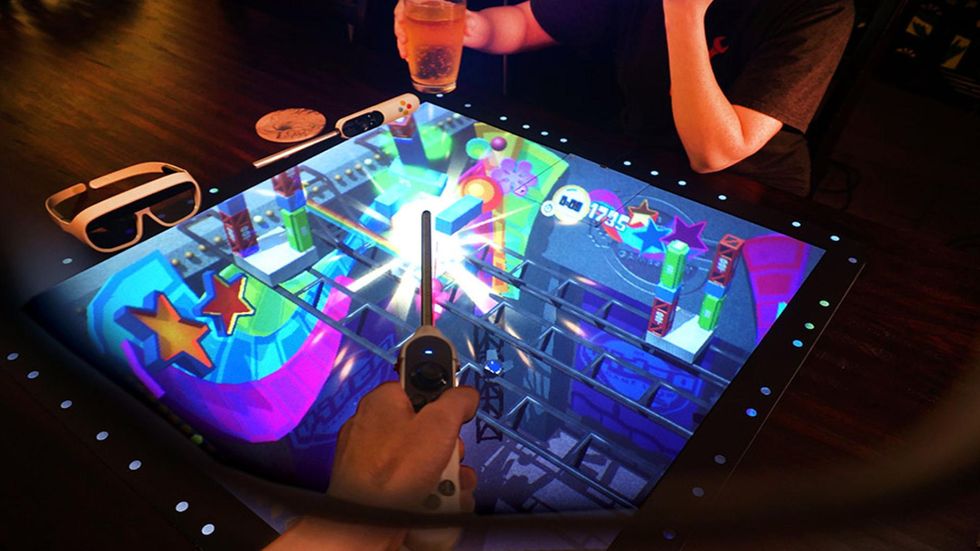 Tilt 5
Tilt Five: Immersive Table-Top Gaming
Tilt Five was another popular booth. The startup produces augmented and virtual reality gaming hardware, and has partnered with third party game developers to build software that integrates turns table-top games in AR experiences. The full system includes a game board, a light pair of AR glasses and a control wand.
The company raised over $1.7 million in fan funding on crowdfunding platform Kickstarter. It's been shipping out completed products to its backers since December and hopes to have them all sent out by the end of the summer. Now, it has set its sights on expanding its offerings.
"We actually just signed with Asmodee Digital, who makes games like Catan, Carcassonne and Gloomhaven," said Tilt Five Head of Communications Stephanie Greenall. "So we'll be taking a select number of their titles and putting them onto the board."
Since last year's AWE conference, Tilt Five has added mixed reality streaming, which allows fans to share their adventures on streaming and social platforms and the "XE Gameboard," a larger board that tilts up so you can see further into the game.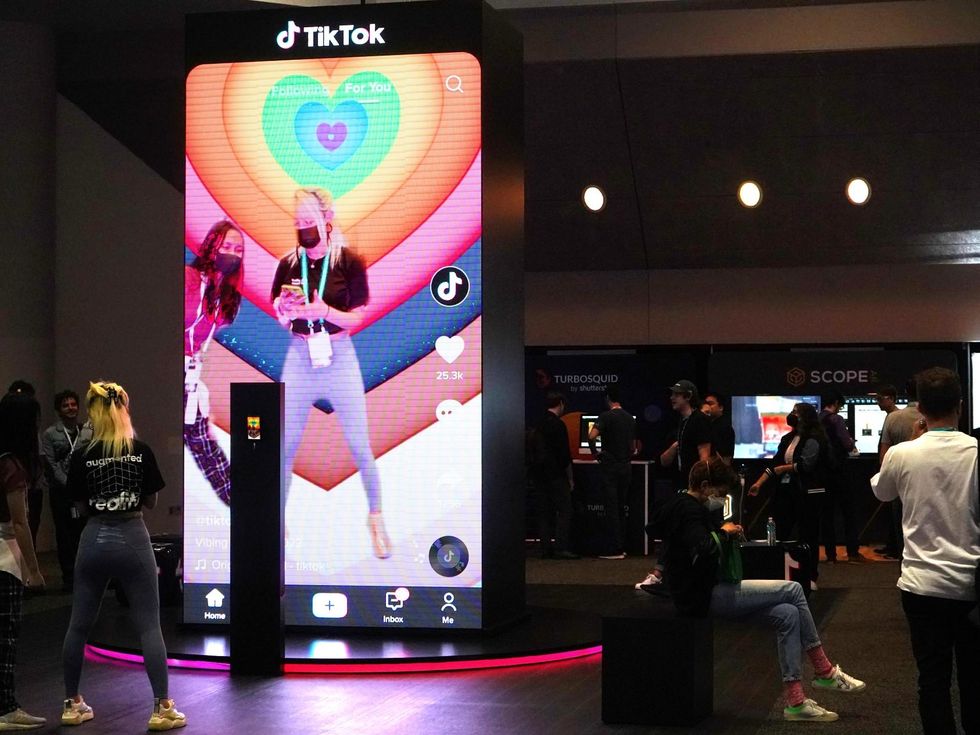 TikTok's booth showcasing its new AR features on June 3, 2022. Photo by Mallika Singh
TikTok Plays Catch Up in AR
About two months ago, TikTok launched Effect House, an AR development platform that plugs right into its mobile app. It's an attempt to catch up on creative studio applications like Meta's Spark AR Studio for Facebook and Instagram and Snapchat's Lens Studio.
Effect House is built on a visual scripting system and a range of popular templates that is meant to make it easier for everyday creators to create their own visuals, without needing to know much about writing code.
According to Greg Feingold, AR ecosystem community lead at TikTok, there are already around 8,000 creators on Effect House's Discord account, and videos using Effect House have already reached over 1 trillion views.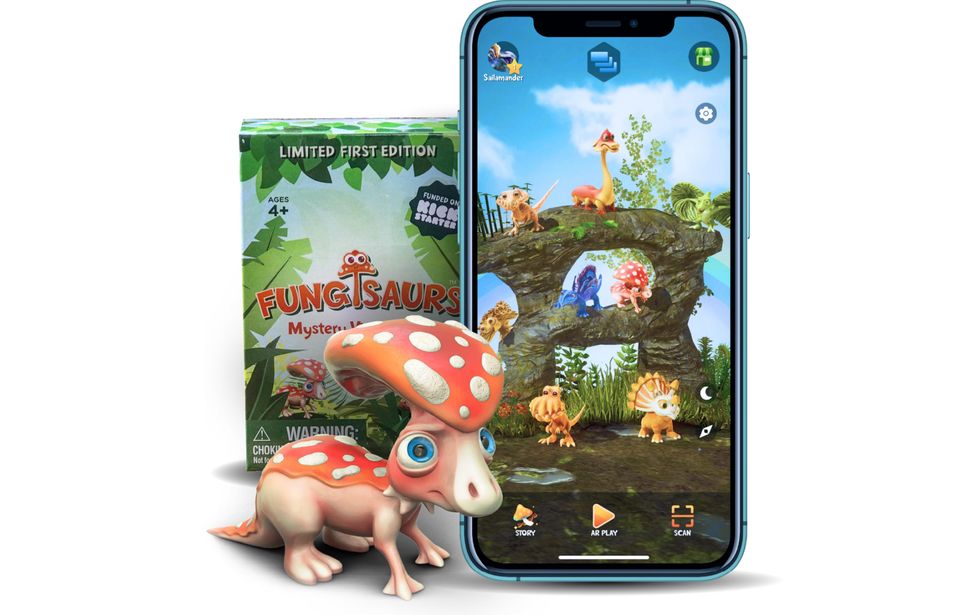 Fungisaurs
Fungisaurs: Augmenting Play with Figurines
L.A.-based artist and digital sculptor Aiman Akhtar's background in 3D modeling and animation at studios including Nickelodeon, Dreamworks and Blizzard prepared him to develop his own line of augmented reality kids' toys–in the form of small "dinosaur mushroom creatures."
Fungisaurs started as a collection of real-life plastic toys in 2017, funded partially on Kickstarter. Three years later, Akhtar partnered with augmented reality company Octagon Studio to build ARise, a camera app that brings the physical toys to life and supports interactive play.
Next up for the company is more app integration, card functionality and a second series of characters.
"If we have a card read as well as the object, then we can trigger animations, we can trigger background changes," Akhtar said. "So we can make narrative board games that can actually convey stories and have more interactivity between players."
Fungisaurs was one of the only companies at AWE with a product tailored towards kids.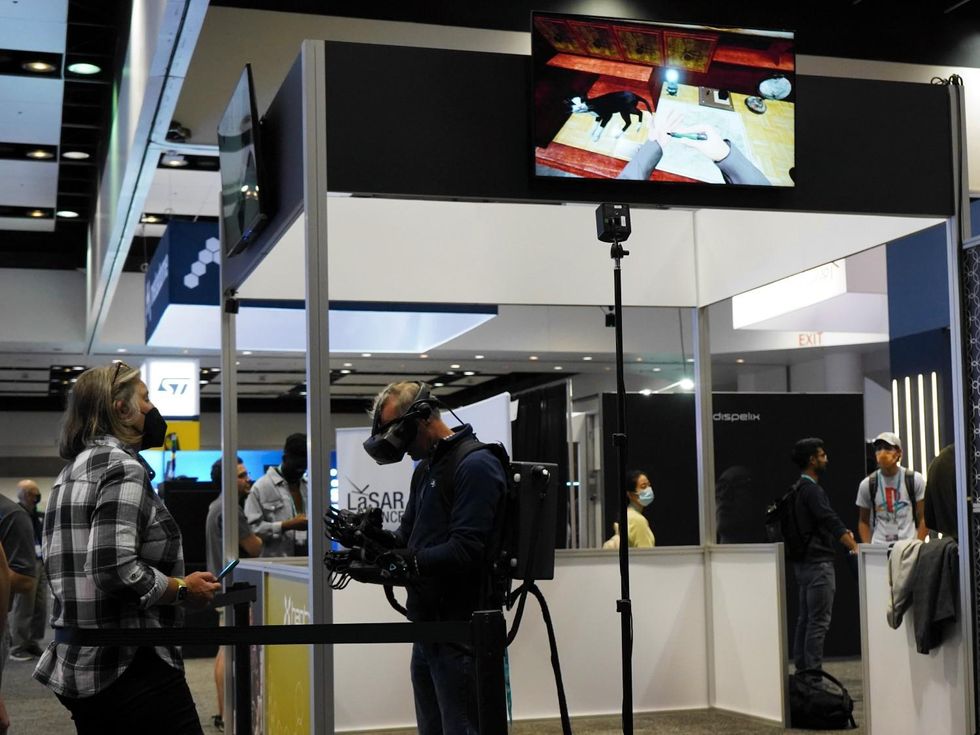 A conference attendee tries the HaptX DK2 Gloves on June 3, 2022. Photo by Mallika Singh
HaptX: Prototype the Training, Not the Product
HaptX, a leading producer in the haptic XR space, makes AR products for customers in training, manufacture, design and telerobotics. The company is based in Redmond, WA with offices in both San Luis Obisbo and San Francisco.

Its development kit, the DK2 Gloves, uses compressed air to simulate resistance by applying braking to the backs of the gloves, up to eight pounds of force per finger and up to 40 pounds per hand. The air contours the shape of the gloves to objects touched in virtual reality worlds.
Recently, HaptX worked with Nissan to mock up its Nissan Leaf electric vehicle virtually. Its system allows designers to touch and interact with the virtual car, obviating the need for wasteful and expensive automotive prototypes, which can cost up to $200,000 per model. HaptX's gloves, meanwhile, cost in the high five figures for enterprise customers.
HaptX had both a stationary and mobile demo station at AWE. The mobile device was set up in a backpack. One woman trying it out at the Expo said the backpack's weight was about the same as two MacBooks.
"This will get significantly smaller in the future," said Victor Oriaifo, an account executive at HaptX.
He said the company aims to shrink the portable device once it's manufacturing at scale.
***
Watch the main stage presentations on the AWE.Live mobile app ( iPhone/ Android), where the remainder of the sessions will appear by the end of next week. View this article in video form on our TikTok page!
Correction: An earlier version of this story stated that AWE had its first conference in 2013. It was in 2010. It's also been updated to more accurately reflect the number of users on TIkTok's Discord account.
From Your Site Articles
Related Articles Around the Web
https://twitter.com/rachelkisela
02:16 PM | March 02, 2023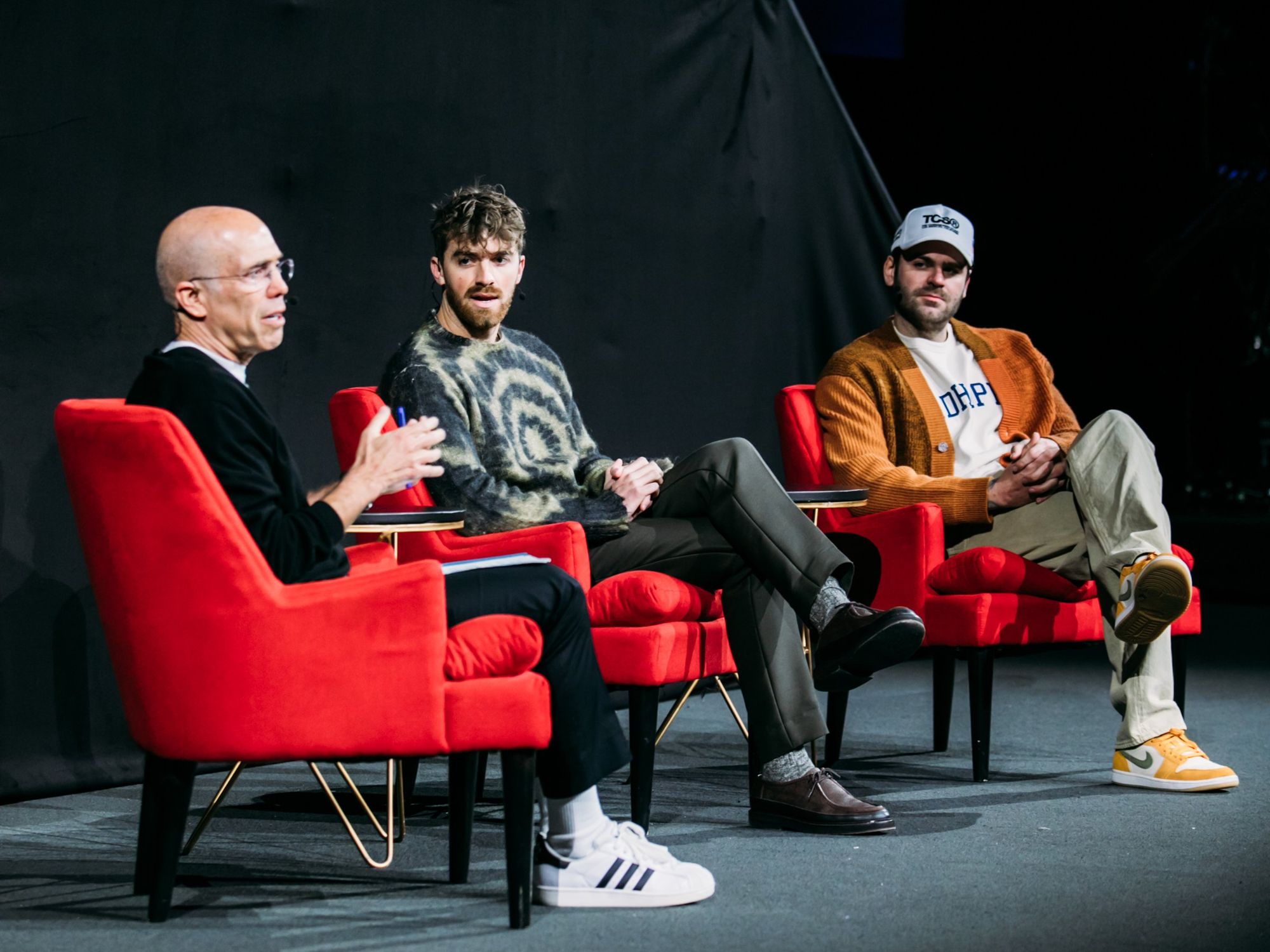 Clark Studio
On Thursday, Upfront Ventures hosted its 2023 Summit and music icons Alex Pall and Drew Taggart of The Chainsmokers hit the stage, not to perform, but instead to discuss their venture journey.
The duo launched MantisVC, a Marina Del Rey-based early stage tech venture fund in 2019.
Pall and Taggart shared the stage with WndrCo's managing partner Jeffrey Katzenberg to dive deeper into what their music career has taught them and how it translated over to their venture firm.
Here are some of the most important takeaways:
The duo believes hustle is more important than talent to achieve success.
"There's just so much content out there that's just happening all the time for no reason," Taggart said. "There's just so much to pay attention to and if you have to wake up every day, and think out what your angle is going to be, try stuff, have it not work. You have to accept defeat so frequently and still get up and do it."
Creating music was their foray into building communities.
"I think we have some real insight into how to build that community and tell that story because essentially, that's all we're trying to do," Pall said. "No matter what your business is, you're telling the story about something that you think is important that someone else needs and will enjoy."
Building connections and having conversations with pioneers in the space helped them launch MantisVC.
"Humility and being self aware are two of our strengths," Taggart said. "I think knowing what we don't know is a big part of how we've gotten to where we are, and with the support of people around us, and the relationships we built, we understood that we were going to have to go out and prove to the world that we were serious about this and we respected the people that have come before us and the people that are doing it right now."
VCs should offer all their founders support.
"When you're building something early on, you want that support, that hands-on feeling and the purpose of Mantis isn't necessarily right now to replace the incredible institutional investors that exist out there and have been around for a while," Pall continued.
"But we want to be the Robin to their Batman, and we think there's a way that we can kind of partner with everybody in the space and provide our founders that holistic support they need. It's inspiring to work alongside people that share that same energy and we're constantly working on ourselves and I feel like it takes a really special type of human being to be successful in this world. Level of grit and determination and something that's continually fueled us and we want to invest in people like that."
Feedback is necessary and essential to create successful products and businesses.
"Similar to products or services that you're building, it's important to get real life feedback out there and iterate on those things," Taggart said. "And there's really just no substitute for that."
Pall added, "I think for some reason in our culture, it's become an issue for people just to be straightforward and say no, about things and give honest feedback and, and move on. I think we can all learn a lot from just having more honest conversations with each other."
Never lose sight of your core audience and mission as a company.
"Never forget what your core product is and what people love about that and make sure that every piece of innovation is derivative of that," Taggart said. "I see a lot of friends of ours that have had really successful companies start to build ancillary projects that don't really feed their core audience that they're just making to compete with their competition. We do the same thing in songwriting, and you can never lose sight of what people love about you."
Decerry Donato
Decerry Donato is a reporter at dot.LA. Prior to that, she was an editorial fellow at the company. Decerry received her bachelor's degree in literary journalism from the University of California, Irvine. She continues to write stories to inform the community about issues or events that take place in the L.A. area. On the weekends, she can be found hiking in the Angeles National forest or sifting through racks at your local thrift store.
08:58 AM | March 06, 2023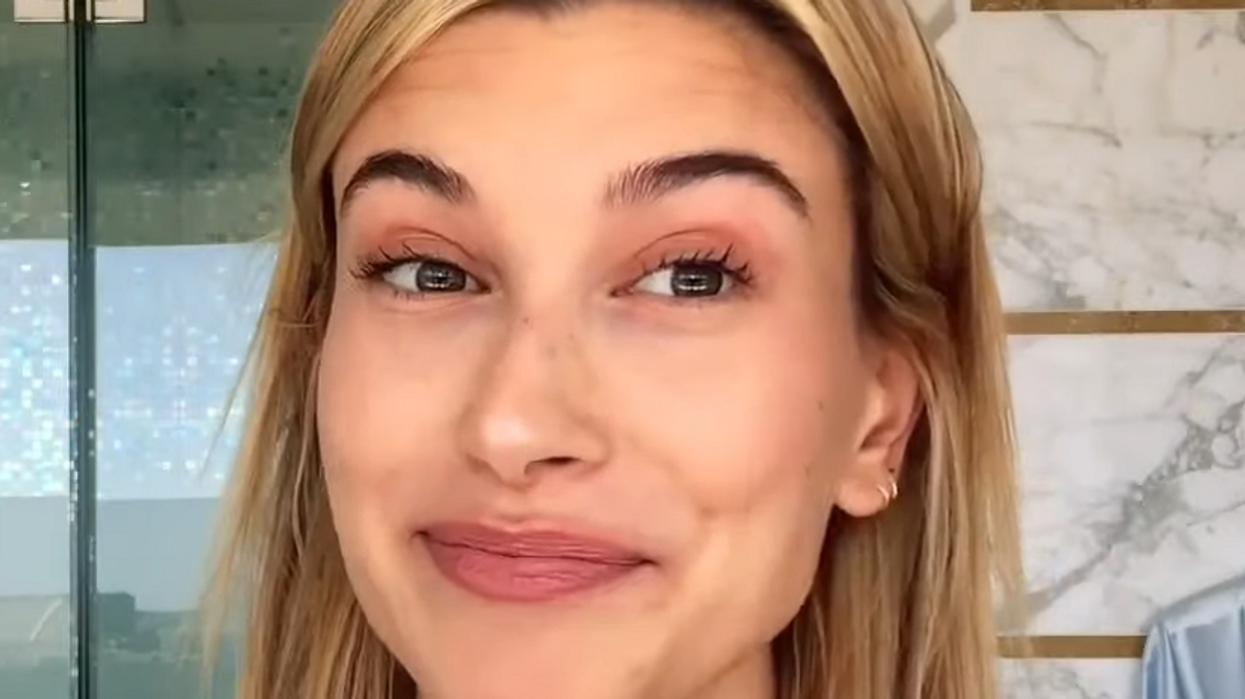 When Hailey Bieber launched Rhode skincare last June, the release was coupled with YouTube videos detailingeachproduct. Bieber has since fully integrated the skincare line into her content, bringing on other beauty influencers to discuss it and highlighting it in get ready with me videos on her channel.
Bieber's efforts paid off—Rhode has since become one of the most talked about skincare brands online, and the products often sell out. At The Upfront Summit last week, Bieber joined OBB Media CEO and founder Michael Ratner, who produces her YouTube series "What's In My Bathroom" and "What's In My Kitchen," to discuss how she has merged her content creation with her business endeavors.
"YouTube is a great home because, most importantly, we're able to reach Hailey's audience," Ratner said, adding that they can "cut out the middleman" of a traditional streaming service.
Bieber isn't alone in utilizing her online platforms to start a beauty company. Kylie Jenner launched Kylie Cosmetics in 2014, and the line consistently receives high social media engagement thanks to intentional influencer marketing. But even influencers without the celebrity status of Jenner and Bieber have become entrepreneurs. Beauty YouTubers like Michelle Phan and NikkieTutorials have turned their expertise into makeup companies, while TikToker Hyram Yarbro did the same with skincare.
So how does the content creator to skincare mogul pipeline work?
Oftentimes, outside companies approach influencers about launching their own brands. Beauty and makeup brand incubator Madeby Collective, for example, was seeking a Gen Z star to be the face of a new line in 2020, and TikTok darling Addison Rae was the obvious choice. After approaching the influencer, they gave her the title of co-founder and Chief Innovation Office before launching Item Beauty later that year.
Bieber is trying to shove Rhode to the front of a field that even she admitted is incredibly crowded. Despite this, Bieber didn't have a compelling answer when moderator Kobie Fuller asked how Rhode can stand out.
"To me, Rhode is a whole world. It's a world of me, essentially" Bieber said. "In order for people to understand my vision for the brand, they would have to understand me."
Bieber has become known for her various "glazed donut" looks, which range from nail designs to her skincare line. Multiple TikTok and YouTube tutorials re-created these looks as the trends swept through online beauty communities. And it doesn't hurt when the person manufacturing these trends can use these platforms to show exactly how she gets these results—and promote her brand along the way.
Still, closely tying one's company to one's public perception is risky. On the extreme end is influencer Jeffree Star, who launched his cosmetics company in 2014 and often used elaborate YouTube videos to promote products. His items sold out quickly. But accusations of racism and sexual assault caused sales to decline. The fallout extended beyond him—beauty company Morphe, which rose to popularity through collaborations with Star, recently closed all of its U.S. locations due to low sales. Dragon Beauty, a company launched by YouTuber Nikita Dragon, was put on hiatus last month following the influencer's arrest.
To that end, Bieber is currently embroiled in her own internet drama, having lost over one million Instagram followers after seemingly re-igniting her feud with Selena Gomez. Obviously, this is not comparable to the situations with Star and Dragon. But it does point to how even a slight misstep can have ripple effects on an influencer's business and the fragility of someone's online reputation.
The panel didn't touch on this topic, and it's unclear how the scandal has impacted Rhode's sales—but the brand has become tangled with it. When Bieber re-posted someone's Instagram story about Rhode that included a song featuring Gomez, fans noted that she changed the song to the version without Gomez. In turn, Gomez fans are urging people to stop buying Rhode products.
Even without pushback from vitriolic fan communities, influencer-led brands have struggled in recent months. In January, Sephora stopped carrying both Rae and Yarbro's products after sales slowed down. Now, expertsare wondering if this is the beginning of the end for influencer-backed brands. Some have managed to produce products that can stand on their own—ironically, Gomez's makeup line Rare Beauty has become the gold standard in this area. But Bieber's philosophy of creating "aesthetically pleasing products that work" isn't all that different from her competitors.
Still, it's unlikely that influencer-led brands will die out considering
92% of Gen Z adults
make their purchasing decisions based on influencer recommendations. But influencers are finding that getting people to spend money is a more difficult task than getting them to watch a video. And when influencer-entrepreneurs like Bieber are unable to quickly articulate what makes their brands stand out, it's understandable why viewers aren't buying what they're selling.
Kristin Snyder
Kristin Snyder is dot.LA's 2022/23 Editorial Fellow. She previously interned with Tiger Oak Media and led the arts section for UCLA's Daily Bruin.
https://twitter.com/ksnyder_db