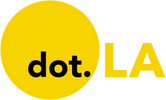 Get in the KNOW  
  on LA Startups & Tech  
X
Photo by Mallika Singh
5 Takeaways From This Year's Augmented World Expo
04:33 PM | June 06, 2022
As the "metaverse" slowly transitions from a buzzword to reality, the Augmented World Expo—a gathering of augmented reality CEOs, engineers, creators, consumers and investors—showcased what the future of the industry might look like.

Since its first event in 2010, AWE has grown to over 250 augmented and virtual reality companies from around the globe. The 2022 conference, which ran from June 1-3 at the Santa Clara Convention Center in the Bay Area, was the biggest yet—and flush with new experimental formats and new technology.
---
One example of the conference's new approach: a three-act augmented reality play performed at the conference called "MetaTr@versal: A Day in the Life." Written by extended-reality (XR) technologist Sophia Moshasha, the play used VR screen mirroring to tell the story of an entrepreneur pitching new interoperability standards to investors.
"It was super ambitious, because we were using technologies from ARWall," said AWE Head of Operations Andrea Lowery. "I can't even characterize all the different audio visual inputs and time and energy and creativity and tech that went into this thing."
This year's AWE featured keynotes, breakout rooms and a tech playground that included interactive and immersive experiences. Here are the five standouts from the conference and the advancing technology.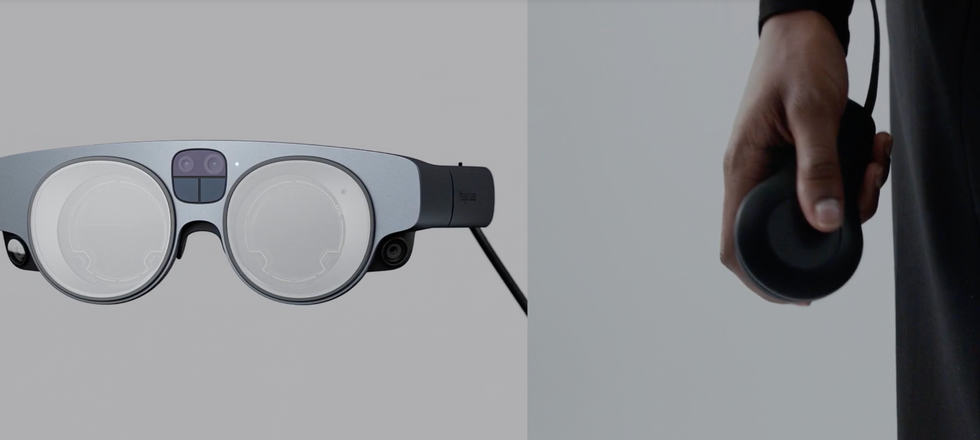 Magic Leap's New Headset
Lines began snaking around the corner of the Magic Leap booth before the exposition floor even officially opened, as crowds gathered to try the Florida-based company's new Magic Leap 2 augmented reality headset.
Participants were paired up and assigned to one of three demos. I was able to try the "wildfire" demo, where the glasses scanned a printed code on a circular tabletop and displayed a topographical map. The demonstrator toggled overlays off and on, showing the spread of weather and fire across the landscape. The company hopes their technology will be used in the future to train first responders, as well as workers in manufacturing, health and defense, among other industries.
The new headset aims to tackle some of the problems with the release of its first incarnation—including a narrow field of view and limited range of applications—by expanding the horizontal field of vision from 50 to 70 degrees and reaching out to more potential partners.
The most impressive part of the Magic Leap 2 was optical dimming, which shuts out nearly all light outside the augmented reality elements on the tabletop, drawing users' focus to the data and cutting down on glare in outdoor environments.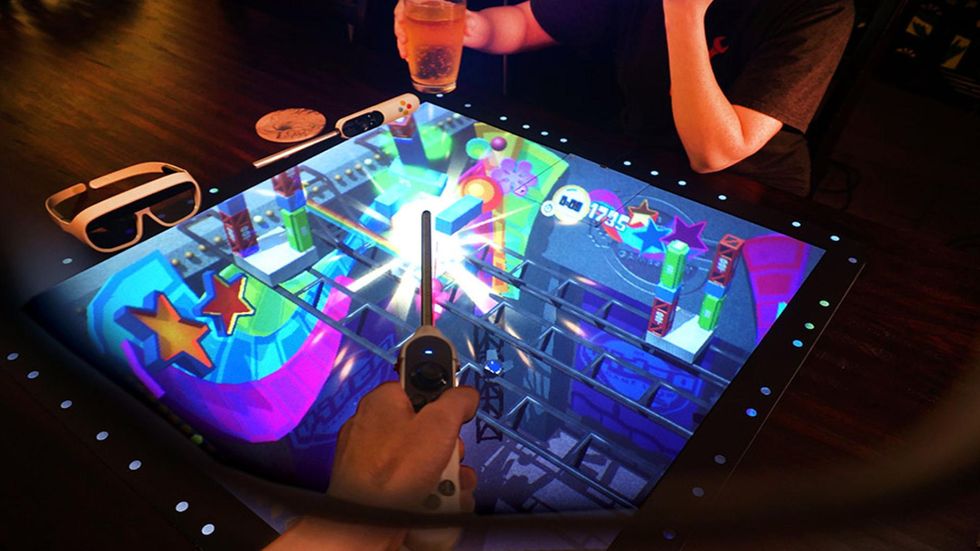 Tilt 5
Tilt Five: Immersive Table-Top Gaming
Tilt Five was another popular booth. The startup produces augmented and virtual reality gaming hardware, and has partnered with third party game developers to build software that integrates turns table-top games in AR experiences. The full system includes a game board, a light pair of AR glasses and a control wand.
The company raised over $1.7 million in fan funding on crowdfunding platform Kickstarter. It's been shipping out completed products to its backers since December and hopes to have them all sent out by the end of the summer. Now, it has set its sights on expanding its offerings.
"We actually just signed with Asmodee Digital, who makes games like Catan, Carcassonne and Gloomhaven," said Tilt Five Head of Communications Stephanie Greenall. "So we'll be taking a select number of their titles and putting them onto the board."
Since last year's AWE conference, Tilt Five has added mixed reality streaming, which allows fans to share their adventures on streaming and social platforms and the "XE Gameboard," a larger board that tilts up so you can see further into the game.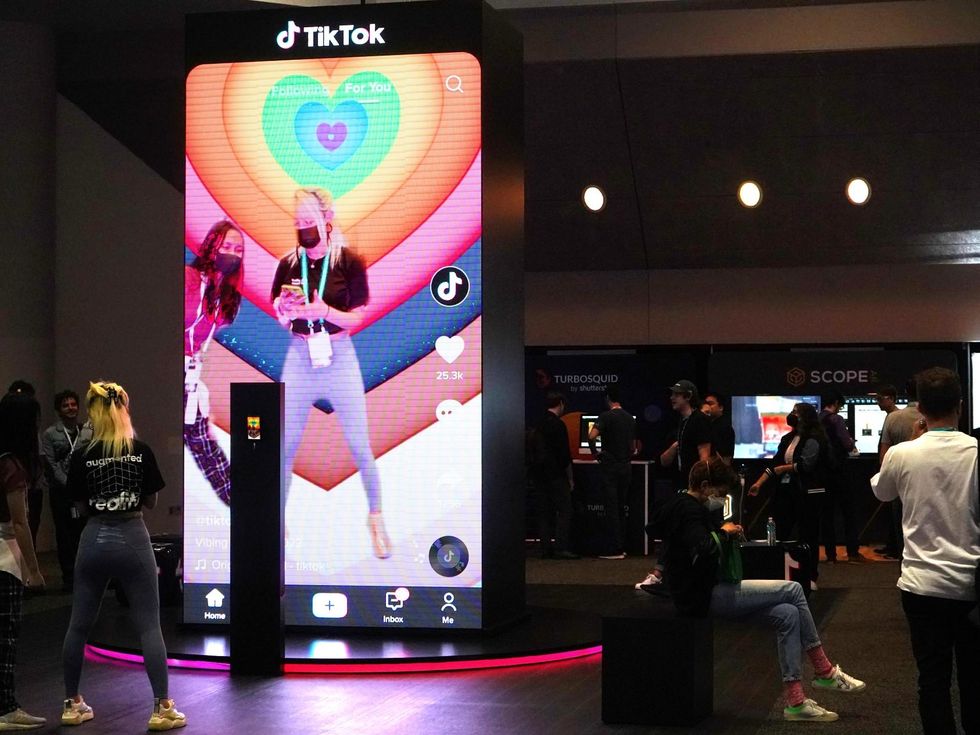 TikTok's booth showcasing its new AR features on June 3, 2022. Photo by Mallika Singh
TikTok Plays Catch Up in AR
About two months ago, TikTok launched Effect House, an AR development platform that plugs right into its mobile app. It's an attempt to catch up on creative studio applications like Meta's Spark AR Studio for Facebook and Instagram and Snapchat's Lens Studio.
Effect House is built on a visual scripting system and a range of popular templates that is meant to make it easier for everyday creators to create their own visuals, without needing to know much about writing code.
According to Greg Feingold, AR ecosystem community lead at TikTok, there are already around 8,000 creators on Effect House's Discord account, and videos using Effect House have already reached over 1 trillion views.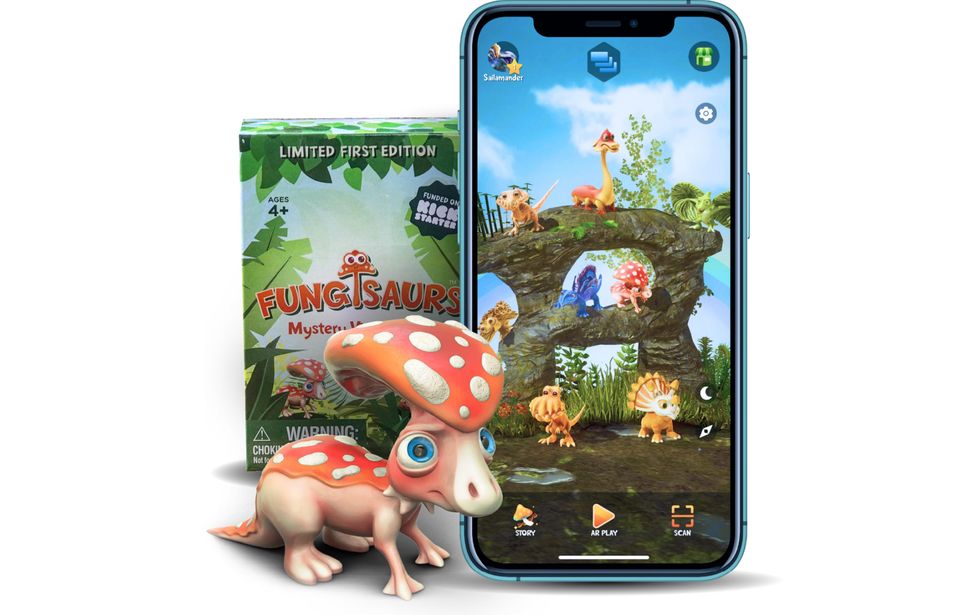 Fungisaurs
Fungisaurs: Augmenting Play with Figurines
L.A.-based artist and digital sculptor Aiman Akhtar's background in 3D modeling and animation at studios including Nickelodeon, Dreamworks and Blizzard prepared him to develop his own line of augmented reality kids' toys–in the form of small "dinosaur mushroom creatures."
Fungisaurs started as a collection of real-life plastic toys in 2017, funded partially on Kickstarter. Three years later, Akhtar partnered with augmented reality company Octagon Studio to build ARise, a camera app that brings the physical toys to life and supports interactive play.
Next up for the company is more app integration, card functionality and a second series of characters.
"If we have a card read as well as the object, then we can trigger animations, we can trigger background changes," Akhtar said. "So we can make narrative board games that can actually convey stories and have more interactivity between players."
Fungisaurs was one of the only companies at AWE with a product tailored towards kids.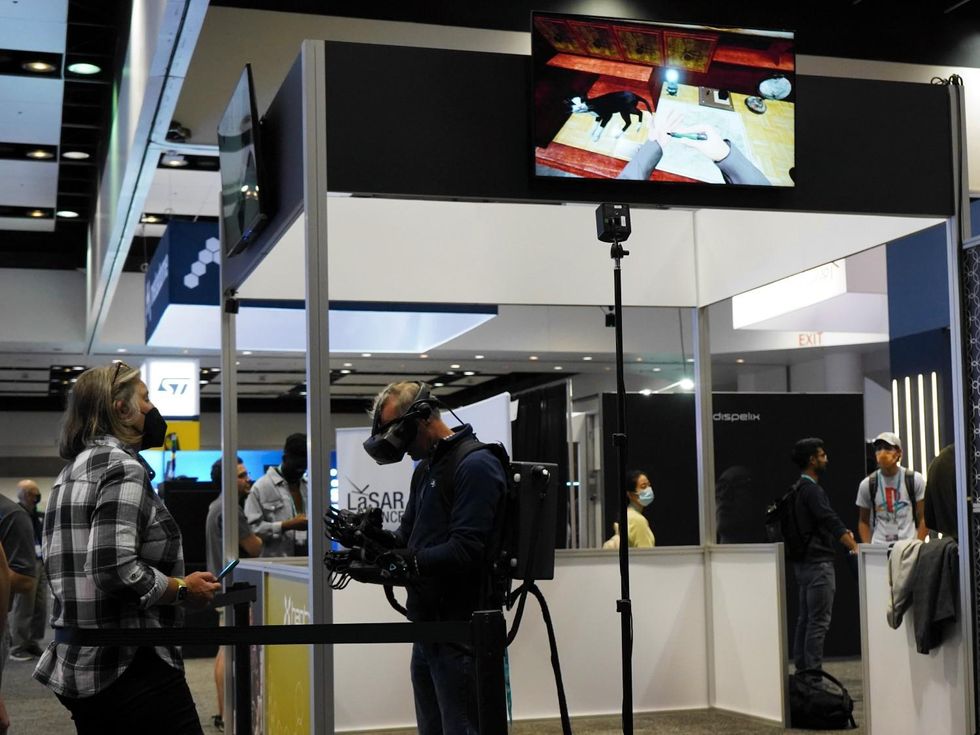 A conference attendee tries the HaptX DK2 Gloves on June 3, 2022. Photo by Mallika Singh
HaptX: Prototype the Training, Not the Product
HaptX, a leading producer in the haptic XR space, makes AR products for customers in training, manufacture, design and telerobotics. The company is based in Redmond, WA with offices in both San Luis Obisbo and San Francisco.

Its development kit, the DK2 Gloves, uses compressed air to simulate resistance by applying braking to the backs of the gloves, up to eight pounds of force per finger and up to 40 pounds per hand. The air contours the shape of the gloves to objects touched in virtual reality worlds.
Recently, HaptX worked with Nissan to mock up its Nissan Leaf electric vehicle virtually. Its system allows designers to touch and interact with the virtual car, obviating the need for wasteful and expensive automotive prototypes, which can cost up to $200,000 per model. HaptX's gloves, meanwhile, cost in the high five figures for enterprise customers.
HaptX had both a stationary and mobile demo station at AWE. The mobile device was set up in a backpack. One woman trying it out at the Expo said the backpack's weight was about the same as two MacBooks.
"This will get significantly smaller in the future," said Victor Oriaifo, an account executive at HaptX.
He said the company aims to shrink the portable device once it's manufacturing at scale.
***
Watch the main stage presentations on the AWE.Live mobile app ( iPhone/ Android), where the remainder of the sessions will appear by the end of next week. View this article in video form on our TikTok page!
Correction: An earlier version of this story stated that AWE had its first conference in 2013. It was in 2010. It's also been updated to more accurately reflect the number of users on TIkTok's Discord account.
From Your Site Articles
Related Articles Around the Web
https://twitter.com/rachelkisela
Samson Amore
According to a Forbes report last April, both the viewership and dollars behind women's sports at a collegiate and professional level are growing.
In 2022, the first 32 games of the NCAA tournament had record attendance levels, breaking records set back in 2004, and largely driven by the new and rapidly growing women's NCAA tournament. WNBA openers this year saw a 21% spike in attendance, with some teams including the LA Sparks reporting triple-digit ticket sales growth, about 121% over 2022's total. In 2023, the average size of an LA Sparks crowd swelled to 10,396 people, up from 4,701 people.
Women make up half the population, but "also 50% of the folks that are walking into the stadium at Dodger Stadium, or your NFL fans are just about 50% women," noted Erin Storck, a panelist and senior analyst at Los Angeles-based Elysian Park Ventures.
Storck added that in heterosexual households, women generally manage most of the family's money, giving them huge purchasing power, a potential advantage for female-run leagues. "There's an untapped revenue opportunity," she noted.
In the soccer world, Los Angeles-based women's soccer team Angel City FC has put in the work to become a household name, not just in LA County but across the nation. At an LA Tech Week panel hosted by Athlete Strategies about investing in sports, Angel City head of strategy and chief of staff Kari Fleischauer said that years before launching the women's National Women's Soccer League team, Angel City FC was pounding the pavement letting people know about the excitement ladies soccer can bring. She noted community is key, and that fostering a sense of engagement and safety at the team's home venue, BMO stadium (formerly Banc of California Stadium), is one reason fans keep coming back.
Adding free metro rides to BMO stadium and private rooms for nursing fans to breastfeed or fans on the spectrum to avoid sensory overload, were just some of the ways ACFC tried to include its community in the concept of its stadium, Fleischauer said. She noted, though, that roughly 46% of Angel City fans are "straight white dudes hanging out with their bros."
"Particularly [on] the woman's side, I'd like to think we do a better job of making sure that there's spaces for everyone," Fleischauer told the audience. "One thing we realize is accessibility is a huge thing."
Samson Amore
Samson Amore is a reporter for dot.LA. He holds a degree in journalism from Emerson College. Send tips or pitches to samsonamore@dot.la and find him on Twitter @Samsonamore.
https://twitter.com/samsonamore
samsonamore@dot.la
09:46 AM | November 14, 2022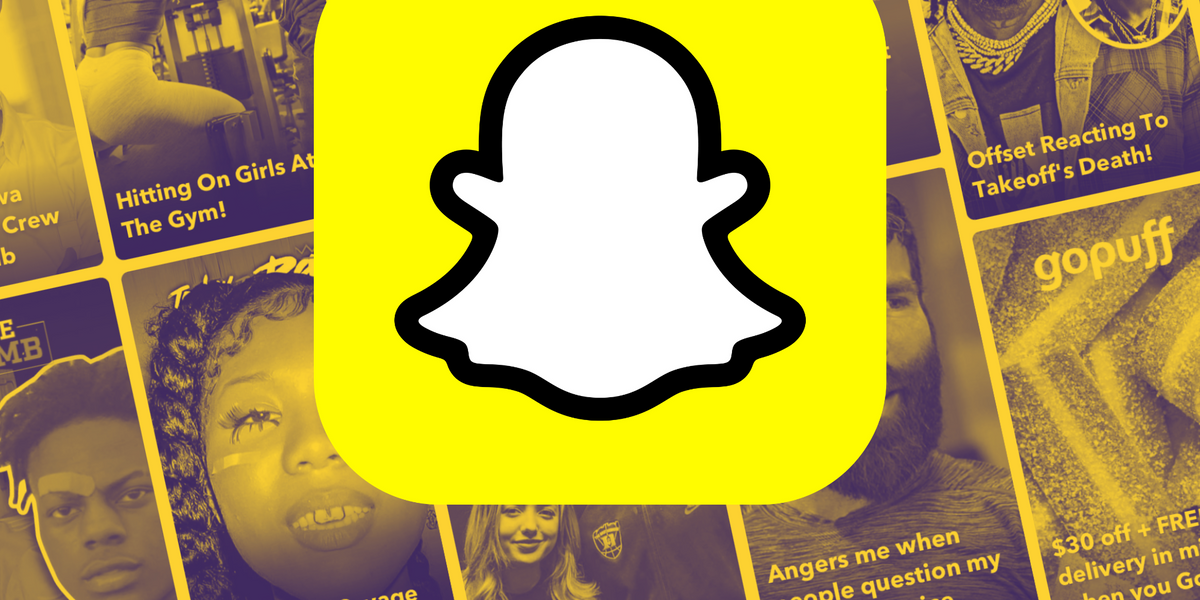 Sebastian Miño-Bucheli
Santa Monica-based app developer Snap calls itself a camera company, but it's really in the business of social media – and more specifically, advertising.
Correction: An earlier version of this article incorrectly described Snap Map's location tracking feature. The feature needs to be enabled first, and Snapchat offers the ability to turn off the feature in Map settings.

Samson Amore
Samson Amore is a reporter for dot.LA. He holds a degree in journalism from Emerson College. Send tips or pitches to samsonamore@dot.la and find him on Twitter @Samsonamore.
https://twitter.com/samsonamore
samsonamore@dot.la