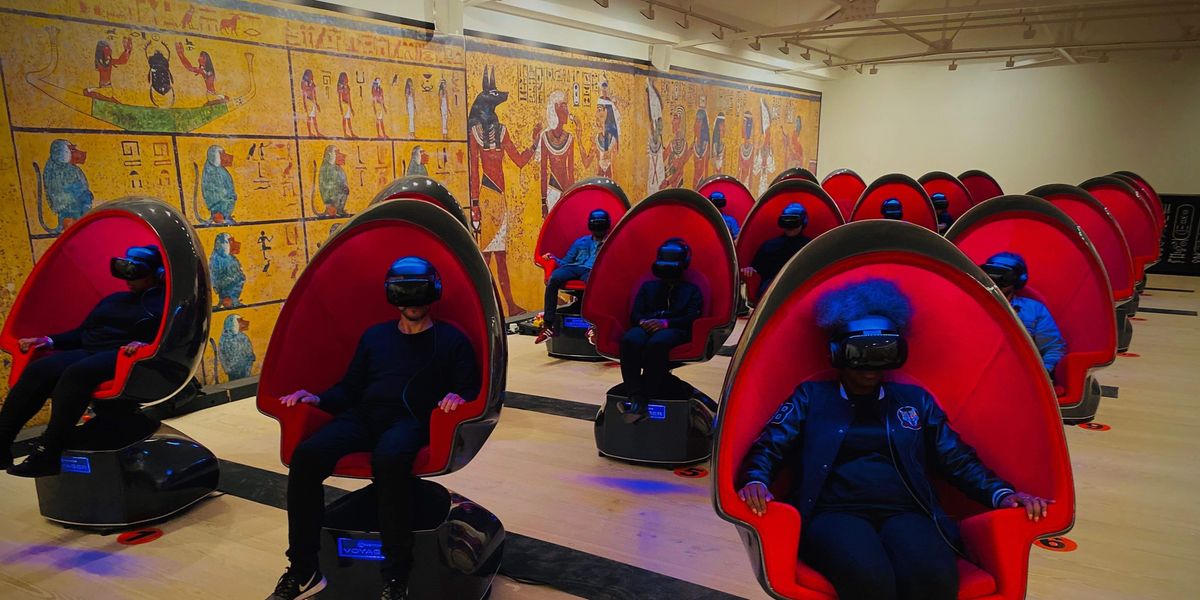 Courtesy of Positron.
This is the web version of dot.LA's daily newsletter. Sign up to get the latest news on Southern California's tech, startup and venture capital scene.
Like a lot of virtual reality companies, Positron deploys sights and sounds to transport users to far-away places, such as the ancient Machu Picchu citadel in the scenic mountains of Peru.

But besides lifelike visuals, the Los Angeles-based maker of cinematic VR chairs can stimulate other senses to take virtual experiences a step further. In its Machu Picchu video, for instance, viewers feel the bass of rolling thunder in their seats as a storm arrives over the citadel. And once the rain starts to fall, they can even smell wet earth as the chairs dispense a scent near their faces.
---
Positron—which recently raised an undisclosed amount of funding from Washington-based JB Capital—is part of a crop of startups bringing senses beyond vision and hearing to VR, with the goal of making users feel more immersed in virtual experiences.
Marina del Rey's Emerge, for example, unveiled a device earlier this year designed to let people feel digital objects with their bare hands, using ultrasonic waves. The University of Southern California's Institute for Creative Technologies has also used vibrations and smells in VR exposure therapy for veterans dealing with post-traumatic stress.
Positron plays with viewers' senses of smell and touch to enhance the cinematic experience, founder and CEO Jeffrey Travis told me. Its Voyager VR chairs—lounge-style seats that tilt forward and backwards and spin 360 degrees—come with haptic pillows and optional scent dispensers. The company has a library of 78 scents, some of which verge on the esoteric; the Machu Picchu film includes the smell of tomato leaf, Travis said.
At first glance, adding scents and sensations to virtual reality sounds like a neat way to help users suspend their belief while in simulated 3D environments, but one can also imagine it being a bit gimmicky, too. Travis, a filmmaker by trade who founded Positron in 2014, said that scents, in particular, can create stronger emotional connections to stories for viewers—if done subtly and sparingly. VR technology has the potential to make audiences feel more immersed in a movie, but ultimately it still comes down to good storytelling, Travis acknowledged.
"For the first 50 years of cinema or so, there was no sound—it was purely visual, right? Then sound came in and added this whole other level," Travis said. "Maybe 30 years from now, we'll have Oscar categories for best motion or scent design."
Positron's Voyager chairs are most commonly found in museums, cinemas and theme parks. The company has sold or rented out 121 units so far, with plans to distribute 350 more this year; it's also moving into leasing models that offer the chair, content and maintenance for about $6,000 a month, plus 10% of ticket revenue, in total. Buying a chair outright would cost between $50,000 and $60,000, Travis said.
While Positron considers itself a business-to-business company at the moment, a handful of wealthy consumers have brought the chairs into their homes, Travis told me. "It's a market we're starting to explore," he said. "Frankly, it was not originally on our radar." — Christian Hetrick