robin games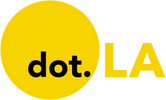 Get in the KNOW
on LA Startups & Tech
X
robin games
Editor's note: This is the second of a two-part series. Yesterday: Why New Yorkers and San Francisco tech workers have been moving to L.A. during the pandemic.
In late February, Aja Signor relocated from San Francisco to Venice Beach to start a new job as design director at an early-stage startup, Robin Games. She rented a one-bedroom apartment for $3,100 a month that was a pleasant 15-minute stroll to the beach one direction and 15 minutes to her office on Abbot Kinney the other way.
Three weeks later, everything changed. Robin Games abruptly closed its doors and the CEO said employees could work remotely as long as they wanted.
Signor started to hate everything about where she was living: the cramped elevator she had to ride up to her apartment, the neighbor who picked up smoking to "deal with the pandemic" and the hordes of tourists descending on Venice. "My neighborhood was packed with people not wearing masks and not doing social distancing," she said.
At the urging of her sister, Signor decided to go live with her family in Las Vegas for what she thought would be a temporary stay. She ended up liking it so much she broke her lease and plans to never live in L.A. again. In fact, in July, she did something she never would have been able to do in L.A. unless the startup she worked at had a lucrative exit and her stock options ballooned in value – she bought a roomy house.
"I had lived in California so long that I had given up owning a place of my own," Signor said. "But in Vegas the property is so cheap."
Instead of shelling out over $3,000 a month to rent a cramped apartment, Signor is now paying a mortgage costing a thousand dollars less for a four-bedroom home on a half acre of land with her own pool and hot tub.
"I can have a karaoke room, a dance room and a guest room," Signor marveled. "This could never happen in L.A."
Even as a tech worker at the top of her field, Signor always felt financially stretched in California, but in Nevada — on top of much cheaper housing costs — there is no state income tax. "That's like giving yourself a raise," she added.
Signor is part of a wave of L.A. residents in the tech and startup world who have left during the pandemic, accelerating a yearslong trend of migration to cheaper inland cities like Las Vegas, Sacramento and Phoenix. While people abandoning New York and San Francisco get most of the headlines, L.A. is also experiencing an exodus of residents.
Real Estate service Redfin estimates 12,405 departed in July alone and, according to an unscientific survey of hundreds of tech workers conducted this month by the employment service Blind, 35% have moved from L.A, a much higher percentage than New York or San Francisco.
dot.LA spoke to more than a half a dozen former Angelenos who departed during the pandemic. Like Signor, suddenly able to work from anywhere, they were attracted to other cities because of cheaper housing costs, lower taxes and, in many cases, closer proximity to family.
"We will pay 30 percent of the rent we were paying before," said Emily Best, founder and CEO of Seed&Spark. She, her husband and their two young kids used to live in downtown L.A., a short walk away from her office. But, reached via telephone, she said they were in the midst of driving across the country to live in a cabin in rural New York near relatives.
"We were in a rat race in L.A., trying to make enough money to live," Best said. "Every year it felt farther out of reach. We started having conversations about how to get off that hamster wheel and this pushed off over the edge. It's been really nice not to be so stressed out about money."
Best says her company will never go back to the sunlit and brick exposed corner workspace she opened two years ago downtown.
"That was the most painful for me: giving up the office," said Best. "That was our first real office."
Putting sentimentality aside, she is permanently taking her company fully remote. "We've already proven that everything can be done virtually," she said. "We are never going back to L.A. I don't see why we would come back."
For people like Best and Signor, COVID-19 was a life altering event that suddenly made them want to leave L.A. For others, like Jenn and Justin Welsh, the pandemic was the catalyst for a move they were already considering. Both left high-profile Santa Monica startups in recent years to start their own consulting practices. Realizing they could work from anywhere, they wondered why they were still paying L.A. housing prices.
"We wanted to make a dramatic change to our financial situation," said Jenn Welsh. "The kind of house we wanted in L.A. would be $3 million."
There were also other considerations. The Welsh's, who lived in Leimert Park, grew tired of spending hours in traffic just to have dinner with friends. (Though roadways have been more empty during the pandemic, a study last year by the Texas A&M Transportation Institute found L.A. has the worst traffic in the country, with commuters wasting an average of 119 hours in traffic a year.)
"One of my best friends lives in Pasadena," Jenn Welsh said. "She had to spend the night when she would visit. The traffic was debilitating."
Over the summer, the Welsh's sold their home in Leimert Park and bought a place in Nashville, where the median house goes for $299,838, compared to $764,528 in L.A., according to Zillow.
"We doubled the size of our house and reduced our mortgage by half," said Justin Welsh.
They say they've been impressed by Nashville's "warm hospitality" and have already made friends who are only a quick 15-minute drive away. They miss parts of L.A. – the weather, sushi and Mexican food – but have no regrets.
"L.A. is L.A.," said Justin Welsh. "It's paradise. It has access to everything you could want. I miss our friends. But I certainly don't miss the cost."
The Welsh's say they can always visit L.A. when the pandemic is over and others, like Signor, the design director who moved from Venice to Las Vegas, plan to return more frequently to maintain connections to their company and professional networks.
"I'd be dumb not to worry about that," Signor says, of living away from the tech scene. That is why she worked out an arrangement with her boss to spend one week a month back in Los Angeles, staying in an Airbnb once her office reopens.
"I'm not giving up on L.A.," she said. "But I think I'm doing some of my best work of my career right now because I don't have to spend time commuting and I'm not spending as much money so I'm not as stressed out."
Gaming is eating the world.

So says a new report issued Tuesday by L.A.-based investment firm MaC Venture Capital.
The report mentions the recent explosion of gaming companies – including Epic Games' $1.78 billion raise that valued it at $17.3 billion, Unity's $1.3 billion IPO that valued the Epic competitor at $13.7 billion and Roblox's $150 million fundraise that valued the kid's gaming "sandbox" at $4 billion — and that was before the pandemic boosted Roblox's user base.
But most of the analysis is devoted to the techniques and tools that gaming has popularized over the years, and that are fast proliferating into areas as diverse as retail, film production, medicine and national defense.
MaC, an early stage firm formed from a merger of Cross Culture Ventures and M Ventures, invests in tech companies it believes will benefit from shifting cultural trends and behaviors.
Underlying much of the firm's optimism around the gaming industry is its maturity, general partner Michael Palank told dot.LA. Multiple generations have now grown up with gaming, from early Nintendo consoles to mobile games and newly immersive platforms like Fortnite. That familiarity has pushed the mechanics of video gaming – taking action, leveling up, expanding your in-game persona – far beyond a traditional leisure activity, he said.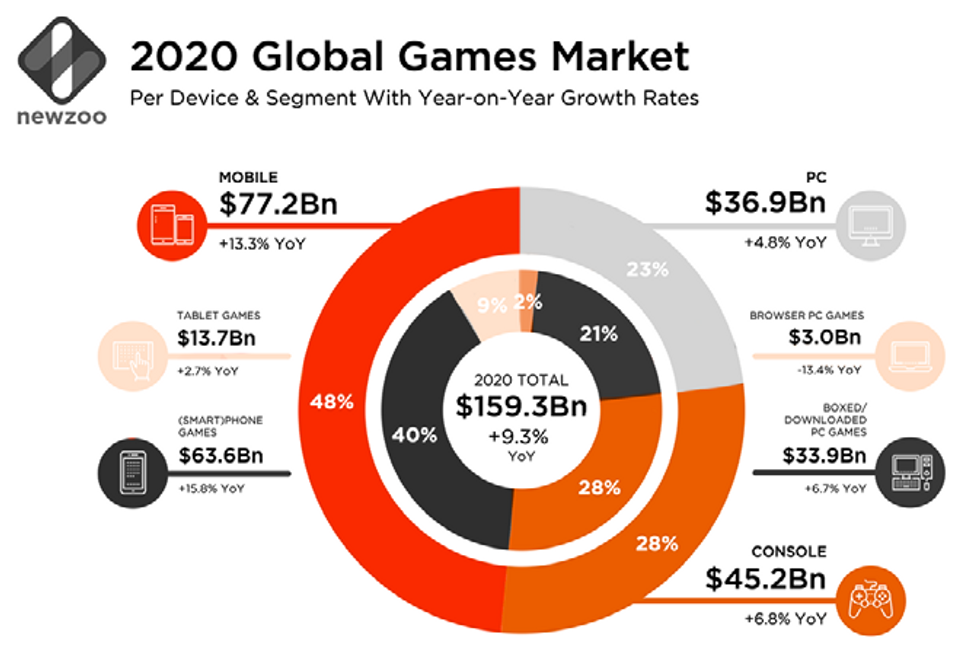 A graph from MaC Venture Capital's report highlights gaming's growth in 2020.Image from MaC Venture Capital
In addition to merging into other sectors, those tropes are starting to inform how people operate in new spaces, including what industry observers have termed the "metaverse." MaC sees this space as a virtual world "where we will not just play games but socialize with friends, shop, learn, earn a living, perform, transform, travel and escape.

"Many believe that the metaverse will not only be the next great computing platform — one that rivals the internet itself — but also a virtual world where billions of people come to transact trillions of dollars," the report says.
The ubiquity of gaming has created a stronger desire among consumers to be able to participate in their content.
And, especially among young people, the way one's digital self is presented to the world is closing in on its real-world analog.
"Your inventory of items, the character you play with, the skins you have, the avatars you choose – these things are becoming as important as wearing a Starter jacket was when I was in high school," Palank said.
MaC is currently raising capital for its next fund; Palank said he expects about 25% of it will be deployed to gaming.
The report, entitled "The State of Technology & Culture: Gaming Takeover," touches on gaming's darker side as well, including its issues with misogyny and a lack of diversity among developers and characters. This, despite the fact that people of color have a proportionately higher engagement with gaming, as the report details.
"There is a lot of work to be done to ensure that this new gaming-influenced world is the kind of world in which we want to live," the report states.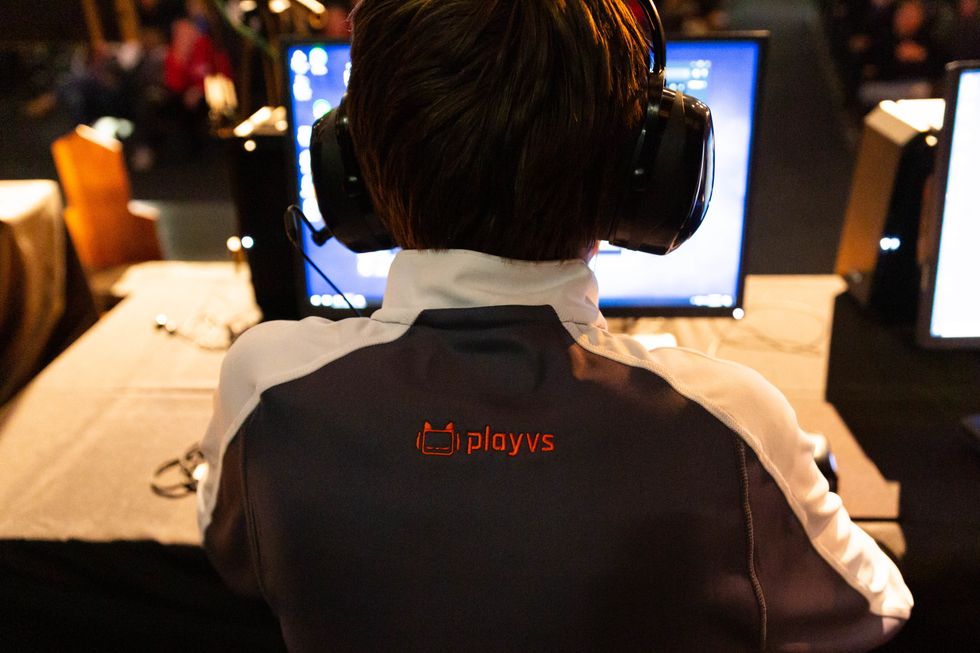 PlayVS employs has key relationships with educational institutions as well as partnerships with major game publishers including Riot and Epic. Image from PlayVS
As for what MaC will actually do to avoid a world of underrepresentation and gaming addiction, among other potential problems, the firm's partners ascribe to a philosophy of "investing in the future that we want to see," Palank said.

For example, Cross Culture Ventures was an early investor in PlayVS, a company that enables high schools and colleges to run esports programs and participate in leagues and tournaments. Palank pointed to the priority that PlayVS places on increasing access to gaming as one reason the firm found it appealing. The company was founded by Delane Parnell, who is Black.
"If it were a team that didn't care or know about diversity challenges in gaming and had no passion about rectifying those issues, I think PlayVS would have been a less attractive investment," Palank said.
The report also highlights L.A.-based Glow Up Games and Robin Games as companies poised to bring more diversity to the industry.
Los Angeles is likely to play a big role in the firm's investment strategy. Palank said he expects at least half of the fund's future bets will be L.A.-based.
MaC's L.A.-based investments in gaming also include Artie, which is seeking to change how mobile games are distributed; FazeClan, whose culture-shaping initiatives include retail, esports and content production; and Within, whose Wonderscope app is designed to give kids AR-enabled interactive story experiences.
Fresh off raising a $7 million seed round in February, Jill Wilson took the first step any founder traditionally takes when launching a new startup: She called up a real estate broker and leased an office.
"I would not have ever considered a remote workplace before," said Wilson, co-founder and CEO of mobile game maker Robin Games. "I was very squarely in the camp that you need to be in the same room to create a great creative product."
Less than a month later, the coronavirus sent Wilson and her team home, where they have been working ever since. Some employees left Los Angeles to be closer to family and live in cheaper cities like Atlanta and New Mexico. "I will never require people who moved away to come back," Wilson said.
Despite being scattered across the country instead of shoulder-to-shoulder in the office they rented on Abbot Kinney, Wilson has been surprised how productive her team has been. "I've done a shocking 180 on this," said Wilson. "I'm a convert to a distributed workforce."
Wilson says it is a big advantage to be able to recruit from a vastly bigger pool of candidates, not just those in Los Angeles or willing to move here. And she says her employees are much happier now that they don't waste time sitting in traffic commuting to Venice, California. "I think that's one of the reasons my team is so efficient, because they can literally roll out of bed and start working," she said.
Startups' early days are usually defined by young and over-caffeinated engineers huddled around monitors, not Zoom meetings and virtual happy hours. Apple, Hewlett-Packard and Google were all famously started in garages. A newer generation of startups launched in co-working spaces, but proximity has always been seen as a crucial ingredient for building a young company.
"Investors have questioned how well a business can find its footing and grow — especially in its early days — without close, personal collaboration among employees," wrote Paul Condra, a lead analyst at Pitchbook, in a research note. "Similarly, as organizations scale, the distributed model is often viewed as an impediment to that growth, which has made it harder for companies using it to raise money. For venture investors, the ability to see a company's physical offices, meet the team and witness first-hand the central hive of day-to-day activity is a key part of regular due diligence."
Nearly all office workers have been forced to work remotely since mid-March, but the transition for young startups has arguably been among the hardest. Whenever the day comes when employees feel safe enough to return, investors interviewed by dot.LA say they still prefer to back companies that have an office.
"You just can't achieve the same level of productivity if everyone remains totally remote," said Mark Suster, founding partner of Upfront Ventures. "When we return to some sort of new normal, whatever that normal is, people are still going to need to congregate in close proximity with each other."
"I'm still of the old school that I like to see a team in the same place to the extent possible. So I'm looking forward to the day when a team can be in the same place," said Eric Manlunas, founder and managing partner of Wavemaker Partners. "There's a lot of positives that come out of that."
When the UK-based startup network Founders Forum interviewed hundreds of founders recently, 63% said what they missed most about the office was spontaneous conversation and collaboration.
Investors agreed that the younger a startup, the more crucial it is for employees to be together. It also is much more important for a founding team who has not worked with each other before to be together. "You need that connective tissue in the early days," said Sanjay Reddy, co-founding partner of Unlock Venture Partners.
However, just because offices are still important does not mean that things will ever go back to the way they were before the pandemic. "I do believe the genie is out of the bottle," said Reddy. "I don't think we're going back to the office full time ever again."
Nearly half of organizations with office space say they expect to reduce their physical office footprint as a result of the coronavirus, and more than 20% expect to reduce it by more than 25%, according to S&P GLOBAL. The new normal for startups will likely include a degree of remote work and more openness to hiring employees who don't want to live in high-priced cities.
"I don't think any company is fully ready to embrace fully remote yet because so much is unknown," said Matt Hoffman, a partner and head of talent at M13. "But we see companies that were very reticent to have anyone work remotely, and now they're taking some steps to see what works well. No one should go from zero to 60 overnight."
Condra, the Pitchbook analyst who studies workplace trends, says the real test of remote work will be when it is viewed not as an accommodation, but as a benefit. He is curious to see if a venture fund will specifically target fully remote companies because they view them as a competitive advantage, but he has not seen any doing that yet. It seems that for all the reasons workers do not miss offices: traffic clogged commutes, annoying co-workers, sad desk lunches – most companies still view the benefits of offices outweighing their cost.
"Is there a tipping point where a company comes along and says, 'We can do better if we're distributed than we can do in an office'?" asked Condra. "Once that is proven, the model will become mainstream."
The list of successful fully remote startups is a short one. But Gitlab, which is valued at $2.75 billion and employs 1,200 people in 67 countries, all of whom are remote, is invariably at its top. Whether the company is a one-off, largely because of the remote-friendly nature of its business – providing software for developers – remains to be seen.
"A lot of people like going into the office to focus on work," said Hoffman. "I don't think that will ever go away."
Even Wilson is not ready to go fully remote. She is keeping Robin Games' Venice office in the hope that some of her team can eventually return there for meetings and brainstorming sessions. Even though she is allowing employees to work from anywhere indefinitely, she sees a symbolic importance to maintaining a physical headquarters with her company's logo on the front door.
"It's nice to have roots," she said. "We want to have a base for our company."