The Ultimate LA Guide To The Metaverse
Christian Hetrick
Christian Hetrick is dot.LA's Entertainment Tech Reporter. He was formerly a business reporter for the Philadelphia Inquirer and reported on New Jersey politics for the Observer and the Press of Atlantic City.
Illustration by Ian Hurley
Sly Lee, Isaac Castro and Mauricio Teran have spent the last seven years building a machine that can fuse the virtual world with the real one.
Long before the "metaverse" became a buzzword, the co-founders of Marina del Rey-based Emerge envisioned a future when people could touch what's behind their electronic screens. Friends would high-five while playing virtual reality (VR) games. Artists might mold digital clay with their bare hands. Loved ones could hug or grasp each other's shoulders from miles away to express themselves—without words or emojis.
---
"There was something that was very important for us humans that was missing [from virtual experiences]," Castro told dot.LA. "The sense of touch."
That vision took a step closer to reality in January, when Emerge unveiled its first device that lets people feel virtual reality with their bare hands, using ultrasonic waves. The startup—which has raised $31 million from investors and is currently trying to raise another $200,000 on Kickstarter—is among many Los Angeles area companies with grand ambitions for what's now dubbed the metaverse: the hottest and most inescapable tech trend of the moment, which promises to one day deliver immersive and extensive online worlds.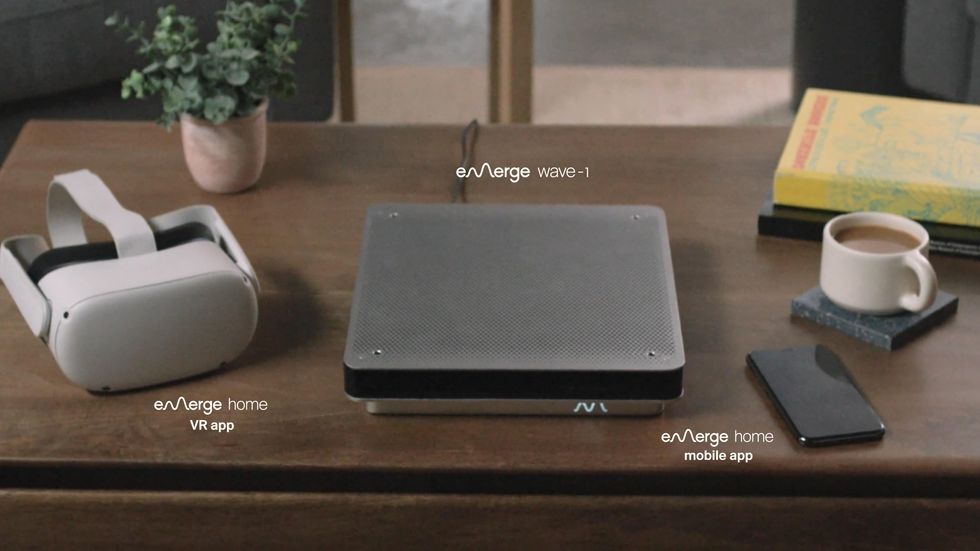 Emerge's various virtual reality devices.Courtesy of Emerge
The metaverse is a loosely defined term for a hypothetical iteration of the internet, where users could work, shop and socialize inside 3D virtual realms. The technologies involved typically include virtual reality and augmented reality (AR), as well as platforms for digital goods that can be created, sold and transferred from one platform to another. Meta, the social media giant formerly known as Facebook, brought a lot of attention to the metaverse idea when it renamed itself last October, but it's hardly the only company working on the concept.
Across L.A., companies both new and established are building and betting on the metaverse to varying degrees—from animation studios making virtual reality movies, to electronics companies designing hologram videos straight out of a sci-fi story. These investments are tied to a lucrative promise: the metaverse is projected to be a nearly $800 billion market opportunity, according to Bloomberg Intelligence. For the region's entertainment industry, in particular, the metaverse could present a new way to create and deliver content and engage with fans.
"It's inherently a creative medium, and content will be at its core," said Christina Heller, CEO of Sylmar-based Metastage, a 3D video production company that turns actors into holograms. "L.A. has been excited about it from the jump, so we definitely are one of the main international cities for metaverse innovation."
For all the recent hype, the metaverse concept is still in its infancy and years away from arriving, experts said. From VR headset makers to digital avatar platforms, companies are coming at the market from different directions, and it could all prove difficult to stitch together. VR, in particular, has experienced hype cycles before that initially brought attention and capital to the industry, only to see people lose interest later.
"We're not even at the first pitch of the first inning of a nine inning game," said Peter Levin, managing partner of the Santa Monica-based venture capital firm Griffin Gaming Partners. "We've got the equipment to contemplate playing the game, and that's still an exciting moment to be in, but we're super early."
A Whole New Game
Gaming companies are poised to build much of the metaverse scaffolding, and become big winners financially: Video game firms could collectively earn up to $413 billion in metaverse-related revenue by 2024, according to Bloomberg analysts.
In some ways, a preview of the metaverse can be found on gaming platforms such as Roblox and Microsoft's "Minecraft," where players can easily build their own virtual worlds, from spaceships to medieval castles.
Santa Monica-based Super League Gaming has planted its flag inside these open gaming environments. Among other things, the company sells ad inventory inside Roblox and "Minecraft" that can reach more than 75 million players monthly; its Bloxbiz ad platform, for instance, deploys virtual billboards and features 3D characters that are programmed with branded dialogue.
"Of course, we're very thoughtful about how to make sure that we are not interfering with the player experience, or having a dialogue that would be anything other than enjoyable," said Matt Edelman, Super League's chief commercial officer.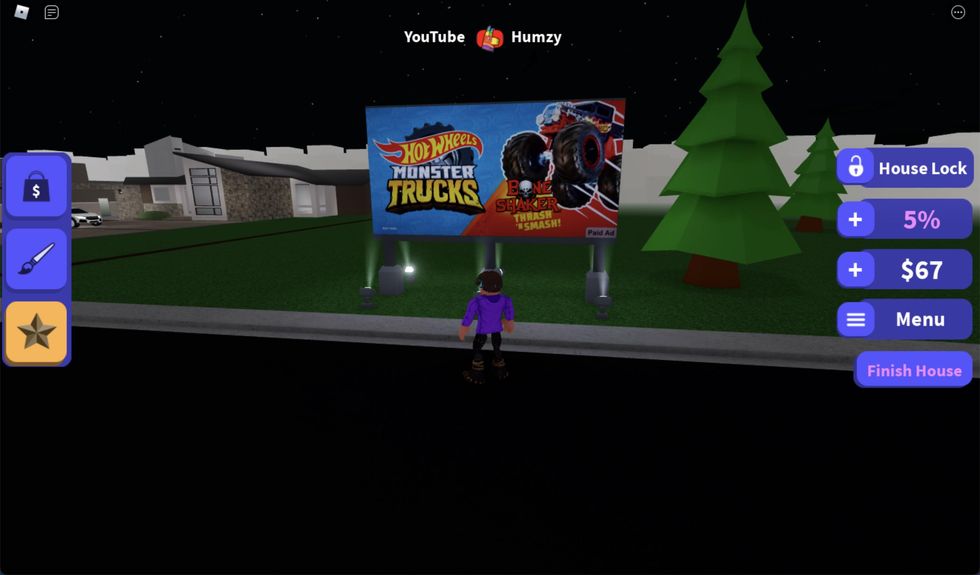 A still from Super League Roblox featuring a player in front of a Hot Wheels ads.Courtesy of Super League
In 2021, Super League reported a 466% increase in its annual revenue, to $11.7 million. Edelman expects open gaming environments to become even more popular, creating new consumer habits and business models much like social media did in the previous decade.
Roblox, "Minecraft" and Epic Games' "Fortnite" appear to be the early metaverse leaders, Bloomberg analysts wrote in December. But there's still time for Santa Monica-based Activision Blizzard to catch up, thanks to its ability to attract large numbers of players to titles like "Call of Duty" and "World of Warcraft," they noted.
The embattled game publisher—currently in the middle of a $69 billion acquisition by Microsoft—could add social features and more user-generated content to feed the demand for open gaming environments, experts said. Rivals like Chinese tech giant Tencent—which owns West L.A.-based game developer Riot Games—could do the same.
"That's where some disruption will occur because I think players are going to demand it," Edelman said. "They're going to want to start to be more in charge of creating the most exciting experiences that they then choose to play."
The Meta-Creators
The idea that users could build, own and monetize their digital works is a major pillar of the metaverse concept. Some local companies offer early tools to do that.
Marina del Ray-based Genies established itself by building cartoonish avatars for celebrities like Rihanna and Russell Westrook, who use them for social media and sponsorship opportunities. The company, which has raised roughly $100 million and just added ex-Disney boss Bob Iger to its board, claims to own "99% of avatar talent market share." It has secured partnerships with Universal Music Group and Warner Music Group to make versions for those labels' entire rosters of artists.
But that's only the start, according to Genies founder and CEO Akash Nigam: The company's mission is to "build an avatar for every single person on Earth," he told dot.LA. (Avatars, or digital figures that identify a particular person, are expected to be a key feature enabling users to interact with each other in the metaverse.)
Genies has started to roll out its consumer "avatar tools" in beta, with the goal of allowing anyone to create avatars and digital wearable items that consumers own as non-fungible tokens (NFTs). Genies collects a 5% transaction fee each time a wearable NFT is sold, a company spokesperson said. Users can commercialize their creations any way they please.
"If a talent wants to use it in a movie, they can use it in a movie," Nigam said. "We want to be able to empower the creators to create their own digital identity ecosystems, instead of just relying on the current Web2 ecosystems that exist today."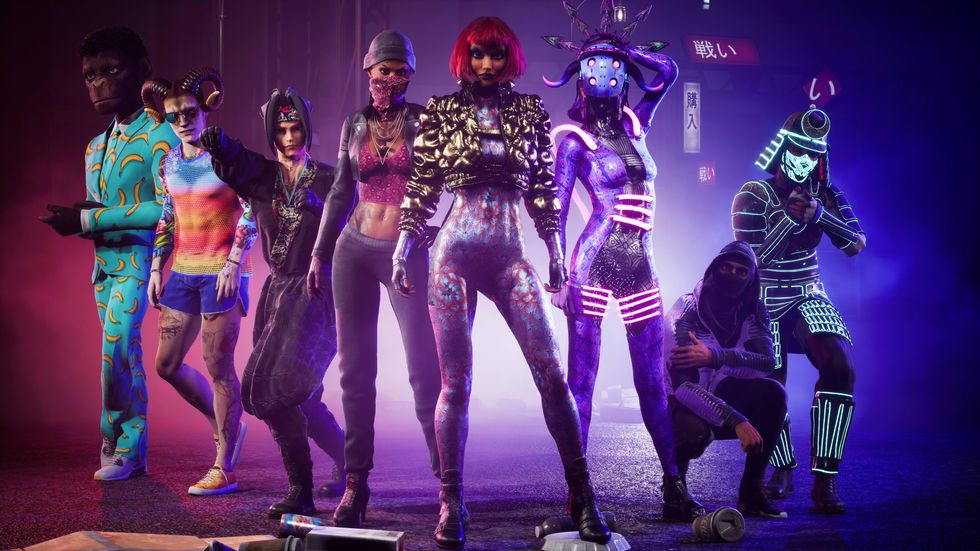 A still of DNABlock's 3D avatars.Courtesy of DNABlock
Another avatar company seeking to disrupt the creator economy is L.A.-based DNABlock, which has raised $8.2 million in seed funding since September. The company's flagship Replikant software lets users make video game-quality 3D avatars and animated content without needing experience in coding or animation.
"The goal for DNABlock is to democratize the world of 3D animation," company co-founder and CEO Anthony Kelani told dot.LA. "Right now, animation is super hard, very expensive [and] unscalable. There's not enough game studios or animation studios to make the metaverse, and I don't feel like the metaverse should actually be pieced together by any one company."
DNABlock also lets creators mint their avatars as NFTs—digital assets stored on a blockchain that give owners proof of authenticity. The company, founded in 2017, plans to open an L.A. studio specifically for creators working on NFTs.
Concerts From Your Couch
As gaming companies continue to build immersive 3D worlds that double as social networks, the metaverse is expected to present big opportunities for live entertainment.
Josh Neuman, a Los Angeles music industry and branding veteran, got the idea to bring entertainment properties into the metaverse after watching his kids play Roblox, a gaming platform used by half of America's children. He became fascinated with the platform's reach and creative possibilities—yet saw that there were few brands using it in 2020.
That led him to Melon, the gaming and metaverse development studio where he now serves as president. Since Neuman joined in August, the company has produced virtual concerts for emerging pop stars like Tai Verdes and helped create the first Roblox experience by a major sports league: NFL Tycoon, which lets fans build and manage virtual football teams. Melon also takes audiences to virtual concerts on hot air balloons or under the sea.
NFL Tycoon TrailerNFL Tycoon Trailer
"It's changed the game as far as what a non-real life experience can be," Neuman said.
Neuman sees virtual experiences as a new way for entertainers to engage with—and monetize—their audiences. Investors seem to agree: L.A.-based Wave has raised $40 million to turn stars into digital avatars and put them on stages, while West Hollywood-based AmazeVR has raised nearly $31 million to bring VR concerts to music fans.
Virtual concerts grew in popularity during the pandemic, giving fans the chance to see stars like Justin Bieber and Ariana Grande when it was unsafe to gather in person. It remains to be seen how well they'll do as in-person events emerge from COVID-19.
AmazeVR just launched a Megan Thee Stallion virtual "tour" where fans will gather in movie theaters, strap on VR headsets and watch the Grammy-winning rapper perform a pre-recorded set. The firm, founded in 2015, films live-action 3D videos of artists like Megan and inserts them in computer-generated worlds post-production.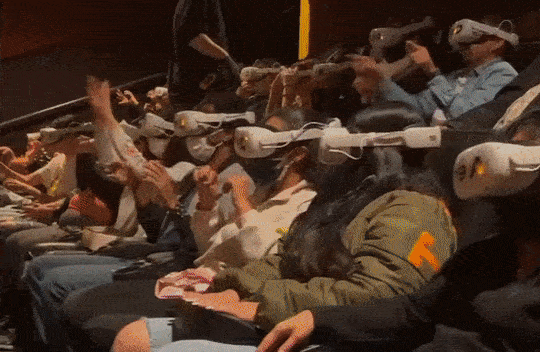 AmazeVR is offering virtual tours where music fans gather and watch concerts using VR headsets.Courtesy of AmazeVR
AmazeVR co-CEO Ernest Lee said his 50-person company is bullish on the future of at-home virtual concerts, believing they'll become a meaningful revenue stream for artists. The upcoming in-person tour is partly aimed at introducing VR to fans who may not own a headset.
"To accelerate adoption, it needs to be culturally relevant," Lee said. "You need to have content and experiences that can be basically driving the cultural zeitgeist."
Although the technology behind virtual shows has improved, there are still limitations that prevent them from feeling truly immersive. Artists, for example, can't feed off the crowd, noted Howie Singer, a New York University professor who closely watches tech trends in music. He sees virtual shows becoming a compliment to real ones, but doubts artists with smaller fan bases can capitalize.
"I think we've shown that there is a business in the live space that can happen virtually," he said. "But it wasn't enough to sustain any of these businesses or artists [during the early days of the pandemic], unless you were the superstars."
Lights, Cameras, Metaverse
Ben Grossmann got to the top of the movie business as a visual effects artist, winning an Oscar in 2012 for the Martin Scorsese-directed film "Hugo." But Grossmann grew discouraged by the "passive" medium of movies; he and his colleagues would build beautiful 3D worlds, only to show audiences just a small rectangular slice of it in the finished product.
So in 2013, Grossmann co-founded Magnopus, a Downtown L.A.-based content tech company that takes fans inside movies through virtual reality. The firm has created VR experiences for films like Pixar's "Coco" and Warner Bros.' "Blade Runner 2049." Magnopus has grown significantly amid the ongoing metaverse hype; it acquired a London-based VR firm last year and plans to add more than 50 people to its 160-person team this year.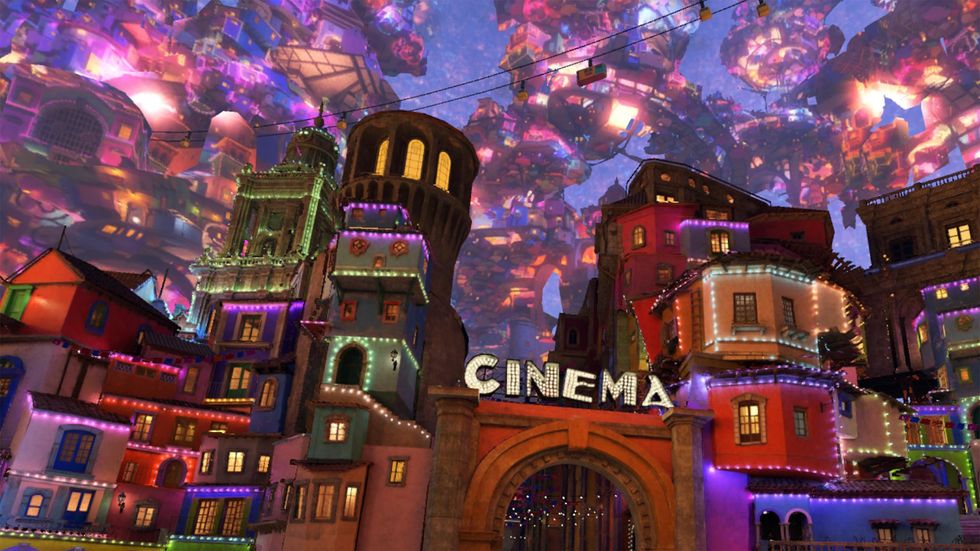 A VR recreation of the Land of the Dead from Disney's "Coco."Courtesy of Magnopus
Grossmann believes the VR medium has the potential to change the nature of storytelling, allowing fans to experience stories from the perspectives of different characters and make decisions that can alter the plot. Magnopus has experimented with letting audiences inside of stories and found that they immediately want to make changes.
"That means that it becomes much more complex and much more diverse and much more unique than any story ever could have been," he said. "So we move away from storytelling to story participation, where the storytellers are no longer directors [but] become guides."
Hollywood players like Disney and Paramount have tasked executives with exploring the metaverse opportunity. Gaming giants are looking into film and TV applications, too: Epic Games, which operates a virtual production lab in Los Angeles, led a recent $20 million investment in Spire Animation Studios, a new studio with offices in Burbank that plans to use Epic's Unreal Engine software to bring movie characters into the metaverse.
"We understand the correlation between storytelling in a filmed context, playing games and having experiences," said Miles Perkins, Epic's Unreal Engine business director for media and entertainment. "We're really pushing in a way that I'm incredibly excited about, and I think that you can safely say that Hollywood is equally excited about this."
Meta Machinery
Sylmar-based Metastage has already brought fans inside of TV shows, helping to create an augmented reality experience for the Hulu series "Light as a Feather." Founded in 2018, the 10-person firm turns actors and artists like Lil Nas X into holograms using its "volumetric video" studio—filming people with 106 cameras to capture every conceivable angle.
The company's creations can largely be viewed through VR headsets or smartphones. But Christina Heller, Metastage's CEO, thinks her company's content would reach its full potential if immersive technology was further developed.
"Having to hold a device as an intermediary between me and the hologram is a step in the right direction, but it doesn't really do justice to what we're capturing," she said. "True holographic display tech that doesn't require any eyewear—that is the sci-fi fantasy."
Enter companies like Los Angeles-based Proto, which sells seven-foot-tall booths for beaming 3D images of people into conference rooms—or, in Diddy's case, his son's birthday party in L.A.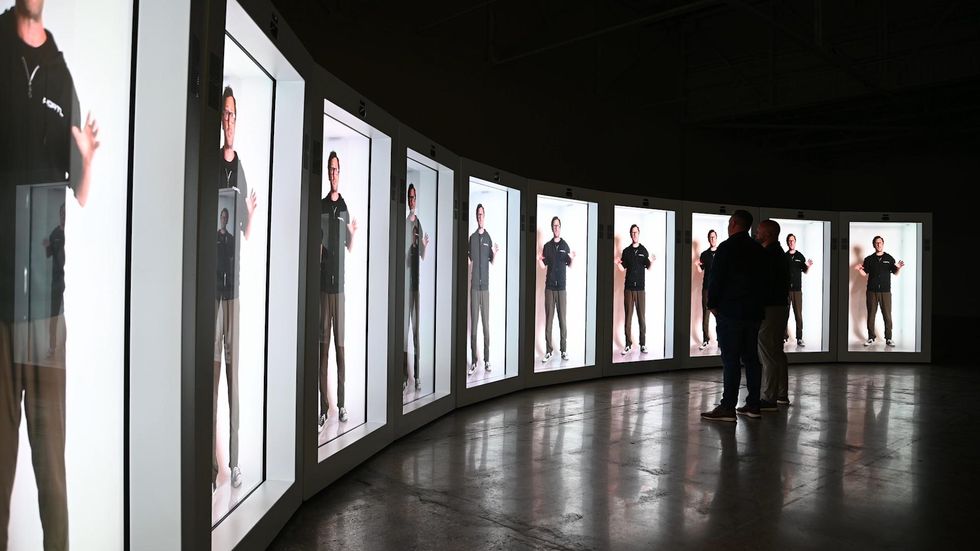 CEO David Nussbaum beaming into 12 Proto booths at once at the company's factory in Michigan.Courtesy of Proto
Launched in 2019, the company sells its machines for $65,000 each and rents them for $25,000, CEO David Nussbaum told dot.LA. (It has a two-foot-tall version that will come to market this year with a target price under $2,500). Proto, which has raised $15 million to date, has sold more than 100 units of its hologram booths, he said. The company just won an innovation award during this month's SXSW conference in Austin.
"I was not aware of the metaverse when I started this," Nussbaum said. "But the more I understand about this incredible future world that we're gonna all be living in, it became clear to me that this was much more than just a hologram projection device: This is a window into the metaverse."
Meta, the company formerly known as Facebook, has grabbed the lion's share of metaverse attention thus far. But Santa Monica is home to another social media giant that may be the biggest name in augmented reality: Snap.
While Meta wants consumers to strap on Oculus headsets and completely immerse themselves in 3D environments, Snap's vision is to overlay computer-generated content onto the physical world. The company has developed AR glasses it calls Spectacles, which aren't yet for sale but promise to attach 3D graphics onto people and places, much like its Snapchat app. The company also just launched a new feature that lets creators turn locations into AR experiences.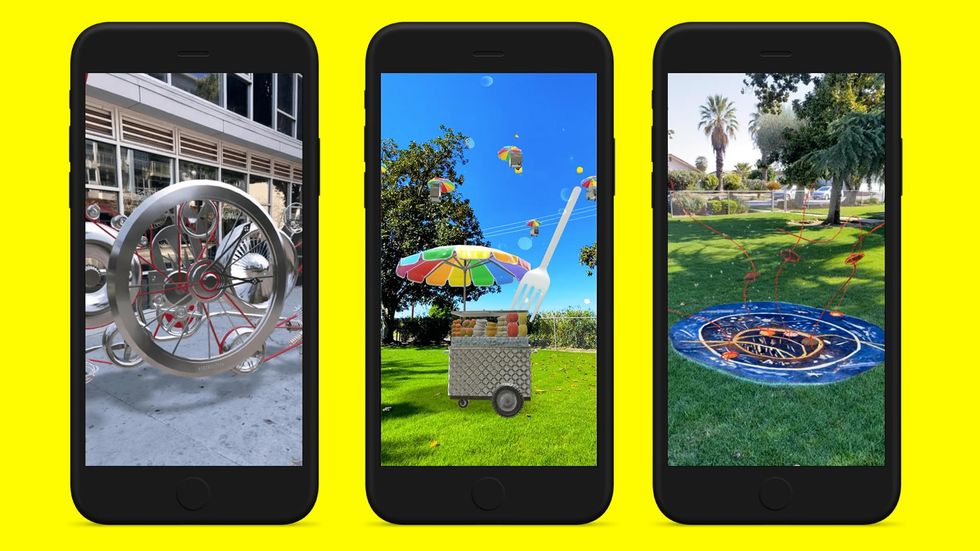 Snap's AR lenses being using in a public setting.Courtesy of Snap
Although VR and AR hardware has come a long way (and come down in price), it's still an open question whether enough consumers will be comfortable strapping electronics to their faces on a regular basis. Another major obstacle to the metaverse fantasy is interoperability, or the idea that users will be able to take their digital assets from one platform onto another. Some are skeptical that this can become a reality because of technical issues.
"If you take one 3D model from one platform to another platform, it renders completely differently," said Jason Steinberg, co-founder and managing partner of Pretty Big Monster, an immersive digital marketing company based in Studio City. "There are so many backend pipeline issues to overcome."
In the meantime, Pretty Big Monster is using existing technology to create immersive ads for clients—from Snapchat filters promoting the new "Scream" movie, to a VR experience taking fans inside the haunted Overlook Hotel from "The Shining." Pretty Big Monster, founded in 2018, said its revenue grew 44% in 2021 as demand for VR and AR marketing ramped up.
"The metaverses that people are talking about [coming] tomorrow, you don't need to wait [for]," Steinberg said. "There's so many cool things going on right now."
Christian Hetrick
Christian Hetrick is dot.LA's Entertainment Tech Reporter. He was formerly a business reporter for the Philadelphia Inquirer and reported on New Jersey politics for the Observer and the Press of Atlantic City.