metaverse
Genies, a startup that makes virtual avatars out of musicians, celebrities and, very soon, everyone else, is moving from Venice to a 20,000-square-foot converted warehouse in Marina Del Rey.
The move comes on the heels of Genies' $65 million Series B fundraise. The new space is five times the size of the startup's former office; it includes a recording studio, screening room, 25-foot ceilings and enough space to double the company's current employee count of about 60.
It's both a necessary step to accommodate the company's aggressive hiring plans and a bet on L.A.
"Genies' commitment to Los Angeles further demonstrates the unique offering only this city has," said Raise Commercial Real Estate's Mac Burridge, who represented Genies on the deal. "The confluence of entertainment and technology has never been more prevalent and companies like Genies are the reason for L.A.'s quick recovery."
It's go-time for Genies following the fundraise that brought tech veteran Mary Meeker onto its board. The company also recently brought on a new head of talent to lead the ongoing buildout of its executive team.
Genies joins a host of startups that already call Marina Del Rey home. Dollar Shave Club, System1, ZEFR, The Bouqs, Whatnot and Survios all reside in the unincorporated coastal community nestled between Venice and Playa Del Rey.
"Silicon Beach I don't even think is a fair way to describe Los Angeles tech anymore," said Burridge. "I think Los Angeles is a tech hub, whether your office is in the Valley, Downtown or in the South Bay and everything in between."
The deal is part of what Burridge describes as a "tidal wave of demand" for office space in Los Angeles coming out of the pandemic.
"Momentum hasn't, I don't think, ever been as hot as it is right now," he said. "There's never really been 12 full months of pent-up demand that's hit the market all at once, and that's what's happening right now."
Genies will follow a hybrid in-person and work-from-home policy beginning in September, said chief operating officer Jake Adams. Its staffing plans will focus on hiring engineers and designers.
What's the Value of an Avatar?
Genies has established itself by partnering with and building virtual avatars for celebrities including Justin Bieber, Rihanna and Russell Westbrook. The company says it controls "99% ownership of the celebrity avatar market." Last week, hip-hop trio Migos became the latest to render themselves into avatars with the company. Genies has also partnered with Warner Music Group to bring its avatar technology to the label's expansive roster.
Sporting a digital avatar can help celebrities advertise their milestones and ventures through an expanded online presence. It also offers potential for profiting from the so-called metaverse – the growing confluence of virtual worlds, social interactivity and commerce – by selling digital wearables and collectibles.

As for Genies, Adams, the COO, said the purpose of building avatars for celebrities is to encourage fans to adopt avatars of their own.
"That really shows users firsthand the potential of an avatar and how it can augment their digital and social experiences," he said.
Genies plans to launch a consumer app in the fall, where users can create their own avatars. Adams is working to craft partnerships that will enable those characters to travel across the digital universe. One established partnership is with GIPHY, which allows users to create GIFs that are shareable across numerous platforms.
Adams said Genies is currently testing its consumer-facing app with a small cohort. It plans to launch the app widely in conjunction with the digital goods marketplace that it is building with Dapper Labs, the blockchain company behind NBA Top Shot.
Genies does not share revenue or profitability figures but sources say the key challenge facing the company is whether they can become financially sustainable.
The marketplace is key to those plans. Genies will use it to create, market and sell digital goods, including NFTs, sometimes in collaboration with a brand or celebrity, for example to accompany an album release.
"When you think about our avatar itself, it really needs to sit in that flywheel where a user can buy something in our marketplace, they can adorn it on their Genie and then use it across their various digital experiences," Adams said.
Raising $65 million unlocks opportunities like investing in a new office and hiring a team to realize that vision. But it also comes with newfound pressure.
"The stakes definitely get pushed up," Adams said. "We have the resources to execute and now it's really just on us to make it happen."
From Your Site Articles
Related Articles Around the Web
Chief executive Akash Nigam previously told dot.LA that his company, which does not publicize its financials but has now raised over $110 million, hopes to earn "99.9%" of its revenues from the digital goods economy. The new funding will be used to further build out that ambition.
The round was led by BOND, whose general partner Mary Meeker publishes a widely read annual report on internet trends. NEA, Breyer Capital, Tull Investment Group, NetEase, Dapper Labs, and Coinbase Ventures also participated.
The digital goods available for purchase will come directly from Genies and in partnership with celebrities. They will continue using their avatars to promote milestones like new albums and song releases, and can now commemorate those milestones with "special edition" digital items they can sell to fans.
Later this year, users will also be able to purchase and trade tokenized digital goods – that is, digital swag whose ownership and uniqueness is verifiable with an NFT, or nonfungible token. That's the outcome of Genies' recently announced partnership with Dapper Labs, the company that operates two of the most popular NFT exchanges, NBA Top Shot and CryptoKitties.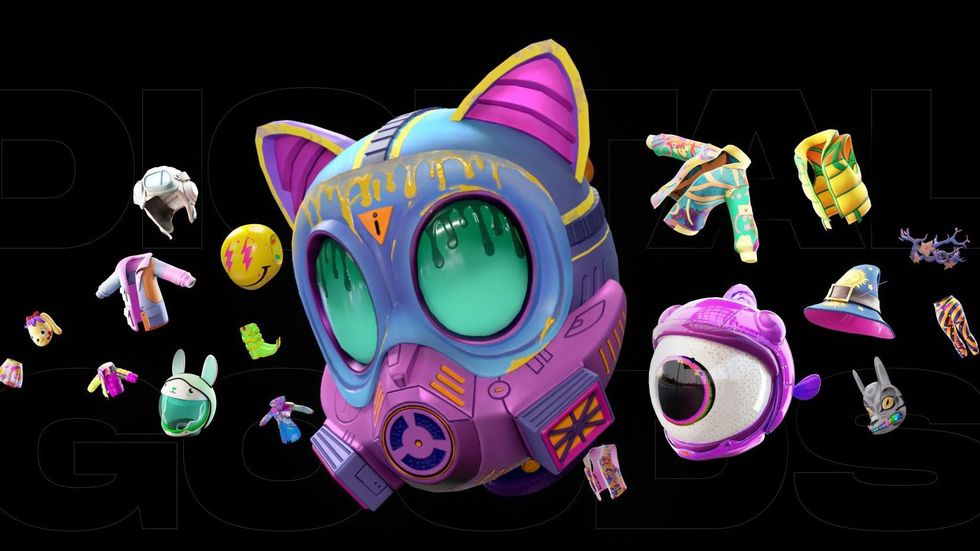 Genies is expanding into a digital goods marketplace where fans can buy digital items from creators and celebrities.
Genies launched in 2017 and quickly established itself as the go-to provider of cartoonish avatars for celebrities, with initial ambitions to operate as a digital avatar talent agency. It has worked with thousands of celebrities, primarily musicians, including Justin Bieber, Jennifer Lopez, Shawn Mendes (who is also an investor) and Rihanna. The company recently announced a partnership with Warner Music Group, which plans to use Genies' avatars and latest features for its roster of artists.

In late 2020, it partnered with Gucci and Facebook-owned Giphy to let those companies' digital users build avatars on their apps. This was a key step in Genies' ongoing expansion beyond celebrities. The company plans to grow its software development kit to incorporate the same functionality into other third-party platforms.
In addition to taking a cut of digital-good sales on its own platform, Genies also aims to make money through its integrations with other apps by capitalizing on its association with celebrities. Genies' outlines its pitch to other platforms in three steps: celebrities create digital goods on your platform; users buy those goods for their avatar; you get a cut. Genies also says it can help design the digital goods and analyze user data to guide design decisions.
With its new funding, new app and expanding SDK integrations, Genies hopes to enable users to bring their avatars anywhere on the web, and monetize the customization of those avatars. The company is building out its executive suite to oversee that vision.

It'll be competing with Snap-owned Bitmoji, among others.
"Genies has opened the door to a new type of virtual self-expression that is changing the way we interact with one another online – starting with celebrities and moving to all of us," said Meeker in a statement. "Using your Genie avatar, you can be anyone you want to be in the way you want, communicating across the vast digital landscape. We're excited for our partnership, and look forward to helping Genies grow the metaverse, one avatar at a time."
From Your Site Articles
Related Articles Around the Web
The gaming industry is poised for further growth, even after lockdowns ease, but insiders expect its future will look far different as companies add more social and interactive features and expand their worlds beyond a single platform.
That was the consensus from a panel at dot.LA's recent summit, where four heavy hitters from L.A.'s gaming industry traded thoughts on what they're preparing for. Panelists included Ophir Lupu, head of video games at talent agency UTA; Lisa Anderson, SVP of studio operations at Jam City; Rob Ricca, VP of corporate development at Scopely; and Gregory Milken, managing partner at March Capital, where he focuses on gaming investments.
Here are four key takeaways:
Gaming Less About Winning, More About Partnering
Already, games like Fortnite and Animal Crossing are providing users with virtual experiences that one would be hard-pressed to call a "game." Fortnite has hosted virtual concerts attended by millions, while Animal Crossing has provided a virtual venue for weddings, graduations and funerals.
"What's come to the fore in the pandemic is really that gaming is social," said Milken.
More than that, Anderson noted that COVID has underscored players desire to find meaningful connections through their consoles and apps. As a result, Jam City is exploring ways for players to find their friends more easily and join social groups, whether with IRL friends or ones they meet online.
Similarly, Ricca noted that many players of Scopely's "Star Trek Fleet Command" have turned the game's "Alliances" feature into "their core experience in the game," opting to partner up with others to game on an ongoing basis rather than linking up with an ad hoc group or going it alone.
As to how this trend will shape Milken's investment strategy, he said he'll be looking to place bets on cooperative gameplay experiences in the future.
Gaming Will Be Everywhere
As Anderson put it, "the ultimate goal is that players can experience their favorite game on the device of their preference. Looking to other mediums (like streaming services), consumers can already do this (PC, TV, Mobile, tablet, etc.) and it feels like gaming is a natural extension of that conceit."
This sort of "cross-play" already exists to an extent, but the industry is evolving further away from the closed ecosystems that rely on a single console. That reality won't fly with younger generations, who've grown up with a more open ecosystem that has shaped their expectations.
"They will expect all game environments to be open for all of their friends and other players to join and experience rich social interaction with each other, regardless of where they are physically located and the number of other players they want to interact with," Ricca said.
Lupu surmised that as more game-streaming services come on the market to rival incumbents like Playstation Now or Google Stadia – which give console and PC gamers near-instant access to titles without requiring downloads – the industry may see large platforms build better access for players to move across different platforms and interact.
As a hypothetical example, Lupu said: "You could imagine how Amazon's new streaming game service Luna could connect with Twitch and allow viewers to 'jump in' or somehow interact with their favorite streamers playing games. (Same with Stadia and YouTube, etc.)."
Esports Will See More Cooperation and, Possibly, Consolidation
For all the hype that esports generates, it's a rather small business, generating just north of $1 billion per year – a fraction of the $150 billion-plus gaming market. Its function often appears to be more of a marketing tool than anything, whether for the game titles themselves or for teams that leverage their roster's followings to sell other items like merchandise.
Unlike a traditional sport, games have an owner – Riot Games owns League of Legends, for instance, but nobody owns soccer. This potentially weighs the scales of influence in favor of game developers and publishers, and away from esports teams. But as the teams grow more famous and build more brand equity of their own, their leverage will continue to grow.
This leads Milken to conclude: "I think we'll see further development between teams that operate and game developers and publishers and thinking about how they jointly work together to create value."
Fans Mix with Celebrities in the Metaverse
Although it's still anyone's guess what will be the ultimate version of the metaverse – a parallel virtual world, kind of like a more immersive version of the internet – what appears unambiguous is that the metaverse offers a unique opportunity for IRL stars to engage with their fans.
"It creates incredible touch points for non-gaming clients – certainly mostly in the music space," said Lupu. "It provides a really unique and interesting opportunity for talent of all types to interact with their fans." Expect these to continue, in other words.
But such interactions won't be exclusively between fans and stars. Milken said he sees the metaverse introducing a new level to in-game interactivity that is an increasingly important component of what gaming offers consumers.
"The metaverse as a hangout place, where you're experiencing things together, is really interesting to me," he said.
When asked to place their bets on what consumers are most likely to see in the industry, the panelists unanimously chose the concert of the metaverse, agreeing that in their various lines of business it is a future that has to be taken seriously. That nobody has much idea of what exactly it will entail suggests that the metaverse will emerge over a prolonged period, with a series of incremental changes that eventually transform gaming. See you there.
From Your Site Articles
Related Articles Around the Web