upfront ventures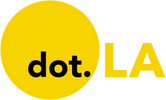 Get in the KNOW
on LA Startups & Tech
X
upfront ventures
Courtesy of Upfront Ventures
Sign up for dot.LA's daily newsletter for the latest news on Southern California's tech, startup and venture capital scene.
After taking last year off due to the pandemic, the Upfront Summit—the blowout venture capital conference staged by Santa Monica-based venture firm Upfront Ventures—was back with a bang this week. And befitting one of Los Angeles' biggest VC industry events, the stars were out in full force at the Banc of California Stadium—including an Oscar-winning actress, multiple Grammy Award-winning musical artists and a Super Bowl-winning NFL quarterback.
The event kicked off Tuesday morning with a conversation with Issa Rae, the creator and star of the hit HBO series "Insecure," who discussed her efforts to invest wealth back into her native South Los Angeles. An active angel investor, Rae has backed the likes of coffee chain Hilltop Coffee + Kitchen and skincare startup Topicals. "I definitely want to be known as someone who provided opportunities, but also created an infrastructure for others to do the same," she said.
But it was Wednesday's agenda that was packed with most of the event's celebrities. First off was Seattle Seahawks quarterback Russell Wilson; joined onstage by his brother, Harry, the pair plugged their brain-training startup, Limitless Minds, by talking up the importance of mental conditioning in athletic training regimens. Russell Wilson—who also co-founded the Jeff Bezos-backed mobile gaming app Tally—added that he chooses to back companies much like he would choose a team to compete alongside.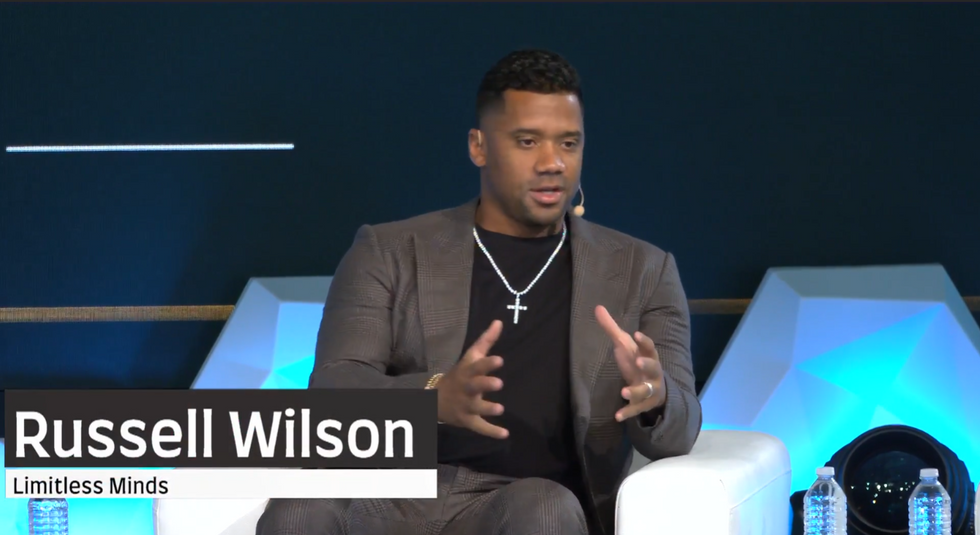 Seattle Seahawks quarterback and Limitless Minds' Russell Wilson at the Upfront Summit 2022.Courtesy of Upfront Ventures
"Who you have around you—I think that's a really critical part of allowing your mind to be at the highest, the most prestigious level it could possibly be," Wilson said.
Next up was Oscar winner and "Big Little Lies" star Laura Dern, an active venture investor who discussed how her personal values of uplifting women and protecting the environment inform her investment strategy. Dern has backed the likes of organic baby formula startup Bobbie as well as UNest, a North Hollywood-based savings app for parents.
Dern said she's passionate about inspiring other women to invest, since she felt excluded from conversations about money when growing up. "I was raised always talking about art, but I think as a girl, no one was talking to me about money," Dern mused.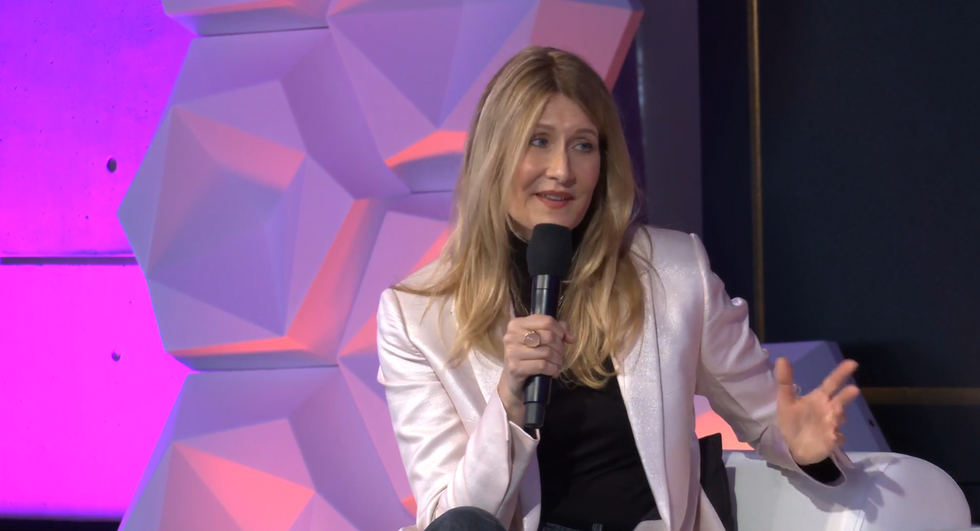 Actress Laura Dern speaking at the Upfront Summit 2022.Courtesy of Upfront Summit
Iconic rapper LL Cool J was also in the house to discuss his lengthy career and what he looks for when working with founders. As an angel investor, the rap mogul has backed the Black-led workflow management software Forethought through multiple rounds.
LL weaved a typically colorful analogy when discussing who he chooses to collaborate with in the venture world, as well as the VC industry's need to diversify its ranks. "I don't care what color the cat is—I just need a cat who can catch rats," he said. "I just need a cat who is competent, and there are competent cats of all colors. So let's get all the best cats and make this industry look more like the world."
The Wednesday afternoon session saw socialite, influencer and cryptocurrency advocate Paris Hilton take the stage on a Web3-focused panel moderated by her husband, M13 co-founder Carter Reum. Hilton said she was drawn to crypto after having dinner with Ethereum's founders in 2017; she subsequently minted her first NFT in 2019, and has since become a prolific mover in the space. The "Simple Life" star is also eyeing the metaverse after launching a virtual playground called "Paris World" in collaboration with game platform Roblox. "Paris thinks anything we're doing in real life, we'll [soon] be doing in the metaverse," Reum quipped.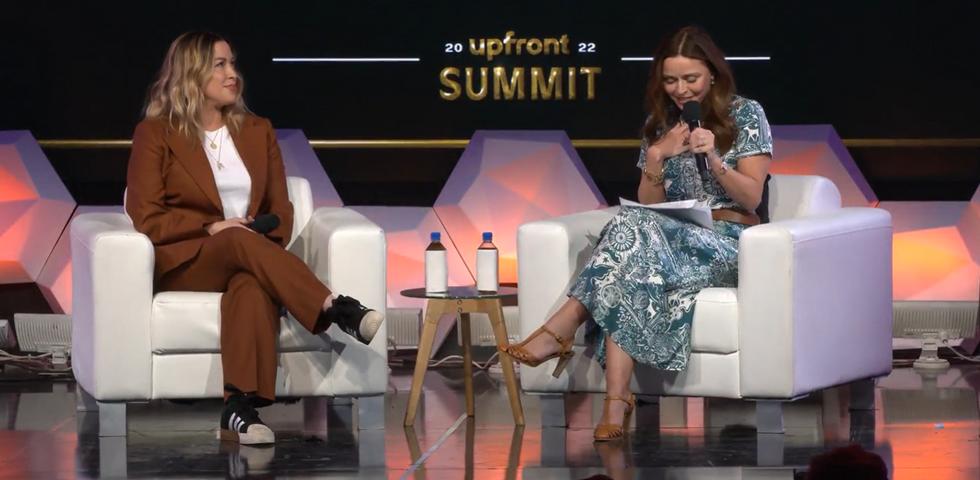 Grammy winner Alanis Morissette (left) on stage at the Upfront Summit 2022.Courtesy of Upfront Ventures
The summit was closed by seven-time Grammy winner Alanis Morissette, who discussed how she views her creative process. While short on venture investments, Morrisette described herself as a "chief empathy officer."
"Whether we're doing artwork, or coming up with an activism plan that will dovetail with a tour, it has to be something I'll jump out of bed for in the morning—or else it'll fall flat," she said.
Amid a hectic day of panels and networking at Upfront, Morissette lauded the importance of resting and reseting one's mental state when pursuing any endeavor. "Some of the best ideas I come up with are when I walk away from something that's being asked," she noted.
One A-list star who billed on the conference's agenda yet absent on Wednesday was Natalie Portman. The Oscar-winning actress skipped the event due to illness, Upfront said.
Courtesy of the Upfront Summit
Sign up for dot.LA's daily newsletter for the latest news on Southern California's tech, startup and venture capital scene.
Jeffrey Katzenberg didn't mince words when addressing the elephant in the room during his appearance at the Upfront Summit on Wednesday—saying he learned valuable lessons from the rapid demise of his short-form TV app Quibi.
"I'm humbled by [Quibi's] failure; I'm glad we got out when we did and we were able to return money to investors," Katzenberg said onstage at the venture capital conference in Downtown Los Angeles. He argued that while Quibi's content was solid, the startup "didn't have product-market fit"—alluding to its April 2020 launch amid the early days of the coronavirus pandemic.
The app's thesis was to give Hollywood stars like Liam Hemsworth, Idris Elba and Queen Latifah a platform to produce content segmented into 10-minute episodes and made specifically to be viewed on mobile phones. But the pandemic, which kept people confined to their homes, destroyed Quibi's market for on-the-go content to be consumed during viewers' commutes. Some six months after launching with $1.75 billion in funding to its name, Quibi folded; Katzenberg returned roughly $600 million to investors and sold the app's library to Roku.
"The content that was made, I have to say, actually delivered on the promise of that in an incredible way, and it's worked brilliantly for Roku," Katzenberg said. "We didn't have product-market fit… I'm not looking for an excuse. I got my shot, people backed us, gave us an incredible amount of enthusiasm, support, access, money—everything we wanted and needed to get a shot at this, and it didn't work. And we moved very quickly to shut it down when it didn't work."
With Quibi in the rearview, Katzenberg has turned his focus to WndrCo, his Beverly Hills-based venture capital firm that is mostly investing in non-media ventures. The former Disney chariman and DreamWorks co-founder noted that he's particularly optimistic on NFTs; WndrCo has invested in at least six NFT-related companies since last year, according to PitchBook data, including crypto exchange Gemini, sports NFT exchange SportsIcon and OnChain Studios, which sells digital collectible toys as NFTs.
Katzenberg also shouted out WndrCo's investments in OpenSea, one of the most popular NFT marketplaces, and Dapper Labs, the company behind NFT platform NBA Top Shot as well as Dapper Collective, the virtual influencer startup formerly known as Brud. WndrCo founding partner Sujay Jaswa, who joined Katzenberg onstage, said the VC firm's investment approach is centered around the founders it chooses to back.
"Ninety-nine percent of the time, almost nothing we've invested in at the beginning is what it became—but the person [leading the venture] is who drove the outcome," Jaswa said. "That's really what we bet on with almost all of these earlier stage things, and that's what worked for us in NFT's."
Image courtesy of the Upfront Summit
Sign up for dot.LA's daily newsletter for the latest news on Southern California's tech, startup and venture capital scene.
In the wake of George Floyd's murder in May 2020, the corporate world was forced to reckon with its responsibility to communities of color—and one of the industries with the most soul-searching to do was venture capital.
VC firms have tried to make strides toward racial equity in recent years, but for many of the industry's leading Black investors, the changes have been mostly symbolic. Speaking at the Upfront Summit in Downtown Los Angeles on Tuesday, Elliott Robinson, a partner at Bay Area venture capital firm Bessemer Venture Partners, said many VC firms opted to make surface-level changes that didn't alter their actual, white-heavy power structures.
"There's a lot of diversity BS in venture capital—there still is," Robinson said in a conversation with Upfront Ventures partner Kara Nortman.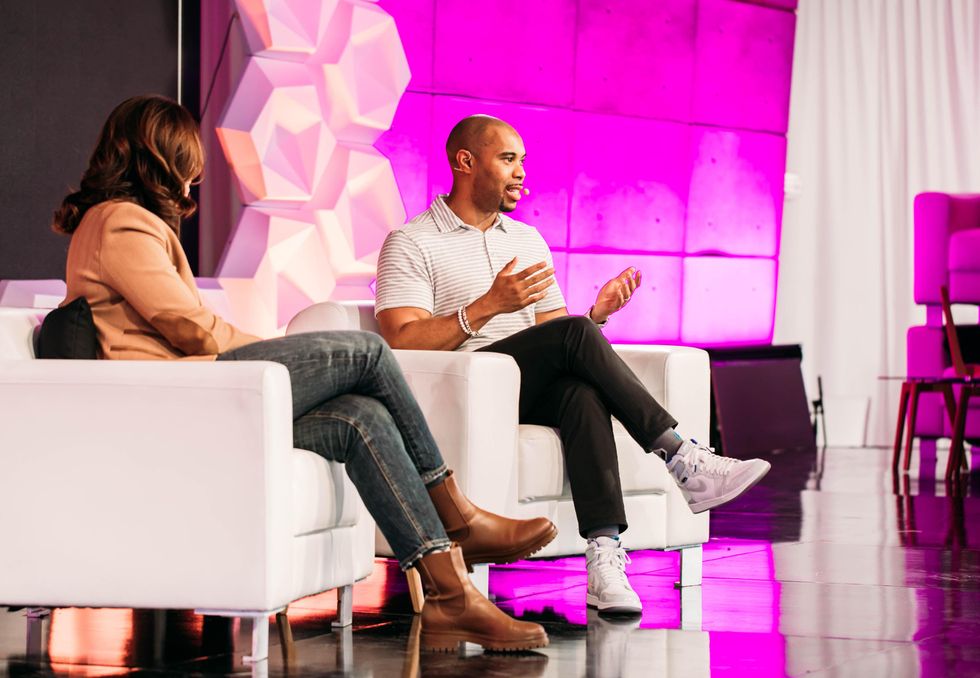 Elliott Robinson at the 2022 Upfront Summit in Los Angeles. Image courtesy of the Upfront Summit
Addressing the mostly white crowd on hand at the conference, Robinson noted that "fundraising for Black [venture capital fund] managers is half of what it is for non-Black managers. So for all the [limited partners] in the room, you really do have to just ask yourself: Why is that?"
Robinson is a board member at nonprofit group Blck VC, which is working to double the percentage of Black investors and venture capital partners by 2024. Yet Blck VC's targets in reaching those goals are still a relatively thin slice of the overall industry: only 6% and 4%, respectively (up from 3% and 2% currently).
Robinson said that in order to have more Black startup founders—who still struggle for a disproportionately low percentage of venture capital funds—it's critical that those founders can find support among VCs who represent their same cultural interests. Yet Black partners on VC funds remain rare, while it's even rarer for a Black person to be a limited partner investing in a VC fund.
"A decade ago, a lot of funds decided to change everyone's title to partner so they could [say], 'Look at all these women partners and [people of color] they have'—but there's no economics, no check-writing authority," Robinson explained. "I think there's five Black partners that can cut a check over $10 million in the country," he added, noting that one of them was GV partner Tyson Clark, who unexpectedly passed away last year.
Robinson said that helping to change those dynamics in his chosen profession is a key barometer of "what success means for me" as a venture capitalist.
"It's being the best investor I can—such that I can have very honest conversation with LPs in the room who I admire and respect, but can also level the playing field so that my skin color or the fact that I went to Morehouse College does not impact my ability to invest in the brightest and best founders that will define the next generation of business," he said.