epic games
epic games
Santa Monica-based PlayVS, a platform that organizes high school esports leagues, raised $10.5 million, SEC filings show.
The injection of money comes just as PlayVS is making a push to expand across all 50 states and diversify their offerings. The two-year old company raised $50 million this summer and with the most recent round, the company's total funding jumped over $100 million.
PlayVS declined to comment on the raise, but a spokeswoman for the company said it's "currently focused on growing its business, partnering with schools and continuing to strengthen its mission."
PlayVS partners with the National Federation of State High School Associations and 23 state associations, where it's recognized as a varsity sport. Students can play competitive team games like Rocket League, a game in which a player drives a car to play soccer, to earn a varsity letter and compete for state championships.
Over 21,000 schools and 143,000 students have registered so far. Like with varsity sports, a faculty member is required to supervise. Students register online under their school team, to compete in two seasons during the academic year, aligned with fall and spring sporting seasons. The cost is $63 for each participating student, $1,024 for 16 players per season.
The platform has seen interest rise as COVID keeps school-aged children at home.

Over the summer, PlayVS added Overwatch to their available games, partnering with the game publisher Activision Blizzard for the first time. The company also partnered with Riot Games and Epic Games, and students can compete in League of Legends or Fortnite.
The esports industry
was valued at over $1 billion last year
, and is
expected to grow
24% annually from 2020 to 2027.
From Your Site Articles
Related Articles Around the Web
Gaming is eating the world.

So says a new report issued Tuesday by L.A.-based investment firm MaC Venture Capital.
The report mentions the recent explosion of gaming companies – including Epic Games' $1.78 billion raise that valued it at $17.3 billion, Unity's $1.3 billion IPO that valued the Epic competitor at $13.7 billion and Roblox's $150 million fundraise that valued the kid's gaming "sandbox" at $4 billion — and that was before the pandemic boosted Roblox's user base.
But most of the analysis is devoted to the techniques and tools that gaming has popularized over the years, and that are fast proliferating into areas as diverse as retail, film production, medicine and national defense.
MaC, an early stage firm formed from a merger of Cross Culture Ventures and M Ventures, invests in tech companies it believes will benefit from shifting cultural trends and behaviors.
Underlying much of the firm's optimism around the gaming industry is its maturity, general partner Michael Palank told dot.LA. Multiple generations have now grown up with gaming, from early Nintendo consoles to mobile games and newly immersive platforms like Fortnite. That familiarity has pushed the mechanics of video gaming – taking action, leveling up, expanding your in-game persona – far beyond a traditional leisure activity, he said.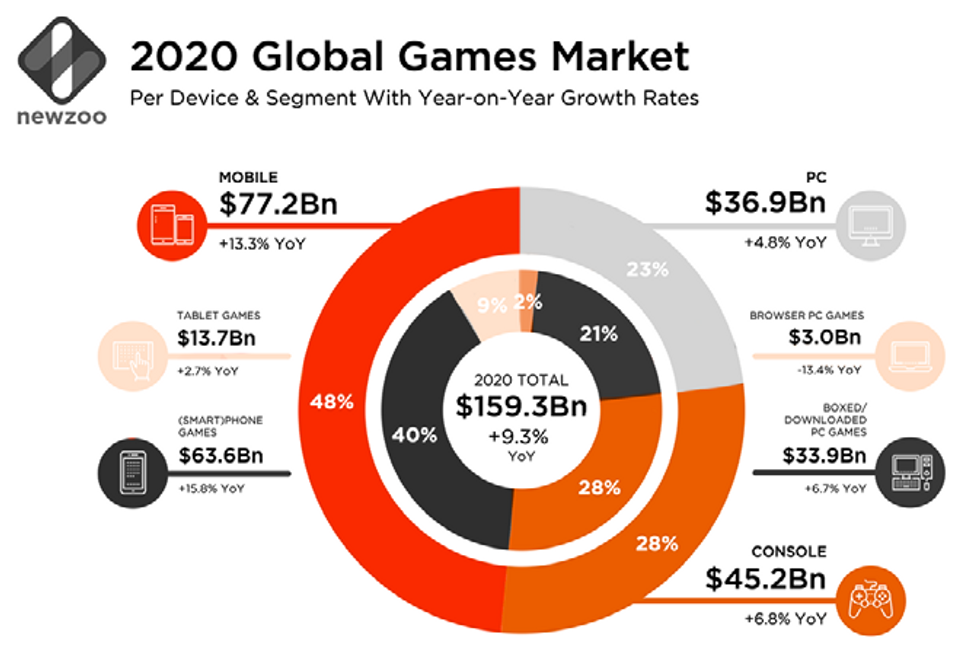 A graph from MaC Venture Capital's report highlights gaming's growth in 2020.Image from MaC Venture Capital
In addition to merging into other sectors, those tropes are starting to inform how people operate in new spaces, including what industry observers have termed the "metaverse." MaC sees this space as a virtual world "where we will not just play games but socialize with friends, shop, learn, earn a living, perform, transform, travel and escape.

"Many believe that the metaverse will not only be the next great computing platform — one that rivals the internet itself — but also a virtual world where billions of people come to transact trillions of dollars," the report says.
The ubiquity of gaming has created a stronger desire among consumers to be able to participate in their content.
And, especially among young people, the way one's digital self is presented to the world is closing in on its real-world analog.
"Your inventory of items, the character you play with, the skins you have, the avatars you choose – these things are becoming as important as wearing a Starter jacket was when I was in high school," Palank said.
MaC is currently raising capital for its next fund; Palank said he expects about 25% of it will be deployed to gaming.
The report, entitled "The State of Technology & Culture: Gaming Takeover," touches on gaming's darker side as well, including its issues with misogyny and a lack of diversity among developers and characters. This, despite the fact that people of color have a proportionately higher engagement with gaming, as the report details.
"There is a lot of work to be done to ensure that this new gaming-influenced world is the kind of world in which we want to live," the report states.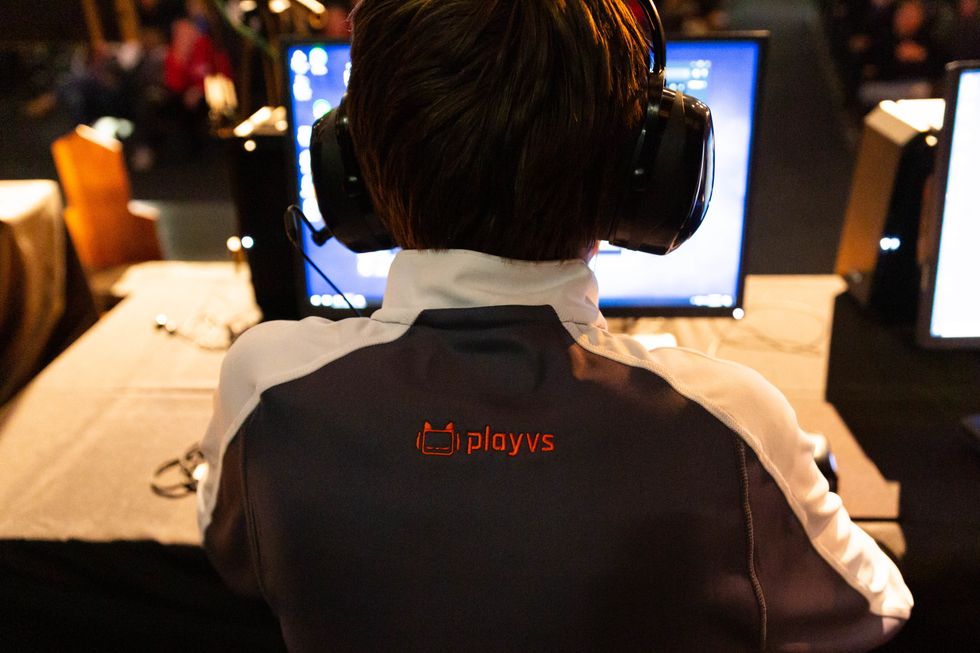 PlayVS employs has key relationships with educational institutions as well as partnerships with major game publishers including Riot and Epic. Image from PlayVS
As for what MaC will actually do to avoid a world of underrepresentation and gaming addiction, among other potential problems, the firm's partners ascribe to a philosophy of "investing in the future that we want to see," Palank said.

For example, Cross Culture Ventures was an early investor in PlayVS, a company that enables high schools and colleges to run esports programs and participate in leagues and tournaments. Palank pointed to the priority that PlayVS places on increasing access to gaming as one reason the firm found it appealing. The company was founded by Delane Parnell, who is Black.
"If it were a team that didn't care or know about diversity challenges in gaming and had no passion about rectifying those issues, I think PlayVS would have been a less attractive investment," Palank said.
The report also highlights L.A.-based Glow Up Games and Robin Games as companies poised to bring more diversity to the industry.
Los Angeles is likely to play a big role in the firm's investment strategy. Palank said he expects at least half of the fund's future bets will be L.A.-based.
MaC's L.A.-based investments in gaming also include Artie, which is seeking to change how mobile games are distributed; FazeClan, whose culture-shaping initiatives include retail, esports and content production; and Within, whose Wonderscope app is designed to give kids AR-enabled interactive story experiences.
From Your Site Articles
Related Articles Around the Web
As school gets back in session, the pandemic has limited the number of available extracurricular activities
PlayVS, which helps schools compete in esports leagues, expects participation this year to double or triple, due at least in part to COVID
Not all schools view esports the same way, and many are still considering the pros and cons
Under normal circumstances, going back to school is not just the start of a new academic year, but the renewal of extracurricular activities, whether on the debate stage or under the Friday night lights. This year, however, the pandemic has made gridiron glory and other activities nearly impossible. Could that lead to a banner year for high school esports?
Santa Monica-based PlayVS (pronounced "play versus"), which provides the technological and organizational infrastructure for high school esports leagues, thinks so.
"We're expecting 2-3 times the number of students that competed last year," said Clint Kennedy, PlayVS' director of education. "I think COVID is a chief driver."
A COVID Boost
Kennedy said 90% of U.S. high schools with a football program already use PlayVS or are on the waiting list. The company has an exclusive partnership with the National Federation of State High School Associations (NFHS), the main governing body of American high school sports. The relationship effectively turns esports via PlayVS into a fully fledged varsity sport at participating schools.
Founded in early 2018, PlayVS employs 46 people and has raised $96 million. In addition to having relationships with key educational institutions, it also has partnerships with major game publishers such as Riot and Epic Games.
Competing schools pay $63 per participating student. To accommodate increased demand the company will be rolling out a tiered pricing model this school year, including free scrimmage-only play on one end and a premium level at the other that allows schools to sign up more students.
"Schools are saying 'our teams are growing,'" said Kennedy, "so we've added this other layer to accommodate that growth."
Allen Whitten, principal at Sunny Hills High School, which has won two straight California Interscholastic Federation (CIF) esports state championships, said esports is "the one thing we haven't had to cancel, because they can do it from home." His school's esports coaches, Myra Deister and Sonya Joyce, expect student participation this year to double.
A spokesperson from L.A. Unified School District (LAUSD) said, "we expect interest in this extracurricular activity to expand during the pandemic."
Kennedy added that when COVID arrived this past spring, PlayVS "saw an uptick in our overall registrants" and that he has since seen increased interest from school administrators.
"Esports is in a unique spot to provide opportunities in a pandemic world," he said.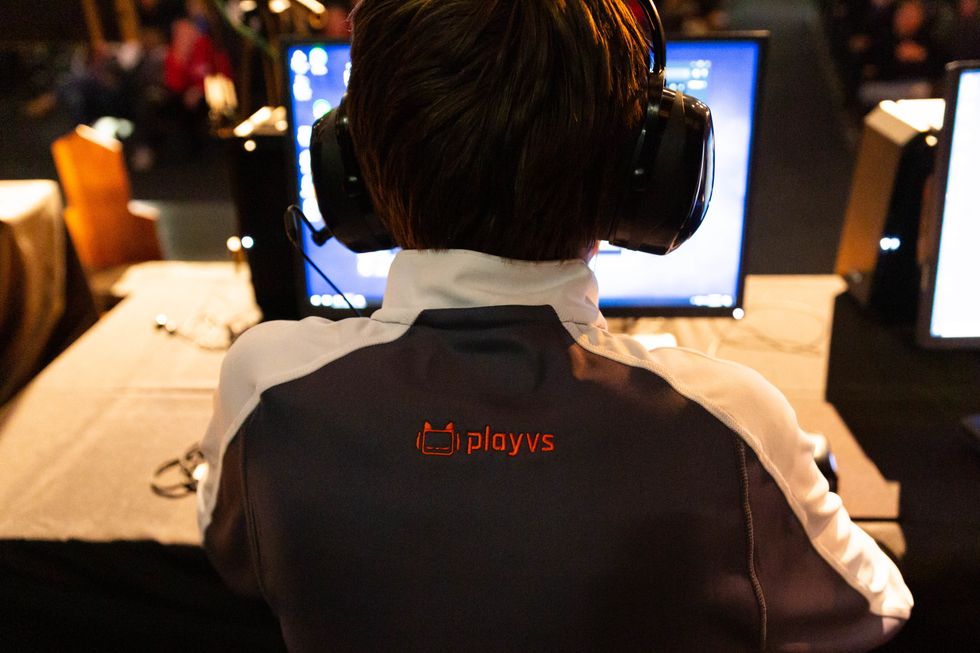 PlayVS employs has key relationships with educational institutions as well as partnerships with major game publishers including Riot and Epic.Image from PlayVS
Parents Hit Pause
But it's not so clear cut, said CIF director of corporate sponsorships Chris Fahey. "We had mixed reactions" this past spring, he said. "Some schools had interest in continuing with esports to give kids an outlet. Other schools were like, 'We understand it can be played remotely, but the whole reason we got into this is it brings kids together'."
"It's all over the board. It depends on the school," Fahey added.
At Sunny Hills, Principal Whitten noted that among his school's community, the impression of esports has "gone from something that will rot your brains to lots of positive things – teamwork, communication, high-level problem solving. Parents are very supportive – and now (their kids are) competing and winning and being offered scholarships to go to college."
He also pointed to the growth of the gaming industry – particularly in Southern California – as something his school is trying to help students prepare to enter. In addition to its esports teams, Sunny Hills offers an optional two-year gaming and coding curriculum. Whitten said he thinks his school's gaming program has helped it sustain the number of students at the school, even though it's in a district with declining enrollment.
Some parents and faculty members in Compton's school district have expressed concern that esports won't appeal to female gamers, said Mikle McBride, who directs Compton USD's technical and occupational program, which includes esports. At Sunny Hills, Whitten said esports attracts "boys and girls from all over the world" and many "different cultures.".
Another potential downside, said McBride, are concerns that students will commit too much time to gaming. His program takes steps to mitigate that, however, and he thinks the presence of esports in schools "will explode."
PlayVS' Kennedy noted that 42% of all students on PlayVS had never previously played a high school sport, so, he said, it's "engaging a whole group of students that haven't been engaged."
Many schools feel that esports encourages greater student-school engagement, said CIF director Fahey. Only about 800,000 of the approximately 1.8 million high school students in California are student-athletes, he added.
PlayVS focuses on team-based, strategy-oriented games like League of Legends and Rocket League, Kennedy said. He and Fahey both said research suggests structured gaming can help improve students' grades, behavior and attendance.
With PlayVS signups opening this week and carrying on through the beginning of October, Kennedy said the company is ready for whatever schools ultimately choose to do.
Even if his prediction proves optimistic, the future looks bright for esports in schools. Interest is growing at the college level. Fahey said the NCAA "has looked at it and said 'we're not there yet'," while Kennedy noted that PlayVS has already begun working with athletic conferences to support their forays into esports.
Marlon Nichols, whose L.A.-based MaC Venture Capital has invested in PlayVS, sees that trend advancing. "We're moving into more and more of a virtual world," he said, "so colleges are going to want to add this to their repertoire of what they offer students."