unity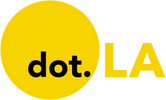 Get in the KNOW
on LA Startups & Tech
X
unity
CrimeDoor, an immersive augmented reality app launched last week, is straddling the space between mystery entertainment and crowdsourced crime solving.
The app was conceived by Neil Mandt, a longtime film and TV producer-turned-tech entrepreneur. A true crime enthusiast himself, Mandt said he saw an opportunity to merge the popular genre with immersive reality.
The AR environments are constructed based on real crime scene photos, police reports and eyewitness accounts.
A new augmented reality app launched this week allows anybody to feel what it's like to explore a murder site as it appeared right after the crime occurred. They may even be able to help crack an unsolved crime.
The app opens onto a map that shows users historic crime scenes in their area, using GPS data. Each crime comes with a case file that includes a list of articles, documents, photos, audio clips and videos curated by crime journalists and researchers that is meant to provide an organized synopsis of "the 5 w's and h."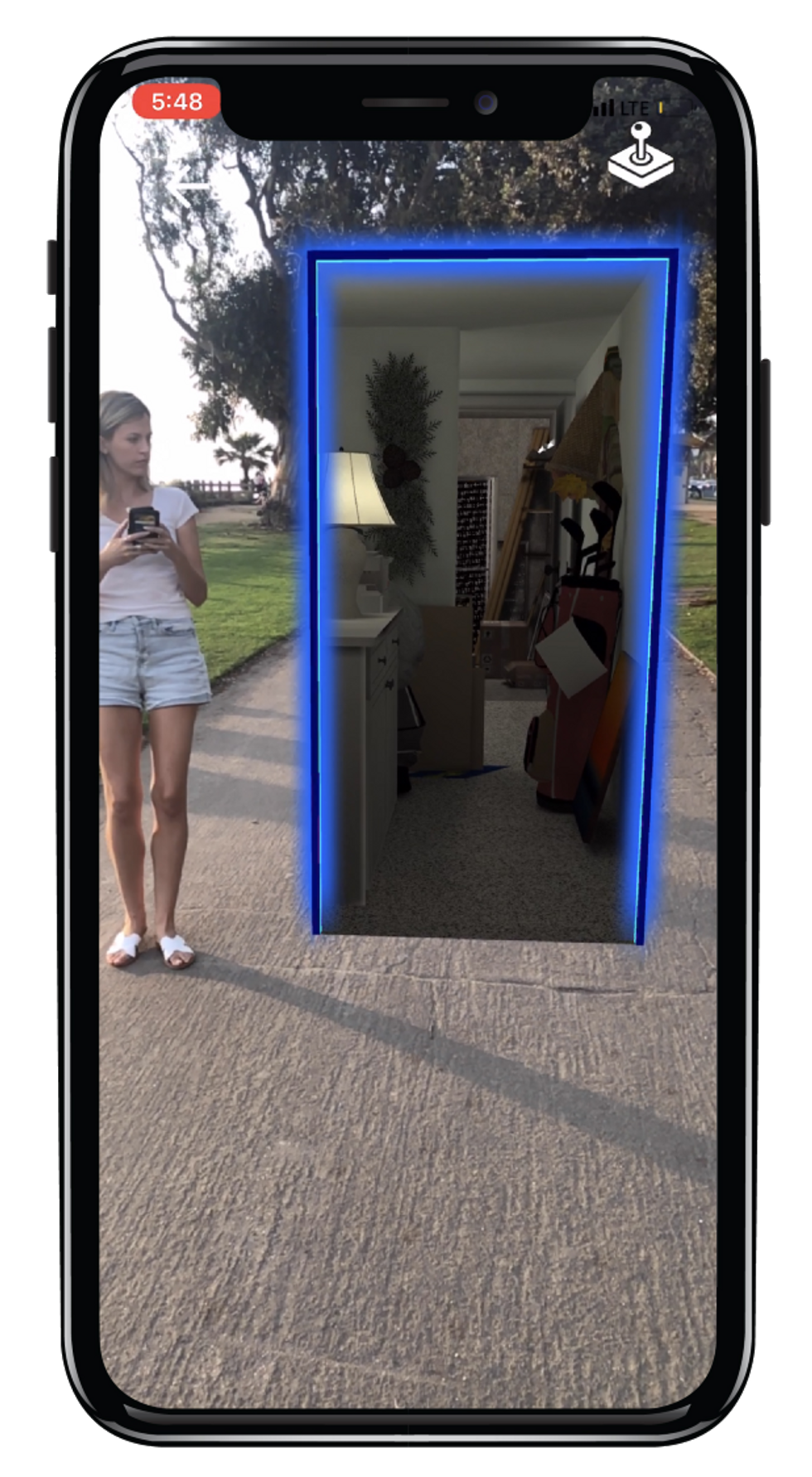 CrimeDoor was conceived by Neil Mandt, a longtime film and TV producer-turned-tech entrepreneur. A true crime enthusiast, Mandt said he saw an opportunity to merge the popular genre with immersive reality, an industry he's been increasingly involved in over the last few years and which he believes is "on the verge" of explosive growth.
The AR environments are constructed based on real crime scene photos, police reports and eyewitness accounts using CrimeDoor's patent-pending technology and Unity, a gaming engine.
Users can explore the crime scene using their mobile devices at the real, physical location when feasible, or with a joystick navigator from their own home. They'll see the scene as it was reconstructed, and can "pick up" evidence and enlarge it on their screens for closer inspection.

At launch, the app will contain about 500 cases and dozens of virtual doorways, Mandt said. Cases are free, but the app charges $1.99 to enter a door, or a monthly fee of $4.99.
Some of the cases are famous, such as the murder of OJ Simpson's former wife Nicole Brown Simpson or the shooting of John Lennon. But, Mandt said, most will not be as familiar.
One such case is that of Rebecca Zahau, a woman whose 2011 death in Coronado, California was ruled a suicide. The family contested the cause of death and filed a wrongful death lawsuit. Zahau's family has provided CrimeDoor with materials such as court documents and autopsy photos. A perpetrator was charged in a civil trial – not a criminal one – and Mandt said the family wants to bring the case back to light and give the public a chance "to look at it."
Mandt also noted he has heard great feedback from both user test groups and law enforcement agencies.
"The average detective has one hour on a crime scene and later a couple of photos and a matchstick and a hairy sock," Mandt said. "We have shown this to the FBI and law enforcement departments and without exception everyone compared it to DNA. The way DNA changed the game, this will do the same."
According to a company representative, a retired criminal investigator who helped to solve the infamous Golden State Killer case called CrimeDoor "a game changer for cold cases around the world."

UCLA law professor Eugene Volokh, who has studied and written about the intersection of AR/VR and law, told dot.LA that CrimeDoor should be wary of potential issues such as libel or needlessly upsetting a victim's family members. He emphasized, however, that such concerns are no different than those faced by any true crime storyteller, regardless of the medium.
"Generally, there are no legal or ethical problems raised by an AR or VR app as opposed to a documentary or a book," he said.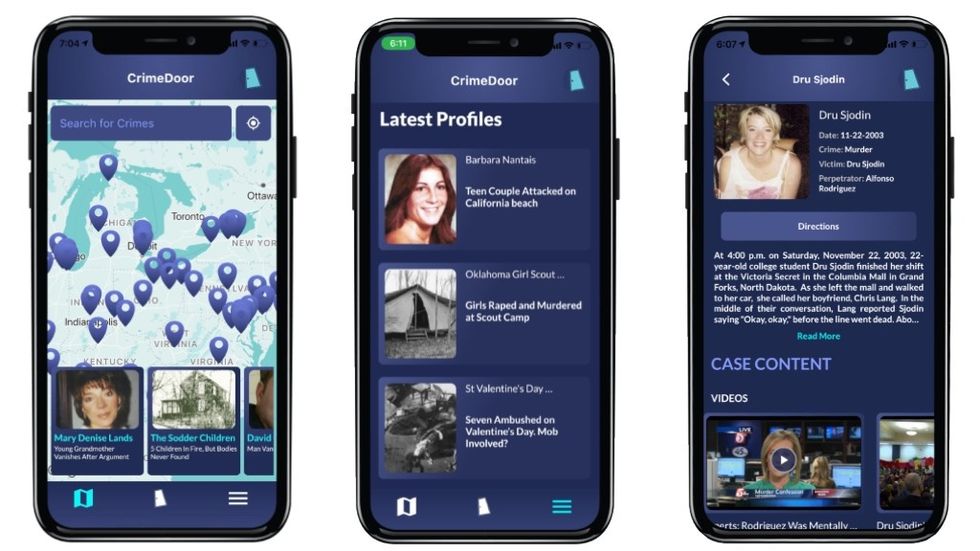 CrimeDoor, an immersive augmented reality app launched last week, is straddling the space between mystery entertainment and crowdsourced crime solving. Courtesy of CrimeDoor
Mandt, who is self-financing the app, sees partnerships with media companies as a big opportunity for future growth. He said an organization with legacy crime footage, such as "60 Minutes," could partner with CrimeDoor to build out the AR crime portal, re-air the legacy footage on television, then direct viewers to the app and share a cut of the income.

"I'm interested in where the social web goes and how other AR leaders come to us and say here's how we can collaborate," he said. "The tech community, I'm excited to see what kind of creative things they can do with this. And Hollywood – producers will look at this and come to us."
Mandt also hinted at potential expansion by augmenting the user experience with sounds and technology that stimulates a user's sense of touch. He's also considering adding a marketplace to sell merchandise and implementing a credit-earning system to allow for add-on experiences, such as a ride-along in the OJ white Bronco highway chase.
Down the line, CrimeDoor may incorporate advertising, Mandt said. The app may also eventually incorporate premium content, such as access to movies, shows and books related to a given case.
---
Sam Blake primarily covers media and entertainment for dot.LA. Find him on Twitter @hisamblake and email him at samblake@dot.LA

From Your Site Articles
Related Articles Around the Web
Gaming is eating the world.

So says a new report issued Tuesday by L.A.-based investment firm MaC Venture Capital.
The report mentions the recent explosion of gaming companies – including Epic Games' $1.78 billion raise that valued it at $17.3 billion, Unity's $1.3 billion IPO that valued the Epic competitor at $13.7 billion and Roblox's $150 million fundraise that valued the kid's gaming "sandbox" at $4 billion — and that was before the pandemic boosted Roblox's user base.
But most of the analysis is devoted to the techniques and tools that gaming has popularized over the years, and that are fast proliferating into areas as diverse as retail, film production, medicine and national defense.
MaC, an early stage firm formed from a merger of Cross Culture Ventures and M Ventures, invests in tech companies it believes will benefit from shifting cultural trends and behaviors.
Underlying much of the firm's optimism around the gaming industry is its maturity, general partner Michael Palank told dot.LA. Multiple generations have now grown up with gaming, from early Nintendo consoles to mobile games and newly immersive platforms like Fortnite. That familiarity has pushed the mechanics of video gaming – taking action, leveling up, expanding your in-game persona – far beyond a traditional leisure activity, he said.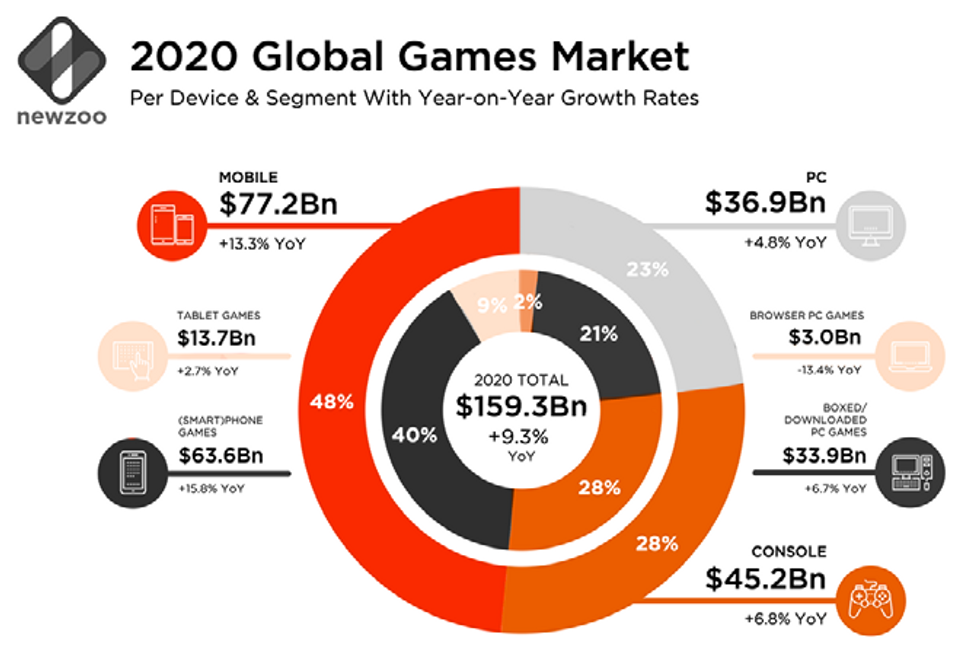 A graph from MaC Venture Capital's report highlights gaming's growth in 2020.Image from MaC Venture Capital
In addition to merging into other sectors, those tropes are starting to inform how people operate in new spaces, including what industry observers have termed the "metaverse." MaC sees this space as a virtual world "where we will not just play games but socialize with friends, shop, learn, earn a living, perform, transform, travel and escape.

"Many believe that the metaverse will not only be the next great computing platform — one that rivals the internet itself — but also a virtual world where billions of people come to transact trillions of dollars," the report says.
The ubiquity of gaming has created a stronger desire among consumers to be able to participate in their content.
And, especially among young people, the way one's digital self is presented to the world is closing in on its real-world analog.
"Your inventory of items, the character you play with, the skins you have, the avatars you choose – these things are becoming as important as wearing a Starter jacket was when I was in high school," Palank said.
MaC is currently raising capital for its next fund; Palank said he expects about 25% of it will be deployed to gaming.
The report, entitled "The State of Technology & Culture: Gaming Takeover," touches on gaming's darker side as well, including its issues with misogyny and a lack of diversity among developers and characters. This, despite the fact that people of color have a proportionately higher engagement with gaming, as the report details.
"There is a lot of work to be done to ensure that this new gaming-influenced world is the kind of world in which we want to live," the report states.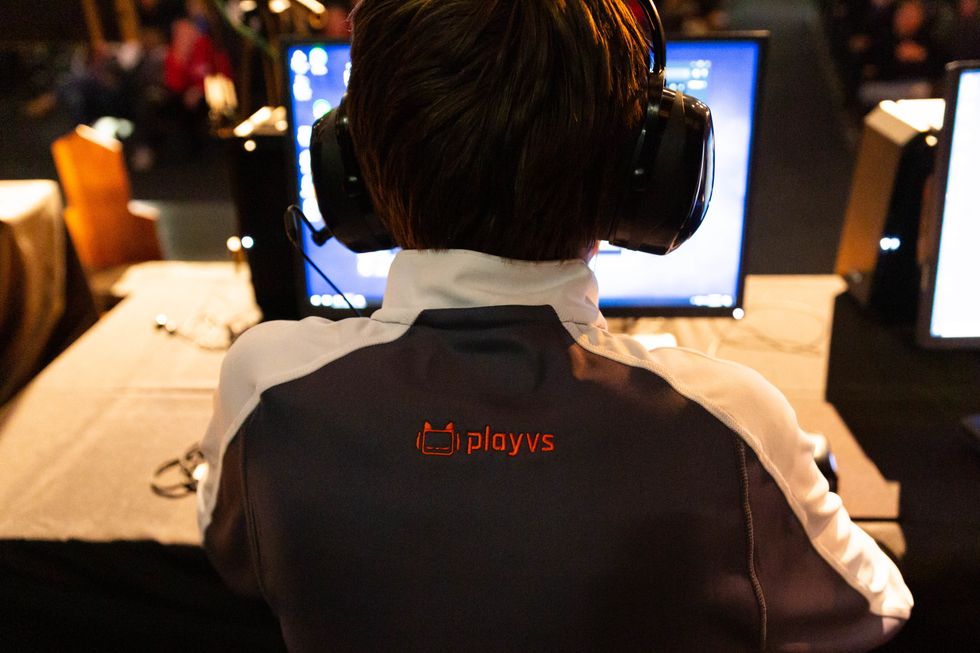 PlayVS employs has key relationships with educational institutions as well as partnerships with major game publishers including Riot and Epic. Image from PlayVS
As for what MaC will actually do to avoid a world of underrepresentation and gaming addiction, among other potential problems, the firm's partners ascribe to a philosophy of "investing in the future that we want to see," Palank said.

For example, Cross Culture Ventures was an early investor in PlayVS, a company that enables high schools and colleges to run esports programs and participate in leagues and tournaments. Palank pointed to the priority that PlayVS places on increasing access to gaming as one reason the firm found it appealing. The company was founded by Delane Parnell, who is Black.
"If it were a team that didn't care or know about diversity challenges in gaming and had no passion about rectifying those issues, I think PlayVS would have been a less attractive investment," Palank said.
The report also highlights L.A.-based Glow Up Games and Robin Games as companies poised to bring more diversity to the industry.
Los Angeles is likely to play a big role in the firm's investment strategy. Palank said he expects at least half of the fund's future bets will be L.A.-based.
MaC's L.A.-based investments in gaming also include Artie, which is seeking to change how mobile games are distributed; FazeClan, whose culture-shaping initiatives include retail, esports and content production; and Within, whose Wonderscope app is designed to give kids AR-enabled interactive story experiences.