jamie montgomery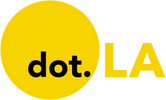 Get in the KNOW
on LA Startups & Tech
X
jamie montgomery
When one of Southern California's largest gatherings of tech investors and executives of the year in Southern California begins Wednesday it will be held virtually, just like every other event is these days.

What a difference a year makes.
Last year's Montgomery Summit, also held during the first week of March, brought together hundreds of tech titans to the upscale Fairmont Miramar Hotel & Bungalows in Santa Monica, just as the seriousness of COVID was becoming abundantly clearer every day.
It was the last time many people saw each other in the flesh.
By that point, some offices had already closed and other conferences on the tech circuit were cancelled - including the F8 developer meeting, the Game Developers Conference and YPO EDGE.
Researchers have linked up to 300,000 cases of COVID to a gathering of biotech professionals held in Boston the week before last year's summit.
The Montgomery Summit avoided a similar fate through sheer luck, according to Jeffrey Klausner, an infectious disease expert at UCLA's Fielding School of Public Health, who was among those at the time who said the conference could safely proceed.
"For a transmission event to occur you need a number of people who are actively infectious," he said. "They got lucky."
Up until that week, there had been only 100 novel coronavirus cases reported in the U.S., but just as the summit was starting, Los Angeles County officials declared a health emergency, confirming six new cases of coronavirus. They also warned for the first time schools and businesses could close.
Jamie Montgomery, co-founder and managing partner of March Capital and the well-connected impresario of the conference, said he spent several sleepless nights tossing and turning as he agonized whether to cancel the event he had spent a year planning. But he decided to press ahead – with modifications – after he said county health officials reassured him it was safe because there had not yet been a case of community spread in Los Angeles.
"If it was a week later, we probably would have canceled it," Montgomery said. "But before that, it was just kind of bubbling underneath the surface."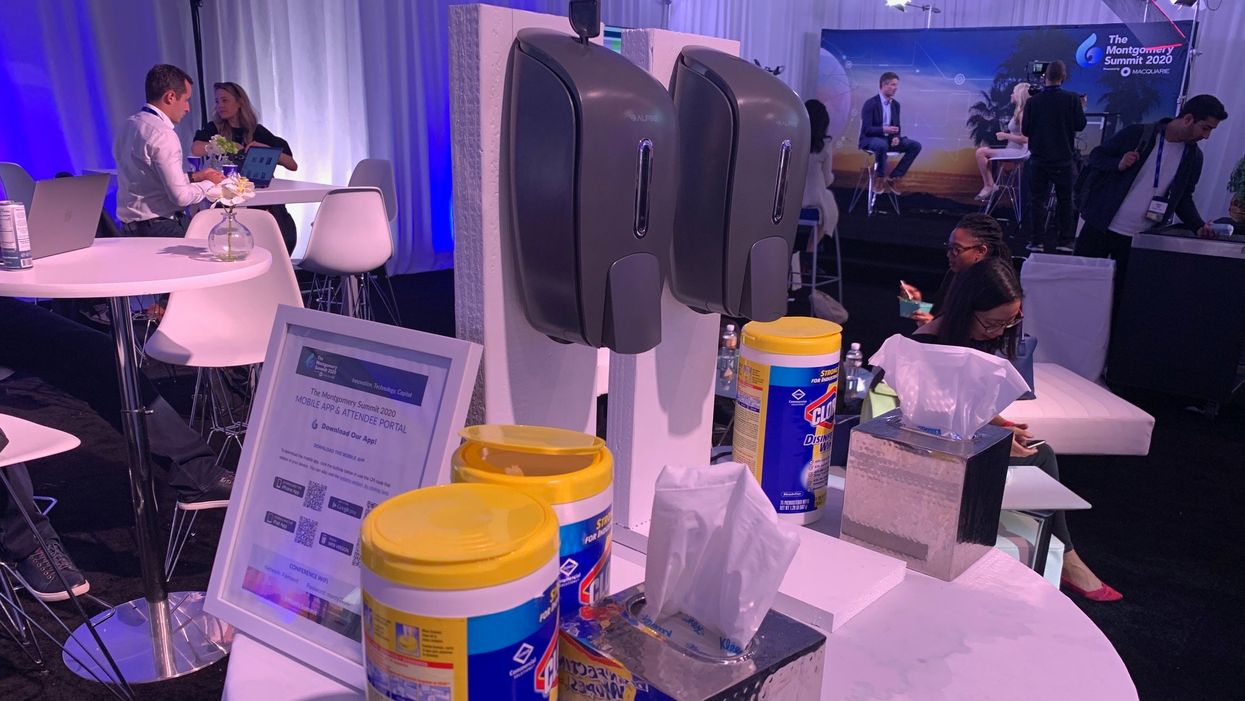 Hand sanitizer stations were popular at the 2020 Montgomery Summit. Photo by Ben Bergman
The conference went on with precautions that now seem routine but then were novel – ubiquitous hand sanitizer, a strict prohibition on handshakes, frequent cleaning of shared surfaces and a ban on foreign travelers. There was also a physician put on standby, presumably in the event that someone suddenly fell ill.

But no one yet knew about social distancing or masks and attendees crowded next to each other on white leather couches and lingered over buffet tables filled with trays of shared food, including edible mugs adorned with the conference logo.
"We were all quite naive," Montgomery said. "We probably all underestimated the perniciousness of the virus."
Only about 15% of the more than 1,000 registered to attend officially cancelled, though it seemed like much more as rows of seats remained empty and attendance thinned, especially as the conference stretched into its second day.
Tom McInerney, a Los Angeles-based angel investor who has backed Bird, Tala and Uber, said by that point he did not think it was safe to attend a conference. The previous week he stopped meeting people in-person and yanked his three-year-old out of school as he saw the number of COVID cases skyrocketing overseas.
"I was a little shocked that more people did not see it coming," McInerney said. "A virus doesn't obey the borders. It's such a hyper-connected world."
But plenty of other attendees pressed forward, believing the virus was being overhyped and not wanting to disrupt a familiar yearly ritual.
"Of course I was going to show," said Chuck Davis, chairman and CEO of Prodege, LLC, an Internet and media company, who has attended the 18-year-old conference for more than a decade. "It's L.A.'s biggest tech event of the year and I am a friend of Jamie."
Between the usual fare – pitch sessions from companies like 3D rocket-maker Relativity Space and interactive game publisher Scopely – organizers shuffled the line-up to include panels about the virus that was very much on everyone's mind.
Most predictions would prove far too optimistic. Michael Milken, the former junk-bond king turned medical philanthropist, said he expected a COVID test kit would be available in six months and economists forecast a swift recession based on how quickly China was returning to normal.
Davis remembers finding it hard to concentrate on panels with new headlines constantly popping up on his smartphone about the worsening virus.
"It was like going to school before the snowstorm is coming," he said. "You know they are going to cancel school. You can't focus because you see the clouds."
As the event concluded, Montgomery asked the thinned-out crowd to let organizers know if "anything happened."
"Some of you made a tough decision by coming here," he told a lunchtime audience nibbling on chicken salads. "I'll breathe easy the next couple weeks if nothing happens."
Montgomery now says he wondered whether he would come across as overly alarmist, but he says he always prefers to err on the side of transparency.
Most importantly, he never got any reports of any attendees later getting sick.
"We're very fortunate," he said.
This year's summit – held all online - features Eric Yuan, CEO & founder of Zoom, author Deepak Chopra, Darius Adamczyk, CEO of Honeywell, and Jim Whitehurst, president of IBM.
"This year, we're able to get these incredible keynotes because they're not traveling and they're available," Montgomery said. "We have our best lineup by far, ever."
There will be about 100 hours of content available exclusive to those who have paid and registered but for the first time, 12 hours of plenary sessions will be free for anyone to stream on YouTube, which will open up panels to a much bigger audience around the world.
Still, video conferencing can only do so much and Montgomery is looking forward to next year's event, which he hopes will be a welcome return to investors jetting in from around the world to cement deals while munching on burgers from the In-N-Out truck at the Fairmont's bungalow.
Planning for better days ahead, he is excited to add some new bells and whistles, such as a performance by the Inner City Youth Orchestra of Los Angeles at a Getty Villa reception and an appearance by the Budweiser's Clydesdale horses.
"We're going to have some fun so that people will go home and tell stories," Montgomery said. "We look forward to next year."
Nearly a year into the worst pandemic in a century, Los Angeles companies expecting to snap up office space on the cheap may be disappointed.

L.A. office rents have held steady or even gotten pricier since COVID, even as more space has become available as most employees continue to work from home.
"I honestly thought rents would have dropped by now," said Michael Soto, research director at the brokerage Savills Inc. "For a lot of tenants, they are still seeing a bit of sticker shock that prices haven't dropped yet."
Despite a 22% vacancy rate, the average asking L.A. office rent at the end of 2020 creeped up to $44.88 a square foot from $42.12 at the end of 2019, according to Savills. In West L.A., where most tech companies are located, rent inched up to $62.96 from $59.58 even as vacancy also increased to 21% from 14%.
"It's counterintuitive," said Soto. "Usually when availability goes up, rent goes down. But rents have been sticky."
Soto credits the steadiness in prices to landlords holding firm on pricing, anticipating that workers will return to the office in the second half of the year.
"We are in a wait-and-see approach to see who blinks first," Soto said.
Even though overall demand for office space in L.A. has fallen, it is still doing much better relative to other major cities, according to the VTS Office Demand Index (VODI), a real time tracker of private commercial real estate data. It found demand in L.A. was down only 15% in January compared to the same month in 2020. By comparison, demand plummeted 52% in San Francisco and 68% in New York.
One reason why is the Netflix effect. Through the pandemic, streaming services continued to aggressively expand their L.A. footprint, which helped drive up rent for the market as a whole.
"These are companies that are flush with capital," Soto said. "They have taken advantage of drop off in leasing activity to expand to get favorable terms."
Some large tech companies – such as Salesforce, Zillow, Twitter and Dropbox – have said remote work will be permanent. But they are still in the minority as most companies plan to return to the office, even if they will not require all their workers to be present all the time.
Just one in 10 companies expect all employees to return to their pre-pandemic work arrangements, according to a recent survey conducted by the National Association for Business Economics. A dot.LA survey of top L.A. VCs conducted in December found 28% do not expect employees to ever go back, but 44% expect employees to return during the second half of this year.
Jamie Montgomery, co-founder and managing partner of March Capital, said he never considered giving up his venture firm's Santa Monica office and that he's hopeful his staff can return in a few months.
"We have a relatively young team and they like the social interaction," Montgomery said. "I think we're in what I would call a creative industry where you kick around ideas and you come up with the best ideas. I mean, I'm not going to sit here at my desk and be a brilliant investor."
Montgomery says he was able to buck the trend of higher rents when he signed a new lease in December, lowering his rent to where it was five years ago. He was eager to get the deal done before prices increased.
"I thought if we waited too long we probably would miss that window," he said.
On this week's episode of the L.A. Venture podcast, meet Jamie Montgomery, co-founder and managing partner at March Capital. He shares how he's built such strong relationships, how he's delivered outsized returns for March Capital, his approach to philanthropy and his high school fire extinguisher business.
For more, tune in March 3rd and 4th to the 18th annual Montgomery Summit.
Key Takeaways:
After Montogmery finished his masters at Cambridge, he worked for the Pentagon during the Reagan administration.
He returned to L.A. and started up his own firm in 1986.
In the early 90s, the firm, which had been focused on defense, pivoted to communications and what would become the internet. As it scaled, the firm sold banking and kept the investment side, which ultimately turned into March Capital.
His firm, Montgomery & Co., was extremely profitable, but in 2008 got hammered by the financial crisis and lost about 85% of business. This experience led to the creation of March Capital.
March Capital invests about $20 to $25 million on average per company.
March Capital's philanthropy efforts focus on community-building, incluiding addressing homelessness, community health and youth programs.
Jamie Montgomery is the co-founder and managing partner at March Capital. Prior to that, he was the founder and CEO of Montgomery & Co., a well-known Los Angeles-based investment bank where he advised and financed hundreds of leading technology companies over a 25-year period. He is also the founder of the Montgomery Summit, an annual technology conference that attracts over 1,000 global entrepreneurs, investors and corporate executives to Santa Monica.