Rental app PocketList launched today after less than a year in stealth mode with the goal of making your next apartment hunt a lot simpler.
The app allows renters to see and share apartments that will soon be available before they're listed — reducing the time properties sit vacant and possibly heating up competition among apartment hunters.
The idea came to CEO and co-founder Nick Dazé after a lifetime of hassle renting apartments that he and his friends and family experienced when searching for a new place
PocketList co-founders.Nick Dazé's and Julian Vergel de Dios,
"Renting shouldn't be a dirty word, and it kind of is in American culture. Everybody sees it as a stopping point to being a homeowner off in the middle of nowhere," he said."The way we look at it is the average American spends over a decade being a renter — and they spend hundreds of thousands of dollars in that time.
"The experience is horrible," he added.

The app is currently only available in Los Angeles, Dazé's hometown and the nation's second largest real estate market. The city abounds with horror stories about renting. Before the pandemic reduced demand, packed open houses were commonplace and many aspiring tenants armed themselves with reference letters.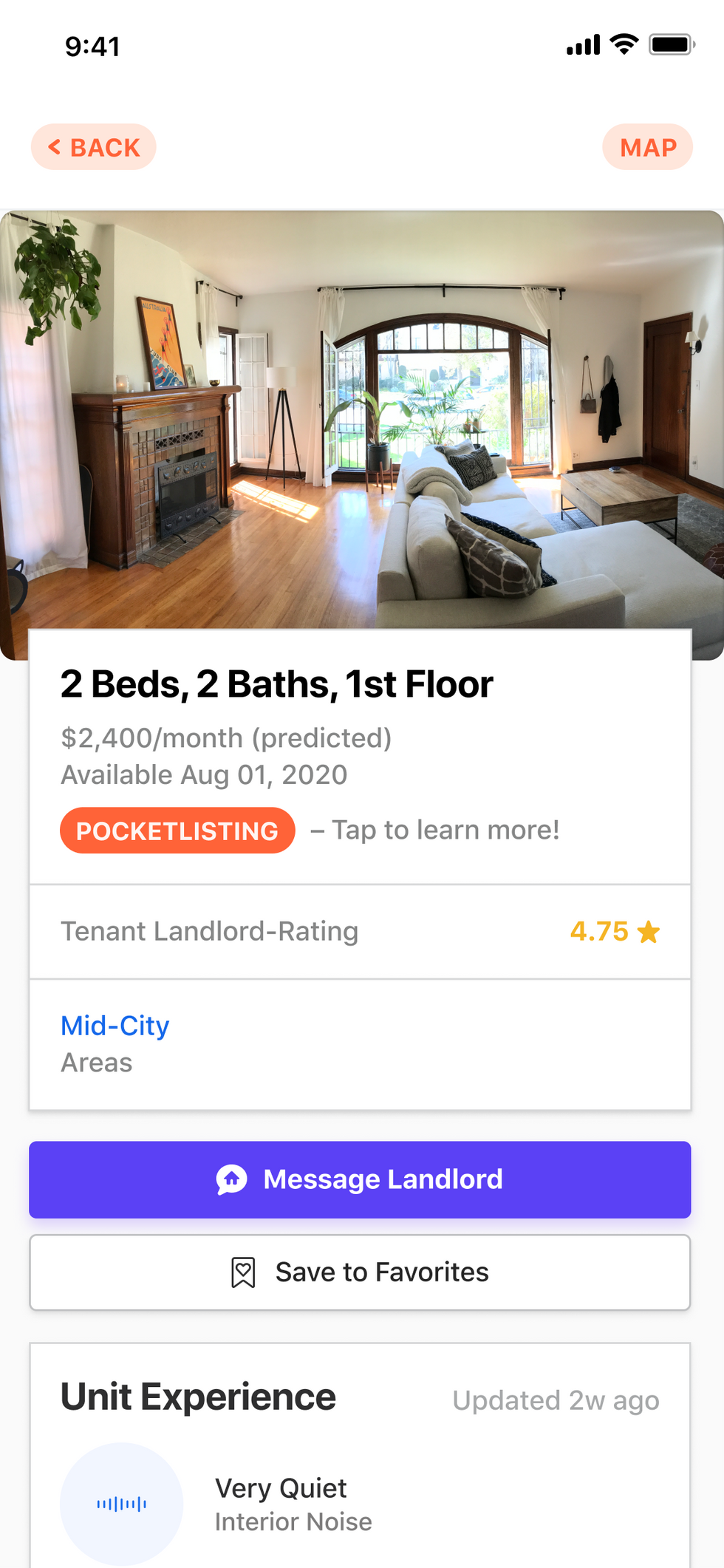 A screenshot of PocketList's user interface.
But with $2.8 million in seed funding led by David Sacks' Craft Ventures along with Abstract VC, Wonder Ventures and angel investor Spencer Rascoff, co-founder of Zillow and dot.LA, the company has plans to launch in San Francisco and San Diego later this fall.
PocketList could be a boon for landlords as well. They lose $43 billion a year on properties that are in the process of being turned over, according to the company. The company estimates vacated properties sit on the market for about 26 days on average before they're rented.
Dazé's background in user experience design drove him and his co-founder, Julian Vergel de Dios, to develop what started as a simple Google Sheet listing that was shared among friends looking for leads on soon-to-be vacant apartments. The info proved so popular that the two began offering it up to others.
What made the list so attractive to renters was that it provided insight that landlords would never share and gave other renters anxious to move inside knowledge about when an apartment would be listed.
The app provides data such as how much sunlight a room receives or how responsive a landlord is. It also allows would-be renters to keep their names, numbers and other personal information private until they're ready to rent.
While the app and website is free to renters, the newly added landlord feature will allow them to be notified of when a certain number of their units might be listed, without giving away any personal information. The price for access to information can vary based on how often the landlord chooses to be notified.
"We want to take this model of transparency and honesty and kind of mutual collaboration and benefit," said Dazé. "And that's not just renter to renter it's also renter to landlord. We want to take that spirit of collaboration and we want to make over time, the experience of being a renter as easy, and as accessible as going to Disneyland."

Related Articles Around the Web
Nomad Homes, which is building a managed marketplace to allow users to not just search but also finance and complete the paperwork for residential real estate, announced Wednesday it has raised a $4 million seed round led by Comcast Ventures with participation from Abstract Ventures, Partech, Precursor Ventures, WndrCo, and Class 5 Global.

The company was started in Palo Alto by Helen Chen, a former Blackstone private equity investor who dropped out of the Stanford Graduate School of Business to start the company after she discovered how outdated property technology was in the Middle East and Europe. Nomad is now headquartered in Dubai but the engineering team is based in Los Angeles, led by Yury Velikanau, who was formerly the lead engineer at PeerStreet. The seed round will be used to grow Nomad's engineering team as well as grow its marketplace and services.
"L.A. has a deep pool of engineering talent across all verticals, but especially in fintech (e.g., PeerStreet, Open Listings now Opendoor, and Tala)," Chen wrote in an e-mail. "What really stood out to us is that many of the engineers we spoke to also have a passion for real estate, which aligns well with Nomad's mission."
Other co-founders include Chief Product Officer Dan Piehler, previously a senior product manager at Addepar, and Chief Operating Officer Damien Drap, an early employee at Uber who launched and lead Uber Eats across the Middle East.

"Helen and the team bring a unique blend of Silicon Valley DNA, real estate insights and on-the-ground operating experience," said Daniel Gulati, a Managing Director at Comcast Ventures. "We are excited to support Nomad's quest to deliver a superior experience for all market participants with a technology-first approach."
Nomad is focusing on Dubai and eventually other Middle Eastern and European cities because shopping for real estate is much more difficult without the MLS listings that Zillow and Redfin use to create a more user friendly experience in the United States.
From Your Site Articles
Related Articles Around the Web
Offices will be bigger and oriented around creating a sense of community, omnichannel retail will be more important, brands will have dozens of stores instead of thousands, and cities will provide incentives to lure employees rather than companies. Those are some of the predictions about what will happen in the next few years as the world recovers from the coronavirus, according to Brendan Wallace, co-founder and managing partner at Fifth Wall, Justin Bedecarre, co-founder and CEO of HelloOffice and Jen Nguyen, founding partner of TEAMWERC.
Fifth Wall is the largest venture capital firm focused on real estate tech, known as proptech. It announced the close of its second real estate technology fund last year, with $503 million in dry powder, making it the largest VC fund in Los Angeles. HelloOffice is a technology-powered commercial real estate brokerage that started in the Bay Area and expanded to L.A. last year. TEAMWERC is a San Francisco-based commercial real estate consultancy.
<p>Wallace, Bedecarre and Nguyen spoke to dot.LA in advance of an <a href="https://dot.la/fifth-wall-hellooffice-strategy-session-2646099591.html" target="_blank">executive strategy session Tuesday at 11 am PST</a> about the future of real estate after the novel coronavirus. Here are some excerpts from the conversation:</p><p><strong><a href="https://losangeles.cbslocal.com/2020/05/26/retail-stores-reopen-la-county/" target="_blank">Retail shops have been opening in Los Angeles and elsewhere.</a> How quickly do you think people will want to go shopping?</strong></p><p>Wallace: I think there's probably two considerations. One is that you actually have some pent-up demand. So, I think you will see a surge, and I think you actually have seen that in cities like Phoenix. What I'm not clear on is if that's a false positive, and what we're likely to see going forward because we haven't seen the second peaks occurring in cities and how the public will react to that. We're in the very early innings of probably a surge in retail bankruptcies. As stores go dark that just drives down foot traffic, and I think alongside that you have this forced adoption of e-commerce that just occurred over the last 75 days. That experience is going to have a long-term effect and I think about it like we pulled the future forward. Whatever was going to happen in 2022 or 2023 is happening now in 2020, and the confounding variable on top of that is the uncertainty around COVID and the public response to it so the one thing I feel confident in saying is it is not going to go back to business as usual.</p><p><strong>That sounds like a lot of uncertainty, which is understandable because no one really knows what's going to happen in terms of the health considerations. But as someone who has this big retail fund, what, how are you deploying that?</strong></p><p>Wallace: Our retail fund is focused on brands that are omnichannel, so those are brands that are selling both online and offline. This crisis has underscored is that to really have resiliency in circumstances like this, a brand needs to be ubiquitous. You need to be able to reach consumers where they are and that can be on their computer, their phone or in a store. I think the more omnichannel a brand is, the more durable they are in a situation like this so we are still actively looking to invest in those brands. I think the other distinction about how we invest in retail versus how retail is traditionally conceptualized is that some of the brands that are out there today — like Old Navy and Gap — you're talking about hundreds in some cases thousands of stores. I don't think even the largest, most prolific omnichannel brand is ever going to have 1,000 stores. I think that era is over. What you're seeing is just smaller real estate footprints and a concentration of those footprints in higher-quality real estate assets. In many ways this crisis is hurting the weakest assets. The malls in the shopping centers that were already struggling are going to struggle more in this crisis and this could be a body blow. But I think the stronger assets, the assets that were always desirable, and the high streets in retail real estate that were always desirable to many brands are going to come back for no other reason then there's still going to be a street life in cities. I don't think that's going away.</p><p class="shortcode-media shortcode-media-rebelmouse-image"> <img type="lazy-image" data-runner-src="https://dot.la/media-library/eyJhbGciOiJIUzI1NiIsInR5cCI6IkpXVCJ9.eyJpbWFnZSI6Imh0dHBzOi8vYXNzZXRzLnJibC5tcy8yMzQyMzEyMS9vcmlnaW4ucG5nIiwiZXhwaXJlc19hdCI6MTY2NDk2MjM2M30.mHng41Rjs4s8z9HGmy8RzOiCDcqX-DlBcocTmyzovHM/image.png?width=980" id="89cef" class="rm-shortcode" data-rm-shortcode-id="64b8b3ef154f375270e4c0262a4973cd" data-rm-shortcode-name="rebelmouse-image" /> <small class="image-media media-caption" placeholder="Add Photo Caption...">Left to right: Justin Bedecarre, co-founder and CEO of HelloOffice, Jen Nguyen, founding partner of TEAMWERC, and Brendan Wallace, co-founder & managing partner at Fifth Wall.</small></p><p><strong>Just looking at cities in general, there's this whole potential ripple effect from people not working as much in big cities. Do you see that actually happening, lots of tech workers moving out of San Francisco?</strong><br/></p><p>Wallace: I think you can generalize more broadly than tech workers and make it knowledge workers, who are less required to work in cities than they were in January of this year. The experience of many companies is that working remotely has been surprisingly productive. But the reason cities formed in the first place was to accommodate businesses and people and create a social dynamic which drove people together where you had to go to the market square to buy things. What's happened with technology – e-commerce being a prime example – is we virtualized much of that meaning. So, we've stripped away many of the commercial benefits of concentrating businesses and people together. And so what I think cities are left considering is because there's no longer the commercial magnetism of pulling everyone together it really has to come down to the social magnetism, that we like being around other people. I'm curious to see how much people want to go back to cities.</p><p><strong>Justin, how much work do you see returning to the office once the threat from the pandemic subsides?</strong></p><p>Bedecarre: Offices are really going to be built around what they're meant to be built around, which is collaboration. In the short term, square footage per person is going to go way up. The way that we're thinking about our spaces at HelloOffice is that we're going to be doing a phased-in approach to bring in key members and desks are going to be spread out significantly. Fewer people are going to be coming into the office at any given time. Whether it equals out for how many people are in the office versus how many square feet per person is is hard to predict with certainty. But square footage per person will trend upwards, not downward as it has been for over a decade.</p><p><strong>Jen, are you seeing a similar trend? </strong></p><p>Nyugen; Oh definitely. It's really typical for a lot of tech startups that we work with, their standard square foot per person is 100 square feet per person. But what we've seen in doing the six foot social distance studies is a lot of the companies we work with need extra space, so instead of 100-square-feet per person they're needing at least 300 square feet, at a minimum.</p><p><strong>Are you hearing from clients that they want to go back to the office?</strong></p><p>Nyugen: We're hearing more of we're going back to the office in some shape or form but in a phased approach.</p><p><strong>Is there a specific timeline you're getting from most companies about when they want to come back?</strong></p><p>Nyugen: The timelines are consistent with specific regions. For example, in San Francisco a lot are looking towards the end of Q3. A lot of them are also identifying within their own or organization which functions they deem critical.</p><p><strong><span></span>Justin, it seems like there has been something specific about startups that they need to physically work together. Do you think that will change now?</strong></p><p>Bedecarre: I do think overall, especially in the early stages, having everyone together working in one place has significant advantages. But it's not for everyone. Gitlab and WordPress have built some phenomenal companies being 100% remote, but that certainly isn't where most companies will end up.</p>