artificial intelligence
Robert De Niro's performance seemed totally off. In fact, nothing about the movie was working.

The problem, as Scott Mann saw it, was that the dubbing process had created a dissonance between the original film and the translated version he was watching, the cumulative effect of which was that it had "become a different film." That was Mann's opinion when he first saw a translated version of "Heist," the 2015 film about a casino robbery that he directed.
"I saw the foreign translations of my film, and I was horrified," said Mann, who lives in the Hollywood Hills. "As filmmakers we don't tend to watch our own movies in foreign languages and when I was made aware of it, it really shocked me."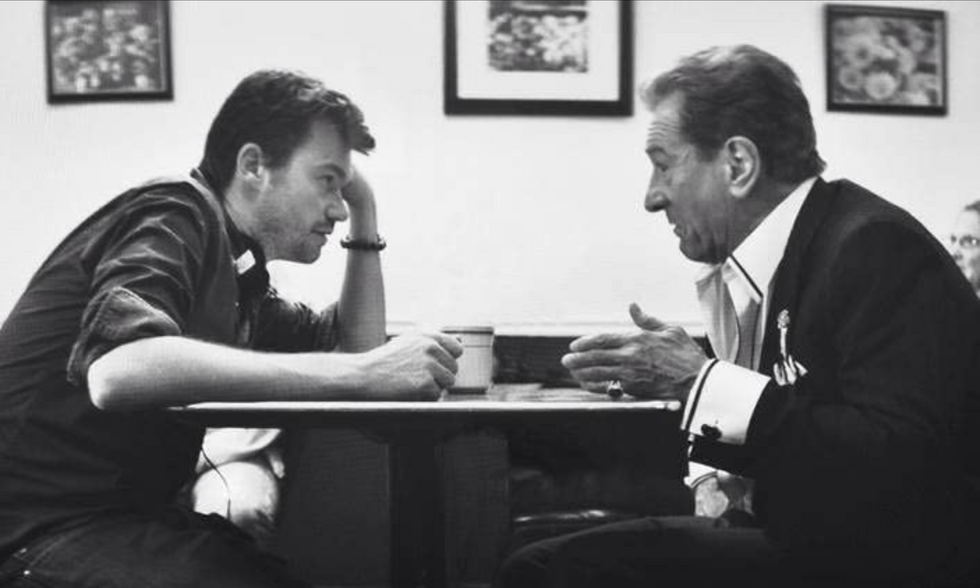 Film director Scott Mann (left) and Robert De Niro on the set of "Heist".
International markets have become more important than ever for film and television. Projects rely on foreign audiences to recoup their costs; as the U.S. market grows saturated, streaming services are increasingly competing for overseas viewers.

Netflix, for instance, consistently sees foreign-produced projects like "Money Heist" (aka "La Casa de Papel") and "Lupin" as among its most popular shows. Last year "Parasite" became the first foreign-language film to win an Oscar for Best Picture.
As Mann sought a better solution for his films, he says he came across a research paper that described a new artificial intelligence solution to the dubbing problem. On Monday, he launched a company that uses the technology, and which he hopes will become the new standard in Hollywood and beyond.
Flawless, which Mann co-founded with Nick Lynes of his native England, uses technology that was developed by a team of researchers at Germany's Max Planck Institute. In the paper detailing their "style-preserving" approach, the group explains how their technique improves upon the dubbing technology the industry relies on.
Traditional dubbing techniques can be categorized into two groups, they write. In the audio-only approach, a foreign-language "source" actor recites the translated script and the resulting audio file is merged with the original video of the "target" actor. The translated script must be rewritten, of course, and is often done so to try to preserve alignment between the lip movements of the target actor and the audio footage from the source's translation. For example, when the target actor pronounces a close-mouthed "b", "m" or "p" sound in the original, the translated script aims to use a foreign word that requires a similar lip movement. But working within these constraints can cause the script's nuances to get literally lost in translation.
The second approach, called "visual dubbing," changes the visual footage of the original performance, so that the actor's lip movements align with the translated audio. The downside, write the researchers, is that doing so "removes the person-specific idiosyncrasies and the style of the target actor, and makes the target actor's face move unnaturally like the source actor."

The new technology uses artificial intelligence to transfer the source actor's lip movements so that, by contrast, it matches the target actor's characteristic style. In doing so, the company hopes it will appear to viewers that De Niro himself is actually speaking the dubbed foreign language.
How Flawless Works
The startup uses technology similar to "deepfake" techniques that manipulate video footage to make a subject appear to be saying something he or she is not. In Flawless' case the technology is used in service of a more realistic translation of the film, rather than, say, creating an embarrassing moment for a politician or celebrity.
To achieve that, its artificial intelligence and machine learning model analyzes video footage of the actor – De Niro, in this example – to learn the subtle nuances of how his lip movements relate to other features of his face, including head position and eye motion. On the other end, it analyzes the translator's performance, then generates new footage that maintains De Niro's style while incorporating the lip movements of the translator. The new footage is rendered exclusively on the actor's (De Niro's) face, and keeps the original background unchanged.
The original researchers write that five-minute videos are sufficient for training their "style translator." Mann added that "for 'locked/completed' productions, the process takes around 10 weeks from ingestion to finals."

The company has signed its first contract but is "sworn to secrecy on the details," Mann said, adding that pricing will be based on the number of translations and the length of the film.
The company has so far been self-financed. It received some external funding in 2020, but won't disclose how much. Lynes wrote it will be raising a Series A round of funding later this year.
In their paper, the researchers cautioned that their technology could be used in pernicious ways as well. They say they have been working on AI technology "to detect synthetically generated or edited video at high precision to make it easier to spot forgeries."
Despite that potential, Mann thinks the technology could "completely change filmmaking" – well beyond dubbing.
"What you're constantly doing as a filmmaker is you're doing the same thing again and again from different angles," he said."From a production point of view, that's very time consuming and expensive. What this allows, is you could get one great take, from one angle and then essentially have it recreated from other angles."
He also thinks it could make remaking foreign films a thing of the past.
"Rather than having to remake a movie in English and all these different languages, we'll be able to enjoy the original," he said. "I think that will have an effect on the international community of filmmaking, and all types of actors that really should be on the world stage but currently aren't because no one speaks that language."
"I do think this is the tip of the iceberg on this technology in the film field," he added.
Related Articles Around the Web
If you watched this year's NCAA basketball tournament, you may have unknowingly witnessed an early milestone from a company aiming to upend video advertising.
Ryff, a stealthy L.A.-based startup founded in 2018, helped Coca-Cola insert images of Coke bottles and banners into classic footage from past tournaments, like UCLA's 2006 finals run and North Carolina State's improbable championship in 1983.
We are delighted to share our work in support of the 2021 NCAA March Madness event together with UMWW, Warner Media… https://t.co/iGTgCtnWej

— RYFF Inc (@RYFF Inc)1616445098.0
Ryff's ambitions are much grander than clever, nostalgic ads: chief executive and co-founder Roy Taylor wants to introduce on-demand digitized product placement across the entire entertainment industry.
Traditional product placement often requires complex upfront negotiations between brands and content producers, or using post-production techniques that can be costly and clunky. Ryff uses technology common in video games, where on-screen items can be swapped in and out at the push of a button, to quickly insert branded images into completed scenes. This approach distinguishes the L.A.-based startup, but could raise questions from creators who never set out to be brand ambassadors and viewers who will be unwittingly exposed to ads.
Taylor himself is reluctant to seek out too much publicity for fear of a backlash.

"We're in a slightly unusual position because we want all the publicity we can get, but only B2B," he said, meaning he wants brands and content-owners to hear about Ryff, but not necessarily viewers.

"We believe the general public, if they have a preference, veer towards being less comfortable with digital anything right now," Taylor said. He is adamant, however, that Ryff does not create "deep fakes."
"We do not change an original truth; I think that's wrong," he said. "I would never allow our technology to be used in a way which is nefarious."
In addition to its Coke campaign, Ryff has done a test campaign with Diageo, for which it inserted Baileys bottles into three Lifetime movies, as well as a handful of other brands and firms including Intel, Perfectamundo tequila and Dutch production company Endemol Shine. The startup has raised $8.6 million.
As linear TV viewership has declined, advertising dollars on the medium have stagnated. They have "proven relatively resilient, despite core cutting," said media analyst Tony Lenoir of Kagan, because advertisers like being able to reach the customers that have stuck with cable, who tend to be relatively wealthy.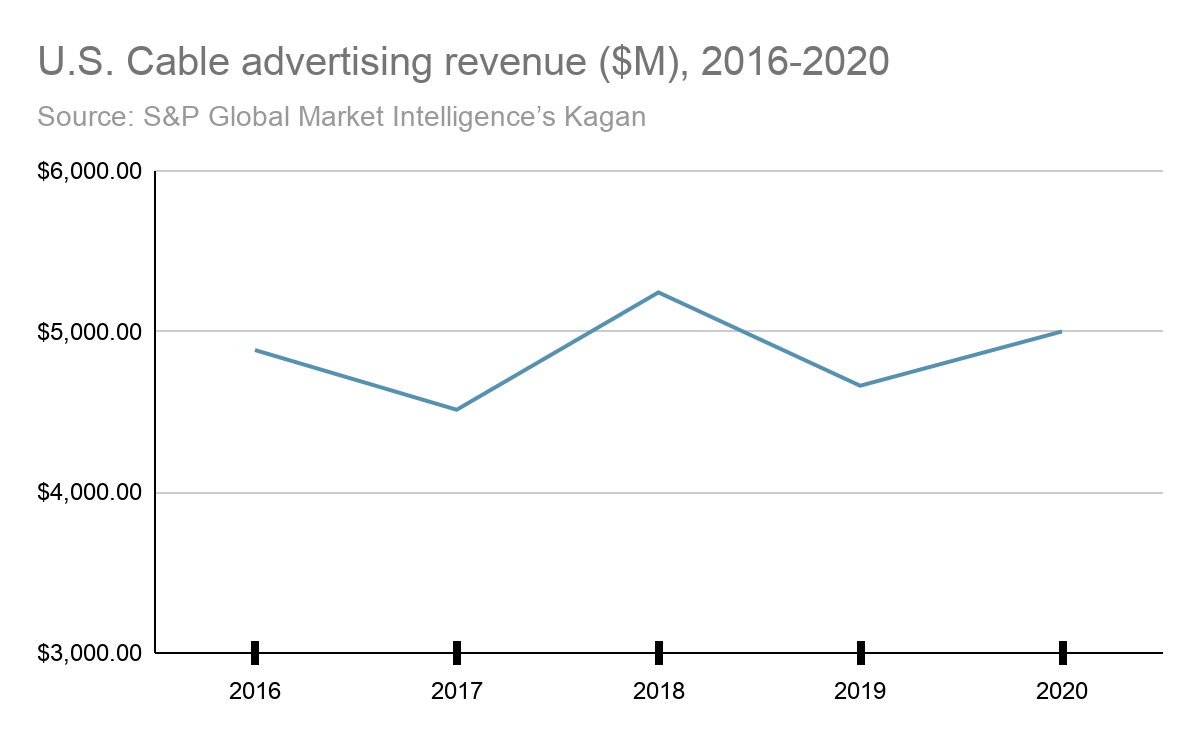 But TV ads have been in steady decline as a share of overall advertising spend. From 2015 to 2020 the share of TV ad-spend in the U.S. fell from 42% to 33%, with a further decline to 20% expected by 2025, according to MoffettNathanson, an independent research company focused on media and communications. Online advertising, which includes streaming, has picked up the slack, growing from a 27% share in 2015 to 52% in 2020, with an expected rise to 73% by 2025. Relatedly, eMarketer predicts that by 2024, there will be more households without a traditional pay-TV service than with it.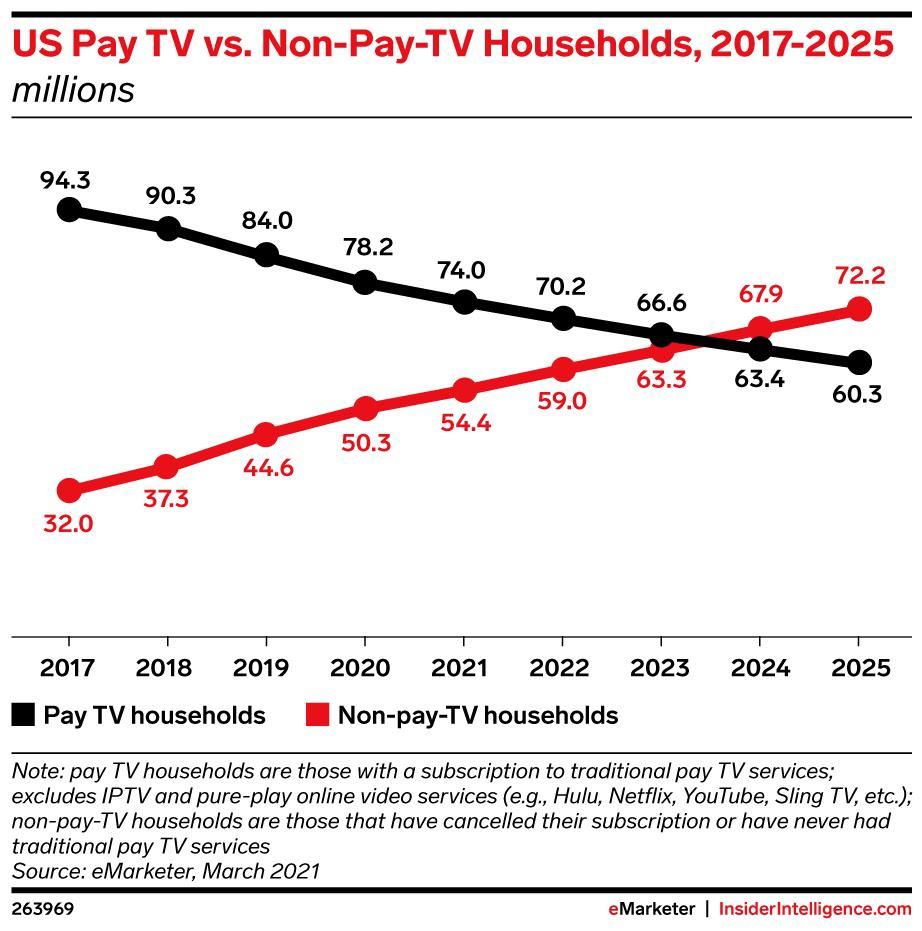 Taylor's investors think he and his 30-person team, split between L.A. and Cambridge in his native U.K., are well positioned to ride these trends.
"I think streaming platforms, because there's so many of them now, will need to identify new ways of generating revenue outside of growing the subscriber base," said Marlon Nichols, whose MaC Ventures participated in Ryff's $5 million fundraise in 2019, its most recent.
Ryff's biggest competitor is London-based Mirriad, which Taylor says uses technology that is less scalable. That could change, however.
"There is no such thing today as a product which cannot be replicated," he said.
Like any multi-sided platform — think Uber, Airbnb, etc. — Ryff will need to onboard users on both the supply and demand sides of the ad market. In other words, to achieve its ambitions of ushering in a new paradigm of advertising, Taylor needs to lure in more brands on the one side, and streaming platforms, studios and UGC video services on the other.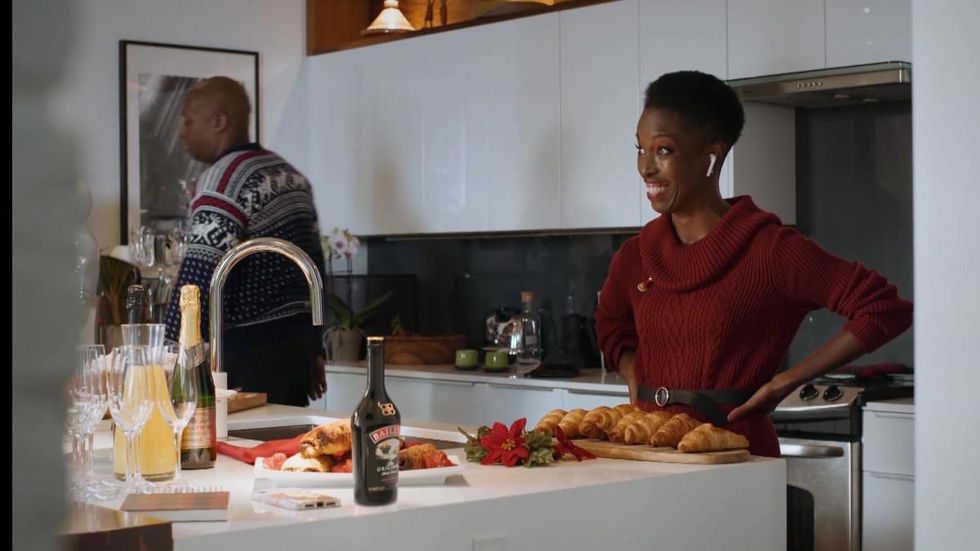 Ryff has done a test campaign with Diageo, for which it inserted Baileys bottles into three Lifetime movies.
How Ryff Works
To demonstrate his technology, Taylor pulls up a scene from a film he cannot disclose, of two men sitting on stools outside a restaurant, at a small table holding two empty glasses.
Using a combination of computer visioning and artificial intelligence, Ryff's "Placer" technology has scanned the entire film to identify opportunities like this for product placement. The tool, Taylor said, is trained to recommend product types that fit scenes contextually, culturally and creatively.
In the restaurant scene, that means the technology should know not only that a beverage bottle could fit, but also that it must be a brand that could be found in whichever country the scene is taking place. The product also must fit with the story's narrative; if both characters are teetotalers, the technology could suggest a soda brand, but not a beer.
"I took the notion that you could treat a frame of film or TV as a backdrop, like in a traditional theater," Taylor said. "You could take a 3D model and render it — that is, apply light and shade to it — and make it look as though it appeared in the backdrop; you could get them to match."
Ryff's automated suggestions are uploaded into a searchable database that brands can screen for myriad factors, including the time of day the scene takes place, specific actors in it and whether it contains certain activities like sports.
Taylor drew on his background at NVIDIA to create Ryff. The Silicon Valley company makes chips and graphic processing units. In the 1990s, he helped launch its European offices.
Will Advertisers and Content-Creators Riff on Ryff?
Analysts at PQ Media have pegged the brand-placement market at $20 billion worldwide, and forecast it to climb 9.8% per year through 2024, with the fastest growth occurring on digital platforms.
"It's a concept that was not possible in years past, just because the technology was not there to do this kind of scene analysis and to place in everyday objects in a realistic way," said Paul Erickson of market research firm Parks Associates.
Consumers today are less tolerant of ads than they once were, he points out. "People's tastes have changed."
As cable continues its decline and streaming picks up the slack, Taylor thinks that aversion will only grow.
"I don't believe in AVOD," he said, referring to streaming's ad-based monetization model.
But plenty of streaming companies are betting that traditional, interruptive advertising still has a place. HBO Max has announced plans to launch a lower-priced, ad-based tier later this year. ViacomCBS and NBCUniversal have both embraced multi-pronged streaming strategies that include monetization models ranging from free and ad-based to premium subscription-based.
As to whether pure-play subscription-based services might entertain Ryff's "placement-based" revenue opportunity, media analyst Dan Rayburn is skeptical.
"Based on the projections they've given Wall Street, these services think they can be profitable without ads," he said, adding that companies like Netflix have shunned advertising revenues, presumably based on their analysis that the benefits would be outweighed by the cost of turning off customers.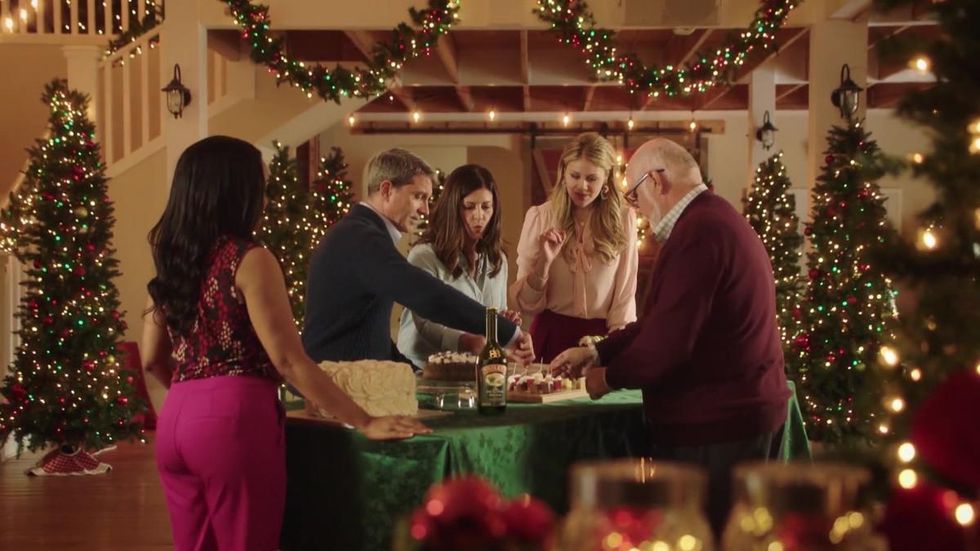 Ryff has done a test campaign with Diageo, for which it inserted Baileys bottles into three Lifetime movies
Rayburn also said that based on his research, streaming companies may bridle at serving viewers product placements that could feel inauthentic and thus devalue their content.
"Disney's not saying, 'Hey, we'll stick a Pepsi behind Disney content'," he said. "That's not a business model they want or a trend they want to start."
Taylor said content rights holders may yet be won over because they have the final say as to what goes in their scenes.
"They always have control–always," he said.
Even if customers and content creators are okay with what Ryff provides, it will still need to bring on more brands to grow. For its business model, the company charges brands a fee or takes a percentage of their payments to the content owners. Ryff would not disclose its revenue figures.
"Advertisers don't throw a lot of money around ideas where they don't know how to measure the ROI," said Rayburn, noting this may make it challenging for Ryff to bring on brands.
A report commissioned by Ryff about its Baileys campaign, done by third-party research firm Radicle, indicated that, from start to finish, the placement took three weeks, and that Diageo was pleased with the results.
Taylor thinks brands will warm to Ryff once they better understand its customer-targeting capabilities, saying he can help to ensure "we no longer promote meat products to vegetarians."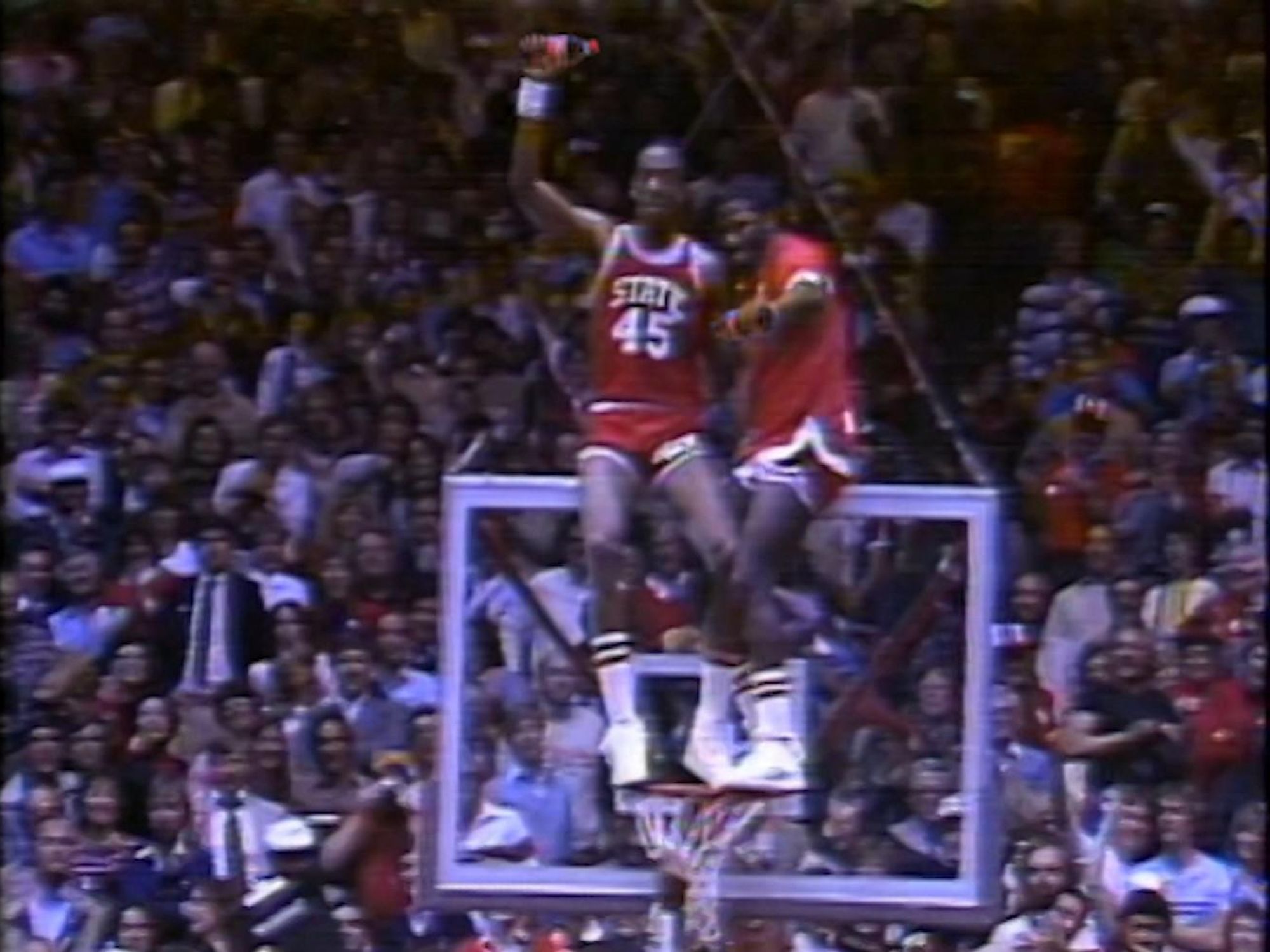 Ryff helped Coca-Cola insert images of Coke bottles and banners into classic footage from past NCAA tournaments.
Ryff's Vision of the Future
In addition to tapping streamers and studios to feed its content database, Taylor is also intrigued by Ryff's opportunities in the vast and growing world of user-generated content that ends up on platforms like YouTube and TikTok. He points to renowned investor Marc Andreessen's thesis of a "third wave" of the internet, monetized by direct-to-creator spend rather than through third-party ads. The success of platforms like Cameo, Substack and Only Fans are early signs of this evolution.
"This is where I think this is going," Taylor said. "Real-time ingestion, real-time placement and real-time auctions."
Even as the means by which viewers access content evolves, and the monetization models change apace, Taylor is sure at least one thing will endure.
"Ultimately, great content needs budgets," he said, hopeful that such a need can be fulfilled by Ryff, even if it is, like much of advertising, a necessary evil.
From Your Site Articles
Related Articles Around the Web
Robots could soon take on the tasks of farmworkers harvesting the nation's food.
Santa Monica-based Future Acres, an agriculture tech startup, unveiled its first prototype on Tuesday — a robot named Carry that helps farmers transport crops.
Carry won't replace human employees that pick crops. Rather, the remote-operated machine will follow workers and take what they collect back to a sorting facility, speeding up operations in a labor-intensive industry. Since 2017, the team has been quietly busy testing the AI-powered machine that can transport up to 500 pounds of produce in virtually any weather condition.
The model unveiled Tuesday is a beta version of the robot. A spokesperson said a Carry 2.0 will launch in the next couple months for commercial purchase. It's designed for small- to medium-sized farms across the country.
The news comes as the company launches a crowdfunding campaign for $3 million. It's already backed by Wavemaker Partners, a Los Angeles firm that also operates the robots and automation-centered venture studio Wavemaker Labs.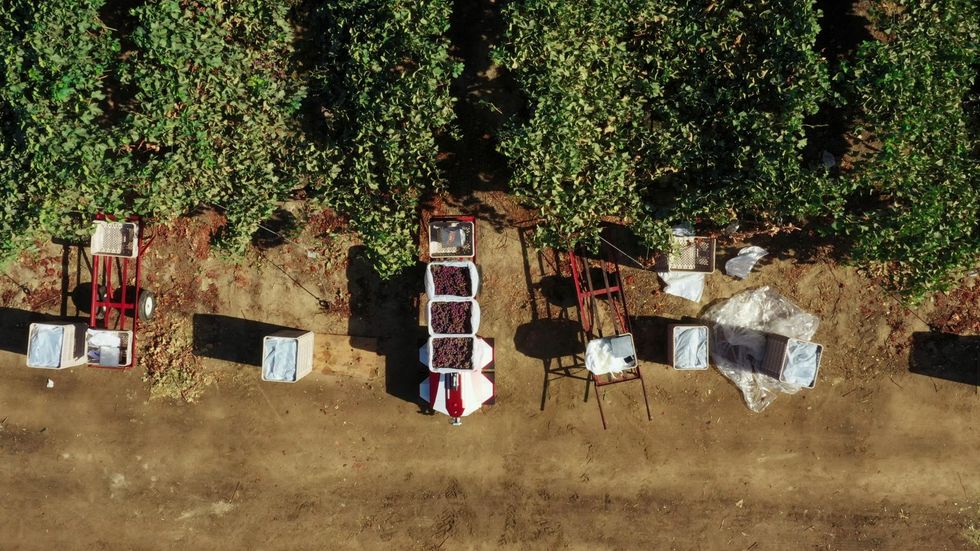 Future Acres designed their new robot, Carry, to lug boxes of produce from the fields to the sorting departments.
The Food And Agricultural Policy Research Institute estimates farm income will drop 12% in 2021 while product costs climb - largely due to the cost of labor. California is the nation's largest produce producer and relies heavily on immigrant labor. Any large-scale introduction of robots on farms could change big agriculture, much in the same way robots altered car factories.

The company says adding just one robot can increase efficiency by 30%. And it pays itself off in just 80 days.
As the agricultural industry battles financial and environmental challenges, CEO Suma Reddy says her tech will ease the physical loads that slow down many farmers. "Back pain, twisted ankles and shoulder injuries no longer need to be the normal," Reddy said in a statement.
The robotics startup also says down the line it'll turn to other tech-driven solutions to measure pesticide use and crop health and track trends like food waste.
From Your Site Articles
Related Articles Around the Web