artificial intelligence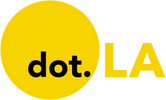 Get in the KNOW
on LA Startups & Tech
X
artificial intelligence
Image from Shutterstock
It's a reality that can be terrifying for those of us who consider medicine to be a rigid, codified science. In reality, the human body is a complex machine subject to variables based on genetics, lifestyle habits and socioeconomic factors. What's more, most physicians tend to see a revolving door of patients, which doesn't allow for much time to understand what's wrong—and also leads to burnout.
It's also why artificial intelligence is taking the medical space by storm. As PitchBook emerging tech analyst Brendan Burke told dot.LA last year, funding in the medical AI sector grew from $1.6 billion in 2019 to $2.6 billion in 2020.
This week, Cedars-Sinai unveiled a new AI-enabled device designed to help doctors predict if a patient is on track to have a heart attack. The platform, called Autoplaque, can identify and measure the plaque clogging up a patient's arteries significantly faster than physicians—within seconds in the machine's case, versus 25 to 30 minutes for the human eye. The tool would help doctors drastically cut down on the time needed to analyze heart scans and allow them to more readily provide patients with a roadmap toward preventing cardiac events.
A couple weeks ago, we reported on West Hollywood-based dental startup Pearl, which created the first AI device cleared by the FDA to diagnose a range of dental conditions. (The device is called Second Opinion—named after the practice of patients getting a second opinion on an issue since doctors do get things wrong sometimes). There's also Eyenuk, a Woodland Hills-based company whose FDA-cleared EyeArt device is being used by eye doctors to prescreen patients, allowing them to spend more time on treatment plans. Meanwhile, Irvine-based Docbot has developed its own AI for gastrointestinal diseases that points out signs of a possible condition to physicians.
Of course, there are plenty of AI skeptics in the medical world, as well as regulatory bottlenecks that need to be addressed before AI can become a mainstream feature at most clinical practices. But with human error and burnout remaining prevalent issues in the health care field, it surely can only be a matter of time. — Keerthi Vedantam

What if you could predict a heart attack?
Los Angeles' Cedars-Sinai Medical Center announced this week the development of a tool that uses artificial intelligence to measure artery health and detect future cardiac risks in seemingly healthy patients as far as five years in advance.
Heart attacks are often caused by plaque deposits in arteries, the muscular-walled tubes that carry oxygenated blood throughout the body. These deposits constrict blood flow and raise the risk of potential heart problems. While doctors can use CTA scans to create 3D images of a patient's arteries and measure the density and composition of such plaque, it can be a complicated and time-consuming process.
Cedars-Sinai's new Autoplaque device uses AI to detect these potential threats in a matter of seconds, arming doctors with a better form of preventative care for their patients. The device's algorithm was trained on CTA scans from more than 900 patients, featuring over 5,000 lesions already seen by doctors. When given a new set of data, investigators found that the device was able to measure how much arteries had narrowed down to an exact percentage point.
"The AI tool was able to quantify the plaque just as well as trained doctors, who have been trained to do so by painstaking analysis which takes a lot of time—like 25-30 minutes [per scan]," Dr. Damini Dey told dot.LA. As director of the quantitative image analysis lab at Cedars-Sinai's Biomedical Imaging Research Institute, Dey witnessed firsthand the AI's ability to quickly measure coronary plaque, allowing doctors to give patients a faster prognosis.
The device is already being used by Cedars-Sinai and other medical centers, but will require more testing and research before it gets into the hands of clinicians.
Autoplaque is among a slew of AI-enabled technologies that helps doctors find and diagnose complications in the body. Earlier this month, L.A.-based startup Pearl announced it had
received FDA clearance
for a device that uses AI to identify dental cavities, plaque and other oral conditions.
From Your Site Articles
Related Articles Around the Web
Courtesy of Mercedes-Benz/Bosch
Sign up for dot.LA's daily newsletter for the latest news on Southern California's tech, startup and venture capital scene.
Angelenos famously hate parking, but soon their cars may be able to park themselves thanks to a collaboration between Mercedes-Benz and German engineering firm Bosch.
At a demonstration in Downtown Los Angeles on Wednesday, Mercedes and Bosch gave the first U.S. test run showcasing the fruits of their collaboration: an electric Mercedes-Benz 2022 EQS 580 luxury sedan capable of navigating itself into a parking spot.
Painted in bright teal stripes, the sedan first let its driver out at a designated spot. Then, a tap of a Mercedes-Benz phone app locked the vehicle and sent it, at a gradual pace, to the first available parking space. Later, a ping from the app woke up the car—which turned itself on, pulled out of the parking spot and slowly made its way to the driver's pickup point.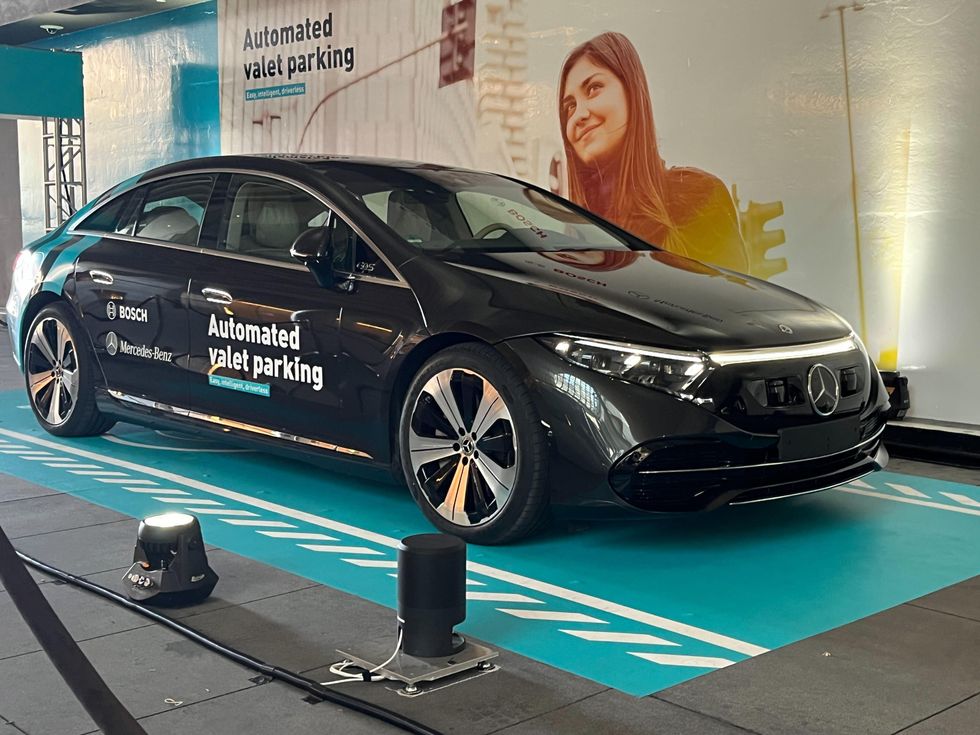 Painted in bright teal stripes, an electric Mercedes-Benz 2022 EQS 580 pulls into a parking spot with no driver. Courtesy of Mercedes-Benz/Bosch
A Bosch engineer stepped in front of the car several times as it was driving to demonstrate its safety features; if sensors detect a presence or any motion in front of the car, they'll tell it to stop a safe distance away. (For extra security, a person walked alongside the car with an emergency shut-off button.)
Kay Stepper, Bosch's senior vice president of automated driving for North America, noted that the self-parking technology relies on sensors and cameras built into its surrounding environment, which guide the car into its space. (The sensors are installed on the ground, while the cameras are mounted above.) He added that the technology could be applied to any type of car, so long as a manufacturer makes it compatible with its vehicle.
"The unique thing is really that we are not using any of the in-vehicle sensors—it's a purely infrastructure-based solution," Stepper told dot.LA.
The demo marked the first time that Mercedes and Bosch have tested the technology outside of Germany. In their home country, the driverless parking capability is already installed and ready to use at Stuttgart Airport pending final regulatory approval, according to Philipp Skogstad, Mercedes' president and CEO of North American research and development.

A handful of other auto industry names are also investing in automated valets, including the Volkswagen Group-owned CARIAD, which demonstrated its technology at an industry summit in Munich last. Yet another competitor is Maryland-based STEER. Other companies focused on autonomous technology from more of a road-driving perspective are Google's Waymo and, of course, Tesla.
Skogstad acknowledged the increasingly crowded playing field. "Automated driving is such a complex task requiring so many pieces to come together that nobody can do that alone," he said. "No matter how much money you have, you need partners."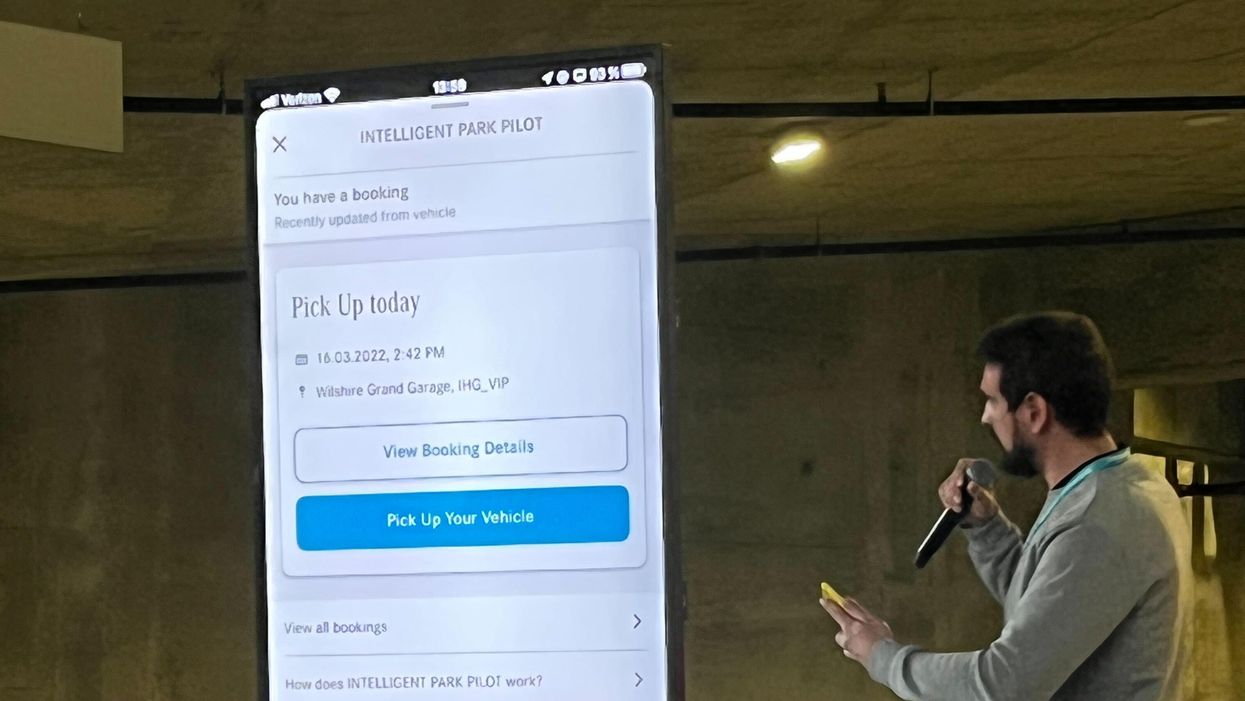 A Bosch engineer tests the self-parking car's pick-up options.Courtesy of Mercedes-Benz/Bosch
Stepper noted that Bosch is "intensely" focused on finding collaborators in the "smart infrastructure" space who can help it implement a driverless parking network. The next step, he added, is to convince local parking operators to invest in the technology. Without human error (consider that driver in your apartment building's garage who's always double-parked), he estimated that a fully-automated parking lot could fit up to 20% more cars.
And what about the valet workers—such as those on hand at the demo, who were kind enough to park cars for the event's attendees the old-fashioned way? A Bosch spokesperson noted that they wouldn't exactly be put out of business, as self-parking garages would still need humans to operate and maintain their technology and act as a safeguard.
From Your Site Articles
Related Articles Around the Web