idealab
Two months ago, Ken Lian, co-founder and CEO of Cheese, applied for a checking account at a major bank. He was rejected again, despite his sterling 800+ credit score.

Since immigrating from China to the U.S. in 2008 he has been routinely denied from opening bank accounts, had to pay thousands of dollars in fees and been limited to the least desirable no-rewards credit cards.
"This is a common issue," he said.
So, Lian decided to start his own challenger bank aimed at Asian Americans and other recent immigrants. It launches Wednesday with a zero-fee debit card offering cash back rewards, putting a modern twist on what Pasadena-based East West Bank has done since 1973.
"We run it not like a bank but put users first," Lian said. "We really are putting the user at the center."
While traditional banks frown on frequent address and phone number changes, Cheese takes a more holistic approach. It is looking at accepting visas and other forms of identification. The bank will also market in places favored by immigrants – think WeChat rather than Facebook – and is partnering with community leaders to help reach a population that has historically been distrustful of banks.
"Both my parents are immigrants and they have a lot of problems walking into a bank and feeling comfortable with that experience," said actor and advocate Jimmy Wong, Cheese's chief community ambassador.
There are nearly 21 million Asian Americans living in the U.S. and they represent the fastest growing, most affluent and educated of any racial or ethnic group.
A quarter of all households don't have full access banking services and half of foreign-born noncitizens are unbanked or underbanked, according to the FDIC.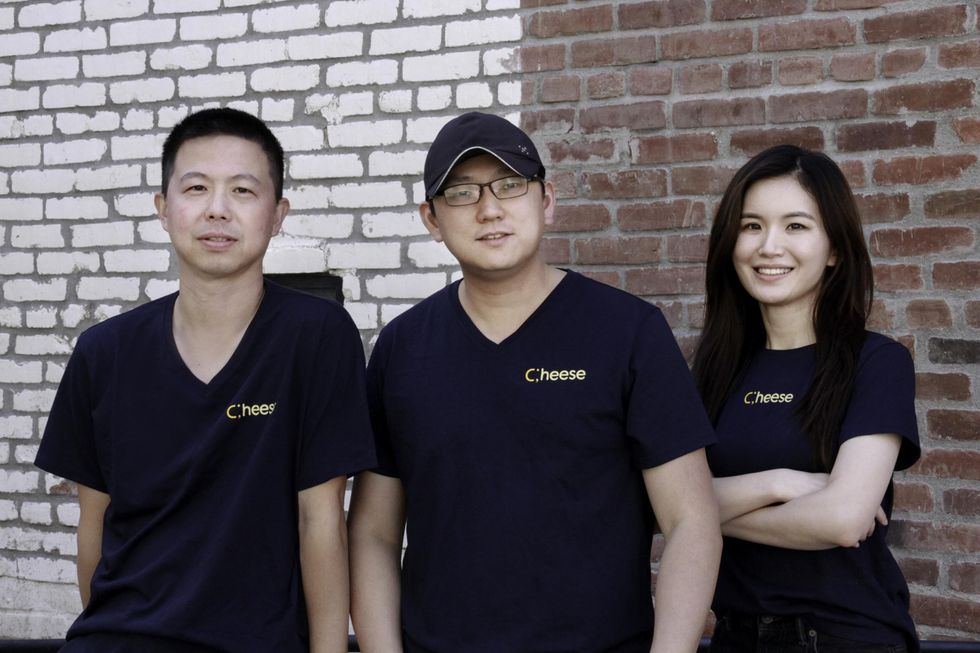 Cheese co-founders from left to right: Zhen Wang, Ken Lian, Qingyi Li.
Based in Pasadena, Cheese, which is named for the popular slang term for money, is national but has a focus on three cities with the largest Asian populations – San Francisco, Los Angeles and New York City.

Though targeted at Asian Americans, anyone can sign up and Cheese said its waiting list is multiracial, with a third of prospective users self-identifying as Black and another third as white.
Lian worked a brief stint in business development in 2016 at Honey, the browser extension that helps consumers find deals and rewards and was acquired by PayPal in 2019. From that, he said he learned the popularity of rewards, which Cheese plans to dole out liberally.
Users can earn up to 10% cash back at popular merchants like Netflix and Starbucks as well as Asian grocers 99 Ranch Market and YamiBuy.
As part of its launch, Cheese has pledged $100,000 to nonprofits and community service programs in support of Asian neighborhoods and businesses hardest hit by hate crimes and economic hardship during the pandemic.
Cheese's backers include Amplify, IdeaLab, and Operate Venture Studio as well as Adam Nash, former CEO of Wealthfront, and Spencer Rascoff, the co-founder of dot.LA and Zillow.
Cheese is the just the latest VC-backed challenger bank to target niche demographics including Black and LGBTQ people and take on the legacy banking industry. OnJuno, which launched last year in San Francisco, also caters to Asian immigrants.
Editor's note: This story has been updated to clarify where the bank's service is offered, as well as accepted id verification.
Related Articles Around the Web
Elementary Robotics, one of Los Angeles' top robotics startups, announced Tuesday it has raised $12.7 million in Series A funding to continue developing and deploying its automation products at scale.
Co-founded in 2017 by Bill Gross of Idealab and Arye Barnehama, a Pomona College dropout and former head of design at Daqri, the company says its mission is to assist people by "automating day-to-day repetitive tasks" but it adds cryptically on its website: "We can't detail too much about the technology because we're still in stealth mode."
"I'm extremely excited to go public with what we're building, continue to support more companies with their quality and traceability needs, and grow the Elementary team to expand and deploy our innovative platform," said Barnehama.
In 2018, Gross described to TechCrunch why he was bullish on the company. "Up until now, robotic actuation was mostly about super rigid, super stiff, super strong, repeatable actuation, mostly for manufacturing. But with the recent advances in computer vision, machine learning, and adaptive learning, now you can have a robot that is gentler, less stiff, but MORE (sic) accurate using vision as your feedback system," Gross wrote in an e-mail. "This is a game-changer, and opens up a new frontier of lower cost, easier to program, easier to use robotics for more mainstream operations."
This latest round was led by Menlo Park's Threshold Ventures (formerly DFJ), an early-stage investor in disruptive technology companies and also had participation from existing investors Fika Ventures, Fathom Capital, Ubiquity Ventures and Toyota AI Ventures.

"Elementary Robotics is one of a handful of 'new wave' intelligent automation companies contending that the application of AI and robotics will enable a novel set of functions that legacy providers are ill-equipped to address," said Mo Islam, partner at Threshold Ventures. "We were immediately impressed with Elementary's true software-first approach and its ability to deliver on it."
The valuation was not disclosed but the company last raised $13 million of funding in November at a $48 million post-money valuation, according to Pitchbook data.
From Your Site Articles
Related Articles Around the Web
Wide-eyed and sweet, meet Moxie, the $1,500 robot for children.
The creators of the one-foot tall emotive machine want Moxie to become your child's newest companion. Geared toward autistic children, the company believes Moxie embodies "the very best of humanity" in a form of technology that fuels learning.
"What we are trying to do with this product is to amp up the benefit of social or, if you like, emotional intelligence," said its creator Paolo Pirjanian. "I want every child to be able to access this."

Over the last four years, Pirjanian, the former chief technology officer at iRobot, and his team of therapists, designers and engineers at Pasadena-based Embodied built a battery-powered creature that makes eye contact, reads facial expressions and converses with children. Pirjanian eventually hopes to develop these robots for older adults in isolation or those with Alzheimer's or dementia.
The venture-backed company has raised $34 million in the process, securing money from the funds of big name companies looking to bring artificial intelligence into our everyday lives including Amazon, Intel and Toyota.
"What Paolo has built with the team at Embodied is a new way for humans and machines to interact that involves emotional intelligence, emotional awareness and really tries to infuse humanity into a field of machines," said Jason Schoettler an investor and co-founder of Calibrate Ventures. "This is not an evolution in my view, this is a revolutionary step forward."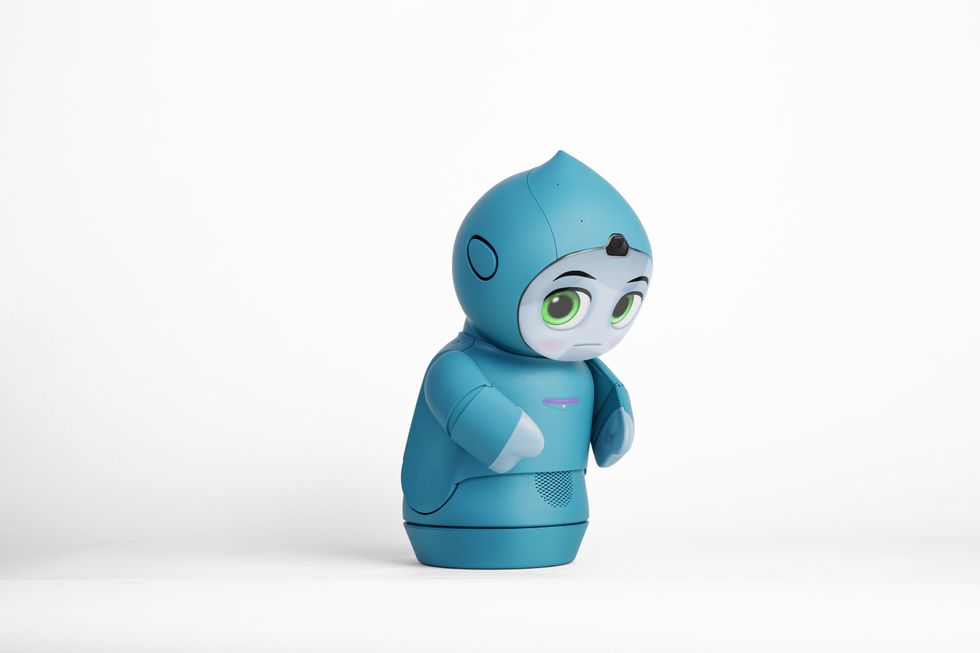 Moxie Makes eye contact, reads facial expressions and converses with children. Image courtesy of Embodied
The robot looks less like Stars Wars C-3PO than a character out of a Pixar movie with giant green eyes, rosy cheeks and a round head. It's pre-programed lessons are intended to guide children through development with discussions about feelings and relationships- difficult areas for children with autism to navigate.
The U.S. Centers for Disease Control and Prevention estimates that one in 54 U.S. children have autism spectrum disorder, a neurodevelopmental disorder that makes interaction and communication challenging.

Researchers have become increasingly interested in the use of so-called social robots to help children with autism develop social skills.
"The robot actually does personalize its interactions for that particular child over time using machine learning," Pirjanian said. "The data that we are collecting will potentially help the healthcare community to have better insights into what techniques work for what kind of a child, because it has to be individualized for every single child."
But such personal data can become prey for hackers. Pirjanian said there's sufficient protections. The robot's information is encrypted and can only be unlocked by a parent's unique key. It's also audited by Privo for compliance with regulations governing children's online protection.
In a six-week study conducted by Embodied, their researchers found Moxie improved eye contact, self-esteem and emotional regulations for school-aged children with autism after regularly interacting with the robot. But, the company's study is of a small sample size and may not actually reflect real life outcomes.
Moxie the Robot: AI for Autistic Children www.youtube.com
Other companies have sought to jump into the market.

SoftBank Robotics has bankrolled NAO, an educational robot that sells a version aimed at autistic children for about $17,000. RoboKind, a Texas-based robotics company built Milo, a $6,500 robot for autistic children that includes plus a $3,500 subscription fee. Both have versions that are aimed at the wider $3.9 billion educational robotics market that includes bots that teach STEM. But the market has yet to really take hold.
Moxie could change that and it could shake up the $20.4 billion consumer robotics market. The company opened up its site for pre-orders this week and will give customers access to a full-year subscription which includes so-called behavioral analytics and new content that includes "missions," which are often task or challenges that Moxie presents to children.
John Lee, a partner at JAZZ Ventures and investor in the company, said that he found the technology intriguing because it really improved people's lives. Parents with autistic children often struggle with diagnosis and learning how to guide their children toward resources.
"Embodied's mission is to build socially and emotionally intelligent companions that promote positive social skill building in children," he said in an email. "This might open up people's minds to how technology can be used in a positive way and, perhaps, that opens up new products that address other markets."
Maja Mataric is a pioneer in the field of social robotics who was one of Embodied's original co-founders but is no longer associated with the company. Mataric, who holds shares in the company, declined to state why the two parted ways.
But, she said one of the biggest challenges that companies like Embodied face is having the ability to test the robot fully to see if it offers true therapeutic benefits to children.
"Companies usually need to spin out a product in just a couple to three years. That's the startup money that they have. A clinical study altogether will take two to three years just to conduct. So there's no time," she said.
Still, she said robots hold promise. Earlier this year Mataric, the founding director of University of Southern California's Robotics and Autonomous Systems Center was a co-author on a study looking at the ability of robots to improve development for autistic children using the technology at home. In the study, Mataric and her team at USC left Kiwi, a social robot that gauges child interest and tailors response, at the homes of 17 autistic children for a month. The bot played space-themed math games and offered personal feedback. At the end of intervention, all improved math skills while 92% improved social skills.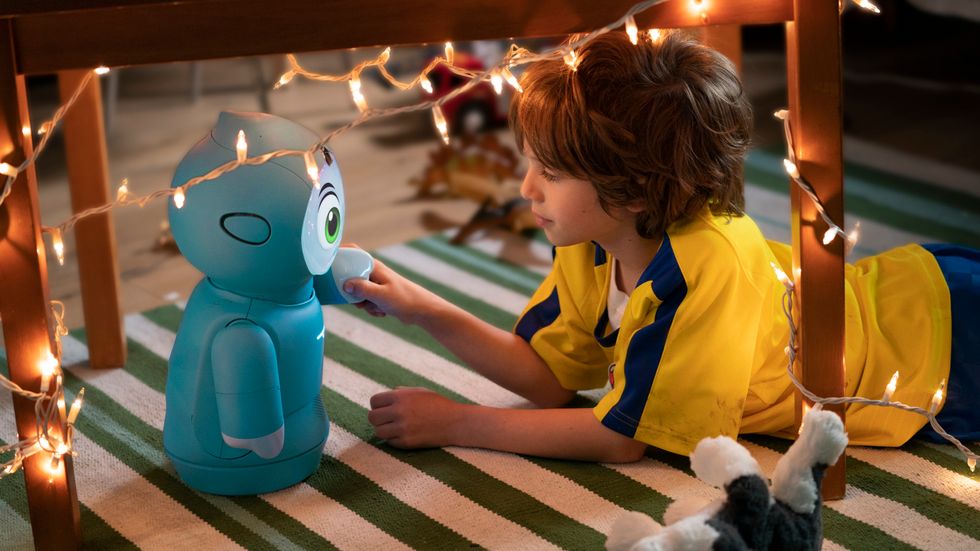 Researchers have become increasingly interested in the use of so-called social robots to help children with autism develop social skills.Courtesy of Embodied
Still, she said there hasn't been wide scale studies on the use of robotics in the home.

"Robots are not aspirin," she said. "What happens in the worst case scenario? What happens in the best case scenario?"
"Sometimes the best case scenario could be the worst case scenario, right? What if the robot is so effective that the child adores it, but they adore it so much that they don't play with anyone else," she said. "Those are the kinds of things, one has to worry about."
The idea for the company can be traced back to Pirjanin's own experiences. Born in Iran, the Armenian Christian fled to Denmark after the Revolution as a teenager. Feeling lost and behind in his studies, Pirjanin eventually bought a computer and became enthralled with its possibilities after seeing a documentary on Pixar Animation Studios.
"I was fascinated. 'How can a computer this simple create something so lifelike?'" he said to himself. "It drew me into technology. I followed that curiosity."
He got a PhD there and moved to California to help develop robots for exploration on Mars at NASA's Jet Propulsion Laboratory. From there, he went on to work with Idealab founder Bill Gross where he eventually helped develop a visual navigation technology that was the foundation of his company Evolution Robotics.
That company was bought in 2012 by iRobot, maker of the self-driven Roomba vacuum, for $74 million and he became the company's chief technology officer. iRobot, which last year recorded selling its 30 millionth robot, is arguably one of the few companies that has successfully mass marketed robots, a useful background for somebody attempting to convince parents that their children need robots to develop emotional skills.
Pirjanian said he left the company because he felt he hadn't been doing the work that had originally sparked his imagination. Embodied, he said, was a way to bring all the skills he had learned as a roboticist from machine learning to natural language processing to life. At first he eyed building a robot for the elderly, but learned about the benefits it was having on children.
Children who have social emotional and cognitive challenges were seeing benefits from a robot companion that improved their chances in society, he said.
"I knew very well this was a complete moonshot," Pirjanian said. "It's been a challenge but we are finally ready to launch."
Do you have a story that needs to be told? My DMs are open on Twitter @racheluranga. You can also email me.