disney
disney
Ratcheting up the stakes in an already tense labor battle, members of the International Alliance of Theatrical Stage Employees (IATSE) have voted to authorize union President Matthew Loeb to call a strike, the group announced Monday.
The decision could lead to the most significant industry walkout since World War II, should negotiations with a powerful trade group remain deadlocked.
53,411 behind-the-scenes workers in entertainment participated in the vote, and more than 98% of those voters supported the strike authorization, the union announced. "The members have spoken loud and clear," said Loeb in a press release. "This vote is about the quality of life as well as the health and safety of those who work in the film and television industry."
The vote will be used as a bargaining chip in ongoing talks with the Alliance of Motion Picture and Television Producers (AMPTP), which represents Disney, Apple, AT&T and other giants in entertainment and tech.
It comes as the rise of streaming has ramped up the tech industry's influence in Hollywood, ensuring that Amazon and Netflix have a seat at the bargaining table alongside major studios such as Sony Pictures and Paramount.
"Every single local that voted far exceeded the 75% threshold for strike authorization," John Lindley, president of the International Cinematographers Guild, said in a message to IATSE Local 600 members on Monday. "We are now scheduled to return to the table tomorrow, October 5th, to hear from the employers."
IATSE consists of camera technicians, editors, makeup artists, location managers and a host of other workers in entertainment. In negotiations for a new contract — also known as a basic agreement — IATSE representatives have pressed for "meals and breaks during the day; rest periods between shifts and on the weekends; a living wage for the lowest-paid people; and some appropriate adjustments to new media [streaming] based on its maturity," Loeb said recently.
But talks have stalled for weeks on a number of issues, from raising the wage floor to funding IATSE members' pensions through a greater cut of streaming profits.
While IATSE has yet to declare a strike, the AMPTP warned last month that a walkout would "have a devastating impact on the industry and inevitably will result in thousands of IATSE members losing their income, failing to qualify for health insurance benefits, jeopardizing funding for the pension plan and disrupting production."
The world of sports betting is heating up, and the Walt Disney Company is considering making a wager.
CEO Bob Chapek hinted earlier this month at the Goldman Sachs Communacopia Conference that Disney intends to break into a world that has long been associated with vice.
"Strategically, what sports betting gives us is the ability to appeal to a much younger sports fan viewer, who can be very strong in their affinity for those sports," said Chapek.
The 61-year-old executive who took over for Bob Iger last year has overseen a massive reimagining of the once family-centric entertainment giant. Chapek, who once reigned over Disney's theme parks, has made streaming front and center for the Mouse House, shaking up the organization's pecking order. And now, he appears to be looking at folding gambling – a pastime that's seems far from the company's roots – into the company's franchise.
Chapek reiterated last week the idea he has been floating since earlier this year. Disney is looking to bring sports betting to ESPN, heeding the call from some investors that have been clamoring for the company to make more use of the channel and its synchronicity with DraftKings. Disney gained a stake in the wagering site when it acquired 21st Century Fox in 2019, but hasn't done much with it.
In August, the Wall Street Journal reported Disney was in talks to license its ESPN brand to casino operator Caesars Entertainment and DraftKings. Nothing is finalized, and the deal sources valued at $3 billion could fall through, but the move is an indication of Chapek's style and Disney's evolving focus.
"They're very deliberately and carefully realizing that their brand is maturing and people have matured with it," said Tom Nunan, the former president of NBC Studios and lecturer at the UCLA School of Theater, Film and TV.
Nunan pointed to the company's decision made in 2016 under Chapek's direction to begin allowing alcohol in parts of some parks and added that Disney is realizing its fans are "human beings who have hobbies that can be addictive."
"They're kind of letting that play itself out naturally and trying not to ignore it," he said.
An ESPN-licensed sportsbook could be a big revenue driver for Disney, not just because of its potential for gambling content, but the overall brand.
The global sports betting market was worth roughly $67 billion in 2020, and it's expected to grow at least 10% through 2028, according to Grand View Research.
"They have one of the most trusted brands and sports, if not the most trusted brands in ESPN, and anything that follows from that including DraftKings is the gold standard for sports entertainment," Nunan said of Disney.
The sports betting industry is growing quickly, but it's still a small fraction of the overall gambling market, said David Schwartz, gaming historian and professor at the University of Nevada Las Vegas. UNLV research reported that revenue from sports betting in July was roughly $210 million, a figure dwarfed by the revenues of casino gambling.
Still, with so much going online, there's a calculation that these sites will be able to capture and eat up some of that market.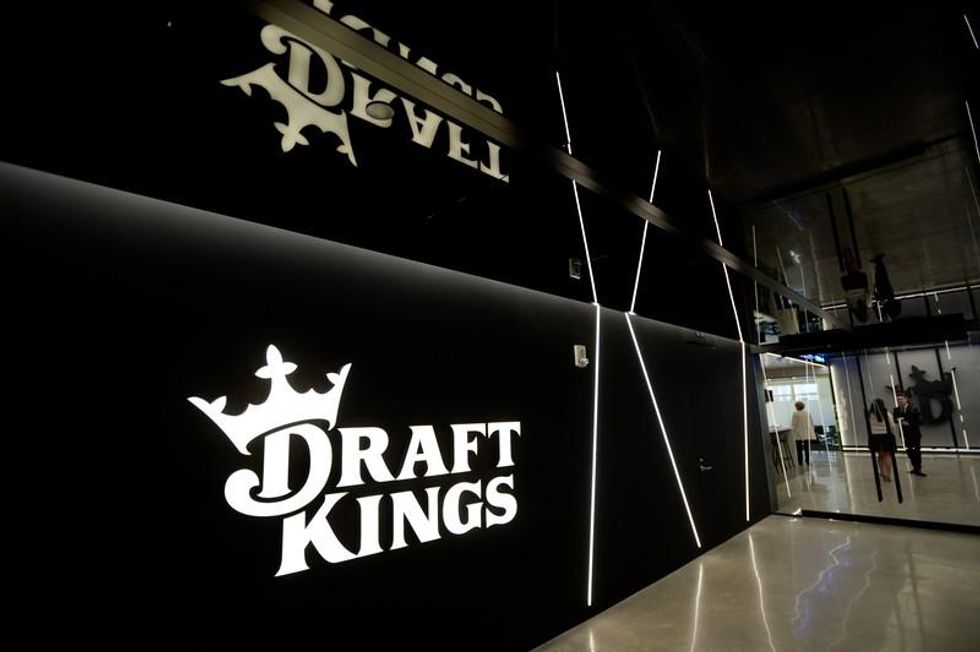 DraftKings reportedly made a $20 billion offer to buy Entain, a U.K.-based company that operates a sportsbook with casino magnate MGM earlier this month. If the deal is finalized, DraftKings would need to link up with MGM in order to operate Entain's U.S. assets, a move that could be an eventual benefit to Disney as well -- both as an added revenue stream and a way to keep customers streaming ESPN Plus and other sports content.

But Disney is moving cautiously around the gambling industry. Chapek has implied the company's trying to find a way to avoid embedding betting directly into ESPN.
"We know that it represents very little risk to the company and very little risk to ESPN," he told investors in April. "I think there's a long way between (being) embedded into the ESPN business model and licensing out, right, there's a lot of room between there."
The Journal reported that an insider said the deal would also mandate the buyer spend a certain sum of advertising dollars on ESPN's platforms, as well as giving the sportsbook access to the ESPN branding.
One complicating factor is that states vary on the legality of sports wagering. CBS Sports reported that 22 states have embraced some form of legal sports betting, while 18 states including California are considering bills that could legalize it. It remains illegal in seven states and three are in the process of figuring out regulations.
Schwartz said it might be easier for Disney to license a brand name like ESPN to a sportsbook instead of creating its own and getting swept up in regulations. If Disney created its own sportsbook, the owners and operators would need to be approved by gaming commissions in every state it operated in.
And while Disney will definitely add a new revenue stream if it gets into gambling, Schwartz said it is unlikely to see explosive growth overnight since the sports betting industry is still developing.
What it will add, Schwartz said, is eyeballs to ESPN and its ESPN Plus counterpart, which saw considerable growth during the pandemic -- paid subscribers were up by one million to a total of 14.9 million, compared to 116 million paid Disney Plus subscriptions.
It could also eventually use betting to drive viewership to its more traditional channels, including creating more TV shows, podcasts and written content around gambling. ESPN publishes some betting odds and has a handful of sports betting podcasts and TV shows, but it's directly avoided facilitating any bets on the platform.
"It's not necessarily going to transform Disney, it'll just be an added revenue stream and it probably would be a pretty small one," Schwartz said. "It's just the question of building those synergies -- if people are betting the games, they're more likely to be watching the games, which means ratings go up."
Disney CEO Bob Chapek acknowledged the ongoing tensions developing among high-profile talent and studios that have put their blockbusters on streaming channels instead of releasing them first in theaters.

"The talent deals going forward will have to reflect the fact that the world's changing," Chapek said, speaking virtually at the Goldman Sachs Communacopia Conference. "There's a bit of a reset going on right now."
"Black Widow" star Scarlett Johansson sued Disney in July for releasing the film directly to Disney Plus instead of theaters, and argued that was a breach of her contract. Chapek didn't reference the lawsuit or name Johannson directly, but he implied it could change how Disney does business.
Johannson was to be compensated based on box office performance and could have lost up to $50 million from the movie skipping theaters, according to the Wall Street Journal.
Chapek said that many of the deals brokered with stars were done so before the pandemic altered the theatrical window.
"So we're sort of putting a square peg in a round hole right now, where we've got a deal that's conceived under a certain set of conditions," he said.
"We'll think about that as we do our future talent deals and plan for that, and make sure that that's incorporated. But right now we've got sort of this middle position where we're trying to do right by talent," Chapek added.
The dispute is unfolding amid larger concerns for Disney. Chapek warned investors that Disney Plus subscriber growth is likely to slow in the fourth quarter adding users in the "low single-digit millions" as pandemic-fueled production delays limited their movie debuts.
Coronavirus pandemic lockdowns and regulations put a massive strain on Disney's ability to churn out content for its streamers at the rate it typically targets and it has also thrown a wrench in their theatrical release schedule.
"COVID-induced production delays is a kink in the supply chain for new content," Chapek said, adding that "this is short term."
He reported Disney has 61 movies and 17 shows in production right now. The Disney TV division has over 200 active productions globally.
Former NBC Studios president and UCLA School of Theater, Film and TV Lecturer Tom Nunan said production delays are standard for an industry reeling from the pandemic.
"The production footprint around the world has been forever changed by COVID," Nunan said. He added there's a sort of post-coronavirus "hangover from just the obscene kind of buying that consumers went on (subscribing to streaming services) during the height of the pandemic, here and abroad," as people begin to resume normal life.
Nunan said it was surprising Disney only had 200 global TV productions active given the number of properties they own across film and television.
Disney shares closed down 4.17% on Tuesday.
The company reports fourth quarter earnings Nov. 11.
From Your Site Articles
Related Articles Around the Web