pasadena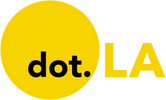 Get in the KNOW
on LA Startups & Tech
X
pasadena
The largest driver of global warming, carbon dioxide is at its highest level in our atmosphere than any point over the last 8,000 years. And as carmakers and politicians race to come up with solutions, one Pasadena-based firm called CarbonCapture has a bold plan to help humans remove emissions from the air and in doing so innovate a way out of climate change.

"We are at a tipping point and right now we've run out of time," said CarbonCapture CEO Adrian Corless. "What really scares me is the current projections that we're actually going to continue to increase emissions through 2035."
CarbonCapture raised a $35 million Series A round Tuesday to grow its team and begin deploying a network of machines that remove carbon dioxide from the atmosphere using renewable energy. The system works by trapping carbon molecules in the air and storing them to be broken down or safely released elsewhere, like underground.
The company aims to have device prototypes up and running within two years. Capturing and dispelling carbon dioxide from the air at a global scale hasn't been possible yet, and it's a more lofty aspiration for solving climate change than some other more common ground-based solutions -- like using less fossil fuels or limiting energy consumption.
To really work at the highest level, every country would need to be using a vast number of the CarbonCapture devices to remove carbon dioxide at scale. It's a challenge, but Corless said he thinks it's possible to create new tech to help us escape the damage of climate change.
"There's all sorts of industries that scale up and deliver things like this," he said. "The solar industry was a great example, it took a couple decades, but they are able to deliver of hundreds of millions of panels per year (now)."
Several other companies, including Climeworks, Global Thermostat and Canada-based Carbon Engineering, where Corless used to be CEO, are working to tackle this problem of erasing carbon dioxide from the air. Government incentives are a key way to get private companies on board, Corless said, and they're more common now in "progressive parts of the globe" like the U.S., Canada and the E.U.
Tax breaks for carbon neutrality will "take you a long ways towards solving a problem and integrating a huge industry," Corless said, but noted it'll be hard to get other high-emitting countries like China, Russia, Brazil and India to get on board.
CarbonCapture was launched at Bill Gross' Pasadena startup incubator IdeaLab in 2019. Since then, it's raised over $43 million to date. Gross is a co-founder of CarbonCapture and serves as its chairman in addition to leading Heliogen, a Pasadena-based energy company working to replace fossil fuels with sun energy.
The raise was led by Prime Movers Lab. Two Idealab funds –Idealab Studio and Idealab X – joined the round alongside Salesforce CEO Marc Benioff, who invested through his company TIME Ventures, as did international mining company Rio Tinto, a new investor which will use the prototype devices at its mining site in Minnesota.
The National Oceanic and Atmospheric Administration reports that even though more people stayed at home during the global coronavirus pandemic, the world still hit new record high levels of carbon dioxide in 2020 -- and since 2000, carbon dioxide levels have increased 12%.
"We're really in a scary point in the Earth's history right now, so there's consensus that we need to shift the narrative, we need to reduce emissions," Corless said.
From Your Site Articles
Related Articles Around the Web
With gun violence surging in Pasadena, the city has sought help in a controversial technology that some residents fear will infringe on their privacy.
Pasadena saw an 85% increase in gun violence in 2020 over the year prior, according to data released by the Pasadena Police Department. Police officers also reported 288 gun seizures in 2020 — 62 more than in 2019.
In response, the city has signed a $640,000, three-year contract for ShotSpotter, a sound recognition system that detects gunfire in the community.
ShotSpotter's technology's acoustic sensors detect a gunshot as soon as it's fired. It uses artificial intelligence and triangulation to determine the location of the gunshot and alerts police by phone message. ShotSpotter claims the entire process takes 60 seconds.
"Based on the information that we provide them, ShotSpotter technicians come in and they install various sensors throughout the proposed area," said Pasadena Police Lt. Lieutenant Bill Grisafe.
But given broad fears around overpolicing, many worry the technology gives law enforcement yet another surveillance tool — one they worried wouldn't prove that effective, as residents in other cities that use the tech have claimed.
Those tensions were on display Monday evening, when City Council members convened to deliberate the contract with ShotSpotter.
"No one else in L.A. County is using this technology," one resident said during the public comment portion of the meeting. "If that's not a red flag I'm not really sure what is."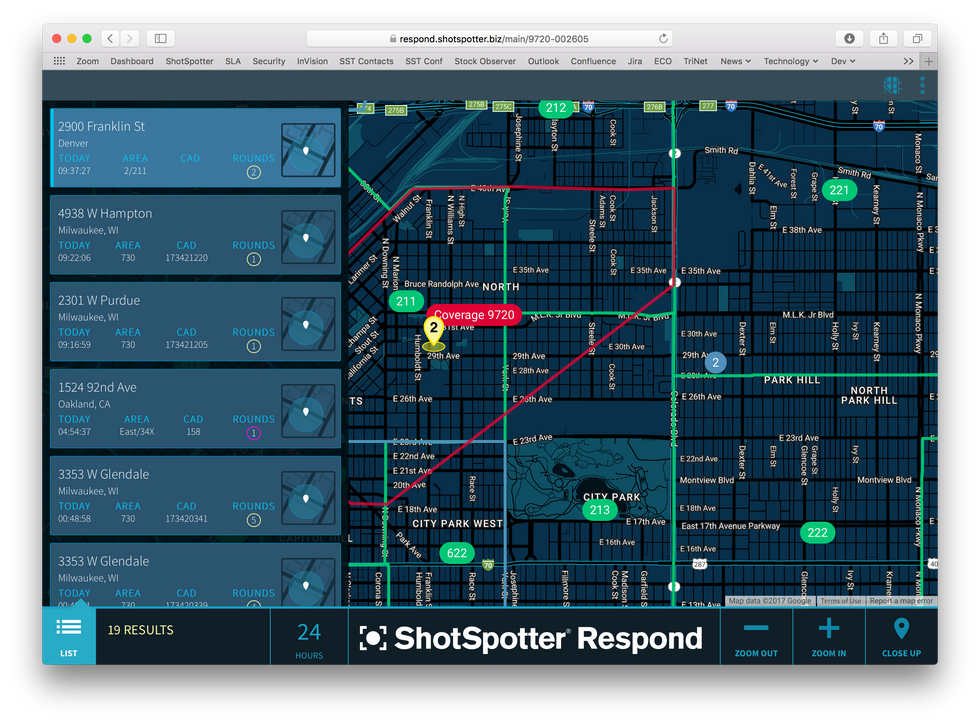 ShotSpotter displays an approximate triangulation where a gunshot is detected.
Grisafe, for his part, maintains that the Pasadena police won't be using Shotspotter in any intrusive way. "This is a system that has not been tested here, or used in Pasadena before, and I understand that there are some concerns," he told dot.LA on Tuesday. "But I think it is important to understand that this is not any type of surveillance equipment."
Some local elected officials aren't so sure. The City Council voted in favor of ShotSpotter, 7 to 1. They also agreed to revisit this technology after a one-year period to see whether it has had any impact.
"Given everything that's going on in my district last year and going out and talking to residents. We hear repeatedly calls to try new things, try new technologies. So while I am wary, it's worth a try," said Jessica Rivas, Council Member of District 5.
From Your Site Articles
Related Articles Around the Web
BallerTV, a livestreaming service for youth sports, is expanding from the gymnasium to the playing field, adding millions of games that it can broadcast into people's homes.
The Pasadena-based company announced Tuesday it acquired NextPro, which films outdoor youth sports and has exclusive rights to record games from nearly 400 of the top soccer and lacrosse event operators.
BallerTV livestreams scholastic and club basketball and volleyball using proprietary autonomous technology. With the acquisition of NextPro, it will increase the scale of its operations from streaming hundreds of thousands of games to millions. The company declined to reveal the terms of the deal.
"Our technology, our platform, is pretty sport agnostic and our business model to connect families and communities to the power of live sports isn't confined to just indoor sports," Baller TV CEO and co-founder Aaron Hawkey said. "It's going to accelerate our entrance into soccer and other field sports which are massive sports in the market."
El Segundo-based NextPro was founded in 2013 by Craig Hochstadt and Amin Edalat and focuses on filming large-scale youth recruiting events in soccer, lacrosse, baseball and softball. It had not delved into livestreaming.
There are 50 million youth sporting events each year and less than 1% are livestreamed, Hawkey said. It's also a lucrative market. Spending in youth sports in the U.S. was $15.3 billion in 2017 and grew to $19.2 billion in 2019.
Critics say that parents are spending thousands on coaches, equipment and other things needed to play competitive youth sports, but only a small percentage of kids will get a college scholarship or go pro.
Still Hawkey said the value of sports is immeasurable.
"All the benefits that I got from sports didn't mete out into a college scholarship. I don't think that was what my parents were hoping for," he said. "The leadership skills I take in building a startup from what I learned from sports, it's hard to place a value on."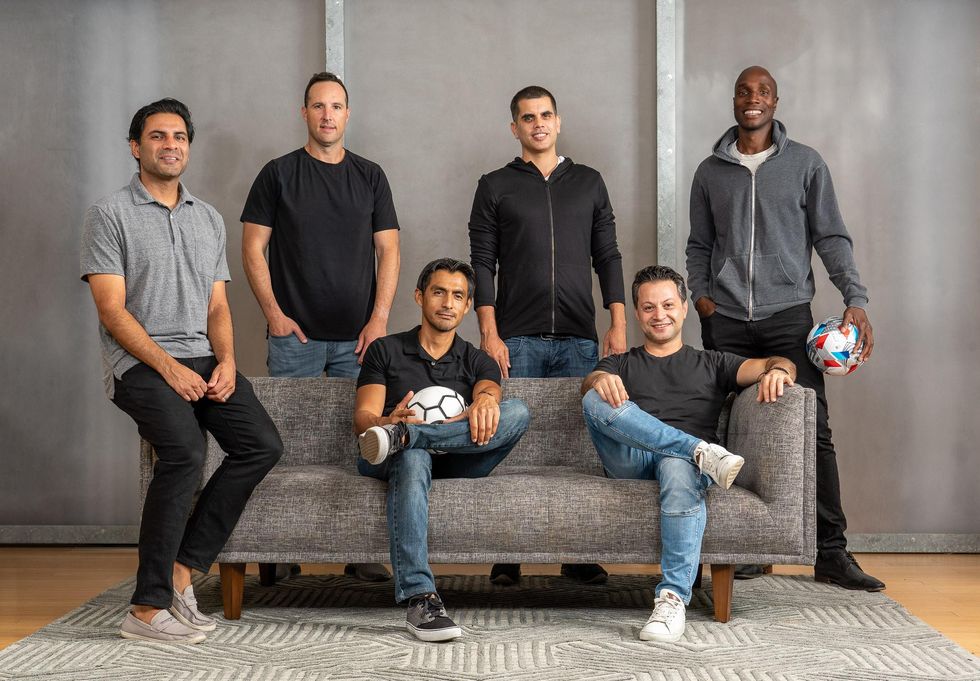 From left: Sandeep Hingorani (EVP of BallerTV), Craig Hochstadt (co-founder, NextPro), Robert Angarita (co-founder, BallerTV), Aaron Hawkey (CEO, co-founder of BallerTV), Amin Edalat (co-founder, NextPro) and Kavodel Ohiomoba (chief technology officer, BallerTV)Photo courtesy BallerTV
During the pandemic, when sports returned but spectators were limited, family members and recruiters turned to BallerTV, Hawkey said.
The service has 3,000 college Division 1 through Division 3 scouts, according to the company, although it did not provide a total number of subscribers. The biggest audience though are family members of the athletes who can't make it to games, Hawkey said.
"I do think there's a lot of upside in providing value and coverage of these events," he said.
Another initiative that BallerTV undertook this year was selling NFTs of the top athletes at a high profile youth basketball tournament. The tournament's MVP earned $4,000 from his NFTs. The idea was inspired by the U.S. Supreme Court ruling that college athletes could be paid modest sums related to education. It does not apply to high school athletes.
"There's a lot we can do in terms of really trying to help these athletes," Hawkey said. "Clearly there's an opportunity for them to make money, not only on NFTs but in other ways and we're trying to push the ball forward on allowing that given all the restrictive rules in the high school space right now."
When it first began, BallerTV hired videographers to stream the games, growing to a network of 30,000 across the country. But soon, Hawkey, who is an engineer, realized that technology would be key to reach the scale that he envisioned.
With a team of engineers, it developed proprietary machine learning to automatically record the action.
It requires less manpower as iPhones, equipped with fisheye lenses, are used rather than video cameras with an operator at each camera. One person can monitor several devices at a basketball tournament where 10 games are being played at once, for example. That person can watch a sort of master feed to monitor whether a basketball crashes into the device or other technical difficulties arise.
Outdoor sports do present a challenge compared to the climate-controlled environment of a gym. Hawkey had wanted to move into outdoor sports eventually, but NextPro's experience will help that expansion.
From Your Site Articles
Related Articles Around the Web