pasadena
Two Southern California biotech startups got swallowed up this week as big pharma benefitted from the record-breaking year of investment in the industry.
Pharmaceutical giant Eli Lilly plucked up a Pasadena startup Protomer Technologies for $1 billion. The company is working on "smart insulin" to treat diabetes.

Another SoCal startup, El Segundo-based Integrity Bio, was acquired by New York drug development company Curia, formerly known as AMRI. Terms of both deals weren't disclosed.
Biotech has been on a tear. Protomer, which last year received an undisclosed funding amount, is one of over a thousand companies who benefited from a banner year in biotech. According to Pitchbook, the industry saw a 60% year-over-year increase in venture capital deal activity in 2020 — the largest year-over-year increase ever seen.
Those deals are coming to fruition now, as Protomer and Camarillo-based Integrity Bio, a formulation pharmaceutical upstart, are shedding the need for funding as they get acquired by pharmaceutical companies.
"If Big Pharma wants to start buying assets, more venture capital is going to start pouring into biotech because they know that Big Pharma will be interested in acquiring it down the road," said Bill Bolding, a senior analyst at Provident Healthcare Partners.
Eli Lilly's acquisition of Protomer will give it an even stronger hold on diabetes treatment. Eli Lily's most recent diabetes drug, tirzepatide, outperformed one of its market rivals, and the company is pursuing FDA approval. But glucose-sensing insulin is the next frontier of diabetes treatments, as it has the ability to take into account peoples' unique blood sugar levels.
"With insulin, it's a very complicated drug to use," said Ruth Gimeno, Eli Lilly's vice president of diabetes research. "It's a very efficacious drug, but current insulins are not as safe as we would like them to be. So glucose sensing insulin would just be a complete game changer here."
Curia, a company that formulates and manufactures drugs for other companies, will use Integrity Bio to establish a West Coast presence in the U.S. and get access to the former upstart's slew of clients ranging from startups to Fortune 500 companies. The acquisition is expected to close in the third quarter of 2021.
A Pasadena-based robotics company that helped build a Mars rover has found their new headquarters — and in a former neighborhood restaurant.

Motiv Space Systems has purchased the 4,990 square-foot building that formerly served as Robin's Wood Fire BBQ for $4 million as the 40 to 50-person company expands its production capacity.
"For our customers, [purchasing this building] shows a commitment to our industry," said Tom McCarthy, Motiv's vice president of business development. "We are trying to grow these capabilities and expertise. We want to provide adequate facilities and technologies in support of the programs and customers we work with."
The company, which builds space-based robotics systems, is mainly known for creating the robotic arm on the Perseverance rover used in NASA's Mars 2020 mission. Other areas Motiv works on include satellite servicing — that is, repairing spacecraft while in orbit — and designing equipment that can withstand extremely cold temperatures.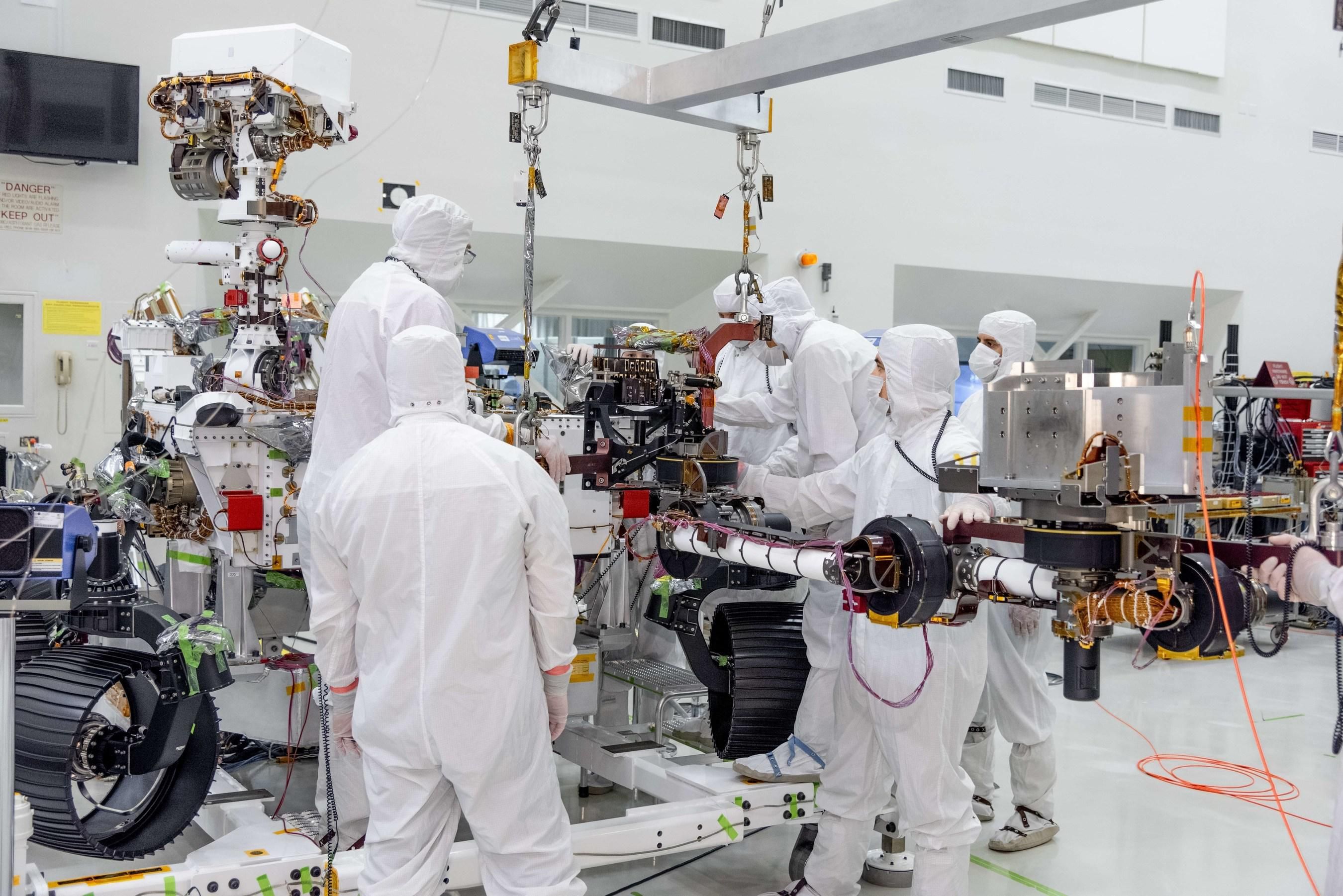 Motiv hopes to have renovations complete in less than six months, and the company plans to move in shortly after.
Robin's Wood Fire BBQ operated as a full-service restaurant for 37 years until the owner decided to close the restaurant in 2019. It has since been vacant.

McCarthy said the company was largely attracted to the building for its close proximity to the company's other property, which currently serves as its headquarters. Motiv now owns and operates two buildings.
The new building will be a space for Motiv's engineering staff to research, design and distribute products. Motiv hopes to have renovations complete in less than six months, and the company plans to move in shortly after.
Robin Salzer, the former owner of Robin's Wood Fire BBQ, expressed excitement towards the sale and the new use of his building.
"From ribs to robots, the property's next chapter will be exciting to watch," Salzer said in a statement.
Motiv shares a home in Pasadena with NASA's Jet Propulsion Laboratory. These companies — along with SpaceX and a growing number of startups — add to L.A.'s status as an aerospace hub.
Related Articles Around the Web
Serial entrepreneur and Heliogen CEO Bill Gross calls it the Sunlight Refinery. In the fall of 2019, the Pasadena startup unveiled a Lancaster facility designed to capture carbon-free thermal energy at over 1,000 degrees Celsius using a cluster of mirrors.
Gross wants the system to power heavy industries like cement and steel processing and replace fossil fuels with entirely renewable energy.
On Tuesday, the company got a boost. It announced a $108 million investment from giants including the mining company ArcelorMittal and Edison International to deploy the system around the world.
"This infusion of new support for Heliogen comes at a time when the paradigm shift toward clean energy is even further accelerated by the new realities the world is facing," Gross said in a statement.
The founder nurtured the startup in his own Idealab incubator, also based in Pasadena, which has so far birthed some 150 companies tackling carbon emissions and global warming.
"We are trashing the Earth," Gross said to a crowd at last year's Upfront Summit. "The world is completely ready [for clean energy]. I am very passionate about making this a reality in my lifetime."
The lofty raise includes two separate funding rounds: a $25 million round followed by an oversubscribed $83 million boost that pulled in the new backers. Add those to Heliogen's previous investors: Bill Gates, Patrick Soon-Shiong, Nant Capital and others.
It comes three months after the company announced it would launch the AI-powered system at Rio Tinto's borates mine in Boron, California. Once set up, the system will power the mine by creating and storing carbon-free energy from solar heat — a move that would drop carbon emissions at the site "significantly," according to the company.
The company will sink the money into deploying the systems first in the U.S. before "other regions with strong solar resources."
"We're being granted the resources to do more projects that address the most carbon-intensive human activities and work toward our goals of lowering the price and emissions of energy for everyone on the planet," Gross said in a statement.
The goal, he continued, is a "post-carbon economy."
From Your Site Articles
Related Articles Around the Web