grid110
grid110
Image from Grid110
Before pitching to investors and venture capital firms, some founders will scrape together capital from people they know—a category of early-stage funding known as the "friends and family" round.
But most founders—especially those from communities that are underrepresented in tech—don't have access to such a moneyed personal network. For those without backing from friends and family, getting that initial investment can be a grueling, sometimes impossible, task.
Grid110, a Los Angeles-based nonprofit, wants to help level the playing field.
The incubator launched its first national "Friends & Family" cohort this month for 20 early-stage startups through a partnership with Slauson & Co., an early-stage venture capital firm based in L.A. and focused on economic inclusion.
"We felt that there was an opportunity to kind of reframe this concept of 'friends and family,' and not just from a capital standpoint," Grid110 CEO Miki Reynolds told dot.LA. "The capital is very much needed, but there's also this access to networks and resources and education."
Neither Slauson nor Grid110 will take equity in the 20 startups. Instead, they're giving each founder a $20,000 non-dilutive cash grant, with the chance to earn more throughout the 12-week virtual program. The accelerator will provide the cohort's entrepreneurs with mentorship and coaching from executives including Sequoia Capital partner Jim Goetz, former TaskRabbit CEO Stacy Brown-Philpot and Jonah Peretti, Buzzfeed's co-founder and CEO.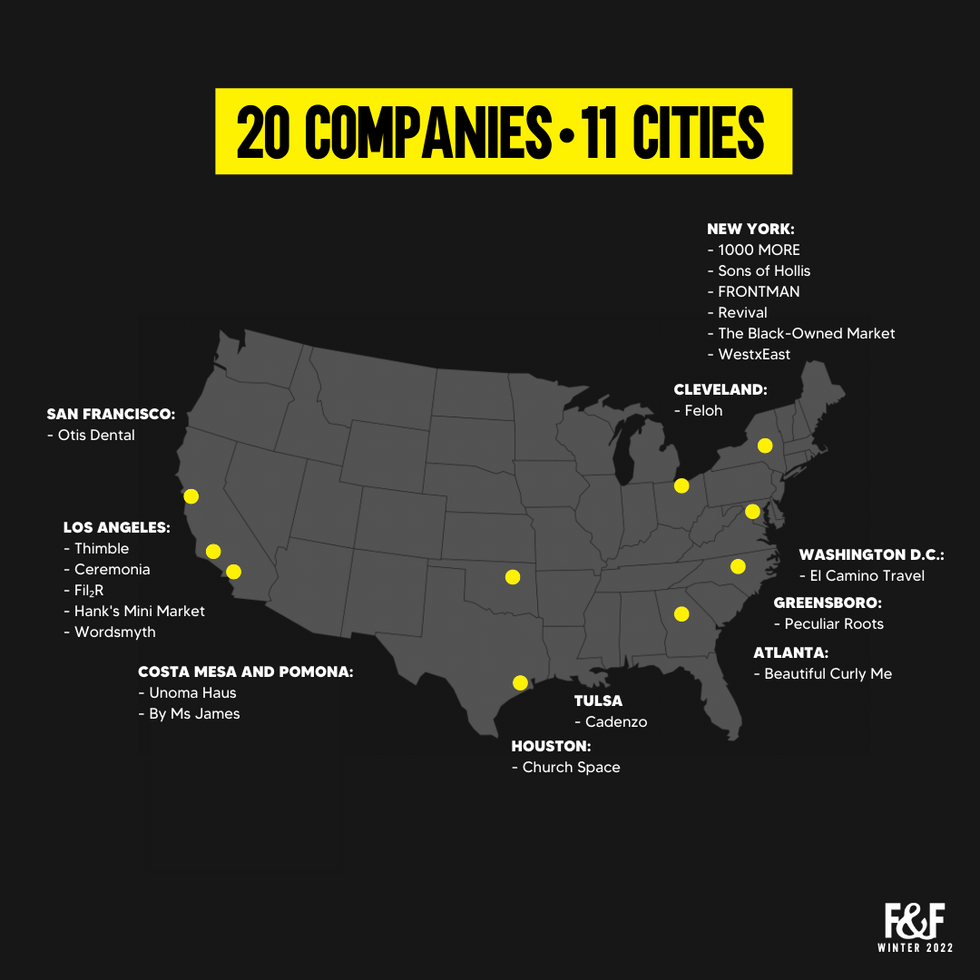 A map of the startup companies in Grid110 and Slauson & Co.'s 'Friends & Family' program.
Geotz, Ron Conway of San Francisco-basd seed fund SV Angel, the Annenberg Foundation and the Schultz Family Foundation all donated capital to finance the cohort. The program received nearly 600 applications from 38 states, making it Grid110's first national cohort. It is also an exceptionally diverse cohort; each company has a founder who identifies as Black, Latinx, Asian or Pacific Islander, while 75% have a woman founder.
"There's so much under-accessed value in some of these communities that, if given the right investment and guidance, you can really see the return a lot of VCs are looking for," said Kibi Anderson, whose startup Wordsmyth—which helps media, film and advertising firms hire writers of color—is one of five L.A.-based companies in the program.
Not every member of Grid110's cohort is necessarily tech-focused. Other L.A. companies include the South L.A. grocery market Hank's Mini Mart and Thimble, a brand of numbing patches designed to reduce patients' pain and anxiety during procedures involving needles.
"There's a lot of pressure to raise from VCs," said Thimble CEO Manju Dawkins, whose company raised pre-seed funding late last year. "That's good for a lot of companies, that may be good for us, but it's difficult."
A look at the statups in Grid110's 2022 cohort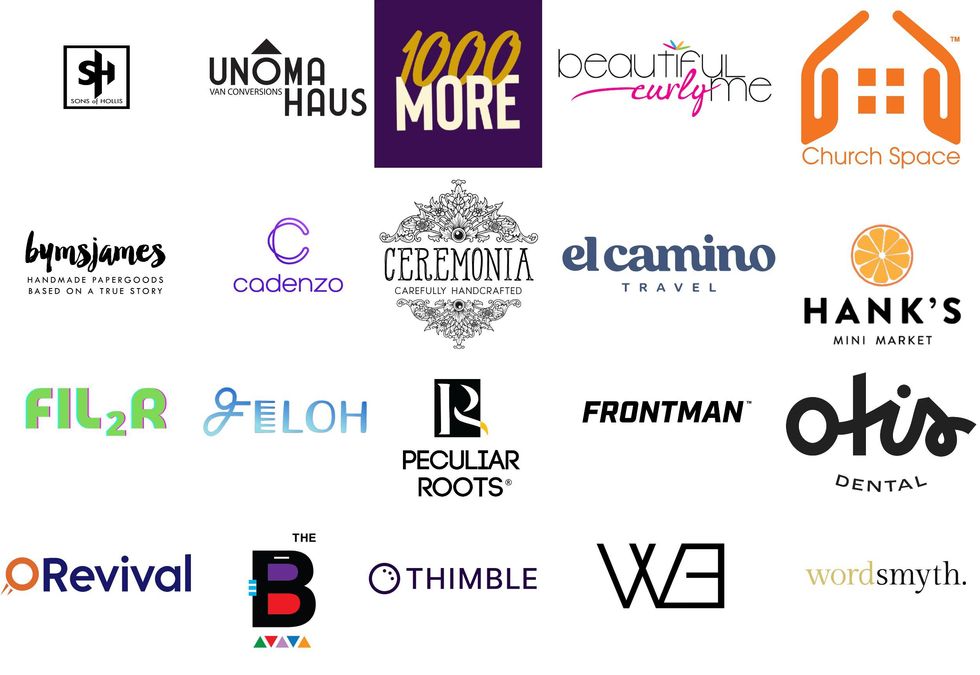 Here are the startups in the Friends & Family Winter 2022 cohort:
From Your Site Articles
Related Articles Around the Web
Snap Yellow accelerator program heads\u00a0Alexandra Levitt (left) and\u00a0Mike Su.
Whether you are making medical devices or movies, if you have a promising startup chances are there's someone out there to help.
Southern California is home to an armada of accelerators, incubators, startup studios and other programs designed to help new business owners develop their vision and launch the next billion-dollar business.
Some of these programs are run by investors, who often go on to back the companies they incubate in later rounds. Others were created as a way for existing companies like the Walt Disney Co. or the Los Angeles Dodgers baseball team to mine talent in their backyard for future revenue opportunities. Programs like the LA Cleantech Incubator target companies from across the globe that are developing tech to mitigate the climate crisis.
While some accelerators opt to provide funding outright in exchange for an equity stake, some prefer to not financially invest, and instead offer founders a place to work, access to mentors, and a full calendar of networking opportunities to help them connect to investors who might look to cut a check.
Local companies that grew from accelerators include Dollar Shave Club, which began at Mike Jones' Science Inc. in Santa Monica and was sold to Unilever for $1 billion in 2016. Bill Gross' Pasadena-based IdeaLab has also led several startups to big exits, including crypto exchange Coinbase which was valued at $80 billion when it completed an IPO this April.
Most of these accelerators accept applicants from both in and outside LA County, and some offer virtual workshops. Here's a list of the top programs in LA that are helping new startups get off the ground.
GENERAL TECH ACCELERATORS
AmplifyLA's accelerator backs early-stage companies that are local to L.A. County. Besides funding them through its accelerator, it works with startups in all industries to connect them to a network of L.A.-based startup founders and investors to raise additional funding once they leave the program. Notable past companies that used AmplifyLA include wine subscription firm Winc and on-demand moving and storage company Clutter.
Location: Venice Beach
Type of Funding: Pre-seed, early stage
Focus: Software, emerging technology companies, D2C brands
Serial entrepreneur Bill Gross founded IdeaLab in 1996, and it's since backed over 150 companies and seen 45 of those either go public or be sold. IdeaLab backs companies regardless of their growth stage or industry but has a history of backing tech companies focused on environmental or social change. Success stories include robotics firm Elementary, crypto exchange Coinbase and GIF database Tenor.
Location: Pasadena
Type of Funding: All stages, focus on seed and early stage
Focus: Agnostic, focused on any tech company
Techstars is a global outfit with a chapter in Los Angeles that opened in 2017. It prioritizes local companies but will fund some firms based outside of L.A. Director Matt Kozlov said Techstars L.A. looks to fund a wide range of companies but does try to target ones working in industries that are strong in L.A., like healthcare, artificial intelligence, e-commerce, retail, property tech, software as a service, and consumer tech.
Location: Downtown Los Angeles
Type of Funding: Pre-seed, seed rounds
Focus: Aerospace, energy, robotics, wellness, entertainment, mobility/logistics, education
Notable Companies: Sanity Desk, Lightbox
Grid110 offers founders two programs: a 12-week residency program for early-stage startups in L.A. that haven't launched yet, and another 12-week 'friends and family' program run in partnership with L.A.-based venture firm Slauson & Co. that offers a $20,000 grant and course aimed at "demystifying funding" and guiding founders. Unlike some accelerators on this list, Grid110 doesn't require an equity stake in a company in exchange for participating.
Location: Downtown Los Angeles
Type of Funding: Early stage, seed
Focus: Agnostic, focused on any tech company
Notable Companies: Rent a Romper, Struct Club
Michael Jones' Science is a venture capital firm focused on funding early stage startups, and it also runs a venture accelerator that's incubated some big direct-to-consumer brands, including Dollar Shave Club and PlayVS. Founders work out of Science's campus in downtown Santa Monica where they collaborate with Jones and other entrepreneurial mentors as well as a staff of marketing, tech, and business development professionals to get their idea off the ground. Usually, Science contributes these services in exchange for a board seat and/or equity in a startup.
Location: Santa Monica
Type of Funding: Early stage VC, seed rounds
Focus: Mobile companies, direct-to-consumer, marketplace and e-commerce
Notable Companies: Dollar Shave Club, Liquid Death, PlayVS, Arrive
Santa Monica-based VC Mucker Capital also runs Mucker Lab, its accelerator for startups that are either in their earliest stages of development or looking to grow by spinning off a business unit or revamping their strategy. It invests in an array of tech companies but prefers direct-to-consumer businesses. There's no set duration for its program, but most founders work with Mucker for at least a year. Mucker invests between $100,000 and $175,000 in companies in exchange for an 8% to 15% equity stake.
Location: Santa Monica
Type of Funding: Pre-seed, or spin-off
Focus: Agnostic, focused on any tech or direct-to-consumer company
Notable Companies: ServiceTitan, Trunk Club, Honey
Law firm Stubbs Alderton & Markiles founded its six month preccelerator program to provide startups with access to other valuable resources besides funding -- including workshops, mentorship and a package of legal services and perks it estimates is worth $500,000. Notable alumni include location-based marketing startup Rally.
Location: Santa Monica
Type of Funding: Doesn't contribute funding, provides networking, mentorship and legal services
Focus: Agnostic, focused on any tech company
MEDIA & ENTERTAINMENT
One of the world's largest entertainment companies, Disney is always on the hunt for new investments that can enhance its growing streaming, parks and entertainment businesses. It accepts growth-stage startups that are looking to use tech to change the entertainment industry and runs a three-month summer program that culminates in a demo day in October. Disney will invest in these startups in addition to co-working space in L.A. and mentorship from Disney executives. Though Disney often plans to strike deals to use some startups' tech in its business, companies that develop IP during the accelerator retain full ownership of it.
Location: Burbank
Type of Funding: Growth stage, venture-backed startups encouraged
Focus: Media/entertainment, streaming, social media, kids' entertainment
Notable Companies: Epic Games, Holler, Caffeine
Snap Inc.'s Yellow accelerator is a 13-week program for startups developing anything that could enhance digital entertainment, including direct-to-consumer brands, new social apps, creative tools or augmented reality experiences. Snap invests up to $150,000 in each startup and provides a network of creative industry executives as mentors. It invests with the aim of using startup tech in future Snapchat or Snap Inc. projects.
Location: Santa Monica
Type of Funding: Stage agnostic
Focus: Companies at the "intersection of creativity and technology"
AEROSPACE
Starbust Aerospace Accelerator
The Starburst Aerospace Accelerator connects aerospace and defense startups with a network of mentors that help them fundraise and hire. It's also a way for startups to gain inroads to potentially valuable contracts with the U.S. Department of Defense, which is always looking for the next SpaceX. The company also partners with UCLA's school of engineering to offer a 13 week Scale accelerator program, aimed at seed and pre-seed startups.
Location: Los Angeles
Type of Funding: Doesn't contribute funding, provides networking, mentorship, fundraising help
Focus: Aerospace, defense
Notable Companies: SeaSatellites, Pierce Aerospace
SPORTS
Los Angeles Dodgers Accelerator
Founded in 2015 as a partnership between R/GA Ventures' Global Sports Venture Studio and the L.A. Dodgers, this program provides up to $120,000 to local sports-focused startups in exchange for up to 6% equity. Originally for a limited time, the outfit expanded to be a year-round program in 2018.
Location: Los Angeles
Type of Funding: pre-seed, seed
Focus: Sports tech, food and beverage, sports entertainment
Notable Companies: Appetize, ShotTracker
FOCUSED ON STARTUPS BY PEOPLE OF COLOR
Movember is a men's health charity that encourages people to grow mustaches in November to raise awareness of suicide prevention, testicular and prostate cancer, but it recently launched the Rooted & Rising division to invest in creators. Rooted & Rising backs young Black creators who are creating culture-shifting art and provides them with a network of like-minded mentors and in exchange for creating up to three pieces of content during the three-month program.
Location: Los Angeles
Type of Funding: Individual funds, up to $5,000 each
Focus: Creatives of color
The Starfish Accelerator was created this year to give creative people of color funds and mentorship to create projects. Backed by the Doris Duke Foundation, participants are given a $50,000 grant and access to several mentors for six months to produce their work.
Location: Los Angeles
Type of Funding: Individual funds, up to $50,000 each
Focus: Creative IP, creatives of color
Expert Dojo is an international group with a cohort in Santa Monica. It prioritizes backing women-led startups and companies run by people of color. It invests an initial sum of $25,000 to $100,000 in participating pre-seed and seeded startups, and often invests in follow-on rounds up to $1 million. Local success stories include travel app Elude and influencer booking site Mavens List.
Location: Santa Monica
Type of Funding: Pre-seed, seed
Focus: Tech companies led by women and/or people of color
CLIMATE & CLEAN TECH
LACI's goal is to fund startups that are both local and global that will create technologies to mitigate the effects of climate change and create greener, smarter cities. It runs several programs including a two year-long incubator where companies work out of its Downtown LA office, and invests in up to 50 startups each year.
Location: Arts District
Type of Funding: Pre-seed, seed, Series A and B
Focus: Clean energy, renewables/sustainability, solar, smart cities
COLLEGE/UNIVERSITY-RUN PROGRAMS
UCLA Anderson Venture Accelerator
UCLA's venture accelerator is a four-month program that has incubated over 70 companies, which have raised $144 million in funding. Led in part by entrepreneur in residence Rod Kurtz, it helps student and faculty entrepreneurs bring their ideas and research to market.
Location: Westwood
Type of Funding: Doesn't contribute funding, provides networking and mentorship opportunities
Focus: Agnostic, focused on any tech company. Student, faculty and alumni startups preferred.
Notable Companies: UNest, KPOP Foods
USC's startup accelerator's next cohort begins in Spring 2022. It doesn't take equity, but also doesn't offer funding -- instead connecting founders with potential investors snad giving them hands-on guidance and access to coworking space.
Location: Marina del Rey
Type of Funding: Doesn't contribute funding, provides networking and mentorship opportunities
Focus: Deep Technology, Machine Learning and AI. Student, faculty and alumni startups preferred.
HEALTH, WELLNESS & BIOTECH
Founded in 2015, Cedars-Sinai Hospital's three-month program gives companies up to $100,000 in funding and access to mentors both on the executive and medical sides of the business. It prioritizes startups looking to innovate in patient care, cybersecurity, genetics, machine learning and medical devices.
Location: West Hollywood
Type of Funding: Early/growth stage, seed, Series A.
Focus: Healthcare, Information management, Medical technology
Notable Companies: AppliedVR, CancerAid
CITY & COUNTY-RUN PROGRAMS
Created by Mayor Eric Garcetti in 2016, this program is a nonprofit that supports local businesses with mentorship and networking for funding. Applicants must be based in L.A. County, and all areas of tech are accepted.
Location: Greater Los Angeles
Type of Funding: Doesn't contribute funding, provides networking and mentorship opportunities
Focus: Hardware, food and agriculture, healthcare/biotech, mobility, aerospace, manufacturing
Founded and fully supported by the City of Long Beach, this accelerator provides seed funding and mentorship and also helps companies plan exit and acquisition strategies. Run by managing director Andrea White-Kjoss, the four-month program gives founders access to $75,000 to $100,000 in exchange for 6-7% equity. The accelerator launched as digital only, but is planning an in-person component soon, pending COVID regulations.
Location: Long Beach
Type of Funding: seed
Focus: Tech startups located in Long Beach
An earlier version of this post also listed the Techstars Aerospace Accelerator, which is no longer in operation.
Born and raised in South Central Los Angeles, Guadalupe (Loopé) Tlatenchi has worked in many areas of L.A.'s fashion industry for the past 10 years, first as a freelance patternmaker, then as a designer.

The city is home to one of the top fashion manufacturing capitals in the U.S. where over 40,000 garment workers work in sometimes dirty and dangerous factories, producing garments for as little as $6 a piece. A new state law, passed in October of this year called the Garment Workers Protection Act seeks to change this by eliminating the pay-per-piece system and compensating garment workers with an hourly minimum wage.
Tlatenchi's experience in the industry has given her unique insight into these darker areas of the industry.
"I decided that... if I didn't want to be around that, but I still wanted to do fashion, I needed to create something on my own," she says. "Sometimes, if you're not seeing a change, you kind of have to be the change and set an example for people."
GTLA, her company, is a fashion design studio and manufacturing house that provides services for brands -- including Tlatenchi's own brand Loopé. The company helps brands and designers at every stage of the production process, from design and development to apparel manufacturing.
Initially bootstrapped by Tlatenchi herself , GTLA was able to raise funding with the help of diversity-minded coalition PledgeLA. Tlatenchi also participated in entrepreneurial accelerator Grid 110,
We spoke with Tlatenchi about the future of GTLA and fashion manufacturing in Los Angeles and her hopes of creating a model of a post-pandemic fashion industry that is driven by community, sustainability and social equity.
Guadalupe (Loopé) Tlatenchi at her factory in Downtown Los Angeles.
What is GTLA's business model?

We are a multiservice apparel company -- we are manufacturers, a fashion house and a design studio. My company is still small, we have 10 employees, so we do many things. We develop designs, do fittings, sample making and garment production, basically we do everything internally. Some manufacturers consider themselves in-house, but they will subcontract, meaning they do not produce in-house.
During COVID we had to stop our projects due to the fact that we were not considered an essential business. Shortly after I designed and developed a cloth mask due to the shortage locally. I began taking wholesale orders from clients, boutiques and building contractors. I then created a website and started selling the mask at retail. Since we were selling and donating masks, we were able to switch gears and become an essential business.
In November 2020 the mask sales began to decrease and I launched our in-house apparel brand called Loopé, a lifestyle brand for men and women that would bring new revenue and target the direct to consumer market. It is sustainably and ethically made as I didn't want to create a brand that made so much waste. I design with upcycled materials and did a made-to-order approach. We can get an order, cut it, sew it and ship it out.
What differentiates GTLA from other garment manufacturers?
What makes us different is our quality and the attention to detail that we put into our pieces, and our employees and clients. Our clients can go to our place, sit down and develop their collection, go through emails, get their fabric delivered, while we take care of the cutting, sewing, etc. We have already developed the garments in-house so we have created an efficient way to manufacture the garment. We also provide consulting for brands and startup designers -- teaching them about fabrics and where to source them, and introducing them to vendors.
It's an intimate connection. Even though they're not there in every step of the way, I definitely make them feel like they are.
Also I care a lot about our employees and not just about fast turnaround. I've always paid garment workers minimum wage or more and always encourage them to learn more skills in production. With the right training and the right people in a good place where they feel comfortable to learn different skills, not only does their skill level grow, but [so does] their pay. For example, I can have someone do samples rather than production; a sample is a better paid job than production. That's one thing that I tell them: "Don't feel like you have to do that [one job]. Let's do more, let's evolve together."
Obviously, we want to make money, but as far as our values, that's something that really separates us from any other manufacturers. If we weren't that way, we would be accepting any project.
What are your plans for the company in the near future and your plan for your fashion line?
I want to create a community and a place where designers can come to design and create their collections. Having designers care about who's making their garments and the people making the garments care about their work. On the manufacturing side, I want to integrate new technology and systems where we don't waste a lot of fabrics or material. I feel that's where it's headed.
New technology should not be looked at like we're replacing people, but more like we're making things easier for people.
Eventually I want to do wholesale, but only partner with boutiques that share the same values in ethical practices and sustainability. I still have a lot of work to do, but that's where I'm headed. I'm definitely connecting with the right people and I think that as long as I keep building those connections I will get there.
Loopé, the in-house brand, has now released three small collections and has seen growth in revenue and online presence. I plan on pushing this forward because the profit margin with the direct-to-consumer market is much larger, especially if GTLA is the foundation where it can be designed, developed and manufactured.
How would you describe your relationship with Grid 110 and Pledge LA and how they helped you with your company?
Grid 110 is an entrepreneurial accelerator program that I applied for and was chosen out of a few 100 people. It was a 12-week program where I was provided with mentorship and introduced to people and events that expanded my network and business know-how. Being in Grid 110 made me really look at the overall numbers and ask, "Does this make sense? Am I charging correctly?"
Although I have experience with pricing, it wasn't until I got into the program that helped me really analyze myself and the business. I had to consider if I'm paying minimum wage to our garment workers, then what is the price that I have to place to compete with oversea prices and have a profitable business. I'm still in contact with Grid 110 and it's community of founders.
Pledge LA is a business grant program that helped raise $25,000 in funding for us. When I received the grant, it was during COVID, so I used some of the funds to update our internal admin, for example, my assistant didn't have a computer at that time, so I bought her computer, I was able to get my licenses in order such as public health and garment manufacturing licenses, and I was able to use some of the funds for payroll. The funding from Pledge LA definitely helped us, at least helped me get more permits and be in compliance with the city and the regulations.
Having no money in the beginning and just starting with a manufacturing shop, it has been the relationships that I've built throughout my way and I feel now, with Grid 110 and Pledge LA, that the possibilities are unlimited. Like a new door has opened for me.
Due to the changes we have been going through, our staff started to decrease due to some being unable to adapt to the company changes. The staff also reduced because we are now budgeting on our overhead and adapting to new clients and new projects. This is where programs like Grid110 and Pledge LA help us so much with mentorship and community. So currently GTLA is going through a transitional period in the business.
This interview has been edited for clarity and brevity.
From Your Site Articles
Related Articles Around the Web