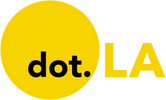 Get in the KNOW
on LA Startups & Tech
X
Jessica Medrano
Jessica Medrano's background is in immigration law and think tank research. In her most recent position as a Senior Program Manager at the Latino Donor Collaborative, she contributed to a new U.S. Latino narrative by conducting demographic and consumer research that helped F500 companies increase their bottom line & empowered non-profits with compelling talking points. She is currently an Anaplan for All Fellow at Correlation One and a volunteer with LA Tech 4 Good.
This week is national Digital Inclusion Week, but to be honest, I —like a lot of people— didn't understand the significance of this issue until COVID-19 hit. To me, the pandemic felt like a narrowly escaped disaster that I was only spared from because of my computer.
---
Luckily, by the onset of the pandemic, I was making enough money to retire my mom from her job as a janitor, a job which suddenly had a new risk attached to it. I was also among the fewer than 17% of all Latinos who could work remotely and protect my household in ways that were simply out of reach for most members of my community.
I felt an unshakeable sense of survivor's guilt to see the choices Latinos had to make — either physically go into work and risk it all or stay home and run out of money, fast. This ultimatum may seem dramatic but it's important to note that Latinos are significantly less likely to benefit from the social safety net (unemployment, health insurance, economic relief programs) afforded to other communities because of either the individual's or a family member's immigration status.
Roadblocks to Upward Mobility
At the time, I was working as a senior program manager at the Latino Donor Collaborative, where I had the opportunity to mentor many remarkable Latino college students. Most of our interns were attending top-tier universities on full-ride scholarships and were "seemingly normal" college students before the pandemic hit. Yet, COVID-19 reminded my first-generation college students that they were not the same as their middle- and upper-class peers.
For some, this meant moving back into crowded homes and struggling to find quiet places to study. For most, it meant that their parents would almost inevitably contract COVID-19 due to exposure via low-income essential jobs as janitors, construction workers and food distribution workers and then spread the illness to their families. On top of familial health concerns, many of my students were stepping up to make sure that their younger siblings didn't fall behind in school because their parents didn't have the technical literacy to provide support. So, it's no surprise that a national 2020 Public Viewpoint survey found that half of all Latino students canceled or changed their higher education plans, compared to 26% of their white counterparts.
If I had been born a few years later, as my interns, I wouldn't have been able to protect my family from coronavirus. It was hard to watch COVID-19 spread so predictably, based on the parents' occupations, and it reminded me of the impotence I felt as a teen, watching my stepdad be deported and losing our house during the 2008 financial crisis.
If I had been born 20 years later, I would have been one of the kids who didn't have the means or guidance to participate in virtual learning. Would I still have "made it" if I faced the exponential obstacles of COVID-era students? Probably not; it was already a by-the-skin-of-my-teeth journey as the first person in my family to attend school. How many kids won't "make it" because of the COVID-induced hurdles they are facing today?
LA Faltered
Despite being home to the fifth-largest tech market in North America, Los Angeles could not move fast enough to address the digital divide when the pandemic hit. It disproportionately affected (and continues to affect) our Latino and Black students, who are almost three out of four K-12 students in Los Angeles County. An LAUSD study found that only 50% of Hispanic and Black middle school students participated in at least seven weeks of online learning during school facilities closures — at least 30 percentage points behind their white and Asian counterparts.
The fact that distance learning was unattainable for students in 2020, in the third-richest city in the world, is inexcusable. The irony is that there is probably a significant overlap between L.A. essential workers, who risked or gave their lives to keep our basic needs met, and those whose children fell through the cracks during the remote learning overhaul.
My Pivot to Data
One reason for this unacceptable situation is that the resource allocators who had the power to address the distance-learning gap were not from our most-affected communities. That's why we also need to address another part of the digital inclusion equation: tech training for a more representative tech workforce.
After witnessing the amplified disparity in my community and recognizing the life-or-death importance of financial security, I was motivated to pivot into data and technology. In August 2021, I graduated with honors from the Data Science for All Fellowship by Correlation One. The company's mission is to provide free data analytics training to 10,000 people in the next three years and provide new pathways to economic opportunity through access to in-demand technical careers.
As part of this life-changing opportunity, we completed capstone projects using our newly gained coding and analytics skills. Over 100 teams delivered creative and impactful projects, but only the four top teams presented at graduation. To put the caliber of talent into perspective, only 1,000 of over 26,000 applicants were accepted into the program. Of those 1,000 fellows, only the work of about 24 students was presented in Grand Finale which was judged by top technology leaders.
What's Possible: The Internet Expansion Program

I was awestruck by a group of all Latino and Black students who applied sophisticated data science techniques to produce a cost-effective and actionable solution to L.A.'s internet gap. Team 104's project L.A. County: Internet Expansion Program identified which L.A. communities are struggling the most with internet connectivity and proposed that the local government leverage existing digitally-enabled infrastructure at bus stops (since commonly used indoor spaces like libraries and cafes were off-limits during quarantine) to provide internet access points to the people who would benefit most.
Team 104's solution targeted the East Central, Silver Lake, Echo Park and West Lakes regions because those neighborhoods have the highest rates of internet disparity by income bracket. They proposed that Wi-Fi be installed at 10 strategically selected bus stops (shown below) to increase internet accessibility by 26% in low-income, non-high school graduate households in L.A. County.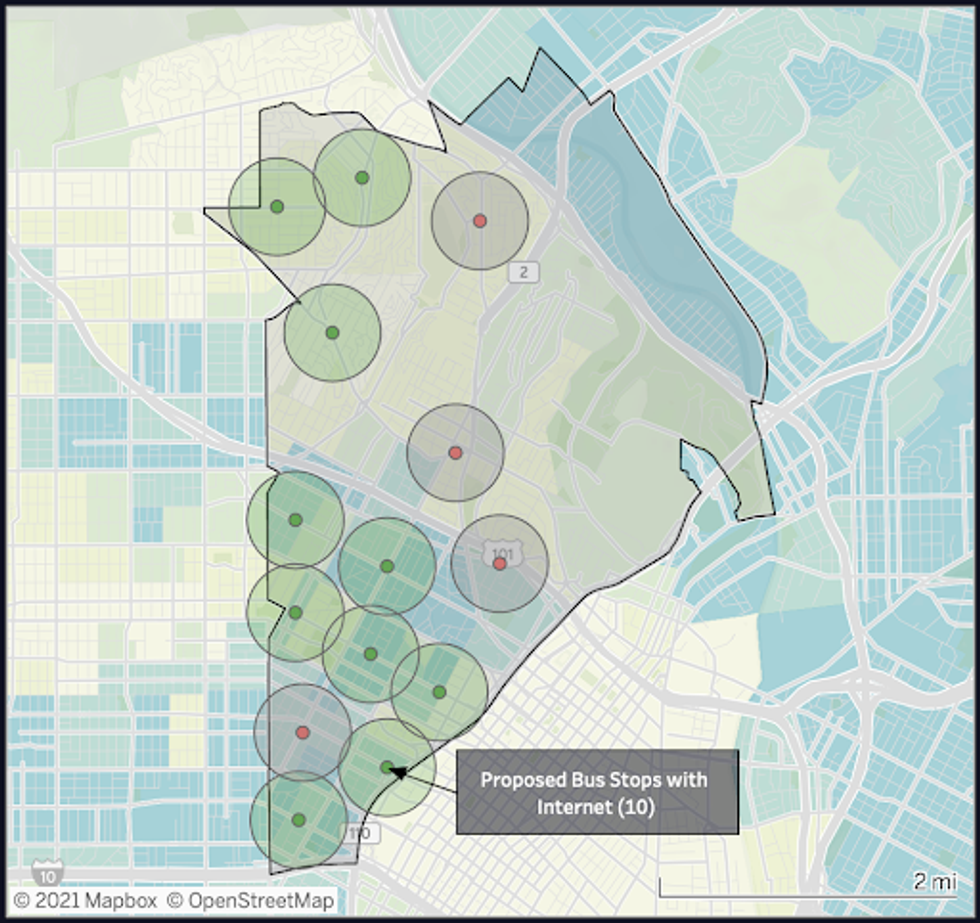 Team 104's elegantly simple solution ended up taking home second place in the DS4A Grand Finale and a $2,000 award that they donated to EveryoneOn, a nonprofit that works to democratize internet access.
Marlene Plasencia, of Team 104, poignantly reflects:
"If you look at the headlines regarding Wi-Fi and education, people are looking to the schools to solve the problem of lack of internet access for children. I think we've proven that when we have access to knowledge and tools like data science, we can take these issues into our own hands and present solutions to important social issues affecting our communities."
Mind you, they upskilled and developed this proposal in only 13 weeks. This is just an example of the innovation we're missing out on with anemic levels of diversity in the tech sector. In fact, CBRE's Scoring Tech Talent Report found that the L.A. tech workforce is currently the second-least diverse in the nation, although the city is one of the most diverse places in the country. To learn more about Team 104 and their project, click here.
Diverse Tech Training is a Competitive Advantage, Not Just a Social Responsibility

DEI arguments aside, a homogenous workforce produces less innovation. In a market that is driven by novelty and product-market fit, our tech industry's demographic makeup suggests that teams will struggle to pioneer new technology and, more importantly, even understand the needs of the increasingly diverse mainstream consumer. The gap between those building the digital landscape and engaging with it represents an opportunity loss for L.A. tech companies to understand their end-users more intimately and create better products and experiences.
Many industry-leading companies, who recognize the competitive advantage that a diverse tech workforce represents, partner with Correlation One to create fellowships so that Black, Latinx, LGBTQ+, female, and veteran talent can participate in world-class data and analytics training. These companies benefit by getting first dibs at recruiting directly from the rigorous and business-case-focused program.
Take steps today to ensure the long-term prosperity of L.A.'s tech community by connecting to organizations like Correlation One to learn how you can maximize the human capital potential of our local talent and workforce pipeline.
If you're interested in joining the Data Science for All mission to recruit "Data Science for All" fellows or to become a mentor, you can get in touch with the Correlation One team here.

This column was published in conjunction with L.A. Tech 4 Good.
This story has been updated.
From Your Site Articles
Related Articles Around the Web
Jessica Medrano
Jessica Medrano's background is in immigration law and think tank research. In her most recent position as a Senior Program Manager at the Latino Donor Collaborative, she contributed to a new U.S. Latino narrative by conducting demographic and consumer research that helped F500 companies increase their bottom line & empowered non-profits with compelling talking points. She is currently an Anaplan for All Fellow at Correlation One and a volunteer with LA Tech 4 Good.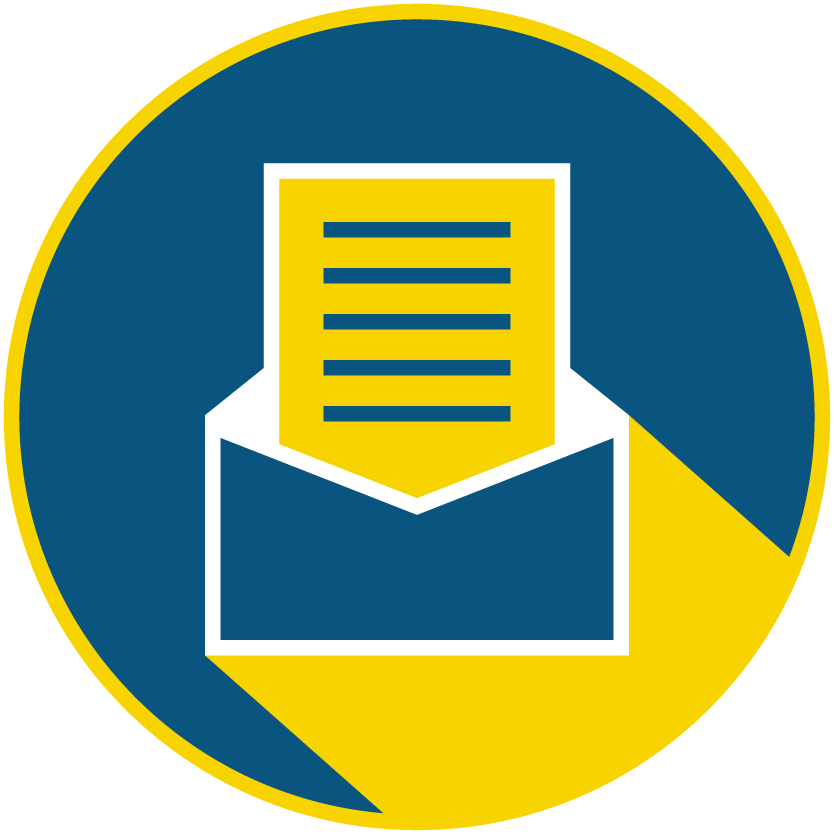 Subscribe to our newsletter to catch every headline.
Maylin Tu
Maylin Tu is a freelance writer who lives in L.A. She writes about scooters, bikes and micro-mobility. Find her hovering by the cheese at your next local tech mixer.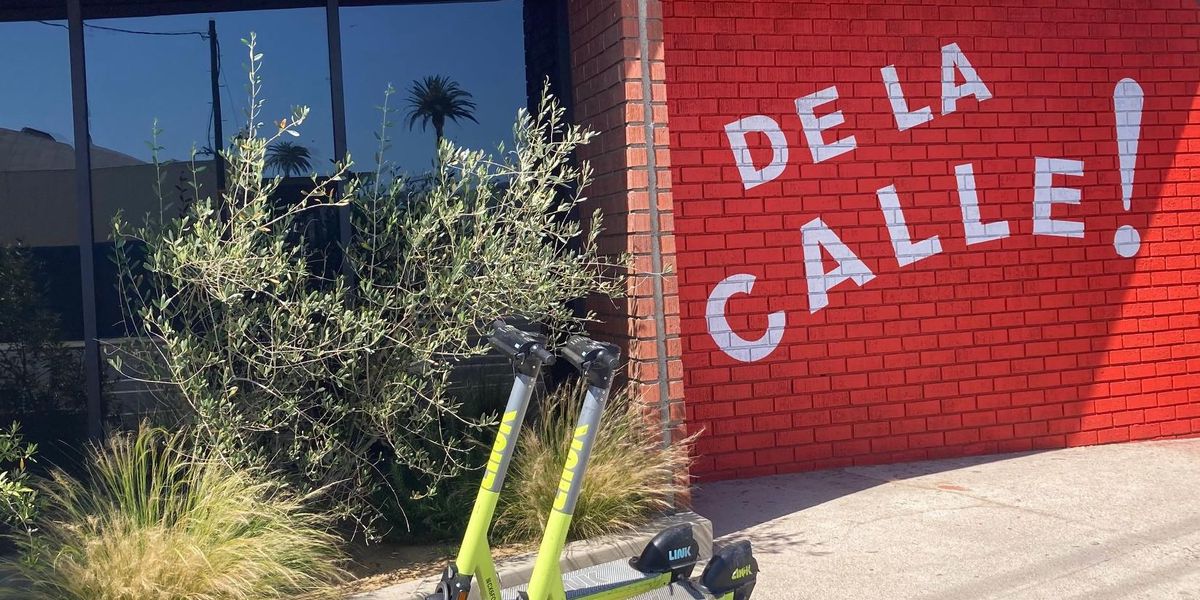 Photo by Maylin Tu
When Lime launched in Los Angeles in 2018, the company offered five free rides per day to low-income riders, so long as they were under 30 minutes each.

But in early May, that changed. Rides under 30 minutes now cost low-income Angelenos a flat rate of $1.25. As for the five free rides per day, that program ended December 2021 and was replaced by a rate of $0.50 fee to unlock e-scooters, plus $0.07 per minute (and tax).
Lime isn't alone. Lyft and Spin have changed the terms of their city-mandated low-income programs. Community advocates say they were left largely unaware.
A Lime spokesperson said that with its updated rate, low-income riders will still get an average discount of almost 90% off its service. He added that the startup's rates in Los Angeles are on average 50% less expensive than in most cities
"We would also like to note that L.A. riders have already saved an estimated $1 million via our Lime Access program, and we expect that figure to keep growing steadily with the new pricing in place," said the spokesperson, who added that 2,800 low-income Angelenos have taken around 250,000 trips since the program rolled out.
Spin once provided low-income Angelenos with unlimited, free 30-minute rides. Now the company is capping the free rides to five per day. Spin did not immediately return a request for comment.

Similarly, Lyft riders were once able to get a monthly pass for $5 and pay $0.05 per minute per ride. Instead, they'll now need to pay $0.50 to unlock the e-scooter and an additional $0.15 per minute.
The costs could add up for a demographic that is more likely than the average rider, according to data from rival micromobility startup Wheels, to use e-scooters to get to and from work.
"Lyft is now offering our Community Pass without a monthly payment to make it even easier for more riders to save," James Boshers, Lyft associate general manager for Southern California, said in an email. Several hundred riders use the program in L.A., according to a spokesperson.
The changes were rolled out with little fanfare, but that might be a moot point. Few of the local transportation advocates dot.LA reached out to were even aware the equity programs existed.
"I mean, I'm not surprised. I think people love giving discounts as a way of showing equity, but there's got to be more," said Oscar Zarate, assistant director of organizing for SAJE.
A spokesperson for Lime said they have tried unsuccessfully to reach representatives at the organization.
The city of Los Angeles doesn't promote micromobility equity programs to potential riders; that responsibility falls wholly on companies.
"Revenue generated through the micro-mobility program is dedicated solely to enforcing the conditions of the permit," LADOT spokesperson Colin Sweeney said by email, "which includes ensuring companies partner with community-based organizations and market their services to low-income residents among other critical safety and consumer protection functions."
But earlier this year, Sweeney acknowledged that getting micromobility companies to even put their vehicles in low-income communities has been difficult. At first, the city offered incentives to operators, but that proved ineffective.
"As a result, our permanent micromobility program which was established last year REQUIRES operators to deploy a certain percentage of vehicles to specific neighborhoods as a condition of their permit," he said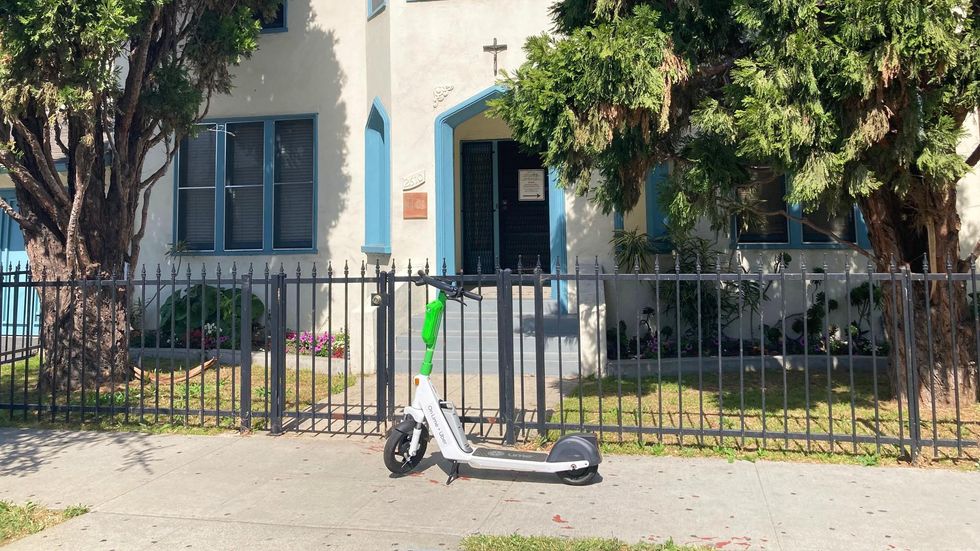 A Lime e-scooter parked in West Adams.Photo by Maylin Tu
Little Outreach, But More Scooters
Despite those requirements, some community advocates say that companies are not doing enough to reach out to communities to remove barriers to access.
Yolanda Davis-Overstreet serves as vice president of the West Adams Neighborhood Council and chairs its public safety committee. To her knowledge, no micromobility company operating in West Adams has reached out to the group.
She does, however, plan to reach out to them.
West Adams, a predominantly Black and Latino neighborhood, has experienced high rates of traffic violence. One stretch of Adams Blvd between Fairfax Ave and Crenshaw Blvd saw 59 severe and fatal collisions between 2009 and 2019, according to the L.A. Department of Transportation. Last year, the department completed a number of safety and infrastructure improvements along Adams, adding two miles of new bike lanes that make it safer for e-scooters, bikes and pedestrians.
Davis-Overstreet said she's starting to see more shared e-scooters in her neighborhood.
"It's a privilege that these scooter companies seem to have, like 'I don't care about your space. I'm here now'," she said. "No, if you're going to be here, you need to be here in a respectful way."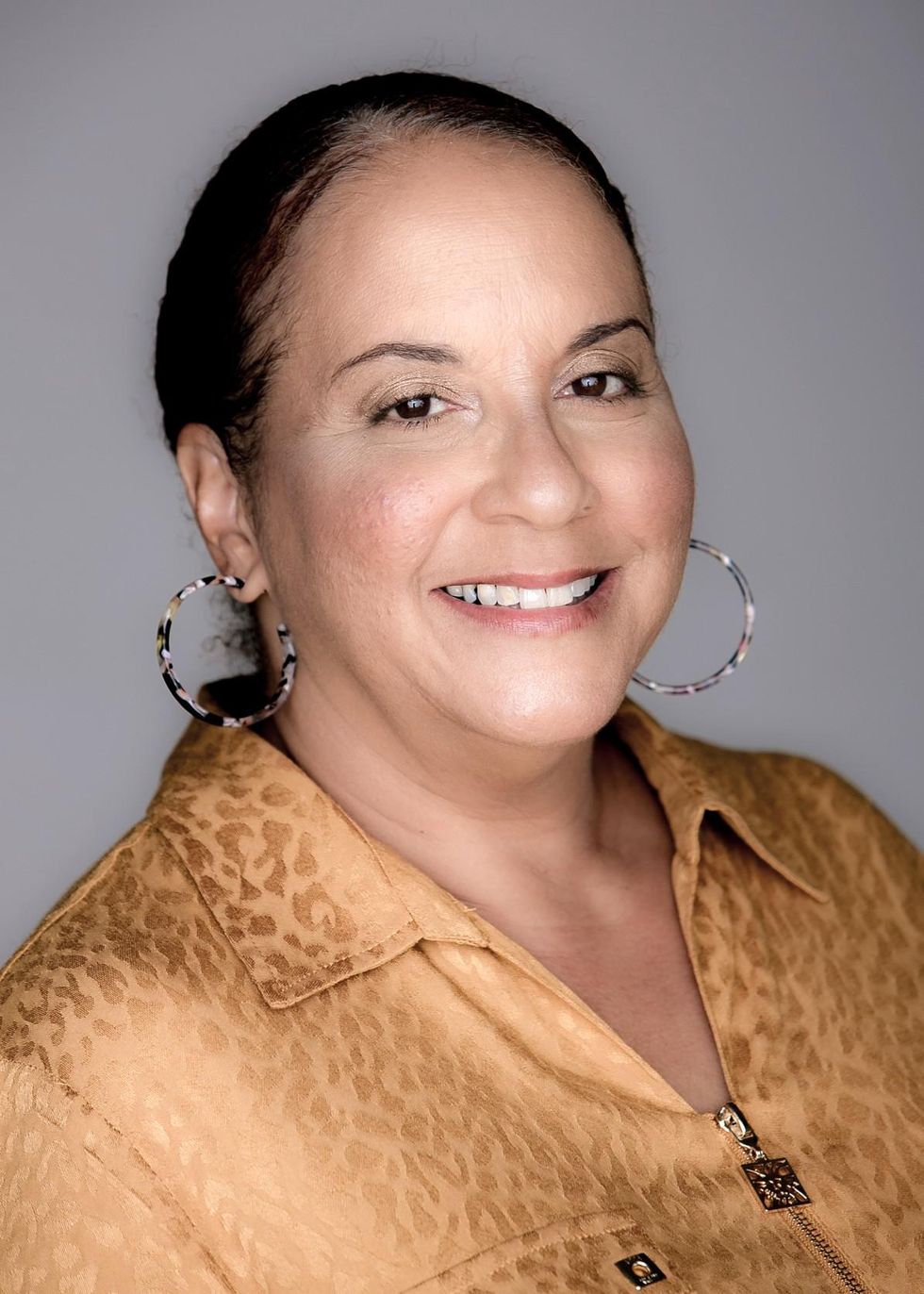 Yolanda Davis-Overstreet chairs the West Adams Neighborhood Council's public safety committee.
Image courtesy of Yolanda Davis-Overstreet
It's not that she's opposed to e-scooters, Davis-Overstreet said, but as e-scooter companies ramp up in the community, so do concerns about safety and accessibility.
She said she wants companies to figure out how to respectfully integrate into a community that is already pursuing alternative forms of transportation.
"That's another reason scooters should be connected with [our] community … How are we going to get people in the United States — in particular in L.A. — in the conversation of climate change, if we don't give them access to other tools to use other than cars?"
Alternative forms of transportation like e-scooters have the potential to make a big impact on underserved residents, especially as gas prices surge.

Eli Akira Kaufman, executive director of the Los Angeles County Bike Coalition, a Lime partner, said that Lime has been a valuable collaborator in L.A. on initiatives like First Ride Academy and Lime Hero. But he would like to see companies do more for underserved communities, like advocating for better biking infrastructure and sponsoring workforce development programs.

"Lime Access and these different accessibility programs are great. We totally applaud their intent. But what more can be done to serve our most vulnerable commuters?"

Others cited the requirement that low-income customers fill out an online form and provide proof of income to access discounted rides.
"I don't know if a señora is going to be able to do that," said SAJE's Zarate. "And I think people really underestimate how difficult it is to fill out these applications, provide all this documentation— and there's a stigma, 'Oh, you're applying for these low-income things' that also discourages people from applying."
Zarate added that Los Angeles transportation advocates want to start a dialogue—not a fight—with e-scooter companies like Lime, Bird and Lyft.
"Working class communities have always been multidimensional in terms of their transit and how they get around. People bike all around, you feel me?," he said. "So, I think there's a strong tradition in the community. It's just about finding ways that work for everyone."
'Do Your Homework'
Currently, there are six dockless e-scooter and e-bike operators in Los Angeles: Bird, Lime, Spin, Superpedestrian (LINK), Wheels and Lyft. Each runs a separate low-income program with rates varying widely. The same 30-minute ride might cost $0 (Spin, LINK) to $7.85 (Bird) plus tax, depending on the company.
The L.A. Department of Transportation requires micromobility operators to:
Deploy 20% of their total fleet in equity zones if they operate in certain more lucrative parts of the city like Venice, Hollywood and Downtown L.A.
Offer a cash option for unbanked customers without a credit or debit card.
Offer a non-smartphone option to unlock vehicles.
Offer discounted rates for customers with an income level at or below 200% of the federal poverty guidelines.
Attend meetings with community stakeholders such as neighborhood councils and disability rights organizations.
Partner with a community-based organization.
Here's a run down of costs and information for each low-income program operating in the city of Los Angeles.
Wheels: Wheels for All
$1.10 flat rate for 30 minutes
Lime: Lime Access
$1.25 flat rate for 30 minutes
Bird: Community pricing
50% off plus tax
Superpedestrian/ LINK: LINK-Up
Unlimited free 30 minute rides
Spin: Spin Access
Five free 30 minute rides per day
Lyft: Lyft Community Pass
$0.50 to unlock and $0.15 per minute
Are you enrolled in Lime Access, Lyft Community Pass or Spin Access and have the recent changes affected you? Let us know!
This article has been updated to include information from Lime about their efforts to engage with L.A. community groups.
From Your Site Articles
Related Articles Around the Web
Maylin Tu
Maylin Tu is a freelance writer who lives in L.A. She writes about scooters, bikes and micro-mobility. Find her hovering by the cheese at your next local tech mixer.
David Shultz
David Shultz is a freelance writer who lives in Santa Barbara, California. His writing has appeared in The Atlantic, Outside and Nautilus, among other publications.
Courtesy of Faraday Future
Electric vehicle hopeful Faraday Future has had no shortage of drama—from alleged securities law violations to boardroom shake-ups—on its long and circuitous path to actually producing a car. And though the Gardena-based company looked to have turned a corner by recently announcing plans to launch its first vehicle later this year, Faraday's quarterly earnings report this week revealed that demand for that car has underwhelmed—to say the least.
Among the business updates and organizational changes disclosed in its first-quarter earnings release on Monday, the company tucked in one startling number: 401. That's the number of paid pre-orders that Faraday said it had received for its first production vehicle, the FF 91, as of March 31.

The paltry number is especially interesting given the context of the automaker's rocky history. Earlier this year, the publicly traded company found itself in hot water with the Securities and Exchange Commission, which is now investigating allegedly inaccurate and misleading statements made by Faraday to investors. Those statements, according to an internal review by the company, include misrepresenting how many pre-orders it had received for the FF 91: Originally, Faraday reported more than 14,000 reservations on its books, but it later emerged that an overwhelming bulk of those pre-orders were unpaid—with only a few hundred actual, paid deposits on the vehicles. (What's more, nearly 80% of those pre-orders were allegedly from a single, undisclosed company that may have been an affiliate of Faraday's, according to a blistering report by short-selling firm J Capital.)
Faraday's earnings report also highlighted first-quarter developments including leadership moves, production partnerships and its unveiling of the first production-intent FF 91. The company noted that it had received a dealer and distributor license from the state of California that should allow Faraday to sell vehicles online anywhere in the U.S. It also signed a lease for a showroom in Beverly Hills, and is currently on the search for a second such location in the U.S. Additionally, Faraday Future's second car, the FF 81, will be produced in South Korea in partnership with auto manufacturer Myoung Shin, with production slated to begin in 2024.
In terms of financials, Faraday reported an operating loss of approximately $149 million in the first quarter—up from a loss of $19 million in the same period last year. The company has $706 million in total assets on its balance sheet, including $276 million in cash. Faraday's stock closed Wednesday's trading at $3 per share—down roughly 50% since the start of this year.
From Your Site Articles
Related Articles Around the Web
David Shultz
David Shultz is a freelance writer who lives in Santa Barbara, California. His writing has appeared in The Atlantic, Outside and Nautilus, among other publications.
David Shultz
David Shultz is a freelance writer who lives in Santa Barbara, California. His writing has appeared in The Atlantic, Outside and Nautilus, among other publications.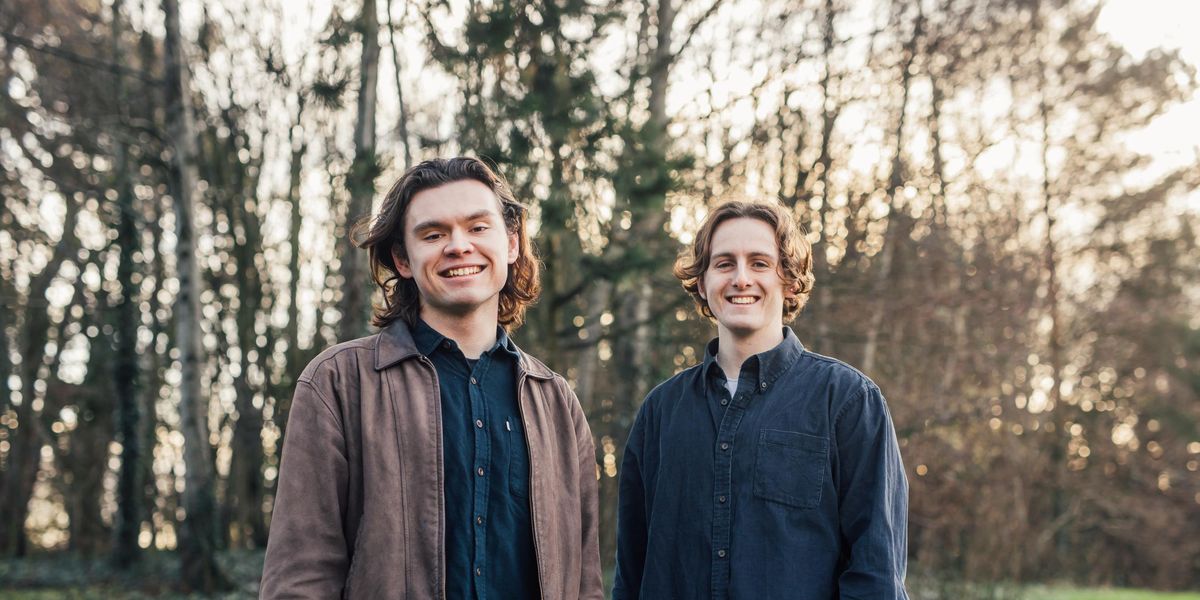 Courtesy of CropSafe.
This January, John McElhone moved to Santa Monica from, as he described it, "a tiny farm in the absolute middle of nowhere" in his native Northern Ireland, with the goal of growing the crop-monitoring tech startup he founded.

It looks like McElhone's big move is beginning to pay off: His company, CropSafe, announced a $3 million seed funding round on Tuesday that will help it develop and scale its remote crop-monitoring capabilities for farmers. Venture firm Elefund led the round and was joined by investors Foundation Capital, Global Founders Capital, V1.VC and Great Oaks Capital, as well as angel investors Cory Levy, Josh Browder and Charlie Songhurst. The capital will go toward growing CropSafe's six-person engineering team and building up its new U.S. headquarters in Santa Monica.
The nascent agtech company began in 2019 as a project between McElhone and his co-founder and high school classmate, Micheál McLaughlin. Growing up in the Northern Irish countryside, the pair developed an interest in technology, which led to ideas about how such technology could aid the agricultural communities they were raised around.
"We noticed that there was a lot of really new, cool technology coming into the farming market at the time," McElhone told dot.LA. "But every single farmer in our area hadn't a clue how to get started with all this new fancy technology, because they would have to go to training sessions or learn how satellite imagery from NASA works. And farmers—their job is to farm, not to interpret data."
The first version of CropSafe's software aimed to bridge that gap. At its core, the platform is an interpretation engine that scrapes and parses through troves of weather data and satellite imagery to find the information that farmers need to grow and harvest more effectively. "CropSafe did that work for you and spots useful nuggets like, 'Hey, there's blight in field no. 14; here's the exact location and what you need to do next,'" McElhone explained.
But the project, which began simply as a tool for friends and family in Northern Ireland, started drawing attention from users around the world; to the founders' surprise, people began offering to pay for the service. "That was kind of a turning point—realizing it wasn't just our 200 people that wanted to use it," McElhone said. So he packed his bags and moved to Southern California at the start of this year to try to build out the software in one of agtech's hottest markets.
McElhone and McLaughlin now believe there's a better way forward that would position CropSafe as more akin to a fintech platform for farmers: Because the software collects so much data on farms, it can offer insights into removing bottlenecks that farmers could leverage to secure crucial financing for equipment and other needs.
"If a farm is leasing three combines this year, with the data we have on that farm [and its] crops, we might be able to say: 'Hey, if you lease an additional combine this year, we know that you will produce so-and-so additional yield and produce $25,000,'" according to McElhone. In an ideal scenario, CropSafe could allow the financing for that combine to be approved instantly on the strength of the data on its platform; the farmer clicks a button on the app, and the combine gets delivered the next day.
So far, McElhone is tight-lipped about partnerships in this area of its business, but said announcements should be coming this summer. The company is also considering offering farmers insights into the best times and places to sell crops, with CropSafe taking a small cut of revenues for the service. (The idea is that farmers would only pay when they see increased sales from using CropSafe's insights, McElhone said.)
But the move to Santa Monica has already proven fertile for the company, which is planning to announce partnerships with other agtech companies that would allow CropSafe to act more as an operating system—one connecting autonomous tractors, weathers sensors, and other "internet of things" technologies to ensure better, more sustainable crops. With local startups like Future Acres and Abundant Robotics already operating in the space, CropSafe seems poised to benefit from Southern California's position as a hub for agtech in the U.S.
Related Articles Around the Web
David Shultz
David Shultz is a freelance writer who lives in Santa Barbara, California. His writing has appeared in The Atlantic, Outside and Nautilus, among other publications.