robotics
A Pasadena-based robotics company that helped build a Mars rover has found their new headquarters — and in a former neighborhood restaurant.

Motiv Space Systems has purchased the 4,990 square-foot building that formerly served as Robin's Wood Fire BBQ for $4 million as the 40 to 50-person company expands its production capacity.
"For our customers, [purchasing this building] shows a commitment to our industry," said Tom McCarthy, Motiv's vice president of business development. "We are trying to grow these capabilities and expertise. We want to provide adequate facilities and technologies in support of the programs and customers we work with."
The company, which builds space-based robotics systems, is mainly known for creating the robotic arm on the Perseverance rover used in NASA's Mars 2020 mission. Other areas Motiv works on include satellite servicing — that is, repairing spacecraft while in orbit — and designing equipment that can withstand extremely cold temperatures.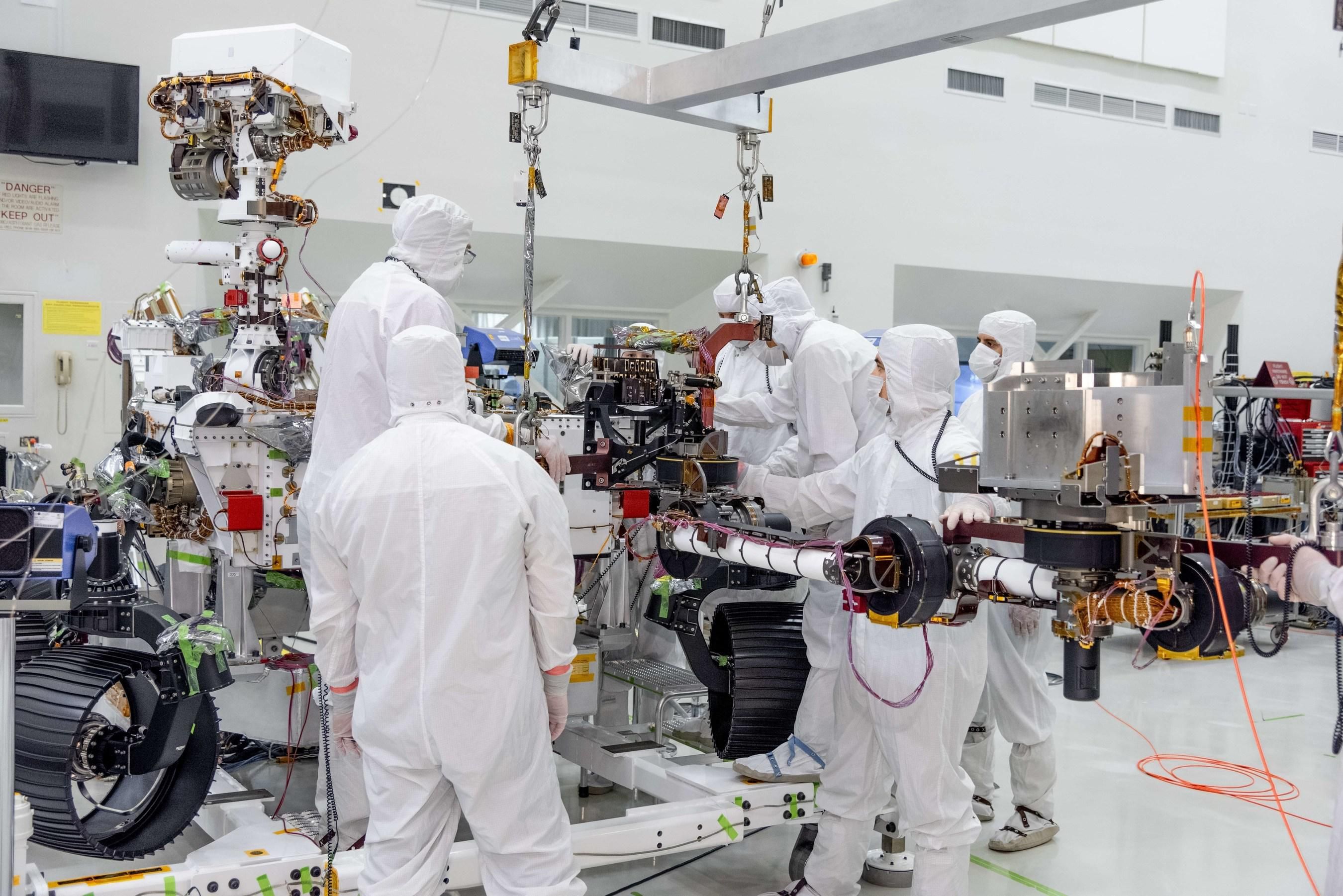 Motiv hopes to have renovations complete in less than six months, and the company plans to move in shortly after.
Robin's Wood Fire BBQ operated as a full-service restaurant for 37 years until the owner decided to close the restaurant in 2019. It has since been vacant.

McCarthy said the company was largely attracted to the building for its close proximity to the company's other property, which currently serves as its headquarters. Motiv now owns and operates two buildings.
The new building will be a space for Motiv's engineering staff to research, design and distribute products. Motiv hopes to have renovations complete in less than six months, and the company plans to move in shortly after.
Robin Salzer, the former owner of Robin's Wood Fire BBQ, expressed excitement towards the sale and the new use of his building.
"From ribs to robots, the property's next chapter will be exciting to watch," Salzer said in a statement.
Motiv shares a home in Pasadena with NASA's Jet Propulsion Laboratory. These companies — along with SpaceX and a growing number of startups — add to L.A.'s status as an aerospace hub.
Related Articles Around the Web
If you live in Los Angeles, your food delivery order could soon be dropped off at your doorstep by a small robotic device rather than a human.
Los Angeles is developing rules for robots to deliver food and other goods to Angelenos. It's also looking to roll out a pilot program for robots throughout the city.
But the robots are already here.
Kiwibot has been testing its robots in the San Fernando Valley. Founder and CEO Felipe Chavez has said L.A. will become its most important city as it expands this year.
And startup companies like Los Angeles-based Coco and Starship, based in San Francisco, have developed small, robotic delivery devices operated remotely by humans. Coco, which launched in February 2020, already operates a pilot program in San Pedro. Its 50-pound pink robots use a two-way microphone to communicate with pedestrians on the sidewalk. Amazon's Scout delivery robots have been roaming around since 2019.
And one city councilman thinks now is a good time to establish rules of the road.
"By trying to get in on the early end of this and getting these things permitted and regulated, I think that's going to bode well for the future both for the smooth transition into public acceptance and a better way to go," said Los Angeles Councilman Bob Blumenfield, who first proposed creating the new rules.
West Hollywood and Santa Monica have already implemented a similar program. While Santa Monica restricts its deliveries to a "Zero Emissions Delivery Zone," it doesn't appear Los Angeles will limit where the devices can be used.
Blumenfield doesn't want a situation where robots littered the streets much like electric scooters did before the city developed regulations for them, which caused backlash and contention.
But not everyone wants to see robots taking over potential jobs.
"We've worked too hard to bolster the gig economy in Los Angeles only to see these jobs and workers, many of whom who've struggled to make ends meet during the pandemic, chipped away at by automating this sector," said City Councilman Paul Koretz, who opposed the measure. He noted many rideshare drivers transitioned to food delivery during the pandemic. "Why would we now voluntarily drive away these jobs?"
But restaurants and others often see robots as an efficient alternative to delivery workers. Restaurants typically pay between 15% to 30% on orders placed with delivery services like Postmates or Grubhub. And robots are being pitched as greener alternative to sending an exhaust spewing car out on delivery routes.
Delivery services skyrocketed during the pandemic and city officials said that they are expected to remain "an important business tool" as the economy recovers.
Under the proposed guidelines, operators will pay up to $20,000 for fleets of more than 50 robots with a cap of 75 per council district. And the machines must yield the right of way to pedestrians and bicycles and obey all traffic signals and signs.
It is not expected that operators will deploy large-scale operations for now, the city said.
"Our sidewalks are already congested with scooters and bicycles, homeless encampments, street vendors, illegal signs and to add more vehicles to the sidewalk intended for pedestrians is a recipe for disaster," Koretz said.
In response to his colleague's comments, Blumenfield said in an interview, he shared those concerns, but, "You don't deal with those things by stifling innovation; you deal with those things by dealing with them upfront."
Amazon and other industry giants have long used robots to replace warehouse workers and ship off more packages per day.
Starting at $4,000 a month, inVia Robotics' Picker robot and management software is still more expensive than a minimum wage worker, but the Westlake Village-based startup and Rufus Labs think it will help smaller manufacturers keep up.
As a swell in ecommerce fuels demand at warehouse distribution centers, companies like San Jose-based Fetch Robotics is just one of a growing number of companies selling robotic subscription services in a tight labor market.
They pitch the technology as an easy answer to problems with warehouse efficiency, labor shortages and worker safety, and by lowering the cost of robots and AI software, which can run into six figures, inVia and Rufus hope to bring in smaller clients.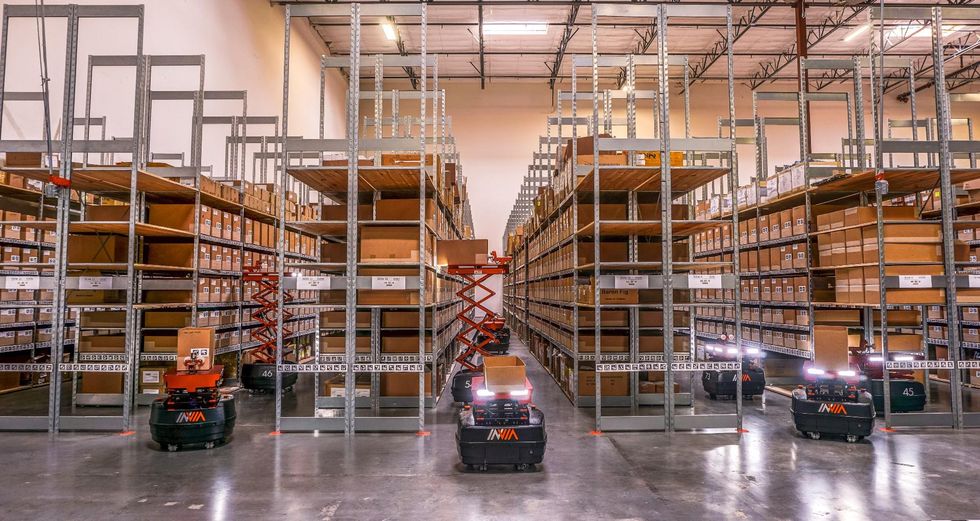 Courtesy inVia Robotics
The two L.A. tech startups said their goal isn't to replace human workers, but to usher in a new work environment — one where robots are doing the heavy lifting.
"It's important for them to work together," said Gabe Grifoni, the CEO and co-founder of Rufus Labs. "There's a lot that has to be worked on to coordinate that dance."
The autonomous robots are designed to retrieve items from warehouse shelves and bring them to workers who scan each product using Rufus' wearable computers and tablets.
The red and black machine is quiet, expands to about eight feet and can move much quicker than a person.
"They basically look like a Roomba with a scissor lift and a suction cup," said Lior Elzary, chief executive of inVia Robotics.
How many times an employee scans every hour, the routes they walk around the center — it's all measured via the Android devices strapped to a worker's arm.
And those metrics can be displayed on big screens for employers and their bosses to track.
"I would say that we do it without a lot of the human capital costs that may be associated with how Amazon does things," Gifroni said. "I don't know any of our customers who penalize workers for certain metrics."
But the robots aren't likely to solve all warehousing's problems. Even Amazon, with its hundreds of thousands of robots, still has much higher injury rates than other warehouse facilities.

The retail giant, which owns its own robotic company, introduced warehouse robotics in its fulfillment centers years ago. Customers today can place an order one day and expect the package to arrive the next thanks to the speed products move through massive warehouses.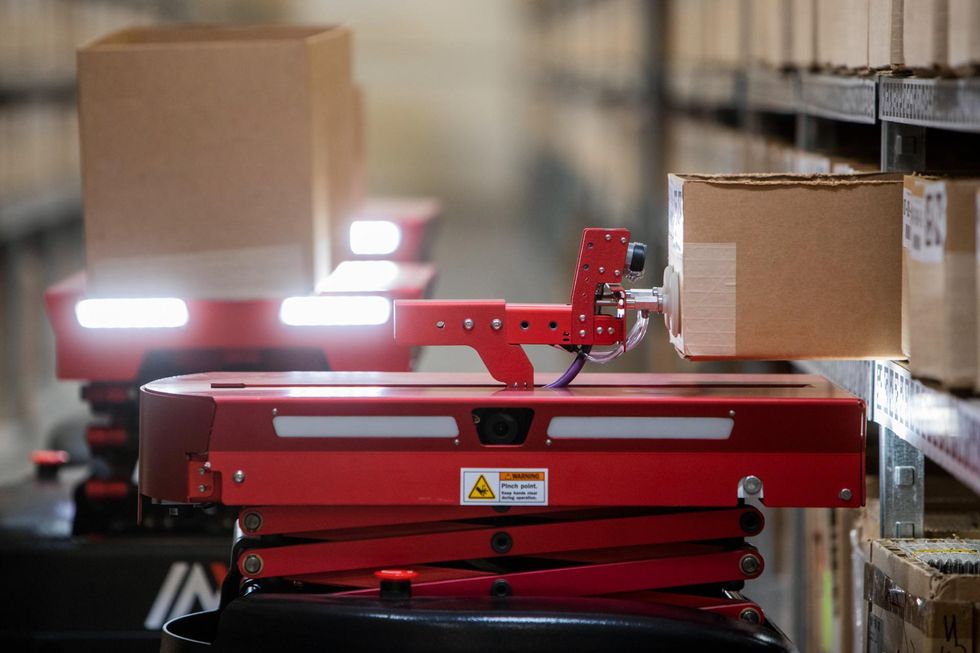 Courtesy inVia Robotics
It can be tricky for new entrants to integrate them into workplaces, said Lynn Wu, a professor at the Wharton School specializing in the way new technologies change employment and management practices.

And robots can only replace so much human work.
"Even in the simple tasks of moving products from shelf A to Shelf B, then bringing them to a box, a human has to be involved," she said.
This means that jobs aren't necessarily vanishing. And workers might avoid certain injuries that come with tracking down and carrying items around the center.
But, Wu said, safety will remain a concern.
"There will be a new type of safety issue," she said. "It could be repairing a robot or repetitive injuries associated with putting so many things in a box. You may have a wrist injury now that you're packing at a much higher speed than you used to before."
Related Articles Around the Web