ar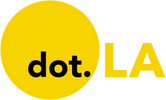 Get in the KNOW
on LA Startups & Tech
X
ar
Courtesy of TRIPP
Tripp, the virtual reality meditation startup that simulates psychedelic experiences, has raised $11.2 million in new Series A funding, the Los Angeles-based company announced Wednesday.
San Francisco-based BITKRAFT Ventures led the round and was joined by the Amazon Alexa Fund, Qualcomm, HTC, "Pokémon Go" developer Niantic and existing investor Mayfield. The new funding is an extension on Tripp's initial $11 million Series A round last year and brings the startup's total capital raised to more than $26 million.
Tripp also used the opportunity to unveil its acquisition of Eden, a VR-based world-building platform and online social hub created by video game developer Bearded Eye. It's the latest in a series of acquisitions for the deal-happy Tripp, which in February scooped up EvolVR, a VR platform that allows people to meditate together via virtual avatars.
"Eden allows us to create and develop more premium live programming as we scale our growing mindfulness community," Tripp co-founder Nanea Reeves said in an email to dot.LA. "Eventually, you will see Eden expand towards allowing our community members to offer their own experiences to the community."
Tripp launched in 2018 as a VR platform that allowed people to meditate while looking at psychedelic, "Alice in Wonderland"-esque visuals like pulsating trees and rippling sand dunes. In the years since, the company has made its foray into the world of virtual, communal meditation; in November, it announced a partnership with Niantic to expand its platform via augmented reality (AR) offerings where people can interact and meditate together.
"Our main focus is currently on scaling our consumer offering at this stage in our company life cycle, but we have ongoing research initiatives in the categories of substance use disorder, anxiety reduction, PTSD and ADHD," Reeves said in an email. "Early results are very promising, and I believe that digital therapeutics will be a big future opportunity for us that will greatly benefit from the cross-platform metaverse distribution footprint that we are continuing to build out now."
From Your Site Articles
Related Articles Around the Web
Courtesy of Snap
Social media giant Snap is selling a new product that could change the way you see the world—but no, it's not the company's long-awaited augmented reality glasses.
On Thursday, the Santa Monica-based firm launched a flying camera called Pixy, a pocket-sized drone that could take your next selfie from an aerial view. The Snapchat-connected drone was probably the biggest surprise from Snap's Partner Summit, an annual event when the company shares updates on its products, features and partnerships.
But Pixy wasn't the only major announcement. From augmented reality (AR) at concerts to a new way to shop online, here are some highlights from the Snap summit:
Virtual Dressing Rooms

Snap is launching a Dress Up tab on the Snapchat app where users can virtually try on apparel using augmented reality. The company has already deployed AR shopping, but Dress Up will create a dedicated destination—just a tap away from the app's camera—where users can browse items, share looks and bookmark outfits and accessories.
To date, AR shopping has allowed Snapchatters to preview 3D models of sneakers on their feet or sunglasses on their faces using their smartphone cameras. On Thursday, Snap announced users can now virtually try on clothes using full-body photos, with Snap overlaying products onto the pictures.
Snap has pitched AR as an innovative way for brands to advertise, drive sales and reduce item returns. Most shopping experiences on Snapchat link to an external website for customers wanting to buy products, a spokesperson said.
The company is now offering new software tools to make it easier for retailers to make AR versions of their items, using existing product images. Snap also announced that companies can integrate its AR try-on experience onto their own platforms; Puma will be the first company to use the technology to let shoppers digitally try sneakers directly on its own app.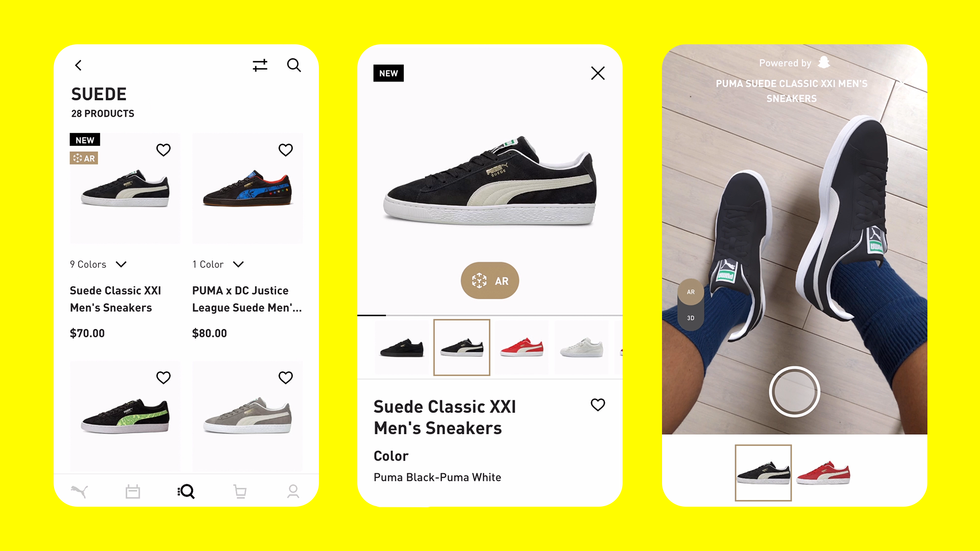 Snap's AR tech allows users to try on sneakers using their smartphones. Courtesy of Snap
AR at Music Festivals
Snap has recently taken steps to bring AR experiences to physical locations like local landmarks and small businesses. Now, Snap is bringing AR to music festivals through a multi-year partnership with Beverly Hills-based Live Nation.
Starting with the Electric Daisy Carnival next month in Las Vegas, concertgoers can use AR to try on merchandise, find friends and discover AR experiences around the festival grounds. Other festivals that will be deploying Snap's AR include Lollapalooza in Chicago, Wireless Festival in London, Rolling Loud in Miami and The Governors Ball in New York, the company said.
Snap's New Camera Drone
As mentioned, Snap will now sell a pocket-sized flying camera called Pixy. CEO Evan Spiegel pitched the device as a new creative tool allowing users to capture photos and videos from new, aerial angles.
The mini-drone comes with four preset flight paths that users can select with the press of a button, no controller needed. Pixy "knows when and where to return" and lands gently in the palm of your hand, Spiegel said. From there, users can wirelessly transfer the aerial shots to their Snapchat accounts.
The Pixy device costs $230 to buy. Snap advised customers to check out their local laws and regulations around drones before letting Pixy take flight.
Snap's AR glasses, meanwhile, are not yet for sale. The latest Spectacles are currently being tested by "hundreds" of developers who've received early access, according to Sophia Dominguez, Snap's head of AR platform partnerships.
Director Mode for Creators
Speaking of creative tools, Snapchat is rolling out a new suite of camera and editing features, called Director Mode, allowing users to make more polished content.
One feature will allow creators to use a smartphone's front-facing and back-facing cameras at the same time—letting them record what's in front of them while capturing their reaction simultaneously.
Snap is also making it easier to seamlessly transform the backgrounds of videos through its Green Screen mode—similar to an existing feature on TikTok—while its Quick Edit mode lets users easily edit together multiple Snaps. Director Mode will roll out on Apple devices in the coming months, followed by Android devices later this year.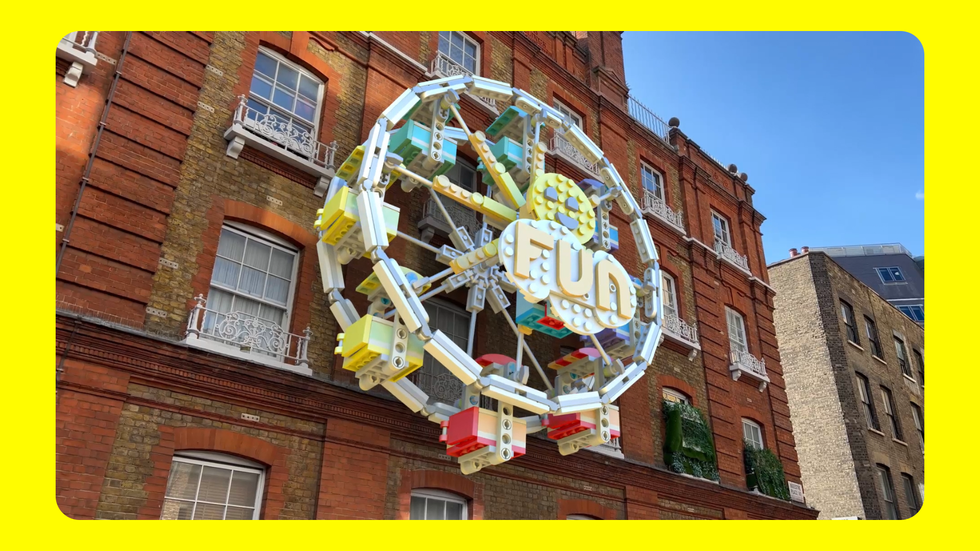 Snap has allowed creators to attach AR experiences to physical locations. Courtesy of Snap
Big User Numbers
In addition to new products and features, Snap's executives touted the size and engagement of the company's user base.
Snapchat now reaches more than 600 million monthly active users, they said Thursday, up from the 500 million reported last May. Last week, the company reported it had 332 million daily active users.
As TechCrunch recently noted, Snapchat has been growing faster than rivals Facebook and Twitter—though TikTok remains the dominant social media app of the moment, with the most downloads in the first quarter of this year and more than 1 billion monthly active users as of last year.
Snapchat users have embraced its AR offerings, with people interacting with the app's AR Lenses 6 billion times per day on average, Spiegel noted.
"What was once a far-off vision for computing overlaid on the world through augmented reality is possible today through our camera," he said.
An admittedly "challenging" first quarter highlighted social media giant Snap's exposure to ongoing disruptions in digital advertising.
The Santa Monica-based company, which generates virtually all of its revenue from ads, reported first-quarter sales on Thursday that narrowly missed Wall Street's expectations, despite adding more users than analysts predicted. Snap executives blamed its lagging ad business on a difficult "macroeconomic environment," as well as the lingering fallout from Apple's privacy policy changes on mobile devices.
"The first quarter of 2022 proved more challenging than we had expected," CEO Evan Spiegel said on Snap's earnings call Thursday. "While we are pleased with our progress given the macroeconomic environment, we also recognize that we have a significant amount of work to do to realize our long-term opportunity."
Snap reported revenues of $1.06 billion from January through March, a 38% improvement from a year earlier. Daily active users jumped 18% year-over-year to 332 million. After reporting its first-ever profitable quarter to close 2021, Snap lost $360 million during the first quarter of this year, compared to a $287 million loss in the year-earlier period.
The company acknowledged that economic headwinds from factors like inflation and Russia's invasion of Ukraine may not go away soon. The operating environment ahead "could be even more challenging, leading to further campaign pauses or advertiser budget reductions," Snap CFO Derek Anderson said.
Snap is still grappling with Apple's decision to restrict how users are tracked on mobile devices. Beginning in April, Apple allowed consumers to opt out of tracking by software apps, making it harder for them to effectively target users with ads. Snap chief business officer Jeremi Gordon said the social media firm is working to convince advertisers to use Snap's improved ad measurement tools, developed in the wake of Apple's privacy changes, to prove their campaigns are effective without the availability of users' personal information.
The company is also contending with the rise of TikTok, the Culver City-based video sharing app that was the most visited website in the world last year. TikTok recently surpassed Snapchat as the most popular social media app among teens, according to the latest annual survey from investment bank Piper Sandler. TikTok is also expected to generate more ad revenue than Snapchat and Twitter combined this year, Insider Intelligence researchers recently predicted.
If TikTok is taking a bigger slice of advertising budgets these days, it at least inspired one of Snap's fastest growing features. The company's TikTok-like short form video feed, called Spotlight, has seen total time spent by users increase 230% year-over-year. Snap has started testing ways to insert ads on Spotlight, executives on the call said.
But Snap's most ambitious advertising push remains in augmented reality. Some of its bets in that space are already paying off, such as features that let people virtually try on clothes with their smartphones.
"We found that by partnering with retailers and fashion brands, we can actually use their real products in augmented reality," Spiegel said on the call. "It dramatically improves conversion for those businesses and so can lead to higher sales."
From Your Site Articles
Related Articles Around the Web