Snap Is Bringing AR Experiences To Local Landmarks
Christian Hetrick
Christian Hetrick is dot.LA's Entertainment Tech Reporter. He was formerly a business reporter for the Philadelphia Inquirer and reported on New Jersey politics for the Observer and the Press of Atlantic City.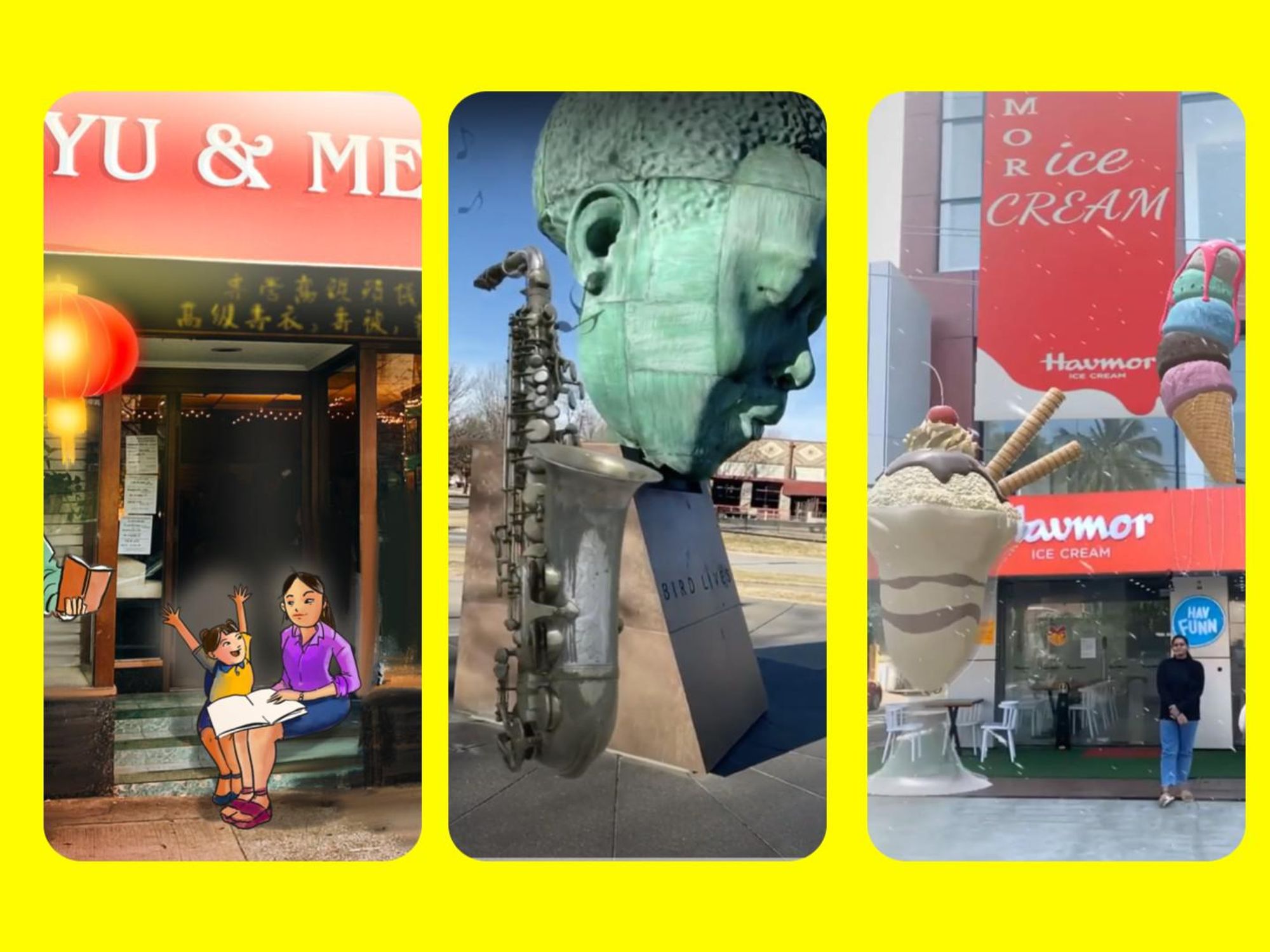 Image courtesy of Snap Inc.
Sign up for dot.LA's daily newsletter for the latest news on Southern California's tech, startup and venture capital scene.
Social media giant Snap is taking a step toward its goal of overlaying the physical world with digital objects, launching a new feature that lets creators turn local landmarks into augmented reality (AR) experiences.
---
On Wednesday, the Santa Monica-based company unveiled Custom Landmarkers, a software tool that lets users build 3D models of physical locations and design AR creations for those structures. The new feature enables individuals and businesses to attach AR experiences to a broad array of locations, from statues to storefronts, that could be seen by Snapchat's 319 million daily users.

Snap already allows third-party creators to build AR experiences (called lenses) for the app through its Lens Studio software. The company previously let artists design AR lenses for a limited number of iconic structures, such as the Eiffel Tower or the U.S. Capitol Building, using templates that it provided.
Snap Landmarker
Now, Snap is giving creators the tools to map locations themselves with their smartphones, then upload the data to Lens Studio to design immersive experiences anchored to those places. Hypothetically, a user could build an AR creation that teaches the history of a local landmark, or a business could pay a developer to turn a bakery into a gingerbread house and display a code allowing customers to redeem a discount.
"We're excited about how creators, developers and businesses can use Custom Landmarkers to enhance the way we explore, learn and shop locally," Sophia Dominguez, Snap's head of AR platform partnerships, said in a statement. "This new capability weaves AR naturally into our surroundings and the places we love, positively impacting our daily lives."
Many tech firms are betting on the much-hyped metaverse, a vision for the internet where users work, shop and socialize inside 3D digital worlds, possibly through virtual reality. Snap is taking a slightly different approach by focusing on computing that's overlain on the real world—instead of trying to transport people somewhere else, as social media rival Meta envisions.
Letting external creators build Custom Landmarker lenses could help Snap more quickly scale AR on top of physical locations. But Snap is still proceeding cautiously to prevent users from uploading lenses that could be offensive or incite violence. Other location-based AR experiences, such as Pokemon Go, have faced issues with users trespassing on private property and Russian trolls meddling in U.S. politics.
A company spokesperson said Snap recognizes that certain locations may be sensitive, such as memorials and private homes, and will evaluate each lens in context. Snap's moderation team approves all lenses before they're publicly accessible, according to the company.
In addition, the location-based AR experiences won't be discoverable by default. The main way users can find them are through physical "Snapcodes"—the company's version of QR codes—that can be scanned with smartphones at the landmark. (Users could also access them through the lens creator's profile).
One creator who got early access to Snap's new software is Michael Nicoll, the CEO of Marina del Rey-based startup BLNK (pronounced "blink"), which builds AR experiences for musicians. BLNK, which has a partnership with Snap, recently designed a Custom Landmarker promoting the new Megan Thee Stallion and Dua Lipa single "Sweetest Pie," by transforming the iconic Pink Wall on Melrose Avenue in West Hollywood into a 3D cherry pie.
Until now, Snap's AR experiences have largely focused on a user's face or body, Nicoll noted. Soon, creators will be able to design experiences that essentially flip the smartphone camera toward the rest of the world. For Nicoll, that could mean adding AR experiences to concerts.
"It's gonna open up so many opportunities, especially from the music industry," he said. "This new tech is really going to give us this whole new canvas to work off of."
Christian Hetrick
Christian Hetrick is dot.LA's Entertainment Tech Reporter. He was formerly a business reporter for the Philadelphia Inquirer and reported on New Jersey politics for the Observer and the Press of Atlantic City.