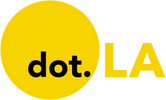 Get in the KNOW  
  on LA Startups & Tech  
X
Courtesy of Snap
From Camera Drones to Augmented Reality, Here Are Snap's Newest Products and Features
Christian Hetrick
Christian Hetrick is dot.LA's Entertainment Tech Reporter. He was formerly a business reporter for the Philadelphia Inquirer and reported on New Jersey politics for the Observer and the Press of Atlantic City.
10:54 AM | April 28, 2022
Social media giant Snap is selling a new product that could change the way you see the world—but no, it's not the company's long-awaited augmented reality glasses.
On Thursday, the Santa Monica-based firm launched a flying camera called Pixy, a pocket-sized drone that could take your next selfie from an aerial view. The Snapchat-connected drone was probably the biggest surprise from Snap's Partner Summit, an annual event when the company shares updates on its products, features and partnerships.
But Pixy wasn't the only major announcement. From augmented reality (AR) at concerts to a new way to shop online, here are some highlights from the Snap summit:
---
Virtual Dressing Rooms

Snap is launching a Dress Up tab on the Snapchat app where users can virtually try on apparel using augmented reality. The company has already deployed AR shopping, but Dress Up will create a dedicated destination—just a tap away from the app's camera—where users can browse items, share looks and bookmark outfits and accessories.
To date, AR shopping has allowed Snapchatters to preview 3D models of sneakers on their feet or sunglasses on their faces using their smartphone cameras. On Thursday, Snap announced users can now virtually try on clothes using full-body photos, with Snap overlaying products onto the pictures.
Snap has pitched AR as an innovative way for brands to advertise, drive sales and reduce item returns. Most shopping experiences on Snapchat link to an external website for customers wanting to buy products, a spokesperson said.
The company is now offering new software tools to make it easier for retailers to make AR versions of their items, using existing product images. Snap also announced that companies can integrate its AR try-on experience onto their own platforms; Puma will be the first company to use the technology to let shoppers digitally try sneakers directly on its own app.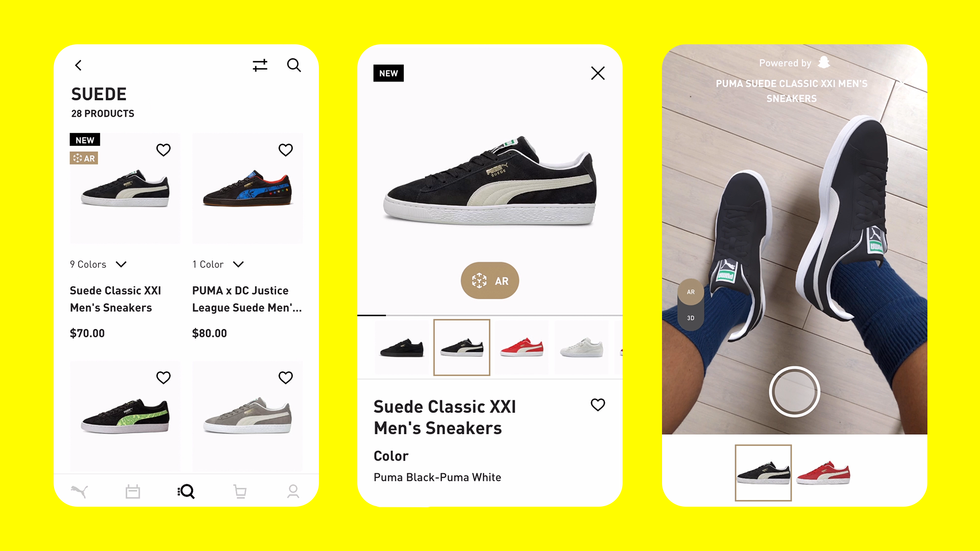 Snap's AR tech allows users to try on sneakers using their smartphones. Courtesy of Snap
AR at Music Festivals
Snap has recently taken steps to bring AR experiences to physical locations like local landmarks and small businesses. Now, Snap is bringing AR to music festivals through a multi-year partnership with Beverly Hills-based Live Nation.
Starting with the Electric Daisy Carnival next month in Las Vegas, concertgoers can use AR to try on merchandise, find friends and discover AR experiences around the festival grounds. Other festivals that will be deploying Snap's AR include Lollapalooza in Chicago, Wireless Festival in London, Rolling Loud in Miami and The Governors Ball in New York, the company said.
Snap's New Camera Drone
As mentioned, Snap will now sell a pocket-sized flying camera called Pixy. CEO Evan Spiegel pitched the device as a new creative tool allowing users to capture photos and videos from new, aerial angles.
The mini-drone comes with four preset flight paths that users can select with the press of a button, no controller needed. Pixy "knows when and where to return" and lands gently in the palm of your hand, Spiegel said. From there, users can wirelessly transfer the aerial shots to their Snapchat accounts.
The Pixy device costs $230 to buy. Snap advised customers to check out their local laws and regulations around drones before letting Pixy take flight.
Snap's AR glasses, meanwhile, are not yet for sale. The latest Spectacles are currently being tested by "hundreds" of developers who've received early access, according to Sophia Dominguez, Snap's head of AR platform partnerships.
Director Mode for Creators
Speaking of creative tools, Snapchat is rolling out a new suite of camera and editing features, called Director Mode, allowing users to make more polished content.
One feature will allow creators to use a smartphone's front-facing and back-facing cameras at the same time—letting them record what's in front of them while capturing their reaction simultaneously.
Snap is also making it easier to seamlessly transform the backgrounds of videos through its Green Screen mode—similar to an existing feature on TikTok—while its Quick Edit mode lets users easily edit together multiple Snaps. Director Mode will roll out on Apple devices in the coming months, followed by Android devices later this year.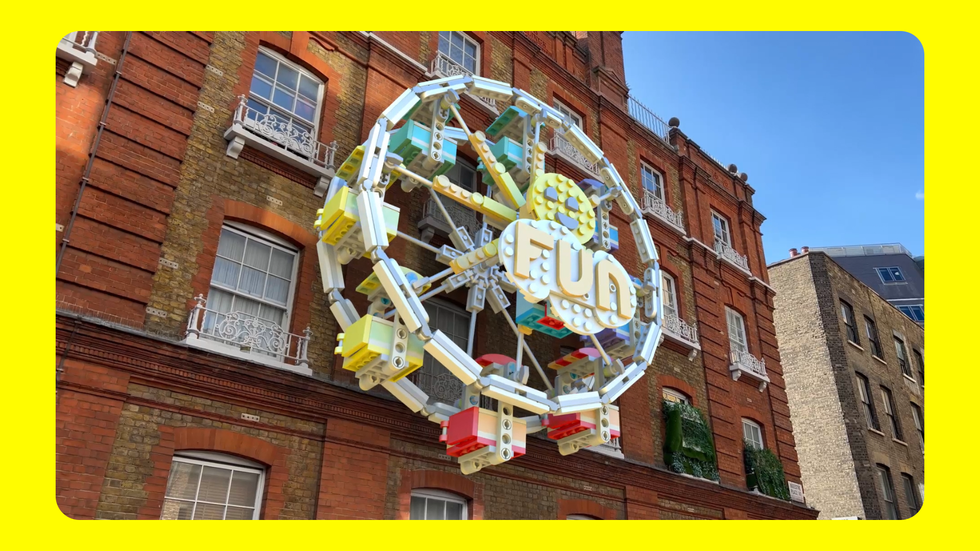 Snap has allowed creators to attach AR experiences to physical locations. Courtesy of Snap
Big User Numbers
In addition to new products and features, Snap's executives touted the size and engagement of the company's user base.
Snapchat now reaches more than 600 million monthly active users, they said Thursday, up from the 500 million reported last May. Last week, the company reported it had 332 million daily active users.
As TechCrunch recently noted, Snapchat has been growing faster than rivals Facebook and Twitter—though TikTok remains the dominant social media app of the moment, with the most downloads in the first quarter of this year and more than 1 billion monthly active users as of last year.
Snapchat users have embraced its AR offerings, with people interacting with the app's AR Lenses 6 billion times per day on average, Spiegel noted.
"What was once a far-off vision for computing overlaid on the world through augmented reality is possible today through our camera," he said.
Christian Hetrick
Christian Hetrick is dot.LA's Entertainment Tech Reporter. He was formerly a business reporter for the Philadelphia Inquirer and reported on New Jersey politics for the Observer and the Press of Atlantic City.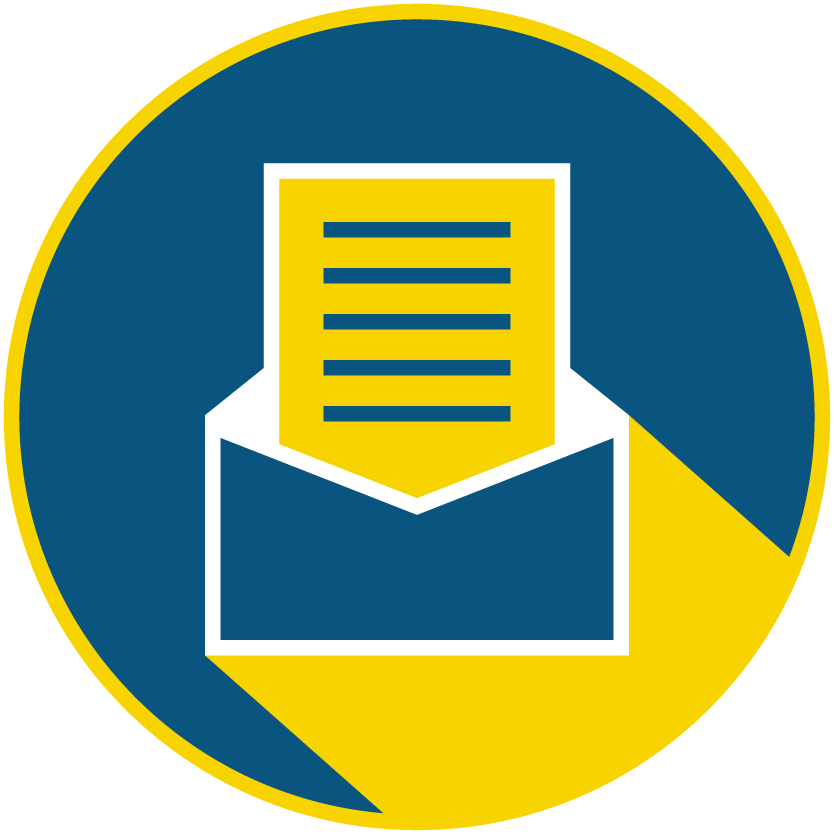 Subscribe to our newsletter to catch every headline.
08:00 AM | December 01, 2022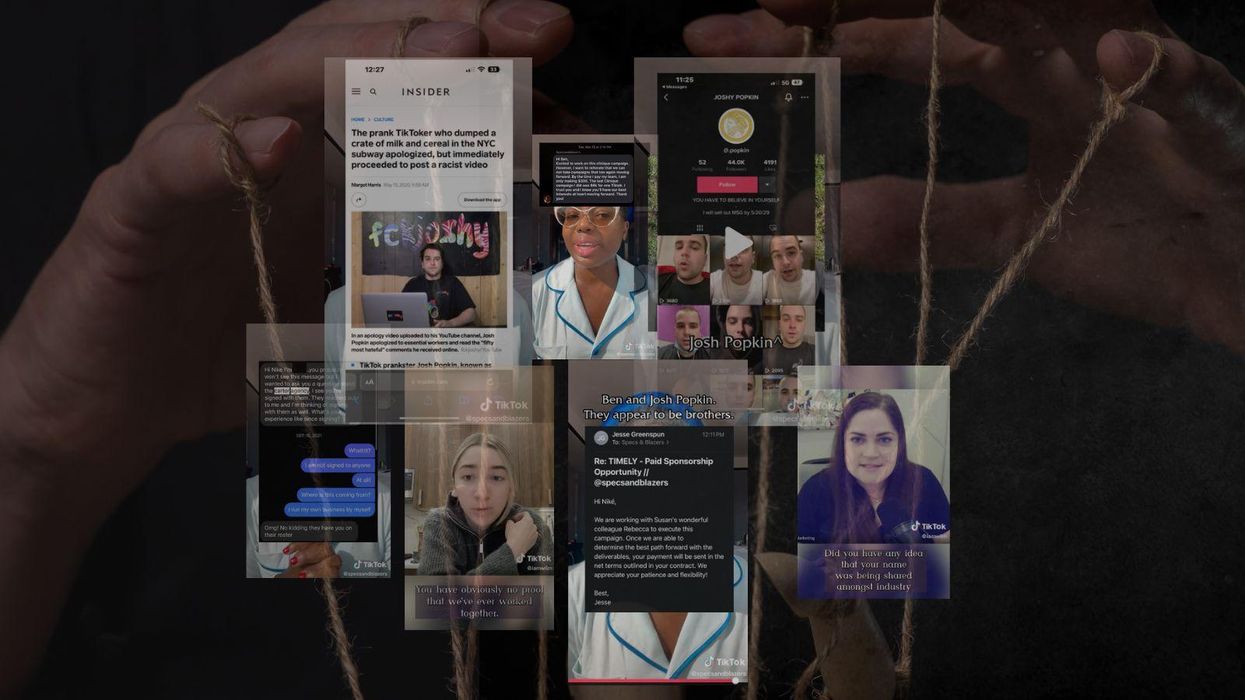 Andria Moore
Influencer Niké Ojekunle was surprised when a young content creator reached out to ask her about her experience working with The Carter Agency. The content creator had apparently seen Ojekunle's name on the agency's roster and wanted to know how helpful they'd been in helping her navigate brand deals.
The problem was, Ojekunle, who has nearly half a million followers on TikTok, had never heard of The Carter Agency, let alone worked with them. So she sent them an email inquiring about why the agency had listed her name as one of their influencers.
She received a response from a person by the name of Ben Popkin who claimed to be the CEO of The Carter Agency that lists Netflix, Amazon, Disney and Prada as just a few of their "strategic partners."
In the email, Popkin explained to Ojekunle that he had previously worked with her through a different PR agency and apologized for the mix-up. Then he pivoted to a new proposition: he could help her get two $5,000 brand partnership deals. Ojekunle agreed to the details of the agreement and completed two campaigns with Popkin as the middleman. A few weeks later, Popkin reached out again. This time it was with an offer from Clinique—a skincare brand Ojekunle had worked with in the past.
"In June, he wrote me and said Clinique offered me two campaigns for $1,900," Ojekunle says. "I've been with Clinique for six years. Clinique knows not to put anything in front of me for less than $6,000."
Not interested in lowering her standard rate for a product campaign, Ojekunle declined the deal and informed Popkin she no longer needed his assistance.
In subsequent months, however, Ojekunle noticed something was wrong: similar to the situation with Clinique, brands that had previously offered her campaigns worth thousands of dollars were offering her campaigns at significantly lower rates.
One of those brands was Naturiu, a skincare company run by Susan Yara, a friend of Ojekunle. When Ojekunle reached out to learn more about why the offer had been significantly lower than their past partnership deals, Yara informed Ojekunle, she too had never spoken to Popkin and was unaware any such offer had been issued.
The malpractice of influencer agencies has, of late, been well reported. In 2020, talent management firm Influences, came under fire over claims the company did not pay its clients. According to the New York Times, the firm owed dozens of creators thousands of dollars from brand deals. One of those influencers claimed the company withheld $23,683.82 from her. Influences' former owner is currently suing the New York Times over defamation.
In July, influencer Liv Reese called out Creative Culture Agency for not paying her after she made a video for one of the company's advertising campaigns. According to its private Instagram page, Creative Culture Agency is "no longer available."
And in 2020, 13 influencers paid talent management firm IQ Advantage a $299 deposit when they first signed with the company. But when IQ Advantage failed to secure them brand deals, the deposit was never returned and eight months later, once all the money had been collected, IQ Advantage conveniently shut down.
But Ojekunle's experience with The Carter Agency shows signs of a different offense. "He's [Popkin] telling the brand that he's representing me, then he's telling me he's representing the brands," Ojekunle says. "It's a very violating feeling and a very vulnerable feeling. You ask yourself, 'how was I so stupid' over and over."
According to OpenCorporates.com, The Carter Agency LLC is registered to a person by the name of Josh Popkin — a former social media star who faced public backlash in 2020 after pouring cereal in a New York City subway as part of a prank. Ojekunle suspects Popkin took on a fake name (Ben Popkin) when reaching out to her in order to distance himself from his controversial reputation. The Carter Agency has not responded to multiple requests for comment.
Like so many influencers who find themselves victims of unethical behavior, Ojekunle took her allegations straight to TikTok. In the first of five videos, the influencer claims that Popkin was not only pretending to be her manager, but had also been operating under a pseudonym.
@specsandblazers

Ben Carter = Ben Popkin = Josh Popkin. Carter Agency = Malibu Marketing Group = Jesse GreenSpun. A Complete Scam! #carteragency #benpopkin #joshpopkin #scammers
Jessy Grossman, co-founder of Women In Influencer Marketing, wasn't surprised when people shared Ojekunle's video in the company's private Facebook group. She says reports of the Carter Agency's misconduct had begun circling among the members as early as February—Ojekunle's video was further evidence.
Soon after, Grossman began connecting with other influencers who were impacted by the company. And in recent weeks, ever since Ojekunle posted her videos, many brand managers have reached out to Grossman with claims that, despite Carter's previous push to hire his influencers, he has since ceased all contact.
Grossman believes The Carter Agency is specifically targeting TikTokers not only because of the platform's success but also because many of them are teens.
"Some are young and think that having management is the path to 'making it,'" Grossman says. "You have to know the right questions to ask and industry standards, otherwise anyone can claim to be legitimate since there's no regulatory body."
Looking back on the low offers she had been accepting from brands, Ojekunle now believes Popkin was attempting to pocket the difference after sending only a portion of what the brands were really offering her.
"It was a predatory and well-calculated thing that he did," Ojekunle says.
In total, The Carter Agency's actions have affected more than 130 influencers, including those signed to Popkin's company and those who he falsely claimed to represent. Ojekunle also claims The Carter Agency has potentially jeopardized nearly $60,000 in brand deals by pretending to represent her. She's currently pursuing a civil lawsuit and has opened up a criminal investigation into the company.
"I have been doing this for 10 years, and I have built a name for myself," Ojekunle says. "I'm not scared of him."
Kristin Snyder
Kristin Snyder is dot.LA's 2022/23 Editorial Fellow. She previously interned with Tiger Oak Media and led the arts section for UCLA's Daily Bruin.
https://twitter.com/ksnyder_db
05:15 AM | December 13, 2022
Vinfast
Vinfast, the Vietnamese EV company with headquarters in Los Angeles, shipped its first order of vehicles to U.S. soil from Hai Phong, Vietnam on November 25th. The batch of 999 automobiles is due to arrive here in California on Thursday this week.
The VF8 SUVs on board will have the difficult task of convincing American buyers that an unknown, untested Vietnamese manufacturer can deliver on a new technology. And so far, the company appears to be off to a rocky start.
According to an email sent to reservation holders on November 29th, the VF8s in the initial shipment will be a special "City Edition" and have lower range advertised than the previously announced versions–just 180 miles in total. Over the weekend, Vinfast confirmed to dot.LA via Twitter that all of the vehicles in the first batch are the City Edition, and that the standard edition would be coming Q1 of 2023. Until this email, there had been little, if any mention of this new City Edition. The message to reservation holders offered no rationale as to why the company was choosing to ship this version of the car instead of the 260-292 mile-range VF8 it's been advertising for months. Despite the lower range, however, the EVs will still carry a price tag of either $55,500 or $62,500, depending on trim–just $3,000 less than the previously-announced versions.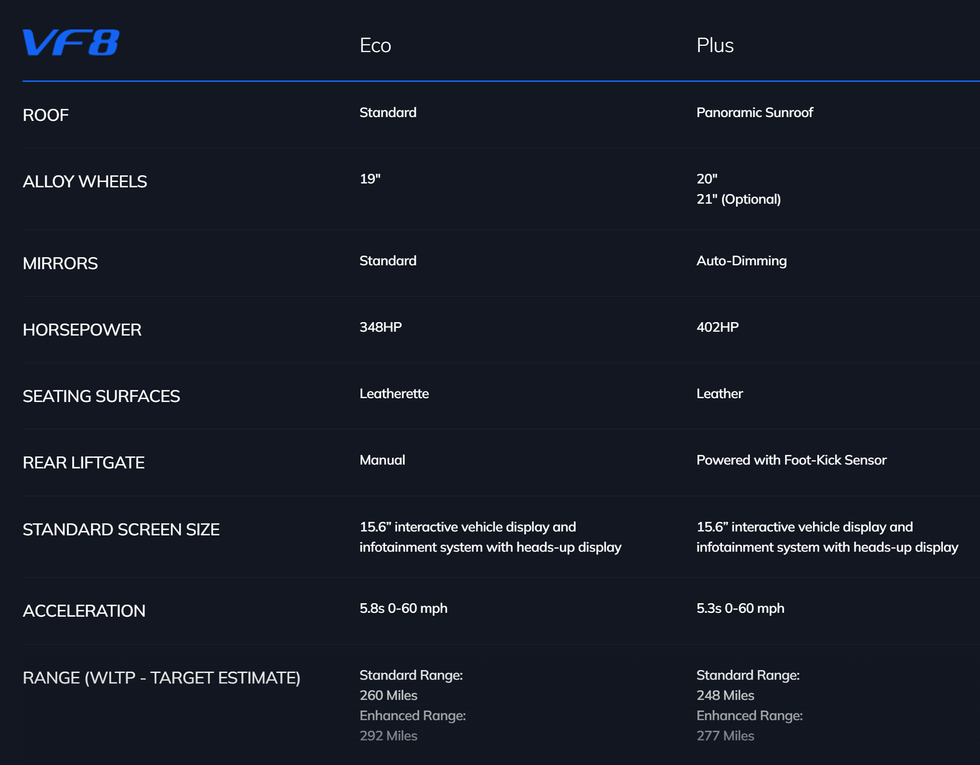 The VF8 Specs page from Vinfast's site still bears no mention of a "City Edition," but that's what's coming to America this month.
Vinfast is offering reservation holders an additional $3,000 off these City Edition variants (bringing the total to $6,000 less than the previously announced versions). But even at a discount, the vehicle's $52,000 price tag is far from competitive with more established EV makers and raises questions about the brand's strategy and value.

For comparison:
The 2023 Hyundai Ioniq 5 has 220 miles of range and starts at $42,745. Or 303 miles of range for $60,000.
The base model Kia EV6 costs $49,795 and goes 206 miles on a full charge.
The Mustang Mach E starts at 46,895 and reaches 224 miles.
And the list goes on. In fact, you'd be hard pressed to find a 2023 EV with a worse cost to range ratio than the VF8. Vinfast, which has been nearly impossible to reach on this matter despite numerous calls and emails, hasn't explained why they chose to offer such a range-compromised version as their initial foray into the U.S. market, or why the cost remains so high.
The reaction to the news, especially on Reddit, has been largely negative, with users accusing the company of "springing" the City Edition on reservation holders. Others speculated that the company rushed out the first batch so it could drum up good press before its recently announced IPO. Whatever the reason, most redditors didn't seem to be buying it, and with Vinfast so reluctant to comment, it's hard to see the announcement in a light that bodes well for the company's future. First impressions tend to last, and this doesn't seem like a good one for the EV hopeful.
David Shultz
David Shultz reports on clean technology and electric vehicles, among other industries, for dot.LA. His writing has appeared in The Atlantic, Outside, Nautilus and many other publications.