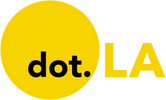 Get in the KNOW  
  on LA Startups & Tech  
X
Courtesy of Snap
From Camera Drones to Augmented Reality, Here Are Snap's Newest Products and Features
Christian Hetrick
Christian Hetrick is dot.LA's Entertainment Tech Reporter. He was formerly a business reporter for the Philadelphia Inquirer and reported on New Jersey politics for the Observer and the Press of Atlantic City.
10:54 AM | April 28, 2022
Social media giant Snap is selling a new product that could change the way you see the world—but no, it's not the company's long-awaited augmented reality glasses.
On Thursday, the Santa Monica-based firm launched a flying camera called Pixy, a pocket-sized drone that could take your next selfie from an aerial view. The Snapchat-connected drone was probably the biggest surprise from Snap's Partner Summit, an annual event when the company shares updates on its products, features and partnerships.
But Pixy wasn't the only major announcement. From augmented reality (AR) at concerts to a new way to shop online, here are some highlights from the Snap summit:
---
Virtual Dressing Rooms

Snap is launching a Dress Up tab on the Snapchat app where users can virtually try on apparel using augmented reality. The company has already deployed AR shopping, but Dress Up will create a dedicated destination—just a tap away from the app's camera—where users can browse items, share looks and bookmark outfits and accessories.
To date, AR shopping has allowed Snapchatters to preview 3D models of sneakers on their feet or sunglasses on their faces using their smartphone cameras. On Thursday, Snap announced users can now virtually try on clothes using full-body photos, with Snap overlaying products onto the pictures.
Snap has pitched AR as an innovative way for brands to advertise, drive sales and reduce item returns. Most shopping experiences on Snapchat link to an external website for customers wanting to buy products, a spokesperson said.
The company is now offering new software tools to make it easier for retailers to make AR versions of their items, using existing product images. Snap also announced that companies can integrate its AR try-on experience onto their own platforms; Puma will be the first company to use the technology to let shoppers digitally try sneakers directly on its own app.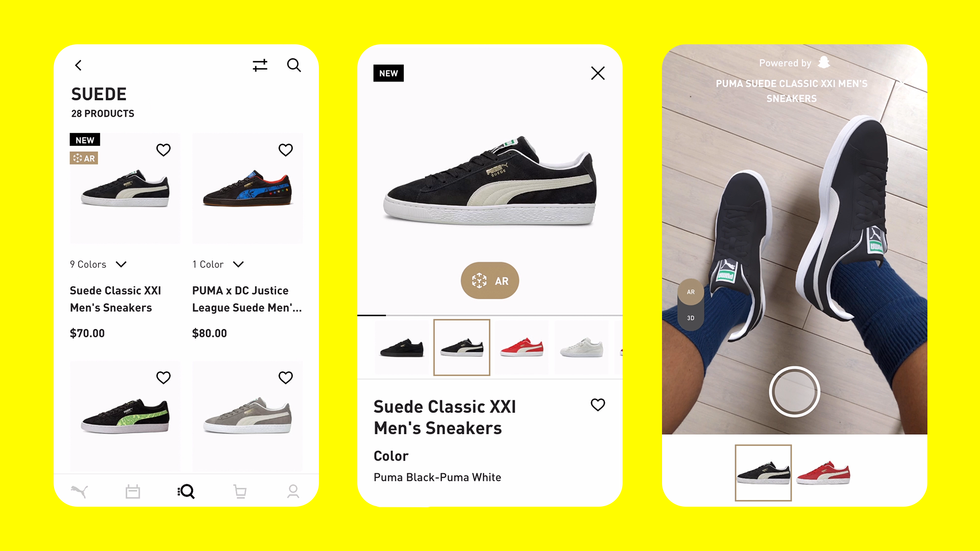 Snap's AR tech allows users to try on sneakers using their smartphones. Courtesy of Snap
AR at Music Festivals
Snap has recently taken steps to bring AR experiences to physical locations like local landmarks and small businesses. Now, Snap is bringing AR to music festivals through a multi-year partnership with Beverly Hills-based Live Nation.
Starting with the Electric Daisy Carnival next month in Las Vegas, concertgoers can use AR to try on merchandise, find friends and discover AR experiences around the festival grounds. Other festivals that will be deploying Snap's AR include Lollapalooza in Chicago, Wireless Festival in London, Rolling Loud in Miami and The Governors Ball in New York, the company said.
Snap's New Camera Drone
As mentioned, Snap will now sell a pocket-sized flying camera called Pixy. CEO Evan Spiegel pitched the device as a new creative tool allowing users to capture photos and videos from new, aerial angles.
The mini-drone comes with four preset flight paths that users can select with the press of a button, no controller needed. Pixy "knows when and where to return" and lands gently in the palm of your hand, Spiegel said. From there, users can wirelessly transfer the aerial shots to their Snapchat accounts.
The Pixy device costs $230 to buy. Snap advised customers to check out their local laws and regulations around drones before letting Pixy take flight.
Snap's AR glasses, meanwhile, are not yet for sale. The latest Spectacles are currently being tested by "hundreds" of developers who've received early access, according to Sophia Dominguez, Snap's head of AR platform partnerships.
Director Mode for Creators
Speaking of creative tools, Snapchat is rolling out a new suite of camera and editing features, called Director Mode, allowing users to make more polished content.
One feature will allow creators to use a smartphone's front-facing and back-facing cameras at the same time—letting them record what's in front of them while capturing their reaction simultaneously.
Snap is also making it easier to seamlessly transform the backgrounds of videos through its Green Screen mode—similar to an existing feature on TikTok—while its Quick Edit mode lets users easily edit together multiple Snaps. Director Mode will roll out on Apple devices in the coming months, followed by Android devices later this year.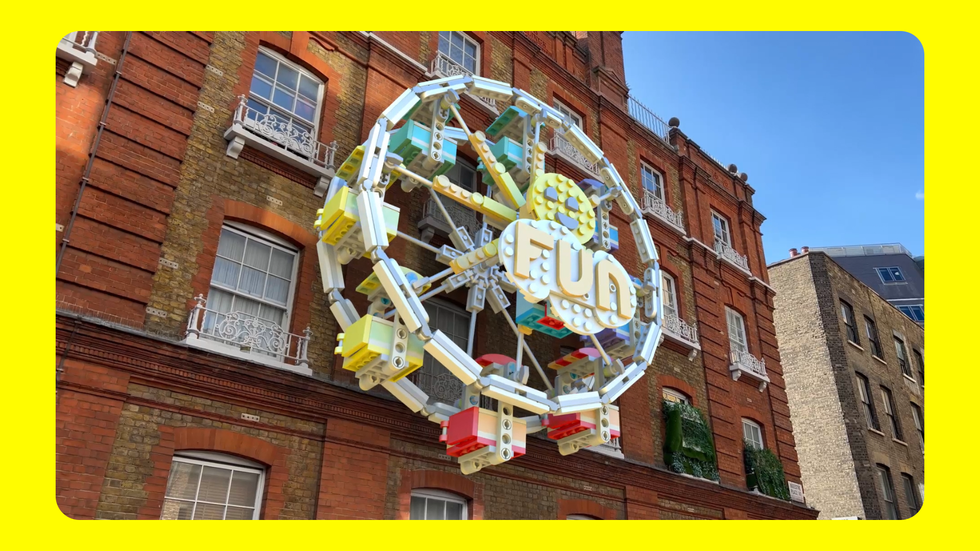 Snap has allowed creators to attach AR experiences to physical locations. Courtesy of Snap
Big User Numbers
In addition to new products and features, Snap's executives touted the size and engagement of the company's user base.
Snapchat now reaches more than 600 million monthly active users, they said Thursday, up from the 500 million reported last May. Last week, the company reported it had 332 million daily active users.
As TechCrunch recently noted, Snapchat has been growing faster than rivals Facebook and Twitter—though TikTok remains the dominant social media app of the moment, with the most downloads in the first quarter of this year and more than 1 billion monthly active users as of last year.
Snapchat users have embraced its AR offerings, with people interacting with the app's AR Lenses 6 billion times per day on average, Spiegel noted.
"What was once a far-off vision for computing overlaid on the world through augmented reality is possible today through our camera," he said.
Christian Hetrick
Christian Hetrick is dot.LA's Entertainment Tech Reporter. He was formerly a business reporter for the Philadelphia Inquirer and reported on New Jersey politics for the Observer and the Press of Atlantic City.
10:10 AM | September 05, 2023
Exclusive events
Job postings
Founder profiles
Funding rounds
VC Guides
Podcasts