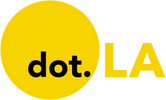 Get in the KNOW  
  on LA Startups & Tech  
X
Photos by Drew Fiouz
LA Tech Week: NFT Cocktails, Sushi and Networking
Andrew Fiouzi
Andrew Fiouzi is a freelance writer. He was previously a features writer at MEL Magazine where he covered masculinity, tech and true crime. His work has been featured in the Los Angeles Times, Long Reads and Vice, among other publications.
01:35 PM | August 16, 2022
Roughly 13 hours after venture capital kingmaker Andreessen Horowitz announced plans to invest $350 million into WeWork founder Adam Neumann's new residential real estate company, a handful of fedoras are floating through a room of mostly 20-something startup founders, influencers and tech people hoping to rub shoulders with their angel. I'm at L.A. Tech Week's opening night mixer at Famecast's creator brand accelerator studio in Santa Monica.
---
The event—which is hosted by Zeal Reserve, 99 Ventures and Moonshots Capital, among others—is one of the final get-togethers in a day packed with nearly 40 others. Some of which included: an investor breakfast at Hermès, a lunch and fireside chat about the state of the climate hosted by venture capital investment company Blue Bear Capital, a number of crypto-centered happy hours and a yacht cruise.
Upon entering the Famecast studio, 400-some-odd guests step onto a red carpet where they pose for photos in front of a white background littered with names of the companies hosting one of L.A. Tech Week's notoriously-difficult-to-get-into events: The running joke on Twitter is that L.A. Tech Week events are "harder to get into than Harvard." Which, based on the number of people at the cafe meetup earlier in the day, who tell me their registration was either denied or "pending approval," appears, at least anecdotally, to be true.
Inside Famecast's West L.A. warehouse space, neon lights bounce off red brick walls. In the front of the house a few startup founders and people who are "looking for a side hustle," are sitting in chairs suspended to the ceiling and huddled around a floating conference table covered in yellow, purple and red cans of rosé. To the left, an installation of sorts featuring forward-facing chrome, human-shaped heads wearing headphones. Between the make-shift sushi bar and the bathroom, a woman is selling Bluetooth audio sunglasses for $100 less than the glasses typically retail.
As you make your way to the back of the warehouse, a DJ with shortly cropped bleach hair wearing white sunglasses is spinning records in front of a projector screen illuminated with a miasma of familiar NFT characters. Yes, there's an ape. And yes, it's of the Yacht-Club variety. Throughout the night, I'll hear people tell me that the project they're working on is either an NFT or "like an NFT."
One such individual is Alec Joseph, a musical artist and the co-creator of Conscious Cups which brands itself as, "a society of used coffee cups, awoken by radioactive mycelia in the Great Pacific Garbage Patch." The project appears, to me at least, to be a clever way for Joseph to promote his upcoming single "Conscious Cups." The way it works is that people who purchase one of Joseph's NFTs will have access to an exclusive Discord channel where they can connect and contribute to the project. Per Conscious Cups' LinkedIn profile, holders of Conscious Cups NFTs will have the opportunity to get their profile pictures featured in one of Joseph's upcoming music videos.
For better or worse, however, the room isn't exclusively made up of web3 people. Ann Chan, a former product manager at Meta is the founder of Berry, a frictionless drop-in audio chat app for remote teams that need to discuss and resolve issues. Chan, who I met earlier at the L.A. Tech Week cafe meetup, is at the mixer to network and meet other founders who might be interested in using Berry as they test and develop the product. When I run into her towards the end of the evening, she tells me she's struggled to meet founders with large enough teams—which is something she needs since her app is geared toward teams that have enough people to be naturally plagued by conflicts in their schedules.
Yet another non-web3 project is Roman and John Cresto's Empire ECommerce — a one-stop, automated service provider for marketplace e-commerce stores. In layman's terms, they use machine learning to help people set up and automate their Amazon stores. When I ask Empire's CEO Roman Cresto to give me his thoughts about the mixer he seems satisfied with the turnout before adding, "apparently Addison Rae's dad is here."
According to Ace Westwick, chief marketing officer at Zeal Reserve — an algorithmically powered crypto investment fund—the idea behind the mixer was to create an environment where investors, founders and people in tech can come together and have a good time. It helps, he quips, that they have enough booze to keep the "400-person crowd fully sedated for the entire night." To his credit, several other people who I meet echo Westwick's sentiment. They tell me that unlike Silicon Valley networking events, where everyone is just exchanging business cards and trying to differentiate between the posers and the money people, this L.A. Tech Week event is more like a party.
Sam Borghese, CEO and co-founder of Zeal Reserve and a professor at UCLA introduces me to Mack Abbott who works in public relations. "This is Mack," he says. "She wants to be famous." Borghese, who's been featured in Bloomberg asks Abbott, what he needs to do to be featured in Forbes 30 under 30. According to Abott, there are two different ways: 1) Go to a bunch of tech conferences and schmooze with reporters, editors and expert judges who decide on these sorts of things. 2) Write a check for $30,000. Neither avenue appears to appeal to Borghese.
As the evening winds down in Santa Monica and the first day of L.A. Tech Week is almost nearly in the books, there's an undeniable enthusiasm for the promises of an entire week of networking opportunities. With most of L.A. Tech Week's events all but full, there's no doubt that as the week progresses, attendees are sure to add to their list of Twitter followers and LinkedIn connections. I've made a handful of new LinkedIn connections myself.
While I watch waves of attendees wait for the Ubers that will take them to their hotels or their homes, I'm struck by the words of the bouncer at the beginning of the night. I asked him, while he was scanning my QR code, why he was using two different phones. First, he said something about iPhones and Androids before he stopped himself, laughed, shook his head and told me, "Technology is weird these days. But it's cool."
Can't argue with that.
Andrew Fiouzi
Andrew Fiouzi is a freelance writer. He was previously a features writer at MEL Magazine where he covered masculinity, tech and true crime. His work has been featured in the Los Angeles Times, Long Reads and Vice, among other publications.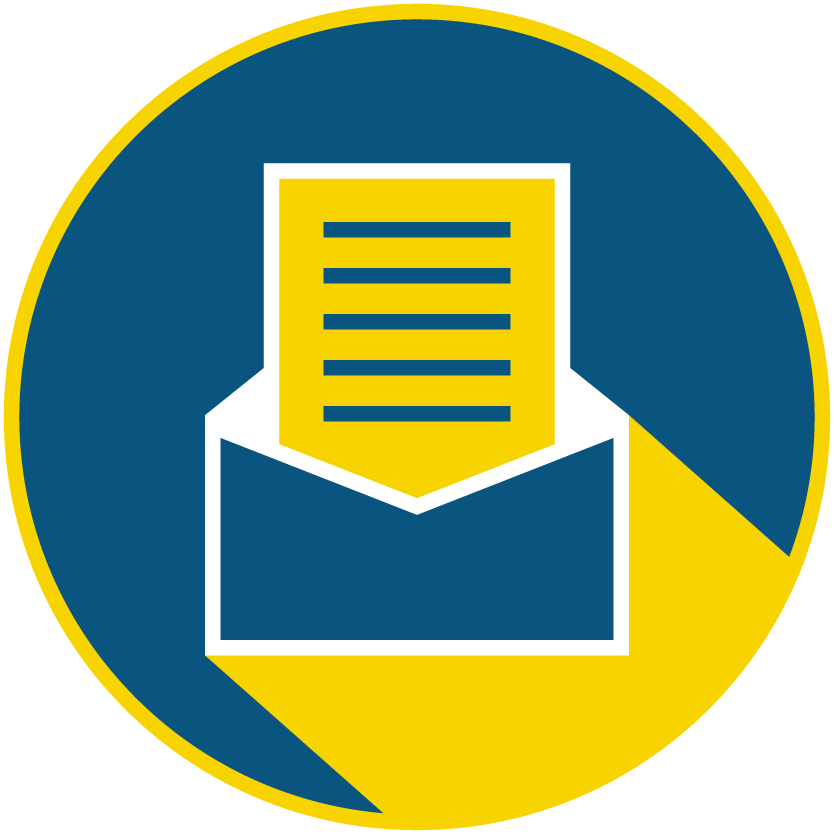 Subscribe to our newsletter to catch every headline.
05:31 PM | August 01, 2022
Image courtesy Arkive
Historical documents, records and important artifacts are sometimes locked away in vaults (until a museum or library wants to showcase them), and under restricted access. Thomas McLeod believes that these artifacts hold great value and have the potential to impact communities, so he founded Arkive, the first decentralized, physical museum.
The inspiration for Arkive came from McLeod's previous company, Omni, a physical storage company acquired by Coinbase in 2019.
"We thought it would always be like utility items and we started getting full sneaker collections, vintage posters, records, comic books that were valuable and we kind of had a panic attack," McLeod told dot.LA. "The business [Omni] was built around storing bikes, and you can't put a vintage record next to a dirt bike. They just don't store in the same manner."
McLeod was fascinated by the items and collections that came through the door. To him, it felt like browsing a museum of curated items that everyday people collect.
That's when McLeod knew he was onto something.
McLeod has built startups before. Past projects included Pagelime, acquired in 2015 by SurrealCMS, and in 2012 LolConnect was acquired by Tencent.
The items in Arkive's collections are hand-selected by members who vote on what items they want to acquire. The organization currently has 300 active users, and there are hundreds on the waiting list. McLeod confirmed to dot.LA that they will increase the number of members admitted to 50 people each week with plans to cap admissions at 1,000 for the first phase. He added that while membership is free today, that will likely change in the future.
People interested in becoming members must apply on Arkive's website, where they will answer individual questions about their interests and occupations.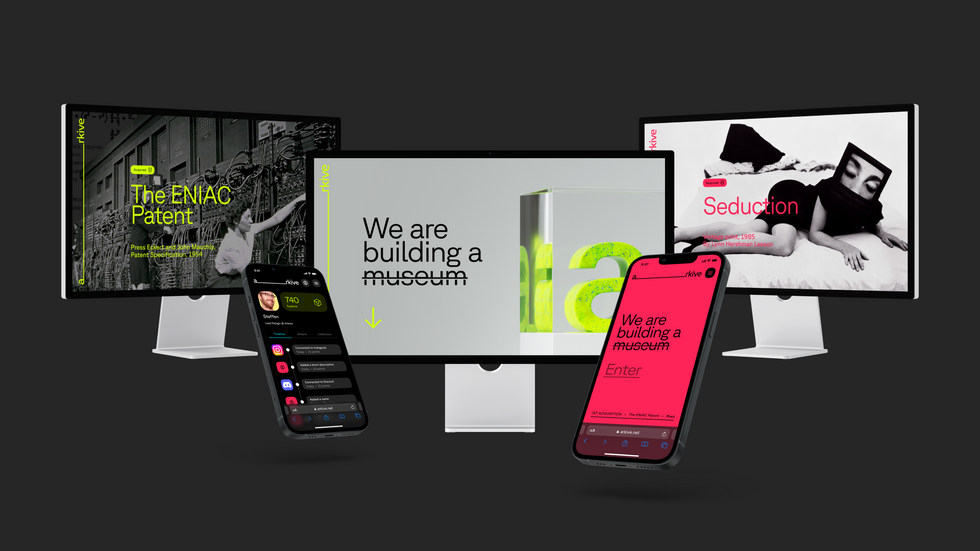 Arkive's physical, blockchain-inspired museum is coming to Santa Monica. Courtesy of Arkive
Just as museums have a lobby, Arkive has its "atrium." In this space, every member enters and registers their cryptocurrency wallets. Once registration is complete, members can vote on the blockchain for the artifact or piece of art they want Arkive to acquire. Prior to voting, to ensure they are well informed, members will have the opportunity to learn about each artifact from the artist, the gallery or the collector who previously held the item.
Since there is a surplus of artifacts around the world, Arkive's team of curators handpick options that are relevant to the current theme: "When Technology Was a Game Changer." While each round of voting is different, McLeod said the voting window for members usually lasts five days (M-F).
Arkive has acquired two items since coming out of stealth mode, the first one being the original patent for the ENIAC – known as the world's first programmable, electronic general-purpose computer. In addition to ENIAC's patent, members also voted to acquire Seduction (1985), a vintage print by Lynn Hershman Leeson, which will be part of Arkive's first public exhibition at the Art Basel Miami Beach in December 2022. Once items are acquired, they will be loaned to museums or galleries to be placed on display for the public to enjoy—at locations Arkive members believe have the most significant cultural impact.
"For instance, the ENIAC patent, we would love it if it lived at the Computer History Museum in San Mateo. If we acquired a Frida Kahlo, we would love it if it was in Mexico City or somewhere that mattered to her art or the family that she was a part of," McLeod said.
The Santa Monica-based startup announced last week that it raised $9.7 million in a seed funding round led by Offline and TCG Crypto. Other participants included NFX, Freestyle Capital, Coinbase Ventures, Not Boring Capital, Precursor, Chainforest, Coil, Julia Lipton, Joe McCann, Chris Cantino, Marty Bell and Paul Veradittakit.
"People who committed were all the way in and did not hesitate to support and be a part of the journey," McLeod said. "It got us the right people that are in it for the long haul and really care about not just the business but the potential cultural impact that it could have. So having the right investors to me is more important than just money."
Some of the funding will be allocated towards expanding the team, but a majority of the capital raised will go into acquiring more artifacts. McLeod said Arkive has three more acquisitions lined up in the next three months, but the eventual goal is to acquire two pieces a month.
Correction: An earlier version of this piece misspelled Thomas McLeod's last name.
Decerry Donato
Decerry Donato is a reporter at dot.LA. Prior to that, she was an editorial fellow at the company. Decerry received her bachelor's degree in literary journalism from the University of California, Irvine. She continues to write stories to inform the community about issues or events that take place in the L.A. area. On the weekends, she can be found hiking in the Angeles National forest or sifting through racks at your local thrift store.
01:11 PM | September 07, 2022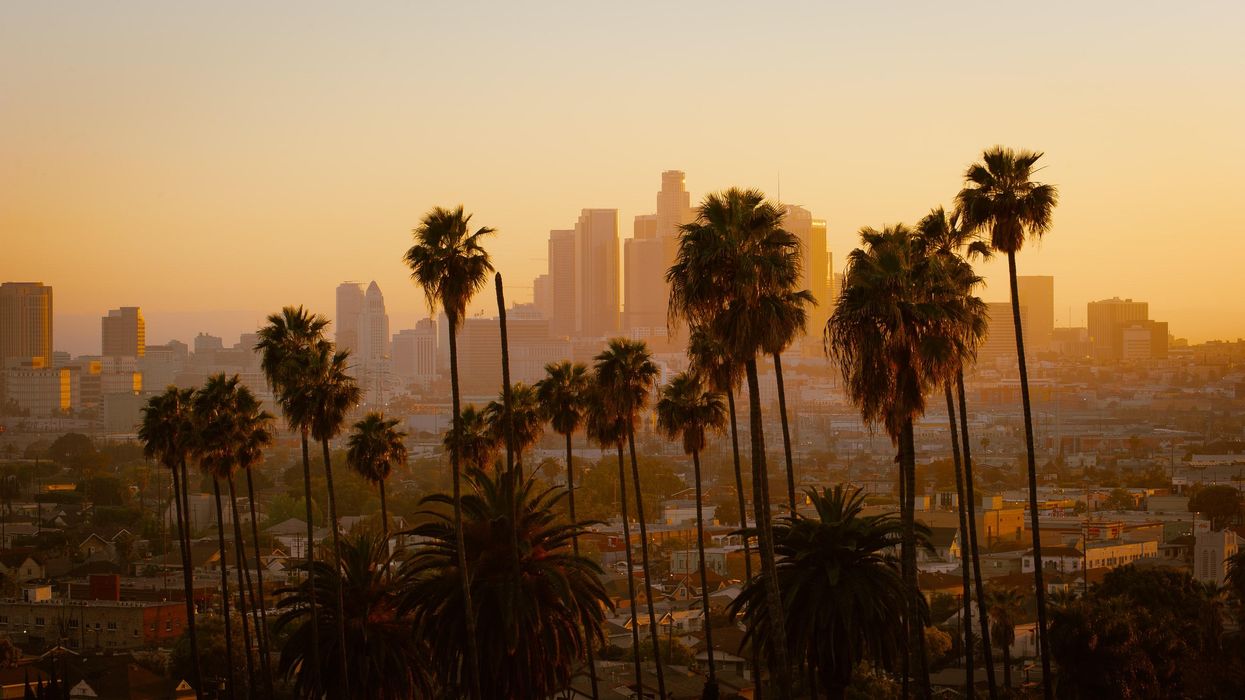 Yesterday afternoon millions Californians around the state received an emergency alert straight to their mobile phones asking them to conserve power as the electric grid teetered on edge of collapse. The move came as the state battles on through an historic heatwave that has laid bare the shortcoming of its infrastructure in the face of a new and hotter climate.

At around 5 p.m. yesterday, the Golden State grid saw a record-setting peak demand of 52,061 megawatts. At 5:17, grid operators triggered a level 3 energy emergency alert, which signals to utility providers to prepare for rotating blackouts.
"We were well into the reserve tank of the car," said CAISO president Elliot Mainzer in a press conference this morning. "We were down to the last gallon there and dipping into our operating reserves."
At 5:45 p.m., Governor Newsom authorized the use of the wireless emergency alert system, which sent the text urging Californians to conserve power. The impact was almost immediate.
"Within moments, we saw a significant amount of load reduction showing up to the tune of approximately 2000 megawatts," said Mainzer. "That significant response from California consumers to the wireless emergency alert allowed us to restore our operating reserves and took us back from the edge of broader disturbance. As a result, we stayed in the first phase of the EAA three, and did not have to trigger rotating outages last night."
Despite the CAISO's adamance that it never called for rotating outages, the Northern California Power Agency did in fact cut the power for residents. Mainzer insists that the blackouts were likely the result of confusion between the two agencies.
"I don't know, honestly, this morning, exactly what happened there," says Mainzer. "But we will be in touch and certainly really doubling down our communication with the utility to make sure that there is not a problem like that going forward."
CAISO said that, even though the state was scrounging for every single megawatt it could find, the 45 megawatts saved from the communication snafu would not have made the difference to keep the lights on statewide.
Mainzer says the flex power gleaned from residents scaling back on power consumption–which totaled over 2,000 megawatts–was the key in bringing the grid back from the brink. But the agency is also aware that over-using the messaging system will likely decrease its effectiveness, as Californians become desensitized to repeated warnings.
"I think we need to be very careful not to just think that we can depend on that sort of a tool," he said.
With temperature set to remain extremely high for at least several more days, CAISO is hoping that it won't need the text warning again tonight, although there will still be a flex alert for this evening and citizens are still being asked to set thermostats to 78 degrees Fahrenheit, turn off unnecessary lights, and refrain from using appliances between the hours of 4 p.m. and 9 p.m.
David Shultz
David Shultz reports on clean technology and electric vehicles, among other industries, for dot.LA. His writing has appeared in The Atlantic, Outside, Nautilus and many other publications.