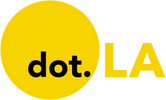 Get in the KNOW  
  on LA Startups & Tech  
X
Photos by Drew Fiouz
LA Tech Week: NFT Cocktails, Sushi and Networking
Andrew Fiouzi
Andrew Fiouzi is an editor at dot.LA. He was previously a features writer at MEL Magazine where he covered masculinity, tech and true crime. His work has been featured in the Los Angeles Times, Long Reads and Vice, among other publications.
01:35 PM | August 16, 2022
Roughly 13 hours after venture capital kingmaker Andreessen Horowitz announced plans to invest $350 million into WeWork founder Adam Neumann's new residential real estate company, a handful of fedoras are floating through a room of mostly 20-something startup founders, influencers and tech people hoping to rub shoulders with their angel. I'm at L.A. Tech Week's opening night mixer at Famecast's creator brand accelerator studio in Santa Monica.
---
The event—which is hosted by Zeal Reserve, 99 Ventures and Moonshots Capital, among others—is one of the final get-togethers in a day packed with nearly 40 others. Some of which included: an investor breakfast at Hermès, a lunch and fireside chat about the state of the climate hosted by venture capital investment company Blue Bear Capital, a number of crypto-centered happy hours and a yacht cruise.
Upon entering the Famecast studio, 400-some-odd guests step onto a red carpet where they pose for photos in front of a white background littered with names of the companies hosting one of L.A. Tech Week's notoriously-difficult-to-get-into events: The running joke on Twitter is that L.A. Tech Week events are "harder to get into than Harvard." Which, based on the number of people at the cafe meetup earlier in the day, who tell me their registration was either denied or "pending approval," appears, at least anecdotally, to be true.
Inside Famecast's West L.A. warehouse space, neon lights bounce off red brick walls. In the front of the house a few startup founders and people who are "looking for a side hustle," are sitting in chairs suspended to the ceiling and huddled around a floating conference table covered in yellow, purple and red cans of rosé. To the left, an installation of sorts featuring forward-facing chrome, human-shaped heads wearing headphones. Between the make-shift sushi bar and the bathroom, a woman is selling Bluetooth audio sunglasses for $100 less than the glasses typically retail.
As you make your way to the back of the warehouse, a DJ with shortly cropped bleach hair wearing white sunglasses is spinning records in front of a projector screen illuminated with a miasma of familiar NFT characters. Yes, there's an ape. And yes, it's of the Yacht-Club variety. Throughout the night, I'll hear people tell me that the project they're working on is either an NFT or "like an NFT."
One such individual is Alec Joseph, a musical artist and the co-creator of Conscious Cups which brands itself as, "a society of used coffee cups, awoken by radioactive mycelia in the Great Pacific Garbage Patch." The project appears, to me at least, to be a clever way for Joseph to promote his upcoming single "Conscious Cups." The way it works is that people who purchase one of Joseph's NFTs will have access to an exclusive Discord channel where they can connect and contribute to the project. Per Conscious Cups' LinkedIn profile, holders of Conscious Cups NFTs will have the opportunity to get their profile pictures featured in one of Joseph's upcoming music videos.
For better or worse, however, the room isn't exclusively made up of web3 people. Ann Chan, a former product manager at Meta is the founder of Berry, a frictionless drop-in audio chat app for remote teams that need to discuss and resolve issues. Chan, who I met earlier at the L.A. Tech Week cafe meetup, is at the mixer to network and meet other founders who might be interested in using Berry as they test and develop the product. When I run into her towards the end of the evening, she tells me she's struggled to meet founders with large enough teams—which is something she needs since her app is geared toward teams that have enough people to be naturally plagued by conflicts in their schedules.
Yet another non-web3 project is Roman and John Cresto's Empire ECommerce — a one-stop, automated service provider for marketplace e-commerce stores. In layman's terms, they use machine learning to help people set up and automate their Amazon stores. When I ask Empire's CEO Roman Cresto to give me his thoughts about the mixer he seems satisfied with the turnout before adding, "apparently Addison Rae's dad is here."
According to Ace Westwick, chief marketing officer at Zeal Reserve — an algorithmically powered crypto investment fund—the idea behind the mixer was to create an environment where investors, founders and people in tech can come together and have a good time. It helps, he quips, that they have enough booze to keep the "400-person crowd fully sedated for the entire night." To his credit, several other people who I meet echo Westwick's sentiment. They tell me that unlike Silicon Valley networking events, where everyone is just exchanging business cards and trying to differentiate between the posers and the money people, this L.A. Tech Week event is more like a party.
Sam Borghese, CEO and co-founder of Zeal Reserve and a professor at UCLA introduces me to Mack Abbott who works in public relations. "This is Mack," he says. "She wants to be famous." Borghese, who's been featured in Bloomberg asks Abbott, what he needs to do to be featured in Forbes 30 under 30. According to Abott, there are two different ways: 1) Go to a bunch of tech conferences and schmooze with reporters, editors and expert judges who decide on these sorts of things. 2) Write a check for $30,000. Neither avenue appears to appeal to Borghese.
As the evening winds down in Santa Monica and the first day of L.A. Tech Week is almost nearly in the books, there's an undeniable enthusiasm for the promises of an entire week of networking opportunities. With most of L.A. Tech Week's events all but full, there's no doubt that as the week progresses, attendees are sure to add to their list of Twitter followers and LinkedIn connections. I've made a handful of new LinkedIn connections myself.
While I watch waves of attendees wait for the Ubers that will take them to their hotels or their homes, I'm struck by the words of the bouncer at the beginning of the night. I asked him, while he was scanning my QR code, why he was using two different phones. First, he said something about iPhones and Androids before he stopped himself, laughed, shook his head and told me, "Technology is weird these days. But it's cool."
Can't argue with that.
Andrew Fiouzi
Andrew Fiouzi is an editor at dot.LA. He was previously a features writer at MEL Magazine where he covered masculinity, tech and true crime. His work has been featured in the Los Angeles Times, Long Reads and Vice, among other publications.
05:00 AM | December 12, 2022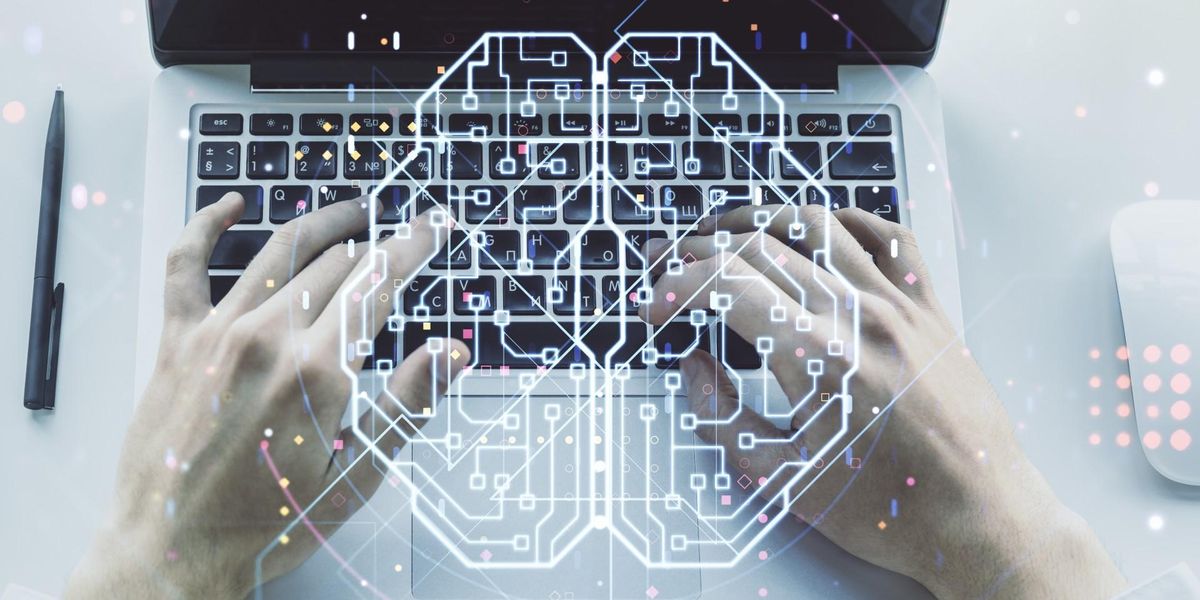 Generative AI is tech's latest buzz word, with developers creating programs that can do anything from writing an academic essay about guitars and elevators to creating photorealistic paintings of majestic cats.

ChatGPT, a platform built by DALL-E 2 and GPT-3 founder OpenAI, is the latest one of these tools to go viral. But this tool can go far beyond writing a version of the Declaration of Independence in the style of Jar Jar Binks. It has the capability to write full essays on almost any subject a college kid could desire — creating another layer of complex technology that humanities professors now have to consider when they teach and dole out assignments.
"One way is to allow students to use them," she said. "Build them into the course, and allow reflection about the bounds of their use, what their limitations are, what are their advantages? How does it change their composing?"

Along with dissecting the platform's limitations, Snelson also sees using ChatGPT as a tool to propel students' writing even further. For example, one of the hardest parts about writing an essay is the first line. Having an AI write it for you can be a great starting point to push past the "blank page dilemma," he said.
And while ChatGPT can write a passable essay on almost any subject, Snelson said students still need to have an understanding of the subjects they're writing about. "Having a live conversation about Chaucer in the classroom, a student is not going to be helped by an AI," he said.
"In the real world, you have access to information, you have access to writing tools," Snelson added. "Why should (academics) disavow or disallow those kinds of tools?"
To that end, Holten said she recognizes that ChatGPT "raises the stakes" by circumventing tools that academics have relied on to detect plagiarism. But students turning in papers that aren't their own isn't new: Essay mills have existed for a long time, and Instagram is filled with pages that will sell students an academic paper.
"We have to do our part by trying to craft assignments carefully and making sure that we're not assigning these open-ended prompts of the sort that could be bought from paper mills," she said.
It helps, too, that ChatGPT may already be working on a solution. Scott Aaronson, who works on the theoretical foundations of AI safety at OpenAI, said in a blog post that he's working on a tool for "statistically watermarking the outputs of a text model like GPT" that adds in an "otherwise unnoticeable secret signal in its choices of words" to prevent things like academic plagiarism, mass generation of propaganda or impersonating someone's writing style to incriminate them, though it's unclear how far away this development is.
"We want it to be much harder to take a GPT output and pass it off as if it came from a human," Aaronson wrote.
All of which explains why even despite claims that
high-school English
and the
student essay
are nearing their death knell, Holten thinks, ultimately, "The availability of ChatGPT is not likely to change very much."
Nat Rubio-Licht
Nat Rubio-Licht is a freelance reporter with dot.LA. They previously worked at Protocol writing the Source Code newsletter and at the L.A. Business Journal covering tech and aerospace. They can be reached at nat@dot.la.
nat@dot.la
08:00 AM | December 01, 2022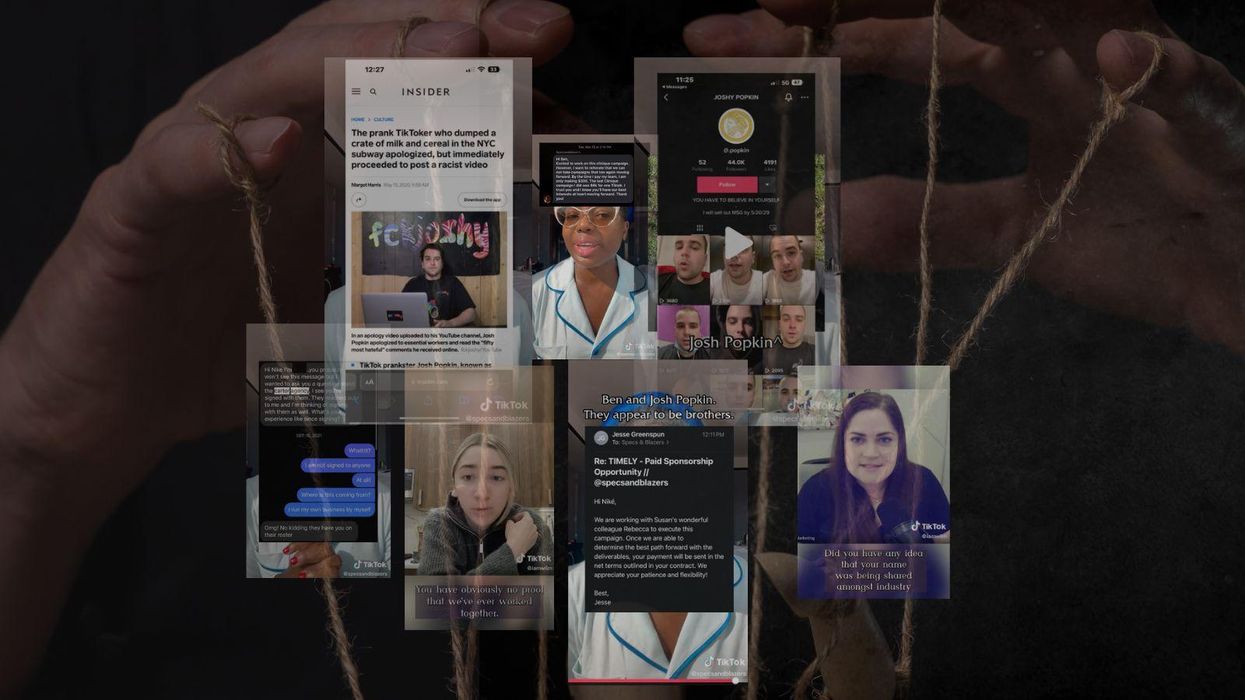 Andria Moore
Influencer Niké Ojekunle was surprised when a young content creator reached out to ask her about her experience working with The Carter Agency. The content creator had apparently seen Ojekunle's name on the agency's roster and wanted to know how helpful they'd been in helping her navigate brand deals.
The problem was, Ojekunle, who has nearly half a million followers on TikTok, had never heard of The Carter Agency, let alone worked with them. So she sent them an email inquiring about why the agency had listed her name as one of their influencers.
She received a response from a person by the name of Ben Popkin who claimed to be the CEO of The Carter Agency that lists Netflix, Amazon, Disney and Prada as just a few of their "strategic partners."
In the email, Popkin explained to Ojekunle that he had previously worked with her through a different PR agency and apologized for the mix-up. Then he pivoted to a new proposition: he could help her get two $5,000 brand partnership deals. Ojekunle agreed to the details of the agreement and completed two campaigns with Popkin as the middleman. A few weeks later, Popkin reached out again. This time it was with an offer from Clinique—a skincare brand Ojekunle had worked with in the past.
"In June, he wrote me and said Clinique offered me two campaigns for $1,900," Ojekunle says. "I've been with Clinique for six years. Clinique knows not to put anything in front of me for less than $6,000."
Not interested in lowering her standard rate for a product campaign, Ojekunle declined the deal and informed Popkin she no longer needed his assistance.
In subsequent months, however, Ojekunle noticed something was wrong: similar to the situation with Clinique, brands that had previously offered her campaigns worth thousands of dollars were offering her campaigns at significantly lower rates.
One of those brands was Naturiu, a skincare company run by Susan Yara, a friend of Ojekunle. When Ojekunle reached out to learn more about why the offer had been significantly lower than their past partnership deals, Yara informed Ojekunle, she too had never spoken to Popkin and was unaware any such offer had been issued.
The malpractice of influencer agencies has, of late, been well reported. In 2020, talent management firm Influences, came under fire over claims the company did not pay its clients. According to the New York Times, the firm owed dozens of creators thousands of dollars from brand deals. One of those influencers claimed the company withheld $23,683.82 from her. Influences' former owner is currently suing the New York Times over defamation.
In July, influencer Liv Reese called out Creative Culture Agency for not paying her after she made a video for one of the company's advertising campaigns. According to its private Instagram page, Creative Culture Agency is "no longer available."
And in 2020, 13 influencers paid talent management firm IQ Advantage a $299 deposit when they first signed with the company. But when IQ Advantage failed to secure them brand deals, the deposit was never returned and eight months later, once all the money had been collected, IQ Advantage conveniently shut down.
But Ojekunle's experience with The Carter Agency shows signs of a different offense. "He's [Popkin] telling the brand that he's representing me, then he's telling me he's representing the brands," Ojekunle says. "It's a very violating feeling and a very vulnerable feeling. You ask yourself, 'how was I so stupid' over and over."
According to OpenCorporates.com, The Carter Agency LLC is registered to a person by the name of Josh Popkin — a former social media star who faced public backlash in 2020 after pouring cereal in a New York City subway as part of a prank. Ojekunle suspects Popkin took on a fake name (Ben Popkin) when reaching out to her in order to distance himself from his controversial reputation. The Carter Agency has not responded to multiple requests for comment.
Like so many influencers who find themselves victims of unethical behavior, Ojekunle took her allegations straight to TikTok. In the first of five videos, the influencer claims that Popkin was not only pretending to be her manager, but had also been operating under a pseudonym.
@specsandblazers

Ben Carter = Ben Popkin = Josh Popkin. Carter Agency = Malibu Marketing Group = Jesse GreenSpun. A Complete Scam! #carteragency #benpopkin #joshpopkin #scammers
Jessy Grossman, co-founder of Women In Influencer Marketing, wasn't surprised when people shared Ojekunle's video in the company's private Facebook group. She says reports of the Carter Agency's misconduct had begun circling among the members as early as February—Ojekunle's video was further evidence.
Soon after, Grossman began connecting with other influencers who were impacted by the company. And in recent weeks, ever since Ojekunle posted her videos, many brand managers have reached out to Grossman with claims that, despite Carter's previous push to hire his influencers, he has since ceased all contact.
Grossman believes The Carter Agency is specifically targeting TikTokers not only because of the platform's success but also because many of them are teens.
"Some are young and think that having management is the path to 'making it,'" Grossman says. "You have to know the right questions to ask and industry standards, otherwise anyone can claim to be legitimate since there's no regulatory body."
Looking back on the low offers she had been accepting from brands, Ojekunle now believes Popkin was attempting to pocket the difference after sending only a portion of what the brands were really offering her.
"It was a predatory and well-calculated thing that he did," Ojekunle says.
In total, The Carter Agency's actions have affected more than 130 influencers, including those signed to Popkin's company and those who he falsely claimed to represent. Ojekunle also claims The Carter Agency has potentially jeopardized nearly $60,000 in brand deals by pretending to represent her. She's currently pursuing a civil lawsuit and has opened up a criminal investigation into the company.
"I have been doing this for 10 years, and I have built a name for myself," Ojekunle says. "I'm not scared of him."
Kristin Snyder
Kristin Snyder is dot.LA's 2022/23 Editorial Fellow. She previously interned with Tiger Oak Media and led the arts section for UCLA's Daily Bruin.
https://twitter.com/ksnyder_db