Photo: Proto
During the pandemic as artists worldwide sought out alternative ways to reach their audiences, there was again, a moment in which holograms appeared to be a part of the future – of classrooms, work communication and entertainment.
But the technology is far from mainstream, and the dream that we'd all interact with holograms on a daily basis hasn't come to fruition yet.
Entertainment
Back in 2012, Tupac Shakur was reanimated for a brief set as a hologram at the Coachella Valley music festival.
The creation was a joint effort between several firms, including Arizona-based AV Concepts and Digital Domain, based in Playa Vista. Digital Domain's chief technology officer Hanno Basse told dot.LA the company worked with the also King estate and Time Magazine to create a hologram of Dr. Martin Luther King, Jr. for a VR museum exhibit.
Besides holographic people, Digital Domain creates realistic CGI for films in its digital humans lab, and has been used in blockbusters including Marvel's "She-Hulk," "Black Widow" and "Avengers: Endgame" as well as a 2018 "Call of Duty" ad for Activision.
Basse said that while Digital Domain's VFX work with digital humans on films like "Titanic" and "The Curious Case of Benjamin Button" has earned it Oscars, the company's eager to use its tech in other ventures. Additionally, one area Digital Domain is trying to work more on is video games, which rely entirely on virtual humans. Gaming in particular is a space ripe for virtual human tech, especially since realistically animating characters, especially in multiplayer games, is still challenging even for huge studios.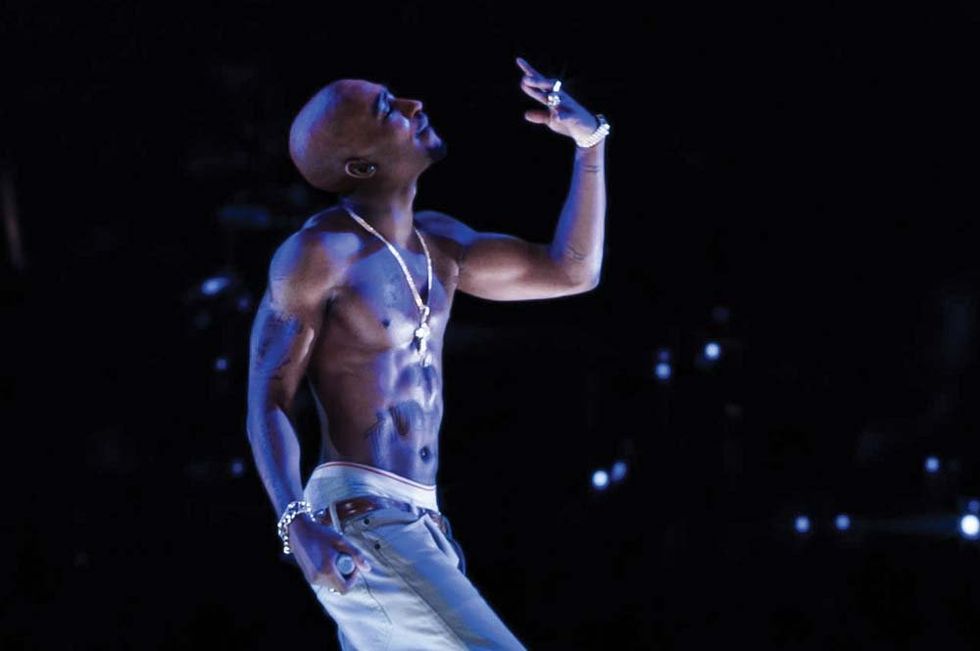 Hologram Tupac debuted at the Coachella Valley Arts & Music Festival in 2012.Photo: AV Concepts
Communication
But while hologram Tupac was a big deal, in 2020, Nussbaum realized that communication – not concerts – was where hologram tech was needed.
So Nussbaum started Proto and developed what's now the company's flagship device, the Proto Epic. It's a nearly 90-inch-tall metal box capable of fitting a human over six feet tall inside. The box is also equipped with front-facing 4K video cameras and speakers, so the box can transmit audience feedback and let the user respond in real-time (watch Ellen DeGeneres do so here).
Becoming a hologram is simple – iPhones 13 and above have 4k cameras, so all it requires is the Proto Beam app, which uses the phone to live capture 3D video and beam it to the Proto E (or the smaller, tabletop model, the Proto M) from anywhere.
You might recall that during the pandemic, news station KTLA used Proto to do remote red-carpet reporting for the 2020 Emmy Awards.
Howie Mandel, a backer of Proto, told dot.LA after a demo he became an investor and advocate for the technology (Proto's Van Nuys office is housed in the same building as Mandel's production and podcast studio).
"It was like the first time I saw an iPhone," Mandel said. "It puts Zoom and every other video broadcaster and hologram company to shame. I can be someplace without going anywhere, which is my dream come true as a germaphobe."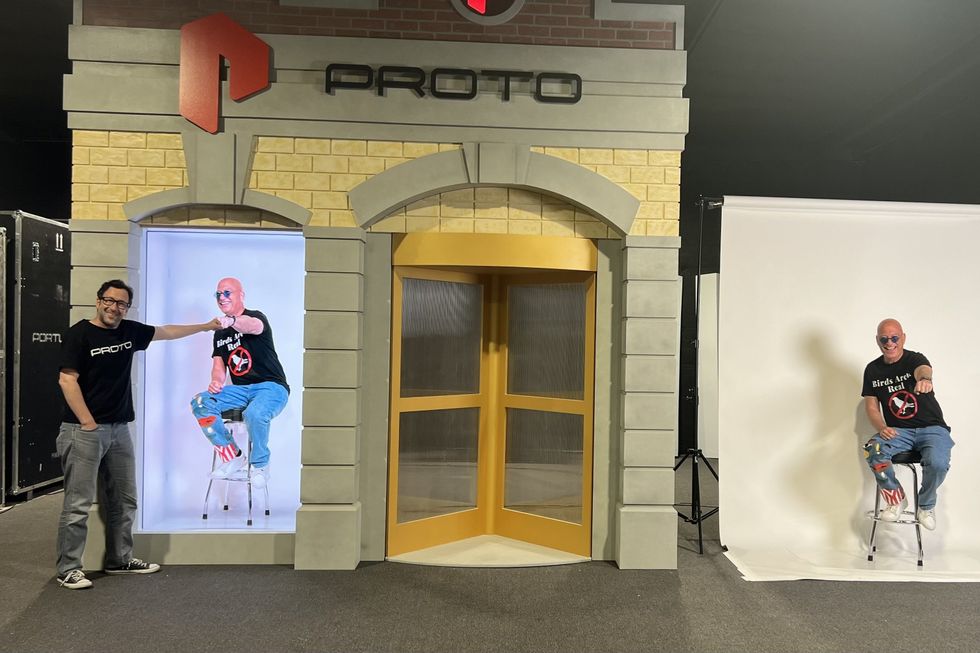 Proto founder David Nussbaum, left, does a fist-bump with investor Howie Mandel, right, via the Proto E device. Photo: Proto
Advertising
Mandel said he sees potential for Proto in merchandising. To that end, the company has already inked deals with auction house Christie's, also an investor, to use Proto devices to show items. Other clients include Verizon, Virgin Media O2 and CAA. Retailer H&M also uses Proto E devices to replace window mannequins.
"I think it's going to be the Kleenex of communication, retail, education and advertising," Mandel told dot.LA about his predictions for Proto's future.
Scott Likens, head of accounting firm PwC's innovation hub, said he learned of Proto from a participant in its Next Tech Studio and began working with them last spring. PwC mainly uses Proto to communicate globally without boundaries.
"Hologram is a unique space that requires dynamic hardware and software, so we are continuously testing what works in both small and large collaborative sessions," Likens noted.
H&M used a Proto E (right) to replace window mannequins at one of its stores with videos of hologram models. Photo: Proto
Healthcare
Bari Hoffman, associate dean for clinical affairs and internal medicine professor at the University of Central Florida, said she's been using the Proto Epic device since 2021.
Hoffman said UCF has used Proto to beam in volunteers for virtual exams, including people with advanced Huntington's disease who couldn't otherwise travel. She also said Mandel used one to talk to a class about his OCD diagnosis and had a "seamless" live conversation.
"It's really imperative and impactful for our students to be able to see in high definition the life-size, head to toe experience of that patient," Hoffman said. She added that while most medical schools also rely on trained actors to simulate symptoms for education, hologram tech could allow people actually living with chronic diseases to volunteer from afar.
But holograms are not ready for large-scale healthcare use, Hoffman said. "Nobody is actually delivering health care with the technology yet, because there's some other things that need to be in place to make it compliant [with regulators]." Adding that, UCF has recruited a "large number of faculty and clinical experts, physicians and surgeons in the community to study and evaluate [it]."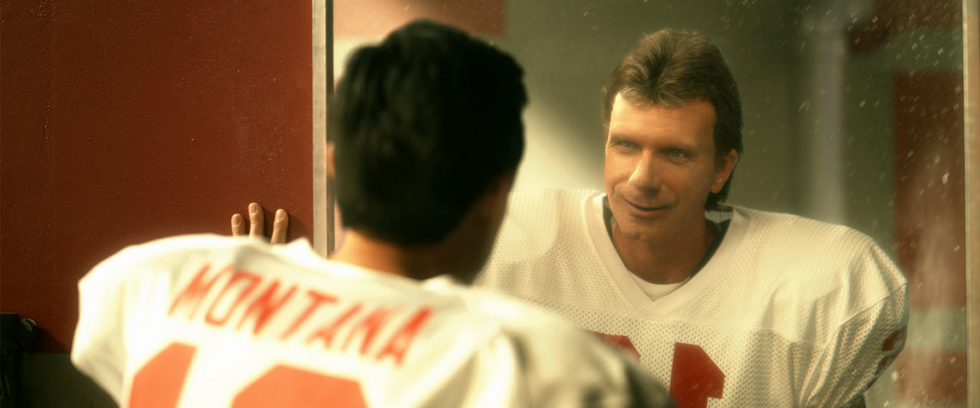 Digital Domain's virtual human technology used hologram-like tech to de-age football star Joe Montana for NBCUniversal's "Quantum Leap." Photo: Digital Domain
Upcoming innovations
That said, it's going to take some time before consumer-focused devices like Proto make their way into the home of everyone in America considering the smaller Proto M retails for nearly $7,000. Though Nussbaum wouldn't disclose sales figures, he said he's sold "hundreds" of them.
Which explains why other companies have jumped into the hologram business. In 2016, Microsoft began working on HoloLens, a mixed-reality headset that retails for $3,500. And in 2020, Meta filed a patent application for "3D conversations" conducted virtually using hologram-like tech.
For his part, Basse said he expects an arms race for holograms or digital human technology to accelerate. "Visual presentations in one form or another are a major piece of modern life, and people, creators and organizations that are looking to stand out need to find ways to rise above the competition," he said.
Mandel was also optimistic about holograms becoming mainstream. "This is probably the most excited I have seen people around a piece of technology," he said of Proto. "It needs to be everywhere."