proptech
Former Cisco executive Shaun Cooley's two-year-old Los Angeles startup is creating a platform to make buildings smarter.
Mapped, which just raised $6.5 million led by Allegion Ventures and MetaProp, helps commercial real estate companies operate their buildings remotely.
So far, it has about a dozen commercial customers that have anywhere from 100 to 1,000 buildings where HVAC, elevators and other systems can be controlled from a central brain.
Although their current customers are all commercial real estate, Cooley hopes to expand that to refineries, energy production facilities, manufacturing floors and retail spaces.
Mapped's software represents physical buildings in standardized, open-source digital database graphs and automates everything from heating and air to lighting, elevators and even conveyor belts — adjusting them based on the temperature outside or time of day, all without the need for human intervention.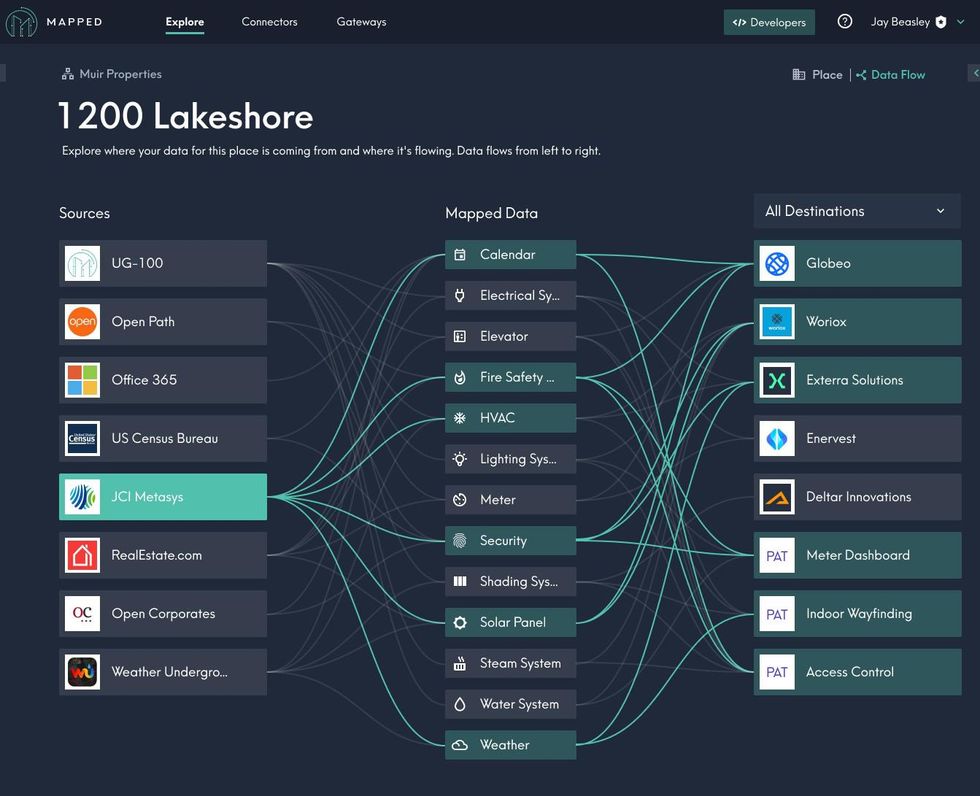 Cooley came up with the idea after years as Cisco's CTO and vice president of IOT and industries, where he saw his customers struggle with extracting data from their systems and making it usable.

"Just because you digitize, or you IoT enable one factory, doesn't mean you can take that digitization and move it to the factory across the street," said Cooley. "They have different systems, installed in a different time period, by a different system integrator."
For example, a decades old building might have an HVAC, lighting, security, elevators, irrigation system, gas metering and other systems feeding into a central hub. For owners of multiple building, the interfaces that those systems operate on are often different. Mapped offers a platform for developers to standardize those interfaces.
Using APIs, Mapped's software constantly scans the environment, communicates with devices in their native protocols, and then brings data back to its central platform. Thus, software developers can write applications one time and instantly deploy them across all of a company's buildings.

Cooley said his product is different than what's offered by Oracle and Microsoft because its designed to be an all-in-one automated platform, making it much faster than his competitors.

In March 2020, Mapped raised $3 million in its first seed round, bringing today's total to $9.5 million.

The latest round was co-led by Legion Ventures and MetaProp, Singtel joined the round and Greycroft and Animo participated.
Related Articles Around the Web
Armed with nearly $3 million, a list of prominent investors and tens of thousands of users, the apartment rental platform PocketList looked like a startup poised to take off.
CEO and co-founder Nick Dazé touted the proptech software that let potential renters get an inside peek at apartments before being listed as technology that "turned the entire rental market on its head." He sold it as a way for landlords to save billions of dollars by cutting down turnover time between tenants and assured renters access to honest, up-to-date information about units before they went online.
Investors — who poured a record amount of money into seed startups last year — hardly needed convincing. Dazé closed a $2.8 million seed round last April led by David Sacks' Craft Ventures.
"It's no surprise that renters have flocked to the service," said angel investor Spencer Rascoff, co-founder of Zillow and dot.LA, in announcing the raise.
By July, PocketList had unveiled the app in Los Angeles with plans to launch in San Francisco and San Diego by the fall. Seattle, Chicago and New York were next.
Users could rate apartment features like natural lighting and parking in the neighborhood. There was a question and answer page for past tenants to field concerns and a chat function for landlords and prospective renters. The idea was to make renters feel like they had unvarnished insight into a unit, much the way Yelp lets users rate restaurants.
But the rollouts in new cities never came. Even before PocketList went live, renters across the country stopped signing new leases as the pandemic cast a pall over the economy. Landlords — now navigating eviction moratoriums and mounting bills — didn't have the money or the inclination to spend on new apps, Dazé said.
In the last week of April, the CEO and his co-founder Julian Vergel de Dios gave notice to eight remote employees and around 20 investors that the company would be closing operations for good.
"I spent from February until last week fundraising," Dazé told dot.LA during the first week of May. "The ultimate pause of us beginning to wind things down is that we struck out on fundraising and few very, very large customer deals we've been working on for several months fell through."
Dazé attributed PocketList's undoing to the declining renters' market and a reeling economy that kept many landlords from buying in. But in the world of venture deals, losses don't always mark the end of a company. It's the absence of investor faith.
"For a lot of seed investors, it's almost like buying lottery tickets," said UCLA Anderson School of Management professor Olav Sorenson.
"The odds of it paying off are low, but if it does pay off, you could make a lot of money," he said.
Investing capital in early-stage startups is risky and uncertain. It's nearly impossible to collect data on startups that fold given that most close shop quietly, according to Pitchbook spokesperson Kayla Gordon.
But, according to Sorenson, roughly half of all startups that raise seed money will close a Series A. The seed round supplies entrepreneurs with enough money to prove to investors their business can be successful.
That metric of success depends on investors. Most venture-backed companies in this stage don't turn a profit, but some can show enough potential for growth to entice investors back.
The Pandemic and Proptech
Investors' appetite for early-stage startups waned a bit last year, with these riskier companies pulling in $44 billion in capital compared to $47.1 billion in 2019, according to Pitchbook data.
It was a particularly rough year for proptech companies. The industry was hit harder than other parts of tech, such as ecommerce, which flourished during the pandemic as consumers moved online. Venture investments in real estate technology companies plummeted by half to $9.1 billion globally in 2020 compared to 2019, according to Pitchbook.
Most of that drop off came from flexible and co-working office spaces, said Pitchbook analyst Zane Carmean. The stay-at-home economy dried up demand for office rentals.
"A lot of that has to do with the fact that WeWork required a large injection of capital from Softbank and core investors after the failed IPO in 2019," Carmean said by email.
Other real estate tech startups kept their footing. Carmean pointed to a boom in housing demand from young coastal workers moving to the Midwest, South and Mountain West as remote working took hold.
Inside other real estate companies, though, research and development teams were the first to cut spending, said Marcelino Diaz, an analyst focused on proptech at Plug and Play Ventures. With the market dwindling, they didn't have spare cash to experiment with new technologies.
Instead, they were spending on tech that played into pandemic needs.
"Offices and retail were looking at how startups could come to help with sanitization, space optimization and most importantly, social distancing," Diaz said.
Investors backed startups like L.A.-based OpenPath for its touchless entry systems designed to reduce face-to-face contact inside office buildings and elevators. Diaz's firm invested in virtual and augmented reality startups like Avatour and Giraffe360, whose camera devices and software helped real estate managers move tours online. And he kept an eye on startups whose UV light technology promised cleaner, disinfected commercial spaces.
"It was a pivot in terms of where investments went," he said.
PocketList's founders anticipated their app would carve out its own spot in the changing market. But the demand for rental units in coastal cities — the platform's target audience — was shaky.
Pitching the Platform
In 2018, Dazé and Vergel de Dios were coming off 86 venture rejections for their startup Block, a Chrome extension for apartment hunters to sort and share listings with roommates. Dazé admitted the concept was tricky to explain, which he said, is "probably why it didn't work."
They scrapped the software and built a new prototype each month until landing on the idea for PocketList in July of 2019. In the early days, the co-founders operated the service manually through Google Forms and email, matching renters eyeing apartments in each other's neighborhoods.
"I was on my computer 24/7, three-year-old daughter climbing on my back," said Dazé, who was also consulting for Clutter, a storage and moving startup with offices in L.A. "You make it work."
Eventually, he told Clutter's CEO, Ari Mir, he was quitting the job to build his company full time. He asked Dazé for a demo and quickly became PocketList's first investor in its pre-seed round.
"Basically we raised about a million bucks that weekend," Dazé said.
Mir's investment "got the ball rolling" and a few investors who turned down the pitch for Block even chipped in. The pair soon pulled in a new roster of investors for a seed round about six months later: Abstract VC, Wonder Ventures and angel investor Rascoff.
User sign-ups and engagement had been almost doubling month over month and at its height, about 75,000 renters used the app. The platform was free for renters, instead relying on landlords to pay a fee to receive notifications about how often users listed their properties.
But by the time their funding round closed, it was mid-April of 2020 and the economy largely shut down as stay-at-home orders tightened.
"An incredibly prominent investor of ours who has a large audience — a day after lockdown — called me and scared the shit out of me," said Dazé. "He's like 'You need to batten down the hatches.'"
Dazé terminated the company's office lease in Playa Vista and cancelled software subscriptions. He cut monthly spending back by 30% without laying off a single employee.
"If we hadn't done that, we may have ultimately failed earlier," he said.
The company scrambled. It introduced paid features like instant messaging (which later became free) and experimented with new pricing models for landlords. Despite the changes, Dazé said, "every single interaction in our platform slowed down a lot."
He made the call to close the business after a series of rejections for his next funding round. A few undisclosed customers also pulled out of expected deals. On April 29, he and Vergel de Dios broke the news to their eight employees during a Zoom meeting. That afternoon, they emailed investors.
Craft Ventures and Wonder Ventures could not be reached for comment.
"Our bank account isn't at zero," Dazé said. "We're not shutting down shop in a panic because we're running out of money, but there's not enough money for us to do anything dramatic like pivot the company."
Though he would not disclose how much capital remains, Dazé told investors "not to expect anything" back. He'll distribute whatever remains based on the amount each investor contributed.
The CEO was tight lipped about his next moves, but hinted at a potential deal that may acquire the company's software. And he's confident new companies — if not members of his own team — will try their hand at a similar technology.
As for the proptech market, commercial real estate is already picking back up as companies forecast returning to the office. In L.A., leases hardly got cheaper over the past year.
"I consider this a timing issue, like most great failures," said Dazé.
He chalks most of it up to COVID-19. In a world without it, he said, "things would have turned out very differently."
Editor's note: An earlier version said Daze had been working for several weeks to strike a deal with customers, it in fact had been months. This article has also been updated to clarify the total amount raised.
From Your Site Articles
Related Articles Around the Web
The venture capitalist Aileen Lee coined the term "unicorn" in 2013 as a catchy way to denote startups reaching the milestone of a billion-dollar valuation. It was meant to describe something unusual; at the time there were just 39 unicorns.

In today's red hot startup market, unicorns are far less rarified, currently numbering more than 600 worldwide, according to CB Insights.
Pacaso, a platform facilitating fractional ownership in second homes, announced Wednesday it too will join the unicorn club. That makes it one of the fastest companies ever to reach a $1 billion valuation, according to Pitchbook data.
Launched by two former Zillow executives six months ago, Pacaso had the good fortune to be perfectly positioned to benefit from three major trends that emerged during the pandemic – a sizzling real estate market fueled by low interest rates, strong demand for second homes given that employees can work from anywhere and a frothy fundraising environment where VCs are tripping over themselves to sign term sheets for promising young startups.
"If you were to talk to me a year ago and asked, 'Do you think this company will be a billion dollar company someday?,' I would have said yes without hesitation, but I would have thought it would have taken five years instead of six months," said CEO and co-founder Austin Allison. "It's certainly a favorable market for companies that have really promising stories and really high growth. Is it frothy? That term is probably up for debate. It's certainly a good time to be raising."
Allison, 35, previously founded Dotloop, a startup to manage real estate transactions, in 2009. It was acquired by Zillow Group in 2015, which at the time was headed by Spencer Rascoff, who is also the co-founder and chairman of dot.LA. The two started Pacaso last year with $17 million in Series A venture funding in a deal led by Maveron.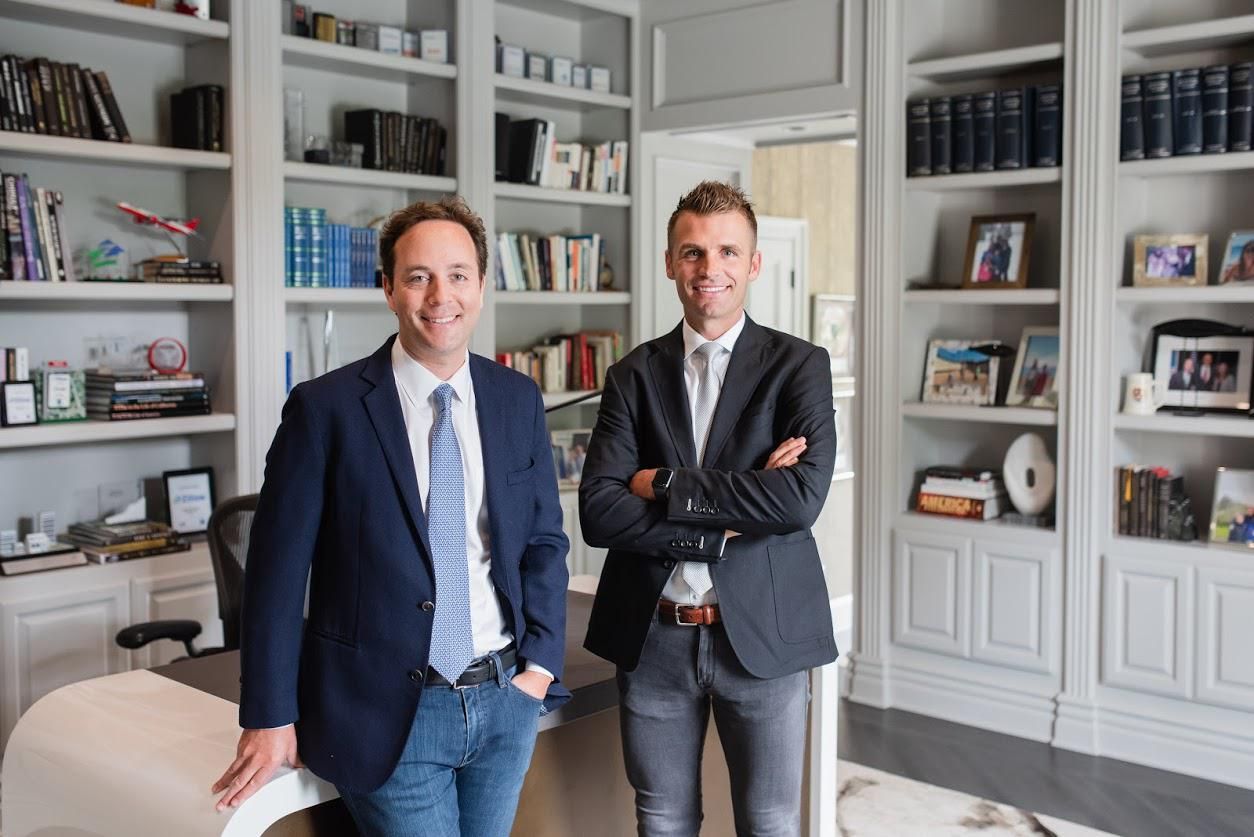 Pacaso co-founders Spencer Rascoff (left) and Austin Allison.
The new round, led by Greycroft and Global Founders Capital, brings in $75 million to help fuel the company's expansion into new markets beyond where it has the most initial success — Napa, Lake Tahoe, Palm Springs, Malibu and Park City. Pacaso also announced it has secured $1 billion in debt financing.
The company says more than half a million people have visited the website and 60,000 aspiring buyers have "engaged" the platform.
Putting a modern twist on timeshares, Allison and Rascoff started Pacaso to seamlessly bridge the gap between the vast supply of vacation homes that sit empty most of the year and buyers who can't afford or do not need to purchase an entire house.
Allison also argues there is an advantage for communities over Airbnb, with its short-term renters who are only staying temporarily over Pacaso, with its ownership model.

"They have significant skin in the game," Allison said. "They become part of the community. They get to know the neighbors."
Once buyers purchase a fraction of a home, Pacaso sets up an LLC for the co-owners and helps handle maintenance, financing and scheduling. In return, it takes a 10% cut of the purchase price on top of a yearly 1% property management fee.
"We're going to make second homeownership a reality for the top 20 percent of the world and that's a big market opportunity," Allison said. "Second home ownership has been a dream that people had long before the pandemic happened."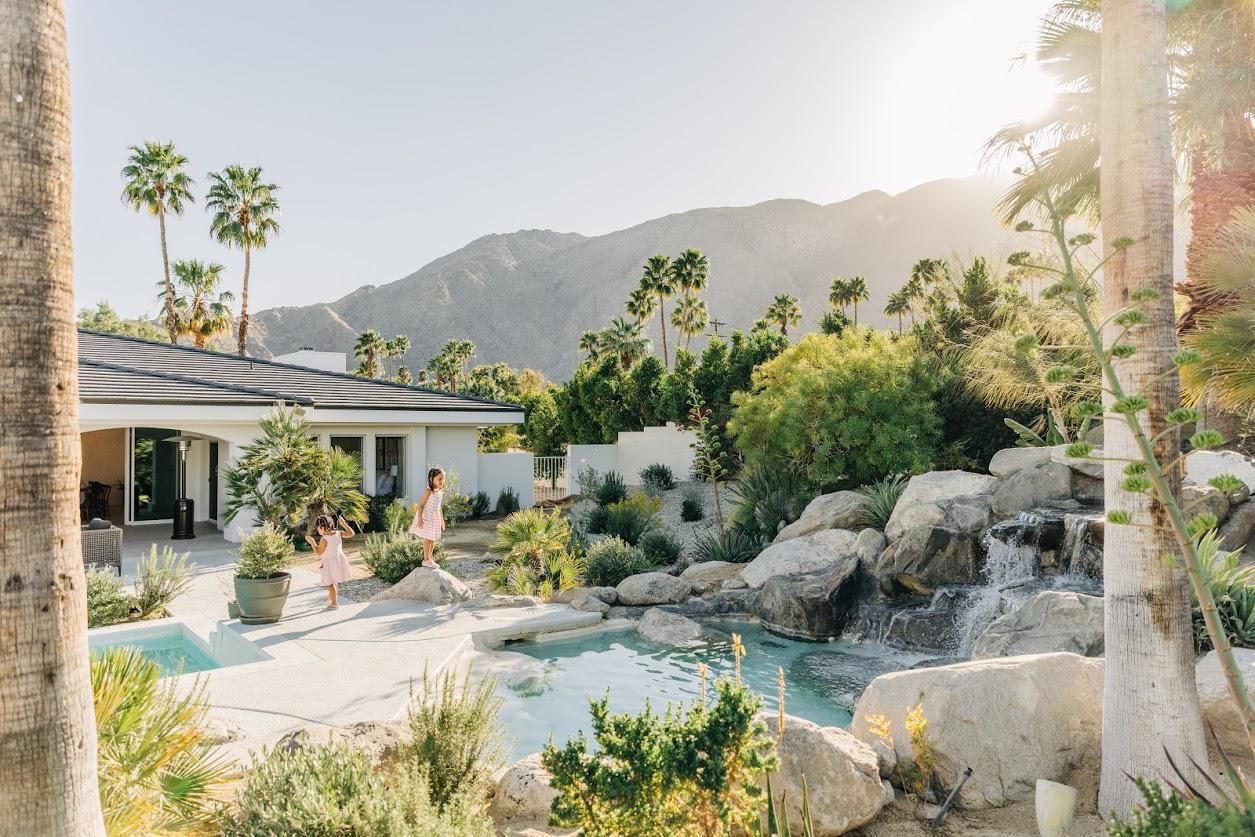 Allison talks a lot about democratizing vacation home ownership, but Pacaso's listings are still far out reach for most people, requiring $812,000 to own an eighth of an oceanfront 3-bedroom in Malibu or $873,000 to own an eighth of a lavish nine-acre estate in Napa. But he says less extravagant listings are on the horizon.

"We're planning to add a lot more markets and a lot more price points to make Pacaso and second home ownership accessible to a much broader audience, which is core to our mission," he said. "Twelve months from now, I expect that the majority of our homes will be within one to three hundred thousand per share."
Allison also expects more listings in cities, reversing the traditional notion of a second home, and he gives himself as an example. His primary home is in Napa but once workers return to the office he says he would use Pacaso to have a place to stay when he is in San Francisco.
"We're seeing this co-ownership concept deliver value in both directions, for urban people looking to get out or non-urban people looking to get in," Allison said. "There's a lot of interest in people owning second homes, regardless of where that home is located. And most of the time, people don't need to own the whole thing."
From Your Site Articles
Related Articles Around the Web