proptech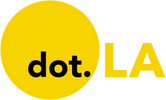 Get in the KNOW
on LA Startups & Tech
X
proptech
Courtesy of Laurent Grill
On this episode of the LA Venture podcast, JLL Spark's Laurent Grill talks about the world of proptech, COVID's impact on the office and lowering buildings' emissions.
Grill joined JLL Spark, the investment arm of global commercial real estate company JLL, over a year ago. The firm focuses on Series A and B investments of between $2 million and $10 million in a wide range of areas in real estate technology, including smart buildings, construction tech and tenant experience platforms — all of which have become more relevant in a post-pandemic world.
As employees filter back into offices, Grill said the purpose and experiences of those spaces will likely change for a world in which more companies adopt a hybrid or remote work model. The challenge, he thinks, will be in creating an environment that doesn't promote employees' isolation.

"I don't necessarily believe that the future of the office looks like a bunch of cubicles," said Grill. "There's definitely going to be a need to create an environment where people can come back together, where we're giving them the tools to do it in a way that is exciting so that people want to be back."
Office space is one issue, there's also the problem of building emissions. For example, Grill said 70% of New York City's carbon emissions come from steel and concrete. That will need to change as cities become more serious about cutting their impact on the environment.
"One of the largest emitters is steal and concrete. If we can remove that from the supply chain and build, there's a lot of ways that we can actually lower emissions. And we just saw there was a skyscraper that was built purely on mass timber, which is really, really cool," said Grill.
Grill added that we're likely to see a flurry of mandates in the coming years aimed at reducing emissions from properties.
"These mandates will inspire companies to experiment with tons of new technologies," he said. "And so as compliance deadlines draw closer, we're likely to see a wave of adoption [of] we'll call it 'smart' buildings, which really encompasses a variety of things."
They include rental, data and internet-of-things infrastructure technologies that can track how buildings are being used, and squeeze new efficiencies out of them.
Grill sees proptech evolving much as fintech did five years ago.
"You're gonna have tons of innovation," he said. "And you're gonna have tons of adoption across previously antiquated industries that will allow for some really, really big players."
Click the link above to hear the full episode, and subscribe to LA Venture on Apple Podcasts, Stitcher, Spotify or wherever you get your podcasts.
dot.LA Engagement Fellow Joshua Letona contributed to this post.
From Your Site Articles
Related Articles Around the Web
Photo by Decerry Donato
In the wake of the pandemic, remote work forced many people to convert their living and dining rooms into home offices, something that could be problematic in more cramped living situations. Enter Azure Printed Homes—a 3D-printing construction company that says it can build a backyard studio or accessory dwelling unit (ADU) out of recycled polymer plastic in under 24 hours, with the goal of alleviating dwellers' space constraints.
On Wednesday, the Culver City-based startup will publicly launch a $5 million campaign on the crowdfunding platform Republic, with the goal of raising new funds to increase its supply inventory and grow its 12-person staff. Co-founder Gene Eidelman told dot.LA that Azure was bootstrapped until last week, when it received an undisclosed amount of funding from two angel investors.
"As unfortunate as the pandemic is, trying to serve customers during a pandemic is what led us to this idea," Eidelman said.
Azure is the brainchild of Eidelman and his fellow co-founder and company CEO Ross Maguire. The construction industry vets (Eidelman previously worked for local home construction firm Houck Construction, while Maguire served as a construction manager for British giant Carillion) bonded over a passion for advancing sustainability in their chosen trade. The construction sector is one of the most energy-intensive industries in the world and responsible for 38% of global carbon emissions, according to a report last year by the World Business Council for Sustainable Development.
The pair launched Azure Construction in 2019, initially with the aim of building backyard additions and ADUs in a timely manner and with transparent pricing. But their interest in sustainability led them to the realm of 3D printing, which can be a significantly less resource-intensive method of construction. Maguire said they initially devoted their time to consulting with different 3D printing companies and figuring out which materials and printers they should use, as well as what the designs of their 3D-printed structures should look like. Azure Printed Homes was subsequently, officially born this April.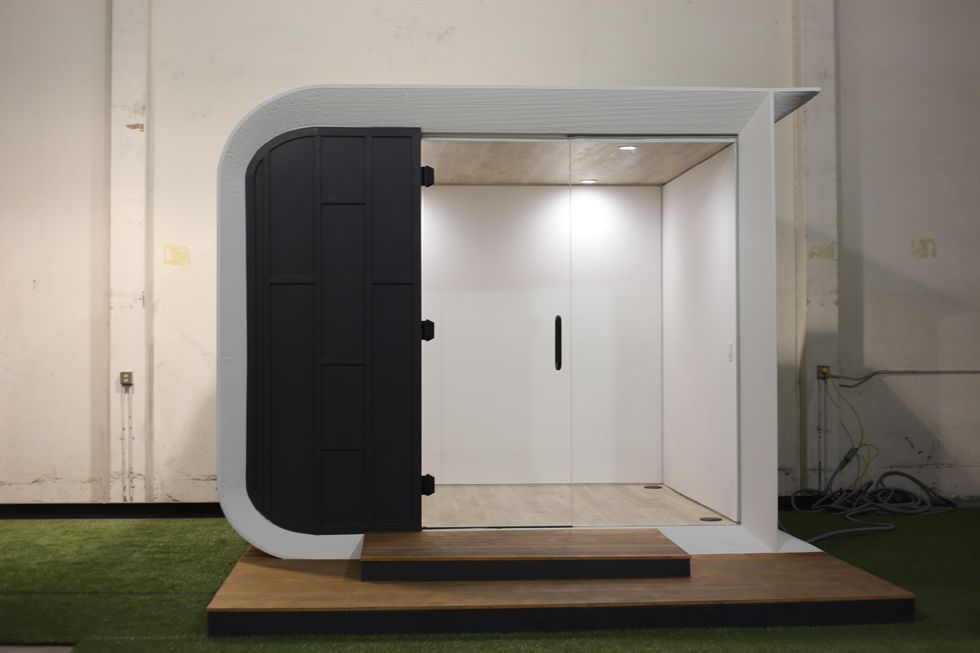 Azure's 3D printed ADU. Photo by Decerry Donato
The startup boasts that the materials used to 3D-print its structures are made of 60% recycled plastic, fiberglass, and an ultraviolet (UV) stabilizer that offers protection from the sun. A 120-square-foot studio starts at $24,000 (with the cost increasing with additional square footage), not including delivery fees and add-ons (such as solar panels and air conditioning) that can cost thousands of dollars more. Azure says that customers can expect the entire process—from their initial order to the final delivery and installation of the product—to take less than one week. The company is also using the crowdfunding campaign to unveil a new 180-square-foot ADU with a kitchenette for less than $40,000.
Most of the $5 million in crowdfunding that Azure is seeking will be allocated toward buying two more robotic printers to help boost its production capacity. Currently, the startup has one robot stationed at its factory that can print the walls of a 120-square-foot unit in less than 24 hours. By purchasing two more robots, the company will be able to produce three structures per day—a heightened pace that will help alleviate Azure's current 40-order backlog and the roughly 70 inquiries, on average, that it receives from potential customers each day, according to Maguire.
"The beauty of it seems to be that some people just love the way it looks," Maguire told dot.LA. "But then there's enthusiasts about the environmental aspect, and then people that love the technology of 3D printing."
Photo by Briland Graves
On Tuesday evening, dot.LA hosted a Proptech Salon to create space and encourage proptech founders and investors to discuss how Southern California real estate startups are disrupting the industry. Over 70 invited guests gathered at WeWork's Century City location, including Michael Martin of Avenue 8, Nick Marino of TruLiv and Andrew Swerdloff of StayOpen.
The event kicked off with a conversation with JoyHub co-founder and CEO Elizabeth Braman, who announced the data aggregation and business intelligence platform will soon change its name to Revolution RE. Prior to starting JoyHub, Braman spent time at crowdfunding real estate platform Realty Mogul as senior managing director.

Braman said the inspiration for creating JoyHub came from the problems she saw in the real estate industry around the lack of data consistency and the overwhelming amount of data that real estate operators of apartments and rental properties have to make sense of. She saw a need for a tool that could simplify the data for real estate companies so they could use it effectively.
"I learned that legacy technology created a lot of problems," she said. "Proptech and all these new innovative solutions were compounding the problem by creating massive amounts of data silos."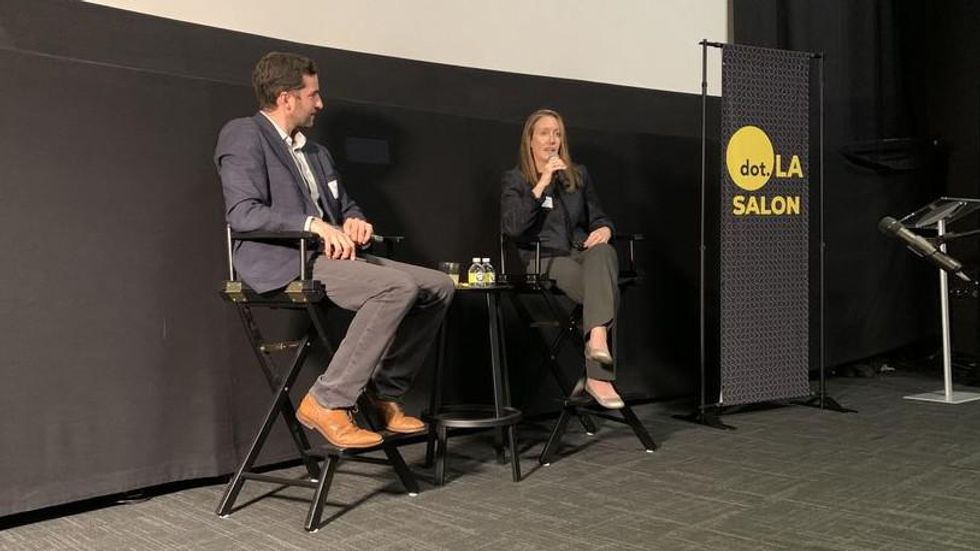 dot.LA CEO Sam Adams and JoyHub co-founder and CEO Elizabeth Braman at dot.LA's Proptech Salon on May 10, 2022.Photo by Briland Graves
With any new venture or startup, there's always a risk of it failing, she said:
"Anyone who tells you that starting a company during a pandemic is easy is not being truthful," she said, adding that she was lucky that she was able to work with a team she already knew well from her first startup experience.
For much of the rest of the startup community, times are looking more challenging than they were not long ago.
"The high-gross C, D unicorn-type companies are having a very challenging time raising up rounds," dot LA Executive Chairman Spencer Rascoff said. "And A and B—not so great."
Rascoff offered some advice to young companies hoping to weather the storm.
"Realistically, you should try to tighten your belt as much as possible to extend the runway as long as possible so that if you can't get a round done this year, you prioritize survival over growth," he said. "Because there'll be time for growth later."
Another hot topic in proptech was virtual real estate. The concept of the metaverse has grown in popularity as new virtual environments go online. Celebrities like Snoop Dogg already own land in some of these new worlds. In December, one of his fans purchased a plot of land for $450,000 just to be the rapper-entrepreneur's virtual neighbor.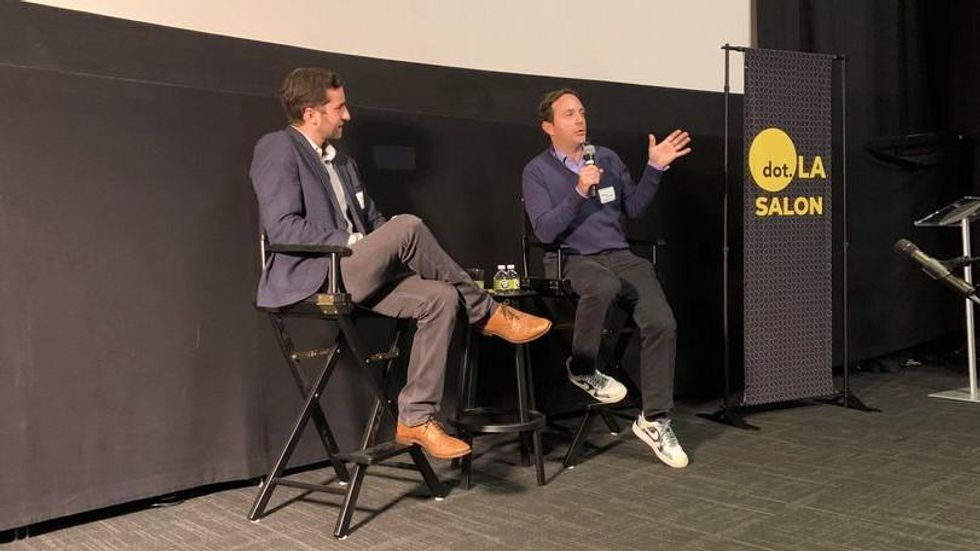 dot.LA CEO Sam Adams and Chairman Spencer Rascoff at dot.LA's Proptech Salon on May 10, 2022.Photo by Briland Graves
As an investor, Rascoff said he's skeptical about buying land in the metaverse.
"The big reason why I'm overall skeptical of this is for some of these things, you need counties to play ball," Rascoff said. "But it's fun and interesting to talk about how title might be disruptive through blockchain."
The night was capped with a question from dot LA CEO Sam Adams:
"If given a million dollars to invest, where would that money go?"
Braman said she would have to diversify and choose cannabis along with venture funds.
Rascoff admitted his answer was less exciting, but said he'd would use the money to buy a "basket of growth tech stocks that are at two-to-five-year lows."
Correction: An earlier version of this post misspelled StayOpen co-founder Andrew Swerdloff's last name.
From Your Site Articles
Related Articles Around the Web