drones
On a recent crisp winter morning outside an empty office park in the San Fernando Valley, there were no workers to be seen. That is unless one counts the cooler-sized delivery robot slowly whirring down the sidewalk as Felipe Chavez, founder and CEO of Kiwibot, nervously watched to make sure the droid did not veer of course.
Just as no one now thinks twice about seeing e-scooters that were non-existent before late 2017, the sight of a robot ferrying salads, pizza, or groceries could become common on Los Angeles sidewalks before this year is over.
Kiwibot has quietly been testing its robots – specially designed to look cute and non-threatening – for the past few weeks in the Valley, as well as more recently at a major university campus the company won't yet name. If all goes well, Kiwibot will begin offering delivery to students through as early as next month before expanding to Santa Monica and other parts of the city after that.

"L.A. is going to be our most important city this year," Chavez said. "In the first five months of the year we plan to employ 100 robots here in the city, and we expect that by the end of the year we're going to have around 400 robots deployed."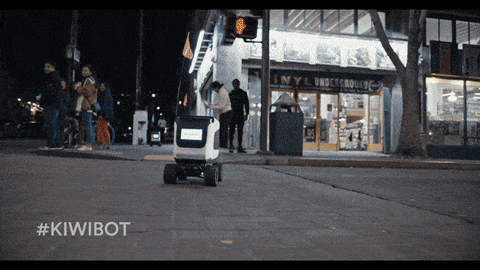 Postmates, which is now owned by Uber, has been testing a handful of delivery robots in West Hollywood since April. While those are accompanied by a human chaperone, the Kiwibot robots set out on their own, though operators take over remotely for more complex tasks like crossing the street.

Kiwibot has already made over 120,000 deliveries since 2017 during rollouts at University of California, Berkeley, University of Denver, and San Jose, where it partnered with Shopify and Ordermark. But L.A., with its vast geographic footprint, is a whole new degree of difficulty.
"It's a great challenge for us," said Chavez.
Kiwibot chose L.A. because the city already has a high adoption of food delivery, it is home to potential partners like ChowNow and Ordermark, and the city has been a willing collaborator through its Urban Movement Labs (UML), mostly by sharing data on city streets and sidewalks.
"We trust L.A. to be the best new market for us because the food delivery habit is already there, and we feel backed to scale in an organized and socially responsible and sustainable manner," said David Rodriguez, Kiwibot's head of business.
After a confrontational approach between cities and ridesharing and e-scooter companies, Lilly Shoup, UML's interim executive director, says L.A. is trying to be more collaborative with delivery robots.
"I think we've learned that it's important for city transportation agencies to get ahead of new technology before they appear on city streets," Shoup said. "It's important to understand their business models and proactively develop policies."
UML is also working on a pilot to deliver goods via drone by 2022 and in both instances Shoup says the technology can help reduce pollution and congestion since most deliveries now are made via cars.
"It's really exciting to think about new ways to reduce the environmental impact of delivery," Shoup said.
Robots substantially bring down the cost of delivery, which could help restaurants that operate on thin margins during even the best of times and have been devastated this year. But it will also mean fewer delivery jobs, most of which have been preserved as contract work in California with the recently passed Proposition 22.
Restaurants typically pay between 15% to 30% on orders placed with delivery services like Postmates or Grubhub and drivers are hardly getting rich. In fact, they often make less than minimum wage.
Kiwibot charges fees of a couple dollars on each order – which can be absorbed by the restaurant or passed onto customers. The company says its cost per delivery is now $2.98 but as it scales and the technology improves it can shave the cost down to $1.23 by the end of 2022.
Right now, Kiwibot robots – which cost between $2,500 and $4,000 each – can only operate in a 1.5 mile radius but the company's next generation can go eight miles and is large enough to fit a 12-inch pizza.
Will the Public Accept Robots?
Even when the technology is ready, Kiwibot has what may be a tougher obstacle to overcome – public acceptance. Public safety commissioners in West Hollywood raised concerns about Postmates' robots and even in tech-friendly San Francisco, a city lawmaker, worried they might run into pedestrians, tried to ban them.
Kiwibot warns potential investors on its crowdfunding page: "Delivery bots have proved controversial in some regulatory environments with some cities, like San Francisco, putting out laws that make it difficult for us to deploy. If this became widespread we would have trouble going to market."
Chavez says he spends a great deal of time thinking about how he can get the public to be comfortable with robots.
"There is a sector of people that are concerned about robots and I think that it is very important to listen to them and to get their feedback on everything. but robots are going to happen," Chavez said.
The robot also has a sign affixed to the back to clarify that it is not recording any video, something that was added after homeless people in San Jose feared they were being spied on.
There is a "black box," which records in case of an emergency, but none of the devices have been stolen — so far.
Even though local regulations can allow for robots to go as fast as 10 mph, Chavez has found a speed of 6 mph makes people feel safer.
There are also important visual considerations. Kiwibot's robots look nothing like the hulking devices conjured up in sci-fi movies like "Transformers" or "The Terminator." They are more like a plastic cooler on wheels with lights on the front that resemble a smiling face.
"The new version is even more cute," said Chavez. "It's like a squirrel on a rock."
Taking a page from nature, the design is deliberately playful and small.
"When you see an animal and it is bigger than the width of your shoulders you feel threatened," Chavez said. "So we have made sure that the robot is never going to be wider [than you] so that people don't feel threatened."
Coronavirus has also been helpful, helping accelerate the adoption not only of delivery but also of robots – who you don't have to worry about coughing on you.
Competition with Bigger Robot Deliveries
Kiwibot, which is based in San Jose, has raised more than half $1 million from more than 650 investors in its latest crowdfunding campaign, to bring its fundraising total to over $3 million.
That pales in comparison to not only Uber but also much larger rivals Starship, a robot food delivery service launched in 2014 by two Skype co-founders that plans to rollout deliver to 100 universities by next summer and Nuro – an autonomous vehicle startup founded by two ex-Google engineers valued at $4 billion. The company received regulatory approval last week to operate on city streets in the Bay Area.
But with global autonomous last-mile delivery projected to grow from $11.16 billion next year to $76 billion by 2030, Kiwibot sees room for multiple competitors.
"In L.A. right now we are talking with multiple partners, very big companies," said Chavez.
"Everything is moving very fast," he added, as his robot inched along the sidewalk, heading back to the lab to continue more testing.
Los Angeles residents could be receiving their Postmates order or prescription drugs from CVS via drone as soon as 2023, under a new initiative introduced Wednesday by the city's Mayor Eric Garcetti.

"Los Angeles is where we turn today's ideas into tomorrow's reality — a place where a barrier-breaking concept like urban air mobility can truly get off the ground," Garcetti said in a statement. "The Urban Air Mobility Partnership will make our city a force for cleaner skies, safer transportation, expanded prosperity, and stunning innovation and provide a template for how other local governments can take this new technology to even greater heights."
The one-year partnership is funded by Hyundai Urban Air Mobility, Urban Movement Labs and Estolano Advisors. The aim is to come up with policies to regulate delivery drones and start to plan for a "vertiport" to access urban air mobility aircraft.
The initiative is hiring an "Urban Air Mobility Fellow" who will be tasked with devising a public engagement strategy around urban air mobility.
"I'm really excited about the potential there," said Lilly Shoup, Interim Executive Director of Urban Movement Labs, a public-private nonprofit partnership launched by Garcetti last year that is trying to turbocharge transportation innovation across the city.
Urban Movement Labs is also sponsoring a testing center at Warner Center where Kiwibot, a San Jose startup, is testing the use of robots to deliver goods on city sidewalks. After a successful rollout at the University of California, Berkeley, the company is preparing to make a much bigger push in L.A. next year.
"L.A. is going to be our most important city next year," said Kiwibot CEO and founder Felipe Chavez.
Robots on the ground are much closer than drones to becoming a viable option for Angelenos, but Amazon and others have been working for years on ways to deliver goods via air.
Earlier this year, the Federal Aviation Administration designated Amazon Prime Air an "air carrier," which allows the company to begin testing commercial deliveries in the U.S.
I am not a drone pilot or any kind of pilot. I don't even own a drone. But I was intrigued by the prospect of flying one without leaving the house.
I recently gave one a whirl from some 60 miles and a county away — easily maintaining my social distance from the relative comfort of my Los Angeles living room couch.
The flight was a small sampling of the universal remote technology that Los Angeles-based vRotors has created for robotic devices. Their technology has inspired the Israel Aerospace Industries North America to work with the company to automate the landing process for their next Moon mission.
It's also been used by drone racers from around the globe who use it to compete. The company's gaming-reminiscent flight platform allows for both fine-tuned and large pan movements using a mouse, touchpad or keyboard.
Courtesy of vRotors
Before takeoff, I saw through my cockpit "window" some blue and what looked like large, very dry-looking pieces of yellow plant life. As I rose up higher, I realized I had seen the takeoff pad and dusty, dry grass, a natural California vegetation this time of year.

I wasn't sure what to expect, and it took a moment or two to get the hang of things. One of the controls lets you move up and down, while another rapidly shifts you left and right. The learning curve isn't steep, even on the fly, and the experience was more fun than I have had nearly all year, in a giddy gaming-meets-real-life-during-a-pandemic sort of way.
The platform provides nearly zero perceivable lag on the user's end. The system froze up multiple times for me as I tried to get it going, but that could have been due to my MacBook's lack of processing power. In fairness, I did have about at least 60 tabs open across two browsers.
To minimize lag time for drone pilots — an issue that has been problematic for similar services — the company overlays the virtual experience on top of the real-time one. When I pushed up on my mouse pad, I immediately felt as if the drone was beginning to take off as I approached a couple golfers out in the morning sun.
For roughly 20 minutes I flew the DJI Mavic 2 Zoom drone over a 5-acre area around the not-particularly-scenic dried brush of Temescal Canyon in Corona, Calif., including the nearby Glen Ivy golf course hole No. 4 and a drainage culvert. I also gazed down over the day-tripping family spot and farmer's market, Tom's Farm, and Mission Clay Products, a pipe manufacturer where dozens of clay pipes baked outside. Oh, and I also flew by vRotors co-founder and CEO Neil Malhotra's white Honda. The last one was probably the highlight of my trip.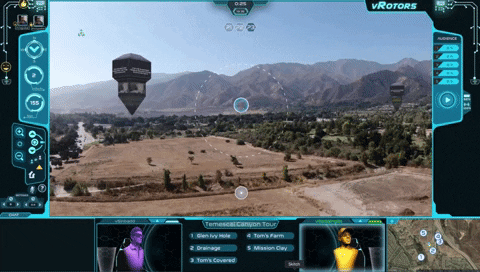 Courtesy of vRotors
I soared above these sights at a top speed of 32 mph, from about 300 feet down to a very stalker-y feeling 50 feet to say hello to Malhotra, who waved out of the backseat of his window while wearing a VR headset to provide me this demo.

Outside of his car door was the small blue takeoff and landing pad, where the drone had started its day. Nearby were Malhotra's shoes, which he took off to keep his car clean from the nearby brush. vRotors puts virtual boundaries in place to prevent amateur pilots from smacking into the ground.
Of course, flying a drone isn't a big deal these days. I mean, anyone with a few thousand bucks can give one a whirl. In 2019, there were 1.1 million units of small hobbyists drones registered in the U.S., according to the Federal Aviation Administration. There were about 412,000 commercial drone registrations during that same time. Companies like DroneBase have found success in providing commercial pilots with jobs doing safety or insurance inspections at a time when inspectors may not want (or be able) to go out and do inspections themselves.
Drone companies, including DroneBase, have reported a surge of increased interest in their technology to conduct remote work during the pandemic. And businesses as well as cities have examined how to use remote technologies like robots and drones to minimize risk to workers over the long term.
The vRotors remote platform is available for anyone to test out right now during the company's free open "beta" period, before it moves to a paid subscription structure, Malhotra told me. He noted that "any drone operator can provide access to any user anywhere in the world" and friends can come along for the ride.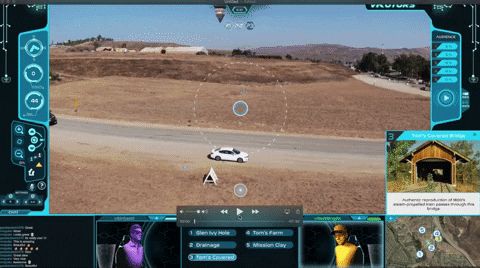 Courtesy of vRotors
I'm not sure I'll personally fly again, but that's mostly because I don't own a drone or know someone with a drone who will let me borrow it for a joy flight. Still, it's unique in that the platform truly makes it feel like you're a pilot sitting inside a tiny drone. I couldn't help smiling — a rare enough experience these days — at the thrill.

Though you're not exactly zipping about hundreds feet up in the air. Much like in an airplane, at higher altitudes I felt like I was moving far slower than when moving at the same speed at lower altitudes. But, for me at home, time passed in a flash. At the end of 20 minutes, I passed the controls over to my co-pilot, Malhotra, for landing, and hopped out of the drone's command center — returning back to my couch in both body and mind once more.
___
Do you have a story that needs to be told? My DMs are open on Twitter @latams. You can also email me at tami(at)dot.la, or ask for my contact on Signal, for more secure and private communications.
From Your Site Articles
Related Articles Around the Web