hulu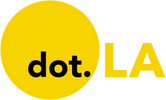 Get in the KNOW
on LA Startups & Tech
X
hulu
Netflix and Google Are Poised to Dominate L.A. After the Pandemic
Are the upfronts turning into TV execs' personal "Black Mirror'' episode?
The annual feeding frenzy—in which C-suite television executives auction off highly-viewed (and costly) advertising time slots— is changing as new streaming behemoths shake up the market. The event often gives viewers and industry watchers insight on what shows are poised to become cultural phenomena, but that too seems to be disrupted at this year's proceedings.
It's been two years since major networks and television players convened in New York for a week, and it's clear that technology is going to change a lot about how the process works.
Streaming, a popular way to view content, doesn't follow traditional ad slots the way broadcast does. Nonetheless, last year ad-enabled streaming services–including Peacock and Hulu–slurped up a large slice of ad dollars. But this year may prove a turning point, as services like HBOMax and Disney Plus begin tinkering with ad-laced streaming, and Netflix promises to quickly roll out an ad-supported subscription tier. Large networks like ABC and NBC will have to start competing with streaming for the favor of companies and their ad money.
Another thing changing the market: the ads themselves. With more data at their fingertips, streaming services can offer far more personalized and targeted services than their network counterparts. Netflix and Disney collect mountains of data that can gauge what ads are most relevant to their viewers. That's a huge plus for advertisers, even if streaming services like Disney restrict what kind of ads it will show.
Legacy TV companies have already taken note. NBCUniversal took great pains at Monday's pitch meeting to offer their Peacock streaming service as an example of a dual streaming-and-broadcast model and lambasted streaming services that once showed disdain for advertisers and ad breaks.
"At those companies, advertising could seem like an afterthought… or even worse, a new idea for a revenue stream, but not here," NBCUniversal's ad sales chief Linda Yaccarino said, according to The Hollywood Reporter. "At NBCUniversal, advertising has always been an asset for our business… designed to enhance your business."
Adding to the instability, Nielsen ratings, which has been the universal standard for measuring viewership, is being challenged. The company's ratings were once the gold standard used, in part, to determine the time slots and networks that had the most viewers (and which became the most coveted by advertisers).
Last year, Variety reported major networks complained that the company was likely undercounting viewership due to pandemic-related restrictions, like being unable to go into peoples' homes and making sure the data-collecting technology was properly working. In its wake, software-enabled startups have popped up to better gather data remotely.
Washington-based iSpot.tv received a $325 million investment from Goldman Sachs after acquiring similar companies including El Segundo-based Ace Metrix and Temecula-based DRMetrix. Pasadena-based tvScientific raised $20 million in April to glean adtech data from smart tvs. Edward Norton's adtech firm EDO raised $80 million in April and booked a deal with Discovery ahead of the upfronts.
Nielsen also lost its accreditation with the Media Ratings Council, and without a standard ratings guide for the industry, navigating the upfronts will be a far more uncertain and nebulous process for both networks and advertisers.
With tens of billions of dollars on the line, advertisers are demanding more than just well-produced shows networks and streaming services alike—sophisticated ad placements is the name of the game.
Disney Plus just showed up Netflix.
After Netflix stunned Wall Street by losing subscribers for the first time in a decade, Disney said Wednesday that its flagship streaming service is still chugging along nicely. Disney Plus added 7.9 million paying customers during the second quarter of fiscal 2022, beating Wall Street's expectations of about 5 million. That brings Disney Plus to 137.7 million total subscribers.
The Burbank-based media giant's strong showing comes amid growing concerns with the streaming business. Netflix's poor earnings and the rapid demise of CNN Plus have rattled investors, who previously rewarded entertainment and tech titans that spent billions to launch streaming platforms and added many subscribers during the pandemic.
Now, Netflix's stock has plunged 70% over the last six months. The company lost 200,000 subscribers during its first quarter and expects to lose 2 million more in the current quarter. Netflix blamed the subscriber slowdown on increased competition, password sharing and the war in Ukraine, among other things. And recent surveys show consumers are canceling subscriptions they believe are too costly.
"The business model isn't as attractive as once thought due to the intensifying competition for time, attention and consumer spending," media analysts Robert Fishman and Michael Nathanson of MoffettNathanson wrote in a recent report.
The problems facing Netflix don't seem to be holding back Disney Plus—at least not yet. Executives told analysts that the service had a "stronger than expected" first half of the fiscal year and that it is expected to add more subscribers during the final six months, though maybe not by much. The company's goal of hitting at least 230 million Disney Plus subscribers by 2024 is still on track, CEO Bob Chapek said.
"The growth of the platform since its launch reinforces its unique nature. Quite simply, we believe Disney Plus is one of a kind," Chapek said. He later touted that, despite Disney's family-friendly branding, almost half of Disney Plus subscribers were adults without kids.
Disney Plus may still be growing, but streaming is costing the company a lot of money. Disney's direct-to-consumer division, which also includes Hulu and ESPN Plus, lost $887 million during the second quarter—more than triple the loss from a year ago. Disney executives expect its flagship service to become profitable in 2024.
Overall, Disney's revenues rose 23% year-over-year to $19.2 billion during the second quarter. Net profits were down 48% to $470 million.
Despite avoiding Netflix's fate—for now—Wall Street wasn't impressed. The company's shares slid more than 2%, to $102.75, as of 3:09 p.m. PT in after-hours trading.
From Your Site Articles
Related Articles Around the Web
Photo courtesy of Hulu
Netflix and Hulu have won another court battle against a local government trying to force the streaming giants to pay taxes typically imposed on cable TV companies.
A Los Angeles County judge ruled Wednesday that the city of Lancaster doesn't have the right to sue the streaming services to charge so-called franchise fees, which legacy TV providers have long paid municipalities for the right to dig up streets to lay their cable wires, according to the Hollywood Reporter. L.A. County Superior Court Judge Yvette M. Palazuelos noted that even if Lancaster had the right to bring the case, Netflix and Hulu would be exempt from the fees as they don't own or operate infrastructure on public property.
The ruling is the latest victory for streaming services facing a flurry of similar lawsuits across the country. Municipalities have argued that companies like Netflix and Hulu should pay franchise fees, which are usually up to 5% of the gross revenue generated from providing video service in a town or city. As more consumers cut the cord on traditional cable TV and opt for streaming instead, local governments are seeing less franchise fee revenue enter their coffers.
Local governments bringing legal complaints against streamers have sought both back payments and fees going forward, according to law firm Duane Morris, which has identified cases in at least 14 states and described the suits as a "billion-dollar battle."
In addition to the Lancaster case, Netflix and Hulu have already won legal arguments in Arkansas, Nevada and Texas, according to the Associated Press. But the streaming services have lost one ruling at the dismissal stage in Missouri, THR reported. The Ohio Supreme Court considered a similar case this week, while the Tennessee Supreme Court is set to hear arguments next month.
Lawyers for Lancaster, located in northern Los Angeles County, argued in October that Netflix and Hulu were subject to the California law requiring "video service providers" to pay the fees because they used third-party broadband wires to provide similar, if not identical, video programming to cable companies
In response, Netflix noted that it does not own or operate infrastructure in public rights-of-way and argued that it does not even provide "video programming" under the state's definition, since its services "are not live, linear, channelized, scheduled or programmed," according to a January court filing.
The two sides have also squabbled over whether California towns like Lancaster have the right to sue for franchise fees in the first place. On Wednesday, Judge Palazuelos said they did not—adding that if Lancaster was allowed to sue Netflix and Hulu, it could open the door for the city to impose fees on a growing list of streaming services including Disney Plus, HBO Max and Peacock.
"Such an interpretation would result in a financial windfall for local entities that the Legislature did not intend," she ruled.
In a statement to dot.LA, Lancaster assistant city manager Trolis Niebla said the city "has no comment on the ruling and has not determined next steps." Representatives for Netflix and Hulu did not respond to requests for comment.
From Your Site Articles
Related Articles Around the Web